The troubles in the world are too numerous to mention.
But as Christians, in our trials, we must pray and trust in our maker's ability to save us.
Just yesterday, I heard the news that bothered me.
A close friend, who was diagnosed with HIV last year, was contemplating suicide.
She has had multiple unsuccessful attempts to take her own life.
In her words, she says, "I feel I am incomplete when I am with my friends," and "there is no point in living anymore."
I have counseled her in the past, and she was able to find some strength from my words.
However, It does seem she has lost hope to prevail over her trials.
In times like these, there are numerous bible verses about peace and strength to motivate our soul.
We must all go through difficulties at some point in our lives.
When we do, we must find peace and strength in God's word.
God can protect us and deliver us from our troubles.
He can come to our aid and answer all our prayers miraculously.
If you are struggling with your health, finances, family issues, or unemployment, you can trust in God.
I have compiled bible verses about peace and strength to inspire you today.
---
Recommended for you
---
Bible verses about Peace and Strength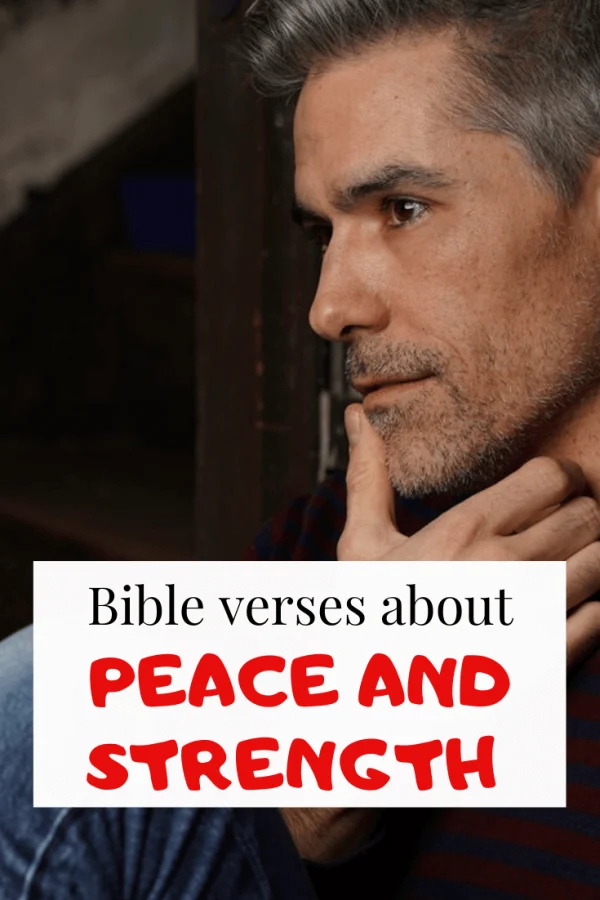 Psalm 29:11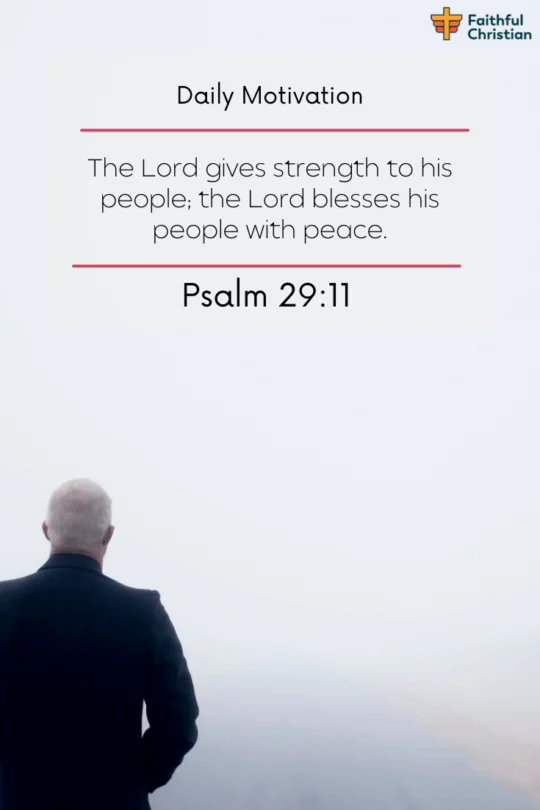 The Lord gives strength to his people;
    the Lord blesses his people with peace.
Numbers 6:24-27
The Lord bless you and keep you; the Lord make his face shine on you and be gracious to you; the Lord turn his face toward you and give you peace.
Isaiah 40:31
but those who hope in the Lord
    will renew their strength.
They will soar on wings like eagles;
    they will run and not grow weary,
    they will walk and not be faint.
Isaiah 41:10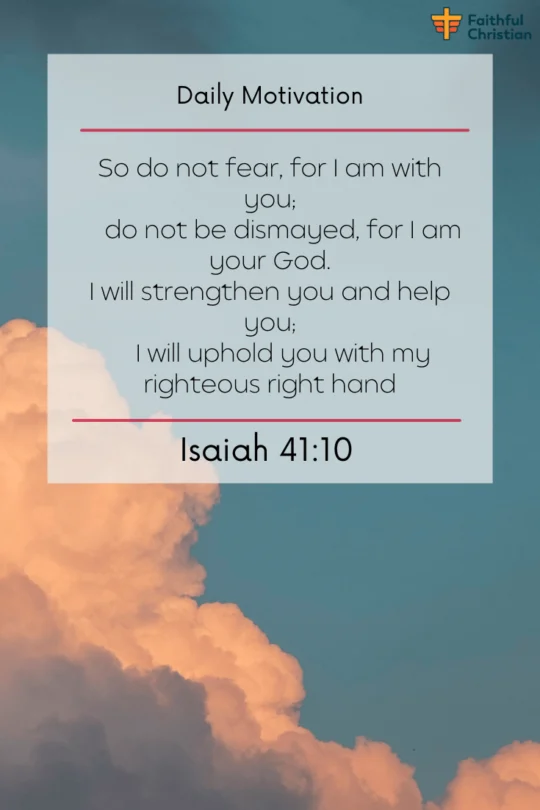 So do not fear, for I am with you;
    do not be dismayed, for I am your God.
I will strengthen you and help you;
    I will uphold you with my righteous right hand
2 Thessalonians 3:16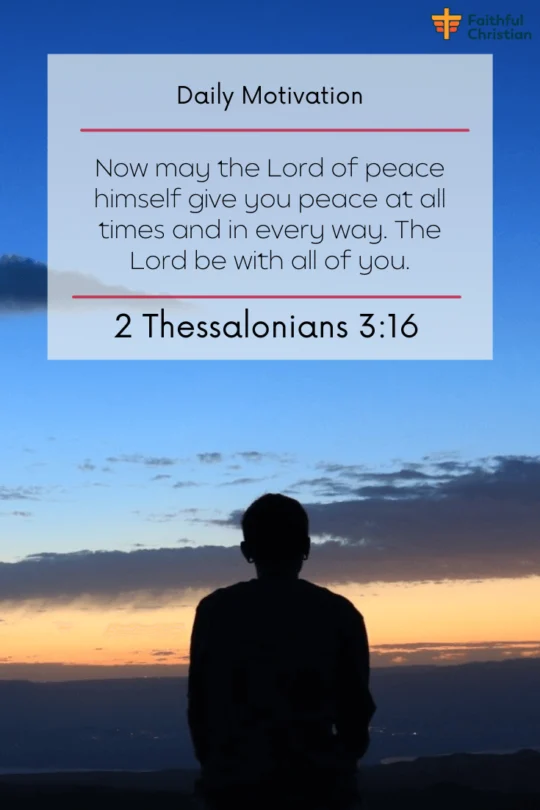 Now may the Lord of peace himself give you peace at all times and in every way. The Lord be with all of you.
Isaiah 40:29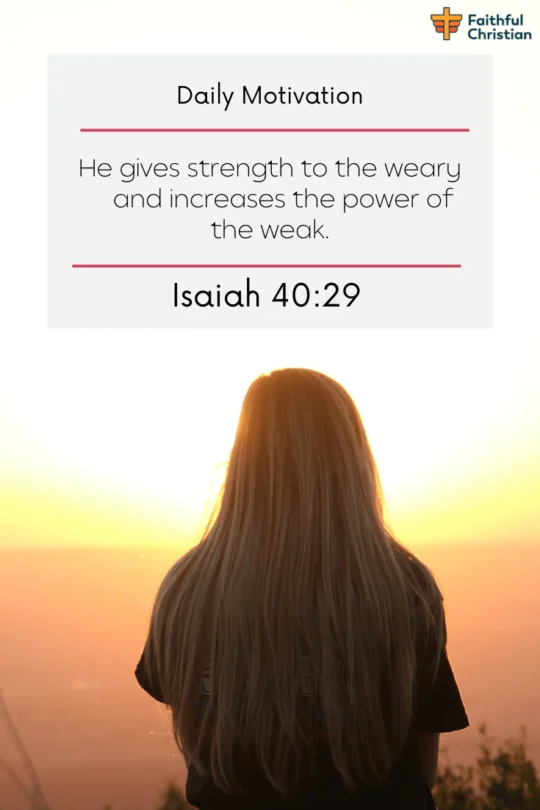 He gives strength to the weary
    and increases the power of the weak.
Ephesians 3:16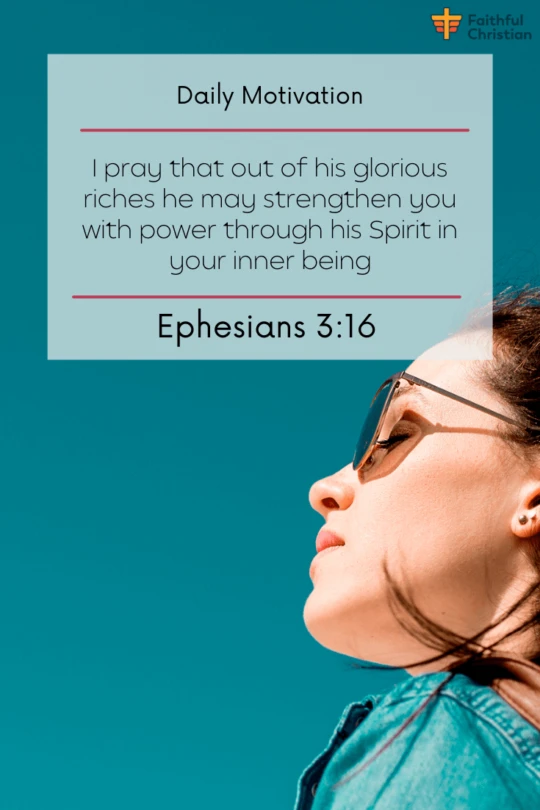 I pray that out of his glorious riches he may strengthen you with power through his Spirit in your inner being
Psalm 68:35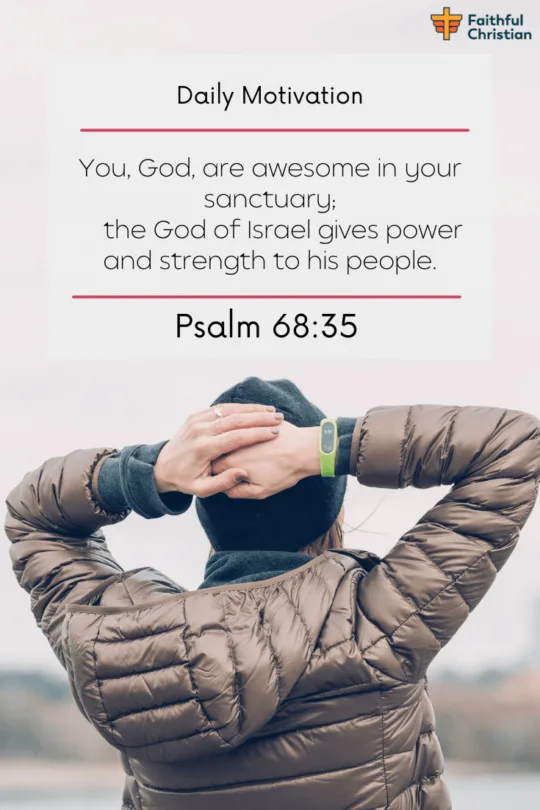 You, God, are awesome in your sanctuary;
    the God of Israel gives power and strength to his people.
Psalm 28:8-9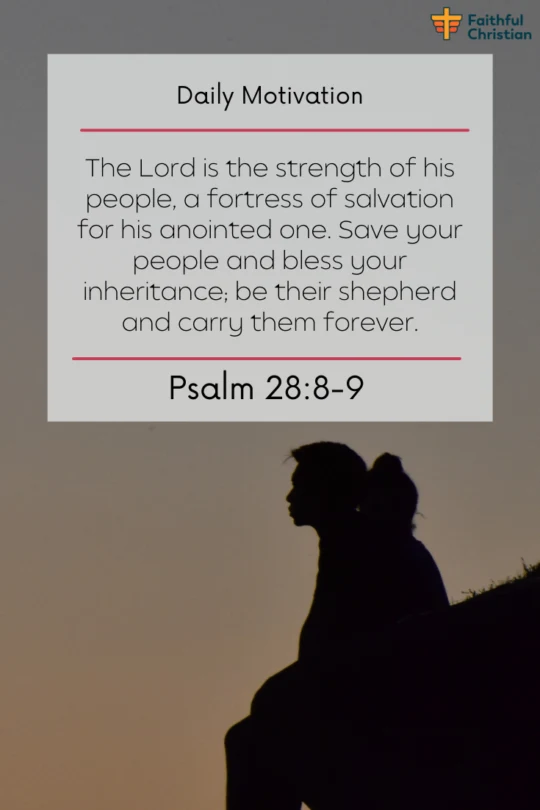 The Lord is the strength of his people,
    a fortress of salvation for his anointed one.
9 Save your people and bless your inheritance;
    be their shepherd and carry them forever.
1 Corinthians 1:3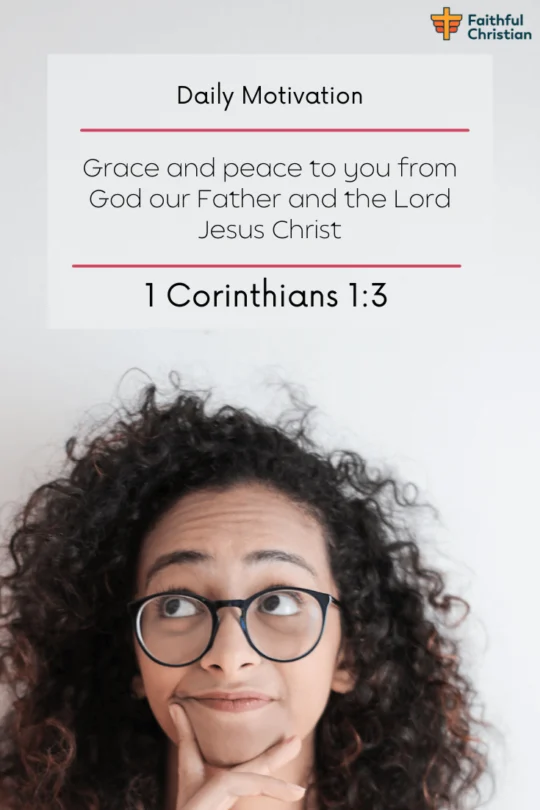 Grace and peace to you from God our Father and the Lord Jesus Christ
John 16:33
 "I have told you these things, so that in me you may have peace. In this world you will have trouble. But take heart! I have overcome the world."
Romans 14:17
For the kingdom of God is not a matter of eating and drinking, but of righteousness, peace and joy in the Holy Spirit,
Psalm 138:3
When I called, you answered me;
    you greatly emboldened me.
Zechariah 10:12
I will strengthen them in the Lord
    and in his name they will live securely,"
declares the Lord.
Psalm 85:10
Love and faithfulness meet together;
    righteousness and peace kiss each other.
Ephesians 2:17
He came and preached peace to you who were far away and peace to those who were near.
---
Recommended for you
---
John 14:27
Peace I leave with you; my peace I give you. I do not give to you as the world gives. Do not let your hearts be troubled and do not be afraid.
Psalm 85:8
I will listen to what God the Lord says;
    he promises peace to his people, his faithful servants—
    but let them not turn to folly.
Psalm 73:26
My flesh and my heart may fail,
    but God is the strength of my heart
    and my portion forever.
2 Corinthians 12:9
But he said to me, "My grace is sufficient for you, for my power is made perfect in weakness." Therefore I will boast all the more gladly about my weaknesses, so that Christ's power may rest on me.
2 Corinthians 12:10
That is why, for Christ's sake, I delight in weaknesses, in insults, in hardships, in persecutions, in difficulties. For when I am weak, then I am strong.
Psalm 18:2
The Lord is my rock, my fortress and my deliverer;
    my God is my rock, in whom I take refuge,
    my shield[a] and the horn[b] of my salvation, my stronghold.
2 Corinthians 4:8-9
We are hard-pressed on every side, but not crushed; perplexed, but not in despair; 9 persecuted, but not abandoned; struck down, but not destroyed.
2 Corinthians 4:10
We always carry around in our body the death of Jesus, so that the life of Jesus may also be revealed in our body
2 Timothy 1:7
For the Spirit God gave us does not make us timid, but gives us power, love, and self-discipline.
Galatians 5:22
 But the fruit of the Spirit is love, joy, peace, forbearance, kindness, goodness, faithfulness,
Hebrews 4:12
For the word of God is alive and active. Sharper than any double-edged sword, it penetrates even to dividing soul and spirit, joints and marrow; it judges the thoughts and attitudes of the heart.
Colossians 2:9-10
For in Christ all the fullness of the Deity lives in bodily form, 10 and in Christ you have been brought to fullness. He is the head over every power and authority.
---
Recommended for you
---
Final words of encouragement
1.  It is not the end
Your sorrow, pain, ill-health, or financial problems are undoubtedly not the end of your life.
At all times, we must remain undeterred.
And that's because, we know, we have hope in our Lord — That, when the time comes, he will take away our troubles and bless us miraculously.
In the past, I have had numerous challenges that tested my faith.
And despite not being a devoted Christian, God still came to my aid.
He was able to strengthen me all through my trials.
The truth is, peace and strength can only come from God.
So, depend on him, and he will deliver you.
2.  Pray ceaselessly
If you can't trust God, or you don't think there is a way out of your predicaments; At least pray.
Prayer can do wonders in your life.
I have seen the miraculous power of prayer, and I have been a witness to God's saving power.
Of course, we need to have faith in God for our prayers to be answered.
We need to believe that he can do all things.
The truth is, from my experience, God answers prayers even when there is doubt in our minds.
Don't lean on your thoughts. Just pray and let God take control.
May God come to your rescue today and fight your battles. May he bring peace and give you strength in your trials. Amen.
Author: Akatakpo Dunn
Dr. Akatakpo Dunn is a dedicated follower of Christ, an active member and speaker, and an ongoing learner of the Scriptures. Passionate about his faith and serving others, he is committed to sharing his spiritual journey and insights to inspire and uplift fellow believers. He has been active in the church for more than 23 years. Through The
Faithful Christian Blog
,
Dr. Dunn
combines his love for God, philanthropy, and Scripture, providing a valuable resource for those seeking to grow in their faith.
Follow me: on Youtube, Facebook, Twitter, Instagram, and Pinterest.
Content Disclosure:
At The Faithful Christian Blog, I create authentic and inspiring content. Although I am the main author, I occasionally use AI for minor language enhancements. This minimal AI usage ensures high-quality, trustworthy articles without compromising originality or sincerity, ultimately supporting our shared faith journey.
Warmly,
Dr. Akatakpo Dunn
Was this article helpful?