Starting your day with a powerful prayer for strength is a good one.
And that's because we know we all need God's mighty hand to help us with our plans for today.
There is nothing too big for God to handle.
Are you struggling with your academics, business, health, or relationship?
Whatever your concerns or worries are, God is capable of returning happiness and giving you the strength and firmness that you need.
In difficult times, when you need the courage to get going with life, you can depend on God to help you heal.
Our God is capable of sending you peace and happiness and helping you through your plans for the day.
So, today, we will pray for strength from God.
We will ask God to deliver us from all our troubles.
Admittedly, we are not capable of anything on our own.
We need power from above to overcome all the wicked plans of our enemies.
Today, we will humbly and faithfully pray for God's intervention over our affairs.
I have put together prayer of the day for strength to guide you.
---
Recommended for you
---
Prayer for strength bible verse
Psalm 55:22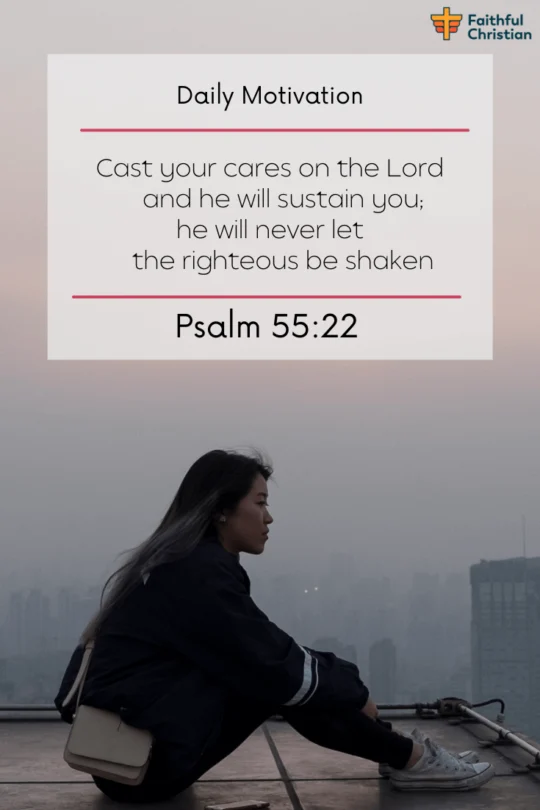 Cast your cares on the Lord
    and he will sustain you;
he will never let
    the righteous be shaken
Proverbs 18:10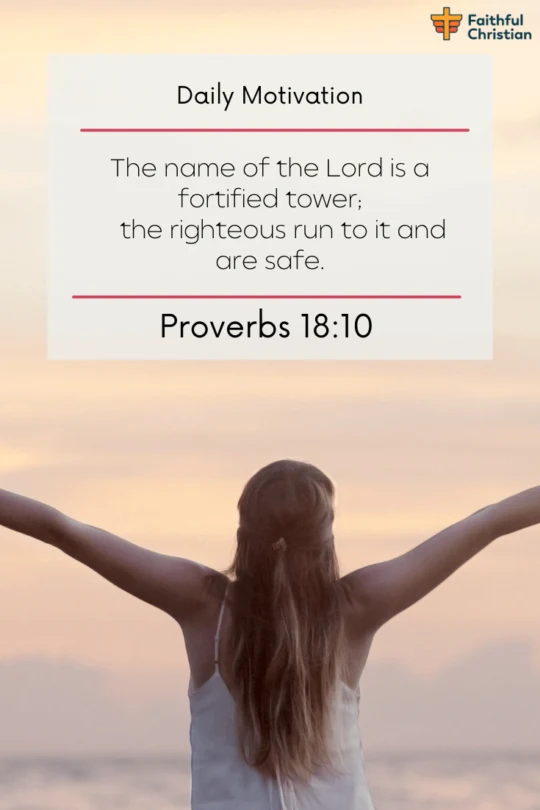 The name of the Lord is a fortified tower;
    the righteous run to it and are safe.
Psalm 144:2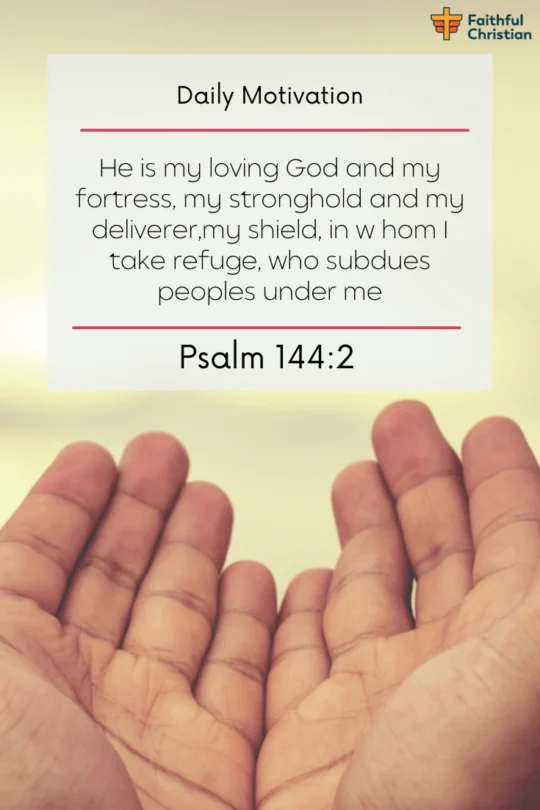 He is my loving God and my fortress,
my stronghold and my deliverer,
my shield, in whom I take refuge,
who subdues peoples[a] under me
2 Samuel 22:3
 my God is my rock, in whom I take refuge,
    my shield[a] and the horn[b] of my salvation.
He is my stronghold, my refuge and my savior—
    from violent people you save me.
Prayer of the day for strength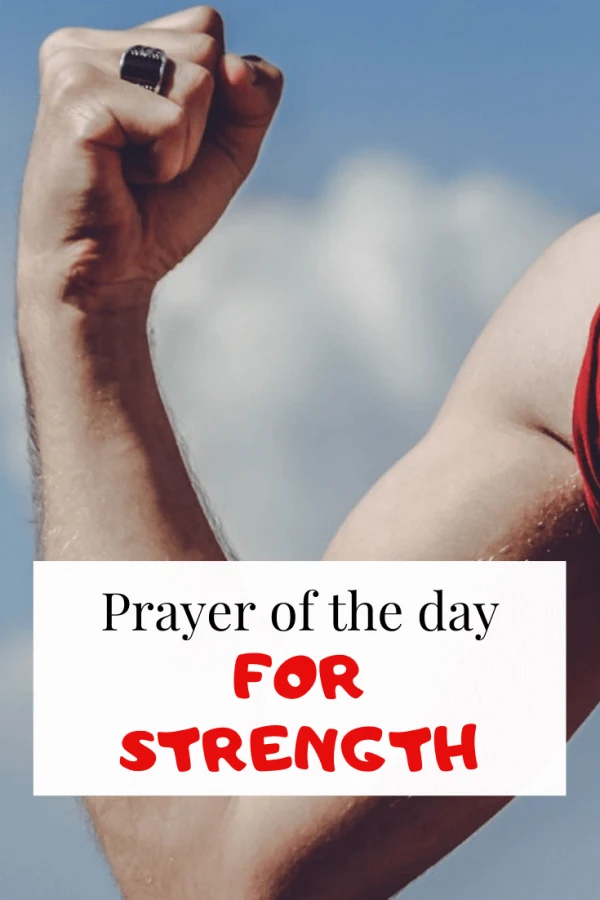 Ask for divine help for strength for the day
There are times when we need to step back and let God take control of our lives.
It doesn't matter what you are dealing with.
We know for a fact that God can strengthen us in trying times.
We also know that he could provide divine help when all hope is lost.
The scripture says,
 Do not be anxious about anything, but in every situation, by prayer and petition, with thanksgiving, present your requests to God.

Philippians 4:6
Let us pray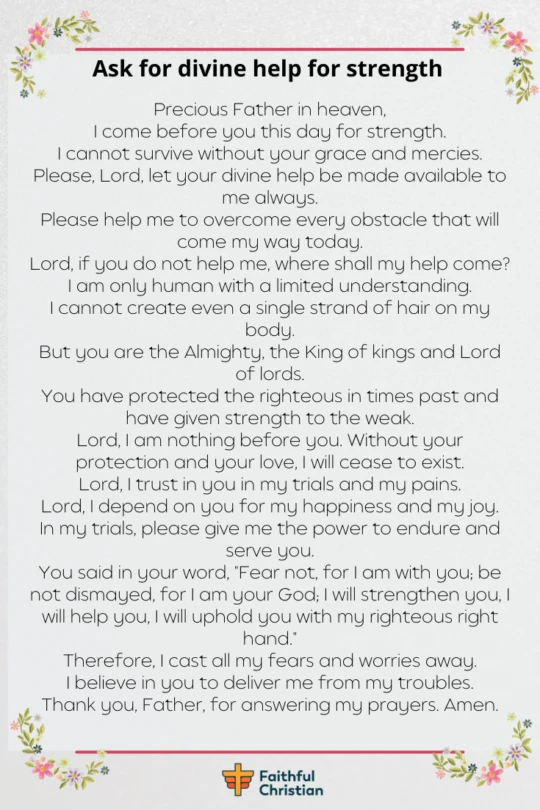 Precious Father in heaven,
I come before you this day for strength.
I cannot survive without your grace and mercies.
Please, Lord, let your divine help be made available to me always.
Please help me to overcome every obstacle that will come my way today.
Lord, if you do not help me, where shall my help come?
I am only human with a limited understanding.
I cannot create even a single strand of hair on my body.
But you are the Almighty, the King of kings and Lord of lords.
You have protected the righteous in times past and have given strength to the weak.
Lord, I am nothing before you.
Without your protection and your love, I will cease to exist.
Lord, I trust in you in my trials and my pains.
Lord, I depend on you for my happiness and my joy.
In my trials, please give me the power to endure and serve you.
You said in your word, "Fear not, for I am with you; be not dismayed, for I am your God; I will strengthen you, I will help you, I will uphold you with my righteous right hand."
Therefore, I cast all my fears and worries away.
I believe in you to deliver me from my troubles.
Thank you, Father, for answering my prayers.
Amen.
---
Recommended for you
---
In your weaknesses, pray for strength.
Trials and tribulations are inevitable.
We will all perceive and experience the torture of the devil.
In our trials, we need strength to endure, persevere, and come out victorious.
The scripture says,
Do not fear, for I have redeemed you; I have summoned you by name; you are mine.

Isaiah 43:1
Let us pray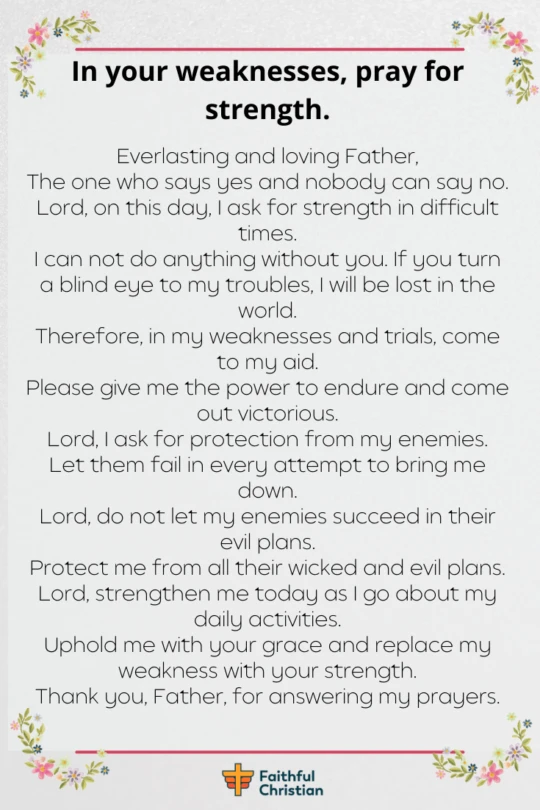 Everlasting and loving Father,
The one who says yes and nobody can say no.
Lord, on this day, I ask for strength in difficult times.
I can not do anything without you.
If you turn a blind eye to my troubles, I will be lost in the world.
Therefore, in my weaknesses and trials, come to my aid.
Please give me the power to endure and come out victorious.
Lord, I ask for protection from my enemies.
Let them fail in every attempt to bring me down.
Lord, do not let my enemies succeed in their evil plans.
Protect me from all their wicked and evil plans.
Lord, strengthen me today as I go about my daily activities.
Uphold me with your grace and replace my weakness with your strength.
Thank you, Father, for answering my prayers.
The joy of the Lord is my strength.
Most times, we get worked up for nothing.
We don't utilize our power in the word of God to find happiness.
There is power in God's word that can bring peace and joy to your heart.
When joy comes into our lives, we become reinvigorated and energized.
We can find strength in God's word by meditating on the scriptures.
The scripture says,
But let all who take refuge in you be glad; let them ever sing for joy. Spread your protection over them, that those who love your name may rejoice in you.

Psalm 5:11
Let us pray
Great Father in heaven,
The one who answers anytime I call.
Father, this day you have made is for me to rejoice and be glad.
Therefore, I reject depression, sorrow, and sadness in my life.
Lord, please fill me with joy enough to conquer all my trials.
Let there be a miraculous turnaround to all my problems.
Fill my heart with peace that will keep me happy all through the day.
Let your word come into my heart and strengthen my bones.
Let me find grace in your sight.
Thank you, Father, for your answered prayers.
Where does your strength lie
We often believe that our strength comes from within.
That, when we lie down, we will wake up stronger.
But the truth is, our strength only comes from God.
Our vulnerabilities aren't because we are weak, but because the devil troubles us in so many ways.
It could be at your workplace, school, health, sicknesses, or any aspect of your life.
We cannot control any of our trials.
But with God, he sees everything and can strengthen us and deliver us from harm's way.
The scripture says,
I sought the Lord, and he answered me; he delivered me from all my fears.

Psalm 34:4
Let us pray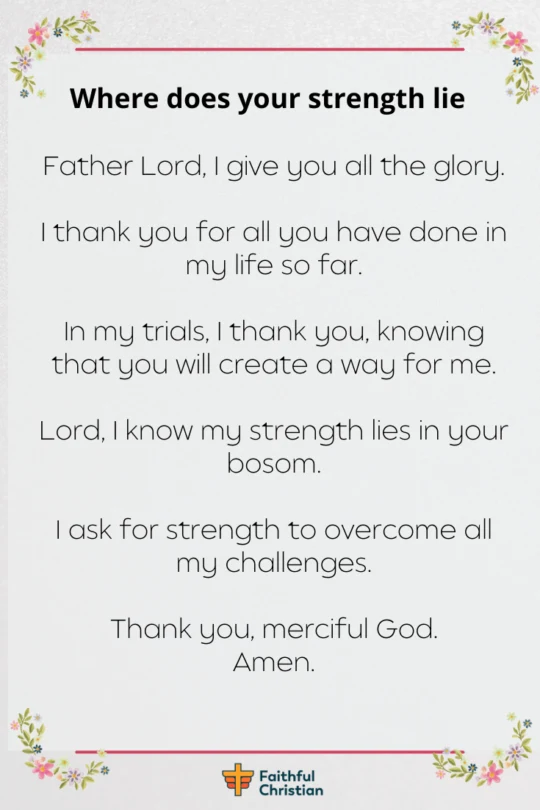 Father Lord, I give you all the glory.
I thank you for all you have done in my life so far.
In my trials, I thank you, knowing that you will create a way for me.
Lord, I know my strength lies in your bosom.
I ask for strength to overcome all my challenges.
Thank you, merciful God.
Amen.
Author: Akatakpo Dunn
Dr. Akatakpo Dunn is a dedicated follower of Christ, an active member and speaker, and an ongoing learner of the Scriptures. Passionate about his faith and serving others, he is committed to sharing his spiritual journey and insights to inspire and uplift fellow believers. He has been active in the church for more than 23 years. Through The
Faithful Christian Blog
,
Dr. Dunn
combines his love for God, philanthropy, and Scripture, providing a valuable resource for those seeking to grow in their faith.
Follow me: on Youtube, Facebook, Twitter, Instagram, and Pinterest.
Content Disclosure:
At The Faithful Christian Blog, I create authentic and inspiring content. Although I am the main author, I occasionally use AI for minor language enhancements. This minimal AI usage ensures high-quality, trustworthy articles without compromising originality or sincerity, ultimately supporting our shared faith journey.
Warmly,
Dr. Akatakpo Dunn
Was this article helpful?