Starting your day with a powerful prayer for strength is a good one.
And that's because we know we all need God's mighty hand to help us with our plans for today.
There is nothing too big for God to handle.
Are you struggling with your academics, business, health, or relationship?
Whatever your concerns or worries are, God is capable of returning happiness and giving you the strength and firmness that you need.
In difficult times, when you need the courage to get going with life, you can depend on God to help you heal.
Our God is capable of sending you peace and happiness and helping you through your plans for the day.
So, today, we will pray for strength from God.
We will ask God to deliver us from all our troubles.
Admittedly, we are not capable of anything on our own.
We need power from above to overcome all the wicked plans of our enemies.
Today, we will humbly and faithfully pray for God's intervention over our affairs.
I have put together prayer of the day for strength to guide you.
---
Recommended for you
---
Prayer for strength bible verse
Psalm 55:22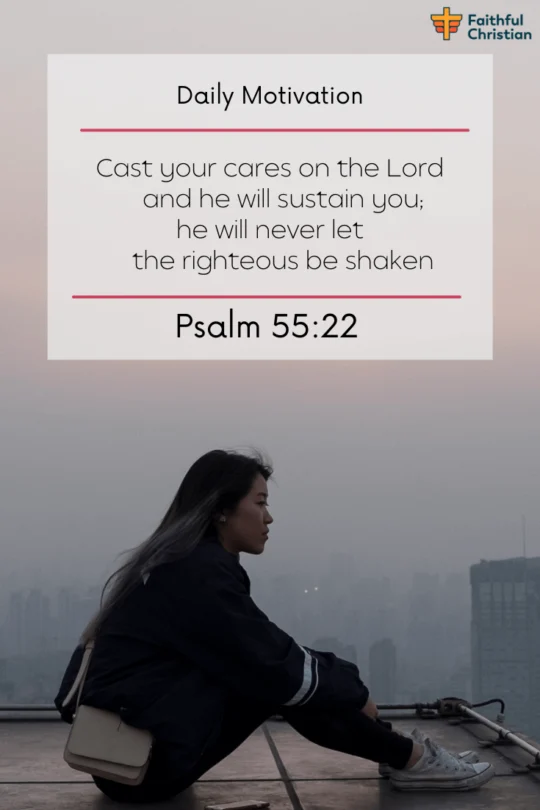 Cast your cares on the Lord
    and he will sustain you;
he will never let
    the righteous be shaken
Proverbs 18:10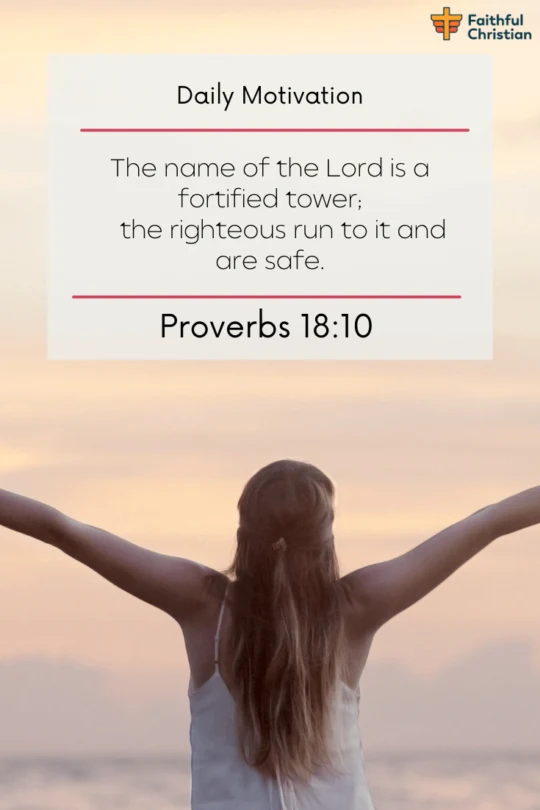 The name of the Lord is a fortified tower;
    the righteous run to it and are safe.
Psalm 144:2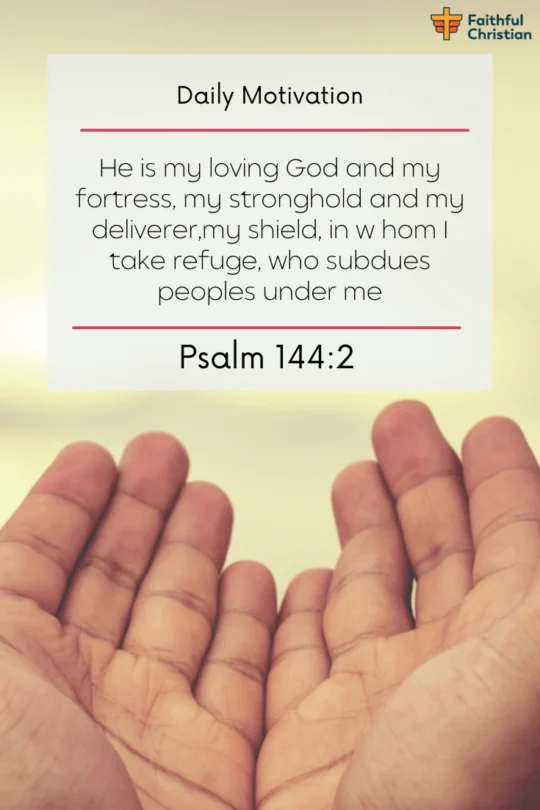 He is my loving God and my fortress,
my stronghold and my deliverer,
my shield, in whom I take refuge,
who subdues peoples[a] under me
2 Samuel 22:3
 my God is my rock, in whom I take refuge,
    my shield[a] and the horn[b] of my salvation.
He is my stronghold, my refuge and my savior—
    from violent people you save me.
Prayer of the day for strength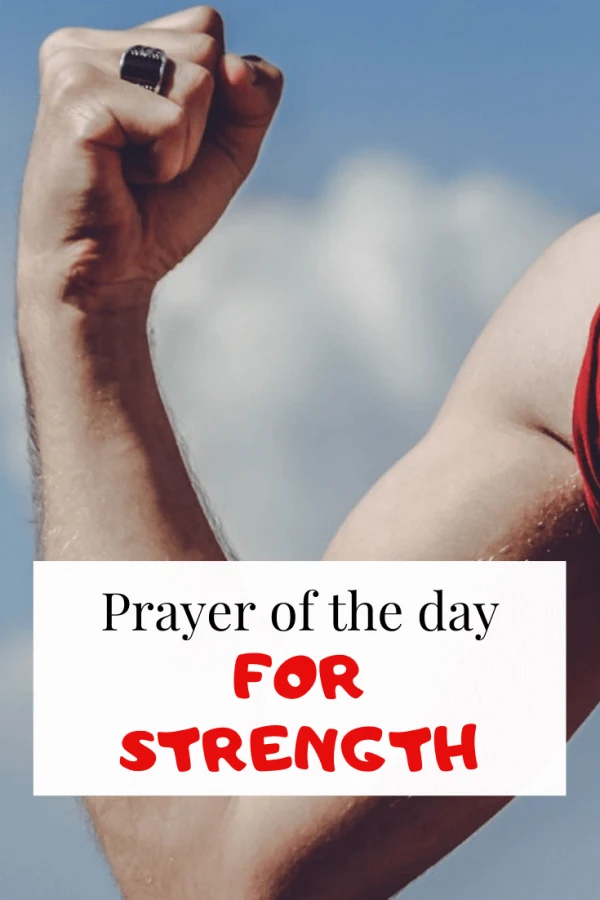 Ask for divine help for strength for the day
There are times when we need to step back and let God take control of our lives.
It doesn't matter what you are dealing with.
We know for a fact that God can strengthen us in trying times.
We also know that he could provide divine help when all hope is lost.
The scripture says,
 Do not be anxious about anything, but in every situation, by prayer and petition, with thanksgiving, present your requests to God.

Philippians 4:6
Let us pray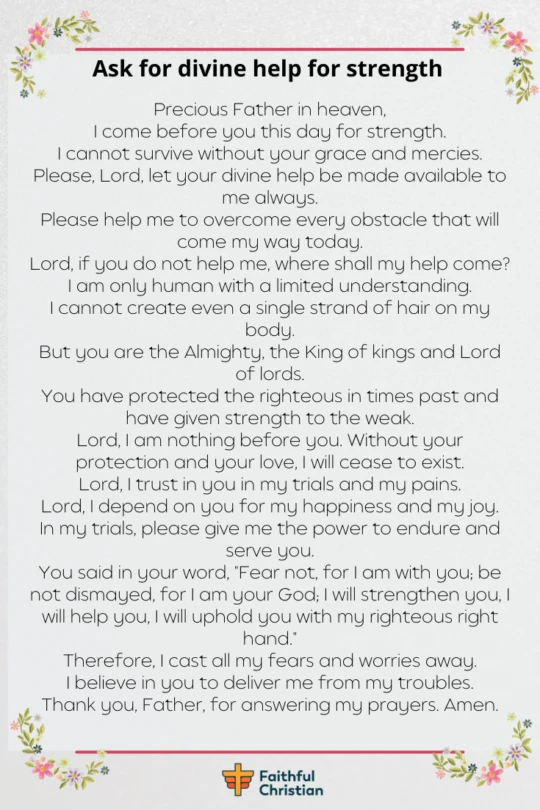 Divine Father,
As I stand in Your radiant presence, I am humbled, reminded of the psalmist's words, "The earth is the Lord's, and everything in it" (Psalm 24:1). Truly, all belongs to You.
Oh, Father, I seek a strength only You can provide. In my smallness, I feel Your vastness. The scripture reminds me: "I am fearfully and wonderfully made" (Psalm 139:14). Yet, without Your grace, what am I?
Lord, when challenges loom large, be my guiding star. Like David said, "Even though I walk through the darkest valley, I will fear no evil, for you are with me" (Psalm 23:4). Let Your promises light my path.
In moments of weakness, I am reminded: "He gives strength to the weary" (Isaiah 40:29). So, I turn to You, the Almighty, the wellspring of all power.
Your history is one of protection. The tales of old speak of Your might, of how "You are my refuge and my shield" (Psalm 119:114). May I always find solace under Your wings.
The beauty of Your word declares, "Come to me, all you who are weary and burdened, and I will give you rest" (Matthew 11:28). Father, I seek that rest in You, now and always.
Life's journey is uncertain, yet with You, The Almighty, "The steps of a good man are ordered" (Psalm 37:23). Guide my steps, so I never stray.
The world is vast, the troubles many. But with You, there's hope. "For I know the plans I have for you, declares the Lord" (Jeremiah 29:11). Let me trust in that divine plan.
To You, the author of creation, the giver of life, the beacon of hope – I offer my heart. As the scripture beautifully puts it, "We love because He first loved us" (1 John 4:19). Let my every beat resonate with that love.
Father, in all my days, let this remain true: "My help comes from the Lord" (Psalm 121:2). My eternal rock, my steadfast redeemer.
In Your wondrous name,
Amen.
---
Recommended for you
---
In your weaknesses, pray for strength.
Trials and tribulations are inevitable.
We will all perceive and experience the torture of the devil.
In our trials, we need strength to endure, persevere, and come out victorious.
The scripture says,
Do not fear, for I have redeemed you; I have summoned you by name; you are mine.

Isaiah 43:1
Let us pray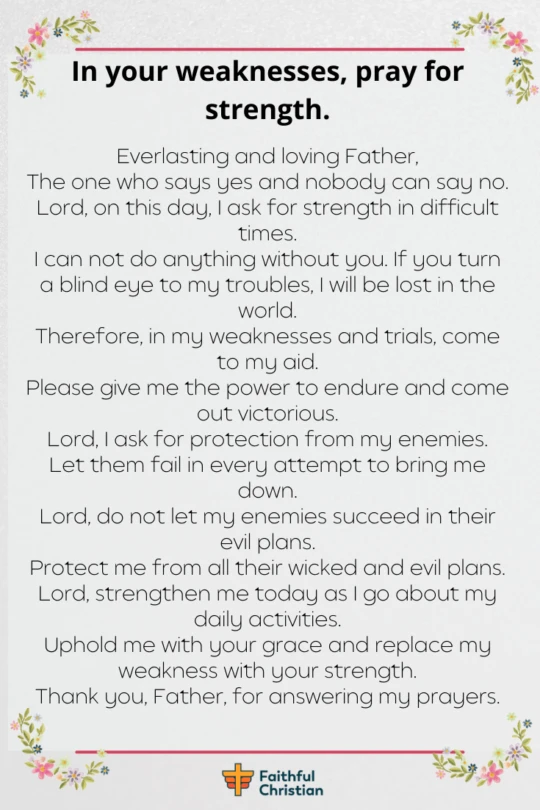 Eternal and loving Father, the Sovereign who silences every contradiction,
You are the steadfast rock upon which I stand, the source of my strength. As I confront the challenges life throws at me, I beseech you for your steadfast support. Without you, I am a ship without a compass, tossed about by the tumultuous seas of life. I need your guidance, your unfailing presence.
"The Lord is my rock, my fortress and my deliverer; my God is my rock, in whom I take refuge, my shield and the horn of my salvation, my stronghold." (Psalm 18:2)
When the shadows of doubt threaten to overcome me, Lord, shine your light on my path. You are the beacon of hope in my darkest hours. You, Father, are the One who strengthens me when I am weak. In every trial and tribulation, come alongside me. Help me not just to endure, but to rise above, to emerge victorious. May I be like the Apostle Paul, who said, "I can do all this through him who gives me strength." (Philippians 4:13)
Almighty God, you are my shield against those who wish me harm. Thwart their malicious intentions, make their efforts to undermine me fall to the ground. Protect me, Lord, from their snares and traps. Their wicked schemes shall find no place in my life, for you, my Lord, are my guardian.
"No weapon forged against you will prevail, and you will refute every tongue that accuses you. This is the heritage of the servants of the Lord, and this is their vindication from me," declares the Lord." (Isaiah 54:17)
As I journey through today, strengthen me, O Lord. When I falter, uphold me. Let your divine might carry me forward. I seek to honor your name in all I do, to be your instrument in this world. May your grace, Father, replace my weaknesses with your invincible strength.
Thank you, dear Father, for always being my refuge. With a heart full of gratitude, I thank you, O Lord, for hearing my prayers and walking with me.
"In my distress I called to the Lord; I cried to my God for help. From his temple he heard my voice; my cry came before him, into his ears." (Psalm 18:6)
The joy of the Lord is my strength.
Most times, we get worked up for nothing.
We don't utilize our power in the word of God to find happiness.
There is power in God's word that can bring peace and joy to your heart.
When joy comes into our lives, we become reinvigorated and energized.
We can find strength in God's word by meditating on the scriptures.
The scripture says,
But let all who take refuge in you be glad; let them ever sing for joy. Spread your protection over them, that those who love your name may rejoice in you.

Psalm 5:11
Let us pray
Eternal Creator, shining brightly in the heavens above,
You are the One who always listens when I call.
Today is a gift from you, Father, a day to be cherished, to rejoice and to be grateful.
In this moment, I firmly reject depression, sorrow, and sadness. I choose the joy and light you offer.
Gracious Lord, infuse my soul with boundless joy. Grant me strength to face my trials and emerge victorious.
May your mighty hand intervene in my challenges, O Father. Let there be a miraculous turnaround in my life.
Envelop my heart with your peace, Almighty God. Let it be a haven of happiness, radiating joy through every hour.
Your word, Lord, is a treasure. May it resonate within me, renewing my strength and vigor.
Bestow upon me your grace, dear Father, that I may find favor in your eyes and be blessed with your loving presence.
With a heart full of gratitude, I thank you, O Most High, for your unfailing love and answered prayers.
As the psalmist said, "The Lord is my strength and my shield; my heart trusts in Him, and I am helped." (Psalm 28:7)
Like a child relies on a parent, so too do I lean on you, Father, for strength, guidance, and love.
Lord, you are my refuge and fortress. In you alone do I trust, as written in Psalm 91:2.
Almighty God, may your will be done, for your wisdom is infinite, and your ways are perfect.
You are the Alpha and the Omega, the beginning and the end. With all that I am, I submit to your divine will.
Thank you, O Everlasting Father, for your boundless love and for hearing my prayer.
Amen.
Where does your strength lie
We often believe that our strength comes from within.
That, when we lie down, we will wake up stronger.
But the truth is, our strength only comes from God.
Our vulnerabilities aren't because we are weak, but because the devil troubles us in so many ways.
It could be at your workplace, school, health, sicknesses, or any aspect of your life.
We cannot control any of our trials.
But with God, he sees everything and can strengthen us and deliver us from harm's way.
The scripture says,
I sought the Lord, and he answered me; he delivered me from all my fears.

Psalm 34:4
Let us pray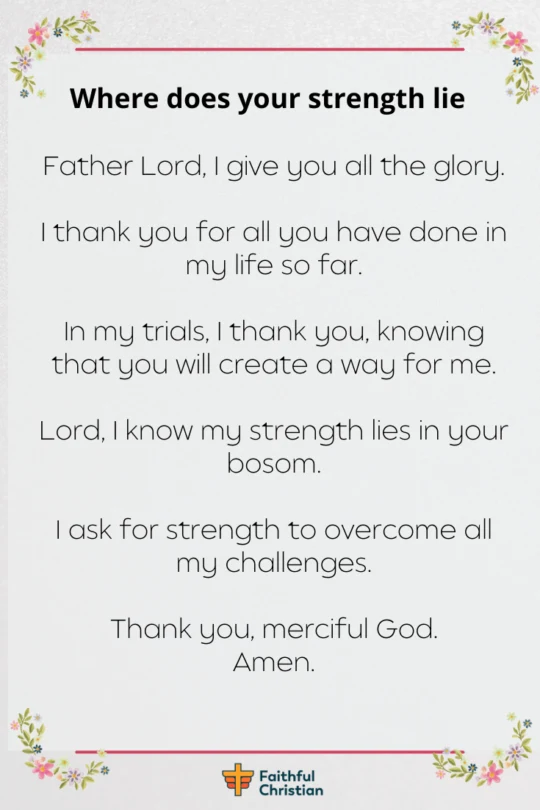 Almighty Creator, the source of all wonder,
With awe, I look up to You, our universe's grand designer.
I bask in Your boundless love, Father.
Every heartbeat, every sigh – You're there. Just like Psalm 139:13 says, "For You formed my inward parts." You've crafted every chapter of my story, even those with twists and turns.
In challenges, I see Your hand. Your plans for hope, like Jeremiah 29:11 promises, shape my trials into triumphs.
When the world feels heavy, Lord, You're my anchor. My stronghold, as described in Psalm 18:2.
With You, Father, I find strength. A strength that Ephesians 6:10 speaks of, urging us to "be strong in the Lord."
Guided by You, no hurdle's too high. No storm, too fierce.
Pour onto me, O Lord, a bravery rooted in faith. Allow me to walk, like Peter did on water, with trust, despite the waves around.
Your mercy, The Almighty, is a beacon. A light that never dims, reminiscent of Psalm 136:1, which celebrates Your steadfast love.
In surrender, in gratitude, I offer this heart of mine.
To You, the beginning and the end.
Amen.
Frequently Asked Questions
How do you pray for strength in difficult times?
Praying for strength in difficult times begins with acknowledging your emotions and turning to God for support. Address God honestly, sharing your feelings of overwhelm, fear, or sadness.
Request guidance, wisdom, and strength to navigate the challenges you face. Offer thanks for blessings, even in times of hardship. Recite Bible verses that resonate with your situation.
Ask for specific types of strength, such as physical, emotional, or spiritual. Finally, trust in God's attentiveness and provision.
A relevant scripture is Philippians 4:13: "I can do all things through Christ who strengthens me."
What to pray for strength right now?
To pray for strength, start by acknowledging God's presence in your life and expressing gratitude for past blessings. Share your current difficulties with Him and request assistance in bearing your burdens.
Specify the type of strength needed, whether physical, emotional, spiritual, or mental. Conclude by reaffirming your trust in God's wisdom and timing, expressing gratitude for His support.
Consider reciting relevant Bible verses like Isaiah 41:10: "Fear not, for I am with you; be not dismayed, for I am your God."
What is the most potent Prayer of all time?
The potency of a prayer is subjective, but the Lord's Prayer holds significant importance for many Christians. In Matthew 6:9-13, Jesus provides this prayer as a model:
"Our Father in heaven, hallowed be your name, your kingdom come, your will be done, on earth as it is in heaven. Give us today our daily bread. And forgive us our debts, as we also have forgiven our debtors. And lead us not into temptation, but deliver us from the evil one."
It encompasses praise, submission to God's will, requests for daily needs, forgiveness, and protection.
What is the Prayer for strength today?
A prayer for strength today could be: "Lord, I seek your strength to face today's challenges. Remind me of your love and guide me. Help me persevere, grant me wisdom, and equip me with fortitude. Anchor me in your promises and uplift me with your grace. In Jesus' name, Amen.
What is the Bible's Prayer for Strength?
A notable biblical prayer for strength is David's prayer in Psalm 18:1-3:
"I love you, Lord, my strength. The Lord is my rock, my fortress and my deliverer; my God is my rock, in whom I take refuge, my shield and the horn of my salvation, my stronghold."
How can I pray for strength during difficult times?
Begin your prayer by acknowledging God's sovereignty and offering gratitude for His love. Openly share your struggles and fears with Him. Request His strength, wisdom, and guidance in navigating challenges.
Pray for others as well, since intercession can bring strength. Close by expressing trust in His plan and timing.
Incorporate scriptures like Psalm 46:1, "God is our refuge and strength, a very present help in trouble."
What is a short prayer I can use for strength during difficult times?
A brief prayer for strength could be: "Lord, grant me strength to endure this challenge. Guide my actions and thoughts to navigate with grace. You are my rock and anchor. Amen."
How can I pray for strength and courage in difficult times for my family?
When praying for your family, start by expressing gratitude for God's constant presence. Mention each family member and their unique challenges. Ask God for collective strength, unity, and resilience.
Refer to scriptures for guidance, like Joshua 1:9: "Be strong and courageous. Do not be afraid; for the Lord your God is with you wherever you go." Conclude by entrusting your family's well-being to God, emphasizing trust in His plan.
How can I offer a prayer for strength to support a friend?
Begin by thanking God for the gift of friendship. Detail your friend's challenges and request God's guidance, strength, and clarity for them. Pray for their emotional, spiritual, and physical well-being.
Use scriptures, such as Proverbs 18:10: "The name of the Lord is a strong tower; the righteous run into it and are safe." Finish by asking for ongoing guidance and a strengthened bond between you.
What are some prayers for finding hope in difficult times?
In challenging times, a prayer for hope might be: "Heavenly Father, amid my struggles, illuminate my path with Your light. Remind me of Your enduring love and promises. Instill hope in my heart, trusting brighter days await. In Jesus' name, Amen."
Reflect on uplifting scriptures, like Romans 15:13: "May the God of hope fill you with joy and peace, so you may abound in hope through the Holy Spirit."
How can I seek spiritual strength through prayer?
To seek spiritual strength, approach God with humility and a desire for growth. Request wisdom, discernment, and a deeper relationship with Him.
Ask the Holy Spirit to guide your daily life, ensuring alignment with God's will.
Dive into scriptures, like Ephesians 3:16: "May He strengthen you with power through His Spirit in your inner being." Commit to studying His Word and remaining receptive to His teachings.
What prayers can I use to ask for strength?
A concise prayer for strength can be: "Almighty Father, I seek Your strength amidst my trials. Uphold my spirit during weak moments, and let me lean on Your promises. In Jesus' name, Amen."
How can I pray for strength to face challenges at work?
When praying for work-related strength, describe your professional concerns to God. "Lord, guide my decisions and interactions at work. Help me perform tasks with skill and excellence. Bless my efforts and ensure they align with Your will."
Remember scriptures like Colossians 3:23: "Work wholeheartedly, as for the Lord and not for humans." By entrusting your career journey to God, you invite His guidance and support.
Author: Akatakpo Dunn
Dr. Akatakpo Dunn is a dedicated follower of Christ, an active member and speaker, and an ongoing learner of the Scriptures. Passionate about his faith and serving others, he is committed to sharing his spiritual journey and insights to inspire and uplift fellow believers. He has been active in the church for more than 23 years. Through The
Faithful Christian Blog
,
Dr. Dunn
combines his love for God, philanthropy, and Scripture, providing a valuable resource for those seeking to grow in their faith.
Follow me: on Youtube, Facebook, Twitter, Instagram, and Pinterest.
Content Disclosure:
At The Faithful Christian Blog, I create authentic and inspiring content. Although I am the main author, I occasionally use AI for minor language enhancements. This minimal AI usage ensures high-quality, trustworthy articles without compromising originality or sincerity, ultimately supporting our shared faith journey.
Warmly,
Dr. Akatakpo Dunn
Was this article helpful?