Pain in life is inevitable.
And there is no reason to pretend because everyone experiences it.
Sometimes, you may get submerged in the stress and anxiety of this world.
When you feel this way, there are inspirational bible verses for overwhelming times that can motivate your soul.
About a month ago, A young man rushed his wife into the emergency room.
She was in labor and needed urgent surgery.
When I came in to see her, I was speechless.
She had been in labor for days, and they couldn't raise enough money to come to the hospital.
When he was told his wife needed surgery, he completely lost control of himself.
He was struggling with how to pay her surgical bills.
At that point, he felt overwhelmed by the challenges of life.
He just sat down on the chair, confused, not knowing what steps to take.
But there is a reason why I decided to share this story.
While we were still preparing the woman for surgery, she delivered spontaneously.
Sometimes we are faced with a lot of problems at work, school, with family, and with friends.
As moms or dads, we get stressed too with taking care of the home and work.
Don't lose hope in God's saving power when you feel overwhelmed.
He can relieve you of your stress and calm your anxiety.
I have compiled bible verses for overwhelming times.
Read and be blessed.
---
Recommended for you
---
Bible verses for overwhelming times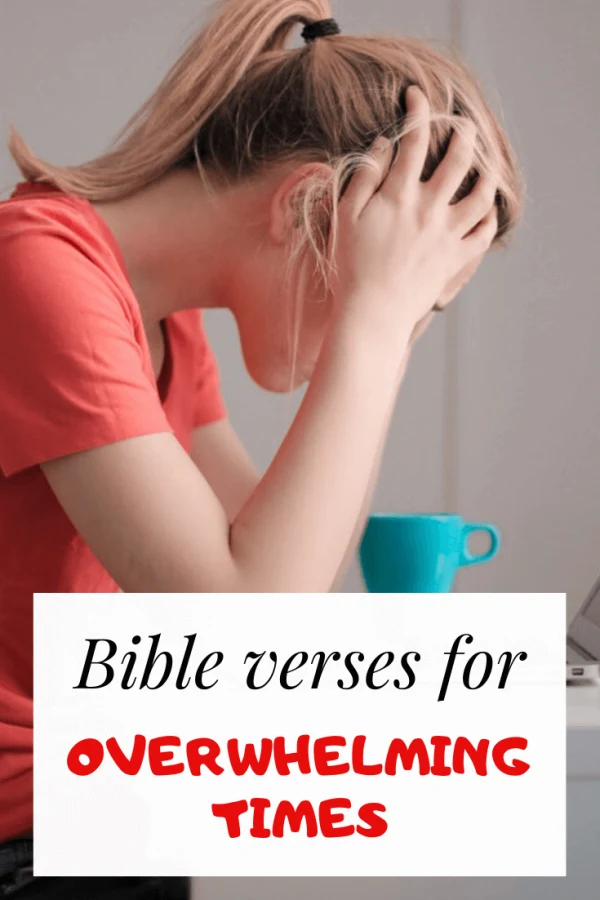 1. Psalm 23: 4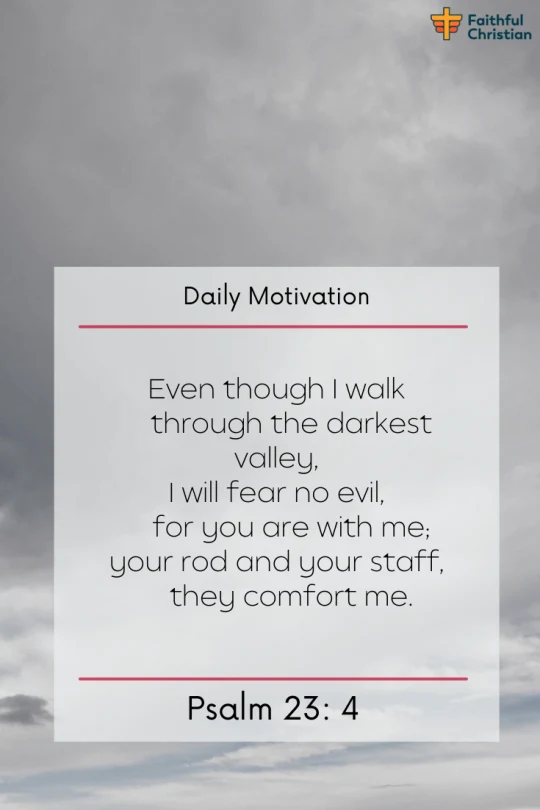 Even though I walkthrough the darkest valley,[a] I will fear no evil,for you are with me; your rod and your staff,they comfort me.
Life can sometimes feel like a journey through a shadowy, ominous valley. In these overwhelming moments, Psalm 23:4 resonates deeply with us.
This passage paints a heartening image of traversing life's trials. It's a calming murmur among our anxieties, whispering, "Don't fear, I'm here." It's a beacon of hope, a rally to faith when adversity strikes.
The psalmist uses the "rod" and "staff" metaphor. These shepherd's tools signify God's guidance and protection. They reassure us that His presence is our compass amid life's tumult.
When overwhelmed, His divine guidance illuminates our path through the gloomiest valleys.
Psalm 27:1 offers a similar comfort. It states, "The Lord is my light and my salvation—whom shall I fear? The Lord is the stronghold of my life—of whom shall I be afraid?"
This verse fortifies the belief of fearlessness with God's presence. His light can banish any darkness in our lives.
Deuteronomy 31:6 echoes this assurance. It exhorts, "Be strong and courageous. Do not be afraid or terrified because of them, for the Lord your God goes with you; he will never leave you nor forsake you."
This passage emboldens us, reminding us that we're not alone. God accompanies us in our struggles, infusing us with needed strength and courage.
Daniel in the lions' den is a prime biblical example reflecting these teachings. Facing imminent death, Daniel's faith never wavered. He was in the darkest valley, yet he feared no evil.
Miraculously, God delivered him, making Daniel's steadfast faith a source of inspiration.
Likewise, Nelson Mandela's story is a powerful testament to faith and resilience against adversity. Despite spending 27 arduous years in prison, Mandela, like a lighthouse in a dark valley, never lost faith in his fight against apartheid.
His belief in racial equality led him to triumph, making him a global emblem of resilience.
I find these stories deeply moving. They demonstrate that God, our divine shepherd, can guide us even in the most challenging times. Whether facing lions or oppressive regimes, our faith can buoy us.
In conclusion, when we feel overwhelmed, we must remember that God's comforting presence is always with us.
Biblical narratives like Daniel's and real-life examples like Mandela's inspire us to stay faithful and courageous in our struggles.
Verses like Psalm 23:4, Psalm 27:1, and Deuteronomy 31:6 serve as reminders of God as our comfort and strength.
Through prayer and meditation, we can draw on these verses to invite divine guidance and solace, helping us navigate life's challenges with grace and resilience.
2. Isaiah 41:10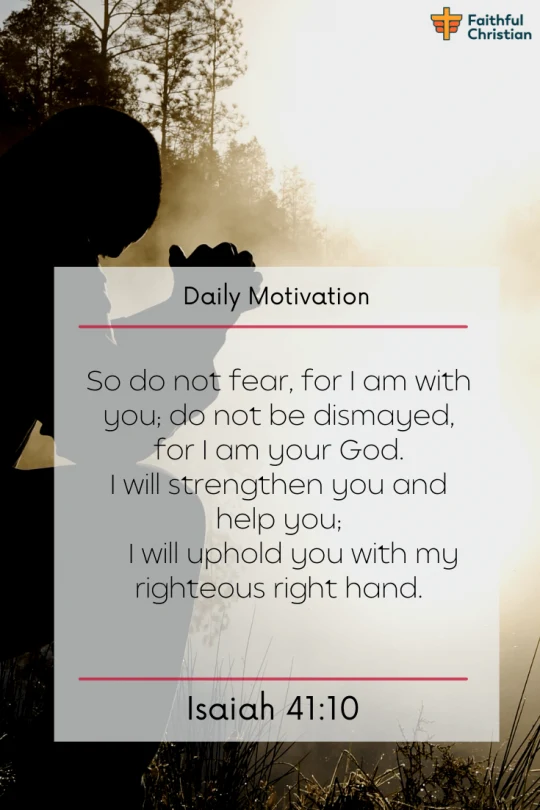 So do not fear, for I am with you;do not be dismayed, for I am your God. I will strengthen you and help you;I will uphold you with my righteous right hand.
In the heart of life's storms, Isaiah 41:10 shines brightly. It's a comforting reminder. "Do not fear, for I am with you," it says. It's God's promise to us. He is there when life gets tough. He is our source of strength.
Are you overwhelmed? Feeling alone? This verse offers solace. It's a lighthouse in the dark. Its message is simple yet powerful. You are not alone.
You don't need to succumb to fear. Why? Because God is with you. He is there to help you, to strengthen you.
Does this sound familiar? "Be strong and courageous. Don't be afraid. Don't be discouraged." That's Joshua 1:9. God's words echo Isaiah 41:10. They remind us of his constant presence. They remind us of his unwavering support.
Think about Moses. He was tasked with a daunting mission. Leading the Israelites out of Egypt. An army chasing them. A sea blocking their path. Yet, he did not waver. He trusted in God's promise. He relied on God's strength. His faith turned the tide.
What about Isaiah 40:29? "He gives strength to the weary, power to the weak." This verse reinforces Isaiah 41:10. God's strength is our lifeline. It's what keeps us going. Even when we're at our weakest.
How does this apply to you? You're not leading a nation. You're not parting seas. You're dealing with daily pressures. You're navigating life's challenges.
But, remember Malala Yousafzai. Shot for advocating girls' education. A situation filled with fear. But she didn't back down. Her faith was her resilience. She chose courage over fear. She continues to fight today.
God upheld Moses. He upheld Malala. He'll uphold you too. In your struggles, you're not alone. He's there, ready to strengthen you. Ready to help you.
So, when life gets tough, remember Isaiah 41:10. Remember, you're not alone. You're stronger than you think. Not because of your strength.
But because of His. He's there, amidst your storm. His words are calming, "Do not fear, for I am with you." With this promise, you can overcome anything.
3. Psalm 118:6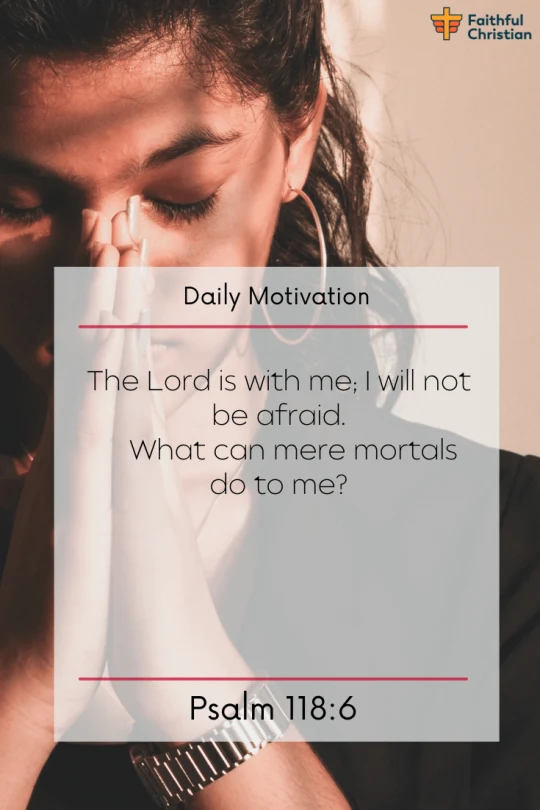 The Lord is with me; I will not be afraid.What can mere mortals do to me?
Psalm 118:6 declares, "The Lord is on my side; I will not fear. What can man do to me?" This verse is a stronghold of faith for anyone facing overwhelming times.
Take a moment and ponder. When did you last feel the power of these words? Life's pressures can be like a menacing Goliath, towering over us, mocking our efforts.
Yet, just like young David, we can confront our giants head-on, trusting in God.
David, though small in stature, was spiritually armored. He faced Goliath, not with a sword, but with faith. Trusting in God's protection, he triumphed. So, can we overcome our metaphorical Goliaths with the promise of Psalm 118:6.
Consider Psalm 56:4, which reinforces the message: "In God, whose word I praise—in God I trust and am not afraid. What can mere mortals do to me?"
The psalmist reminds us that God's power far surpasses any human force. No matter how daunting our situations seem, they are no match for the Almighty.
Think of Martin Luther King Jr., who faced the giant of racial injustice. Despite opposition and threats, he persevered with faith in God. He lived Psalm 118:6, showing that trust in God makes us invincible.
Romans 8:31 asks, "If God is for us, who can be against us?" This question reminds us of a truth: With God on our side, no force can prevail. The verse urges us to shift our focus from problems to God's power.
To grasp these words is to realize their transformative potential. When we trust in God's protection and power, we change from being overwhelmed to being overcomers.
In conclusion, the message of Psalm 118:6 is clear. Don't be afraid. No matter how towering your problems seem. I've learned that with God by our side, the Goliaths in our life don't stand a chance.
4. Psalm 138:7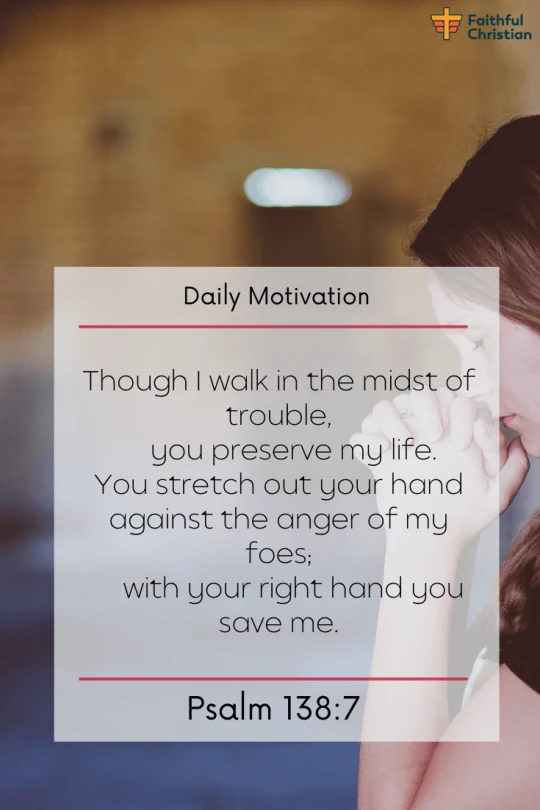 Though I walk in the midst of trouble,you preserve my life. You stretch out your hand against the anger of my foes;with your right hand you save me.
In life's stormy seasons, Psalm 138:7 shines as a beacon of hope. It says, "Though I walk in the midst of trouble, you preserve my life…" God's protection is a promise, an ever-present lifeline.
This promise is a comforting truth. God sees us. His hand is always ready to save us. It echoes Psalm 34:19, "The righteous person may have many troubles, but the Lord delivers him from them all."
Just like a parent protecting a child, God is there in our moments of distress.
Psalm 138:7 is more than words. It's a lived reality. Think about the Apostle Paul. His life was filled with trials – shipwrecks, imprisonments, beatings.
Still, he clung to faith. He trusted that God would preserve his life. And God did. This reminds us of 2 Timothy 4:18, "The Lord will rescue me from every evil attack…"
Viktor Frankl's story shows this faith too. He survived the horrors of Nazi concentration camps. His faith was in human purpose and meaning. That belief helped him survive.
Later, he developed logotherapy, a therapy focused on life's meaning.
These scriptures have comforted me too. Knowing that God's hand guides us through the storm brings peace. His protection isn't a maybe, it's a promise. He will extend His hand against our foes. He will save us.
In short, Psalm 138:7 offers a blueprint for tough times. It teaches us about God's unwavering protection. It encourages trust in God. It serves as a reminder that we're never alone in our struggles. God's hand is there, guiding us to safety.
5. Psalm 3:6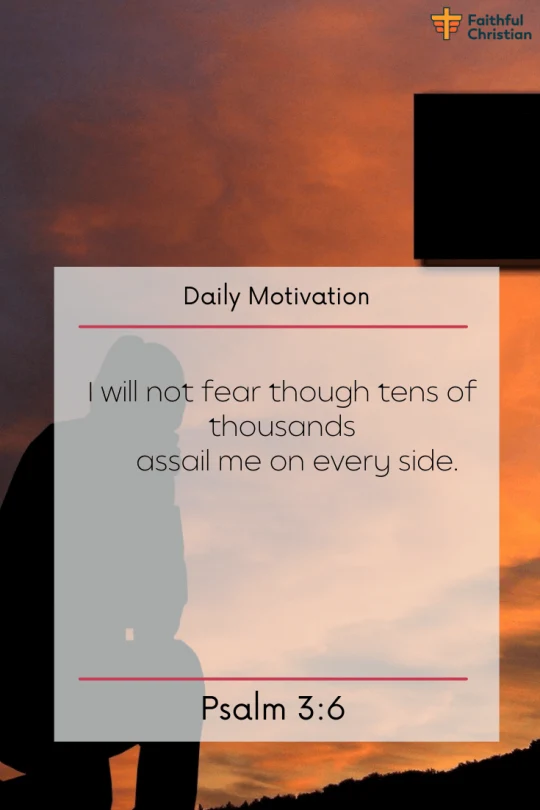 I will not fear though tens of thousandsassail me on every side.
In the stormy sea of life, we often feel adrift. Yet, the Bible whispers comfort. One such whisper is Psalm 3:6. "I will not fear though tens of thousands assail me on every side." It's more than just a bold claim.
Let's dive deeper. This verse tells a story of unwavering faith. Picture being surrounded by an army. Would you tremble or stand tall? The psalmist chooses the latter. That's the power of faith in God.
Now, think about Psalm 27:3. "Though an army besiege me, my heart will not fear." Sound familiar? It echoes Psalm 3:6. It's a lesson in confidence. And that confidence comes from God, not us.
Next, consider Psalm 91:7. "A thousand may fall at your side, but it will not come near you." What an image! Amid chaos, we remain safe. It's not about escaping life's battles. It's about standing strong through them, with God by our side.
Remember Shadrach, Meshach, and Abednego? They faced a fiery furnace. But they remained calm. Why? They trusted in God's deliverance (Daniel 3:17). And they walked out of the fire unharmed. Can we put our trust in God, just like they did?
Think about Harriet Tubman. She led slaves to freedom despite the danger. Her faith in God guided her. Can we have faith like Tubman, acting bravely when fear seems easier?
In closing, Psalm 3:6 is a lifeline in overwhelming times. It calls us to trust in God's protection. To stay strong amidst adversity. To navigate life's storms bravely. We are not alone in our battles. We, too, can say, "I will not fear."
6. Isaiah 43:1-2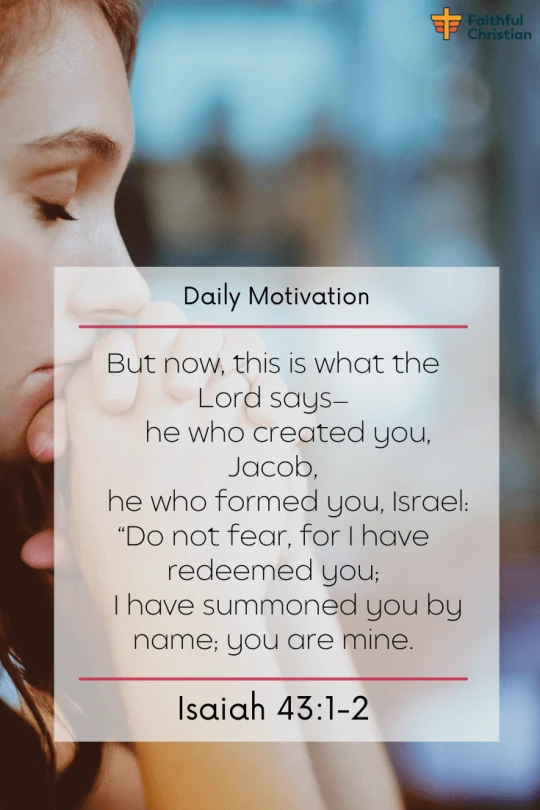 But now, this is what the Lord says—he who created you, Jacob,he who formed you, Israel: "Do not fear, for I have redeemed you;I have summoned you by name; you are mine. 2 When you pass through the waters,I will be with you; and when you pass through the rivers,they will not sweep over you. When you walk through the fire,you will not be burned;the flames will not set you ablaze.
Are you feeling like you're drowning in life's waves? Isaiah 43:1-2 offers a lifeline. It tells us that God knows us by name. He claims us as His own. What a thought!
This scripture paints a picture. A picture of divine protection. A preservation promise. Just think of Noah. He was tasked with building an ark. Then, he survived a flood. It was God who guided him. God who kept him and his family safe.
We can place our trust in God's promise too. He is with us, always. Not might be, not could be, but will be. In our most desperate times, He's there.
God doesn't leave us when we need Him most. No matter how tough life gets, we won't be destroyed. God is with us.
Psalm 66:12 speaks the same truth. "We went through fire and water, but you brought us to a place of abundance."
Trials refine us. They strengthen us. Like a blacksmith with metal, God uses our trials for good. With Him, we don't just survive. We thrive.
Ernest Shackleton's story is a perfect example. His ship was trapped in Antarctica's icy grip. Yet, he led his crew to safety. His unwavering faith and strong leadership were key. Just like our faith in God's promise is during hard times.
Isaiah 54:10 reiterates this promise. "Though the mountains be shaken and the hills be removed, yet my unfailing love for you will not be shaken nor my covenant of peace be removed."
God's protection is stronger than any trial we may face.
In a nutshell, remember Isaiah 43:1-2 when life's seas get rough. Or when you're trapped in a hard place. Or when life's trials leave you scorched.
The same God who guided Noah and cared for Shackleton is with you. His protection is divine. His preservation is sure. With Him, you won't just survive. You'll thrive.
7. Acts 18:9-10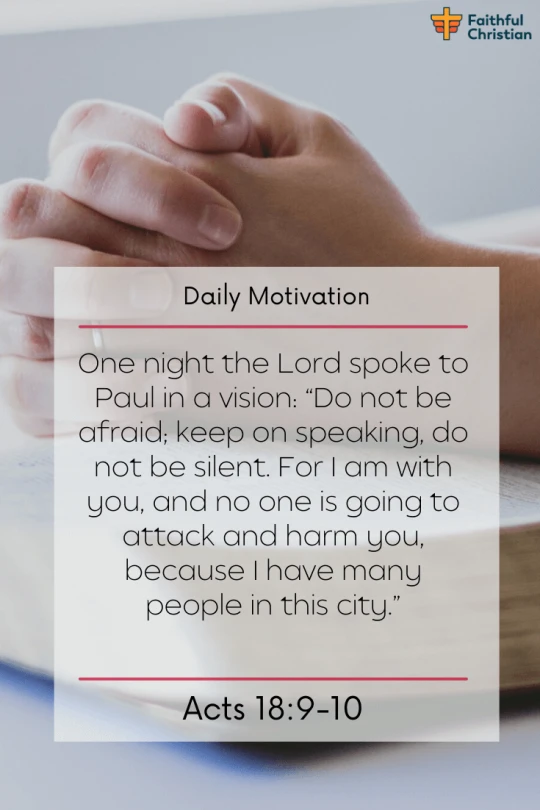 One night the Lord spoke to Paul in a vision: "Do not be afraid; keep on speaking, do not be silent. 10 For I am with you, and no one is going to attack and harm you, because I have many people in this city."
Let's dive into Acts 18:9-10. It's a powerful verse and anecdote from Paul's life. Paul was a Christian trailblazer. He was under constant threat. Yet, he was fearless. How? God spoke to him in a vision.
God's message? Simple: "Do not be afraid." Easier said than done, right? But it was God speaking. That changed everything. His words offered protection. His words reached into every corner of Paul's life.
God also gave Paul a mission: "Keep speaking. Don't be silent." Despite the opposition, Paul had to stand firm. Fear couldn't silence him. Reminds you of 2 Timothy 1:7, doesn't it? It says: "God gave us a spirit not of fear but of power, love, and self-discipline."
God's plans are unshakeable. They stand strong, like a lighthouse amid a storm. Aligning with these plans makes us unshakeable too. We find purpose. We transcend our troubles.
Here's another comforting truth: We are not alone. God promised Paul support. He has many people in the city. We too have support in our lives. Friends, family, even kind strangers.
Take journalists in war-torn regions. They face danger daily. Yet, they stand firm. They are committed to truth. Their courage is inspiring. Their work is a testament to purpose and community.
Acts 18:9-10 also showcases God's comforting voice. It's a voice of courage. A voice for overwhelming times. Matthew 28:20 echoes this comfort: "And surely I am with you always, to the very end of the age."
Facing a challenge? Remember Acts 18:9-10. It's a divine reminder. Fear can't hold you back. Face overwhelming times with courage. Be assured, you are protected. You have a purpose. And you are never alone.
 Therefore do not worry about tomorrow, for tomorrow will worry about itself. Each day has enough trouble of its own.
We've all faced storms in life, haven't we? Moments when calm gives way to chaos. In such times, worrying about tomorrow is a common response. But the Bible has a different perspective.
Matthew 6:34 says, "Don't worry about tomorrow. Tomorrow can worry about itself. Each day has enough trouble."
Isn't that powerful? The advice is clear: focus on the present. Don't let the unknown future add to your current struggles. It's like hiking. Concentrate on each step, not the whole journey. Live one day at a time.
Ever heard of Proverbs 27:1? It says, "Don't boast about tomorrow. You don't know what a day may bring." It tells us life is unpredictable.
James 4:13-14 also warns against making presumptive plans. We simply don't control tomorrow.
Think about Mary, Jesus's mother. When the angel Gabriel told her she'd conceive a child through the Holy Spirit (Luke 1:26-38), she was startled.
An uncertain, possibly dangerous future lay ahead. Yet, she showed grace. She trusted God's plan. She focused on the honor of her divine task, not the future hardships.
In real life, many individuals battling chronic illnesses follow a similar approach. They focus on managing today's symptoms, not worrying about the future.
By doing so, they maintain their emotional wellbeing, despite physical trials.
So, how do we apply this? When times are tough, remember Matthew 6:34. Instead of worrying about the future, focus on today.
Deal with today's challenges with courage, strength, and faith. Worrying won't change the future. But our actions today can. After all, the future is just a series of 'todays', isn't it?
Next time you're overwhelmed, pause. Take a deep breath. Remember Matthew 6:34. It's okay to focus on today and trust God for tomorrow.
By appreciating the present and releasing future worry, we're not only managing tough times. We're also living as God encourages us – with faith and courage, one day at a time. I hope you find comfort in this truth just as I do.
9. Matthew 6:25
"Therefore I tell you, do not worry about your life, what you will eat or drink; or about your body, what you will wear. Is not life more than food, and the body more than clothes?
Do you ever feel like the world's weight is on your shoulders? You're not alone. Life's demands can often feel overwhelming. But take heart. There's a life-changing message for you in the Bible.
Consider Matthew 6:25. "Do not worry about your life," it says. Food, drink, clothes – these things matter, yes. But life, it reminds us, is more than these. It's a call to shift our focus. To look beyond the material.
This theme echoes throughout the Bible. Look at Luke 12:22-24. It's a reminder from Jesus. He tells His followers not to worry. Like the birds, they're valuable. And God takes care of them.
Philippians 4:6 pushes the same message. Be anxious for nothing, it says. Trust in God.
These aren't just words. They're a lifestyle. Just look at Elijah. A severe drought had hit, and food was scarce. But Elijah trusted in God. Ravens brought him food. A widow provided for him.
Despite scarcity, God provided (1 Kings 17:1-16).
Let's fast-forward to modern times. Mother Teresa is a prime example. She chose simplicity. She served the poor. In the face of overwhelming poverty, she didn't worry.
She relied on God's provision. Her spiritual mission was paramount. Her story tells us: Trust in God allows us to focus on what truly matters.
Trusting God doesn't mean doing nothing. It means doing our part, minus the worry. We plant and water, and God brings the growth.
Feeling overwhelmed? Think about Matthew 6:25. Remember Elijah. Remember Mother Teresa.
I encourage you, as I remind myself, to trust. Trust in the God who cares for you. Life is more than material needs. Focus on what matters. Trust in His provision.
10. John 14:27
Peace I leave with you; my peace I give you. I do not give to you as the world gives. Do not let your hearts be troubled and do not be afraid.
Life can often feel like a stormy sea. It's wild, unpredictable, and overwhelming. Yet, in the midst of this, we have an anchor. It's the divine peace that Christ offers.
In John 14:27, we find a special promise. Jesus says, "Peace I leave with you; my peace I give you." This peace isn't ordinary. It's His own peace, a divine gift. It's custom-made for those times when life gets too much.
The world gives peace with strings attached. It's fleeting and depends on circumstances. Christ's peace is different. It defies understanding (Philippians 4:7).
It remains steady, even in the storm. It's not a temporary feeling. It's a profound calm. It transforms our lives and soothes our hearts.
Let's go back to the night before Jesus was arrested. He knew what was coming – betrayal, pain, death. Yet, He was peaceful.
His trust in God's plan was unshakeable. He embodied divine peace, a peace that stands firm. This is the peace that Christ offers to us.
We can make a choice in the face of overwhelming odds. We can anchor ourselves in Christ's peace. It can calm our fears and ease our anxieties. We can use it as a daily affirmation. It's our prayer for peace in the storm.
Desmond Tutu gives us a powerful real-life example. During South Africa's apartheid, he faced huge challenges. But he chose peace. He preached peace and reconciliation. His faith gave him a deep sense of peace. It inspired millions.
Christ's peace is for the stormy moments. It's for the times we're faced with a mountain of problems. It's for the sleepless nights of worry. It's for the days when fear looms large.
So, when life feels too much, remember John 14:27. Remember you have divine peace. It can transform overwhelming times into opportunities for growth. You're not alone in the storm.
As 2 Thessalonians 3:16 says, "Now may the Lord of peace himself give you peace at all times and in every way."
Anchor yourself in this divine peace. When life's winds blow fiercely, remember your anchor is firm and secure. Trust me, Christ's peace is the remedy for overwhelming times.
Bible verses about too much to handle
11. Hebrews 13:5-6
12.  Lamentations 3:23
13. John 16:33
14. Joshua 1:5
15. Deuteronomy 31:6-8
---
Recommended for you
---
Bible verses about being overwhelmed with school
16. Joshua 1:9
17. Deuteronomy 20:4
18.  2 Timothy 4:17
19. Philippians 4:6–7
20. Proverbs 3:5-6
21.  1 Peter 5:7
22. Psalm 55:22
Feeling overwhelmed? My prayer for you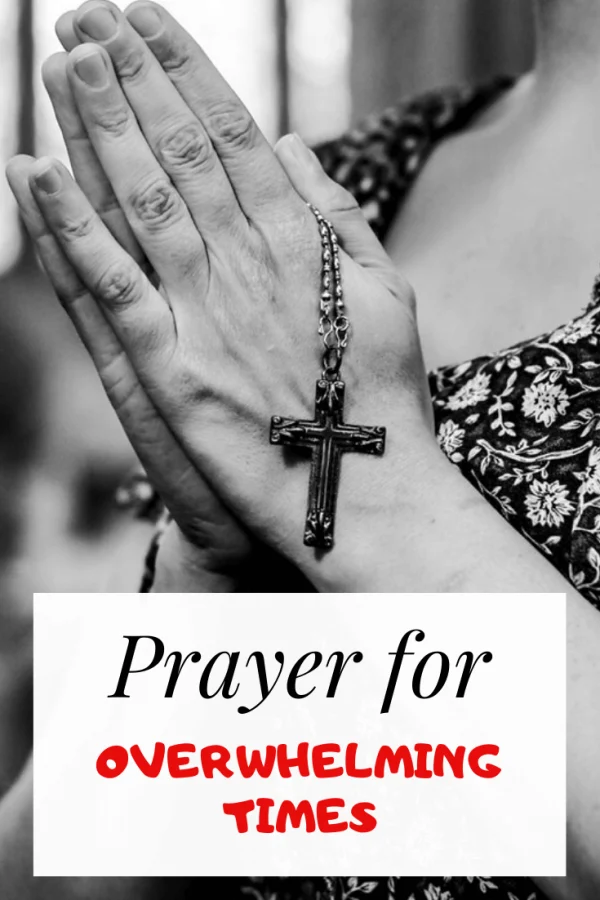 Beloved Lord in Heaven,
Your name shines brightly. It is sacred and cherished. Like a lighthouse in the dark, it guides us. We're reminded of your constant presence. Just as Psalm 46:1 affirms, you're always there to help.
In humility, I approach your divine presence. I'm aware of my human flaws. "All have sinned," says Romans 3:23. I know I am among these sinners. Yet, I bravely come to you, just as I am.
Lord, I admit my actions aren't always pleasing to you. Like Paul in Romans 7:15, I falter. I do what I hate. Yet, I seek your mercy. I long for your forgiveness, for your grace.
Now, I stand before you, Lord. I'm burdened by worries. I'm like Job, beset by trials. Yet, I seek your divine relief. I recall your promise in Matthew 11:28. You offer rest to the weary, the burdened.
My plea extends beyond my worries. I pray for others grappling with hardships. In line with Galatians 6:2, I ask that they find your solace. May they experience your divine touch.
Lord, you've assured us. You will answer our prayers if asked in faith (John 14:13-14). We hold onto this promise. We ask for your mercy, your grace. Our faith, as Hebrews 11:1 defines, is our hope and assurance.
Finally, we thank you, Lord Jesus. We trust our prayers have reached you. You will answer them in your time. As 1 John 5:14 states, you hear us when we pray according to your will.
In your holy name, we pray.
Amen.
Frequently Asked Questions
What are some calming verses for when life feels overwhelming?
Turn to Psalm 61:2 for a soothing balm. It says, "When my heart is overwhelmed: lead me to the rock that is higher than I."
Matthew 11:28-30 also offers solace. Jesus says, "Come unto me, all ye that labour and are heavy laden, and I will give you rest."
Which Bible verses can help when you feel like you're drowning?
When life's trials seem like an unyielding tide, remember Isaiah 43:2. It reassures, "When thou passest through the waters, I will be with thee."
Psalm 69:1-3 echoes this sentiment. It's a heartfelt plea for rescue when you're in too deep.
Are there any Bible verses about being overwhelmed with school?
School stress can be relentless. But Philippians 4:6-7 encourages calm. It says, "Be anxious for nothing; but in everything by prayer and supplication with thanksgiving let your requests be made known unto God."
Consider Proverbs 16:3 too. It suggests committing your studies to God for peace of mind.
Are there any Bible verses that talk about having too much to handle?
When life feels like a heavy load, 1 Corinthians 10:13 offers hope. It says, "God is faithful, who will not suffer you to be tempted above that ye are able."
Psalm 55:22 also provides comfort. It advises to cast your burdens on the Lord, promising He will sustain you.
Can you provide some Bible verses for overwhelming stress?
Stress can be overwhelming. But, John 14:27 offers a soothing promise: "Peace I leave with you, my peace I give unto you." 1 Peter 5:7 is also a comfort. It encourages casting all anxieties on Him because He cares for us.
What are some scriptures for feeling overwhelmed in the King James Version (KJV) of the Bible?
For fans of the King James Version (KJV), Psalm 34:17-18 is a beacon of hope. It assures, "The Lord hears and delivers them out of all their troubles." Isaiah 41:10, KJV, is a comforting reminder that God is with us.
Are there any Bible verses about being overwhelmed at work?
Work can be a source of stress. Colossians 3:23 offers guidance: "Do it heartily, as to the Lord, and not unto men." Psalm 90:17 offers a similar sentiment.
It says, "Let the beauty of the Lord our God be upon us: and establish thou the work of our hands upon us.
What does the Bible say about feeling overwhelmed?
Feeling overwhelmed is common. But the Bible offers guidance. Exodus 14:14 says, "The Lord shall fight for you, and ye shall hold your peace."
And in Matthew 28:20, Jesus assures, "I am with you always, even unto the end of the world."
Remember, in moments of overwhelming stress or drowning, the words of the Bible can provide solace, guidance, and a reminder of God's presence in our lives.
Author: Akatakpo Dunn
Dr. Akatakpo Dunn is a dedicated follower of Christ, an active member and speaker, and an ongoing learner of the Scriptures. Passionate about his faith and serving others, he is committed to sharing his spiritual journey and insights to inspire and uplift fellow believers. He has been active in the church for more than 23 years. Through The
Faithful Christian Blog
,
Dr. Dunn
combines his love for God, philanthropy, and Scripture, providing a valuable resource for those seeking to grow in their faith.
Follow me: on Youtube, Facebook, Twitter, Instagram, and Pinterest.
Content Disclosure:
At The Faithful Christian Blog, I create authentic and inspiring content. Although I am the main author, I occasionally use AI for minor language enhancements. This minimal AI usage ensures high-quality, trustworthy articles without compromising originality or sincerity, ultimately supporting our shared faith journey.
Warmly,
Dr. Akatakpo Dunn
Was this article helpful?