Life can get complicated at times.
Now and again, life brings challenging moments that could dampen our trust in God.
It could be anything. It could be your failing health, your job, sicknesses, or financial difficulties.
In hard times, it is not unexpected that your confidence in God will start to waver.
But, it would be best if you didn't freak out or worry when you are confronted with awful situations.
And that's because God is in control and is aware of your problems.
Luckily for us, there are "God is in control Bible verses" that can motivate us.
These scriptures could be our only hope in trying times.
We must be patient in our afflictions and continue to trust God for an answer.
The ways and thoughts of God are not like ours.
God sees everything and will definitely come to your aid (at his time)
A few months ago, for a moment, I had lost hope in myself.
A patient of mine was operated on, and soon after, she started bleeding heavily.
Unfortunately, there was not a functioning blood bank in the facility.
And with the way she was bleeding, I knew she only had a couple of hours to live.
At this stage, I had lost faith in my abilities to save her.
But then, I knew God was in charge of the situation.
So, after doing the best I could, I quickly prayed to God.
Just when I thought there was no chance for recovery, God intervened. First, the bleeding began to subside, and then it stopped.
If you are struggling with any problem, remember God is in control.
There are no impossibilities with God.
Be patient and put your trust in him.
I have put together bible verses about God is in control to encourage you in your trials.
---
Recommended for you
---
God is in control bible Verses.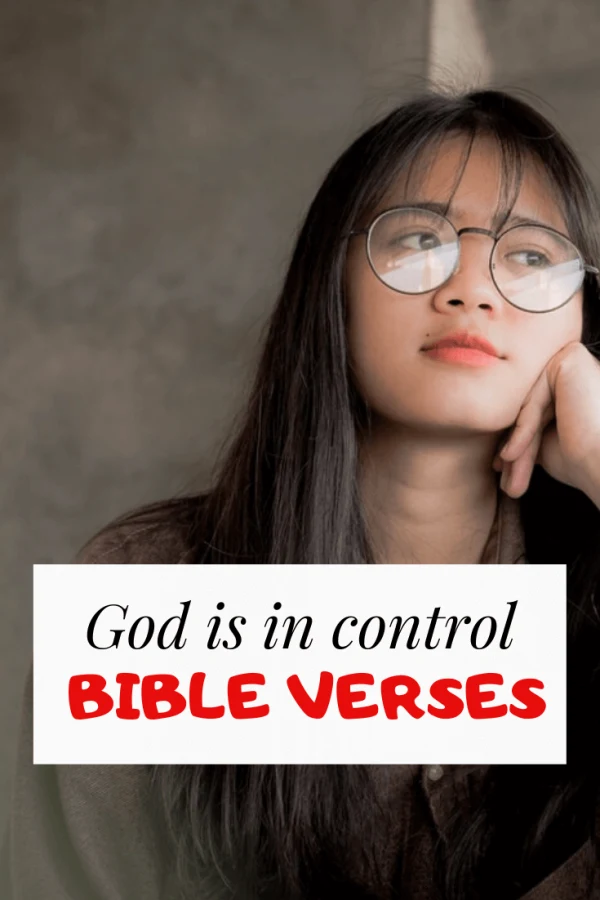 Isaiah 41:10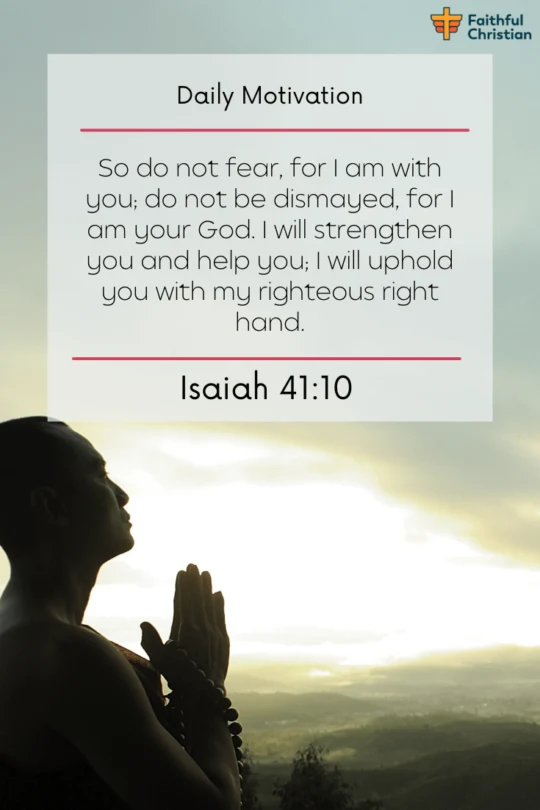 So do not fear, for I am with you;
    do not be dismayed, for I am your God.
I will strengthen you and help you;
    I will uphold you with my righteous right hand.
Joshua 1:9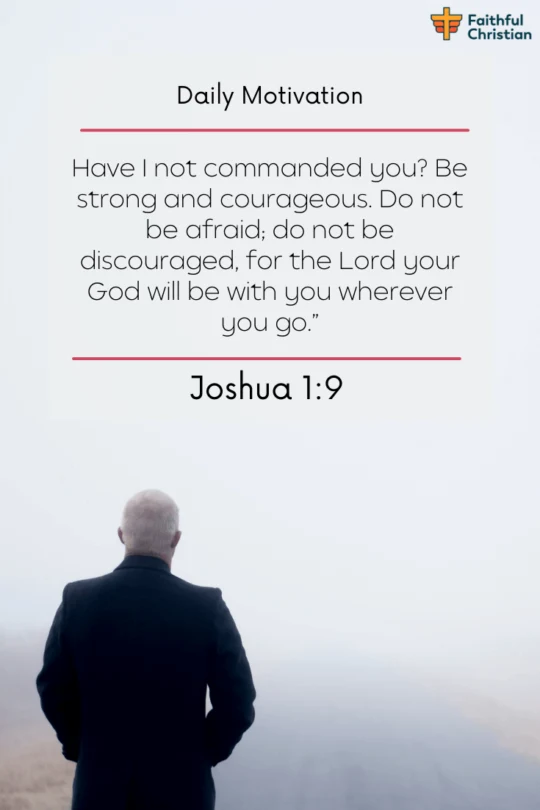 Have I not commanded you? Be strong and courageous. Do not be afraid; do not be discouraged, for the Lord your God will be with you wherever you go."
Isaiah 43:1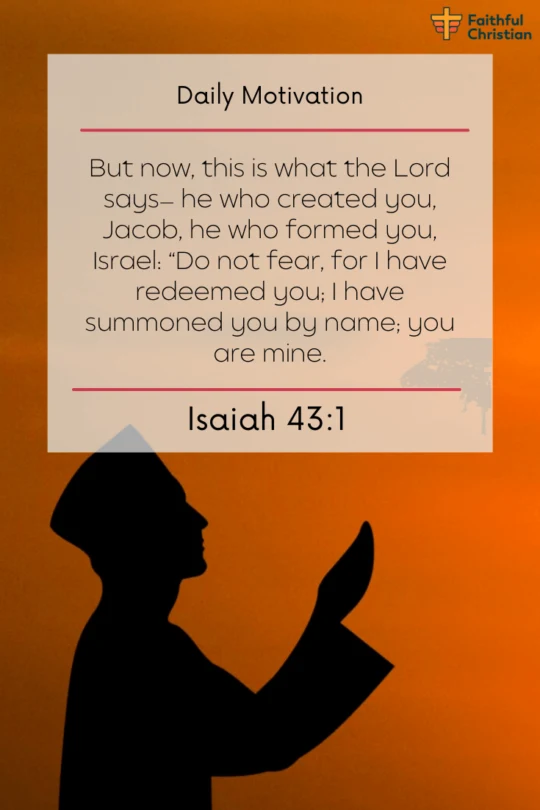 But now, this is what the Lord says—
    he who created you, Jacob,
    he who formed you, Israel:
"Do not fear, for I have redeemed you;
    I have summoned you by name; you are mine.
Isaiah 43:2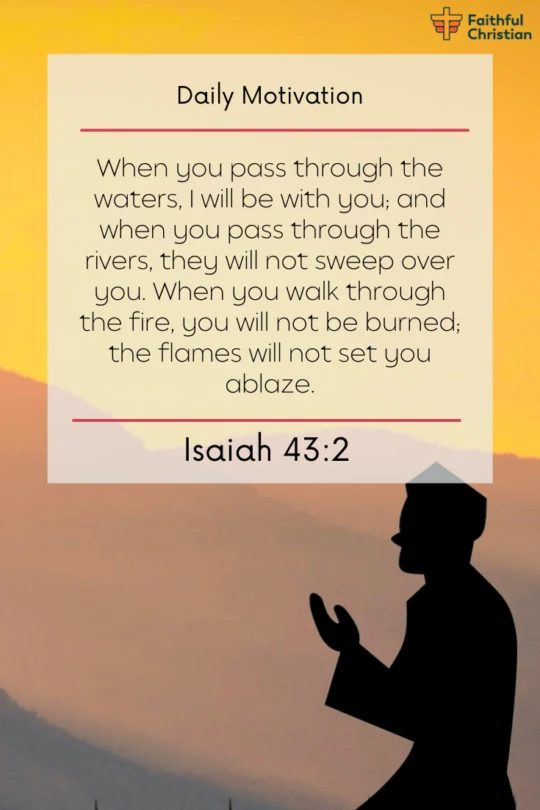 2 When you pass through the waters,
    I will be with you;
and when you pass through the rivers,
    they will not sweep over you.
When you walk through the fire,
    you will not be burned;
    the flames will not set you ablaze.
Romans 8:31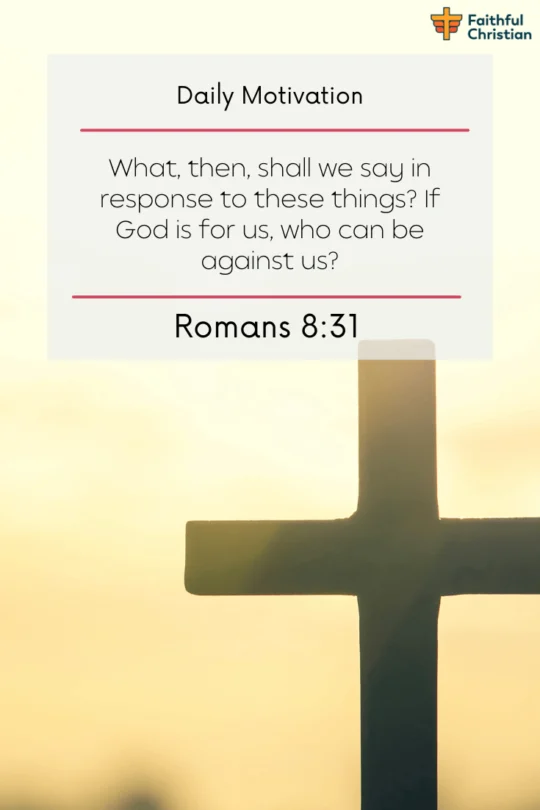 What, then, shall we say in response to these things? If God is for us, who can be against us?
Deuteronomy 31:6-8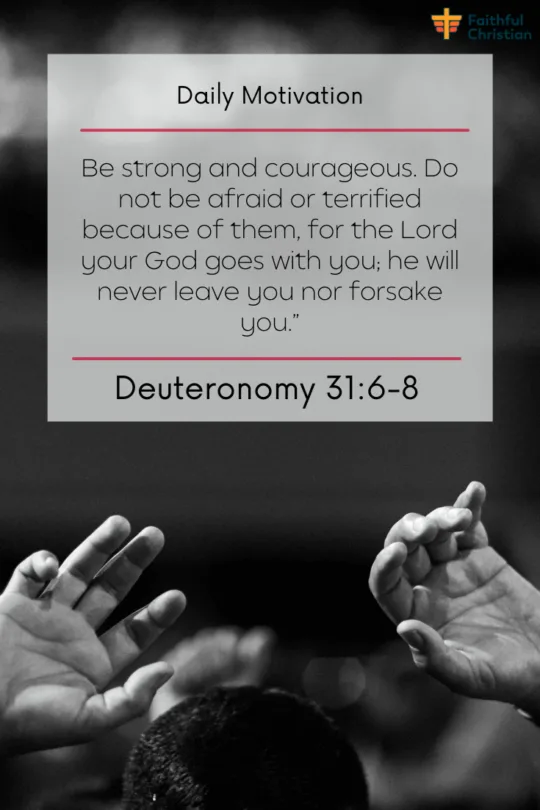 Be strong and courageous. Do not be afraid or terrified because of them, for the Lord your God goes with you; he will never leave you nor forsake you."
Philippians 4:13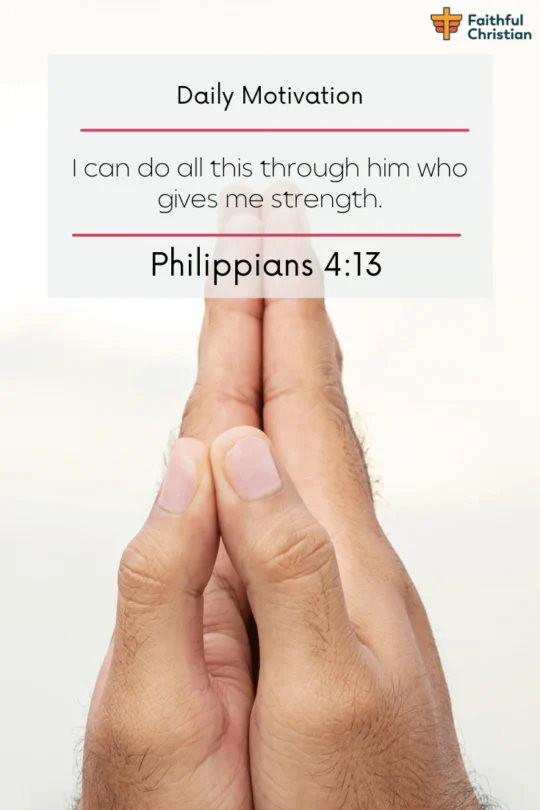 I can do all this through him who gives me strength.
Isaiah 40:29-30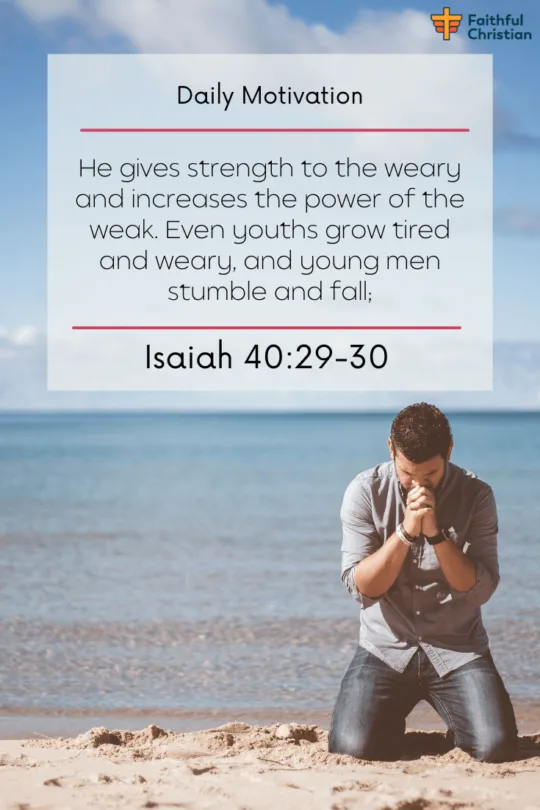 He gives strength to the weary
    and increases the power of the weak.
30 Even youths grow tired and weary,
    and young men stumble and fall;
Isaiah 40:31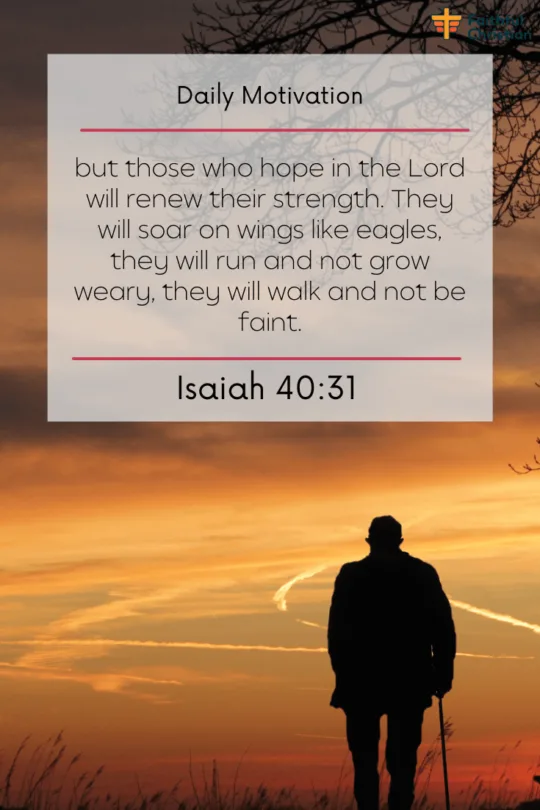 but those who hope in the Lord will renew their strength. They will soar on wings like eagles, they will run and not grow weary, they will walk and not be faint.
Isaiah 41:13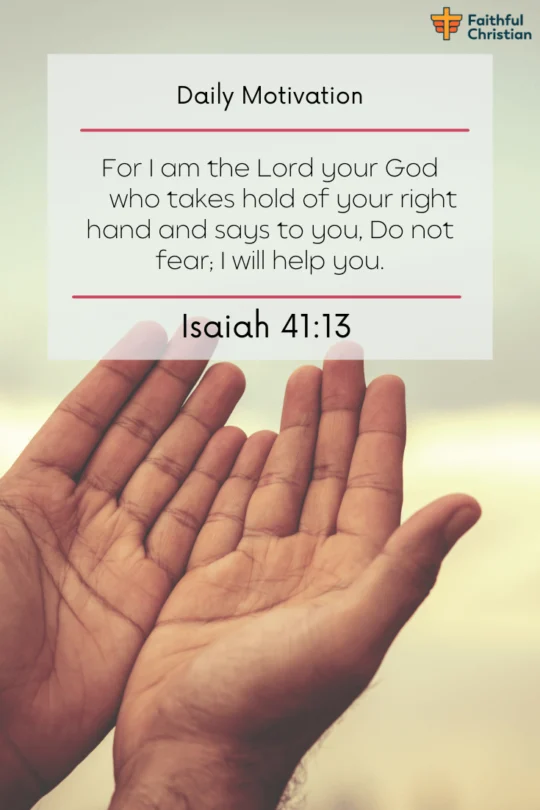 For I am the Lord your God
    who takes hold of your right hand
and says to you, Do not fear;
    I will help you.
Isaiah 41:14
14 Do not be afraid, you worm Jacob,
    little Israel, do not fear,
for I myself will help you," declares the Lord,
    your Redeemer, the Holy One of Israel.
2 Corinthians 12:9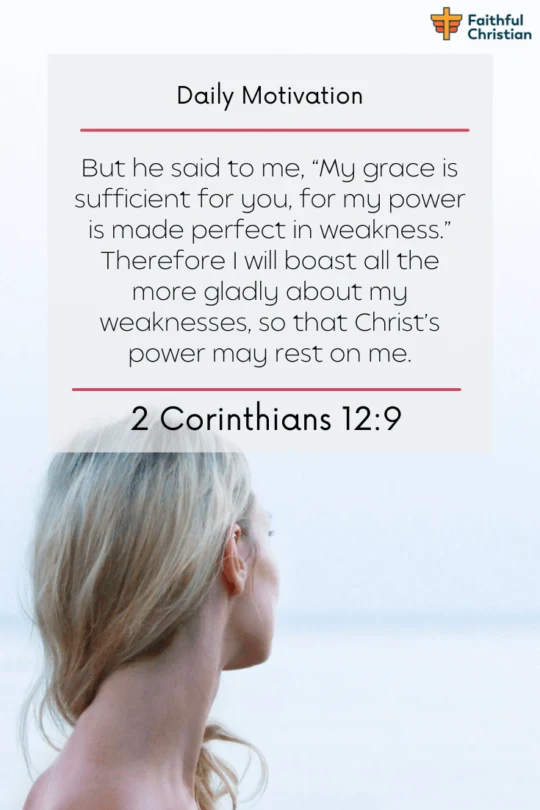 But he said to me, "My grace is sufficient for you, for my power is made perfect in weakness." Therefore I will boast all the more gladly about my weaknesses, so that Christ's power may rest on me.
Psalm 27:1
The Lord is my light and my salvation—
    whom shall I fear?
The Lord is the stronghold of my life—
    of whom shall I be afraid?
2 Chronicles 20:17
You will not have to fight this battle. Take up your positions; stand firm and see the deliverance the Lord will give you, Judah and Jerusalem. Do not be afraid; do not be discouraged. Go out to face them tomorrow, and the Lord will be with you.'"
Isaiah 12:2
Surely God is my salvation;
I will trust and not be afraid.
The Lord, the Lord himself, is my strength and my defense[a];
he has become my salvation."
More Bible verses about God is in control
Psalm 89:13-14
Your arm is endowed with power; your hand is strong, your right hand exalted.14 Righteousness and justice are the foundation of your throne; love and faithfulness go before you.
Psalm 46:1
God is our refuge and strength,
    an ever-present help in trouble
Psalm 145:18
The Lord is near to all who call on him,
    to all who call on him in truth.
Psalm 62:7-8
My salvation and my honor depend on God[a];
    he is my mighty rock, my refuge.
8 Trust in him at all times, you people;
    pour out your hearts to him,
    for God is our refuge.
Psalm 9:9
The Lord is a refuge for the oppressed,
    a stronghold in times of trouble.
Proverbs 18:10
The name of the Lord is a fortified tower;
    the righteous run to it and are safe.
Deuteronomy 4:7
What other nation is so great as to have their gods near them the way the Lord our God is near us whenever we pray to him?
Philippians 4:6
 Do not be anxious about anything, but in every situation, by prayer and petition, with thanksgiving, present your requests to God.
Proverbs 3:5-6
Trust in the Lord with all your heart
    and lean not on your own understanding;
6 in all your ways submit to him,
    and he will make your paths straight
Psalm 55:22
Cast your cares on the Lord
    and he will sustain you;
he will never let
    the righteous be shaken.
Matthew 7:7-8
"Ask and it will be given to you; seek and you will find; knock and the door will be opened to you. 8 For everyone who asks receives; the one who seeks finds; and to the one who knocks, the door will be opened.
Psalm 34:5-7
Those who look to him are radiant;
    their faces are never covered with shame.
6 This poor man called, and the Lord heard him;
    he saved him out of all his troubles.
7 The angel of the Lord encamps around those who fear him,
    and he delivers them.
Matthew 6:8
Do not be like them, for your Father knows what you need before you ask him.
Jeremiah 33:3
Call to me and I will answer you and tell you great and unsearchable things you do not know.'
Psalm 62:8
Trust in him at all times, you people;
    pour out your hearts to him,
    for God is our refuge.
Luke 12:22
Then Jesus said to his disciples: "Therefore I tell you, do not worry about your life, what you will eat; or about your body, what you will wear.
---
Recommended for you
---
More words for encouragement
1. Be strong in the Lord
As Christians, we must be strong in the Lord
We must have unquenchable faith in his power to save us from all manner of temptations.
We are his people, and he has promised to save us from the devil
But it is not that easy to be patient in your trials when there is no hope.
How long will you wait for a solution?
The story of Job teaches us to be faithful in hard times.
We must persevere and renew our strength through prayer and thanksgiving.
In a single day, despite losing his riches and his children, Job was still faithful.
He remained unshaken, knowing that God was in control of his trials.
He rebuked his wife, who intentionally tempted him to "curse God and die."
Yet, even in the face of defeat, he stood his ground.
Likewise, we should learn to trust in the Lord.
And in our patience, we must believe that he would marvelously redeem us from our trial.
The scriptures say,
Be joyful in hope, patient in affliction, faithful in prayer.

Romans 12:12
2. Be prayerful
In your trials, remember that God exists
Please don't lose hope because there are no impossibilities with him
He can save even in impossible times
Therefore, trust in him
When going through enormous challenges, you need to trust in God, be patient, and pray ceaselessly
Prayer is the gateway to our salvation and solutions
With prayers and faith in God, your miracle is on the way
The truth is, there are times, I have doubted my prayers
I tell myself, will God answer my prayers? Is there a chance that I will solve this problem?
Over the past few years, I have learned that unbelief is one main reason for unanswered prayers
Don't doubt anything you want from God. Just kneel and pray to God
Therefore I tell you, whatever you ask for in prayer, believe that you have received it, and it will be yours.

Mark 11:24
3. Return with thanks
God works in mysterious ways
He let us face challenges and be persecuted by the devil
But in all that, he has assured us of protection from all manner of afflictions
Remember the man Job. How the devil persecuted him
God remembered him and blessed the latter end of Job's life
But that wouldn't have been possible if he didn't trust God in his afflictions
Amid sorrow and loss, he gave thanks
He said,
Naked came I out of my mother's womb, and naked shall I return thither: the Lord gave, and the Lord hath taken away; blessed be the name of the Lord

Job 1:21
Likewise, we must learn from Job and behave in a similar fashion
Give God thanks in your trials and continue trusting in him
In every thing give thanks: for this is the will of God in Christ Jesus concerning you.

1 Thessalonians 5:18
Author: Akatakpo Dunn
Dr. Akatakpo Dunn is a dedicated follower of Christ, an active member and speaker, and an ongoing learner of the Scriptures. Passionate about his faith and serving others, he is committed to sharing his spiritual journey and insights to inspire and uplift fellow believers. He has been active in the church for more than 23 years. Through The
Faithful Christian Blog
,
Dr. Dunn
combines his love for God, philanthropy, and Scripture, providing a valuable resource for those seeking to grow in their faith.
Follow me: on Youtube, Facebook, Twitter, Instagram, and Pinterest.
Content Disclosure:
At The Faithful Christian Blog, I create authentic and inspiring content. Although I am the main author, I occasionally use AI for minor language enhancements. This minimal AI usage ensures high-quality, trustworthy articles without compromising originality or sincerity, ultimately supporting our shared faith journey.
Warmly,
Dr. Akatakpo Dunn
Was this article helpful?