We all know, as Christians, that there is no hopelessness in Christ.
Whether you are sick or unemployed, we know we can depend on his word.
God's word pierces the mind and repairs all broken hearts.
We know this because God's word cannot go unfulfilled.
So, if you are pessimistic about any situation in life, remember God's word.
He said, "I will never forsake the righteous."
We've all faced temptations in one way or the other.
There is no hiding place on earth.
Troubles, hard times, and temptations are the primary tools of the devil.
He creates fear, anger, disappointment, hopelessness, pain, and suffering in people's lives.
But do not be afraid.
Instead, meditate on bible verses about hope in hard times and don't stop believing in God.
---
Recommended for you
---
Bible verses about hope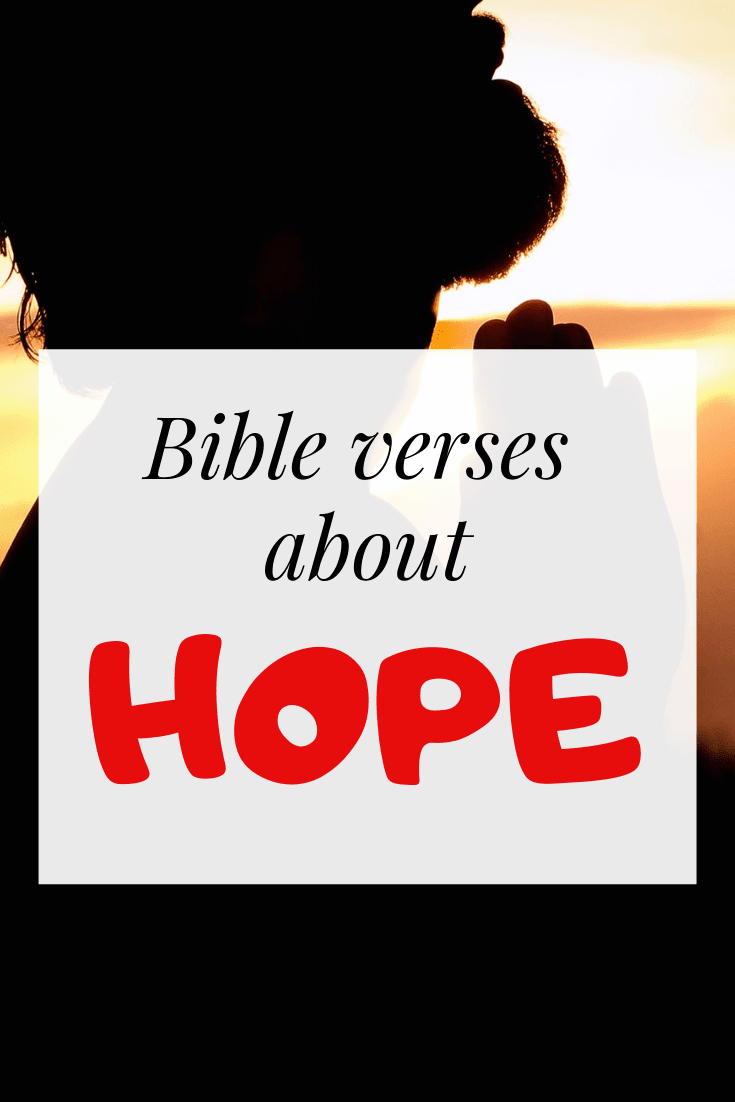 Here are powerful bible verses to stir up your faith in Christ again. Read and be blessed.
1.  Jeremiah 29:11 – God has the best plans for us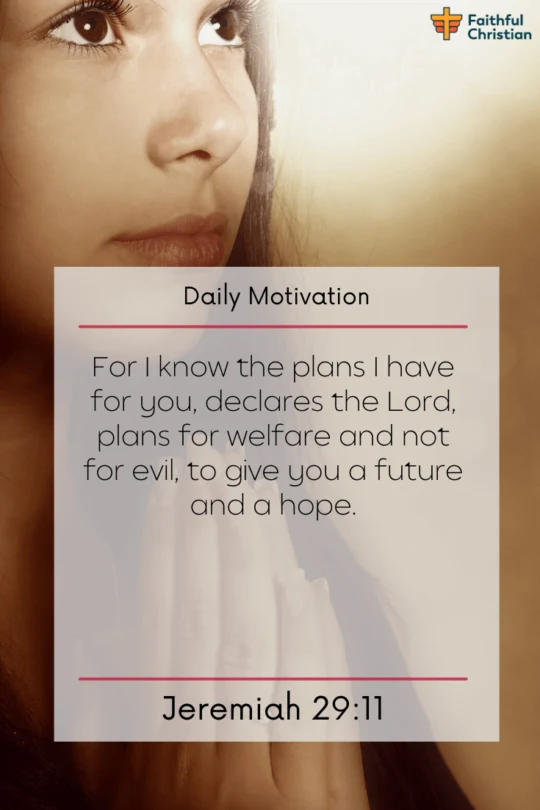 For I know the plans I have for you, declares the Lord, plans for welfare and not for evil, to give you a future and a hope.
Navigating life's trials can feel like wading through dense fog. In this uncertain trek, Jeremiah 29:11 emerges as a lighthouse of hope. It whispers of plans woven with goodness, even when unseen by our clouded vision.
Trust sits at the heart of this divine promise. As stated in Proverbs 3:5-6, it's not about understanding each twist and turn. Rather, it's about submitting to our celestial navigator, confident in His wisdom. Trusting God forms the bedrock of our hope.
Embedded in Jeremiah 29:11, we find a wellspring of optimism. The verse rings with the resounding pledge of a brighter tomorrow. This promise, radiant with hope, fosters resilience amidst adversity. It assures us that joy follows trials, as dawn follows the darkest night.
The tale of Joseph, unfairly enslaved and imprisoned, embodies this concept. His hope, anchored in divine promises, never wavered. Eventually, he ascended to power in Egypt, rescuing his family from famine. Joseph's story illuminates the transformative power of hope and God's ability to mold trials into triumphs.
In the modern world, Malala Yousafzai's story echoes this theme. Struck by bullets meant to silence her, Malala's voice only grew stronger. Her fight for girls' education, propelled by hope, resonates globally. Her journey exemplifies Jeremiah's promise, spotlighting how hope can fuel resilience in adversity's face.
Finally, Jeremiah 29:11 invites us to adopt God's perspective. As Psalm 32:8 confirms, God's counsel illuminates our path. Through His lens, trials transform into stepping stones, crafting our character and refining our spirit.
In essence, Jeremiah 29:11 offers a timeless reassurance of hope during challenging times. This divine promise underscores that our trials, steep as they may seem, serve a higher purpose. And in this purpose, we find the seed of unyielding hope, blossoming even amidst the harshest winters of our lives.
2. Romans 12:12 – Rejoice even when things are tough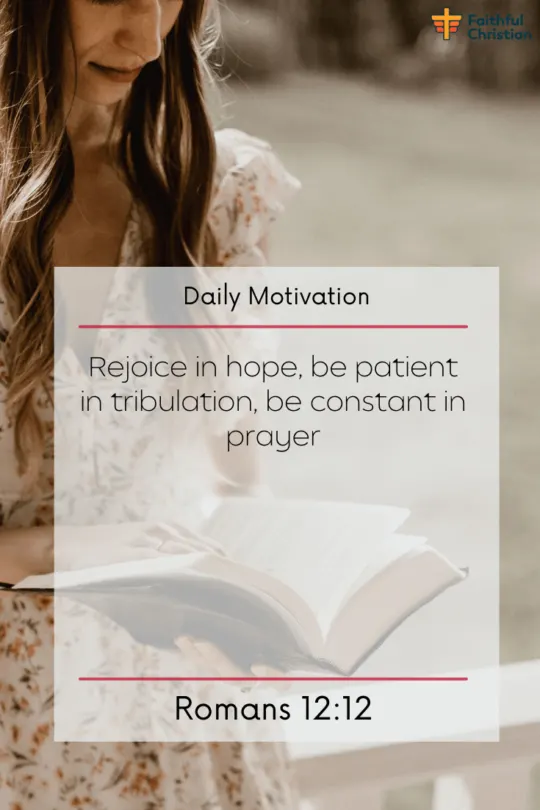 Rejoice in hope, be patient in tribulation, be constant in prayer
Hardships test our mettle, often shaking our core. In these moments, Romans 12:12 offers solace. The verse – "Rejoice in hope, be patient in tribulation, be constant in prayer" – is an anchoring guide in life's turbulent storms.
"Joy Amidst Trials" is the first principle. Romans 12:12 urges us to find joy amidst our tribulations. It resonates with Philippians 4:4, emphasizing the significance of rejoicing in hope. It's this hope-anchored joy that lights our path through the darkest hours.
Job's story is a perfect testament to this. Despite facing immense loss, his hope and faith in God's goodness allowed him to rejoice.
Our second principle is "Spiritual Strength." This verse illustrates how hope empowers us with resilience. It's a mirror to James 1:2-3, highlighting that our faith's testing develops perseverance.
Nelson Mandela personifies this tenet. His 27-year imprisonment couldn't quench his hope for a better South Africa. This hope powered his fight for justice.
The third principle, "Constant Prayer," emphasizes prayer as our line of communication with God. It strengthens our hope and provides us with divine peace and reassurance.
Next, we consider "Unwavering Hope." This verse underscores the importance of maintaining unwavering hope, irrespective of circumstances. It encourages us to fortify our faith, even when faced with daunting challenges.
In conclusion, Romans 12:12 provides a roadmap for navigating life's challenges. It weaves the themes of joy, hope, patience, and prayer into a mantra for survival. It assures us that even amid adversities, hope serves as our resilient vessel, joy as our unwavering compass, and prayer as our unfaltering wind.
This understanding equips us for life's voyage, reinforcing our faith and resilience.
3.  Isaiah 40:31 on being patient and hopeful for God to act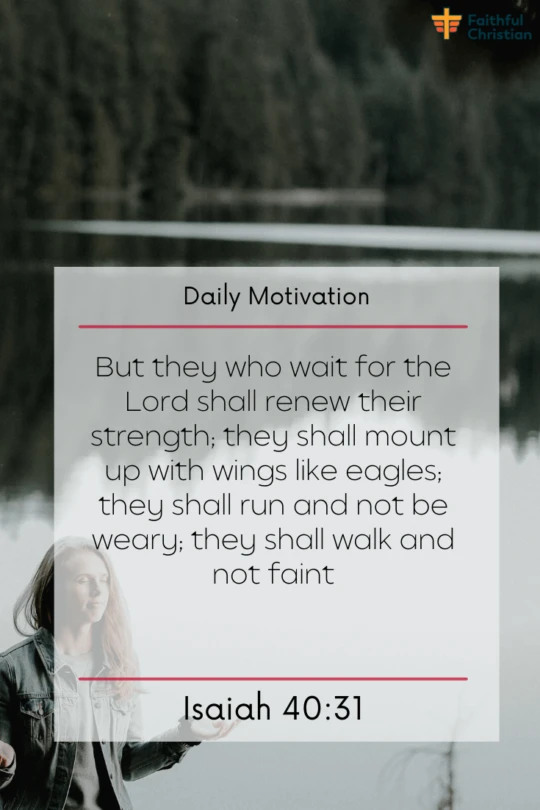 But they who wait for the Lord shall renew their strength; they shall mount up with wings like eagles; they shall run and not be weary; they shall walk and not faint
Isaiah 40:31 offers a lifeline of hope during hard times. The verse promises Divine Renewal, assuring those who hope in God a resurgence of strength.
Patience is a virtue we often grapple with during trials. The scripture and Psalm 27:14 together emphasize that God operates on His perfect timing. Our role? To wait with patient hope.
Consider the story of Abraham. He was already advanced in years, his wife Sarah long past childbearing age. But they clung to God's promise of a son, embodying patience and hope.
This story (Genesis 17) reiterates that waiting on God doesn't mean idle anticipation; it is an active, faithful trust in His promises. Just as Abraham's patience was rewarded, so too our hope in God's promises brings renewal and fulfillment.
Isaiah 40:31 also portrays Soaring Above Circumstances. Eagles utilize adverse winds to rise higher. Similarly, our struggles can be stepping stones to rise above, if we anchor our hope in God.
Reflect on Thomas Edison, the famed inventor. Faced with numerous failures while inventing the light bulb, he didn't lose hope. His story embodies the essence of this biblical image. Like an eagle, he soared above adversity until he achieved his goal.
The interplay of Hope and Strength is also a key message in Isaiah 40:31. Hope is an active state that empowers us to seek God, endure trials, and persevere. This notion finds echo in Lamentations 3:25, emphasizing the empowering aspect of hope.
Finally, the verse enshrines the Promise of Renewal. Like an eagle molting old feathers, we too can shed our weariness and despair. God's promise guarantees that hope in Him leads to spiritual revitalization.
In conclusion, Isaiah 40:31 is a beacon of hope, promising renewal, strength, and elevation above hard times. The verses and narratives highlighted validate this. Hope, it shows us, is not merely an emotion but an empowering force that enables us to soar high, even amidst adversity.
4. Hebrews 11:1 on hope and faith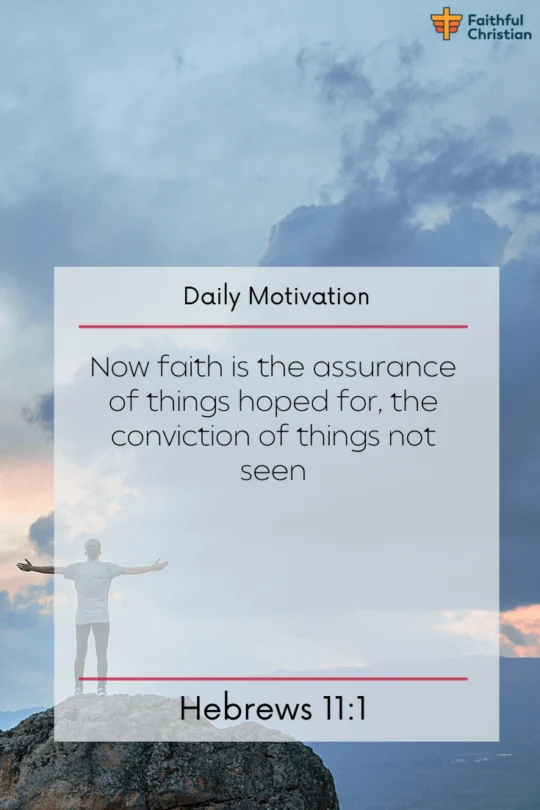 Now faith is the assurance of things hoped for, the conviction of things not seen
Hebrews 11:1 offers us a poignant truth: Faith and hope are intertwined. Faith is our confident belief in what we hope for, the unseen promises of God.
Let's start with Faith in the Invisible. This concept originates from Romans 10:17: "Faith comes from hearing, and hearing through the word of Christ." This reinforces that faith starts from accepting God's words. We trust them even if we don't see the outcomes.
Next, we consider The Substance of Hope. Hope is not merely optimism. It's an anchor for our souls, grounded in faith. This hopeful expectation isn't wishful thinking; it's a concrete belief in God's promises.
The notion of Realization of Promises comes next. As 2 Corinthians 5:7 says, "We live by faith, not by sight." Hope, linked to faith, encourages us to persevere even when the fulfillment of God's promises isn't immediate.
An example from biblical history can illuminate these points. Consider Moses, a man chosen by God to lead the Israelites out of Egypt. Moses trusted in God's promises, although he couldn't see the outcome. He faced the Red Sea ahead, Pharaoh's army behind, and yet, he had faith in the invisible.
His faith led him to hope for deliverance, and indeed, the sea parted. His hope was not baseless but was anchored in the word of God. This is a testament to the power of a faith anchored in hope.
In modern history, Martin Luther King Jr. and Civil Rights activists exemplify faith and hope. They championed equality, a vision unseen yet deeply hoped for. Believing in the promise of freedom, their faith fueled a persistent hope for a better future.
Lastly, let's examine the bond between Faith and Hope. They're akin to a braided rope, each strand lending strength to the other. Faith is a complete trust, while hope is the expectation of good.
In conclusion, remember this: faith and hope are our antidotes to despair. They're our anchors during trials, bolstering us when we falter. Their interaction helps us endure, fostering resilience and courage.
So, hold onto your faith, let hope guide you, and embrace the unseen promises of a brighter tomorrow.
5.  Romans 5:2-5 – God will never put us to shame if we hope in him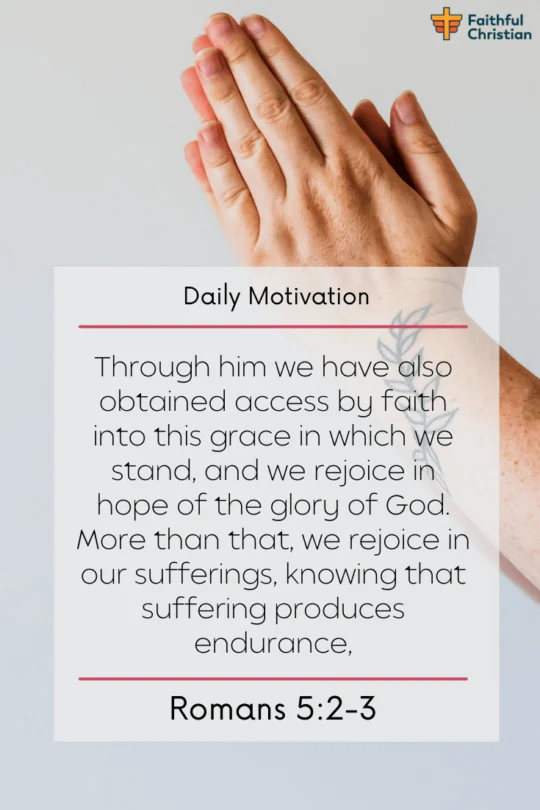 Through him we have also obtained access by faith into this grace in which we stand, and we rejoice in hope of the glory of God. More than that, we rejoice in our sufferings, knowing that suffering produces endurance,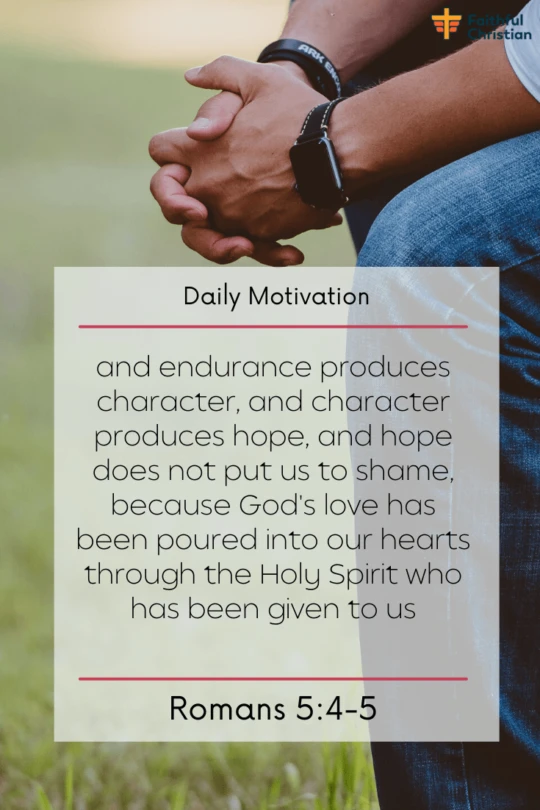 and endurance produces character, and character produces hope, and hope does not put us to shame, because God's love has been poured into our hearts through the Holy Spirit who has been given to us
Life can feel like a stormy sea. Yet, amidst the tempest, a beacon of hope persists, guiding us forward. This idea finds eloquent expression in Romans 5:2-5. This scripture outlines a transformative concept: suffering can birth hope.
Let's start with "Hope Through Suffering." The Apostle Paul embodies this idea. Despite facing adversity, including imprisonment and shipwreck (2 Corinthians 11:23-27), Paul held onto his hope. His tribulations weren't deterrents; they were stepping-stones strengthening his faith.
In the real world, I've witnessed similar resilience. Consider individuals living in war-torn countries. Despite unimaginable hardships, they nurture a hopeful spark. A hope for a peaceful dawn and a strife-free future. Their perseverance is a testament to the redemptive power of hope.
Our next point is the "Hope that Does not Disappoint." Romans 5:2-5 offers an assurance: hope in God will never disappoint. This sentiment is echoed in Psalm 25:3, offering assurance to those trusting in God. Hope, then, is more than a wish. It is a firm belief in a better tomorrow.
"God's Love and Hope" are intertwined. Romans 5:2-5 asserts that God's love, poured into our hearts, fosters hope. This divine love, characterized by grace and mercy, lights up the darkest hours.
Next, we explore "Triumph over Shame." The essence of Isaiah 49:23 bolsters this theme, promising that hope placed in God won't let us down. It won't lead to shame. Rather, it assures a victory, a triumph deeply rooted in the steadfast love of the Almighty.
Lastly, "Resilience and Growth." Trials and tribulations serve as a crucible for spiritual growth. Suffering strengthens character, forging a robust hope in God.
In conclusion, Romans 5:2-5 presents hope as an outcome of suffering. It underscores that hope in God never disappoints or causes shame. It illustrates how biblical figures and ordinary individuals retain this hope amidst adversity. I believe that, fortified by this hope, we can navigate life's storms, emerging resilient, hopeful, and wiser.
6.  Romans 15:4 – Read the Bible to boost your faith and hope in Christ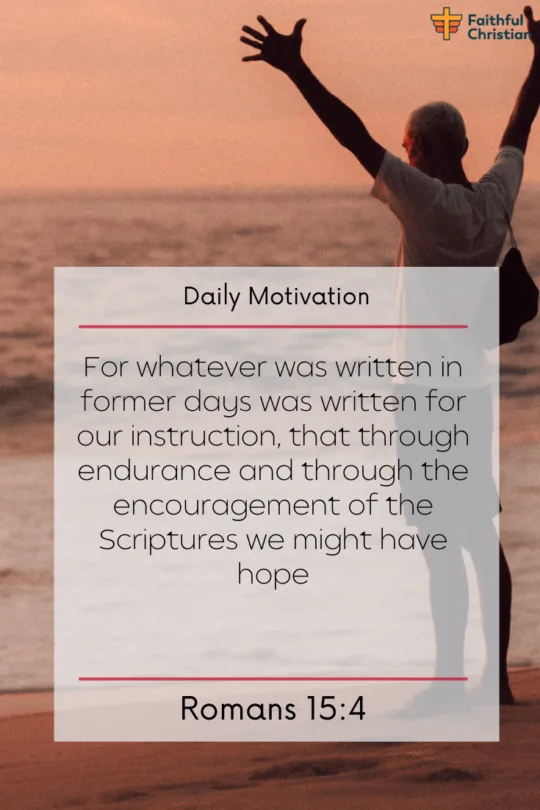 For whatever was written in former days was written for our instruction, that through endurance and through the encouragement of the Scriptures we might have hope
At life's stormiest, we turn to scriptures for comfort and guidance. Romans 15:4 affirms this: scriptures inspire hope and perseverance. They enlighten us, fortifying our faith amid life's tempests.
The Bible, according to 2 Timothy 3:16-17, isn't merely a historical record. It's divinely inspired, its teachings providing practical lessons for righteousness. Every word we read equips us, shaping us into God's competent servants.
Reflecting on King David's life, one cannot overlook his trials. From eluding King Saul's lethal pursuits to managing familial betrayals, David's journey was arduous. Yet, the scriptures became his refuge, a reservoir of hope amid despair.
This is evident in the Psalms – his prayers brimming with pleas for divine intervention and affirmations of God's benevolence. By drawing on the scriptures, David fostered his faith, enabling him to endure and hold onto hope.
The scriptures function as our spiritual lighthouse. They illuminate our path through life's darkest valleys, as indicated in Psalm 119:105. It underscores the scriptures' ability to guide us, directing us towards hope and resilience.
The story of Viktor Frankl, a Holocaust survivor, offers a relatable illustration. His 'scriptures' were memories of his wife and his work – logotherapy.
Despite the surrounding horrors, he discovered meaning and hope in suffering. His narrative resonates with Romans 15:4, demonstrating how teachings from the past can inspire hope in bleak circumstances.
Summarily, whether you're King David or Viktor Frankl, the scriptures provide invaluable guidance. They encourage us, fortifying our faith in challenging times. In each verse, we find a sanctuary, a testament to God's enduring love and faithfulness.
Immersing in the scriptures, we engage with past experiences, uncovering a reservoir of hope for our future. Through God's word, we're reassured of His steadfast presence, guiding us through every trial.
Our faith strengthens; our hope endures. That is the power of scriptures. That is the essence of Romans 15:4.
7.  Romans 8:24-25 – Hope on eternal Glory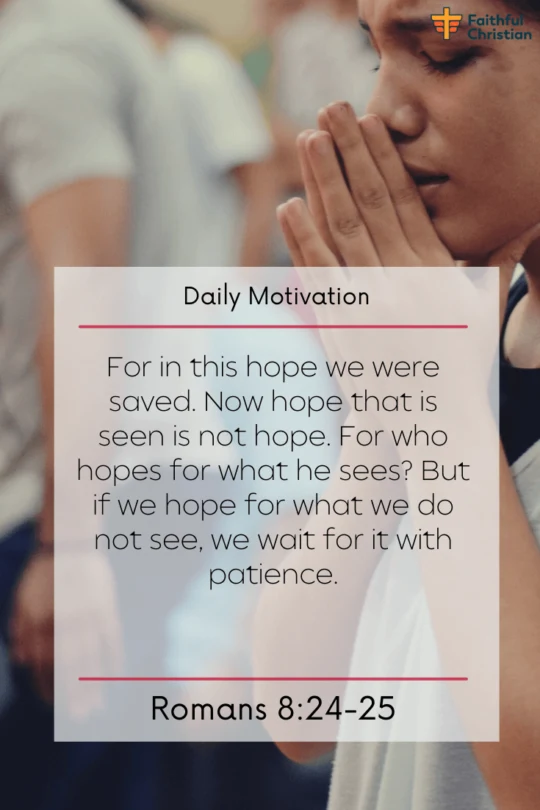 For in this hope we were saved. Now hope that is seen is not hope. For who hopes for what he sees? But if we hope for what we do not see, we wait for it with patience.
Romans 8:24-25 serve as a powerful beacon in life's tumultuous storms, anchoring us in a hope that transcends time. This hope, focused on the unseen eternal glory, reshapes our perspective on present hardships.
Take the example of Jesus Christ Himself, who "for the joy that was set before Him endured the cross" (Hebrews 12:2). Even in His darkest hour, Jesus didn't fixate on His present suffering. Instead, He looked ahead to the salvation His sacrifice would bring, a beacon of hope illuminating His path.
Now, let me tell you about Elisabeth Elliot. Her husband, Jim Elliot, was tragically killed by the people they aimed to help.
But Elisabeth didn't let her grief consume her. Her eyes were fixed on an unseen future, bolstered by the promise of eternal glory. This steely focus enabled her to continue her work, providing a beacon of light in her darkest hour.
Importantly, Romans 8:24-25 underscore the virtue of patience. Hope is no quick fix. Instead, it's a lantern, illuminating one step at a time. The verses coax us to wait patiently for what's unseen, much like waiting for dawn's first light.
True hope, these verses suggest, lies in the unseen. As hardships blur our vision, faith sharpens it, helping us navigate troubled waters.
Here, Peter's words (1 Peter 1:3-4) provide comfort. The new birth through Jesus's resurrection promises an indestructible inheritance, fanning the flames of hope.
These verses echo our innate desire for eternal life. As our earthly bodies fade (2 Corinthians 4:16), our longing for a heavenly abode surfaces. This longing, in turn, cultivates hope, making our burdens bearable.
Lastly, the verses remind us that our current troubles are fleeting (2 Corinthians 4:17). They might seem overwhelming, but compared to the eternal glory ahead, they're but minor blips.
In essence, Romans 8:24-25 remind us to hope in unseen, eternal glory. Such hope, nurtured through patience, faith, and an eternal lens, serves as our compass amid hardships.
By tethering ourselves to this hope, we can traverse life's darkest valleys. And just as dawn follows night, our trials will give way to triumph. These verses invite us to hope, wait, and witness the miraculous dawn after our longest nights.
8.  Psalm 33:18 – God will stand on our side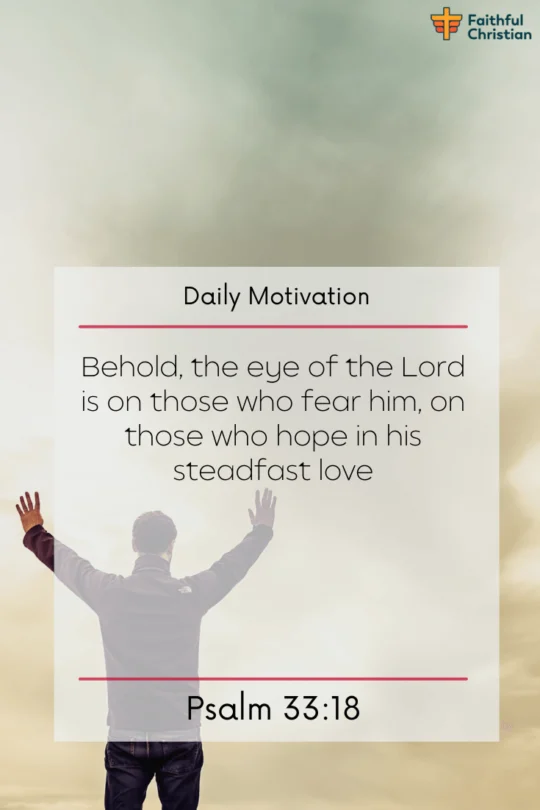 Behold, the eye of the Lord is on those who fear him, on those who hope in his steadfast love
In life's gloomiest hours, hope is the flicker we need. Psalm 33:18 imparts this glimmer. It proclaims God's watchful presence over us.
I urge you to envision navigating a dense, night-time forest. A knowledgeable guide is with you, warding off the darkness. Psalm 46:1 evokes this image, symbolizing God as our refuge, present in our tribulations.
Deuteronomy 31:6 cements this reassurance. It's a divine pledge, promising God's unwavering support. Imagine an invisible hand, steady, poised to catch us in moments of despair.
Consider the biblical account of Daniel. In a lion's den, his safety seemed improbable. But Daniel stood unyielding. He placed his hope in God's protective gaze, resulting in his miraculous survival. Daniel's story mirrors Psalm 33:18's message of hope amidst adversity.
Now, let's time-travel to the life of physicist Stephen Hawking. An ALS diagnosis could've marked an ending. Instead, Hawking viewed it as a beginning. He chose hope, channeled his passion, and significantly contributed to our understanding of the universe.
I believe it's crucial to comprehend that God's love is not occasional but perennial. He remains our sentinel, our protector. Our faith in Him, our reverence for Him, is our hope's lifeblood.
God's eagerness to aid us, demonstrated in Daniel's story and prophesied in Scriptures, presents a beacon of hope. In our darkest moments, we can take solace in His watchful, loving presence. This heartening belief enlightens our gloomiest times. It echoes a divine whisper, "You're never alone. I'm here, now and always."
9.  1 Corinthians 15:19 – Put your hope in the next life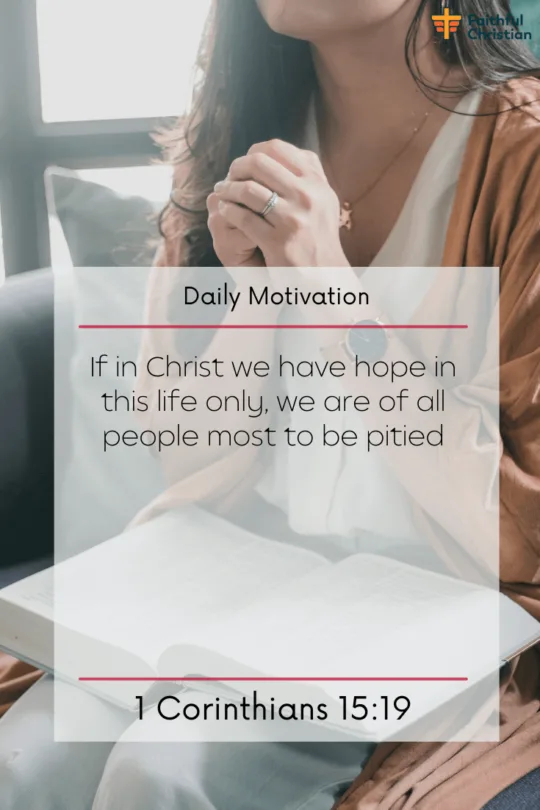 If in Christ we have hope in this life only, we are of all people most to be pitied
In the book of 1 Corinthians 15:19, a profound message rings clear. It invites us to pivot our hope away from fleeting concerns and towards eternal life. Such wisdom becomes a beacon during hard times.
Consider the biblical tale of Stephen, as told in Acts 7:54-60. Despite facing a gruesome end, his hope was unwavering. His eyes captured the sight of heaven, affirming a life beyond human understanding. His story underscores how hope in eternal life surpasses temporal suffering.
I find the real-life story of Paul Kalanithi, a neurologist diagnosed with stage IV lung cancer, equally enlightening.
He authored "When Breath Becomes Air," a book that describes his journey from treating the dying to facing death himself. His focus wasn't on the transient nature of his life, but rather the inherent value of living. His tale redefines hope in the face of adversity.
1 Corinthians 15:19 urges us to adopt an eternal perspective. It teaches us to look beyond our immediate trials to see the bigger picture – the promise of an enduring life. John 14:2 further illuminates this thought, offering assurance of our place in eternity.
The verse, along with Philippians 3:20-21, gives believers a hopeful perspective on life after death. It underlines our future transformation and the heavenly home awaiting us. Moreover, it presents comfort through the promise of resurrection and eternal life.
To navigate life's tempests, this divine call reminds us to anchor our hope in the eternal. I urge you to internalize this perspective. Let it guide you through life's storms. After all, our trials are temporary, but the hope we possess in Christ is eternal.
10.  Hebrews 6:18-19 – we will receive God's promise. He cannot lie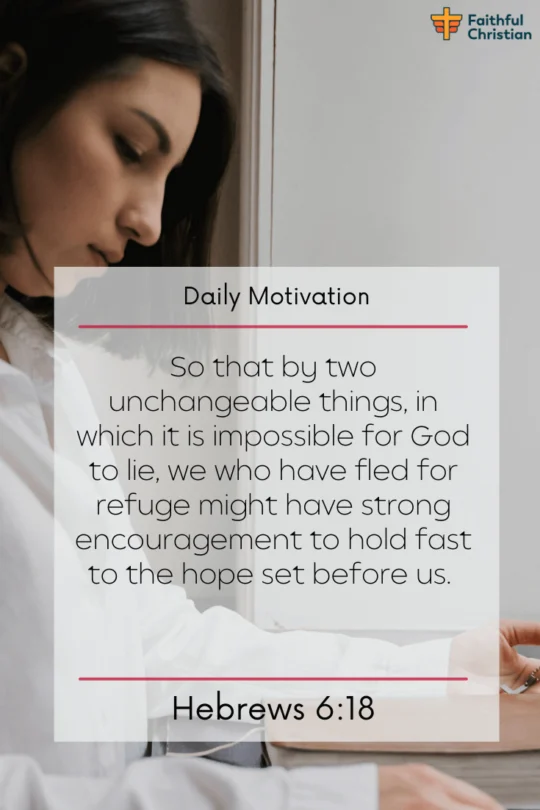 So that by two unchangeable things, in which it is impossible for God to lie, we who have fled for refuge might have strong encouragement to hold fast to the hope set before us.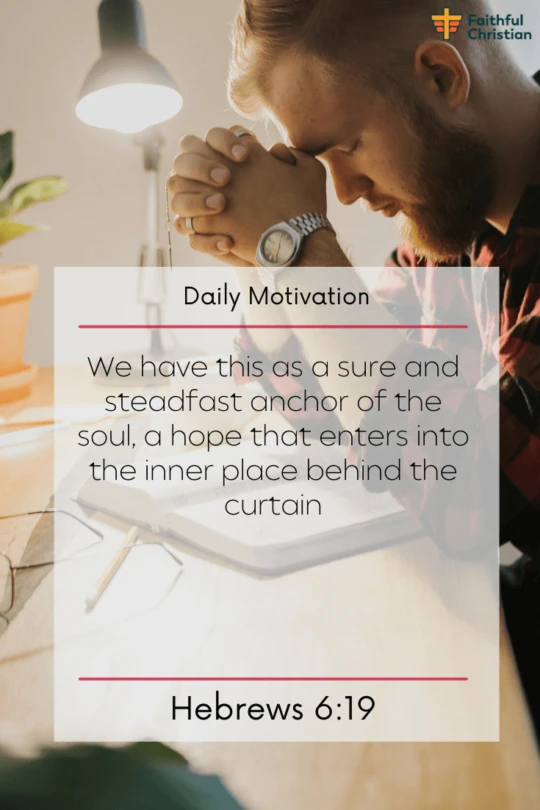 We have this as a sure and steadfast anchor of the soul, a hope that enters into the inner place behind the curtain
Navigating life's tempestuous seas, we yearn for stability. Hebrews 6:18-19 offers solace, depicting hope as an unyielding anchor for our soul. Just as an anchor steadies a ship, hope grounds us amid life's uncertainties.
Anchors are unwavering, holding firm in turbulent waters. They plunge into the abyss unseen, yet remain immovable. Our hope mirrors this steadfastness.
Grounded in God's unchanging promise, hope assures us of His relentless presence. His word is the ultimate guarantee. He doesn't waver or backtrack. When He pledges never to abandon us, our hearts find solace.
In the heart of chaos, hope persists. The passages of Hebrews reassure us that our reliance on God isn't misplaced. The one who breathed life into the universe stands by us. Despite our circumstances, our hope in Him is a fortress.
This notion is beautifully encapsulated in the story of Noah. God told him of a great flood that would wipe out life on earth, but He also made a promise. Noah and his family would survive, carried safely in the ark.
Even as Noah built an enormous boat in the middle of dry land, amidst the ridicule and the doubt, he clung to hope – his anchor. He held onto God's promise, which, against all odds, was fulfilled. Hope, in Noah's life, proved to be more than wishful thinking; it was certainty in the face of the impossible.
Finally, Hebrews shows us the true place for our hope: the "inner sanctuary behind the curtain." This place represents being close to God, where our hope is meant to rest.
Romans 5:5 and 2 Corinthians 1:20 back this up, telling us that hope won't let us down. God's love fills our hearts and all His promises through Christ are a firm 'Yes.
Living in an unpredictable world, we can take comfort in the constancy of our God. Our hope is not fanciful; it's a surety. Based on God's unchanging character and His steadfast promises, it anchors us.
Through life's stormy seas, let's ground ourselves in this divine hope. Steadfast and secure, it gives us the strength to weather any storm.
---
Recommended for you
---
Frequently Asked Questions
What are some Bible verses about hope and encouragement?
When it comes to hope and encouragement, the Bible abounds with relevant verses. Romans 15:13 offers a prayer for joy and peace, stemming from trust in God and overflowing with hope.
Jeremiah 29:11 further adds comfort with the Lord's promise of prosperity, safety, and future hope.
Hebrews 6:19 compares hope to an anchor, providing security and stability for the soul. Psalm 31:24 rounds up this selection with a call to be courageous and hopeful.
Which Bible verses provide comfort during stressful times?
Stressful times call for comforting Biblical verses. Philippians 4:6-7 advises against anxiety, encouraging us to pray with thanksgiving.
In return, God's peace, beyond human comprehension, will guard our hearts and minds. Jesus' words in Matthew 11:28-30 provide a restful retreat for the weary and burdened.
Psalm 46:1-2 reassures us of God's consistent presence and strength in times of distress.
Are there any Bible verses that talk about hope and faith?
Hebrews 11:1 perfectly intertwines hope and faith, defining faith as confidence in our hopes and assurance in unseen realities.
Romans 5:1-2 also highlights the connection between faith and hope. Here, being justified through faith brings peace and access to God's grace, in which we stand and rejoice in hope.
Is there a specific Bible verse about hope for the future?
For hope regarding the future, Jeremiah 29:11 stands out. This verse promises prosperity, safety, and future hope as part of God's plans. This reassurance fosters hope, even amidst uncertainty.
Can you share any Bible verses about hope in death?
When it comes to death, hope finds a place in 1 Thessalonians 4:13-14. It provides comfort regarding those who have died, indicating that through faith in Jesus' death and resurrection, they will rise again. This reflects the Christian hope for eternal life.
Are there any Bible stories that inspire hope during hard times?
The Bible also offers narratives inspiring hope amid difficulties. Job's story, despite his grave trials, emphasizes faithfulness and patience. Joseph's journey from betrayal to power in Egypt underlines that God can bring forth good from adverse circumstances.
What are some Bible verses for depression and hopelessness?
Psalms offer solace for feelings of depression and hopelessness. Psalm 34:17-18 tells of God hearing and delivering the righteous from troubles, being near to the brokenhearted. Psalm 42:11 encourages the disheartened soul to place hope in God, the Savior.
Can you suggest some short Bible verses about hope?
Short verses about hope are abundant. Psalm 39:7 succinctly puts it: "My hope is in you." Romans 12:12 encourages joy in hope, patience in affliction, and faithfulness in prayer. Hebrews 10:23 urges us to firmly hold on to hope, for God is faithful.
---
Recommended for you
---
What does the Bible say about hope?
In times of sorrow, look to the biblical account of Job for comfort and inspiration. Job, a devoted servant of God, earned divine trust. However, God allowed Satan to test Job's faith. Satan, embodying pure evil, caused chaos in Job's life.
Satan deprived Job of earthly pleasures and joys. He claimed the lives of Job's children and inflicted Job with grave illness. However, Job remained resolute. His faith, unshaken, embarrassed Satan. Job refused to blame God for his misery, holding fast to his belief.
Job's unwavering faith hinged on the understanding that his trials were temporary. He knew brighter days were ahead, and God would reward his perseverance.
The scripture affirms this, stating, "So the Lord blessed the latter end of Job more than his beginning: for he had fourteen thousand sheep, and six thousand camels, and a thousand yoke of oxen, and a thousand she asses" (Job 42:12). Job's later life, filled with prosperity and blessings, surpassed his initial hardships.
The story of Job is a powerful reminder of God's unyielding presence. God's power to restore health and hope remains unparalleled, even when one is afflicted by illness or hopelessness. God's miracles, such as healing the sick, giving sight to the blind, and enabling the lame to walk, underscore his unbound capacity.
I urge you to place your trust in Jesus Christ. Let His light be your beacon of hope and confidence. The same divine entity that blessed Job can do so for you. Even amidst trials, maintain your faith in God. His unwavering love and protection assure us of brighter days.
Remember, with faith in God, disappointment becomes a foreign concept. His divine love and care constantly reassure us. Embrace the hardships, knowing they are temporary and serve to strengthen your faith.
After all, our trials often lead us to better days, as evidenced in the story of Job.

Author: Akatakpo Dunn
Dr. Akatakpo Dunn is a dedicated follower of Christ, an active member and speaker, and an ongoing learner of the Scriptures. Passionate about his faith and serving others, he is committed to sharing his spiritual journey and insights to inspire and uplift fellow believers. He has been active in the church for more than 23 years. Through The
Faithful Christian Blog
,
Dr. Dunn
combines his love for God, philanthropy, and Scripture, providing a valuable resource for those seeking to grow in their faith.
Follow me: on Youtube, Facebook, Twitter, Instagram, and Pinterest.
Content Disclosure:
At The Faithful Christian Blog, I create authentic and inspiring content. Although I am the main author, I occasionally use AI for minor language enhancements. This minimal AI usage ensures high-quality, trustworthy articles without compromising originality or sincerity, ultimately supporting our shared faith journey.
Warmly,
Dr. Akatakpo Dunn
Was this article helpful?