Ever feel like your faith wavers when life gets tough? You're not alone.
Many grapple with keeping strong faith in God during hardships.
The good news is, the Bible offers guidance and encouragement to strengthen our faith.
In this article, we'll explore Bible verses about strong faith in God and how these scriptures can bolster unwavering trust in Him, even in difficult times.
Ready to dive into the Word and discover the benefits of focusing on eternal, unseen realities over temporary circumstances?
Let's examine some powerful Bible verses and real-life examples that showcase what strong faith in God truly means.
Bible verses about strong faith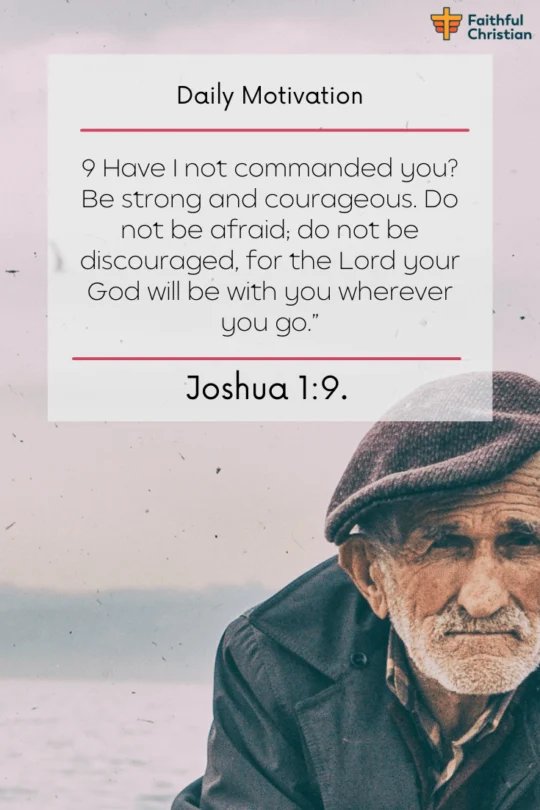 9 Have I not commanded you? Be strong and courageous. Do not be afraid; do not be discouraged, for the Lord your God will be with you wherever you go."
Joshua 1:9 is a potent verse that urges believers to maintain unwavering faith in God. This verse teaches us several valuable lessons:
The Bible is filled with examples of individuals who exemplify strong faith in God. Joshua, who led the Israelites into the Promised Land, faced many hurdles and adversaries. His unwavering faith allowed him to fulfill God's promise to Abraham.
Similarly, Harriet Tubman's story inspires us. As a conductor on the Underground Railroad, she relied on her faith in God to lead slaves to freedom. Despite immense danger, she trusted God's guidance and protection.
These stories and Joshua 1:9 remind us of the significance of strong faith in God. Believers must remember that God is with us, providing strength and courage to face challenges.
Trusting in His promises and presence, we can overcome fear and uncertainty, ultimately triumphing in our faith.
Deuteronomy 31:6 and Isaiah 41:10 emphasize strong faith in God. Both verses resonate with themes of courage, strength, and God's presence, reinforcing the importance of strong faith in God as we navigate life.
Reflecting on these scriptures can inspire and encourage us to develop strong faith in God. By internalizing these messages and applying them to our lives, we can experience a transformative effect on our faith journey.
We can strengthen our faith daily through prayer, Bible study, and joining a faith community. These activities deepen our connection with God, promoting a greater understanding of His love, guidance, and provision.
In challenging times, look to Joshua and Harriet Tubman as examples of strong faith. Their stories are powerful reminders that we can overcome obstacles with God's help.
In conclusion, Joshua 1:9, accompanied by scriptures and examples, inspires us to cultivate strong faith in God.
By trusting in His promises, embracing His presence, and facing challenges head-on, we can tackle life's trials with courage and determination.
A strong faith in God empowers us to live purposeful, meaningful lives, grounded in the assurance of His love, guidance, and protection.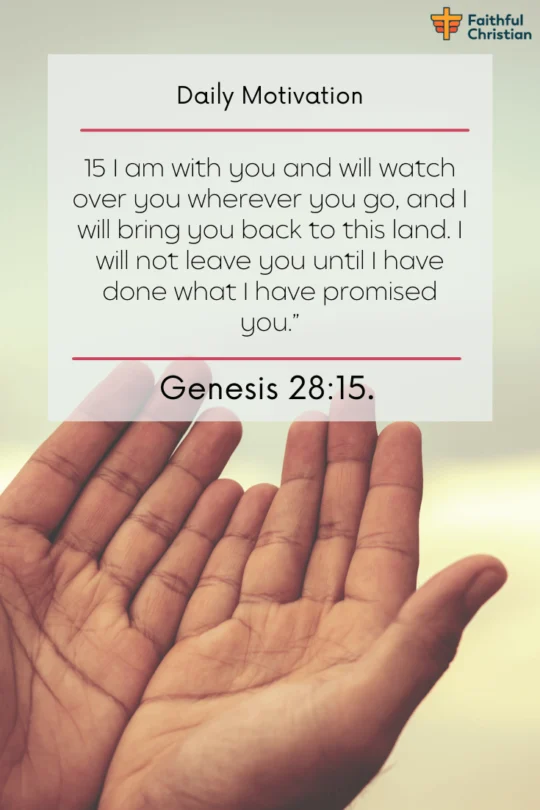 15 I am with you and will watch over you wherever you go, and I will bring you back to this land. I will not leave you until I have done what I have promised you."
Genesis 28:15 offers a powerful reminder about the importance of strong faith in God.
The verse states, "I am with you and will watch over you wherever you go, and I will bring you back to this land. I will not leave you until I have done what I have promised you."
This passage and others demonstrate the key aspects of a resilient faith.
God's unwavering faithfulness is evident throughout the Bible. Isaiah 54:10, for example, reveals that God's love remains steadfast, even as mountains crumble and hills shake.
This shows how God's faithfulness endures, regardless of life's changing circumstances.
In Genesis 28:15, God assures Jacob of His ongoing presence and protection.
In Matthew 28:20, Jesus reassures His disciples of His constant presence and support, highlighting the essential role of God's guidance and protection in the lives of those with strong faith.
Resilient faith relies on the understanding that God's commitment to us is constant, even during difficult times. Jacob's life is a prime example of unwavering faith.
Despite facing challenges like family conflict and deception, Jacob stayed faithful to God. His trust in God's promises and guidance sustained him.
The Bible often highlights God's commitment to His people. Genesis 28:15, for example, features God's promise to be with us and never abandon us.
This assurance is crucial for maintaining strong faith, knowing God will always be there.
A strong faith in God offers comfort and security, assuring us we're never alone. Mother Teresa exemplified this steadfast faith. Despite immense challenges in her work, she trusted in God's presence and guidance.
Her devotion to serving others was fueled by her unwavering faith in God's love and protection.
In conclusion, Genesis 28:15 and related scriptures stress the importance of strong faith in God.
Believers can find solace knowing that God's faithfulness transcends time and circumstances, and His presence offers guidance and protection.
Trusting in God's unwavering commitment and His promise never to abandon us helps cultivate resilient faith.
Drawing inspiration from biblical figures like Jacob and real-life examples like Mother Teresa, we can strive to develop a faith that is both deep and enduring.
7 But the Lord said to me, "Do not say, 'I am too young.' You must go to everyone I send you to and say whatever I command you. 8 Do not be afraid of them, for I am with you and will rescue you," declares the Lord.
Jeremiah 1:7-8 powerfully conveys God's guidance for those with strong faith. "Don't say, 'I am too young,'" He insists. "Go where I send you, say what I command." Fear not. His support and rescue are assured.
The prophet Jeremiah embodies this unwavering faith. Despite facing opposition, he persevered in sharing God's message. His trust in divine guidance empowered him to overcome obstacles.
Similarly, Martin Luther King Jr. epitomizes faith-driven activism. Inspired by God's call for justice and equality, King championed civil rights.
His faith in divine guidance fueled courage and resilience, ultimately changing history for the better.
So, what can we learn from these stories? First, Believers mustn't let fear or doubt hinder their faith. Trusting in God's presence, they can confront challenges head-on.
This message rings true today, just as it did in Jeremiah's time.
Second, remember that God equips and empowers us for His purposes. As Exodus 4:12 and Isaiah 42:6 remind us, He provides the guidance we need to accomplish our divine mission.
In summary, Jeremiah 1:7-8 reminds us that strong faith means trusting in God's guidance. By embracing His call to action and relying on His promise of strength, believers can make a lasting impact.
Be strong and courageous, because you will lead these people to inherit the land I swore to their ancestors to give them.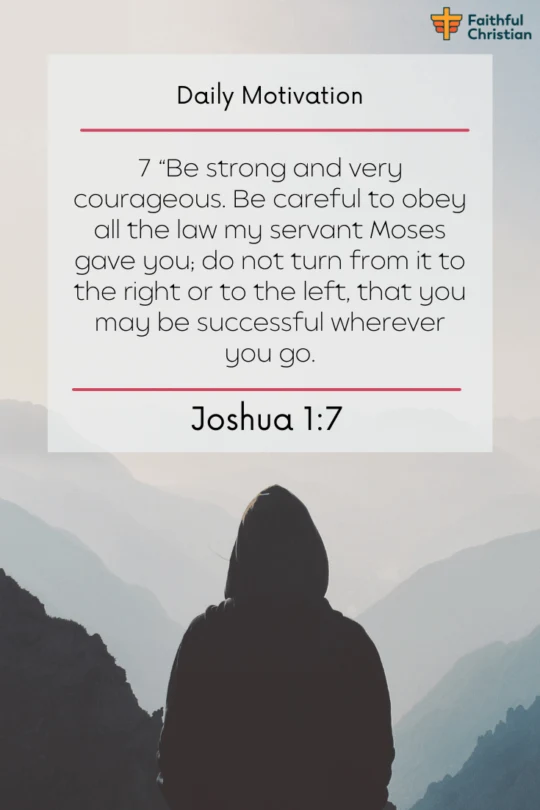 7 "Be strong and very courageous. Be careful to obey all the law my servant Moses gave you; do not turn from it to the right or to the left, that you may be successful wherever you go.
Life often tests our faith, pushing us to the brink. In these moments, Joshua 1:6-7 serves as a beacon of hope, inspiring believers to stay strong and courageous.
This powerful passage highlights the value of unwavering faith in God, enabling us to overcome obstacles and thrive.
When we delve into 1 Corinthians 16:13 and Ephesians 6:10, we find similar messages. These scriptures emphasize that our resilience is rooted in faith. By standing firm and trusting God, we can weather any storm.
Caleb's story in the Bible illustrates this perfectly. When Moses sent twelve spies to Canaan, only Caleb and Joshua had faith in God's promise.
Their trust in divine victory led them to the Promised Land, while others faltered due to doubt.
In modern times, Dietrich Bonhoeffer's life offers a shining example. This German pastor and theologian stood against the Nazi regime with unshakable faith. He bravely opposed Hitler and defended the truth, even at great personal risk.
What can we learn from Caleb and Bonhoeffer? Here are five key points:
Faith empowers us to persevere. Trusting God's promises helps us tackle any challenge.
Obedience is crucial. Genuine faith means following God's guidance and teachings.
Courage and strength go hand in hand with faith. Rely on God to navigate tough times.
Don't waver in your beliefs. Hold firm to your faith, even when doubts creep in.
God rewards the steadfast. Like Caleb and Bonhoeffer, those who stay true to their faith receive divine blessings.
Let's draw inspiration from these powerful stories and strive to develop an unwavering faith that can withstand any storm.
The Lord is my light and my salvation—whom shall I fear? The Lord is the stronghold of my life—of whom shall I be afraid? 2 When the wicked advance against meto devour[a] me, it is my enemies and my foeswho will stumble and fall.
Psalm 27:1-2 powerfully highlights unwavering faith in God's protection during adversity. It inspires believers to rely on God as their strength and refuge.
David acknowledges God as the ultimate protector and source of courage. Believers can rest assured, knowing God is their unmatched defender.
David's strong faith helped him overcome challenges, including fleeing from King Saul. His trust in God's protection carried him through tough times.
Similarly, Corrie ten Boom's steadfast faith gave her strength in a World War II concentration camp. Trusting in God, she overcame fear and adversity, later sharing her inspiring story.
When facing difficulties, believers can find comfort in God's promise of salvation. David declares, "The Lord is my rock, my fortress and my deliverer; my God is my rock, in whom I take refuge" (Psalm 18:2).
Trusting in God's salvation brings peace and security during turbulent times.
Psalm 62:7 affirms, "My salvation and my honor depend on God; He is my mighty rock, my refuge." Believers can seek shelter in God's presence, a safe haven in life's storms.
By nurturing a strong faith and relationship with God, they experience the refuge and safety only He provides.
David's faith allowed him to confront challenges with courage. Similarly, believers can face obstacles head-on with robust faith in God.
Trusting in God's strength and protection, they can conquer fear and adversity, emerging triumphant in spiritual battles.
In summary, Psalm 27:1-2 is an empowering reminder of the strength and protection that comes from strong faith in God.
Trusting in the Lord, believers can overcome fear, find comfort in His salvation, and confidently face life's challenges.
David's life and Corrie ten Boom's story demonstrate that steadfast faith in God can guide us through the darkest times, bringing light and hope along the journey.
20 When you go to war against your enemies and see horses and chariots and an army greater than yours, do not be afraid of them, because the Lord your God, who brought you up out of Egypt, will be with you.
Deuteronomy 20:1 calls believers to trust in God's power during times of conflict. In a world filled with challenges, it reminds us that faith is the key to victory.
In this verse, we learn to acknowledge that triumph comes from God alone.
Facing a fierce battle? Remember, the Lord is with you. Psalm 20:7 and 2 Chronicles 32:7-8 emphasize this. Trust in God, not just worldly resources.
The biblical story of Gideon is a shining example. His small, ill-equipped army faced the mighty Midianites. Yet, his trust in God led to victory. Gideon's 300 men showed that triumph was from God, not human might.
Fast forward to World War II. Desmond Doss, a conscientious objector, displayed incredible faith. As a combat medic, he saved 75 lives without carrying a weapon. Doss's story reminds us of God's protection in the face of danger.
Strong faith means acknowledging that victory comes from God. Trusting in His sovereignty gives us courage in battle. Remember, God's protection is vital when overcoming challenges.
In conclusion, Deuteronomy 20:1 inspires us to be steadfast in faith. By trusting in God's power, we can overcome life's struggles. With Him, we experience the ultimate victory.
The Lord Almighty is with us;the God of Jacob is our fortress.
Psalm 46:7 delivers a potent message of God's unwavering presence and protection. This verse reminds us to lean on God in challenging times. Let's explore this message through the lens of strong faith.
First, it's essential to remember that God is always with us in times of trouble. He offers guidance and support, never leaving our side.
Psalm 18:1 echoes this, stating, "I love you, Lord, my strength." Embracing God's constant presence empowers us to face challenges with courage.
Strong faith enables us to trust in God's protection wholeheartedly.
Psalm 59:17 affirms this: "You are my strength; I sing praise to you; you, God, are my fortress, my God on whom I can rely." This trust allows us to overcome even the most daunting obstacles.
In moments of weakness, we can rely on God's strength. When feeling overwhelmed, we must remember His power is made perfect in our weakness.
Trusting in His strength, we find the courage to face adversity and the resilience to persevere.
Faith in God is the foundation for resilience and perseverance. Trusting in His presence, protection, and support, we navigate life's challenges with confidence.
This steadfast faith enables us to push through hardships, emerging stronger and more grounded in our relationship with God.
Lastly, God's steadfast presence brings comfort and assurance. Knowing He is always with us, ready to help and support, provides immense peace and reassurance in uncertain times.
Daniel's story illustrates these truths. Facing persecution for his beliefs, Daniel trusted in God's protection even when thrown into a den of lions.
Miraculously, God shut the lions' mouths, and Daniel emerged unharmed. His story is a testament to strong faith and God's unwavering support.
The real-life example of Jim Elliot and his team of missionaries highlights the power of faith in God's protection.
Braving dangers to share the Gospel with the unreached Waorani people in Ecuador, they trusted God would watch over them.
Though some lost their lives, their faith and sacrifice profoundly impacted the Waorani community, leading to many conversions and a transformed society.
In conclusion, Psalm 46:7 teaches us that God is our refuge, strength, and ever-present help. Strong faith in His presence, protection, and support allows us to face life's challenges with courage, resilience, and perseverance.
The stories of Daniel and Jim Elliot's team serve as powerful examples of how faith in God's steadfast presence can profoundly impact our lives and the world around us.
But now, this is what the Lord says—he who created you, Jacob,he who formed you, Israel: "Do not fear, for I have redeemed you;I have summoned you by name; you are mine.
Isaiah 43:1 offers a compelling message about strong faith in God. At its core, this faith rests on the belief that God cares for each of us personally.
By understanding that our Creator knows us intimately, we can trust Him in all circumstances. This profound connection is essential for a resilient faith, empowering us to navigate life's challenges with confidence.
A vital aspect of strong faith is recognizing God's deep knowledge of us. Isaiah 43:1 highlights God's comforting message, affirming our close relationship with Him and reassuring us that we are never alone in our struggles.
This concept is echoed in Isaiah 41:13, where God promises to hold our hand and help us.
Believing that God has a unique purpose for our lives strengthens our faith.
As 1 Peter 2:9 states, we are God's chosen people, created to praise Him. Embracing our divine calling inspires trust in God, even when life is unpredictable.
The biblical account of the Israelites' exodus from Egypt showcases strong faith in action. God led His people through countless trials, providing guidance, food, and protection.
This powerful story highlights God's unwavering love and faithfulness.
A modern-day example of unshakable faith is Joni Eareckson Tada. After a diving accident left her quadriplegic, Joni faced immense challenges.
Instead of despairing, she trusted God and found purpose in her circumstances. Joni's faith led her to establish a ministry for people with disabilities, offering hope and encouragement to many.
Joni's story demonstrates how faith can grow with the assurance of God's love and redemption. Trusting in God's ability to redeem even the hardest situations empowers us to overcome fear and uncertainty.
As we comprehend God's love, our faith becomes more resilient, preparing us to handle life's ups and downs.
Acknowledging God's sovereignty allows us to face life's trials with confidence. Trusting that our Heavenly Father is in control brings peace, knowing He will never abandon us.
This steadfast faith enables us to weather life's storms with grace and perseverance.
In summary, Isaiah 43:1 conveys a powerful message of strong faith in God.
By realizing that God knows us intimately, trusting His purpose for our lives, and acknowledging His sovereignty, we can develop a resilient faith capable of overcoming life's challenges.
The Israelites' journey and Joni Eareckson Tada's inspiring story serve as powerful examples of the transformative power of strong faith in God.
6 And without faith it is impossible to please God, because anyone who comes to him must believe that he exists and that he rewards those who earnestly seek him.
Hebrews 11:6 highlights the power of strong faith in God. Belief in God's existence and trust in His rewards are essential. This foundation opens us up to limitless possibilities.
Trust in God's promises strengthens our faith. By trusting in His Word, we deepen our relationship with Him. We can overcome challenges, knowing He is always with us.
Confidence in God's character and goodness is vital for faith. He embodies love, mercy, and grace. Trusting in Him, we face life's challenges with courage and conviction.
God honors and rewards diligent seekers. Pursuing a relationship with Him, we open ourselves to His blessings and guidance. Our faith is rewarded when we witness His transformative power.
Cultivating faith goes beyond mere belief. A strong faith involves seeking God's guidance and allowing Him to shape our lives. It means living our beliefs daily.
The biblical story of Abraham illustrates strong faith. He trusted God's promises and left his homeland. Despite challenges and uncertainties, his unwavering faith enabled him to persevere and become the father of many nations.
George Müller, a real-life example, founded orphanages in England. He relied on his faith in God to provide for thousands of children without asking for donations.
He would pray for food and supplies, and God would miraculously provide. His story showcases the power of faith in seemingly impossible situations.
In conclusion, Hebrews 11:6 teaches the importance of strong faith. By diligently seeking God and cultivating faith beyond belief, we can experience His presence, guidance, and provision.
Abraham and Müller's stories inspire us to develop a faith that transforms our lives and those around us.
 So we fix our eyes not on what is seen, but on what is unseen, since what is seen is temporary, but what is unseen is eternal.
The journey of faith is a challenging one. In 2 Corinthians 4:18, we find a message of hope that encourages us to focus on eternal realities, not temporary circumstances.
This shift in focus can make our faith stronger and more resilient.
Paul, the apostle, is a perfect example. Despite facing countless trials, he never lost sight of the eternal rewards. His unwavering faith inspires believers to keep going, even during tough times.
Richard Wurmbrand, a Romanian pastor, displayed similar extraordinary faith. He endured 14 years of imprisonment and torture for his beliefs.
His strong faith, anchored in eternity, enabled him to survive and later establish Voice of the Martyrs, supporting persecuted Christians.
To grow strong faith, we must adopt an eternal perspective. This mindset helps us see beyond our present struggles and trust in God's promises. In doing so, we can face life's challenges with grace and resilience.
Trusting in God's ultimate plan also motivates us to persevere.
By fixing our eyes on the eternal, we find comfort in knowing our current suffering is temporary. As we place our hope in the unseen, our faith blossoms, even in adversity.
In summary, 2 Corinthians 4:18 teaches that strong faith comes from focusing on eternal realities. By embracing an eternal perspective, we can endure hardships and prioritize our spiritual life.
Paul and Richard Wurmbrand's examples show us how to navigate life with steadfast faith, always trusting in God's promises.
Proverbs 8:17.
Romans 10:17.
Galatians 3:2.
Hebrews 11:7.
Hebrews 10:22.
Proverbs 3:5.
Ephesians 6:10.
Frequently Asked Questions
What verse talks about building strong faith?
Romans 10:17 speaks about building strong faith. It highlights the need to engage with God's Word and internalize its teachings to develop a robust faith.
Hebrews 11:6 further emphasizes the significance of having unshakable faith in God.
How can I keep my faith strong in God?
To keep your faith strong, cultivate a consistent relationship with God through prayer, Bible study, and fellowship. Immersing yourself in God's Word helps you develop a deeper understanding of His character and promises.
Scriptures like Joshua 1:8 and 2 Timothy 3:16-17 remind us of the importance of meditating on God's Word and applying it to our lives.
What is strong faith?
Strong faith means unwavering belief in God's existence, power, and promises, even during tough times. It's about trusting in His character, goodness, and relying on His guidance.
Hebrews 11 showcases various examples of strong faith, highlighting how individuals like Abraham, Moses, and Noah remained steadfast in their trust, despite challenges.
How do you have strong faith in God even in tough times?
To have strong faith in God during difficult times, focus on God's promises and cultivate an eternal perspective.
Remember verses like 2 Corinthians 4:18, which encourage us to look beyond temporary circumstances.
Seeking God's presence through prayer and Scripture, you can find comfort and hope even amidst trials.
Author: Akatakpo Dunn
Dr. Akatakpo Dunn is a dedicated follower of Christ, an active member and speaker, and an ongoing learner of the Scriptures. Passionate about his faith and serving others, he is committed to sharing his spiritual journey and insights to inspire and uplift fellow believers. He has been active in the church for more than 23 years. Through The
Faithful Christian Blog
,
Dr. Dunn
combines his love for God, philanthropy, and Scripture, providing a valuable resource for those seeking to grow in their faith.
Follow me: on Youtube, Facebook, Twitter, Instagram, and Pinterest.
Content Disclosure:
At The Faithful Christian Blog, I create authentic and inspiring content. Although I am the main author, I occasionally use AI for minor language enhancements. This minimal AI usage ensures high-quality, trustworthy articles without compromising originality or sincerity, ultimately supporting our shared faith journey.
Warmly,
Dr. Akatakpo Dunn
Was this article helpful?