Quite easily, we forget that peace of the mind is a blessing from God.
In fact, on most occasions, when things are running smoothly, we fail to acknowledge God for his mercies.
We only return to God when we need his help.
But that's not how it ought to be.
I am equally guilty of this.
Most times, when I am confronted with a problem, I quickly have to pray.
And the moment my prayer is answered, I don't pray as often as I should.
But God is merciful. He always listens to my call for help.
Likewise, if you are struggling with lots of challenges and need God to quiet them all, you need to pray.
The psalmist said,
The Lord gives strength to his people;
    the Lord blesses his people with peace.
I have compiled powerful prayer for peace of mind to guide you.
My God will supply all your heart desires. Amen.
---
Recommended for you
---
Prayer for peace of mind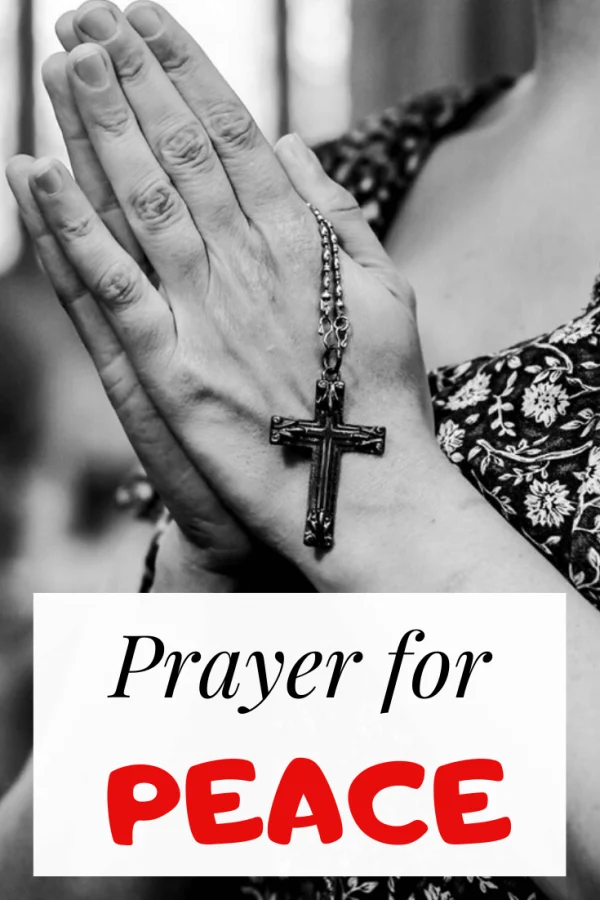 Be settled with God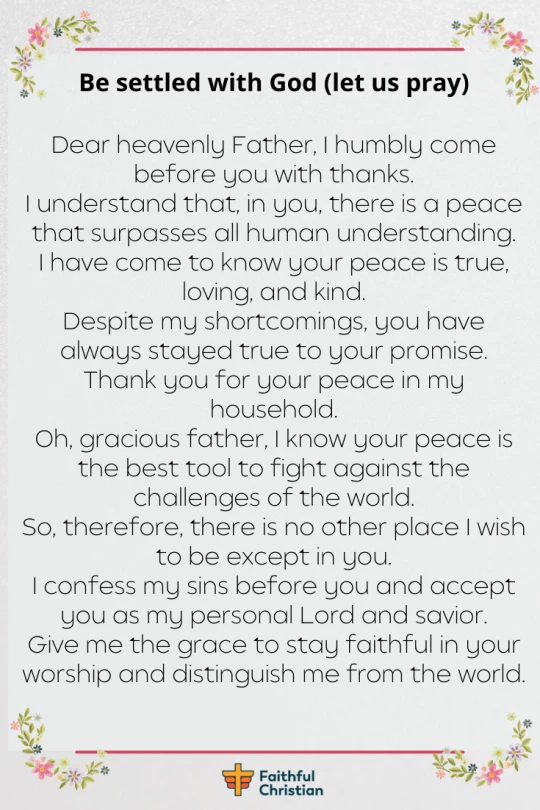 Dear heavenly Father, my heart brims with thankfulness. It beats with reverence for you. Like a Psalmist, I enter your spiritual presence, echoing their joy. Your grace, wisdom, and boundless love guide me. You've promised a hopeful future, and I trust you.
In your presence, peace blossoms. It's a peace surpassing all understanding, as Paul stated. It's not fleeting but deep and unwavering. Your peace is like a river, genuine, filled with love, and brimming with compassion. It tells me that God is love.
Despite my flaws, your faithfulness stands firm. You've never strayed from your promise. You guide, protect, and love me unconditionally. Your promise echoes in the peacefulness of my home. Your love is steadfast, your peace enduring. For this, I am profoundly thankful.
Dear Father, I now understand. Your peace is my ultimate weapon. It shields me from worldly trials, as Jesus assured. With your peace, I am fortified, ready to face any challenge.
In recognizing this, I long for nothing but your comforting presence. I yearn to rest in the shadow of the Almighty, as the Psalmist wrote. Your love is my sanctuary, your grace, my shield.
With humility, I lay my sins before you. I echo David's plea, seeking your mercy and forgiveness. I confess, accept, and declare you as my Lord and Savior. I embrace your guidance and protection.
I pray, dear Lord, for your grace. May it keep me faithful in my devotion to you. May it help me stand apart from the world. Not through my deeds, but through my love and faithfulness. May it help me discern your will – good, pleasing, and perfect.
May your divine light shine through me. May it guide others to your grace, peace, and eternal love. May it reflect in my good deeds and glorify you, as Jesus instructed.
In all my endeavors, I strive to serve you wholeheartedly. My work is a testament to my love, faith, and commitment to you. It's not for earthly rewards but for the inheritance you promised.
As I close, I recall the comforting words of Hebrews. I approach your throne with confidence, hope, and gratitude. I am thankful for your peace, love, and hope. I ask this all in your holy name. Amen.
The love for God brings peace (let us pray)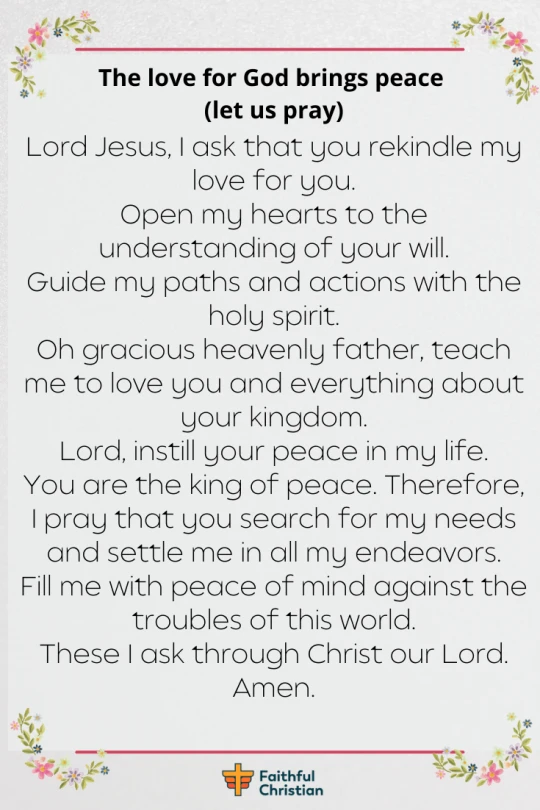 Dearest Lord Jesus, I come to you with a heartfelt plea. I need your touch to rekindle my love for you. Just like you said in Matthew 22:37, let my heart, soul, and mind love you deeply. Help me rediscover my passion for you, just as a deer longs for water.
Please, Lord, open my heart and mind. Show me the beauty of your divine plan. Let me understand and follow your will, as in Jeremiah 29:11. Guide me on the path of righteousness, just as Psalm 23:3 describes.
Lord, I ask for the Holy Spirit's guidance. Let me live by the Spirit, as Galatians 5:25 suggests. May your wisdom guide my decisions, making me a shining light in this world.
Gracious Father, teach me the ways of love. As 1 John 4:19 says, we love because you loved us first. Let me appreciate your kingdom, seeking it above all else, following Matthew 6:33.
I pray for your peace, Lord. Let it fill my life, as promised in Philippians 4:7. May your tranquility become a part of me, shaping my thoughts, words, and actions.
King of Peace, look upon my needs and worries. Remind me that you care for us, just as you care for the birds, as said in Matthew 6:26. Help me trust in your promises, knowing that you'll work all things for my good, as Romans 8:28 assures.
Fill me with your peace, Lord, even in life's storms. Keep me grounded in faith, hope, and love, as encouraged in John 16:33. Let me find peace in you, knowing you've overcome the world.
I bring these requests to you, Lord, trusting in your mercy. May my prayer echo the sentiment of Romans 16:27. In Jesus' name, I pray.
Amen.
Follow Peace with all men (let us pray)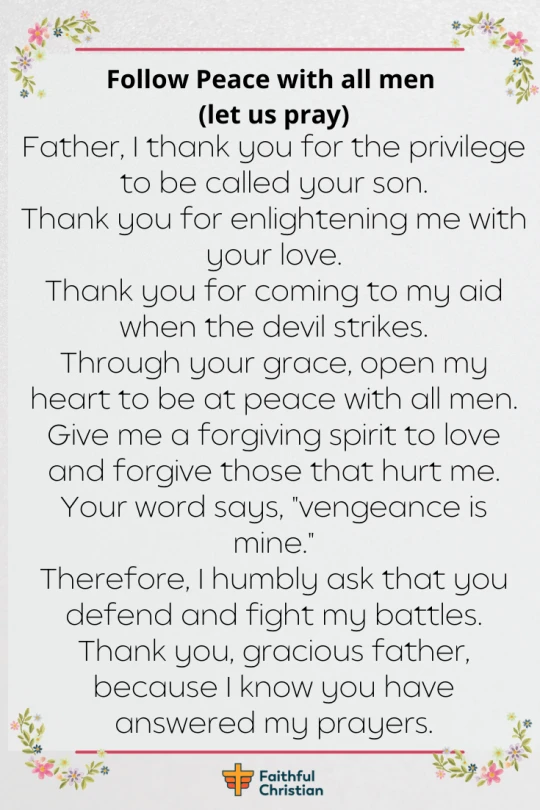 Heavenly Father, my heart overflows with gratitude for the gift of being your child. This joyous privilege reminds me of John 1:12, which says we are God's children. Your unwavering love has brightened my life, giving it divine purpose. Like in Romans 5:8, your love remained steadfast even when we were sinners.
You've been my rock during tough times. Isaiah 43:2 tells us you're with us through the waters and fire. You're my stronghold, my help in distress, just as Psalm 46:1 promises. Your divine intervention has been my shield, providing comfort and strength during storms.
Through your grace, fill my heart with peace and harmony. Let me live in line with Romans 12:18, to be peaceable with all people. Teach me to love everyone, as we all have unique roles in your divine plan.
Grant me a forgiving spirit, Lord. Enable me to love and forgive those who hurt me, just as Colossians 3:13 instructs. Like you have forgiven us, help me to forgive and show mercy.
"Vengeance is mine," as Romans 12:19 states. I trust your divine justice and place my battles in your hands. Psalm 18:2 shows the Psalmist's trust in you, and I do the same.
In gratitude, I turn to Philippians 4:6, which encourages thanksgiving in our prayers. Confident in 1 John 5:14, I know you hear my requests. Thank you for your unwavering support. You strengthen my faith and fill my heart with appreciation.
Submit yourself to the holy spirit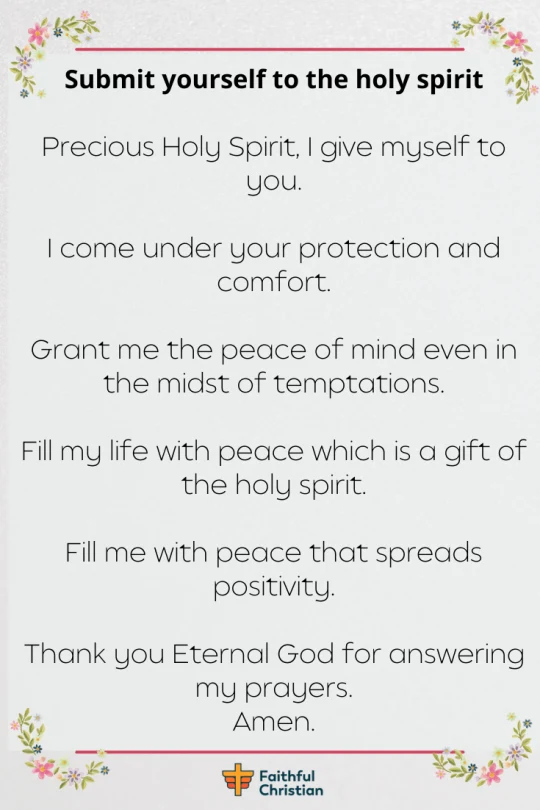 Divine and Precious Holy Spirit, I'm all yours. It's a complete surrender, like a love letter to the Divine. It's me, echoing the apostle Paul, offering my life as a living sacrifice. Pure, pleasing, and real.
Next, I step into your divine protection. I lean into your comfort, seeking the wisdom to navigate life's twists and turns. It's like being in the embrace of a loving parent, strong and secure. A refuge, a fortress.
Then comes the big ask. I'm calling out for peace, a kind that withstands life's storms. It's the peace Paul spoke about, the one that outdoes our understanding. It's finding calm in the chaos, strength in the struggle.
Now, I'm ready for the gift – your peace. I'm talking about the peace Jesus spoke of, the kind the world doesn't know. It's like a divine elixir, sweet and soothing. It's the joy that fills hearts, spreading like sunshine on a summer morning.
I want to glow with this peace, radiate positivity. Let it transform me, like a caterpillar to a butterfly. Let it touch lives, like a kind word or a gentle smile. It's time to let my light shine, just as Jesus taught us.
Thank you, Eternal God, my heart is full. It's a gratitude that echoes the psalmist's joy, the joy of knowing you hear us. It's finding comfort in your love, basking in your unending grace.
In you, I find everything. Solace, strength, and a love that never runs dry. I trust in your timing, your plans. It's knowing you're crafting my life like a master artist, creating a masterpiece.
Finally, with a heart brimming with gratitude, I say, "Amen." It's a word that seals my prayer, a divine affirmation. It's a reflection of my faith, my trust in you. It's my "Yes" to your plans, my song of surrender to your will.
---
Recommended for you
---
Bible verses about Peace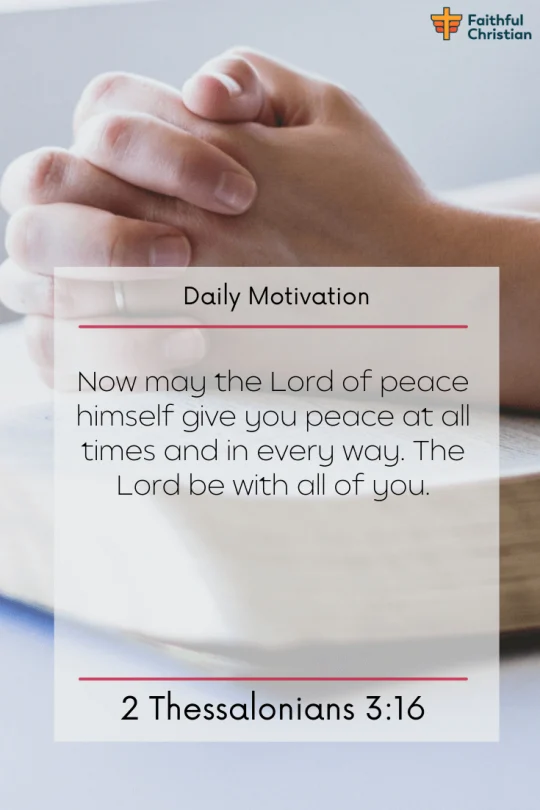 Now may the Lord of peace himself give you peace at all times and in every way. The Lord be with all of you.
Say a prayer for peace of mind with 2 Thessalonians 3:16
Heavenly Father, you are the architect of peace and love. Today, I reach out to you, as my mind races and my heart pounds.
Life spins fast. It's a whirlwind of to-dos, maybes, and what-ifs. In the din, we sometimes lose our bearings. But then, there's 2 Thessalonians 3:16. A beacon. It says, "The Lord of peace himself gives peace at all times, in every way."
This verse is my inspiration today. I'm asking for your peace, the deep, divine kind. The peace that beats human understanding. The peace that's always there, in every way, in every moment.
This peace isn't just a quiet moment. It's a calmness that stays. It's there in the heartbeats, in the breaths, in the quiet spaces between thoughts. It's a guiding light amidst confusion, a lifeline in the sea of despair, a steady hand in chaos.
You are always there, Lord. Your presence is a promise. It's a comfort, a strength, a peace the world doesn't understand.
I'm turning my worries over to you. My fears, my anxieties, they're yours now. I trust in your wisdom, in your love. I know you'll lead me through, guiding me towards serenity, understanding, acceptance.
In the quiet, I hear you. "Peace, be still." Your words, a balm. A reassurance that I am not alone, that you are with me, that your peace is within reach.
Thank you, Lord. You are my shelter, my strength, my peace in the storm. I say all these with a heart full of gratitude, in your mighty name.
Amen.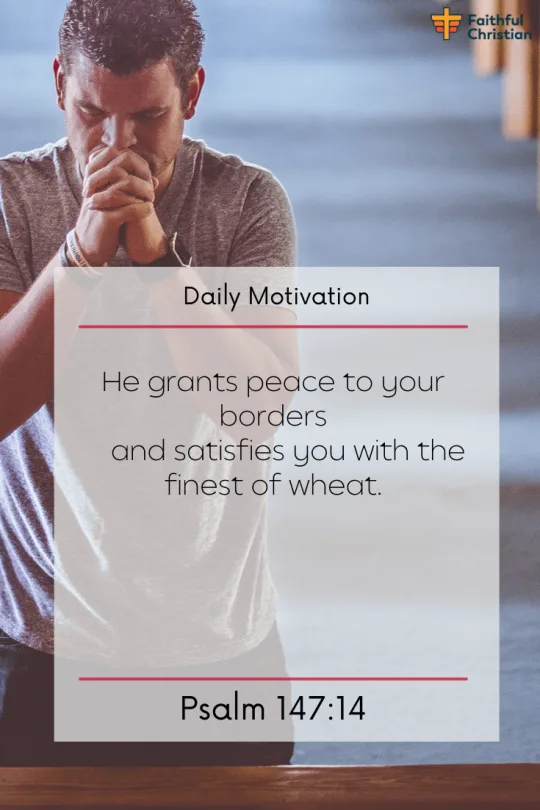 He grants peace to your borders
and satisfies you with the finest of wheat.
Say a prayer for peace of mind with Psalm 147:14
Dear Heavenly Father, your words in Psalm 147:14 inspire me. I'm here, seeking the peace only you can give.
You're the one who brings peace to our borders. Today, I'm asking for that peace inside me. Calm my inner storms. Quiet my restless thoughts.
Just like you nourish our land, nourish my spirit. Let your peace be my strength. When life gets crazy, your peace will keep me steady.
Holy Spirit, light my way. Help me understand God's love, his plan for me. My worth? My destiny? They're securely anchored in you.
Thank you, Father, for your peace promise. I trust in your goodness. You've always been there – my protector, my guide, my comfort. Even when life gets tough, your peace prevails.
I pray in Jesus' name, our Prince of Peace. Amen.
Frequently Asked Questions
What is a short prayer for peace of mind?
Looking for a short prayer for peace of mind? Try this: "Lord, let your peace flood my soul. Calm my inner storms. Amen." It's a tiny prayer with huge power, mirroring Philippians 4:7. That verse talks about a peace that surpasses all understanding.
What is a prayer for peace of mind and guidance?
Need guidance along with peace? Pray this: "Father, flood my mind with peace. Lead me on the path of truth. Amen." It's like Psalm 32:8 coming alive in prayer, a promise that God will guide us on the right path.
What is a prayer for peace of mind and heart?
Seeking peace of mind and heart? Here's a prayer: "Dear Lord, grant me tranquility in mind and heart. Let me find rest in your grace. Amen." It's the essence of John 14:27, a verse where Jesus offers His unique peace.
What is a prayer for peace of mind and sleep?
For peaceful sleep, pray: "Father, as I prepare for sleep, drench me in your peace. Calm my racing thoughts. Grant me restful sleep. Amen." It's a comforting prayer, inspired by Psalm 4:8, a promise of peaceful sleep under God's watchful eyes.
What are some prayers for peace and protection?
For peace and protection, pray: "God, be my sanctuary of peace. Be my shield, my guiding light. Amen." It's a prayer born out of Psalm 5:11, promising protection for those who seek refuge in God.
Which Bible verse provides a prayer for peace of mind?
John 14:27 is a comforting verse. It's Jesus saying, "I give you my peace, a peace that's unlike anything the world offers." It's a prayer for peace in times of turmoil.
What is a prayer for peace of mind and healing?
Healing with peace? Try this prayer: "Lord, flood me with your peace. Heal me, body, mind, and spirit. Restore me in your image. Amen." It's a powerful plea, drawing from Jeremiah 17:14, a call for God's healing touch.
How can I pray for inner peace and happiness?
Pray for inner peace and happiness: "Dear God, fill me with your divine peace. Let joy bubble over in my heart. Amen." It's like living Psalm 16:11, a verse that promises joy in God's presence.
What psalm is true happiness?
Psalm 1 is a go-to for true happiness. It paints a picture of the happy person, one who meditates on God's law day and night.
Which Psalm is for a peaceful mind?
For a peaceful mind, Psalm 23 is often a favorite. It presents God as our Shepherd, leading us to calm waters and green pastures.
How do you calm a troubled heart?
To soothe a troubled heart, pray: "Lord, I hand over my worries to you. Let your peace rule my heart. Amen." It's a comforting prayer, echoing Jesus' words in John 14:27, urging us not to be troubled.
What Bible verse calms the mind?
Want a verse that calms the mind? Try Philippians 4:8. It nudges us to think about all things good and godly. It's a recipe for a calm and peaceful mind.
Author: Akatakpo Dunn
Dr. Akatakpo Dunn is a dedicated follower of Christ, an active member and speaker, and an ongoing learner of the Scriptures. Passionate about his faith and serving others, he is committed to sharing his spiritual journey and insights to inspire and uplift fellow believers. He has been active in the church for more than 23 years. Through The
Faithful Christian Blog
,
Dr. Dunn
combines his love for God, philanthropy, and Scripture, providing a valuable resource for those seeking to grow in their faith.
Follow me: on Youtube, Facebook, Twitter, Instagram, and Pinterest.
Content Disclosure:
At The Faithful Christian Blog, I create authentic and inspiring content. Although I am the main author, I occasionally use AI for minor language enhancements. This minimal AI usage ensures high-quality, trustworthy articles without compromising originality or sincerity, ultimately supporting our shared faith journey.
Warmly,
Dr. Akatakpo Dunn
Was this article helpful?