A broken home and marriage is not God's plan.
The devil always has a way of causing pain in our lives.
It is quite shameful and disheartening that your marriage isn't working as it should.
But through bible verses on marriage restoration, you can rescue your marriage from the devil.
These bible verses have the ability to open your heart to believe again.
I understand the shame you may be going through.
But God can remove shame from you and disappoint your enemies.
A friend of mine who worships at my church had similar issues.
She has been married for years now with two kids.
Unfortunately, over the last few years, her marriage has been going down the drain.
There was no love between her and her husband anymore.
Her husband couldn't provide for the family as he continued wasting limited resources on frivolities.
She couldn't bear the pain and frustration of single-handedly taking care of the children.
And gradually, she started being misled by the devil.
She started seeing other men just to raise some funds to take care of the family.
This even made things worse as the husband got to know and physically abused her.
But despite their problems as a family, over the past few months, things have changed appreciably.
Through prayers, they have made considerable improvements in their home.
If you are struggling with your marriage, God can take away your shame and return your husband or wife to you.
I have put together bible verses on marriage restoration to motivate you.
---
Recommended for you
---
Bible verses on marriage restoration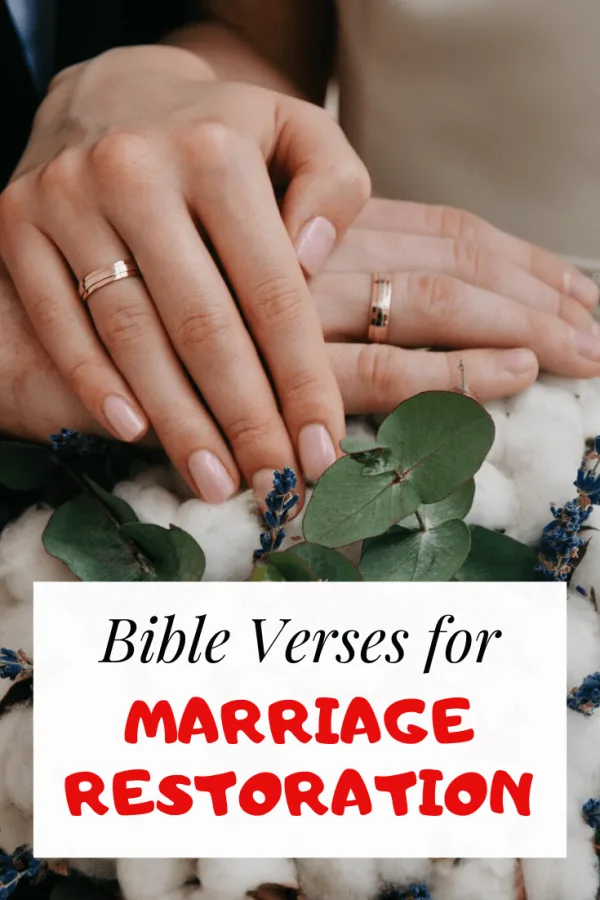 1.  1 Peter 5:10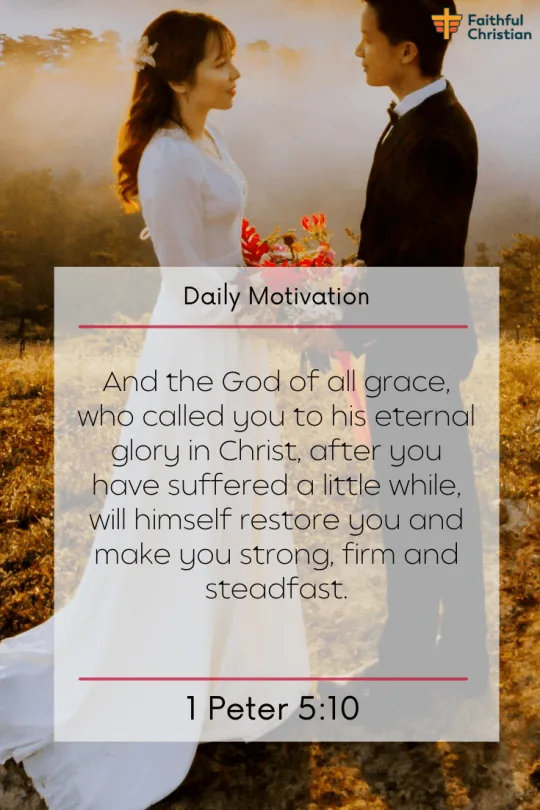 And the God of all grace, who called you to his eternal glory in Christ, after you have suffered a little while, will himself restore you and make you strong, firm and steadfast.
Marital struggles can feel overwhelming, but understanding them in light of 1 Peter 5:10 offers a glimmer of hope. "After suffering for a little while, God…will restore, confirm, strengthen and establish you."
This verse underscores the transient nature of trials. They're merely a "little while" against the backdrop of God's timeless glory. These trials could range from misunderstandings to infidelity, much like the biblical narrative of Hosea and Gomer.
Gomer's unfaithfulness didn't deter Hosea from loving her. His unwavering love paints a vivid picture of God's heart, poised to restore and heal despite our transgressions.
James 1:12 lends insight into the importance of resilience amidst these trials. It assures us that perseverance under trial brings forth the promise of life. These trials, therefore, serve as catalysts, not adversaries. They foster resilience, an indispensable navigator steering us through marital struggles.
The narrative from Romans 5:3-4 furthers this perspective. It establishes suffering as a precursor to perseverance, and perseverance to character, and finally, character to hope. Seen through this lens, trials become sculptors, refining character and nurturing hope.
Lee and Leslie Strobel's story stands as a beacon of this truth. Their marriage underwent a major challenge when Leslie embraced Christianity while Lee remained an atheist. However, their love and mutual respect triumphed, illustrating how God's grace operates even amidst the most complex scenarios.
The verse concludes by identifying the architect behind this process – the "God of all grace." His grace is the lifeblood of the restoration process. It fuels us when human efforts falter, ensuring that marriages are not merely restored but also confirmed, strengthened, and established.
In the midst of marital trials, let's remember this promise of restoration. After all, the God of all grace is with us, poised to transform our trials into triumphs.
2.  2 Corinthians 4:17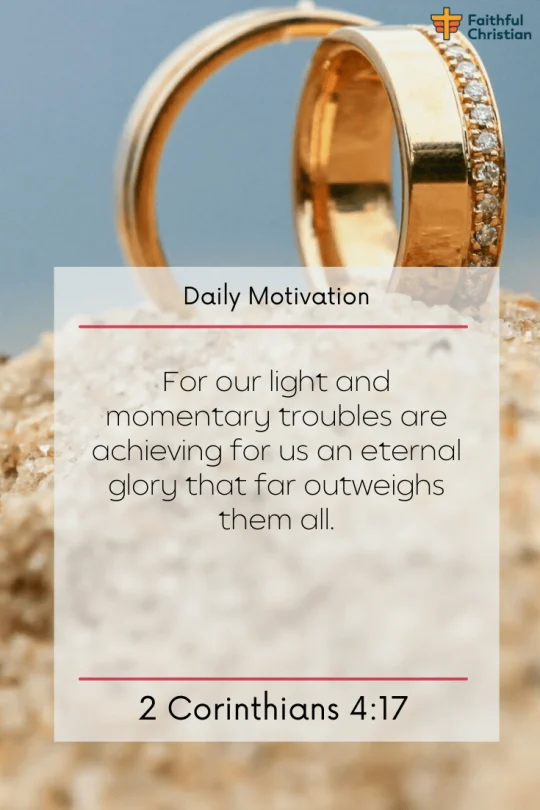 For our light and momentary troubles are achieving for us an eternal glory that far outweighs them all.
Every marriage has its own set of challenges. These "transient afflictions," as mentioned in 2 Corinthians 4:17, can range from minor disagreements to deeper conflicts. Yet, these are fleeting in nature and can lead us to restoration.
Let's reflect on the story of Job from the Bible. His life was filled with severe trials, but his unwavering faith was remarkable. Despite his losses, he held onto God. Ultimately, his family life was restored, illustrating the resilience of faith amidst hardships.
Maintaining an eternal perspective during marital issues is crucial. Romans 8:18 enlightens us, "I consider that our present sufferings are not worth comparing with the glory that will be revealed in us." This outlook can help steer us from the troubles at hand towards a restored, healthier relationship.
Nicky and Sila Lee, creators of "The Marriage Course," exemplify this principle. Their journey was not devoid of hurdles. However, they faced their trials, and their marriage was restored. Now, they guide others to enrich their marriages, signifying the rewards reaped from trials faced.
Marital trials can be likened to refining gold. Under high heat, the impure becomes precious. Similarly, Matthew 5:11-12 implies that trials can lead to blessings. Thus, trials faced can fortify and refine our marital bonds.
Faith plays a pivotal role in overcoming marital troubles. As I pen down this article with faith, let's approach our marital restoration journey with the same confidence. Though trials and tribulations may appear, they are transient. With a focused vision, the courage to face trials, and unwavering faith, a brighter marital future awaits.
In sum, embrace the trials, navigate the hardships, and stride towards a restored and glorious marriage. The path may be rocky, but remember, "For our light and momentary troubles are achieving for us an eternal glory that far outweighs them all" (2 Corinthians 4:17).
3.  2 Thessalonians 3:3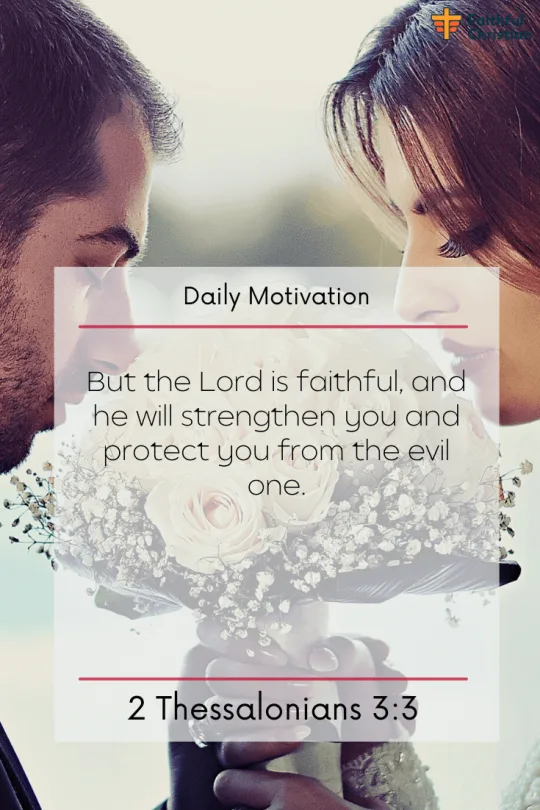 But the Lord is faithful, and he will strengthen you and protect you from the evil one.
Marriage, a beautiful journey, often navigates through trials. Yet, hope thrives in the divine reassurance found in 2 Thessalonians 3:3, "But the Lord is faithful, and He will strengthen you and protect you from the evil one." This verse illustrates God's critical role in marriage restoration.
Consider Abraham and Sarah. Genesis reveals their struggles: Sarah's barrenness and Abraham's deception. Despite their trials, their faith remained unwavering. Their trust in God's protection, as echoed in Deuteronomy 31:6, fortified their bond.
The Lord, ever-present, became their anchor, guiding them through their marital storms. Their story demonstrates the power of divine protection in overcoming marital difficulties.
Similarly, Derek and Julianne, characters from the documentary "Irreplaceable," found themselves amidst the ruins of their union due to infidelity.
Mirroring Abraham and Sarah, they sought God's protective shield. They found the strength to confront their issues, mend their bond, and restore their love, highlighting the power of God's faithfulness.
Through these examples, I've witnessed the transformative power of God's unwavering faithfulness. It strengthens couples, shields marriages, and serves as a beacon during turbulent times, as reaffirmed in Psalm 32:7, "You are my hiding place; you will protect me from trouble and surround me with songs of deliverance."
Trust in God's protection fosters a sense of security, an essential ingredient for troubled marriages. It is this trust that paves the way for forgiveness, healing, and ultimately, restoration.
In summary, 2 Thessalonians 3:3 invites couples to rely on God's faithfulness and protection amid marital struggles. It assures us that God, with his steadfast love, journeys with us, guiding us back towards unity and love.
4.  1 Peter 1:6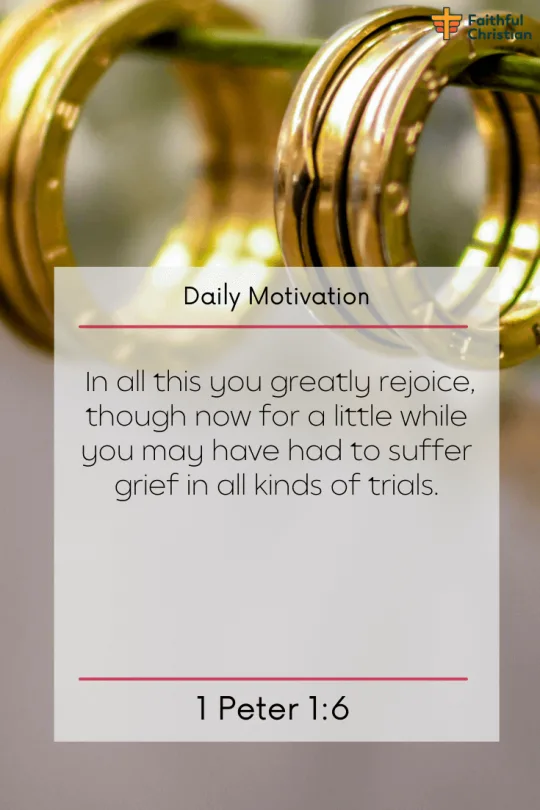 6 In all this you greatly rejoice, though now for a little while you may have had to suffer grief in all kinds of trials.
Marriage can often seem like a ship facing a storm. Yet, hidden within the storm is an opportunity, a chance for growth and transformation. This is beautifully encapsulated in 1 Peter 1:6.
The verse serves as a reminder. Trials aren't merely burdens. Instead, they're catalysts for growth, strengthening a marriage. This idea is supported by James 1:2-3. Trials, thus, offer a chance to enhance resilience, fostering a more robust marital bond.
In the face of trials, joy becomes crucial. This joy isn't fleeting happiness, but rather a spiritual discipline. It focuses us on the promise of restoration. This profound joy, coupled with enduring faith, strengthens a marriage.
Now, let's consider the remarkable love story of Jacob and Rachel from Genesis 29-30. Despite significant challenges, including infertility and family conflict, their commitment and love for each other prevailed. What stands out from their story is their unwavering faith.
Even during painful and confusing moments, their enduring faith provided a source of unity and strength, leading to a resilient marriage. Their trials, rather than tearing them apart, brought them closer together – a powerful testament to the transformative power of trials.
Similarly, Craig and Amy Groeschel faced substantial early marital struggles. Their dedication to addressing these issues strengthened their bond. Their resilient marriage now stands as a beacon of hope.
But where does the strength for enduring trials come from? Romans 5:5 points towards an answer: God's unfailing love. This divine love offers hope during marital difficulties. It assures us that the strength for enduring trials and rebuilding a stronger marriage comes from a divine source.
In conclusion, trials in marriage are opportunities, not obstacles. They allow for growth, transformation, and a deeper bond. In the face of trials, let's choose joy, embrace restoration, and lean on God's unfailing love. After all, it's the storm that makes a rainbow beautiful.
5.  1 Peter 1:7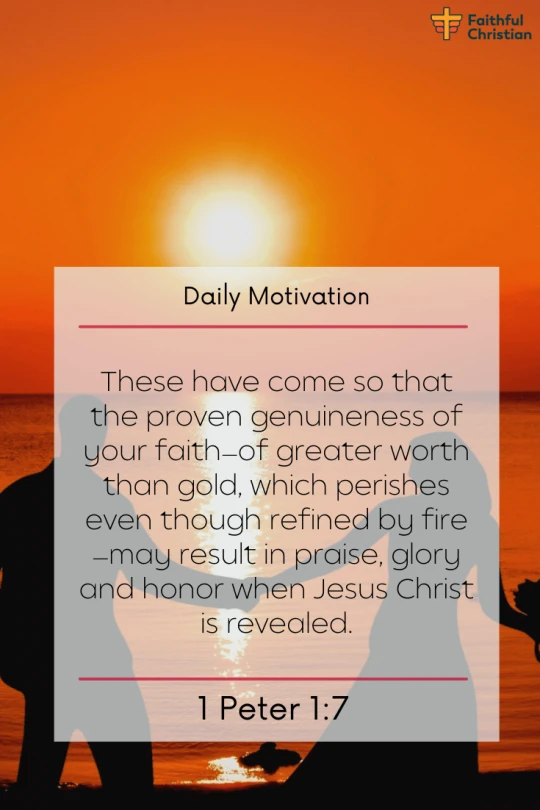 7 These have come so that the proven genuineness of your faith—of greater worth than gold, which perishes even though refined by fire—may result in praise, glory and honor when Jesus Christ is revealed.
Imagine a goldsmith refining a piece of gold. It enters the furnace raw, unimpressive, but after the intense heat, it emerges pure, valuable. This analogy reflects the trials, faith, and restoration in marriage.
The scripture 1 Peter 1:7 provides a crucial lesson: "These trials will show that your faith is genuine. It is being tested as fire tests and purifies gold…" Here, trials become the furnace, refining our faith in the restoration process.
Job 23:10 underlines this, saying, "when he has tested me, I will come forth as gold." Just like gold, our faith becomes stronger, purer through trials.
Isaac and Rebekah from Genesis 25-27 exemplify this. Their marriage, strained by favoritism and manipulation, held steadfast due to their unwavering faith. Trials tested their bond, yet it emerged stronger, mirroring the gold refinement process.
In modern times, Jeff and Cheryl Scruggs mirror this faith. Their relationship saw a decade-long marriage, a divorce, and then a restoration. The trials they endured strengthened their faith and made their bond more resilient. Their story, like refined gold, shines with the beauty of a bond that became more precious after the trials.
Zechariah 13:9 states: "This third I will put into the fire; I will refine them like silver and test them like gold…" It clarifies that trials are not punishments, but divine opportunities for refinement. This understanding encourages endurance, leading to stronger, more resilient relationships.
Faith tested through trials leads to praise and glory when Jesus is revealed. So, as we encounter trials in marriage, let's see them as chances for growth, strengthening our faith, and refining our relationships. Trust in God's process; He's crafting our faith, our marriages, into something more precious than gold.
6.  Romans 8:28
And we know that in all things God works for the good of those who love him, who[a] have been called according to his purpose.
Romans 8:28 speaks volumes. It assures us that God, in His infinite wisdom, orchestrates all things for the good of those who love Him. This promise extends to every corner of life, including marriage restoration.
Let's unpack this verse. What does it mean that God works everything for good? Consider the story of Ruth and Boaz. Ruth was a Moabite, a foreigner, and a widow. By societal standards, her chances at remarriage seemed slim.
Yet, God had a unique plan woven into her story. Boaz, a relative of Ruth's late husband, fell in love with Ruth's character and devotion. Despite the odds, their union became a testament to God's divine purpose, even in the face of adversity.
Jeremiah 29:11 fortifies this belief: "For I know the plans I have for you," declares the LORD, "plans to prosper you and not to harm you, plans to give you hope and a future." These words remind us that even in the throes of marital conflict, God's intentions are for our betterment.
Genesis 50:20 encourages us to reframe our perspective. It advises us to see trials as growth catalysts, steering us towards deeper understanding and connection, rather than mere hardships.
Turning to a modern example, Chip and Joanna Gaines, stars of "Fixer Upper," embody this belief. Their shared faith that God would turn their trials into blessings solidified their marriage. Today, their story stands as a shining testament to the promise found in Romans 8:28.
In essence, these biblical promises offer hope during marital strife. With love for God and alignment with His purpose, trials transform into blessings. Embracing this shift in perspective allows us to see struggles as opportunities for growth.
I trust that these biblical verses and inspiring stories provide a beacon of hope in your journey for marriage restoration. So, take heart from these words and remember that even in the midst of your struggles, there is a divine plan at work.
7.  Psalm 138:7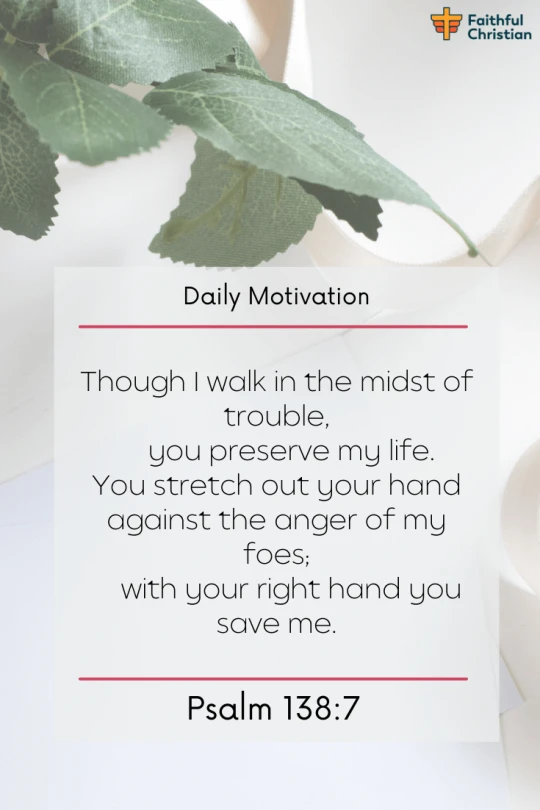 Though I walk in the midst of trouble,
you preserve my life.
You stretch out your hand against the anger of my foes;
with your right hand you save me.
In life's storms, Psalm 138:7 serves as an anchor. It's a beacon for couples seeking marriage restoration. This verse assures us: God stands with us in adversity. This tenet holds firm, even in marital struggles.
God's promise offers vital support during marital discord. He's our divine companion in times of crisis. Isaiah 43:2 echoes this: God's presence is unwavering, even in the fiercest storms.
Consider the narrative of David and Michal in 2 Samuel 6. Their relationship was strained due to Michal's harsh criticism of David. Yet, David remained steadfast in his faith, finding solace in God's promise of preservation. In his relationship with Michal, David embodied God's preserving power, enabling him to endure distress.
Couples today can glean much from this biblical example. When faced with criticism or conflict in marriage, we too can lean on the preserving power of God, finding solace amidst distress.
The story of Australian Pastors Brian and Bobbie Houston mirrors David's resilience. The Houstons' marriage has weathered many storms, including personal adversities and ministry challenges.
Yet, they've managed to sustain their marital bond. Their secret? A profound faith in God's deliverance, underscoring God's power and grace as vital in restoring relationships.
God's mercy, as discussed in Psalm 138:7, grants vitality even amidst trouble. This mercy, perfect in our weakness, revitalizes troubled relationships, as affirmed by 2 Corinthians 12:9. Such divine intervention fosters a renewed sense of hope and strength in marriages.
God's intervention offers a fresh start. As we navigate marital challenges, remember this truth: God's promise is for every marriage. His heart yearns for restoration and thriving relationships. With faith, a struggling marriage can embark on a journey towards restoration.
So, I invite you to believe in this promise. Embrace it, lean on it, and watch your marriage transform.
8.  2 Thessalonians 2:17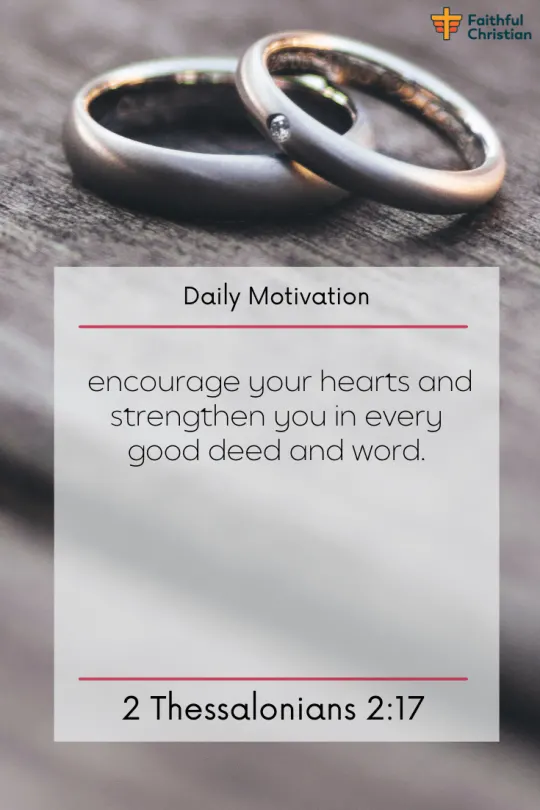 encourage your hearts and strengthen you in every good deed and word.
In the realm of marriage, high and low tides help shape our shared journey. There's a verse that lights our way in this journey. It's 2 Thessalonians 2:17, which calls for a deep-seated hope. A divine comfort that surpasses our understanding.
Take a moment. Think about Adam and Eve. Their story in Genesis 3 is a saga of lost paradise. Yet, they stayed together. They faced the storm as one. Their story is a testament. A reminder that we too can find comfort in the roughest marital seas.
Let's now venture into a real-life story. A story of a couple, Derek and Kristen Minor. They're musicians with a firm faith. They faced an immense loss – a miscarriage. Yet, in this devastation, they found solace. In God and each other. Their journey tells us something. It speaks of the healing power of mutual support in marriage.
Isaiah 40:31 echoes through their story. It's a promise of renewed strength for those who hope in the Lord. It's a beacon for those seeking restoration. It teaches us that hope isn't passive. It's an active force that renews marriages.
2 Thessalonians speaks of "good deeds and words". These are heartfelt apologies and acts of kindness. They are the threads that mend the fabric of a strained marriage. They plant seeds of reconciliation. These seeds can bloom into a beautiful garden of harmony.
To sum up, God's comfort and hope are key to marriage restoration. Like Adam and Eve, like Derek and Kristen, we can find hope in despair. Comfort in sorrow. Our struggles are not our end. They're the start of a journey. A journey towards a renewed, revitalized, faith-filled marriage.
9.  2 Corinthians 13:11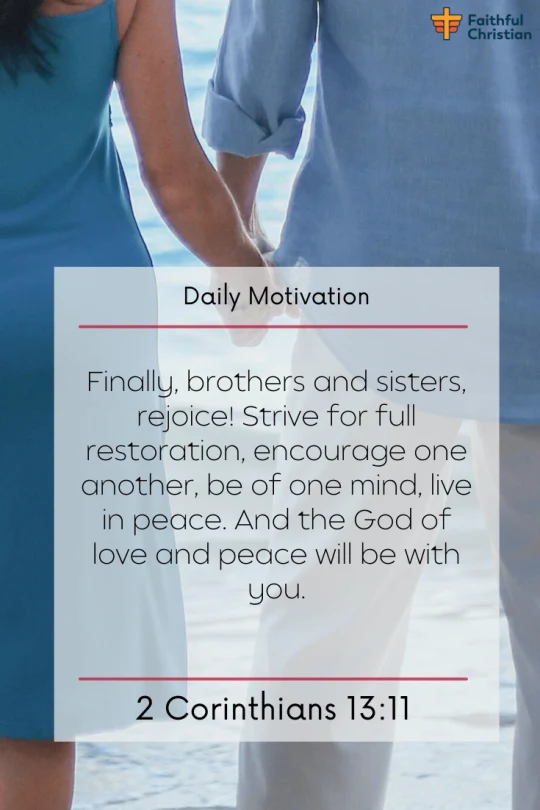 Finally, brothers and sisters, rejoice! Strive for full restoration, encourage one another, be of one mind, live in peace. And the God of love and peace will be with you.
In 2 Corinthians 13:11, Paul gives us a blueprint for restoring marriages. It promotes unity, mutual comfort, and peace.
Picture the dynamic duo Priscilla and Aquila from Acts 18. They didn't merely share a home; they shared a purpose. As tentmakers and teachers, they were pillars of early Christian society. Their unity was their strength.
Together, they taught the way of God more adequately to Apollos (Acts 18:26). This example tells us that marriages can be restored through shared purpose and mutual support.
Ephesians 4:2-3 outlines virtues needed for harmonious living: humility, gentleness, patience, and love. These are cornerstones of a peaceful relationship. Practicing these qualities can lead to a more harmonious marriage.
Colossians 3:14 reiterates the importance of love, the ultimate unifier, in relationships. It can mend wounds and restore relationships. This mutual affection is transformative. Let's take inspiration from Billy and Ruth Graham.
Despite high-pressure careers, they maintained a strong marriage. Their shared mission and mutual respect served as an adhesive. This example shows that love and common purpose can foster a resilient marriage.
In the journey towards marital restoration, I believe striving for spiritual maturity is non-negotiable. It's this maturity that fosters understanding, patience, and the capacity to love selflessly.
The same maturity that makes us realize that a perfect marriage isn't one without challenges, but one where both parties are committed to addressing and resolving these challenges together.
In summary, unity, mutual support, love, and spiritual maturity are essential in the journey of marital restoration. When we aim for restoration and choose to live in peace, we create room for God to work in our marriages. As we mature in faith and unity, we build marriages that are not only lasting but also thriving.
10.  Philippians 4:13
I can do all this through him who gives me strength.
"Strength" is central to mending broken marriages. Specifically, divine strength from Christ, as depicted in Philippians 4:13. This verse encapsulates a truth capable of revitalizing marriages.
Consider the story of Mary and Joseph. This biblical duo encountered some extraordinary circumstances. Before they had even begun their life together as husband and wife, they faced scandal, fear, and a birth that was anything but ordinary.
Yet, they remained unified. The reason? Their reliance on God. Despite the hurdles they faced, Mary and Joseph stood firm, bolstered by an unshakeable belief that God would provide the strength they needed. Through their trust, they showcased the essence of Philippians 4:13.
Now, let's take this principle and apply it to modern marriages. It means leaning on our faith when the going gets tough. As Isaiah 41:10 emphasizes, God's promise of strength and support is unwavering. In our most daunting moments, we find Him beside us.
Shifting from biblical to modern times, Joni Eareckson Tada and her husband, Ken, embody this spirit. Their lives took an unexpected turn when Joni suffered a disabling accident. However, instead of letting this drive them apart, they turned towards each other and towards Christ.
They found strength, not in the absence of challenges, but in the face of them. Joni and Ken exemplify the potency of Ephesians 3:20 – the belief that Christ's power within us can exceed our expectations.
However, Philippians 4:13 offers more than strength. It provides empowerment. It gives us the courage to face our challenges, knowing Christ stands with us. This belief illuminates the path towards limitless possibilities for marital restoration. Trust in Christ opens doors to healing, enabling transformation.
In summary, Philippians 4:13 serves as a beacon of hope for struggling marriages. It promises that, with Christ, restoration isn't just a distant dream – it's a reality within reach.
So, when you find yourself in troubled waters, remember you're not alone. In Christ, we find the strength we need for the transformation we seek.
With this in mind, we can confidently echo the words of Philippians 4:13, "I can do all things through Christ who strengthens me."
---
Recommended for you
---
---
Recommended for you
---
4 Important Christian Tips for marriage restoration
1.  Stay positive with prayer
Are you trusting God to restore your marriage?
You cannot believe in God and not pray.
In times of trouble, we must seek God's help for solutions.
Every marriage covenant is tested from time to time.
And we must be resilient and understand the ways of the devil.
If you've lost your husband or wife to another man or woman, you must pray for God's intervention.
And when you have prayed, you must have faith in God's power to rescue your marriage.
I have had multiple issues with my wife, and there was a time our marriage was completely broken.
While I had lost complete interest in the whole thing, my wife was praying for the restoration of love.
She wanted me to love her as I used to.
And mysteriously, by the grace of God, we resolved our differences.
So, today, you have to pray with an expectation.
You have to pray to overcome this huge temptation.
God in his infinite mercies, will guard your hearts and strengthen you in these trying times.
2.  Wives, be submissive and faithful
This is one of the major reasons for marriage issues.
Don't get me wrong; men have their problems too.
But women are the backbone of every family.
They unite the home and keep the family going in hard times.
The man is the head of the family.
This arrangement is set up by God (and, therefore, must be obeyed).
So, if you let yourself be submissive to your husband, it is always unlikely there will be any issues.
3.  Men love your wives
There is no two ways about it.
Men must love their wives to make a union work.
If you cant provide and care for your wife and family, you are like an infidel (in God's eyes).
So, you must be focused on your family and responsibilities.
Besides caring for the family, infidelity can completely traumatize any union.
Why should anyone cheat on his or her partner?
God hates adultery – that is, the sin committed when married people cheat on their wives.
We must return to our spouses and beg for forgiveness.
There is no reason to feel ashamed.
God is willing to set you free of your iniquities and return you to glory.
Amen.
4.  Be prepared to forgive and let go
I have been cheated on in the past (before getting married), and I know how it feels.
Your world seems to stop, and nothing can make you happy.
The thoughts of your husband/wife, whom you love so much, cheating with another person, is so painful.
But irrespective of your frustrations, you can forgive and let go.
However, if you can't continue to trust your husband or wife anymore, God allows divorce in cases of infidelity.
Marriage restoration prayer for healing your marriage
Beloved Heavenly Father,
We're knocking on your door today. A marriage is in trouble. We're standing firm in Matthew 19:26, believing that "with You all things are possible." There's no hurdle you can't clear.
Lord, we need restoration. This sacred bond, it's fading. And so, we lean on Ephesians 4:2-3. We ask for humility. For gentleness. Patience. May love seep into this couple's heart, healing the cracks.
Guide their thoughts, Lord. Influence their words. Shape their actions. Proverbs 3:5-6 is our guide here. We're ditching human logic. We're embracing Your wisdom. Turn this husband and wife towards each other. Fill them with forgiveness. Rekindle their shared desire.
Do you remember their vows, Lord? They pledged to cherish each other. To stand side-by-side in life's battles. Like Ephesians 5:25 teaches us. Love should mirror Christ's love for the church. Please, reawaken this love in their hearts.
James 1:5, that's our next stop. Let's sprinkle wisdom over this couple. Let them see their mistakes. Show them how they've caused pain. Then, gift them the grace to mend their errors. May they find humility, and the will to rebuild.
Kindness, respect, humility. These should be the pillars of their marriage. Like 1 Peter 4:8 tells us, love each other deeply. After all, love is a mighty sin-conqueror.
Let's remember Ecclesiastes 4:12. One can be overpowered. But two can defend themselves. Weave this couple into a cord of three strands. Strengthen their bond. Bring them closer to You. And each other. That's where the real power is.
We pray for healing. We pray for forgiveness. We pray for renewal. Like 1 Corinthians 13:7 professes, their love should protect. It should trust. It should hope. It should persevere.
And with Your help, it will.
In Jesus' name, we stand in faith and pray.
Amen.
Frequently Asked Questions
What does the Bible say about restoring a broken marriage?
The Bible offers clear guidance on mending a broken marriage. It underscores the principles of forgiveness and reconciliation.
Matthew 18:21-22, where Jesus implores us to forgive not just once, but seventy-seven times, exemplifies this.
Another relevant scripture, 1 Peter 4:8, advocates for deep love, as it covers a multitude of sins. It emphasizes the transformative power of love and grace in healing a fractured marriage.
How do you restore a marriage biblically?
Restoration of a marriage in line with biblical teachings calls for forgiveness, humility, and unconditional love.
These principles are encapsulated in Ephesians 4:32, which encourages kindness, tenderness, and forgiveness, akin to the divine mercy we receive through Christ. Embracing these values nurtures a climate conducive to restoration.
How do I pray for my marriage to be restored?
When praying for marriage restoration, one should focus on seeking God's wisdom and will. As stated in James 1:5, God generously gives wisdom to those who ask.
A prayer might implore the grace to forgive, the strength to love unconditionally, and the fortitude to endure during restoration.
What is a good Bible verse for a troubled marriage?
A fitting verse for a troubled marriage is 1 Corinthians 13:4-7. This scripture offers a beautiful delineation of love, as patient, kind, trusting, hopeful, and persevering.
By reflecting these traits, couples can navigate their challenges and rekindle their bond.
Can a broken marriage be restored?
Yes, restoration of a broken marriage is possible. Joel 2:25 assures us that God can restore what was lost, underscoring the divine potential for healing, even in seemingly irreparable relationships.
How can I restore my husband and wife relationship?
To mend a husband and wife relationship, understanding and fulfilling biblical roles is essential. Ephesians 5:22-33 provides clear guidance, calling for mutual respect, love, and submission.
By embracing these responsibilities, couples can work towards re-establishing their bond.
What are the steps to repair a broken marriage?
Repairing a broken marriage involves a commitment to change, open communication, and forgiveness.
Guided by James 5:16, couples are encouraged to confess their sins and pray for each other, fostering healing and reconciliation.
How do I know if God wants to restore my marriage?
To discern God's will in restoring your marriage, seek His guidance through prayer and reflection on His Word.
When there's peace, direction, and alignment with biblical principles of reconciliation, it may indicate God's desire for restoration.
How do you fix marriage problems?
Addressing marital problems begins with acknowledging the issues and expressing willingness to resolve them.
Philippians 2:4 encourages us to consider each other's interests, fostering a selfless attitude, crucial in mitigating conflicts and promoting understanding in a marriage.
Author: Akatakpo Dunn
Dr. Akatakpo Dunn is a dedicated follower of Christ, an active member and speaker, and an ongoing learner of the Scriptures. Passionate about his faith and serving others, he is committed to sharing his spiritual journey and insights to inspire and uplift fellow believers. He has been active in the church for more than 23 years. Through The
Faithful Christian Blog
,
Dr. Dunn
combines his love for God, philanthropy, and Scripture, providing a valuable resource for those seeking to grow in their faith.
Follow me: on Youtube, Facebook, Twitter, Instagram, and Pinterest.
Content Disclosure:
At The Faithful Christian Blog, I create authentic and inspiring content. Although I am the main author, I occasionally use AI for minor language enhancements. This minimal AI usage ensures high-quality, trustworthy articles without compromising originality or sincerity, ultimately supporting our shared faith journey.
Warmly,
Dr. Akatakpo Dunn
Was this article helpful?