A broken home and marriage is not God's plan.
The devil always has a way of causing pain in our lives.
It is quite shameful and disheartening that your marriage isn't working as it should.
But through bible verses on marriage restoration, you can rescue your marriage from the devil.
These bible verses have the ability to open your heart to believe again.
I understand the shame you may be going through.
But God can remove shame from you and disappoint your enemies.
A friend of mine who worships at my church had similar issues.
She has been married for years now with two kids.
Unfortunately, over the last few years, her marriage has been going down the drain.
There was no love between her and her husband anymore.
Her husband couldn't provide for the family as he continued wasting limited resources on frivolities.
She couldn't bear the pain and frustration of single-handedly taking care of the children.
And gradually, she started being misled by the devil.
She started seeing other men just to raise some funds to take care of the family.
This even made things worse as the husband got to know and physically abused her.
But despite their problems as a family, over the past few months, things have changed appreciably.
Through prayers, they have made considerable improvements in their home.
If you are struggling with your marriage, God can take away your shame and return your husband or wife to you.
I have put together bible verses on marriage restoration to motivate you.
---
Recommended for you
---
Bible verses on marriage restoration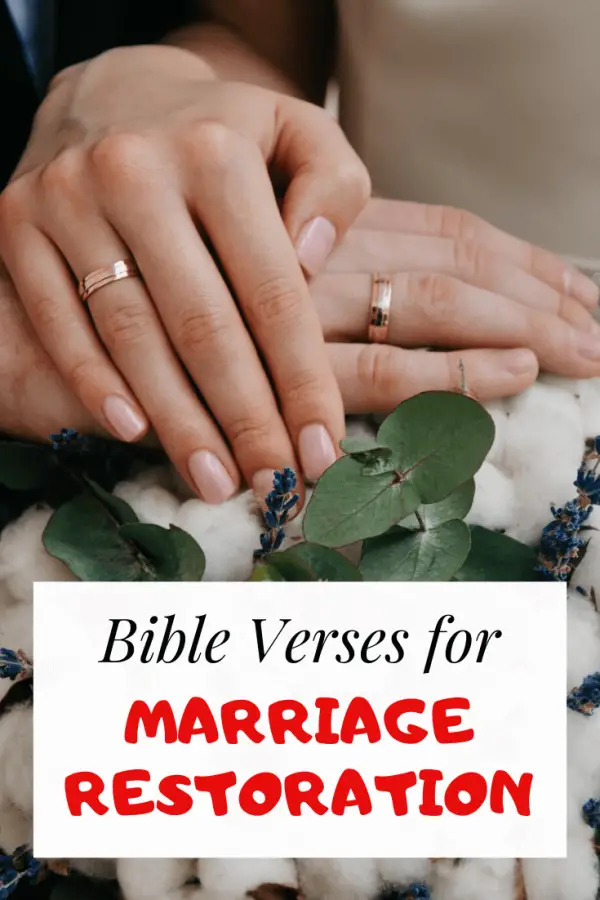 1.  1 Peter 5:10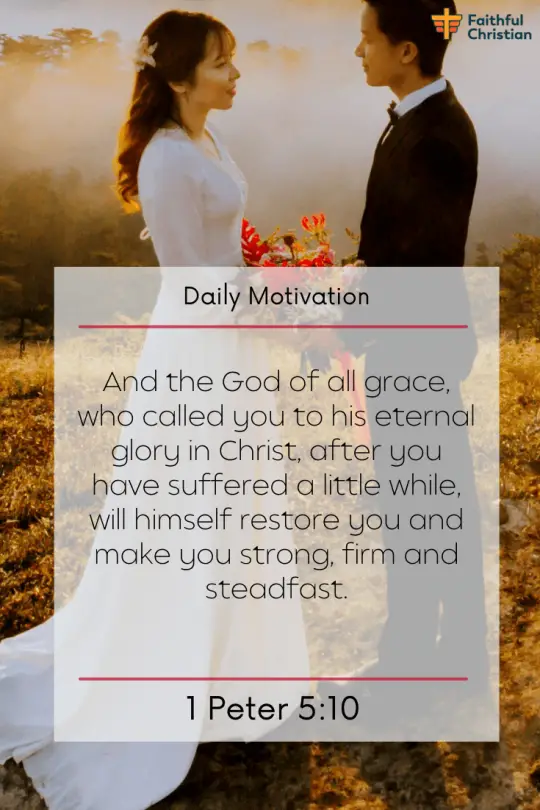 And the God of all grace, who called you to his eternal glory in Christ, after you have suffered a little while, will himself restore you and make you strong, firm and steadfast.
2.  2 Corinthians 4:17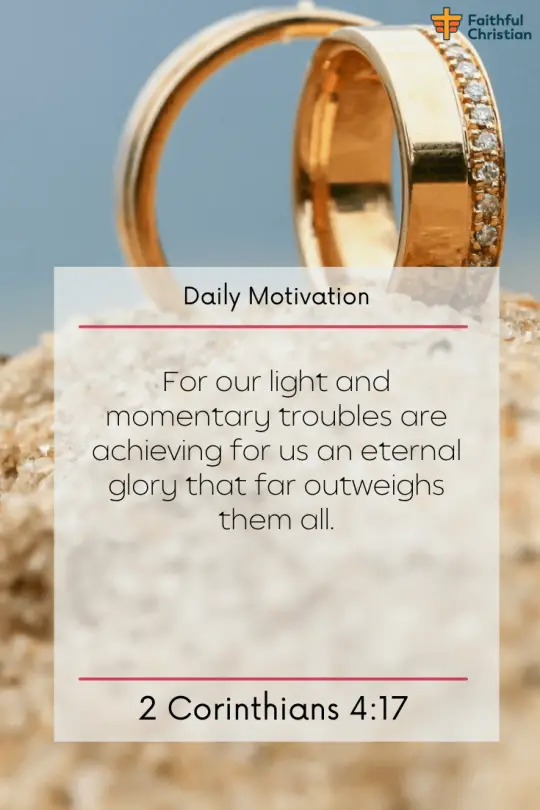 For our light and momentary troubles are achieving for us an eternal glory that far outweighs them all.
3.  2 Thessalonians 3:3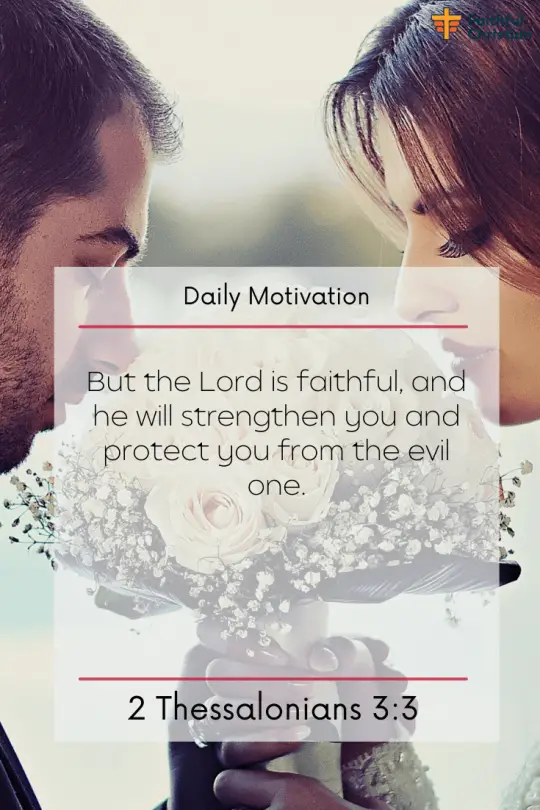 But the Lord is faithful, and he will strengthen you and protect you from the evil one.
4.  1 Peter 1:6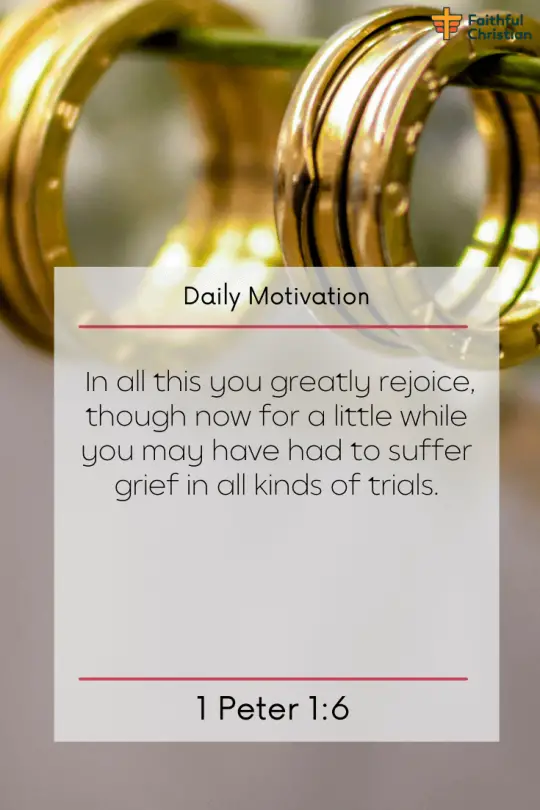 6 In all this you greatly rejoice, though now for a little while you may have had to suffer grief in all kinds of trials.
5.  1 Peter 1:7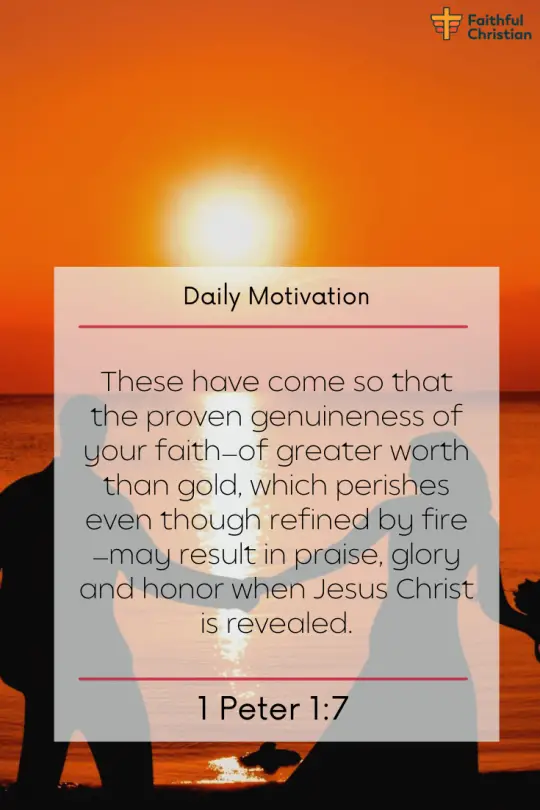 7 These have come so that the proven genuineness of your faith—of greater worth than gold, which perishes even though refined by fire—may result in praise, glory and honor when Jesus Christ is revealed.
6.  Romans 8:28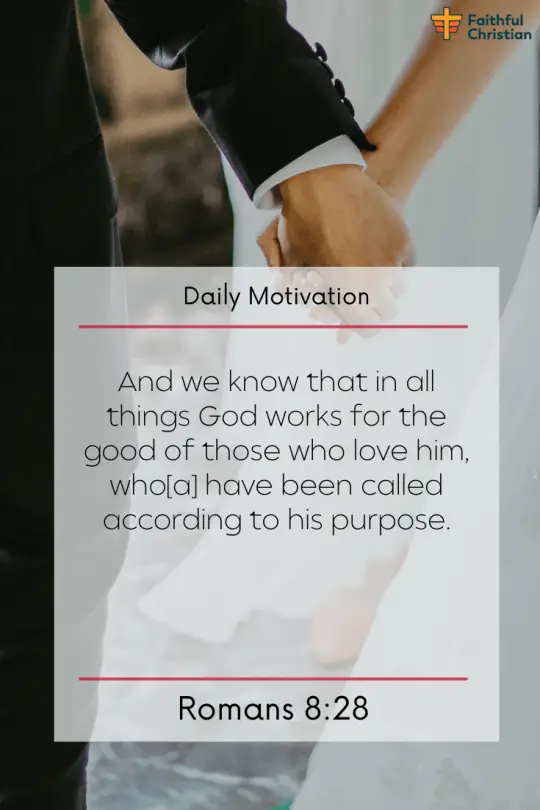 And we know that in all things God works for the good of those who love him, who[a] have been called according to his purpose.
7.  Psalm 138:7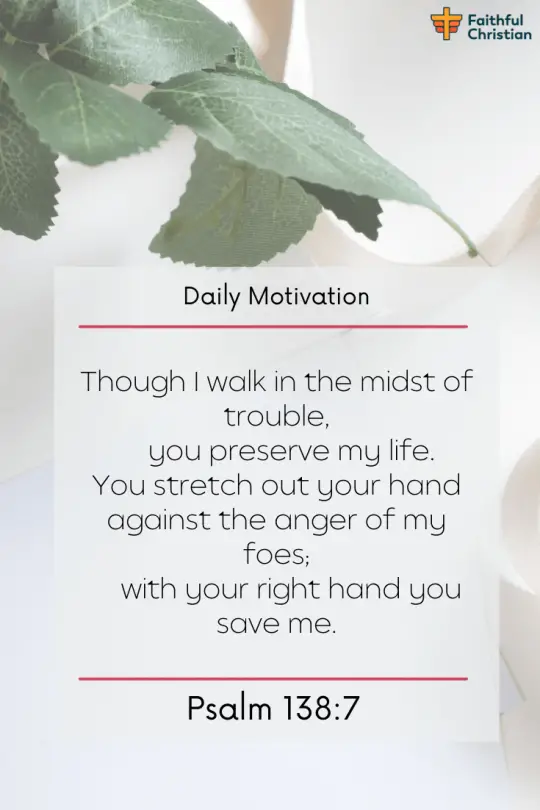 Though I walk in the midst of trouble,
    you preserve my life.
You stretch out your hand against the anger of my foes;
    with your right hand you save me.
8.  2 Thessalonians 2:17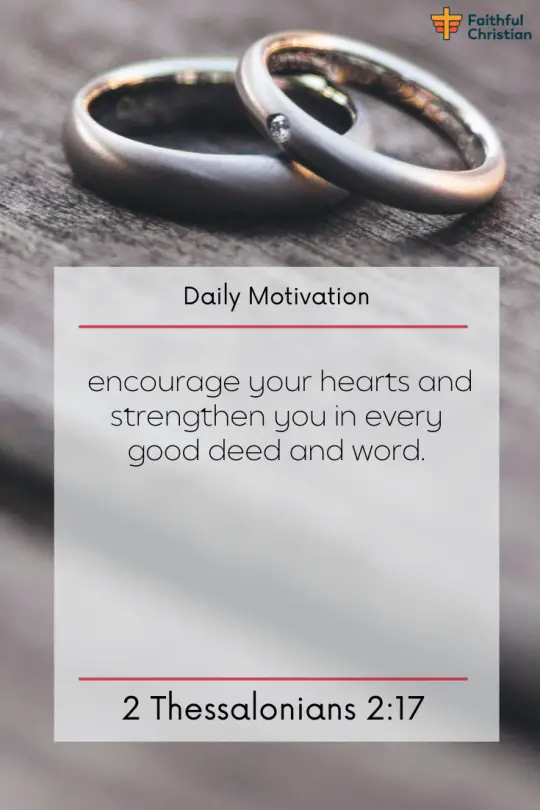 encourage your hearts and strengthen you in every good deed and word.
9.  2 Corinthians 13:11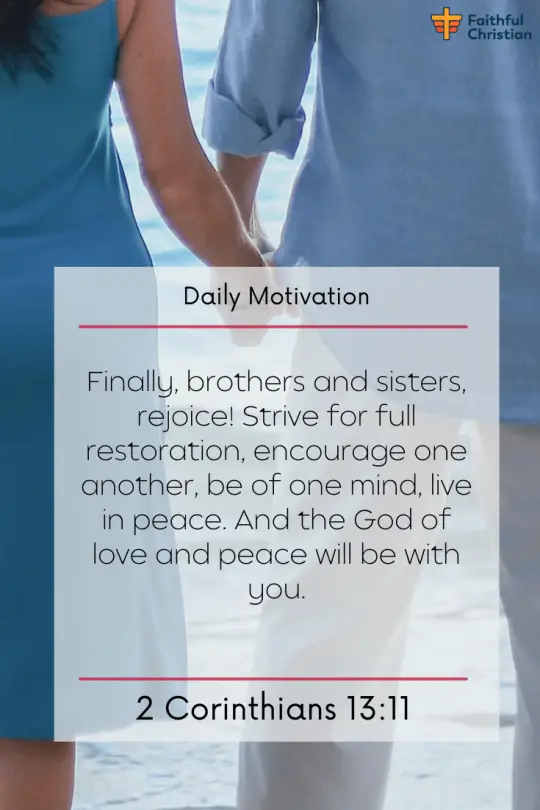 Finally, brothers and sisters, rejoice! Strive for full restoration, encourage one another, be of one mind, live in peace. And the God of love and peace will be with you.
10.  Philippians 4:13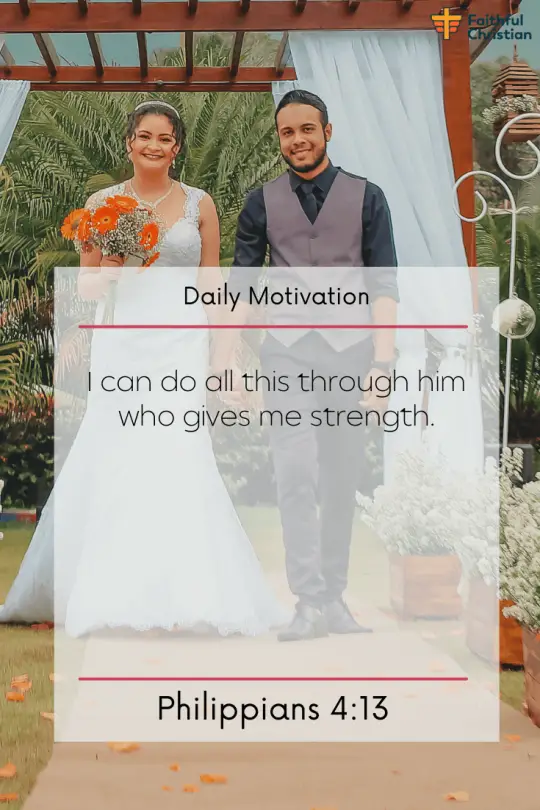 I can do all this through him who gives me strength.
11.  1 Corinthians 7:10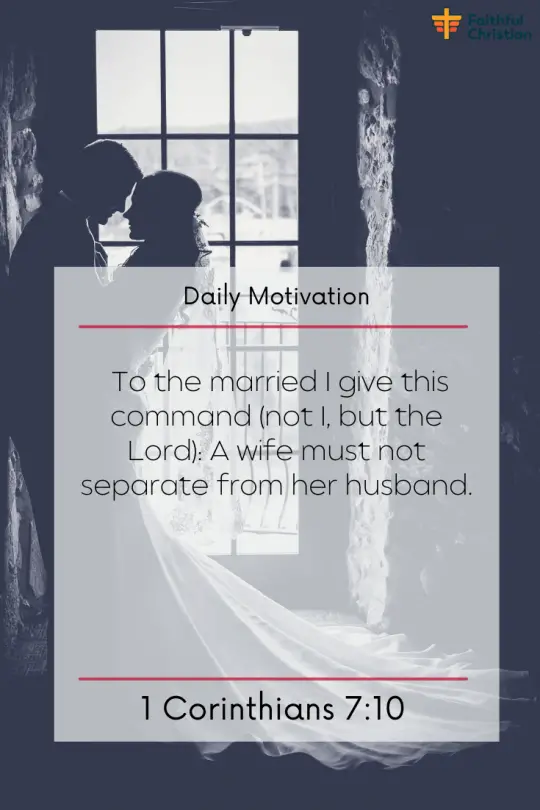 To the married I give this command (not I, but the Lord): A wife must not separate from her husband.
12.  Matthew 5:32
But I tell you that anyone who divorces his wife, except for sexual immorality, makes her the victim of adultery, and anyone who marries a divorced woman commits adultery.
13.  Luke 16:18
"Anyone who divorces his wife and marries another woman commits adultery, and the man who marries a divorced woman commits adultery.
---
Recommended for you
---
14.  Malachi 2:14
You ask, "Why?" It is because the Lord is the witness between you and the wife of your youth. You have been unfaithful to her, though she is your partner, the wife of your marriage covenant.
15.  Malachi 2:15
15 Has not the one God made you? You belong to him in body and spirit. And what does the one God seek? Godly offspring.[a] So be on your guard, and do not be unfaithful to the wife of your youth.
16.  Malachi 2:16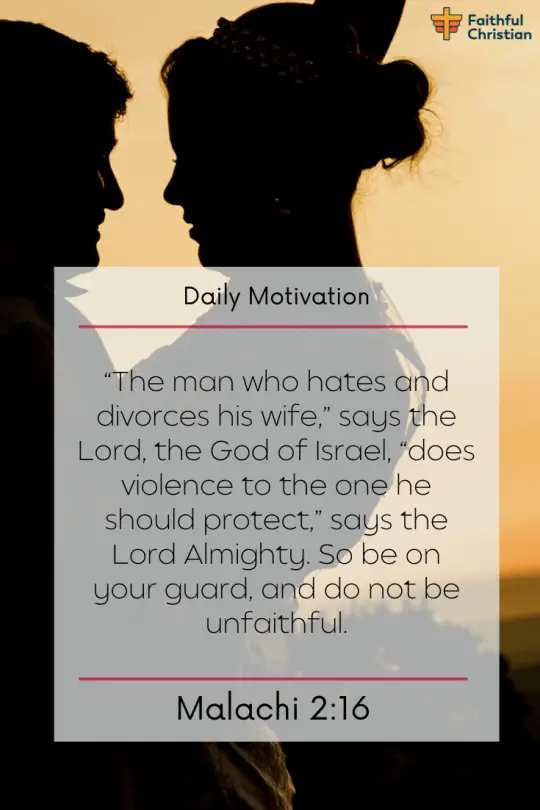 16 "The man who hates and divorces his wife," says the Lord, the God of Israel, "does violence to the one he should protect,"[b] says the Lord Almighty. So be on your guard, and do not be unfaithful.
17.  1 Corinthians 7:15
But if the unbeliever leaves, let it be so. The brother or the sister is not bound in such circumstances; God has called us to live in peace.
18.  1 Corinthians 7:12
To the rest I say this (I, not the Lord): If any brother has a wife who is not a believer and she is willing to live with him, he must not divorce her.
19.  Matthew 19:6
So they are no longer two, but one flesh. Therefore what God has joined together, let no one separate."
20.  Romans 7:2
 For example, by law a married woman is bound to her husband as long as he is alive, but if her husband dies, she is released from the law that binds her to him.
21.  Mark 10:9
 Therefore what God has joined together, let no one separate."
22.  Hebrews 13:4
 Marriage should be honored by all, and the marriage bed kept pure, for God will judge the adulterer and all the sexually immoral.
23.  Ephesians 5:28
In this same way, husbands ought to love their wives as their own bodies. He who loves his wife loves himself.
24.  Genesis 2:24
That is why a man leaves his father and mother and is united to his wife, and they become one flesh.
25.  1 Peter 3:7
Husbands, in the same way be considerate as you live with your wives, and treat them with respect as the weaker partner and as heirs with you of the gracious gift of life, so that nothing will hinder your prayers.
26.  Proverbs 31:10
A wife of noble character who can find?
    She is worth far more than rubies.
---
Recommended for you
---
4 Important Christian tips for marriage restoration
1.  Stay positive with prayer
Are trusting God to restore your marriage?
You cannot believe in God and not pray.
In times of trouble, we must seek God's help for solutions.
Every marriage covenant is tested from time to time.
And we must be resilient and understand the ways of the devil.
If you've lost your husband or wife to another man or woman, you must pray for God's intervention.
And when you have prayed, you must have faith in God's power to rescue your marriage.
I have had multiple issues with my wife, and there was a time our marriage was completely broken.
While I had lost complete interest in the whole thing, my wife was praying for the restoration of love.
She wanted me to love her as I used to.
And mysteriously, by the grace of God, we resolved our differences.
So, today, you have to pray with an expectation.
You have to pray to overcome this huge temptation.
God in his infinite mercies will guard your hearts and strengthen you in these trying times.
2.  Wives, be submissive and faithful
This is one of the major reasons for marriage issues.
Don't get me wrong, men have their problems too.
But women are the backbone of every family.
They unite the home and keep the family going in hard times.
The man is the head of the family.
This arrangement is set up by God (and therefore must be obeyed).
So, if you let yourself be submissive to your husband, it is always unlikely there will be any issues.
3.  Men love your wives
There is no two ways about it.
Men must love their wives to make a union work.
If you cant provide and care for your wife and family, you are like an infidel (in God's eyes).
So, you must be focused on your family and responsibilities.
Besides caring for the family, infidelity can completely traumatize any union.
Why should anyone cheat on his or her partner?
God hates adultery – that is; the sin committed when married people cheat on their wives.
We must return to our spouses and beg for forgiveness.
There is no reason to feel ashamed.
God is willing to set you free of your iniquities and return you to glory.
Amen.
4.  Be prepared to forgive and let go
I have been cheated on in the past (before getting married), and I know how it feels.
Your world seems to stop, and nothing can make you happy.
The thoughts of your husband/wife, whom you love so much, cheating with another person, is so painful.
But irrespective of your frustrations, you can forgive and let go.
However, if you can't continue to trust your husband or wife anymore, God allows divorce in cases of infidelity.
Marriage restoration prayer to heal your marriage
Today, we are going to pray for your family, husband, wife, and your children.
There are many ways the devil will affect our lives and take away our happiness.
And that's why, even when things are obviously bad, we must believe in God's ability to heal our marriage.
This isn't time to accept the current state of your marriage.
Does it feel like there is no way he or she is coming back to you?
or are you worried that all your effort will not change your partner's mind?
And what about your kids?
Have you lost hope of having a united family with love, happiness, and unity?
This is why we must pray to God and ask that he heals your marriage and restore it to that precious and lovely moment you both set your eyes on each other.
AT this point, it is important to remember that there are no impossibilities with God.
This is why you need to search through the scriptures to help your mind reconnect to God.
You need to see that God has always been there for you and wants you to be happy.
Author: Akatakpo Dunn
Dunn is a firm believer and a teacher of God's word. Suffering for Jesus is an attribute of a faithful Christian, and I hope to win new souls to Christ with every chance that I get. Articles are well-researched and backed by the scriptures.
Follow me: on Youtube, Facebook, Twitter, Instagram, and Pinterest.