A good wife is a blessing from God.
And you may not realize I until you are faced with challenges.
Just a few months ago, I noticed a change in my health.
I had pains in one side of my chest and was unable to breathe freely.
Initially, I thought it was a chest infection, but I remembered it has happened in the past.
Throughout that night, I received extraordinary care from my wife.
She stood by me through my pains and prayed for me.
There are multiple times my wife prays for me.
And I cannot thank her enough for being a wonderful person.
If your husband is sick, you can also pray and believe in the power of God.
There are no impossibilities with God.
He can heal any sickness and take away any pain.
I have put together this prayer for your husband's health.
May God come to your husband's aid and bless him with good health. Amen.
---
Recommended for you
---
Short get well soon prayer for my husband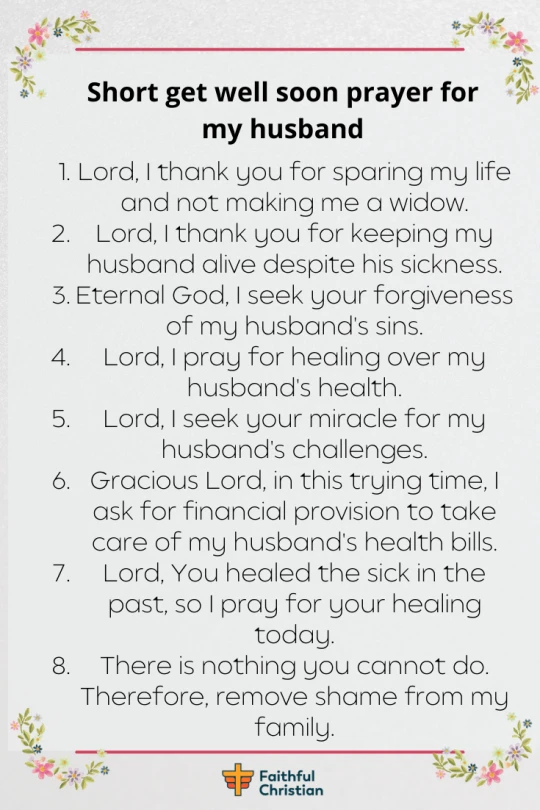 Dear Lord, a wave of deep gratitude washes over me. Your grace has kept me from the icy grip of loss. You've been a protective shield, just like for Shadrach, Meshach, and Abednego. My husband lives. Through sickness, he endures. Like Job's unwavering faith, you have made us strong. A simple thank you isn't enough, but still, I thank you.
Next, I seek your forgiveness, Eternal God. As humans, we falter. Yet, you, like a forgiving father, are merciful. You washed away David's sins, as he pleaded in Psalm 51:2. I seek the same for my husband. Cleanse him, Lord. Let him stand before you, redeemed and justified.
The state of my husband's health troubles me, Lord. I am like the bleeding woman in Mark 5:25-34, seeking your healing touch. You healed her. I implore you, heal my husband too. Like Jairus in Mark 5:22-24, 35-43, I cry out to you. I know you hear me. You can make things right.
Our financial burden is heavy, Gracious Lord. We need you to step in. Like the promise in Philippians 4:19, meet our needs. Remember how you fed the Israelites with manna in Exodus 16:4? We believe you can do the same for us. Give us wisdom too. To use whatever we receive judiciously.
You are a miracle worker, Lord. You gave sight to the blind and cured lepers. You even raised Lazarus from the dead. With such miracles, my faith is strong. Like the blind, the lepers, and Lazarus, I bring my husband to you. Praying for your healing. May he too become a testimony of your power in today's world.
Finally, you are our refuge, Lord. Our strength. We look to you in this time of trouble. Shame hovers around us, but we believe in you. Like the wine miracle at Cana, turn our situation around. Let your light shine on us. Erase our shame. Let our lives tell of your love, mercy, and faithfulness.
Prayer quotes and bible verses for husband's health
Exodus 23:24-26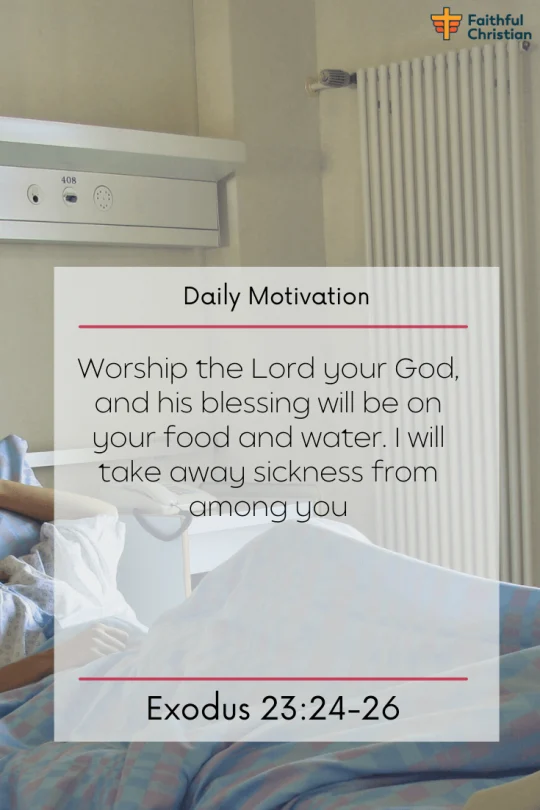 Worship the Lord your God, and his blessing will be on your food and water. I will take away sickness from among you
Let's say a Prayer for your Husband's Health with Exodus 23:24-26
Dear Father in Heaven,
Today, our hearts come to You. We stand humble yet hopeful, lifting our precious partner in life, our dear husband, in prayer. We ask for your divine touch upon his health. You, the Great Physician, we trust your power to heal and comfort.
We believe in the truth of your words, particularly those in Exodus 23:24-26. It speaks to our hearts and inspires our faith. It declares that we should serve no god but You. We make that our solemn vow. It also promises Your blessings, not just for our daily bread but for our entire well-being.
Right now, Father, we lean on that promise. The sickness our husband faces weighs heavy on our hearts. We call upon You to lift that weight, to chase away the disease as you promised in Your Word. We hold onto this promise. We claim this promise. Today and every day.
We seek Your healing touch, Lord. Allow him to feel the power of Your love. Invigorate his spirit and his body. Guide the medical professionals caring for him. Let Your wisdom work through their hands and hearts, accelerating his recovery.
Fill him with Your divine peace. Give him strength to endure this challenging time. Let his spirits soar with courage, patience, and the knowledge that all things are possible with You.
Your mercy is our solace, Lord. Your healing power, our hope. Your promise of health and long life, our rock. We are grateful for these. We take comfort in knowing we never face our trials alone. Your infinite power to heal and restore is always with us.
So, we thank you, Father. We thank you for your healing. We thank you for your love. We thank you for your promises. All these we pray in the name of our Savior, Jesus Christ.
Amen.
James 5:16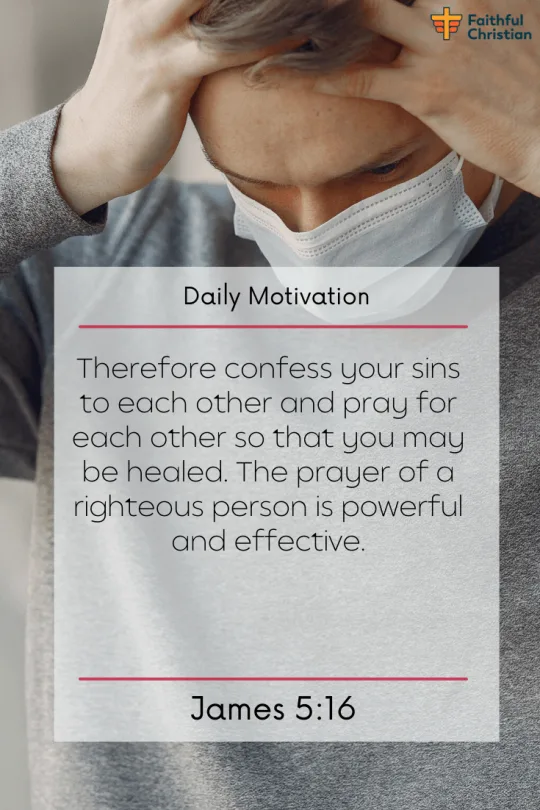 Therefore confess your sins to each other and pray for each other so that you may be healed. The prayer of a righteous person is powerful and effective.
Let's say a Prayer for your Husband's Health with James 5:16
Dearest Creator,
You are our Divine Healer. Our hearts sing praises to Your name. Your love is deep, vast, unending. Today, we stand together, our hearts united in prayer.
We remember the golden verse, James 5:16. It whispers, "Confess your sins. Pray for each other. Heal. The prayers of the righteous are potent and fruitful." What a promise, Lord! It stirs us, fills us with hope.
We are not flawless, we admit. Mistakes were made, lines were crossed. But Your grace remains. It envelops us, forgives us. In this grace, we immerse the health of a precious husband.
Your power to heal is beyond question, Lord. You are the Master Physician. We know sickness is not a punishment. It's part of our human journey. Yet, Your healing touch can spark miracles.
We plead with You, mighty Lord. Bless this husband with Your healing hand. Touch him, heal him, restore him.
Grant him strength, Father. Strength to face each new day. Imbue him with hope to see past this hurdle. Fill his heart with faith. Faith in Your love, in Your healing power.
We pray for the medical team. Guide their hands, their decisions. Instill in them Your wisdom. Let their treatment be a channel of Your healing.
As a family, let us find solace in Your love. Your promise echoes in our hearts: "By His wounds, we are healed." Keep us patient, resilient. Help us navigate through these stormy seas.
We offer this prayer in the holy name of Jesus Christ. He is our Savior, our Healer. Our hope and our salvation. We trust in His name.
Amen.
---
Recommended for you
---
Prayer for my Husband's Health and Sickness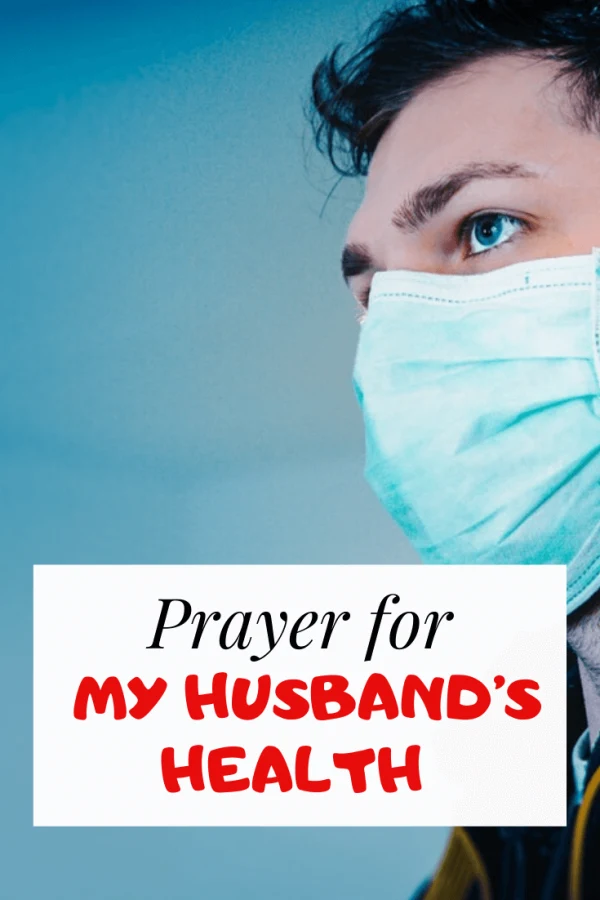 He will take sickness from us (let us pray)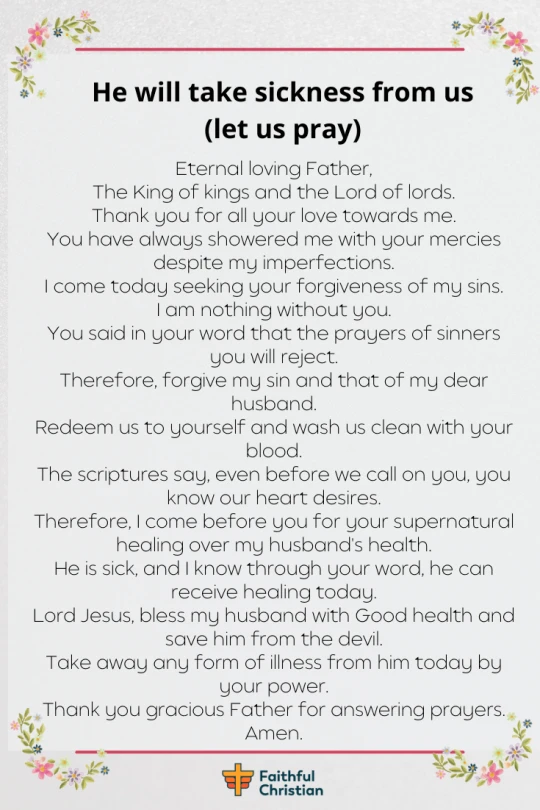 Dear God, our loving Father,
You reign supreme. You're the King above all kings. The Lord of all lords. Your love surrounds me. It's deeper and wider than I can grasp. Even with my countless flaws, you show mercy. You pour it out on me, again and again. It never ends. Just like you promised in Lamentations 3:22-23.
Today, I come before you. I'm humble. I'm sorry for my mistakes. I seek your forgiveness. I'm nothing without you. I'm like a child, dependent on its parent. Your words from John 15:5 echo in my mind. I can do nothing without you.
You've told us in Proverbs 15:29. You're far from the wicked. But you hear the righteous. So I plead. Forgive me. Forgive my husband. Let us uphold the marital bond. Blessed by you. Wash us clean in Jesus' blood. As Ephesians 1:7 says, His blood forgives us.
You've made a promise. In Isaiah 65:24, you say you answer before we call. I lean on this promise. I seek your healing touch. My husband is sick. But I have faith. Faith in your healing words. Like Psalm 107:20 promises, your word heals.
Lord Jesus, we need your blessings. Bless my husband with health. Protect him from evil. You assure us in 2 Thessalonians 3:3. You will strengthen us. Protect us from the evil one. We trust in your power. Banish the illness that afflicts him.
You assure us in Exodus 23:25. If we worship you, we get your blessings. Blessings on our food and water. You'll take away sickness. I strive to honor you. With all my heart. With all my soul. Jeremiah 29:13 strengthens this resolve. Seek you with all our heart, and we'll find you.
You're the only true God. You're perfect. You're the Lord who heals. Exodus 15:26 declares this. Jehovah Rapha. Breathe health back into my husband. We trust in you.
You give us good health. You give us blessings. Every good gift comes from you. Just like James 1:17 says. Thank you, gracious Father. Thank you for listening. For answering prayers. As 1 John 5:14-15 reminds us. You hear us when we pray according to your will.
In Jesus' name, I pray.
Amen.
---
Recommended for you
---
He always delivers when we ask (let us pray)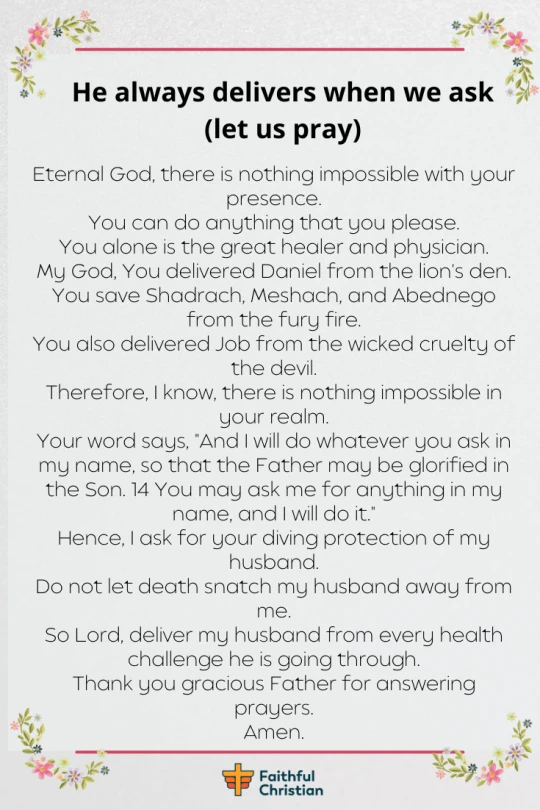 Omnipotent Lord, your might knows no bounds. Jeremiah 32:17 reminds us of this. Everything around us proves your power. It's you who command the sun and the tides. You make impossibilities bow.
You're the ultimate healer. Your promise in Exodus 15:26 soothes our souls. You mend the broken and restore the lost. Psalm 147:3 sings of this healing. Your ceaseless power to restore inspires hope.
Daniel's story in the lion's den comes to mind. It's in Daniel 6:22. Your might sheltered Daniel from danger. The fire couldn't touch Shadrach, Meshach, and Abednego. Daniel 3:25 tells this story. These miracles remind us. Even in the worst fires, we are safe.
Job's trials are detailed in his book. Yet you blessed Job after the storm. This tells us something. No trial is beyond your redemption.
Your words in John 14:13-14 are a promise. You listen when we call. You act. This forms our faith's bedrock. We trust your unwavering faithfulness.
I come to you now, Lord. I pray for my husband. Psalms 91:14 promises protection for those who trust you. This promise gives me hope.
I plead for your intervention. May my husband's health be restored. 3 John 1:2 shares this prayer for good health. In your kindness, deliver him from his afflictions.
Your answers to our prayers fill me with gratitude. 1 John 5:14 assures us, you hear us. Your love is unmatched. Your love and faithfulness are unmatched, and your grace, boundless. Thank you for answering my prayers. Amen.
Lord, please heal my husband (let us pray)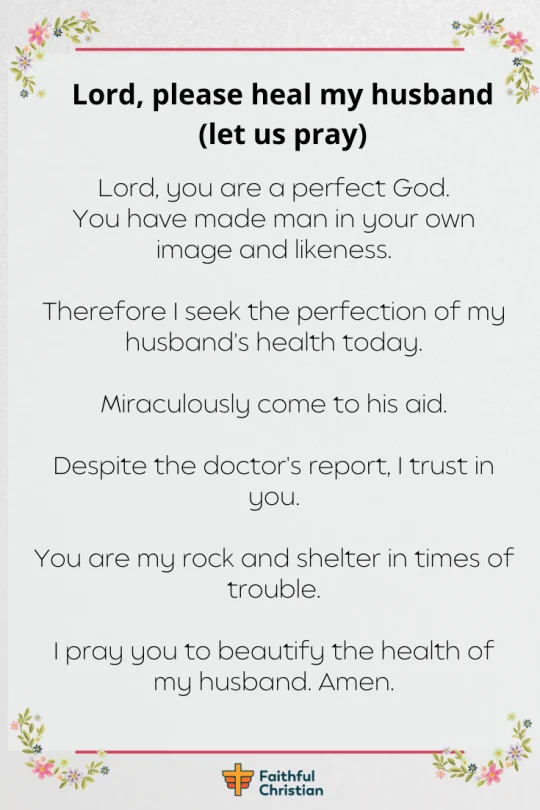 Beloved Father, You are pure love and boundless mercy. You've painted the universe with Your mighty hand. We're the living proof of Your divine artistry. Made in Your image, we're truly special.
Today, I turn to You. It's my husband's health I'm praying for. As proclaimed in Jeremiah 17:14, healing comes from You. Like a hopeful child, I call on Your healing power. "Heal me, Lord," I pray, echoing the words of the prophet.
You are our Miracle Worker. Like a skillful surgeon, You can mend every wound. Just like Jesus did in His time. He touched the sick and healed them. He spoke life into the dead. I believe in Your power. I believe You can heal my husband.
Medical reports may seem daunting. Yet, they are only human predictions. Proverbs 3:5-6 teaches us to trust in You. So, I lean on You, not my understanding. You are our Master Physician. Your healing power surpasses all.
You are my Rock. My fortress in the face of fear. As the psalmist sang in Psalm 18:2, You are my refuge. I find strength in You. Even in the darkest of storms, You are there.
I pray for my husband's health to be reborn. Flourishing under Your care. Radiating Your love and vitality. Like the promise in Isaiah 40:31. May he rise like an eagle. May he run and never tire. May he walk and never stumble.
As I wrap up this prayer, I hold on to the promise of Matthew 7:7. It says, "Ask and it will be given." So today, I ask. I ask for my husband's health. I trust that my prayer will be answered. And his healed body will be a testament to Your amazing love.
In Your mighty name, I pray.
Amen.
From the beginning, it was not so (let us pray)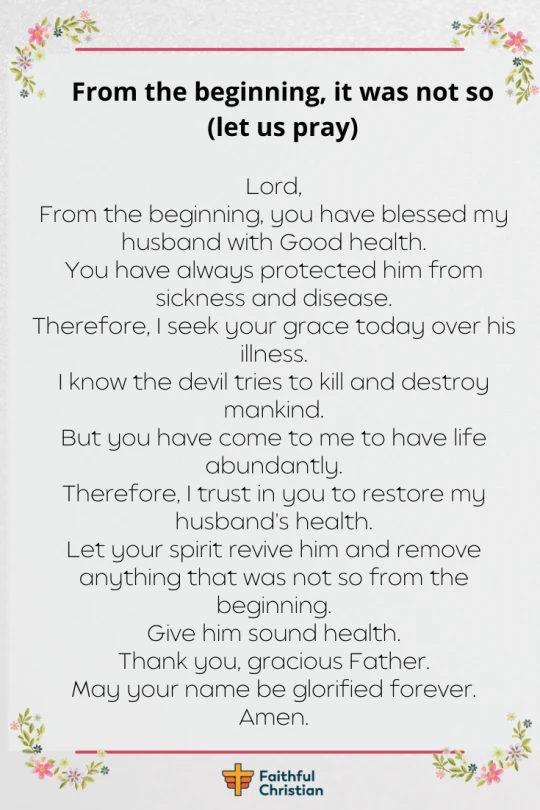 Heavenly Father,
We began our journey together under your watchful eye. You gifted my husband with good health, like a father bestowing his favorite toy upon a cherished child. You've acted as our guardian, much like a shepherd leading his flock from harm. You've shielded him from sickness, always.
Today, we're on a turbulent ride. It's an ordeal. A health crisis. It's rough, and it's testing us. But we know You're our rock. Our solid ground. You never leave us when the going gets tough. You're the hope amidst our strife, the light piercing through our darkest hour.
In this world, there are forces of destruction. But they can't overshadow your love. We remember your words. You offer an abundant life, rich and fulfilling. Full of joy and peace. You are our lifeline, our refuge.
We trust in you. My husband's health is in your hands. Your healing touch, we believe, works miracles. It restores, it renews, and it revives.
Send your Holy Spirit, Lord. Let it bring life to every cell, every vein. Just like a spring cleaning, let it sweep away the illness. Restore his health, the way it was in the beginning.
We ask for healing. Renew his vigor to enjoy each new day. Allow him to sleep soundly every night. Let his restored health be a testament to your kindness.
We thank you, Father. Your love is endless. Your healing touch is powerful. As you mend my husband, we promise to show our gratitude. We'll live in a way that glorifies you.
May our praises to you be resounding. Our whispered prayers, fervent. May our every act honor you. For you are our fortress, our healer. You are the lighthouse guiding us in stormy seas.
In your name, we pray.
Amen.
Frequently Asked Questions
What is a prayer for my husband's health and protection?
"Dear Lord, our loving Father. I come before You with a heart filled with love for my husband. I ask You to shower him with robust health and protect him from harm. Guide his steps, be his shield, and let him feel Your unwavering love. You said in Proverbs 4:23, 'Above all else, guard your heart, for everything you do flows from it.' Please bless him with health and longevity. We trust in You. In Jesus' name, Amen."
How can I pray for my husband's protection from evil?
"Lord, I find comfort in Your presence as I pray for my husband. Guard him from harm, shield him from evil, and help him to stand strong against any adversity. Psalm 91:10 reassures us, 'No evil shall be allowed to befall you, no plague come near your tent.' Lord, be his fortress and safe haven, strengthening his spirit always. I pray this in the loving name of Jesus, Amen."
What is a prayer for my husband's success and protection?
"Heavenly Father, I lift my husband to You in prayer. Guide him towards success, wrap Your arms around him, protect him from harm. I pray he finds wisdom and strength in You. Proverbs 16:3 tells us, 'Commit your work to the Lord, and your plans will be established.' May his life reflect Your faithfulness and love. I pray this in Your divine name, Amen."
How can I pray for my husband's insecurities?
"Dear God, I come to You, seeking solace for my husband. Please heal his insecurities. Let him see himself as Your creation – beautiful and full of potential. As 1 Peter 2:9 says, 'You are a chosen race, a royal priesthood, a holy nation.' Please grant him courage, strength, and a sense of self-worth. I pray in the name of Jesus, Amen."
What is a prayer for my husband's protection?
"Father God, I come to You today, praying for my husband's protection. Psalm 91:11 promises, 'For He will command His angels concerning you to guard you in all your ways.' Lord, let my husband feel Your protective arms around him, guiding his steps and shielding him from harm. I pray this in Jesus' name, Amen."
What is a prayer for a husband in the ICU?
"Heavenly Father, my heart cries out for my husband who is in the ICU. Psalm 147:3 comforts us, 'He heals the brokenhearted and binds up their wounds.' Father, touch him with Your healing hands, comfort him, and give him strength. I put my trust in Your mercy and love. In Jesus' name, I pray, Amen."
How can I pray for my husband's mental health?
"Dear Lord, I lift up my husband to You today. As we're reminded in Philippians 4:7, 'And the peace of God, which surpasses all understanding, will guard your hearts and your minds in Christ Jesus.' I pray for clarity of mind, peace in his thoughts, and relief from all anxieties. May he find refuge and strength in You. I pray this in Jesus' name, Amen."
Are there any Bible verses for a wife with a sick husband?
Yes, there are several comforting verses. James 5:14-15 tells us, "Is anyone among you sick? Let him call for the elders of the church, and let them pray over him…"
Also, 2 Corinthians 4:16-18 gives us hope, reminding us that our troubles are temporary and that God is our source of strength during challenging times.
What is the healing prayer for men?
"Dear Heavenly Father, I pray for the men in need of Your healing. You are the Great Healer, and we trust in Your divine touch. As You did for the leper in Mark 1:40-42, we believe You can heal them too. May they experience Your love, grace, and mercy. In Jesus' name, I pray, Amen."
What is the most powerful prayer for a miracle?
"Heavenly Father, I come to You with a heart full of faith in Your power to perform miracles. Jeremiah 32:27 says, 'Behold, I am the LORD, the God of all flesh. Is there anything too hard for Me?' I am praying for a divine intervention in my situation. Let Your will be done. I declare this in faith, in the mighty name of Jesus, Amen."
What is the miracle prayer for healing?
"Almighty Father, I come to You seeking miraculous healing. Your word in Exodus 15:26 says, 'For I am the LORD who heals you.' I trust in Your healing power. Touch me with Your healing hand, restore me, and renew me. May Your will be done in my life. In Jesus' name, I pray, Amen."
What is a powerful prayer for a sick husband?
"Dear Lord, I come to You, lifting up my husband in his time of sickness. Jeremiah 30:17 assures us, 'For I will restore health to you, and your wounds I will heal.' I believe in Your healing power. Bring him back to health, surround him with Your peace, and give him strength. In Jesus' name, I pray, Amen."
How do I pray for my husband's good health?
"Heavenly Father, I pray for my husband's health today. As You promise in Isaiah 41:10, 'Fear not, for I am with you… I will strengthen you, I will help you.' May he be strengthened and refreshed. Keep him healthy, so he may continue to serve and glorify You. In Jesus' name, I pray. Amen."
How do you pray for your husband's speedy recovery?
"Dear Lord, I pray for my husband's swift recovery. Psalm 41:3 reassures us, 'The Lord sustains him on his sickbed; in his illness you restore him to full health.' Let Your healing power move in his life. Fill his heart with faith and hope, knowing that with You, all things are possible. We trust in Your mercy. In Jesus' name, we pray. Amen."
What is the best prayer for a husband?
"Dear God, I am here today to pray for my husband. Guide his steps, enlighten his mind, and fill his heart with Your love. As Proverbs 3:5-6 tells us, 'Trust in the LORD with all your heart… and he will make straight your paths.' Be his strength and shield. Lead him through life's challenges. In Jesus' name, I pray. Amen."
Which prayer can I pray for my husband?
"Lord, I lift up my husband to You today. 2 Peter 3:18 says, 'But grow in the grace and knowledge of our Lord and Savior Jesus Christ.' I pray that my husband will grow in Your grace and knowledge. Surround him with Your love and mercy, protect him from harm, and bless him in all he does. May he serve You faithfully and lead our family with wisdom. In Jesus' name, I pray. Amen."
What is the strongest prayer for healing?
"Almighty Father, Your Word in Jeremiah 17:14 says, 'Heal me, O LORD, and I shall be healed; save me, and I shall be saved.' Today, I am asking for Your healing. I trust in Your power to heal. Touch me now, Lord, and let Your healing flow through me. I declare in faith that by the stripes of Jesus, I am healed. In the powerful name of Jesus, I pray, Amen."
---
Recommended for you
---
Author: Akatakpo Dunn
Dr. Akatakpo Dunn is a dedicated follower of Christ, an active member and speaker, and an ongoing learner of the Scriptures. Passionate about his faith and serving others, he is committed to sharing his spiritual journey and insights to inspire and uplift fellow believers. He has been active in the church for more than 23 years. Through The
Faithful Christian Blog
,
Dr. Dunn
combines his love for God, philanthropy, and Scripture, providing a valuable resource for those seeking to grow in their faith.
Follow me: on Youtube, Facebook, Twitter, Instagram, and Pinterest.
Content Disclosure:
At The Faithful Christian Blog, I create authentic and inspiring content. Although I am the main author, I occasionally use AI for minor language enhancements. This minimal AI usage ensures high-quality, trustworthy articles without compromising originality or sincerity, ultimately supporting our shared faith journey.
Warmly,
Dr. Akatakpo Dunn
Was this article helpful?