We live in perilous times.
Where the devil is so actively fighting our love for Christ.
The Devil makes us face unbearable temptations hoping that we will backslide from serving God.
When you are in a terrible situation, through prayers, you can make a huge difference in your situation.
God still answered prayers.
And if you don't pray and believe in God through faith, you may never experience the supernatural power of God.
About two months ago, I experienced God's faithfulness through prayers.
I was on duty and had a pregnant woman rushed into the hospital for delivery.
After examining her, I recommended an urgent caesarian section.
After the surgery, she started bleeding profusely.
At this point, she was already dying due to losing a huge amount of blood.
Her vital signs were falling so fast and she was so restless.
I had serious limitations at the rural facility where I work.
The availability of Blood was so difficult that I had to donate to the patient immediately.
Quickly, Knowing God answers prayers if you believe, I rushed home, knelt, and prayed.
While praying I was focused in heaven for God's quick intervention.
And then, swiftly, Just like the miracle stories in the bible, God came to her rescue.
Most times when I need urgent help from God, I don't wait.
I quickly rush to him believing that, even in hard times, God still cares for us.
If you are facing insurmountable issues in your life, there are bible verses for prayer and faith that can inspire you.
I have compiled some of those motivational verses to stir you up.
---
Recommended for you
---
Bible verses about prayer and faith In hard times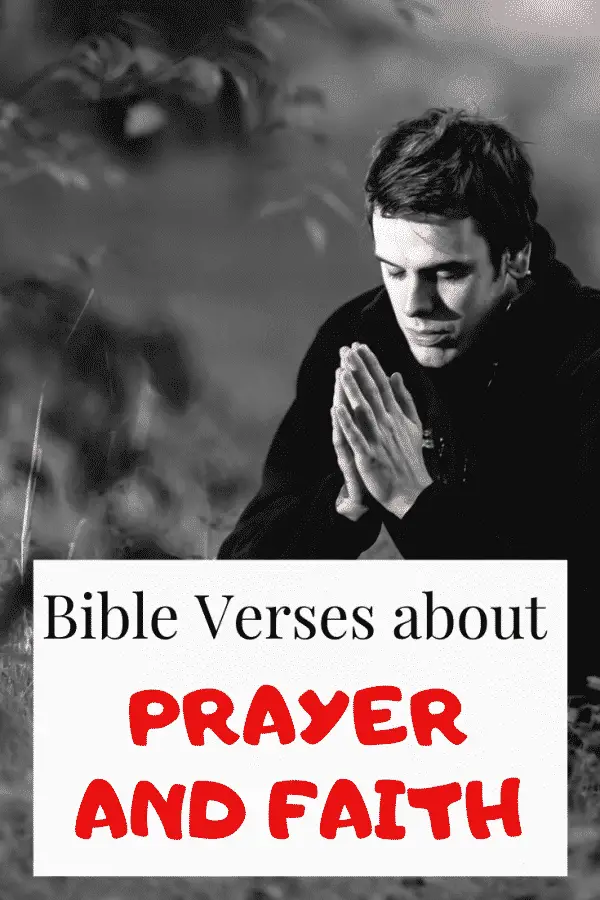 Hebrews 11:6
But without faith it is impossible to please him: for he that cometh to God must believe that he is, and that he is a rewarder of them that diligently seek him.
Philippians 4:6
Be careful for nothing; but in every thing by prayer and supplication with thanksgiving let your requests be made known unto God.
Read more
Matthew 21:22
And all things, whatsoever ye shall ask in prayer, believing, ye shall receive.
Mark 11:24
Therefore I say unto you, What things soever ye desire, when ye pray, believe that ye receive them, and ye shall have them.
Romans 10:17
 So then faith cometh by hearing, and hearing by the word of God.
John 15:7
If ye abide in me, and my words abide in you, ye shall ask what ye will, and it shall be done unto you.
Hebrews 11:6
But without faith it is impossible to please him: for he that cometh to God must believe that he is, and that he is a rewarder of them that diligently seek him.
1 Thessalonians 5:17
Pray without ceasing.
Hebrews 11:1
 Now faith is the substance of things hoped for, the evidence of things not seen.
Romans 8:26
Likewise the Spirit also helpeth our infirmities: for we know not what we should pray for as we ought: but the Spirit itself maketh intercession for us with groanings which cannot be uttered.
Mark 11:22-24
And Jesus answering saith unto them, Have faith in God. For verily I say unto you, That whosoever shall say unto this mountain, Be thou removed, and be thou cast into the sea; and shall not doubt in his heart, but shall believe that those things which he saith shall come to pass; he shall have whatsoever he saith. Therefore I say unto you, What things soever ye desire, when ye pray, believe that ye receive them, and ye shall have them.
Matthew 6:6
But thou, when thou prayest, enter into thy closet, and when thou hast shut thy door, pray to thy Father which is in secret; and thy Father which seeth in secret shall reward thee openly.
Ephesians 2:8-9
For by grace are ye saved through faith; and that not of yourselves: it is the gift of God: Not of works, lest any man should boast.
Matthew 6:7
But when ye pray, use not vain repetitions, as the heathen do: for they think that they shall be heard for their much speaking.
Luke 1:37
For with God nothing shall be impossible.
Luke 11:9
And I say unto you, Ask, and it shall be given you; seek, and ye shall find; knock, and it shall be opened unto you.
Proverbs 3:5-6
 Trust in the Lord with all thine heart; and lean not unto thine own understanding. In all thy ways acknowledge him, and he shall direct thy paths.
James 5:16
Confess your faults one to another, and pray one for another, that ye may be healed. The effectual fervent prayer of a righteous man availeth much.
2 Corinthians 5:7
For we walk by faith, not by sight
Jeremiah 33:3
Call unto me, and I will answer thee, and show thee great and mighty things, which thou knowest not.
Matthew 26:41
Watch and pray, that ye enter not into temptation: the spirit indeed is willing, but the flesh is weak.
James 2:14-17
 What doth it profit, my brethren, though a man say he hath faith, and have not works? can faith save him? If a brother or sister be naked, and destitute of daily food, And one of you say unto them, Depart in peace, be ye warmed and filled; notwithstanding ye give them not those things which are needful to the body; what doth it profit? Even so faith, if it hath not works, is dead, being alone.
Ephesians 6:18
Praying always with all prayer and supplication in the Spirit, and watching thereunto with all perseverance and supplication for all saints;
1 Timothy 2:1-4
 I exhort therefore, that, first of all, supplications, prayers, intercessions, and giving of thanks, be made for all men; For kings, and for all that are in authority; that we may lead a quiet and peaceable life in all godliness and honesty. For this is good and acceptable in the sight of God our Saviour; Who will have all men to be saved, and to come unto the knowledge of the truth.
Psalm 34:17
The righteous cry, and the Lord heareth, and delivereth them out of all their troubles.
---
Recommended for you
---
There is nothing God cannot do
There are times in our lives when we are faced with huge temptations such as terminal diseases, broken bones from an accident, unemployment, sicknesses, and financial difficulty.
When you are faced with trials and tribulations, you must believe that God can supernaturally intervene.
That comes first through the power of Faith.
Faith is a complete trust in God's power to fulfill his word.
That is, despite your condition, you believe there is no reason to panic because God always have you back.
But this must not always happen the way we want.
Just a few weeks back, I prayed for God to approve a huge loan for my business.
And honestly, God has always answered my prayers.
But this time, he did not approve of my prayer the way I wanted it.
I didn't get the Huge loan I applied for from the bank but he gave me an interest-free loan from where I least expected.
Initially, as expected, I was unhappy but God always has a reason to delay or deny what we prayed for.
Just a few weeks later, we are experiencing a massive economical fall out from the Corona Virus.
God answers all prayers but we must be patient.
"I am the Lord, the God of all mankind. Is anything too hard for me?

Jeremiah 32:27
Author: Akatakpo Dunn
Dunn is a firm believer and a teacher of God's word. Suffering for Jesus is an attribute of a faithful Christian, and I hope to win new souls to Christ with every chance that I get. Articles are well-researched and backed by the scriptures.
Follow me: on Youtube, Facebook, Twitter, Instagram, and Pinterest.