Are you seeking to cultivate a more compassionate heart?
A deep desire to care for others often resides within us, yet at times, we struggle to put this into practice.
In this article, we delve into the potency of prayer for God's compassion and uncover how it can motivate us to demonstrate love and concern for those around us.
You'll discover Bible verses that provide guidance and encouragement in your journey towards greater empathy.
So, what's the key to unlocking a compassionate heart?
The answer lies in heartfelt prayer and immersing yourself in God's word.
As 1 Peter 4:8 reminds us, "Above all, love each other deeply, because love covers over a multitude of sins."
Are you ready to experience the transformative power of prayer for compassion for others?
Let's dive in!
---
Recommended for you
---
Short prayer for God's compassion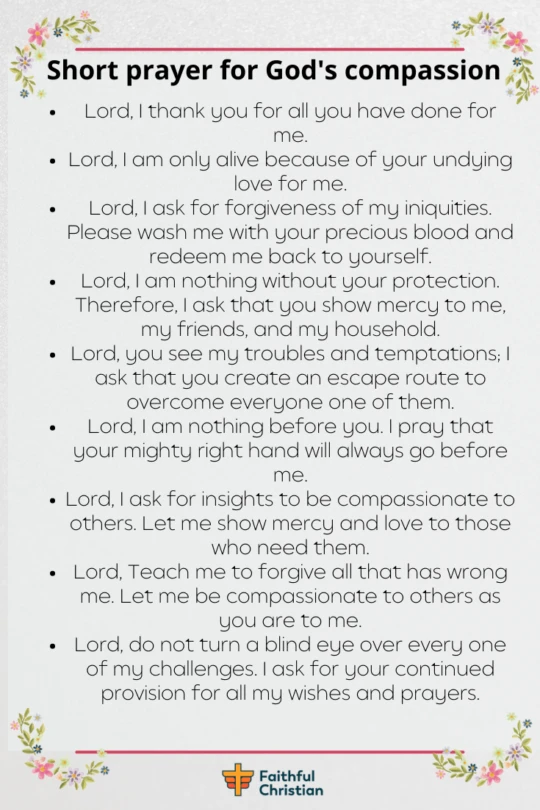 Bible verses about compassion for others
Ephesians 4:32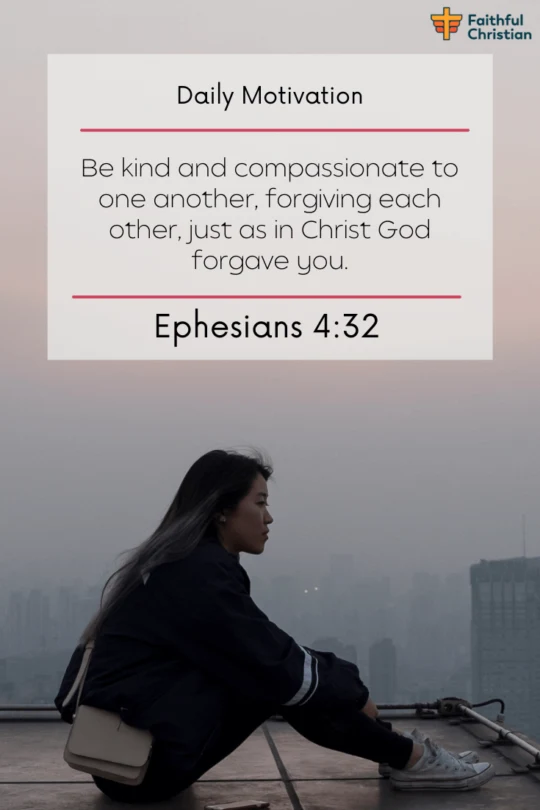 Be kind and compassionate to one another, forgiving each other, just as in Christ God forgave you.
Prayer for compassion for others with Ephesians 4:32
Heavenly Father, we gather in Your presence, seeking hearts brimming with compassion for our fellow beings.
Ephesians 4:32 reminds us to "be kind and compassionate to one another, forgiving each other, just as in Christ God forgave you."
We ask for Your guidance to embody this verse, enabling us to be understanding, kind, and forgiving to those we encounter.
Fill us with Your divine love, Lord, and help us see others through Your eyes.
Teach us to extend grace and mercy to those in need or facing challenges, just as You have so generously done for us.
Open our hearts to share Your compassion and light, spreading Your love to all we meet.
In Jesus' name, we pray. Amen.
Colossians 3:12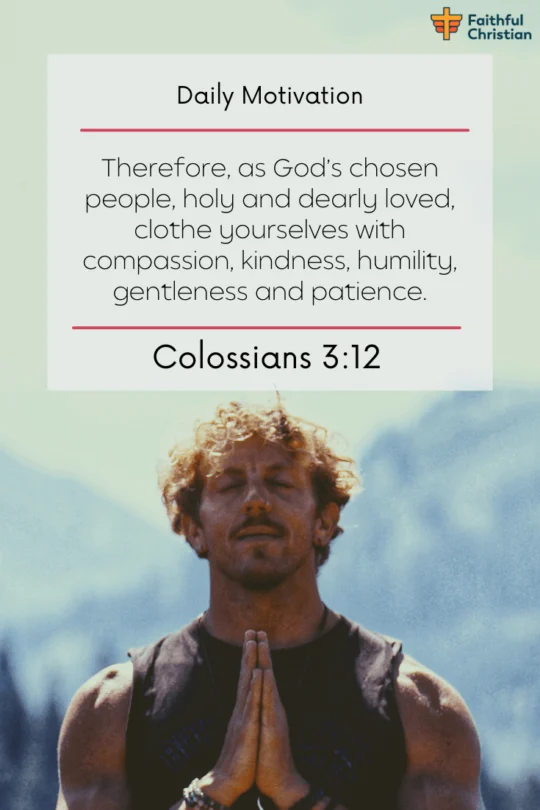 Therefore, as God's chosen people, holy and dearly loved, clothe yourselves with compassion, kindness, humility, gentleness and patience.
Prayer for compassion for others with Colossians 3:12
Heavenly Father, we stand before You today, our hearts open and eager to grow in compassion.
We acknowledge the significance of Your teachings on love and kindness, as expressed in Colossians 3:12, where we are called to "clothe ourselves with compassion and patience."
Lord, please infuse our hearts with Your loving spirit, enabling us to cultivate empathy and understanding for those around us.
Bestow upon us the wisdom to perceive the needs of others and the bravery to offer help when it's needed. Guide us to emulate Jesus, always prepared to extend a helping hand to those in distress or pain.
Empower us to be instruments of Your love, mirroring Your compassionate nature in every encounter.
May we wholeheartedly embrace the virtues of kindness, humility, gentleness, and patience. With humility, we ask this in Your sacred name. Amen.
Bible verses about God's compassion for us
Exodus 34:6-7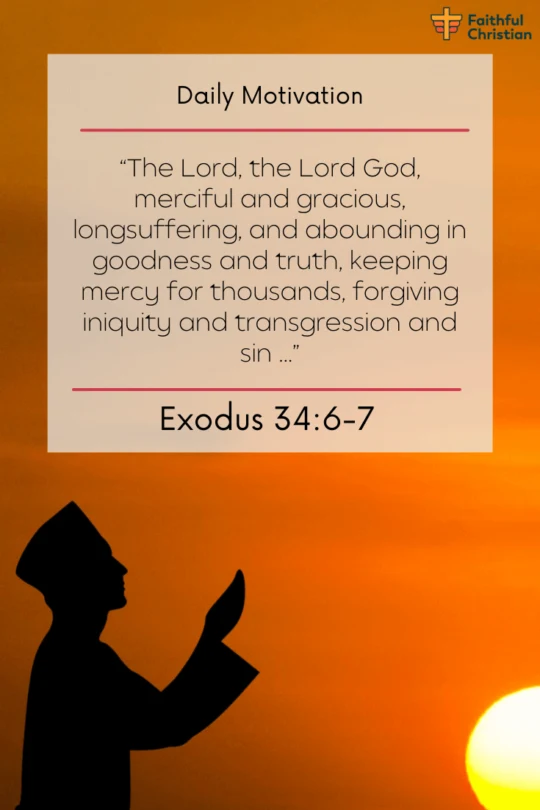 "The Lord, the Lord God, merciful and gracious, longsuffering, and abounding in goodness and truth, keeping mercy for thousands, forgiving iniquity and transgression and sin …"
Prayer for God's compassion for us with Exodus 34:6-7
Almighty Father, we approach Your presence today, eager to experience Your divine compassion and mercy.
Reflecting on Exodus 34:6-7, we remember Your loving nature as You describe Yourself as "The Lord, the Lord, the compassionate and gracious God, slow to anger, abounding in love and faithfulness, maintaining love to thousands, and forgiving wickedness, rebellion, and sin."
With grateful hearts, we thank You for Your unwavering love and forgiveness.
Humbly, we ask that You shower us with Your compassion, guiding our steps and molding us to become more like You.
As we embrace Your grace, help us embody the love and kindness You have shown us, enabling us to extend it to those around us.
In Your holy name, we pray. Amen.
Deuteronomy 7:9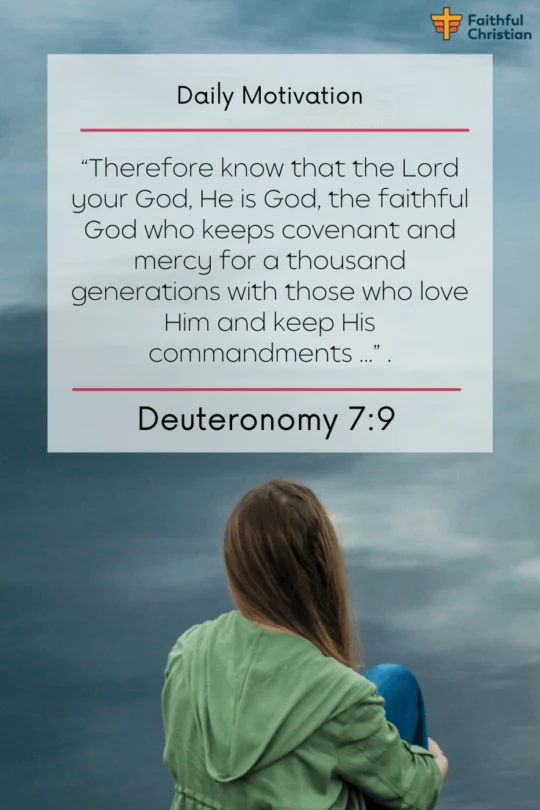 "Therefore know that the Lord your God, He is God, the faithful God who keeps covenant and mercy for a thousand generations with those who love Him and keep His commandments …" .
Prayer for God's compassion for us with Deuteronomy 7:9
Gracious Father, with humble hearts, we stand before You, recognizing Your unwavering love and faithfulness.
As Deuteronomy 7:9 highlights, You are the faithful God, preserving Your covenant of love across generations for those who cherish and obey You.
We express our gratitude for Your ceaseless compassion, even when we falter.
Lord, we beseech You to continue bestowing upon us Your mercy and compassion, leading us on our spiritual journey.
Help us grow in comprehending Your love, empowering us to extend that same care and empathy to those we encounter.
May Your divine love and grace mold our hearts and actions, turning us into genuine reflections of Your divine nature. In Your holy name, we pray. Amen.
Prayer for God's compassion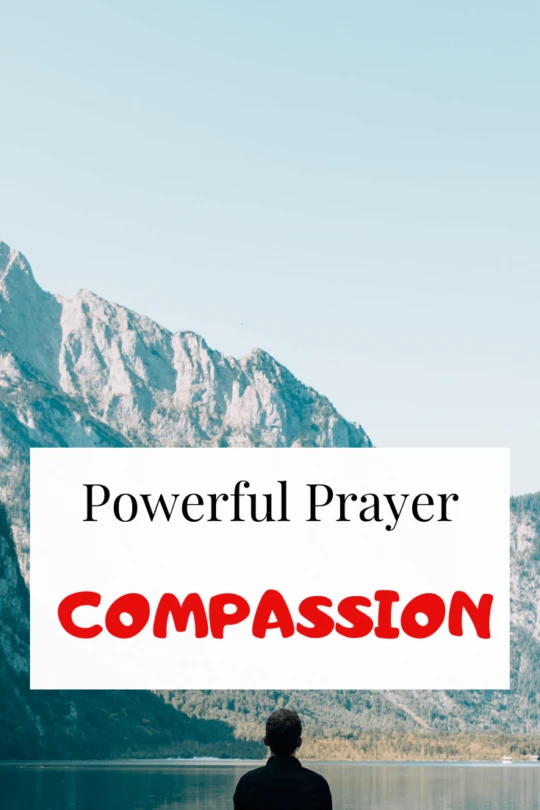 The Lord's eternal love
Seeking to grasp God's love for us? First, let's admit we're far from perfect. We stumble and fall, yet His love never wavers. The Bible says we all fall short of God's glory (Romans 3:23). Imperfect? Yes. Still loved? Absolutely.
Sometimes, we're dishonest or act selfishly. The Bible warns against this (Proverbs 11:1). But guess what? God's mercy and grace persist.
Lamentations 3:22-23 tells us His compassion never fails. Every morning, it's renewed. That's faithfulness!
God's love is boundless. He meets our needs, even when we struggle.
Remember the prodigal son in Luke 15:11-32? The father, symbolizing God, forgives and loves the lost child who returns. It's a perfect example of divine love and compassion.
God knows our daily struggles and temptations. Jesus experienced them too (Hebrews 4:15). This shared understanding deepens God's love for us. He sees our pain and is always there to help.
Psalm 34:18 says He's close to the brokenhearted and rescues those who are crushed.
Embrace the truth in Jeremiah 31:3. God's love is everlasting and unfailing. It's there, no matter how far we stray. Let His love guide and strengthen us to overcome life's challenges.
Remember, God's love is eternal, and we are forever cherished.
Let us pray for God's eternal compassion.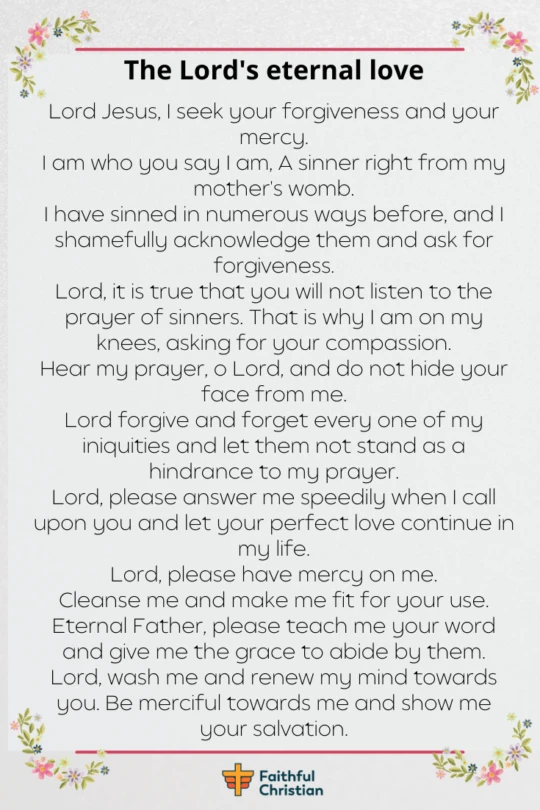 Oh Lord Jesus, I come to You, seeking Your forgiveness and endless mercy. Your promise in 1 John 1:9 reassures me that when we confess our sins, You faithfully forgive us and purify us from all unrighteousness. I rely on this promise, knowing Your loving and forgiving nature.
I admit I am a sinner, as You say, from the very start. Romans 3:23 states, "for all have sinned and fall short of the glory of God." I'm no exception and turn to You, embracing Your grace and mercy.
Throughout my life, I've sinned countless times. Like David in Psalm 51:4, I come before You with a repentant heart, seeking forgiveness and healing. I am here to acknowledge my wrongs and seek Your pardon.
Although You may not heed the prayers of sinners, I kneel, begging for Your compassion, just like the tax collector in Luke 18:13 who cried, "God, have mercy on me, a sinner."
Lord, hear my prayer, and don't turn away in my time of need. As the psalmist pleads in Psalm 102:2, I long for Your attentive ear and divine intervention.
Erase my sins, as You promise in Isaiah 43:25, so they don't hinder my prayers and relationship with You. Grant me a fresh start.
Lord, answer quickly when I call and let Your perfect love guide my life. Psalm 86:5 tells us, "For You, Lord, are good, and ready to forgive, and abundant in mercy to all those who call upon You."
I beseech You, Lord, have mercy on me. Make me worthy of Your divine purpose. Fulfill Your promise in Ezekiel 36:26, giving me a new heart and spirit.
Eternal Father, teach me Your holy Word and help me live by it. As Psalm 119:105 says, guide me in Your truth, so I may walk in Your ways and grow closer to You.
Lord, wash away my sins, renew my spirit, and lead me towards You. As You promise in Isaiah 1:18, make my sins as white as snow and like wool.
I thank You, Heavenly Father, for hearing and answering my prayers. Philippians 4:6-7 brings me peace and assurance, knowing You listen when I trust Your promises.
Help me grow in faith and draw nearer to You each day. As James 4:8 says, I yearn to experience Your presence, be transformed by Your grace, and reflect Your love and mercy to others.
I entrust my life to You, Lord, and believe You'll guide my steps. Proverbs 3:5-6 reminds me to trust Your wisdom and submit to Your will always.
Thank You, Heavenly Father, for Your unwavering love and the gift of Jesus Christ, who saves me from my sins. John 3:16 reveals the incredible gift of eternal life with You, for which I'm forever grateful.
In Jesus' name, I pray. Amen.
The steadfast love of God never ceases.
How can we ever fully express our gratitude to God? He showers us with blessings and miracles despite our flaws.
God's mercy and forgiveness know no bounds, as described in Psalm 103:8. We are truly fortunate to receive His grace.
God's love is endless and unwavering, even when we're tangled in sin. It's both our responsibility and privilege to seek His love and compassion in all aspects of life.
As Romans 5:8 says, Christ's sacrifice showcases God's love in the most profound way.
However, we mustn't take God's love for granted by remaining unrepentant. Hebrews 10:26 warns us of the consequences of deliberate sin.
To truly honor God, we need to open our hearts, devote ourselves to Him, and serve Him wholeheartedly.
Lamentations 3:22-23 beautifully reminds us of God's eternal love and mercy. Isaiah 40:11 also reassures us of His care and compassion, likening Him to a shepherd tending His flock.
These words inspire and encourage us to express our gratitude, seek His guidance, and live lives reflecting His love.
In all we do, let's honor and thank God for His countless blessings. Colossians 3:17 reminds us to do everything in Jesus' name, giving thanks to God the Father.
So let's embrace His love, grow in faith, and transform our lives for His glory.
Let us pray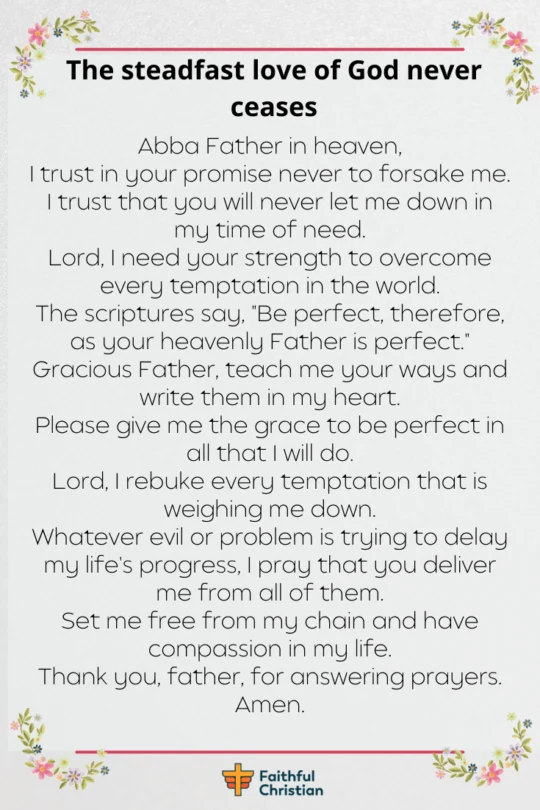 Our loving Abba Father in heaven,
I stand firm in my trust, knowing You'll never leave my side. You're always there, like a caring friend who's got my back. When times are tough and I need a helping hand, I know You'll lift me up with Your mighty power.
Lord, life is full of temptations, and I need Your strength to overcome them all. Just like a coach pushing their team to victory, You guide me to resist and conquer life's challenges.
You inspire us to strive for greatness, aiming to be as perfect as You are.
Gracious Father, teach me Your ways like a wise mentor sharing their knowledge. I'm eager to learn and grow, absorbing Your divine wisdom.
With Your guidance, help me reach for perfection in every aspect of my life, just like Jesus, our ultimate role model.
Temptations and burdens may weigh me down, but I won't let them hold me back. I'll stand up to them, knowing You're right beside me, ready to chase the darkness away.
When obstacles appear, You're my superhero, swooping in to rescue me from trouble.
Break the chains that tie me down, and shower me with Your endless love and mercy. Your heart overflows with compassion, like a parent embracing their child.
Thank You, Father, for always listening when I call out to You, and for answering my prayers with Your boundless grace. Amen.
Call on Him, and he will answer
Life can throw curveballs, leaving us feeling alone and unsupported. Our dreams might seem unattainable, making it tough to stay hopeful. Betrayal or disappointment from friends can make matters worse.
It's natural to wonder if there's still hope and if a higher power will hear our prayers. The Bible reassures us that God is our refuge and strength during these times (Psalm 46:1).
In moments of doubt, remember that God's love and compassion can bring solace. As Psalm 34:18 states, God stays close to the brokenhearted.
By opening our hearts to divine intervention, we experience God's guidance and support. Isaiah 41:10 reminds us not to fear, for God is with us, strengthening and upholding us.
The scripture in James 4:8 urges us to draw near to God, and He will come closer to us. We must cleanse our minds and spirits to invite God's divine presence. Jeremiah 29:13 says we'll find God when we seek Him wholeheartedly.
No matter how isolated we feel, God is always there. By seeking divine guidance, we find hope and the power to face life's challenges (Romans 15:13). Trusting in God's unwavering love gives us the strength to persevere.
Let us pray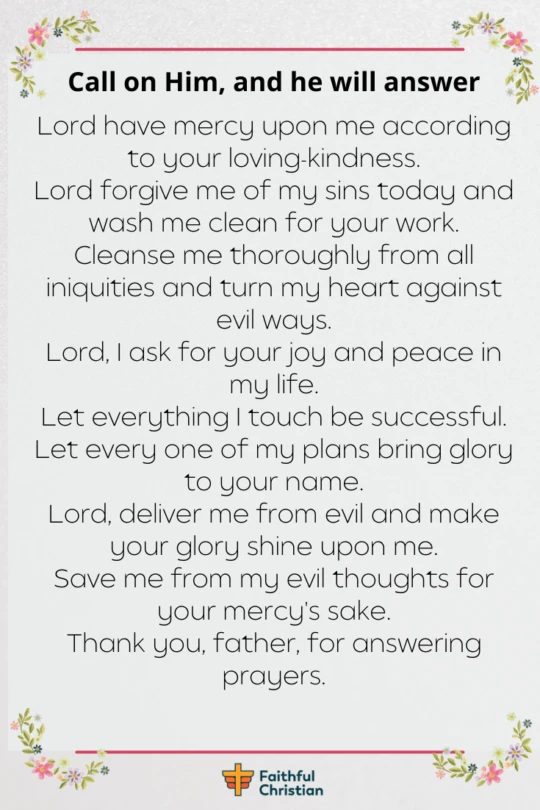 Lord, shower me with Your mercy, reflecting Your boundless love. Your immeasurable love shines through when You sent Your Son for us (John 3:16).
Every day, Your mercy renews (Lamentations 3:22-23). Help me to embrace it fully.
Please forgive my daily wrongs and cleanse my soul. Your Word promises forgiveness and cleansing if we confess (1 John 1:9). Guide me to seek Your forgiveness, standing clean and ready for Your purpose (Ephesians 2:10).
Wash away my iniquities and lead me to righteousness. Your Word teaches us to keep our ways pure by living according to it (Psalm 119:9-11). Help me internalize Your wisdom and follow the path You've set (Psalm 23:3).
Fill my life with lasting joy and peace from Your presence. Jesus promised peace and urged us not to worry (John 14:27). In Your presence, I find unmatched joy and peace (Philippians 4:7). Help me remain close to You.
Make my efforts fruitful and successful. Committing our works to You establishes our plans (Proverbs 16:3). Guide and bless my efforts to glorify You and grow Your kingdom (Matthew 6:33).
Let my actions glorify You and reveal Your divine will. In all we do, we should glorify God (1 Corinthians 10:31). Remind me of this and align my actions with Your will (Proverbs 3:5-6).
Deliver me from evil and let Your light guide me. Jesus taught us to pray for deliverance (Matthew 6:13). Your Word lights my path and offers wisdom (Psalm 119:105). Help me navigate life's challenges.
Shield me from dark thoughts and grant me salvation. Paul tells us to make our thoughts obedient to Christ (2 Corinthians 10:5). Teach me to focus on what is good and praiseworthy (Philippians 4:8).
Thank You for hearing and answering prayers. You promise us hope, a future, and listening ears (Jeremiah 29:11-12). Your love and care are evident in Your attentiveness (Matthew 7:7-8).
Keep me grateful and faithful, trusting in Your unwavering love.
The Lord is gracious, compassionate, and merciful (let us pray)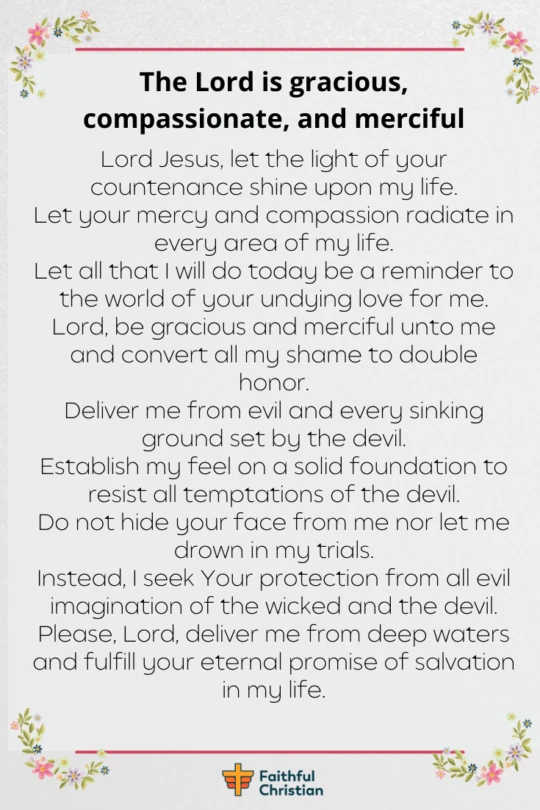 Lord Jesus, let Your divine light shine brightly, guiding my path and filling my life with hope. As Psalm 119:105 states, Your word is a lamp that leads us on our journey.
Your mercy and compassion are boundless. Lamentations 3:22-23 reminds us that Your love never ceases. Thank You for the grace that lifts us up when we stumble.
Help me share Your love each day, inspiring others to seek Your grace. John 13:34-35 teaches us to love as You love, showing the world we are Your disciples.
Bestow Your grace upon me, turning my shame into growth and double honor. Isaiah 61:7 promises a double portion of inheritance and blessings from You.
Keep me safe from the devil's traps, lifting me from sinking ground. Ephesians 6:11 urges us to wear God's armor to stand strong against evil schemes.
Fortify my spirit, empowering me to resist temptation. 1 Corinthians 10:13 ensures we never face more than we can handle, offering a way to endure and escape.
In tough times, be by my side. Psalm 34:17-18 reveals that You hear our cries and deliver us from trouble. Your presence guides me through darkness.
Protect me from evil, providing refuge from harm. Psalm 91:4 depicts Your wings as a safe haven, with Your faithfulness as our shield.
Lastly, Lord, deliver me from despair, fulfilling Your eternal promise. John 3:16 grants us eternal life through belief in Your Son. Fill my life with hope, joy, and salvation.
His hand is not short to help you.
In times of need, never let doubt erode your faith. Hold onto the belief that the unseen can become a reality. It's crucial to remember that our limited human understanding can't compare to God's boundless wisdom.
As the saying goes, His ways are higher than ours.
We all know that forgiving those who repeatedly hurt us can be challenging. Yet, God's approach to forgiveness is truly extraordinary.
Jesus taught us to forgive others countless times. Our Creator knows us inside out (Genesis 2:7) and understands why we make mistakes.
Despite our flaws, God's compassion is unmatched. He doesn't punish us as we deserve, like Psalm 103:10-12 explains.
Instead, His love for those who fear Him is as vast as the heavens above the earth. He removes our sins as far as the east is from the west.
When hope seems lost, turn to God. He's always there, ready to offer guidance and support. Embrace His boundless grace, and you'll find the strength to weather life's storms.
As Romans 8:38-39 assures us, nothing can separate us from the love of God.
So, in your darkest moments, trust in God's divine love. He'll provide the hope and strength you need to face life's challenges head-on.
let us pray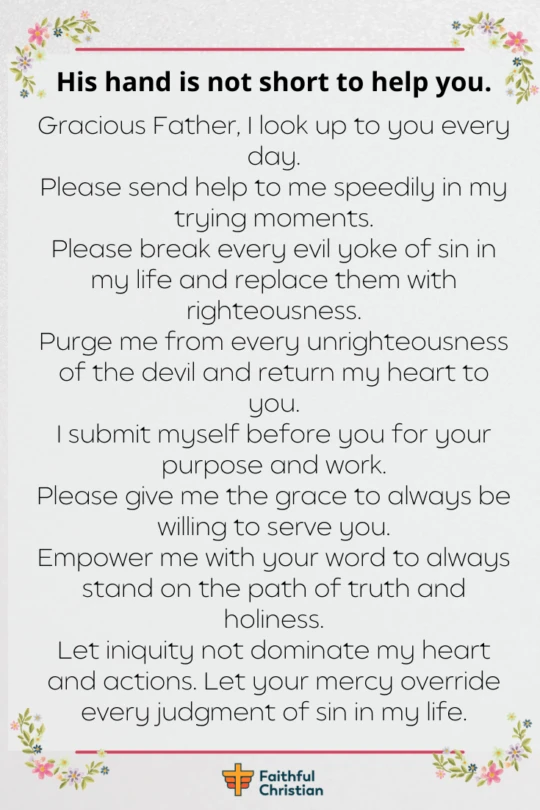 Heavenly Father, I turn to You each day with a grateful heart, seeking Your guidance in every moment. Proverbs 3:5-6 reminds us to trust in You, and not rely solely on our understanding. You'll make our paths straight when we acknowledge You in all our ways.
In times of struggle, I ask for Your swift, divine assistance. You're our refuge and strength, as Psalm 46:1 says—an ever-present help in times of trouble. I know I can find comfort and strength in Your presence.
I pray for freedom from the chains of sin, asking You to replace them with righteousness. Romans 6:14 gives us hope, assuring us that sin won't control us when we live under Your grace. Guide me, Lord, along the path of Your light.
Cleanse me from the enemy's wicked influences, restoring my heart to You. In 1 John 1:9, we're told that if we confess our sins, You'll forgive and cleanse us from all unrighteousness. I trust in Your loving embrace.
I humbly surrender myself to Your divine purpose, offering my life for Your work on earth. Romans 12:1 calls us to present ourselves as living sacrifices, pleasing to God. Let my life be an act of true and proper worship.
Grant me the grace to serve You wholeheartedly, devoting myself to Your plan. Colossians 3:23-24 instructs us to work for You, not for men, knowing our reward comes from You, our heavenly Lord.
Equip me with the knowledge of Your Word, so I may stand firm in truth and holiness. Ephesians 6:14-17 emphasizes the importance of the armor of God, like the belt of truth and the sword of the Spirit—Your Word.
Help me resist sin and iniquity, striving for purity and righteousness in Your name. In Psalm 51:10, David prayed for a clean heart and a steadfast spirit, a prayer we can also offer to the Lord.
Let Your boundless mercy triumph over sin in my life. Lamentations 3:22-23 assures us of Your steadfast love and new mercies every morning. Your faithfulness is truly great.
Prayer for compassion for others
To experience God's compassion, we must share kindness and understanding with others. Jesus' teachings in Matthew 7:12 encourage us to treat people with the same respect we seek.
By adopting the virtues of compassion, kindness, humility, gentleness, and patience outlined in Colossians 3:12, we mirror God's loving essence.
Helping others is our calling, and there are countless people in need. The Good Samaritan parable (Luke 10:25-37) shows the importance of aiding others, regardless of their background.
Jesus wants us to extend our hearts and hands, just like the Samaritan in the story.
Embodying Christ-like love involves embracing everyone, irrespective of gender, race, ethnicity, or social status. Galatians 3:28 highlights our unity in Jesus Christ.
Mark 12:31 further underlines the importance of loving our neighbors as ourselves, which is a fundamental aspect of Jesus' teachings.
Additionally, we should support those facing emotional or mental struggles, such as depression, grief, or loss. Psalm 34:18 assures us that God remains close to the brokenhearted.
By providing a listening ear, a warm embrace, or a shoulder to lean on, we can create a positive impact. Practicing empathy allows us to bring light into the lives of others and welcome God's compassion into our own.
In doing so, we heed Jesus' call to comfort the mourning (Matthew 5:4) and reflect our Heavenly Father's love.
Let us pray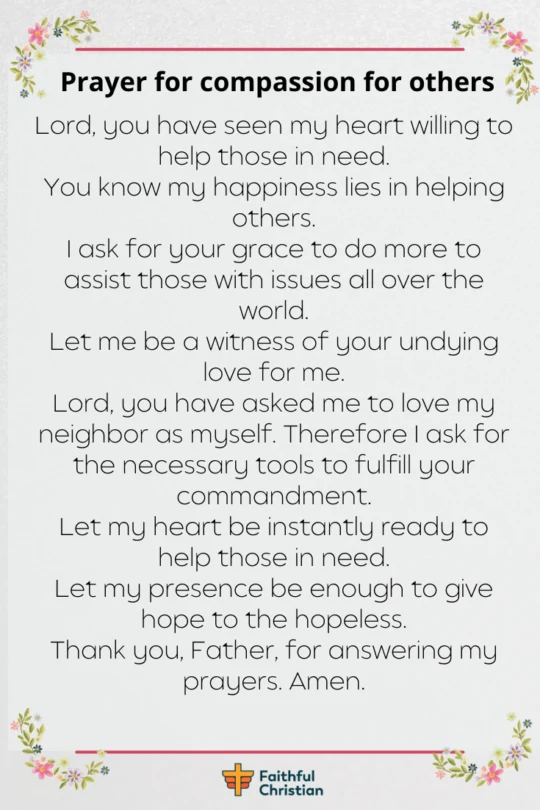 Heavenly Father, Your watchful eyes have seen my heart's genuine desire to help those in need. As Proverbs 19:17 teaches, kindness to the poor is a reflection of Your love. My acts of compassion are an investment in Your kingdom.
My joy and fulfillment come from supporting others and making a positive impact. Acts 20:35 reminds us that true happiness is found in serving others and sharing our blessings. With Your guidance, I strive to follow this principle.
I humbly seek Your divine grace, enabling me to do more for those facing challenges worldwide. Isaiah 58:10 encourages us to satisfy the needs of the oppressed, becoming a beacon of hope and light. Lord, guide me in this mission.
You've commanded us to love our neighbors as ourselves (Mark 12:31). I ask for the resources, knowledge, and understanding to fulfill this mandate, extending Your love to all.
Help me be responsive to those in need, abundant in empathy and kindness. Colossians 3:12 calls us to embody compassion, humility, gentleness, and patience. May I reflect these virtues in my actions.
Let my presence bring hope to the hopeless and guide them to a brighter future. Matthew 5:16 urges us to shine our light before others, inspiring them and glorifying You. Empower me to be an instrument of Your love and grace.
Gracious Father, I am deeply grateful for Your support and answered prayers. In Your holy name, I pray. Amen.
Frequently Asked Questions
How do you pray for compassion?
When praying for compassion, humbly ask God to open your heart and fill it with His love. Admit your desire to follow His teachings and be a true reflection of His kindness.
You can mention Colossians 3:12, which encourages us to embrace compassion, kindness, humility, gentleness, and patience.
Additionally, Ephesians 4:32 reminds us to be kind and compassionate, forgiving others as God forgave us. Seek God's help in developing empathy and understanding to support those in need.
How do you ask God for compassion?
Asking God for compassion requires sincerity and faith in His power to transform you. Be honest about your weaknesses and request His guidance to become more compassionate.
Consider Psalm 51:10, where the psalmist prays for a pure heart and steadfast spirit.
How do you close a prayer for compassion?
When closing your prayer, thank God for His love and work in your life. Request the strength to put your newfound compassion into action and be an example of Christ's love.
What is the prayer of the faithful about compassion?
The prayer of the faithful, or universal prayer, is a petition made for the entire church community.
A prayer about compassion may address the needs of the suffering, marginalized, and oppressed, while also asking for guidance to address others' needs with Christ-like love and wisdom.
What Psalm is about compassion?
Psalm 103 is a testament to God's compassion, speaking of His lovingkindness, mercy, and forgiveness. Verses 8-14 emphasize God's compassionate nature, comparing His love for us to a father's love for his children.
How do you show compassion to others biblically?
Showing compassion biblically involves following Jesus' teachings on love and care, as exemplified by the Good Samaritan parable and the Golden Rule in Matthew 7:12.
What is the prayer for love and compassion?
A prayer for love and compassion asks God to fill your heart with divine love, empowering you to care for others with kindness, and seeking grace to live out these virtues while reflecting His love in your interactions.
Author: Akatakpo Dunn
Dr. Akatakpo Dunn is a dedicated follower of Christ, an active member and speaker, and an ongoing learner of the Scriptures. Passionate about his faith and serving others, he is committed to sharing his spiritual journey and insights to inspire and uplift fellow believers. He has been active in the church for more than 23 years. Through The
Faithful Christian Blog
,
Dr. Dunn
combines his love for God, philanthropy, and Scripture, providing a valuable resource for those seeking to grow in their faith.
Follow me: on Youtube, Facebook, Twitter, Instagram, and Pinterest.
Content Disclosure:
At The Faithful Christian Blog, I create authentic and inspiring content. Although I am the main author, I occasionally use AI for minor language enhancements. This minimal AI usage ensures high-quality, trustworthy articles without compromising originality or sincerity, ultimately supporting our shared faith journey.
Warmly,
Dr. Akatakpo Dunn
Was this article helpful?