Don't live in the past.
Let go and let God take over your battles.
And that's because, as Christians, there is nothing else we can do besides trusting in God.
He has promised vengeance on those that hurt us.
He has promised never to forsake us in trying times.
So, there is no need to hold grudges or remain stagnant.
Let God take control of your situation and move on to your next level in life.
Therefore, today, we are going to pray for the grace to forgive.
We will ask Him for the strength to move on from your past.
If you are struggling to let go of a past relationship, God can help you.
Likewise, it could be your hurts, anger, resentment, or hatred against someone.
Through the grace of God, you can conquer your past and your thoughts.
I have put together this prayer to let go and let God take control.
May God, take away your trials, strengthen your thoughts, and erase your painful past, amen.
---
Recommended for you
---
Short prayers to let go and let God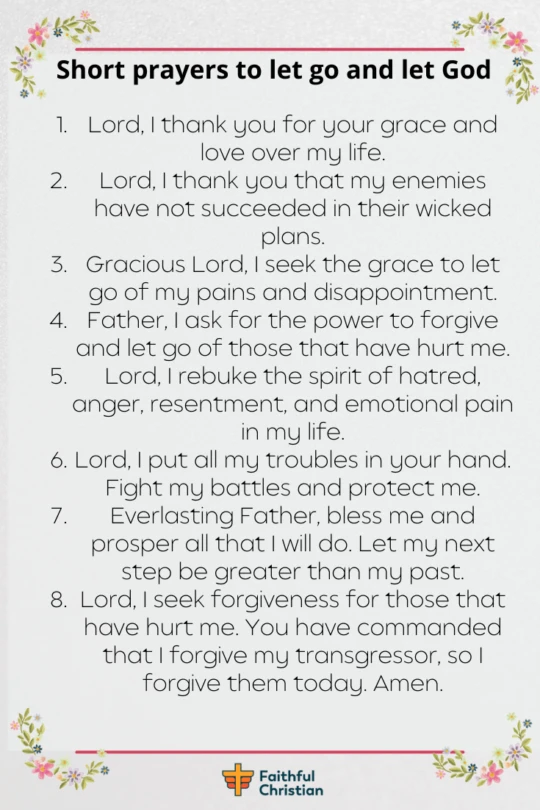 Our great God, how remarkable is your love! It's a love that wraps around our lives, providing grace beyond measure. Like Psalm 23:6 reminds us, your "goodness and mercy shall follow us all the days of our lives." Thank you for this persistent kindness.
Oh, how we've faced trials! But just as Proverbs 21:30 assures us, "There is no wisdom, no insight, no plan that can succeed against the Lord." We've seen this truth. We've watched our enemies' plans crumble. Our hearts resonate with gratitude.
God, our healer, we yearn for a breakthrough. We've clung to past pains and disappointments. Echoing Ephesians 4:31, we long to "get rid of all bitterness, rage, and anger." Guide us towards this release.
Father, your command to forgive challenges us. Yet, like Matthew 6:14 prompts, "If you forgive others their trespasses, your heavenly Father will also forgive you." We seek this power, this grace to forgive those who've hurt us.
The Almighty, we need cleansing. We've carried hatred, anger, resentment, and emotional pain. But Galatians 5:22 promises us "the fruit of the Spirit is love, joy, peace, forbearance, kindness, goodness, faithfulness." This, we desire. This, we ask for.
Lord, we're facing battles. In Psalm 18:2, you are our "rock, fortress, and deliverer." We seek this protection. We lay our troubles at your feet.
Father, we ask for your favor. We believe in Jeremiah 29:11, that you know "the plans to prosper us, not to harm us." As we step into the future, we pray for a journey more fruitful than our past.
Finally, with the grace you've granted us, we extend forgiveness. In Mark 11:25, you remind us, "When you stand praying, if you hold anything against anyone, forgive them." Today, we forgive.
Every step of the way, we submit to your will. With each breath, we express our devotion. Today and forever, we trust in your divine plan for our lives. Amen.
Psalm 46:10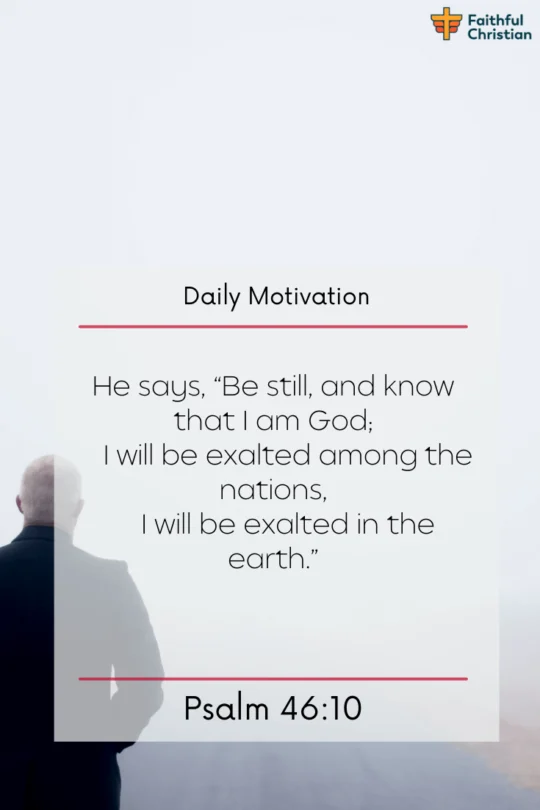 He says, "Be still, and know that I am God;
    I will be exalted among the nations,
    I will be exalted in the earth."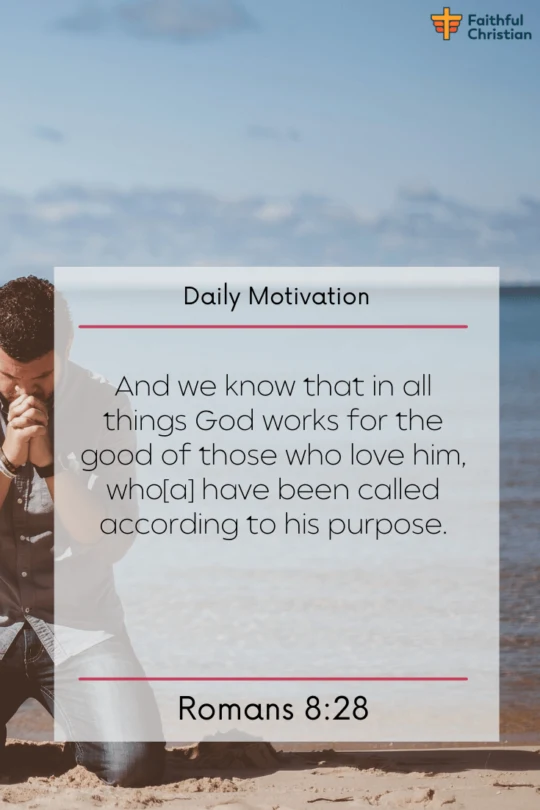 And we know that in all things God works for the good of those who love him, who[a] have been called according to his purpose.
Philippians 3:13-14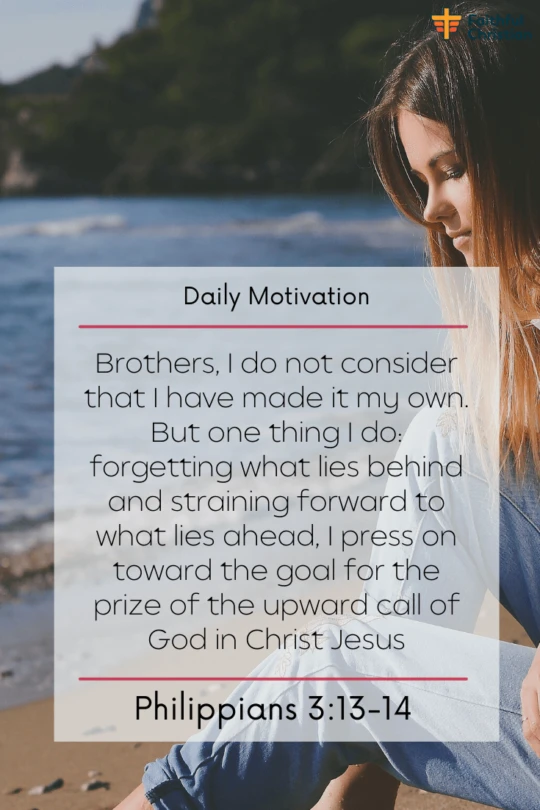 Brothers, I do not consider that I have made it my own. But one thing I do: forgetting what lies behind and straining forward to what lies ahead, 14 I press on toward the goal for the prize of the upward call of God in Christ Jesus
---
Recommended for you
---
Prayer to let go and let God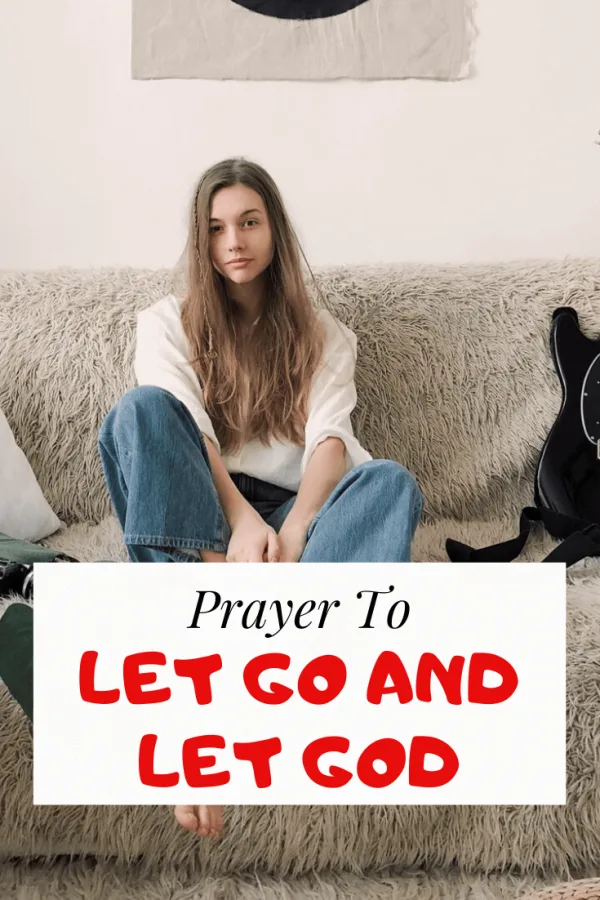 Let go of your anger and disappointment (let us pray)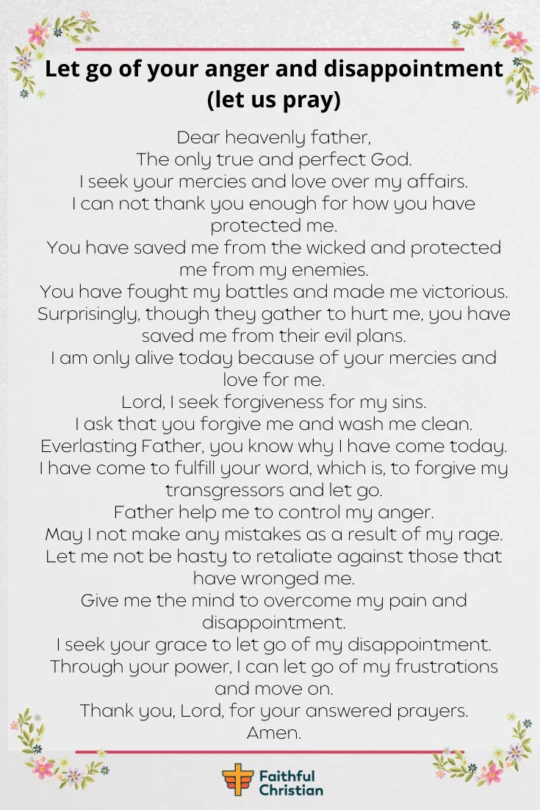 Dearest Lord, my Rock, my Redeemer,
As the one true, immaculate God, You stand unmatched. Your greatness is unrivaled. My heart reaches out to You today. I seek Your boundless mercy, Your love that never fails. Your caring hands have held me safe. This fills my heart with endless thanks.
You've been my shield, my Protector. From those who wished me harm, You've saved me. My foes were many. But Your love was stronger. It's Your strength, not mine, that's seen me victorious. Against Your divine guard, their ill-intent dissolved.
Your mercy and love hold me together. These gifts of Yours breathe life into me each day. Your grace? It's more than I can fathom. It's the anchor of my existence.
I kneel before You, Father, confessing my sins. Cleanse my soul. Make it pure again. Let Your love wash over me, wiping away my guilt. Guide me back to Your path, the path of righteousness.
Almighty Father, my heart lies open before You. I've come to fulfill Your divine command. Your call to forgive, to let go of the chains of hurt. Grant me strength to tame my anger, wisdom to hold my tongue in fury.
In my pain, teach me patience. Let not revenge cloud my judgement. Guide me through the hurt, the disappointments. Help me face them with grace, with peace. Proverbs 16:32 reminds us of the power in patience and self-control. I yearn to embody these traits.
Bless me with Your grace, Lord. Empower me to let go of past disappointments. Give me the courage to release my frustrations. To move forward unhindered, towards a brighter tomorrow.
Guide me away from false friendships, Lord. Those who mislead, those who deceive. Take them away from my path. Shield me from situations that stir anger within me.
Finally, Lord, I thank You. For Your love. Your mercy. Your grace. For every prayer heard. For every prayer answered.
To You, Almighty Father, I submit. In all things, Your will be done. You are my rock, my refuge.
In Your sacred and matchless name, I pray.
Amen.
Let go of your fears (let us pray)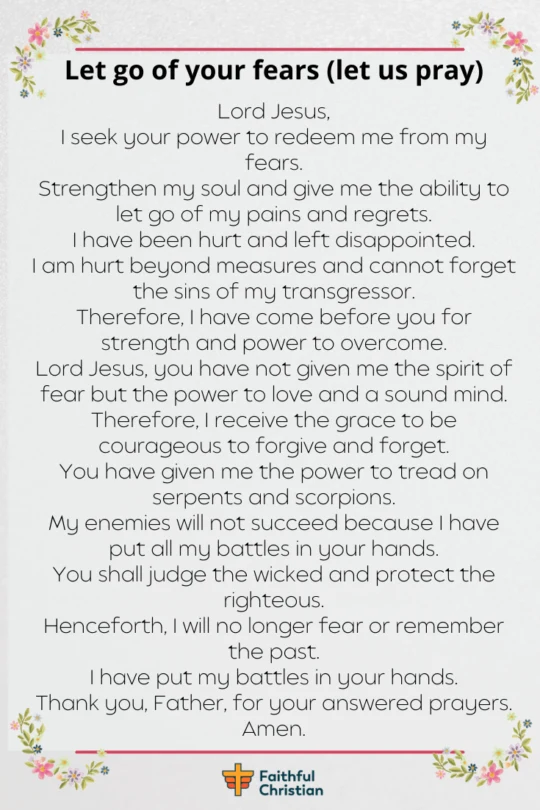 Dearest Father, my Mighty Redeemer,
In humility, I stand before You. Your grace, I seek. My fears, I want to escape. Your power, Lord, is my hope. A hope to break free from the chains of my past.
Lord, in my weakness, You are my strength. Strengthen me, I pray. My soul yearns for peace. Help me let go of my regrets. They've long held me captive.
Disappointment has been my shadow. Betrayal, my companion. Both, I'm ready to part ways with. I've known pain, Lord, an ocean of it. It's time for me to sail to the shore.
In You, I find my refuge. To You, I come for solace. I need Your strength. I need Your power. With these, I can conquer, I can rise.
You are the source of love, Lord. You've gifted me a spirit of power. A spirit of sound mind. It's fear that You've not planted in me. With courage, I shall forgive. I shall forget.
The Almighty, my Protector, You've armed me. You've made me resilient. I can tread on life's serpents and scorpions. I won't falter. My battles are Yours, Father.
Your wisdom is inscribed in Your scriptures. It speaks to my soul. "Vengeance is mine," You've said. So, I surrender my pain. My sorrow finds rest in Your judgment.
You, the Righteous Judge, will defend the innocent. You will address the wicked. This faith emboldens me. Fear has no place in my heart. The past has no grip on my present.
Today, I let go. My battles are now Yours. My past, a mere memory. Your divine providence, my guiding light.
In You, Father, I find peace. A liberation from my past. Your love never fails. It heals. It renews. I am forever grateful.
In Jesus' mighty name, I pray. Amen.
Let go and let God of your past (let us pray)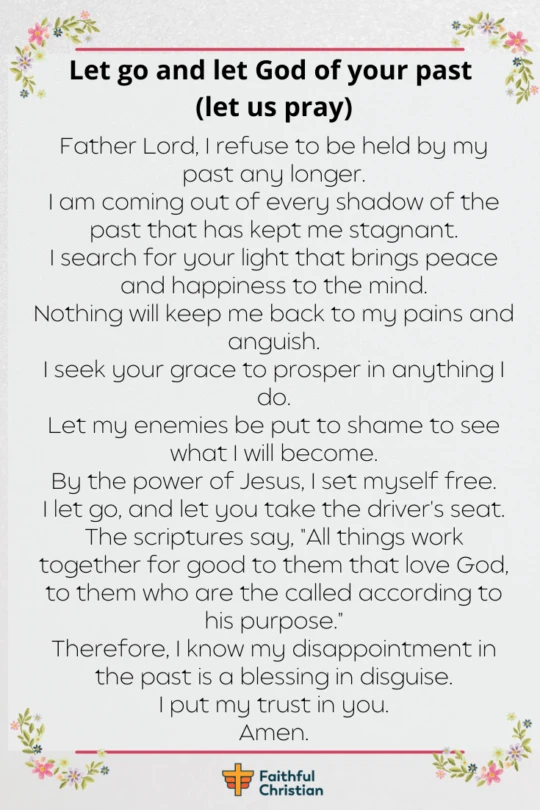 Dear Heavenly Father, I stand on the cusp of a bold declaration. I won't be a prisoner to my past anymore. Remember the story of Job? Despite his hardships, he found redemption. Inspired by his story, I'm ready to leave my own sorrows behind.
Out of the shadows I step, Almighty One. Shadows of yesterday that kept me frozen in time. I'm stepping into your light now, the light that shines brighter than the noonday sun. A light that promises peace. A light that promises joy. That's what I'm reaching for.
Pains of the past? I'm casting them aside, just as Paul urged the Philippians to forget what's behind and strain towards what's ahead. I am straining towards your grace, Lord. I seek that grace in all I do. Grace that lets me prosper. Grace that lets me grow.
Those who oppose me, Lord? They'll be astonished. Astonished to see me flourish. Remember David and Goliath? David's victory was unforeseen. I seek a similar victory. By your divine grace, let my enemies see what I become.
Freedom. It's a powerful word. Jesus set us free. Now, I'm embracing that freedom. The ties to my past? I'm cutting them off. I'm taking a step of faith. A leap towards liberty.
Your word says that all things work for our good. I believe in that promise. Those disappointments? They're not setbacks, they're setups. Setups for blessings. Blessings in disguise.
You, Almighty God, are my rock. My trust is in you. Just as Peter walked on water by faith, I'm stepping out in faith too. I'm trusting you with my life's journey.
This prayer I make is not just words. It's my heart crying out to you, Father. I'm letting go. I'm letting you steer. Just like a child trusting his father, I trust you. In your name, I pray, Amen.
Forgive and let go (let us pray)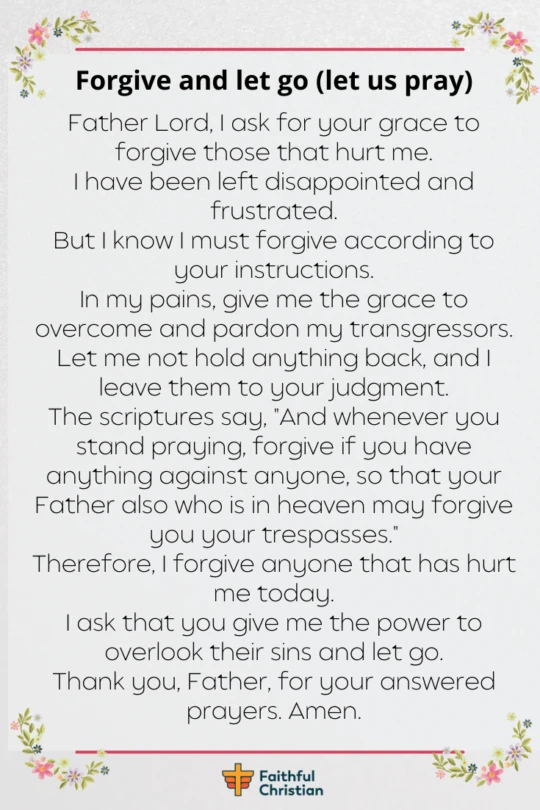 Almighty Father, in Your boundless mercy, I approach. Guided by Psalm 34:18, which assures us of Your closeness during heartbreak, I seek Your divine grace. I desire to forgive those who've wronged me.
My heart bears the weight of disappointment. Yet, I understand Your word in Matthew 5:44. I must love my enemies and pray for those who've hurt me. I yearn for Your help.
My journey is strewn with trials. In the heat of these moments, I call upon Your name, Heavenly Father. Lend me the strength to rise, mirroring the courage of Job, who remained steadfast despite adversity.
Transgressions against me have been many. But, guided by Luke 6:37, I strive not to judge. I choose to forgive, Lord, reflecting Your endless mercy.
I harbor no resentment, Father. You are the great Judge, as stated in Romans 12:19. I trust in Your justice, leaving all grievances at Your feet.
Your holy words, in Mark 11:25, call for forgiveness in prayer. Today, I stand before You, absolving all who have caused me pain.
Bestow upon me the strength to forgive, dear Father. Free me from the chains of past hurts, as You did for Joseph, betrayed by his brothers, yet forgiving. I too aspire to let go.
Gratitude fills my heart, as I acknowledge Your omnipresence. I'm comforted by 1 Thessalonians 5:18, which encourages giving thanks in all circumstances.
Thus, I thank You, Father. You hear my pleas. You guide me towards peace, just as You led the Israelites out of Egypt.
In awe of Your love, I pray, Amen.
Frequently Asked Question
Question: Can you summarize what the Bible teaches about surrendering to God's will and casting off earthly worries?
The Bible imparts wisdom on surrendering to God's will and dismissing earthly concerns. Proverbs 3:5-6 and 1 Peter 5:7 emphasize placing trust in God, relinquishing anxieties to Him, and submitting to His direction.
Question: How do I let go and let God handle my troubles?
Letting go and letting God handle your troubles involves a deliberate shift of control. Begin by acknowledging your fears, anxieties, or dilemmas. Then, through prayer, pass these issues to God.
For example, "Lord, I submit my job issues to you. I believe in your wisdom and guidance." Trust in His superior wisdom and timing, even if it contradicts your personal desires or expectations.
The biblical verse Psalm 55:22 reiterates this principle, stating, "Cast your cares on the LORD and he will sustain you; he will never let the righteous be shaken."
Question: How do I break a soul tie with my ex through prayer?
To break a soul tie with an ex, a prayer of release and forward movement is required.
For instance, "Lord, I stand before you to liberate myself from the emotional bonds to my ex. I acknowledge that our relationship no longer fits into your divine plan for me. Please assist me in severing these bonds and advancing in Your love and grace. I surrender all the hurt, pain, and lingering emotions to You. In Jesus' name, I pray, Amen.
Question: What are some important prayers in the Bible and their teachings?
The Bible features three potent prayers: the Lord's Prayer (Matthew 6:9-13), the Prayer of Jabez (1 Chronicles 4:10), and Jesus' Prayer in Gethsemane (Matthew 26:39).
Each holds a unique teaching: the Lord's Prayer outlines prayer structure, incorporating worship, seeking God's will, asking for provision, forgiveness, and seeking deliverance.
The Prayer of Jabez instructs us to request God's blessings and protection, while Jesus' Prayer in Gethsemane demonstrates how to submit our will to God's.
Question: How can I pray for guidance as I start a new chapter in my life?
As you begin a new chapter, a prayer for guidance and renewal may be useful.
Try this: "Dear God, guide me on this new journey. Cleanse my heart, renew my spirit. Give me the strength to face challenges, wisdom for decision-making, and peace to accept unchangeable circumstances. Help me focus on You and Your promises as I step into this new beginning. In Jesus' name, I pray, Amen."
Question: How can I invite God into my heart?
Inviting God into your heart requires a genuine prayer of confession, repentance, and the acceptance of Jesus Christ as your Savior.
Try: "Lord Jesus, I confess my sins and need for Your salvation. I open my heart to You, accepting You as my Savior. Fill me with Your Holy Spirit and guide me in Your ways. Amen."
This prayer aligns with Romans 10:9-10, which declares the key to salvation is believing in Jesus Christ.
Question: How can I identify God's signals to let go of something or someone?
Identifying God's signals to let go can involve prayer, contemplation, and advice from spiritual counselors. Clues might include persistent unease, circumstances not falling into place, or a sense of tranquility when considering release.
Isaiah 30:21 offers guidance, "Whether you turn to the right or to the left, your ears will hear a voice behind you, saying, 'This is the way; walk in it.'"
Question: How can I pray for healing from past hurts?
For healing from past hurts, a prayer of forgiveness and release is suitable: "Heavenly Father, I seek healing from the pain I've suffered. Help me to forgive those who've wronged me, letting go of bitterness and resentment. Grant me the grace to move past this hurt, adopting love and forgiveness as You have forgiven me. In Jesus' name, I pray, Amen."
This aligns with Ephesians 4:31-32, encouraging the removal of bitterness and the cultivation of kindness and compassion.
Question: How can I pray to release a loved one?
Releasing a loved one can be challenging, necessitating a prayer for strength and trust in God's plan.
Try: "Dear God, grant me the strength to let go of my deep love for someone. Despite the weight of sadness and loss, I trust in Your wisdom and plan for my life. I surrender my feelings and situation to You, seeking Your comfort, peace, and healing. Guide me on this journey, helping me to trust in Your love. In Jesus' name, I pray. Amen."
This aligns with Psalm 34:18, a verse that speaks to God's closeness in times of heartache.
Question: How can I pray to release the past?
Releasing the past can be a brave step towards a promising future.
A prayer for this purpose could be: "Heavenly Father, I seek the courage to release my past and the associated pain. I know I can't change history, but I trust in Your promise of renewal. Help me to release my past, forgive those who have hurt me, and progress in Your grace and love. In Jesus' name, I pray. Amen."
This prayer resonates with Philippians 3:13-14, urging us to forget past transgressions and press on towards God's heavenly call.
Question: How can I let go and move on from a difficult situation?
To let go and move on, consider a prayer of surrender and trust in God's guidance: "Lord, I submit my past, present, and future to You. I release past regrets, failures, and hurts. I let go of future anxieties, fears, and uncertainties. Please guide me forward with a heart filled with faith, hope, and love. Strengthen me to embrace new opportunities with an open mind and trusting spirit. In Jesus' name, I pray. Amen."
This prayer corresponds with Isaiah 43:18-19, encouraging us to forget the past and perceive God's new workings.
Question: How can I pray to release control over my life to God?
Releasing control can be challenging, but with prayer, it is possible.
Try this: "Dear Lord, I confess my tendency to control my life rather than trusting Your plan. I humbly ask You to help me relinquish my tight hold on situations and trust in Your wisdom and love. Grant me the peace to accept unchangeable circumstances, the courage to change what I can, and the wisdom to differentiate the two. In Jesus' name, I pray. Amen."
This prayer resonates with Proverbs 19:21, emphasizing God's prevailing purpose over human plans.
Question: How can I pray to let go of someone in my life?
To let go of someone, a prayer for strength and acceptance of God's plan is beneficial: "God, I seek strength and courage as I release someone from my life today. Help me to trust Your plan for me and accept ensuing changes. Fill my heart with Your peace and guide me during this transition. In Jesus' name, I pray. Amen."
This prayer correlates with Jeremiah 29:11, a verse that reassures us of God's prosperous plans for our future.
---
Recommended for you
---
Author: Akatakpo Dunn
Dr. Akatakpo Dunn is a dedicated follower of Christ, an active member and speaker, and an ongoing learner of the Scriptures. Passionate about his faith and serving others, he is committed to sharing his spiritual journey and insights to inspire and uplift fellow believers. He has been active in the church for more than 23 years. Through The
Faithful Christian Blog
,
Dr. Dunn
combines his love for God, philanthropy, and Scripture, providing a valuable resource for those seeking to grow in their faith.
Follow me: on Youtube, Facebook, Twitter, Instagram, and Pinterest.
Content Disclosure:
At The Faithful Christian Blog, I create authentic and inspiring content. Although I am the main author, I occasionally use AI for minor language enhancements. This minimal AI usage ensures high-quality, trustworthy articles without compromising originality or sincerity, ultimately supporting our shared faith journey.
Warmly,
Dr. Akatakpo Dunn
Was this article helpful?