In the past couple of weeks, I have been considering the best way to serve my church.
And even though I had already worked in a rural health center for years, I felt I could do more.
I am a medical doctor, practicing for more than eight years.
And from time to time, immediately after church service, people come to me for medical assistance.
So, I thought to myself, why not set up a small medical unit for minor health conditions?
With lots of poor people battling various kinds of diseases, I knew I could help.
So, last Sunday, I decided to start a medical unit in the church with the consent of my pastor.
The truth is, Serving others is one simple and easy way of serving God.
And that's because we effortlessly place ourselves in other people's shoes and assist them.
Does it matter if you serve or not? Is there a blessing for helping others?
I have put together bible verses about serving others to inspire you.
---
Recommended for you
---
Bible verses serving others and the church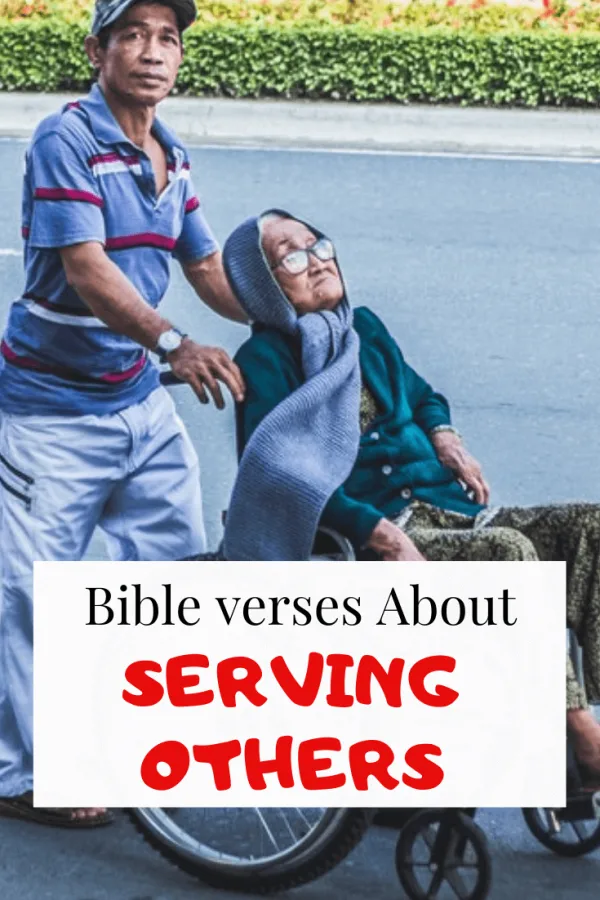 Hebrews 6:10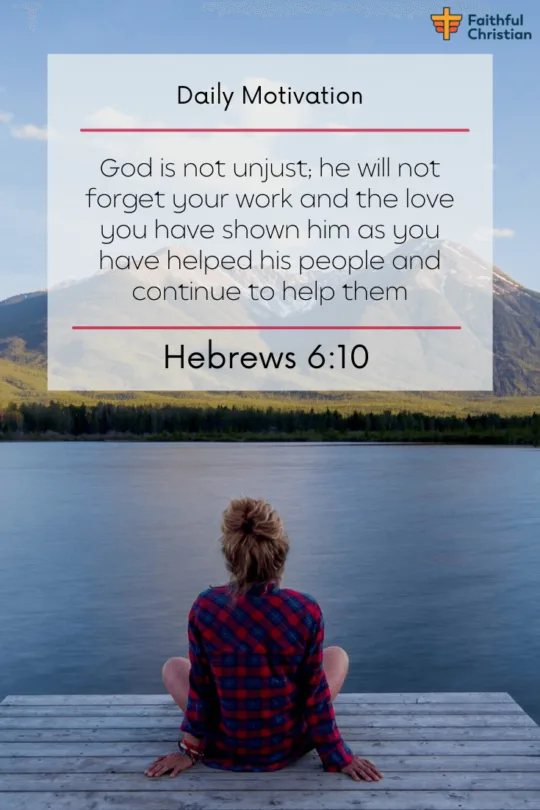 God is not unjust; he will not forget your work and the love you have shown him as you have helped his people and continue to help them
Matthew 23:11
The greatest among you will be your servant.
2 Corinthians 4:5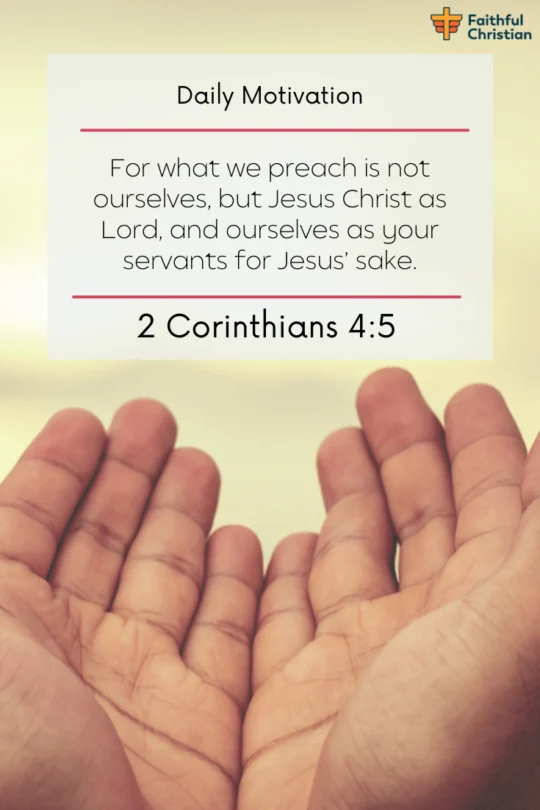 For what we preach is not ourselves, but Jesus Christ as Lord, and ourselves as your servants for Jesus' sake.
Luke 22:26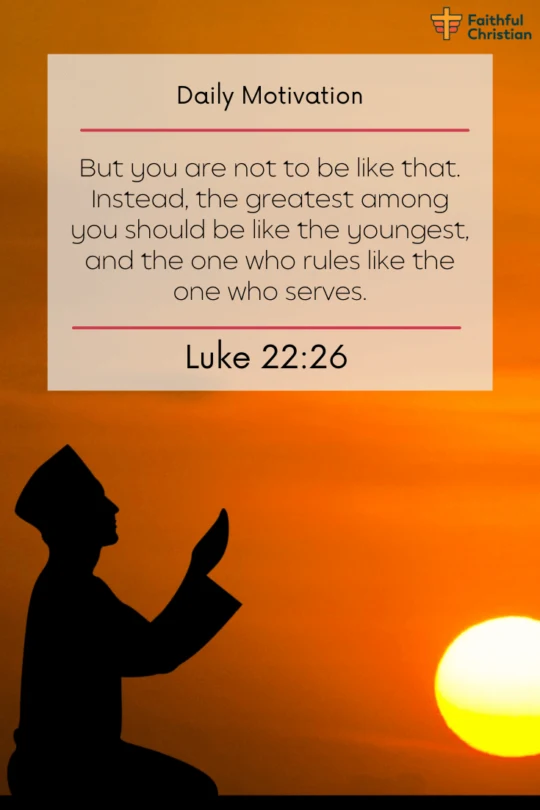 But you are not to be like that. Instead, the greatest among you should be like the youngest, and the one who rules like the one who serves.
Luke 22:27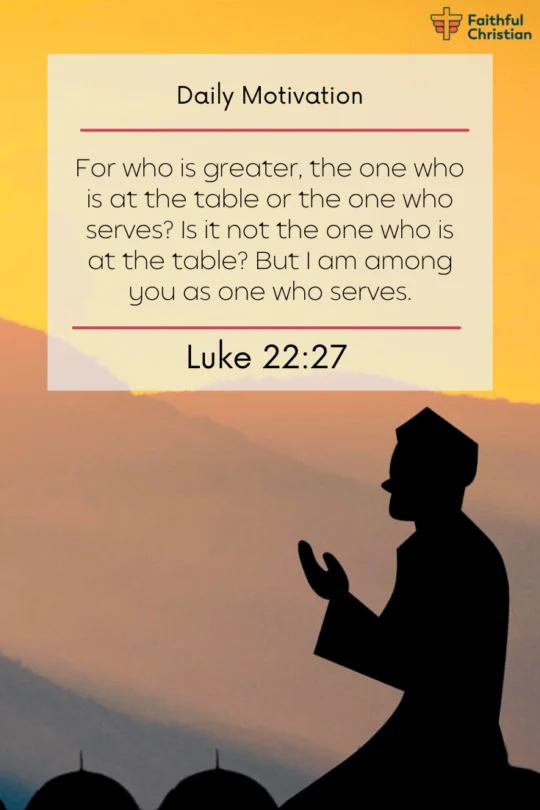 27 For who is greater, the one who is at the table or the one who serves? Is it not the one who is at the table? But I am among you as one who serves.
1 Corinthians 9:19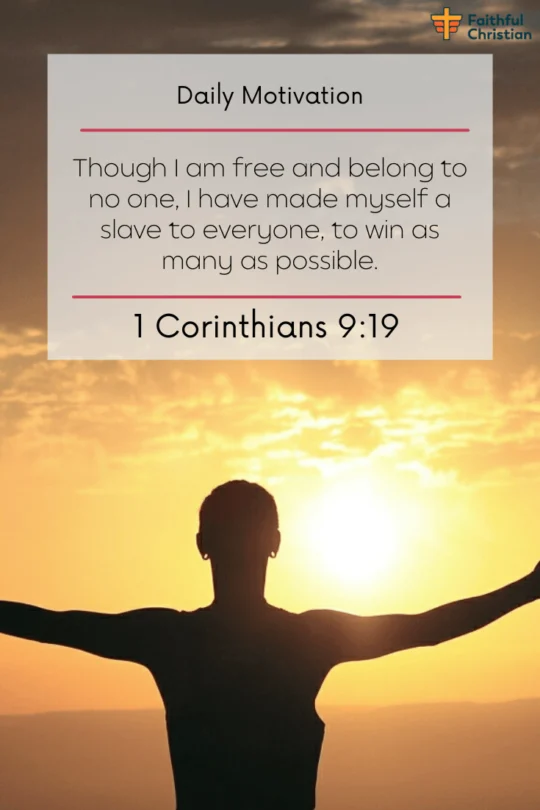 Though I am free and belong to no one, I have made myself a slave to everyone, to win as many as possible.
Mark 10:43-44
 Not so with you. Instead, whoever wants to become great among you must be your servant, 44 and whoever wants to be first must be slave of all.
Matthew 20:26-27
Not so with you. Instead, whoever wants to become great among you must be your servant, 27 and whoever wants to be first must be your slave—
2 Corinthians 11:23
Are they servants of Christ? (I am out of my mind to talk like this.) I am more. I have worked much harder, been in prison more frequently, been flogged more severely, and been exposed to death again and again.
Matthew 10:42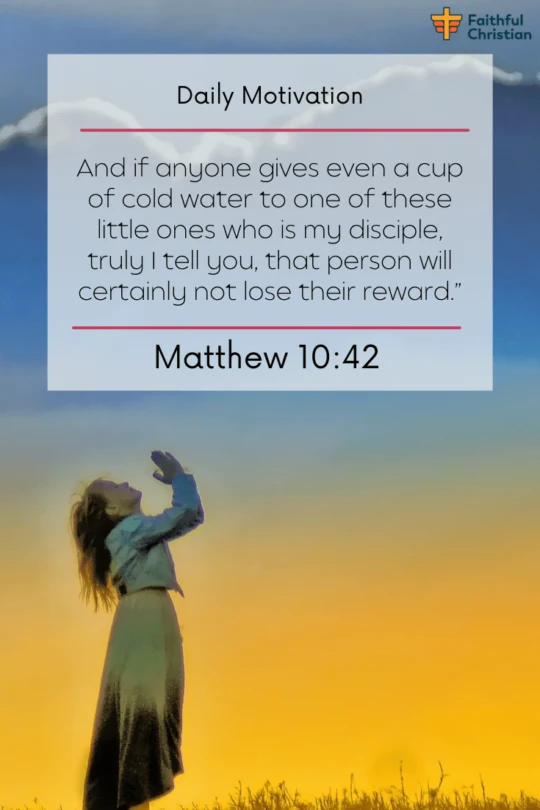 And if anyone gives even a cup of cold water to one of these little ones who is my disciple, truly I tell you, that person will certainly not lose their reward."
Hebrews 13:16
And do not forget to do good and to share with others, for with such sacrifices God is pleased.
1 Thessalonians 1:3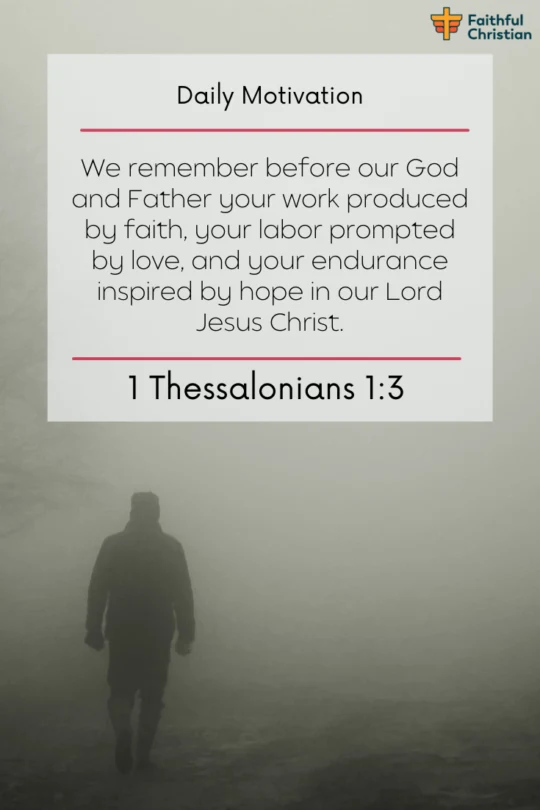 We remember before our God and Father your work produced by faith, your labor prompted by love, and your endurance inspired by hope in our Lord Jesus Christ.
Galatians 6:10
Therefore, as we have opportunity, let us do good to all people, especially to those who belong to the family of believers.
Matthew 25:35
For I was hungry and you gave me something to eat, I was thirsty and you gave me something to drink, I was a stranger and you invited me in,
Matthew 25:36
36 I needed clothes and you clothed me, I was sick and you looked after me, I was in prison and you came to visit me.'
Matthew 25:37
37 "Then the righteous will answer him, 'Lord, when did we see you hungry and feed you, or thirsty and give you something to drink?
Matthew 25:38-39
 38 When did we see you a stranger and invite you in, or needing clothes and clothe you? 39 When did we see you sick or in prison and go to visit you?'
Matthew 25:40
40 "The King will reply, 'Truly I tell you, whatever you did for one of the least of these brothers and sisters of mine, you did for me.'
John 13:14-15
Now that I, your Lord and Teacher, have washed your feet, you also should wash one another's feet. 15 I have set you an example that you should do as I have done for you.
Colossians 3:17
And whatever you do, whether in word or deed, do it all in the name of the Lord Jesus, giving thanks to God the Father through him.
Proverbs 14:31
Whoever oppresses the poor shows contempt for their Maker,
    but whoever is kind to the needy honors God.
Mark 9:41
Truly I tell you, anyone who gives you a cup of water in my name because you belong to the Messiah will certainly not lose their reward.
1 Timothy 6:18
Command them to do good, to be rich in good deeds, and to be generous and willing to share.
James 2:15-17
Suppose a brother or a sister is without clothes and daily food. 16 If one of you says to them, "Go in peace; keep warm and well fed," but does nothing about their physical needs, what good is it? 17 In the same way, faith by itself, if it is not accompanied by action, is dead.
Acts 11:29
The disciples, as each one was able, decided to provide help for the brothers and sisters living in Judea.
Romans 12:13
Share with the Lord's people who are in need. Practice hospitality.
Acts 4:34-35
that there were no needy persons among them. For from time to time those who owned land or houses sold them, brought the money from the sales 35 and put it at the apostles' feet, and it was distributed to anyone who had need.
Proverbs 19:17
Whoever is kind to the poor lends to the Lord,
    and he will reward them for what they have done.
Galatians 5:13
 You, my brothers and sisters, were called to be free. But do not use your freedom to indulge the flesh[a]; rather, serve one another humbly in love.
Proverbs 11:25
A generous person will prosper;
    whoever refreshes others will be refreshed.
Matthew 5:7
Blessed are the merciful,
    for they will be shown mercy.
Isaiah 32:8
But the noble make noble plans,
    and by noble deeds, they stand.
Colossians 3:23
Whatever you do, work at it with all your heart, as working for the Lord, not for human masters,
Ephesians 6:6-7
Obey them not only to win their favor when their eye is on you, but as slaves of Christ, doing the will of God from your heart. 7 Serve wholeheartedly, as if you were serving the Lord, not people,
Ecclesiastes 9:10
Whatever your hand finds to do, do it with all your might, for in the realm of the dead, where you are going, there is neither working nor planning nor knowledge nor wisdom.
---
Recommended for you
---
Serve others with these four tips
1.  Let love lead
Without loving your neighbor, it is impossible to please God.
As Christians, we must put the needs of others first and love them.
There are numerous ways you can help your neighbors.
By your neighbors, I mean your friends, family members, or anyone that ask for your help.
The truth is, they mustn't ask first before you help them.
Is there any way I can serve them and make their lives better?
Is there any way I can assist them in finding happiness?
Most times, we always believe that serving others is all about money.
But the trust is, whatever your heart tells you to do, do it.
You can assist by encouraging them with the word of God.
Or, you can assist your community and serve them with a skill you have learned.
Are you rich? Of course, you can also serve with your wealth.
At all times, we must open our hearts and love those around us.
The scripture says,
A new command I give you: Love one another. As I have loved you, so you must love one another.

John 13:34
2. Learn to be humble
Service to God requires humility.
You cannot serve others with pride.
Think about the Humility of Jesus Christ.
He came to the earth as a heavenly being, yet, he was humble to everyone.
He washed the feet of his disciples and encouraged them to do likewise.
If you genuinely want to serve, you must get off your high horse and accept others and love them the way they are.
As a doctor, I am sometimes guilty of this.
Some days, I get so worked out that I become arrogant.
So, these days, when I am stressed out, I remind myself to show leadership with humility.
I try to be kind and take care of my patients in the best way possible.
If you must serve others, you must be humble and tolerant.
The scriptures say,
Be completely humble and gentle; be patient, bearing with one another in love

Ephesians 4:2
3.  Help the poor always
We take little things for granted.
Helping others is one way to serve.
There are lots of impoverished people around you, and you can assist them with anything you have.
I have learned a lot from my wife. In that, I am usually ashamed to give others things I wouldn't use myself most times.
But I have found out that most of what I don't need are the needs of others.
There is nothing too small to give.
And there is nothing too little to serve with.
If there is someone that needs it, Just give it out with all your heart.
The scripture says,
Whoever is kind to the poor lends to the LORD, and he will reward them for what they have done
4. Serve the church to serve others
It is not a tedious task to serve God.
Another way you can serve others is by serving the church.
Next time you visit your church, just look around; Is there is something you can help with?
Is it cleaning the church or being a member of the choir?
If you serve God, he has promised to bless you.
The scripture says,
Pay careful attention to yourselves and to all the flock, in which the Holy Spirit has made you overseers, to care for the church of God, which he obtained with his own blood.

Acts 20:28
Author: Akatakpo Dunn
Dr. Akatakpo Dunn is a dedicated follower of Christ, an active member and speaker, and an ongoing learner of the Scriptures. Passionate about his faith and serving others, he is committed to sharing his spiritual journey and insights to inspire and uplift fellow believers. He has been active in the church for more than 23 years. Through The
Faithful Christian Blog
,
Dr. Dunn
combines his love for God, philanthropy, and Scripture, providing a valuable resource for those seeking to grow in their faith.
Follow me: on Youtube, Facebook, Twitter, Instagram, and Pinterest.
Content Disclosure:
At The Faithful Christian Blog, I create authentic and inspiring content. Although I am the main author, I occasionally use AI for minor language enhancements. This minimal AI usage ensures high-quality, trustworthy articles without compromising originality or sincerity, ultimately supporting our shared faith journey.
Warmly,
Dr. Akatakpo Dunn
Was this article helpful?