Persecutions and temptations are the greatest tricks of the devil.
He moves from place to place to cause pain in our lives.
When you are tempted beyond your imaginations, do not forget the bedrock of the Christian faith.
That through endurance and perseverance, we will enter into eternal life after death.
So, when you feel discouraged, you must pick yourself up.
One bible verse to encourage you in hard times is Isaiah 55:8 – For My thoughts are not your thoughts, Nor are your ways. My ways.
This verse is essential for us to understand God's spiritual thinking.
When we feel that he has abandoned us, we must understand that he is the all-knowing God.
When we've prayed for years, and God is yet to answer our prayer, we must be patient. He knows all things.
Job, God's faithful servant, said: "Can anyone teach God knowledge?" (Job 21:22). Job understood that the ways of God are far higher than the ways of men.
If you are going through difficulties, God's plan may be delayed but never denied. His plan will be executed at the best time (for your Good).
For I know the thoughts that I think toward you, saith the Lord, thoughts of peace, and not of evil, to give you an expected end. Jeremiah 29:11
---
Recommended for you
---
My thoughts are not your thoughts: what does it mean?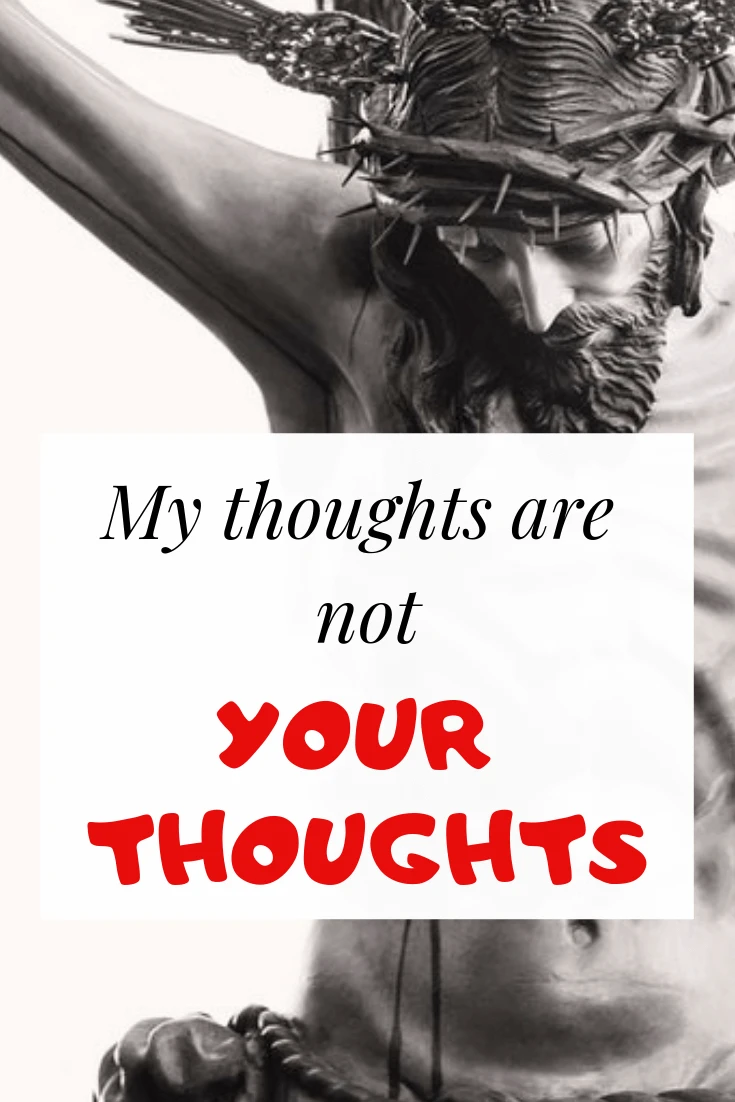 Through the prophet Isaiah, God revealed his plans. He said
Let the wicked forsake his way, and the unrighteous man his thoughts: and let him return unto the Lord, and he will have mercy upon him; and to our God, for he will abundantly pardon.

For my thoughts are not your thoughts, neither are your ways my ways, saith the Lord.For as the heavens are higher than the earth, so are my ways higher than your ways, and my thoughts than your thoughts Isaiah 55:7-9
God's spiritual thinking
The spiritual thinking of our father is entirely different from ours.
He can forgive us, notwithstanding the sin perpetrated.
While it is difficult for us to understand this, God accepts everyone into his fold that is willing to repent.
This warning from Isaiah should also be applied in our daily lives.
We must reason according to the understanding of our God.
Our spiritual thinking must be similar to understanding him.
We should not be quick to judge our father because he knows everything.
When you are going through a series of temptations, you must understand that there is a reason why God allows it. He lets the devil tempt us because there is better hope in the end.
Endurance is needed in the service of God.
Jesus suffered and was blessed in the end.
Job also suffered and received a reward in the end.
Suffering for Christ is nothing to worry about. We must be patient, calm, and steadfast, knowing that we will receive blessings from God if we continue until the end.
Blessed is the man that endureth temptation: for when he is tried, he shall receive the crown of life, which the Lord hath promised to them that love him.  James 1:12
---
Recommended for you
---
How Paul's transformation reveals God's spiritual thinking
The story of Saul, later called Paul, shows the thoughts of God.
Understanding the thoughts and ways of God will give you courage when tempted by the devil. God's ways are beyond what we can reason.
The story of Paul
The book of Acts chapter 9 describes the story of Saul. He was known for the persecution of the Christian faithful. After the death of Christ, Saul was more interested in the commandments of the laws of Moses. He persecuted the Christians for following Christ.
On his way to Damascus, to yet cause further persecutions, the heavens opened, and Christ revealed himself to him. He was blind for three days before he regained his sight through Christ's disciple, Ananias. Immediately Paul received the holy spirit; he went about preaching the word of God.
There are three lessons from the story of Paul to understand God's Thoughts
1. Paul was a persecutor of God's people
Through Paul, the gentile received a new Gospel of truth. So that, we all should be partakers of the blessing of Abraham. This is an important message of God, yet he gave Paul responsibility.
Paul was a persecutor of the early day Christians. He gave deadly threats and could have killed some of the Jews at that time.
And Saul, yet breathing out threatenings and slaughter against the disciples of the Lord, went unto the high priest,

And desired of him letters to Damascus to the synagogues, that if he found any of this way, whether they were men or women, he might bring them bound unto Jerusalem Acts 9: 1-2
Yet, God was all-knowing. His thoughts are beyond anything we could imagine. He called Paul into his fold, baptized him, and he was faithful until the end.
2.  The disbelief of Ananias on God's choice for his works
Ananias was a disciple of Christ. When God appeared to Saul, he became blind for a few days. In a dream, God revealed himself to Ananias to visit Saul. Through his visit, Saul would regain his sight.
And there was a certain disciple at Damascus, named Ananias; and to him said the Lord in a vision, Ananias. And he said, Behold, I am here, Lord.

And the Lord said unto him, Arise, and go into the street which is called Straight, and enquire in the house of Judas for one called Saul, of Tarsus: for, behold, he prayeth Acts 9:10-11
Ananias was surprised. He was surprised to know God had called Saul, having heard how he persecuted the early Christians and killed them.
Then Ananias answered, Lord, I have heard by many of this man, how much evil he hath done to thy saints at Jerusalem:

And here he hath authority from the chief priests to bind all that call on thy name.

But the Lord said unto him, Go thy way: for he is a chosen vessel unto me, to bear my name before the Gentiles, and kings, and the children of Israel: Acts 9:13-15
3.  The Jews were also marveled at the ways of God
After Paul's calling and baptism, he received the holy spirit and started preaching the gospel to the Jews and Gentiles alike. This surprised the Jews at that time. They were surprised how a man that persecuted Christ could suddenly preach of the goodness of God. They were astonished by the ways of God.
But all that heard him were amazed, and said; Is not this he that destroyed them which called on this name in Jerusalem, and came hither for that intent, that he might bring them bound unto the chief priests? Acts 9:21
The thoughts of God are not the thoughts of men. He thinks even beyond us and allows the impossible to happen. In the end, we all understood the reasons why Paul was called (see here).
My thoughts are not your thoughts Bible verses.
Other Bible verses demonstrate the thoughts of the Most-High God. The story of Jesus, Jonah, and the Israelites are there for our edification.
I have compiled a list of bible verses about God's thoughts by his grace. Read and be blessed.
1.  Psalm 92:5-9 – God has deep thoughts for us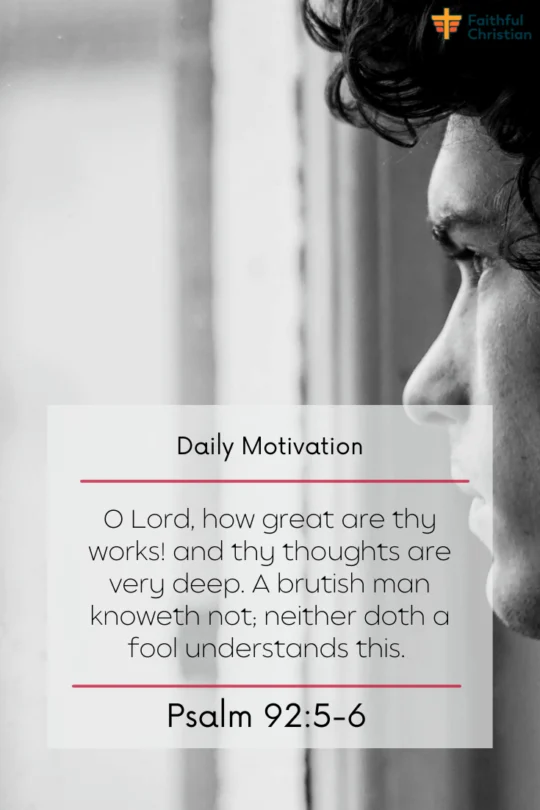 O Lord, how great are thy works! and thy thoughts are very deep. A brutish man knoweth not; neither doth a fool understands this.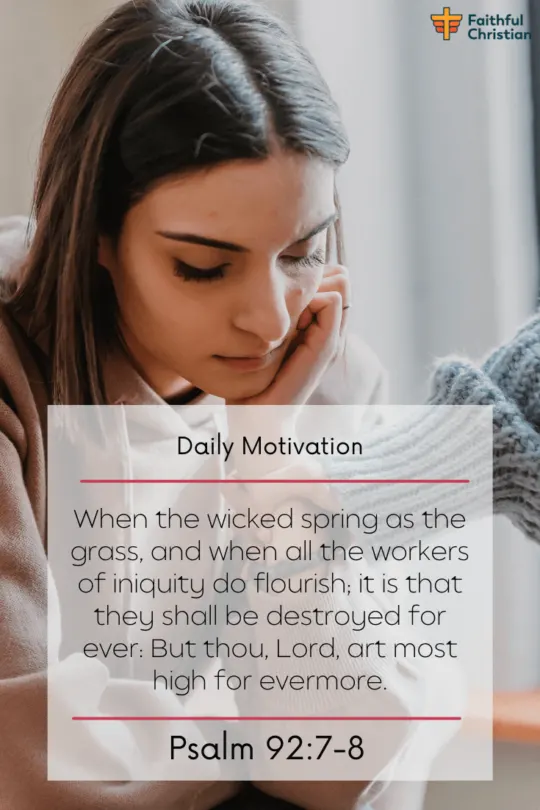 When the wicked spring as the grass, and when all the workers of iniquity do flourish; it is that they shall be destroyed for ever: But thou, Lord, art most high for evermore.
God is all-knowing and all-powerful. He knows the beginning and end of the world. He understands what we are going through. If you are sick and yet to receive healing, God knows. Yet, he allows it.
God always has a better plan for us. In the end, We will rejoice even amid temptations. The thoughts of our father towards us are deep, and we cannot understand them.
Though the wicked flourish and the evil man has a better job than you do, God knows why. He has a better plan for those who trust in him.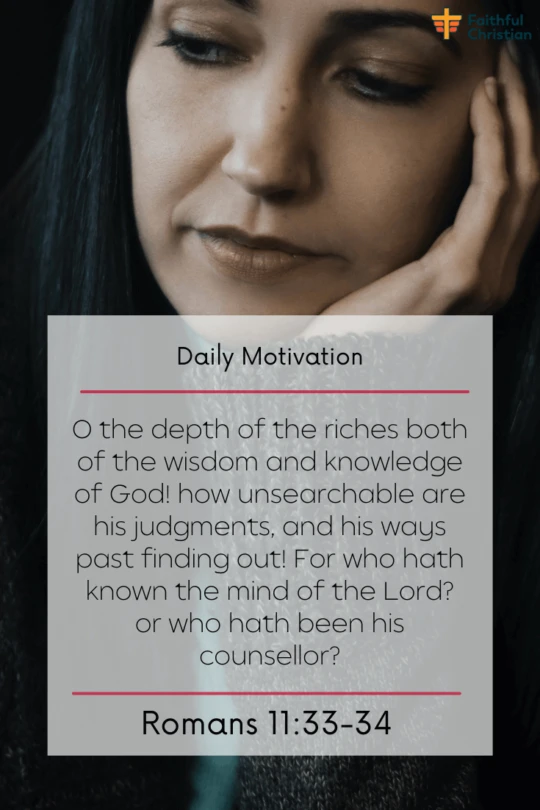 O the depth of the riches both of the wisdom and knowledge of God! how unsearchable are his judgments, and his ways past finding out! For who hath known the mind of the Lord? or who hath been his counsellor? Romans 11:33-34
2.  Psalm 40:5 – God has already done a lot for us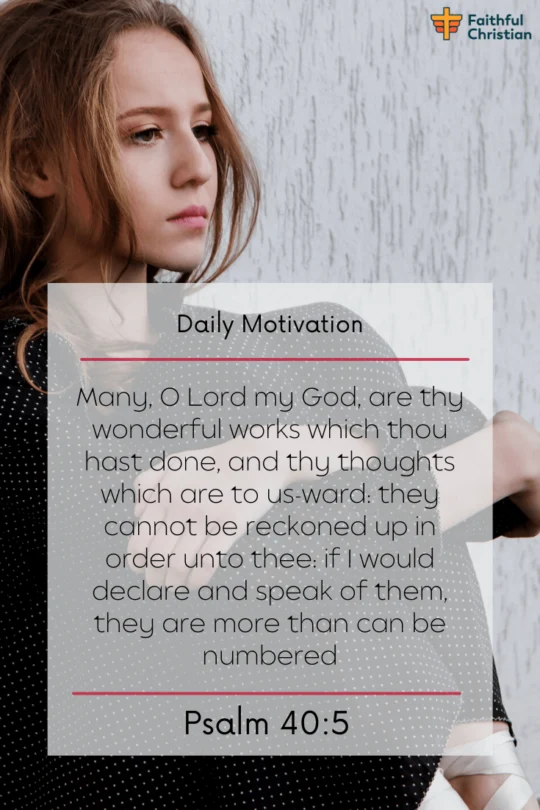 Many, O Lord my God, are thy wonderful works which thou hast done, and thy thoughts which are to us-ward: they cannot be reckoned up in order unto thee: if I would declare and speak of them, they are more than can be numbered
Each time the devil tempts you, don't lose faith. Remember that God has always been there for you. When you feel God has abandoned you, he is still there protecting you.
There are lots of people that cannot eat, but you can. You should thank God for that. There are thousands of people that have nothing to eat, but he has provided for you. There are millions of people that have one illness or the other, yet he saved you from infirmities.
No one can count the goodness of God in his life. At night, he protects you from the evil one. In the day, he protects you from all your activities. Despite not getting what you have prayed for, you cannot deny he is protecting you in other areas of your life.
Your thoughts are inferior to that of God. He is all-knowing. Therefore, please put your trust in him always.
3.  Hosea 14:9 – The ways of God is always right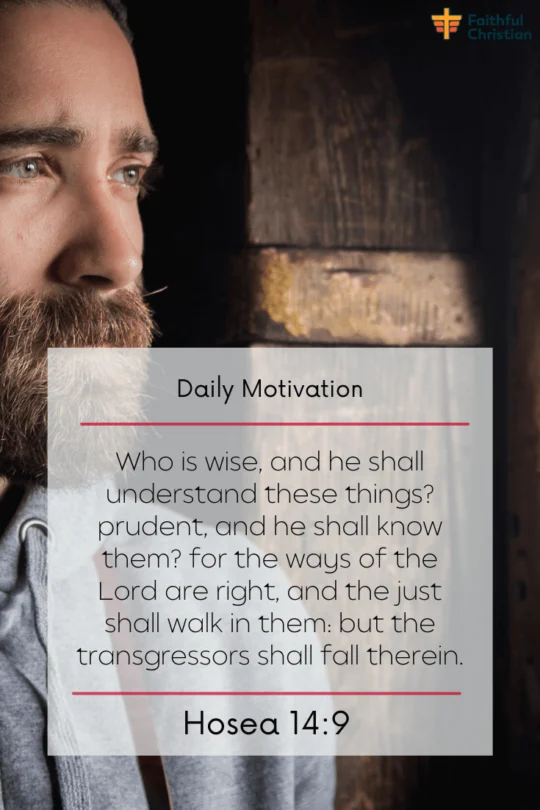 Who is wise, and he shall understand these things? prudent, and he shall know them? for the ways of the Lord are right, and the just shall walk in them: but the transgressors shall fall therein.
Because God knows the future and sees all things. His ways are always right. He knows how we started and how we will end. Therefore, he is the best person to direct the affairs of our lives.
We must trust God always in times of difficulties. He will never forsake you in the end.
Author: Akatakpo Dunn
Dr. Akatakpo Dunn is a dedicated follower of Christ, an active member and speaker, and an ongoing learner of the Scriptures. Passionate about his faith and serving others, he is committed to sharing his spiritual journey and insights to inspire and uplift fellow believers. He has been active in the church for more than 23 years. Through The
Faithful Christian Blog
,
Dr. Dunn
combines his love for God, philanthropy, and Scripture, providing a valuable resource for those seeking to grow in their faith.
Follow me: on Youtube, Facebook, Twitter, Instagram, and Pinterest.
Content Disclosure:
At The Faithful Christian Blog, I create authentic and inspiring content. Although I am the main author, I occasionally use AI for minor language enhancements. This minimal AI usage ensures high-quality, trustworthy articles without compromising originality or sincerity, ultimately supporting our shared faith journey.
Warmly,
Dr. Akatakpo Dunn
Was this article helpful?