In times of trials, we must pray for courage and strength.
There is simply nothing we can accomplish on our own.
We need strength from above to see us through all our troubles.
If you are struggling with a new project and need God's power and wisdom, you can depend on him to help you.
Likewise, if you are fearful of the future, you need to pray for courage from above.
There are times in our lives when we aren't sure of what actions to take.
Should I continue with this current project?
Should I go on in this relationship?
Can I continue working in these terrible conditions?
Will I ever get healed again?
In your darkest hours, you can rely on God's mighty hand to help return happiness to your heart.
Thankfully, there are no impossibilities with God.
So, be rest assured, if you believe in him, he will answer all your prayer.
I have put together this prayer for courage to move forward and do the right thing.
---
Recommended for you
---
Short prayer for courage and determination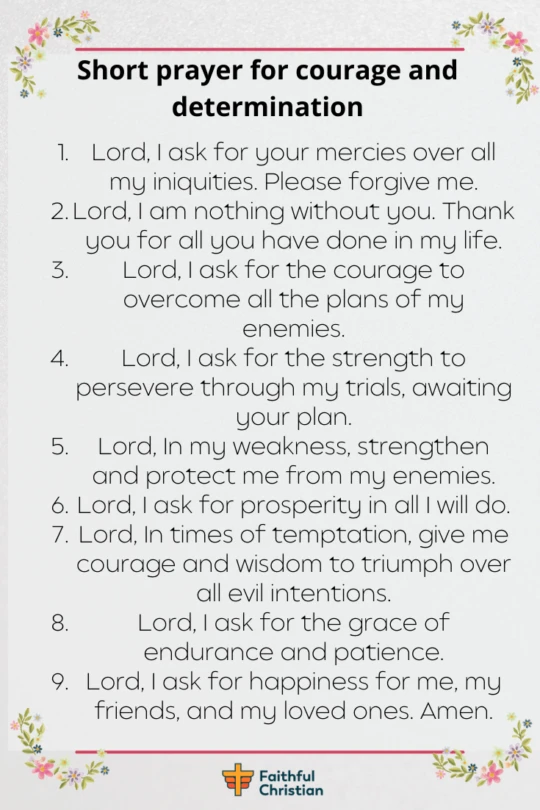 Oh Mighty Father, in Your presence, I humbly kneel. Picture me as the prodigal son, seeking forgiveness. I have erred. Just as You showed mercy in Luke 15:20, show me Your grace.
Without You, Lord, I am a flicker in the wind. You are my anchor. Like You stilled the storm in Mark 4:39, still my anxieties. Your presence calms my soul.
The plans of enemies loom large. They're like Goliath, daunting and intimidating. But I remember David in 1 Samuel 17:45. Like him, grant me courage, Almighty.
Trials come. They're refining fires. But Zechariah 13:9 paints a hopeful picture. You refine and test us. Through this, we are made pure. Grant me the strength to endure, Father.
Enemies abound. They threaten to break me. But You, Lord, are my fortress. Psalm 18:2 paints You as a rock and shield. Be my strength and protector, Oh Sovereign God.
Prosperity, Lord, is my plea. As I venture forth, make my path fruitful. Proverbs 16:3 tells us to commit to the Lord. So I commit my endeavors to You, my guide.
Temptations will come. They're sly, deceptive. Like Jesus in Matthew 4:1-11, arm me with courage, wisdom. Let me stand victorious against evil, Father.
Endurance and patience are golden traits. I seek them, Father. As James 1:4 instructs, let patience perfect me. Let me embrace the waiting, secure in Your timing.
Joy. It's the light in life's darkness. I crave it, for myself, for loved ones. As the Psalmist declares in Psalm 16:11, You offer joy. Fill our hearts, Father. Let our lives sing Your praise.
In all things, I trust You. Like Proverbs 3:5-6, I lean not on my understanding. In all ways, You lead me. My prayer, Lord, is Your will.
In the powerful name of Jesus, I pray. Amen.
Prayer for courage bible verse
Deuteronomy 31:6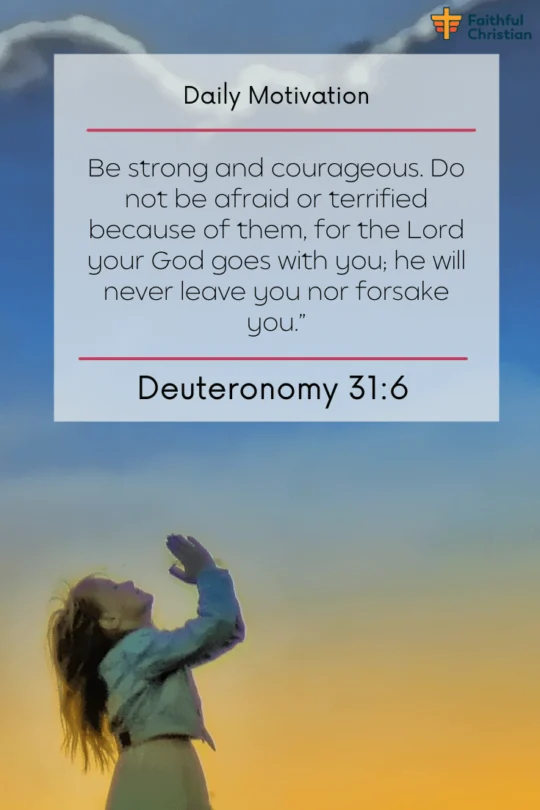 Be strong and courageous. Do not be afraid or terrified because of them, for the Lord your God goes with you; he will never leave you nor forsake you."
Joshua 1:9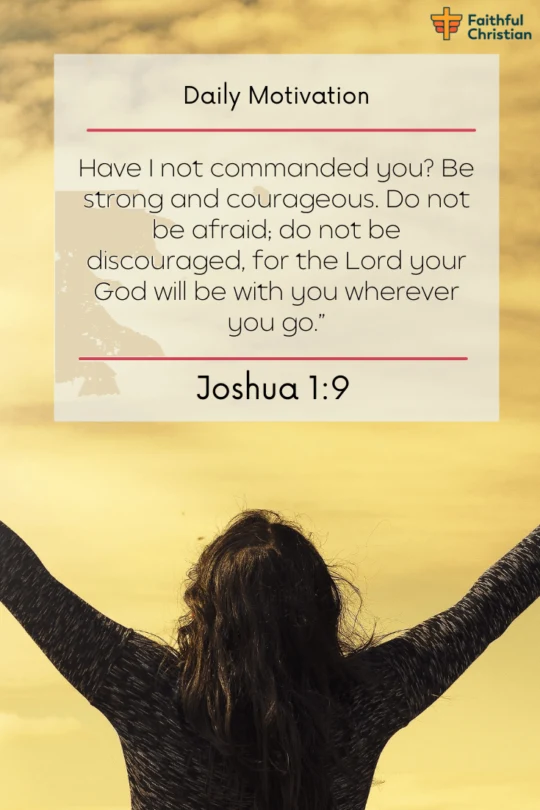 Have I not commanded you? Be strong and courageous. Do not be afraid; do not be discouraged, for the Lord your God will be with you wherever you go."
Ephesians 6:10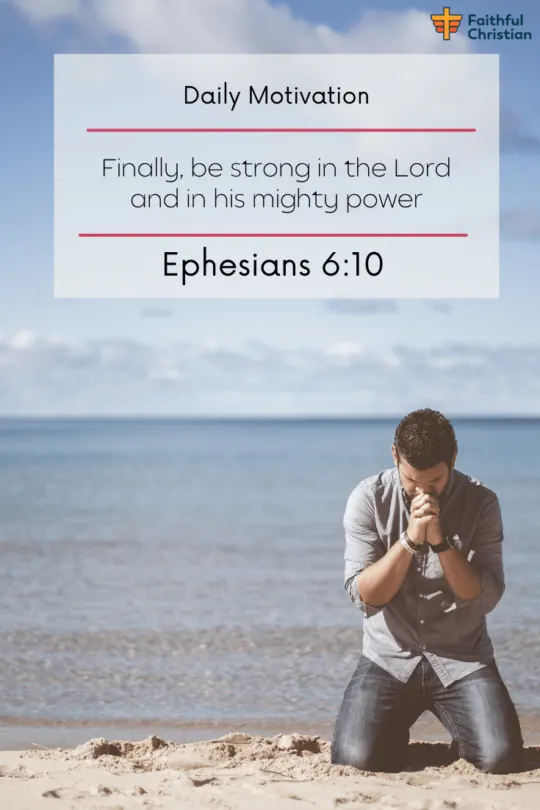 Finally, be strong in the Lord and in his mighty power
Luke 12:32
 "Do not be afraid, little flock, for your Father has been pleased to give you the kingdom.
---
Recommended for you
---
Prayer for courage, strength, and wisdom
We must give thanks
We go through a lot each blessed day.
In our trials, we must stop for a minute to give thanks.
This is crucial in our service to God and for our prayers.
God has still been faithful despite all your troubles and concerns if you will be truthful to yourself.
At least, I know he has not allowed you to go blind (that, of course, is the reason you could read this post).
So, we must appreciate him for all he has done.
God loves praises and requires that we worship him with thanksgiving (even in bad times).
So, before we pray for courage and strength,  let's thank Him for his loving-kindness toward us.
The scripture says,
I will give thanks to the Lord because of his righteousness;
    I will sing the praises of the name of the Lord Most High.

Psalm 7:17
Let us pray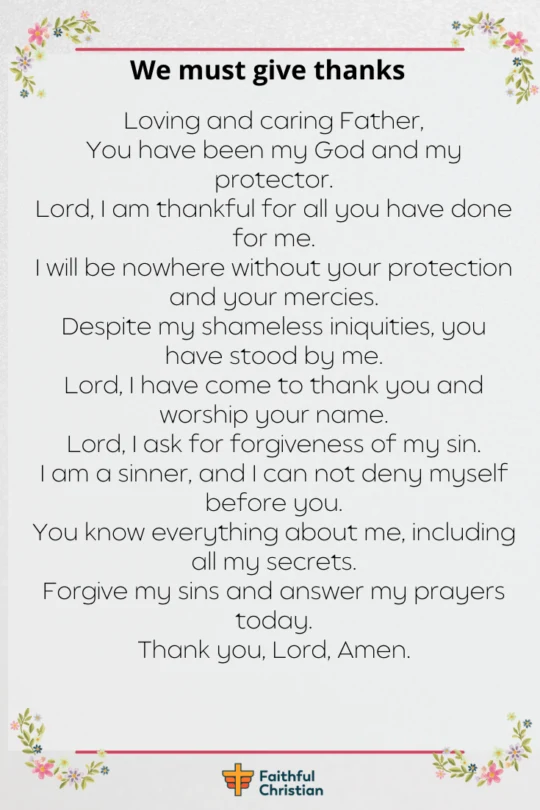 Father of Love, you've been my lighthouse. Psalm 18:28 says, "You, LORD, keep my lamp burning; my God turns my darkness into light." Like a lantern guiding ships at sea, you've steered my life from danger.
With a heart full of thankfulness, I praise you. Your blessings shower me like countless stars in the night sky. I would be lost without your guiding hand, Father. Your grace is my compass, my guidepost.
Even in my weakest moments, you've stood firm. Your love, like the faithful shepherd of Psalm 23, has been unending. You've lifted me when I stumbled, brushed off my mistakes, and set me back on the path.
Today, I come to celebrate your Holy Name. I'm in awe of your majesty, Lord. You've shown me an all-embracing love that picks me up even in my lowest valleys.
Forgiveness, oh Mighty One, is what I seek. I'm imperfect, a truth I can't hide from your all-seeing gaze. You know every corner of my heart, all my concealed faults, all my hidden sins.
Mercy is what I beg of you, Lord. Wash me clean from my sins, as Psalm 51:2 requests: "Wash me thoroughly from my iniquity, and cleanse me from my sin." Fill me with the strength to walk the virtuous path.
In your divine wisdom, I implore you to hear my prayers today. Fill my life with grace. Answer my earnest pleas, Almighty Father.
Gratitude swells within me once more. Your love is my foundation, my northern star, my safe harbor. You've been my pillar of strength, Father. You're the wind in my sails, guiding me towards calm seas.
Thank you, Almighty Lord. Your love is the guiding light on my path.
In your name, I pray, Amen.
Rejoicing in hope
What are your challenges and your trials?
God has sent the Holy Spirit to comfort us in our trials.
That, we must remain steadfast in his worship and praises.
So, right now, we will ask for the courage and determination to do the right thing.
We will ask God to give us the wisdom and strength to stay focused on our trials.
I know for sure that temptations and trials are inevitable.
But with God on our side, we know we will rejoice in the end.
The scripture says,
Not only so, but we[a] also glory in our sufferings, because we know that suffering produces perseverance; 4 perseverance, character; and character, hope. 5 And hope does not put us to shame, because God's love has been poured out into our hearts through the Holy Spirit, who has been given to us

Romans 5:3-5
Let us pray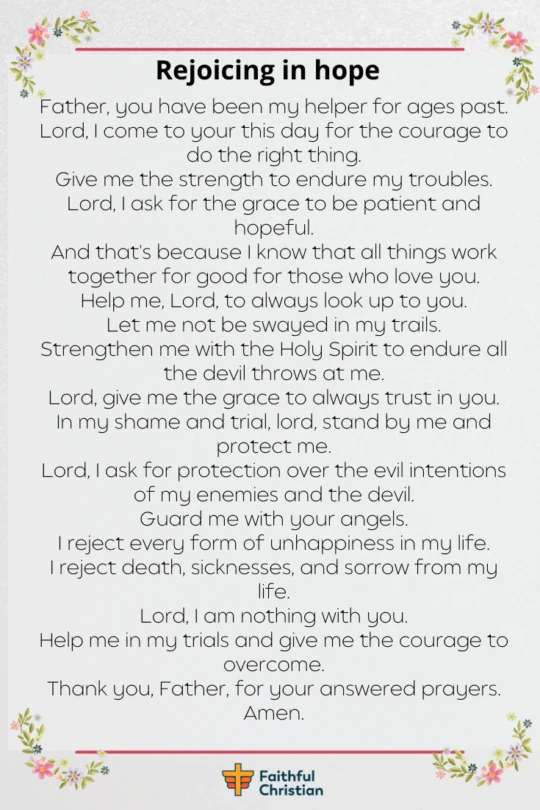 Almighty Father, my ancient guide, my timeless protector,
Today, I knock on your heavenly door. I need the courage to always pick what's right, a concept mirrored in your Word, where Deuteronomy 31:6 assures us you will never leave us nor forsake us.
Lend me your strength, oh God. Strength to meet my troubles head-on. For as Paul told the Philippians, I can do all things through you who strengthens me (Philippians 4:13).
Bestow upon me the grace of patience. Patience that sprouts from hope, like a seed nurtured by faith. Romans 12:12 teaches us to be joyful in hope, patient in affliction, and faithful in prayer.
I stand on your promise in Romans 8:28, Father. I believe that for me, your child, everything works together for my good because I love you.
In life's labyrinth, Lord, let me look to you. Psalm 121:1-2 declares, "I lift up my eyes to the mountains—where does my help come from? My help comes from the Lord…"
May I stand firm in my trials, oh Lord. Just as James 1:12 encourages us to remain steadfast under trial, bless me with this divine perseverance.
Empower me, oh Heavenly Father, with the Holy Spirit. Let me stand firm against the enemy's onslaught, just as Ephesians 6:10-11 instructs us to put on the full armor of God.
Gift me the grace of trust, Lord. As Proverbs 3:5-6 advises us, I choose to trust in you with all my heart.
In my shame and struggle, be my shelter, Lord. Psalm 46:1 reminds us you are our refuge and strength, an ever-present help in trouble.
I ask for your divine shield, oh God. Keep me safe from those who wish me harm. You promised in Psalm 91:11 that you'd command your angels to guard us.
I refuse unhappiness, oh Almighty. I reject death, sickness, and sorrow. John 10:10 declares you came that we may have life, and have it abundantly.
I confess, oh Lord, that I am nothing without you. You are the vine, I am the branches (John 15:5). Fill me with your Spirit. Guide me through trials. Grant me victory, oh God.
Thank you, Father. Thank you for hearing me. Hebrews 4:16 invites us to approach your throne of grace with confidence, knowing that you always hear us.
In your glorious name, I pray. Amen.
He will never leave you alone.
About four months ago, I had already lost hope when God intervened.
I had operated on a patient that suddenly started bleeding.
But thankfully, as I prayed, God came to the rescue and healed my patient.
If you are struggling with any trouble, don't ever think God has abandoned you.
Don't let the devil's spirit of cowardice enter into your soul.
Stand by your conviction that God will miraculously help you.
The scripture says,
The Lord himself goes before you and will be with you; he will never leave you nor forsake you. Do not be afraid; do not be discouraged."

Deuteronomy 31:8
Let us pray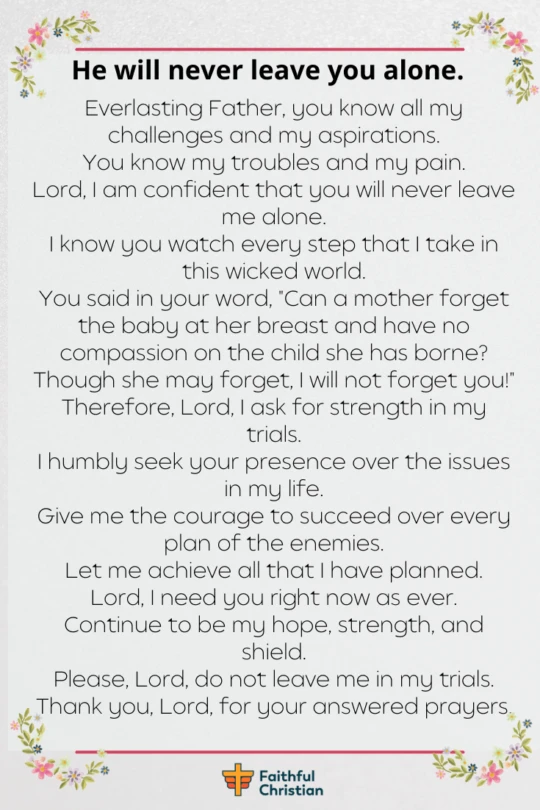 Eternal Father, you understand the hurdles I face, the dreams I chase. You grasp my pain, my strife. You see my heart, bare and bright.
I know, Father, you'll never leave my side. You're my rock, my guide, in this storm-tossed life. The scriptures promise this in your own words, drawing a parallel to a mother's love for her child, a love you've magnified a thousand-fold for us (Isaiah 49:15).
The Almighty stands with me, gifting strength for every trial. Just as David sought your help in Psalms 28:7, I too seek your strength, your steadfast love. My challenges aren't bigger than your power.
Your presence, Lord, is my plea. It's your light I need to see me through. It's your courage I crave to conquer the darkest plans of the enemy. I ask, like Joshua in Joshua 1:9, to be strong, courageous, knowing you are with me wherever I go.
I have dreams, Lord, big ones. Let me live them out. You've promised in Jeremiah 29:11, a future filled with hope, and I claim it!
I need you, Father, every moment of every day. Be my hope, my strength, my shield, just as you were for the Psalmist in Psalm 28:7.
In my trials, Lord, stand by me. I need your constant love, your guiding hand. You've promised to be my refuge, my strength, an ever-present help in times of trouble (Psalm 46:1), and I believe!
And for this, for all you are, for all you do, thank you, Lord. Thank you for hearing, for answering, for being the steadfast love that never fails. You're my answered prayer, my constant companion. You are the great "I AM" (Exodus 3:14). Your love never fails, never gives up, and never runs out on me.
God thinks about you.
God is our helper and our strength.
He loves us so much and is willing to protect and strengthen us.
Whatever you want to achieve, you must ask God for protection and guidance.
He is able to see you through all your challenges, even in impossible times.
The scripture says,
We love because he first loved us.

1 John 4:19
Let us pray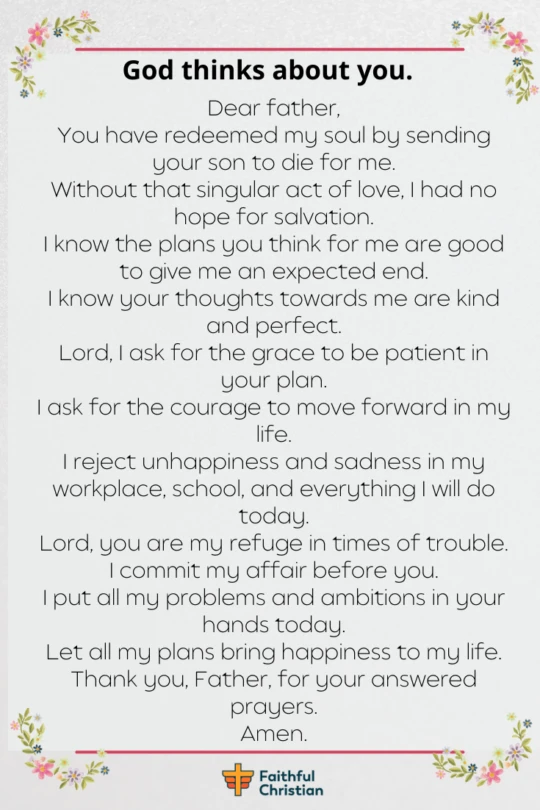 Dearest Lord, our Redeemer,
Your limitless love is our salvation. It was the sacrifice of your Son, the embodiment of your boundless compassion, that freed our souls. This act, as the Bible puts it in John 3:16, signifies the depth of your love for humanity.
Without this love, we would be aimless. Like a ship without a compass on the vast sea of life. But you, oh Father, provided us a beacon of hope.
Your plans for us, Lord, are laced with kindness. Just as Jeremiah 29:11 tells us, you have intentions for our welfare, to offer us a future full of hope.
We humbly ask for your grace. We seek patience to trust in your divine plan. We crave the courage to step boldly into life's labyrinth. You, the Almighty, are our source of strength.
Every day, we face a battle. We wage war against sadness and unhappiness. We know that joy and peace are our inheritance, as stated in Psalm 30:5, where joy comes in the morning. In this knowledge, we boldly reject despair.
You, oh Lord, are our fortress in times of trial. We find refuge under your protective wing, just like Psalm 46:1 describes you as our ever-present help in times of trouble.
Before you, we lay our hopes and fears. We surrender our dreams and concerns into your care, believing that you hold the reins to our destiny.
We trust our plans to bring joy to our lives. This trust is based on Proverbs 16:3, which promises that if we commit to the Lord, our plans will succeed.
Father, your attention to our prayers leaves us in awe. You hear us. You answer us. You are, as Psalm 17:6 describes, the God who inclines His ear to us.
Thank you, Father, for your ceaseless blessings. With gratitude, we conclude our prayer, echoing the words of the Psalmist in Psalm 136:1, "Give thanks to the Lord, for he is good. His love endures forever."
Amen.
Frequently Asked Questions
What is the prayer of courage and wisdom?
Ever feel like you need a divine boost to help you face adversity? That's where the prayer of courage and wisdom steps in. Drawing from King Solomon's humble plea for discernment (1 Kings 3:9), it invites a divine partnership in your decisions.
Here's a template to guide you: "Dear God, I need courage. Courage to confront the challenges looming over me. And wisdom? I need that too. Wisdom to discern Your will in the confusion. Remind me of your promise in Joshua 1:9, Lord. Your promise that I'll never walk alone."
What is a strong prayer for strength?
Need a divine dose of strength? Channel the indomitable spirit of the Apostle Paul! Echo his confident declaration in Philippians 4:13: "I can do all things through Christ who strengthens me."
You might pray something like this: "Dear Lord, when my strength falters, be my rock. Renew my weary spirit, guide me, and make me strong. Let me conquer obstacles, not through my might, but through Christ. Through Him who strengthens me."
What is a simple prayer for courage?
Seeking courage in simple words? Let's turn to Deuteronomy 31:6. It's a reminder that fear and uncertainty don't have the final say.
Try this: "God, in moments of fear, be my courage. Let me remember You're always with me. You promise not to abandon me. Help me, Lord, to be brave."
How do you pray for strength for someone?
Want to pray strength for someone else? Stand on the promise of Isaiah 40:29. It's a divine reassurance that God is a giver of strength.
Try this prayer: "Dear God, I lift up [person's name] to You. Grant them strength in their struggles. Renew their spirit in weariness. Let them feel Your promise in Isaiah. The promise that You give power to the weak."
What Psalm is the prayer for courage?
Seeking courage in the Psalms? Psalm 27 is your go-to. It's a brave declaration in the face of fear.
It says, "The Lord is my light and my salvation—whom shall I fear?" It's a powerful affirmation that God is with us, even in times of fear and uncertainty.
What is a prayer for strength during difficult times?
Facing tough times? Let Psalm 46:1-3 anchor your prayer for strength. It's a divine declaration of God's constant presence.
Your prayer could be: "God, in my trials, be my refuge. Be my strength. When mountains crumble and earth shakes, remind me You're still there. Your help is ever-present, even in trouble."
What is a short prayer for strength and courage in difficult times?
Need a compact prayer for strength and courage? Look to Isaiah 41:10. It's a powerful reminder of God's promises.
Your prayer could be: "Dear God, in times of strain, be my strength. In fear, be my courage. Help me trust Your promises. Remind me You're with me, ready to uphold me."
What is a prayer for strength and protection?
Seeking divine protection and strength? Echo the trust in Psalm 91:2. Here's a template: "Dear Lord, You are my fortress. My refuge. I trust in You. In danger, be my shield. In weakness, be my solace."
What is a prayer for strength and courage during difficult times for a family?
Praying for family in tough times? Try this: "God, I lift my family to You. In our trials, be our pillar. Help us shoulder each other's burdens, as Galatians 6:2 advises. Protect us, Lord. Guide us through our trials."
What is a prayer for spiritual strength? Need a spiritual strength booster?
Use Ephesians 6:10-11 as your anchor. A suggested prayer could be: "God, I need spiritual might. Help me stand strong in You. Let me wear Your armor. Guide me to resist the enemy and walk in Your paths."
Can you share some Bible verse prayers for strength and courage?
Looking for Bible verse prayers for strength and courage? Here are a few: Joshua 1:9, Isaiah 41:10, and Philippians 4:13.
How do I pray for strength and guidance?
Need guidance in seeking strength? Lean on Proverbs 3:5-6. Try this prayer: "God, I seek Your strength. Guide me when I'm lost. Help me trust in You, not my understanding. Guide my path, Lord."
What is a prayer for strength at work?
Seeking strength in your work life? Let Colossians 3:23 guide your prayer. Like this: "God, be my strength at work. Remind me I'm working for You. Let all I do reflect Your glory. Help me work wholeheartedly."
Author: Akatakpo Dunn
Dr. Akatakpo Dunn is a dedicated follower of Christ, an active member and speaker, and an ongoing learner of the Scriptures. Passionate about his faith and serving others, he is committed to sharing his spiritual journey and insights to inspire and uplift fellow believers. He has been active in the church for more than 23 years. Through The
Faithful Christian Blog
,
Dr. Dunn
combines his love for God, philanthropy, and Scripture, providing a valuable resource for those seeking to grow in their faith.
Follow me: on Youtube, Facebook, Twitter, Instagram, and Pinterest.
Content Disclosure:
At The Faithful Christian Blog, I create authentic and inspiring content. Although I am the main author, I occasionally use AI for minor language enhancements. This minimal AI usage ensures high-quality, trustworthy articles without compromising originality or sincerity, ultimately supporting our shared faith journey.
Warmly,
Dr. Akatakpo Dunn
Was this article helpful?