Most times, we are not thankful enough.
We don't wholeheartedly appreciate God's love for us.
That's because of the challenges we face on a daily basis.
We are bothered about paying our bills and taking care of our loved ones.
Sometimes we get angry and frustrated that we begin to lose our faith in God.
But we shouldn't.
The fact that you are alive is a blessing from God.
If you want a car, a new house, or a promotion at work, you must be alive to enjoy these things.
There are numerous ways God has shown his unconditional love for us.
Most importantly is the grace for salvation through the crucifixion of our Lord, Jesus Christ.
It is only right that we appreciate him through thanksgiving and prayers.
I have compiled powerful prayers for God's love and mercy over our lives.
---
Recommended for you
---
Powerful Prayer for God's Love & Mercy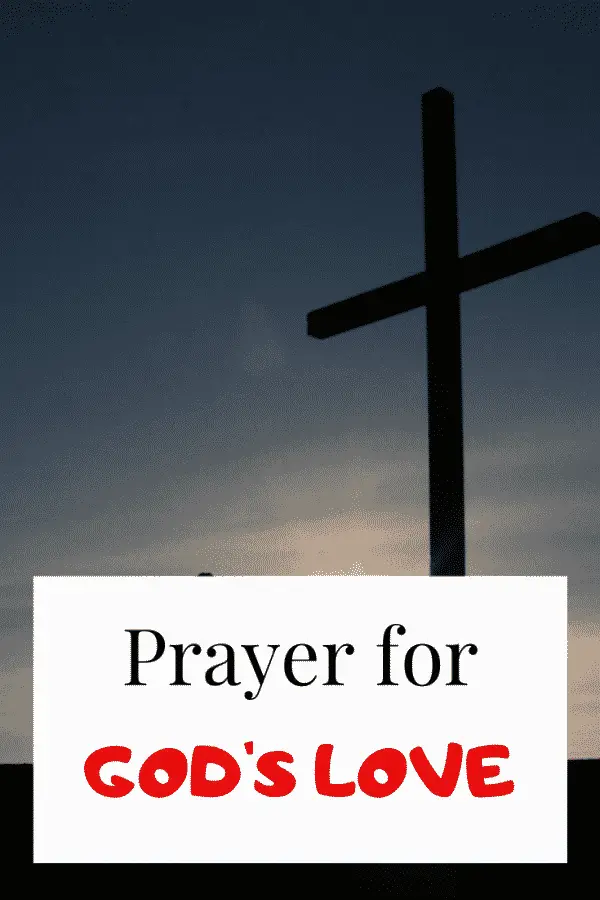 Thank God for his unending love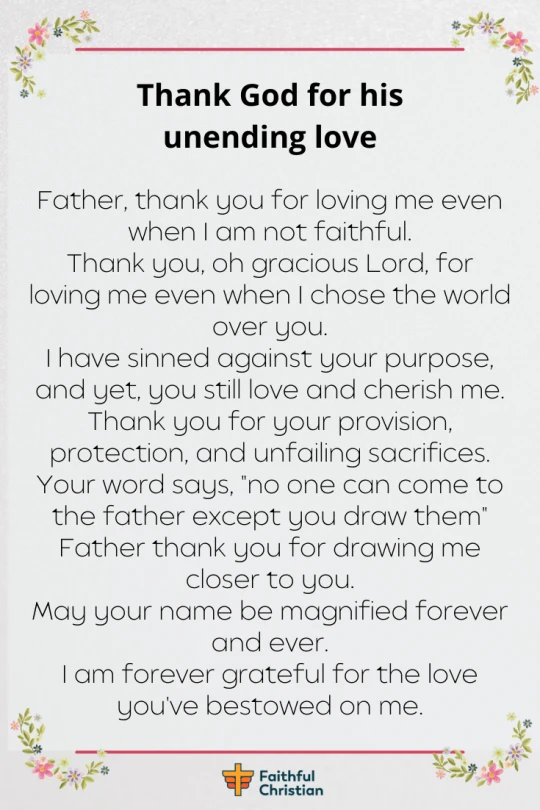 Heavenly Father, thank you. Your love never fails, even when I stumble. This mirrors Paul's confession in Romans 7:19. He spoke of the struggle within us all. The struggle of wanting to do good but falling short. Like Paul, I sometimes falter. Yet, Your love for me stands as a guiding beacon, unfailing and ever-present.
Life has its temptations. It's easy to veer off course. I've been there, enticed by my own desires. It reminds me of James 1:14. It talks about temptation, how it comes from our own desires. Despite my missteps, Your love never wavers. You fulfill Psalm 103:12. You cast our sins as far as the east is from the west. That's forgiveness.
Thank you, Lord, for your unwavering protection and provision. It reflects Psalm 23:1. "The Lord is my shepherd, I lack nothing." It's a statement of faith, a testimony of Your love. And it rings true every day. 2 Thessalonians 3:3 speaks of Your protective nature, shielding us from evil. You embody the greatest act of love, as told in John 3:16.
In John 6:44, we're told that none can come to You unless drawn. This verse rings true to my ears. You've drawn me close with threads of love and grace. You've pulled me back into Your embrace time and again.
Your name deserves to be held high. The Psalmist says in Psalm 34:3, "Let us exalt His name together." And we should. Your love, Your compassion are beyond words. 1 Chronicles 29:13 captures the gratitude I feel. "We give you thanks, and praise your glorious name." Every word is a testament to my thankfulness.
Reflecting on Your love fills me with awe. It's everlasting, just like Jeremiah 31:3 declares. "I have loved you with an everlasting love." Even when I'm inconsistent, Your love remains firm. This echoes Romans 8:38-39. It tells us nothing can separate us from Your love. How comforting is that?
Gratitude fills me, Father. Thank you for Your divine love, given without conditions. Ephesians 2:8 sums it up best. "By grace you have been saved." It's not our doing, it's Your gift. And for this gift, I am forever grateful.
Let us pray for our hearts to be turned on for God
Our Father in Heaven, you know my heart's deepest desire. It echoes the words of Psalm 51:10, where a pure, steadfast heart is craved. Today, I ask the same. Renew me. Let my love for You become the anchor of my soul.
The Holy Spirit is our guide, connecting us to Your limitless love. This thought is beautifully captured in Romans 5:5. In simple terms, let Your love fill my heart to overflowing. Create a bond that draws me closer to You each day.
Have you ever considered why we love? 1 John 4:19 explains it. We love because You loved us first. So, let that sink in. My love for You isn't just a choice, it's my response to Your love. Your love is my purpose.
Reflecting on Your divine nature, I'm reminded of 1 Chronicles 16:34. It says, "His love endures forever." That's what I want, Lord. To love all that You are, in every circumstance. To truly grasp Your enduring love for us.
"Teach me Your ways," says Psalm 25:4. A sincere plea. A wish to walk in your path. And so I ask you, Father, to show me the same. Let your wisdom guide me. Shape my thoughts, actions, and words. Help me walk in Your path.
Strength in tough times is a promise You've made in Romans 8:28. You work for the good of those who love You. So, in my hardships, I'll hold onto that promise. I'll find the strength to love You, to feel Your comforting presence.
Your grace, Father, is a gift we can't earn. Ephesians 2:8-9 paints this picture perfectly. You've saved us through faith, not works. Let me truly comprehend this. Your grace isn't a reward, it's a gift. A gift I humbly accept.
As I end this prayer, my heart is full of gratitude. Hebrews 4:16 encourages us to approach Your throne with confidence. So, with faith, I do. Trusting that my prayers reach You. Believing that You'll answer in Your perfect wisdom. Thank you, Lord. Amen.
Prayer for the grace not to be discouraged
Dear Father, I turn to Your word, and I find wisdom. You once said, "I discipline those I love." This phrase, tucked away in Proverbs, tells me something special. You're like a parent to me. Just as a parent guides their child, You guide me too. Discipline comes from love, not from anger. And Hebrews echoes this truth. It assures me that your discipline is for my good. You're helping me grow. You're guiding me towards holiness.
But Lord, it can be tough. It's easy to see Your discipline as rejection. That's why I'm asking You for wisdom. I need help to understand that Your correction isn't dismissal. Psalm 94:12 offers solace. "Blessed is the one you discipline," it says. This shows me that Your discipline isn't a punishment. It's a blessing, a form of teaching. And Jeremiah joins the chorus, promising a future of hope. It assures me that You mean no harm, but prosperity.
Now, Father, I ask for strength. Strength to endure the trials of discipline. I'm reminded of a verse from James. It talks about a man who remains strong under trial. This man, says James, will receive the crown of life. This is the promise You have made to those who love You. So, help me endure. Help me remain steadfast. Illuminate my path, just as Psalm 119:105 suggests. Your word, Lord, is the light that guides my steps.
But don't just make me strong, make me loving too. Let my love for You be unquestionable. 1 Corinthians 16:14 instructs me to do all things in love. So, let my love for You be clear, be strong, and be unwavering. Let it persist through trials and tribulations. Matthew's gospel calls me to love You wholeheartedly. So let me do so, Lord. Let me love You with all my heart, soul, and mind.
Lastly, Father, I ask for confidence. Confidence to declare my faith. Empower me to shout Your name. Let me talk about the saving work You've done in my life. Romans says, "I am not ashamed of the gospel." It's a powerful message, Lord. It brings salvation to everyone who believes. So, let me be a testament to Your love, power, and grace. I acknowledge You, Lord, as my personal savior. Help me to boldly proclaim this truth. Help me answer those who question my faith, as suggested in 1 Peter. I hope to confidently share the reason for the hope I have in You.
Pray for the grace to be steadfast to God's unconditional love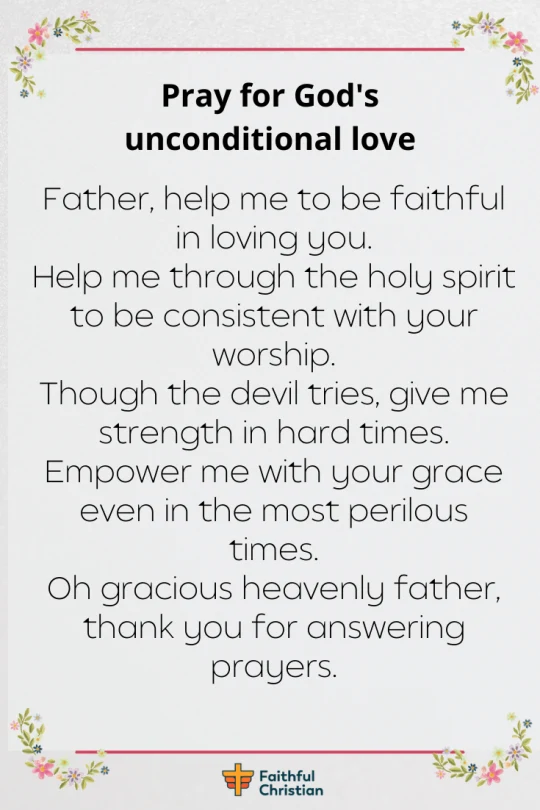 Oh, our Dear Heavenly Father! I humbly come before you, asking for Your guidance. I want to love You more deeply. Matthew 22:37 says, "Love God with all your heart, soul, and mind." That's my aim. Please help me live it every day.
Like in Jeremiah 31:3, Your love for us is everlasting. I want my love for You to mirror that. Strengthen my faith, spark my passion. Guide my thoughts towards You. Keep my love steadfast. Keep it growing.
Guide me, Lord. Let Your Holy Spirit make my worship consistent. We're taught in John 4:24 to "worship in spirit and truth." Help me practice this, Lord. Guide my actions. Enlighten my mind. Let each moment honor You. As 1 Corinthians 10:31 says, let all I do glorify You.
Adversity will come. The enemy will try to lead me astray. In these times, make me strong. Let the trials serve to make my faith unyielding. Ephesians 6:12 reminds us of spiritual battles. Let these battles not weaken me. Let them instead strengthen me. As James 1:2-4 urges, let these trials develop perseverance.
In hard times, let Your grace overflow. Your grace is all I need, as per 2 Corinthians 12:9. Your love as my shield. Your wisdom as my compass. Your grace as my hope. Like Psalm 46:1-3, You are my refuge and strength. Let me sail through life's storms with courage.
Thank you, Father, for answering prayers. As 1 John 5:14-15 says, You hear us. I'm forever grateful. Your love and mercy never fail. They guide me to righteousness and love. As in Proverbs 3:5-6, I put my trust in You, not leaning on my understanding.
Heavenly Father, thank You for Your love. Your guidance. Your patience. Help me follow the faith of Abraham. As Romans 4:20-21 shows, he didn't waver but strengthened his faith. Help me do the same. With Your help, I believe I can. Amen.
Prayer for repentance towards God's unending love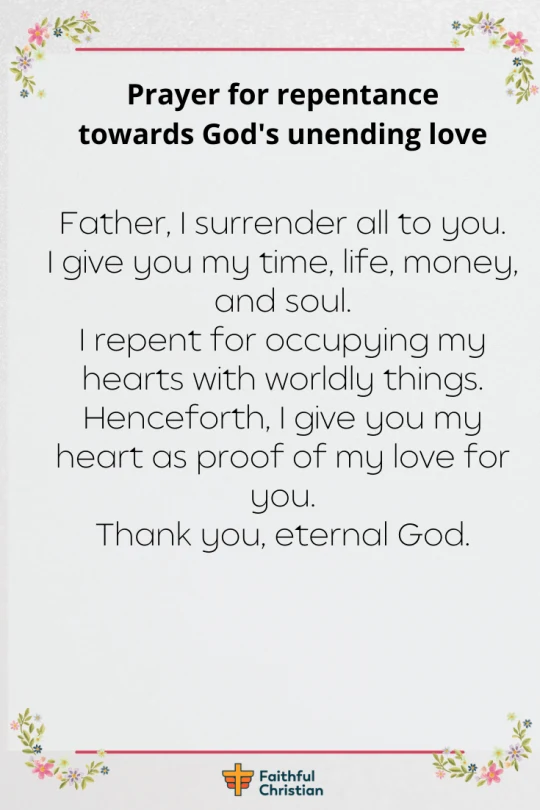 Heavenly Father, into your hands, I give it all. Drawing from Proverbs 3:5-6, I place my trust in You wholeheartedly. I acknowledge You, knowing my paths will align with Your will. You have blessed me with this life, time, possessions, and most significantly, my soul. Now, I return them to You as a sign of surrender.
Each breath, each heartbeat, every tick of the clock – all are Yours. It reminds me of Matthew 16:25. Jesus told us that in surrendering our lives to Him, we find true life. Here I am, offering You mine, and in doing so, I find myself.
Regret fills me as I think of times I pursued worldly pleasures. These fleeting distractions, as cautioned by Paul in Colossians 3:2, often divert our minds from the divine. I confess and repent, Father. I seek Your forgiveness and pledge to set my heart on You.
Henceforth, my heart is all Yours. It's a deliberate decision, inspired by Mark 12:30. To love You, Lord, with all my heart, soul, mind, and strength. This isn't just a token, but a conscious act of love, a commitment to You.
Lastly, I extend my heartfelt thanks to You. Inspired by Psalm 136:26, I recognize Your love, a love that endures forever. Thank You for Your guidance, for accepting my surrender. You're the eternal light in my life. You are my beacon in the dark, leading me onward. With You, I find courage and inspiration. Thank You, my eternal God.
---
Recommended for you
---
Prayer Bible verses about God's love
1.  John 3:16 – God's Never-Failing Love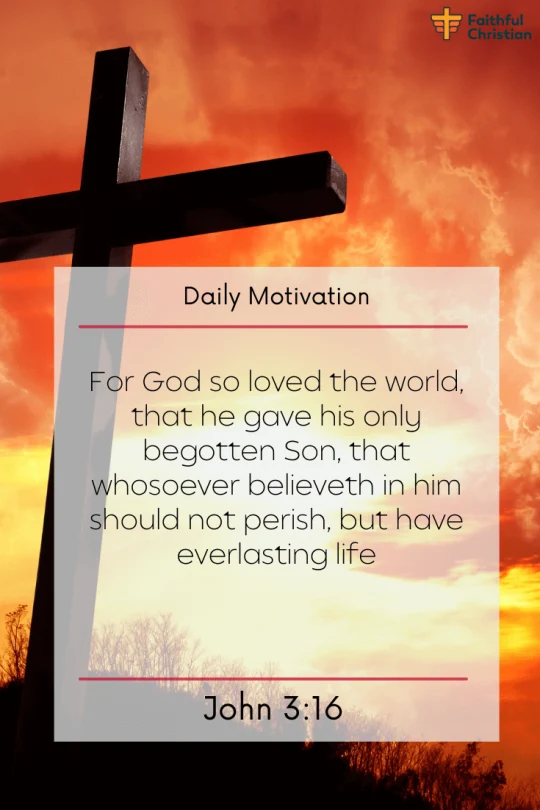 For God so loved the world, that he gave his only begotten Son, that whosoever believeth in him should not perish, but have everlasting life
but God shows his love for us in that while we were still sinners, Christ died for us.
Frequently Asked Questions
1. What is the love prayer from Jesus?
Jesus Christ's Great Commandment in Matthew 22:37-40, while not a prayer, sets a blueprint for spiritual devotion and interpersonal relationships. The directive, "Love the Lord your God with all your heart, soul, and mind," emphasizes all-encompassing love for God. Similarly, the instruction to "Love your neighbor as yourself" encourages universal benevolence. This dual commandment provides a template for prayers centered on love.
2. What is an example of a love prayer?
A love prayer might follow this structure: "God, infuse my heart with Your divine love. Enable me to love You profoundly. Grant me the ability to view others through Your lens of compassion. Endow me with the grace to forgive, show compassion, and extend mercy. Let Your love radiate through me, drawing others closer to You."
3. What is the prayer of God's love?
A prayer focused on God's love could be structured thus: "Gracious God, we express gratitude for Your boundless love. Your love, unceasing and unfathomable, extends beyond the heavens. In an unparalleled act of love, You sacrificed Your Son, Jesus Christ, for our redemption. Aid us in comprehending the magnitude of Christ's love, as described in Ephesians 3:18, and in sharing this love with humanity."
4. What Psalm is for God's love and mercy?
Psalm 136 beautifully encapsulates God's enduring love and mercy. Its 26 verses, each concluding with "His love endures forever," consistently underscore His unwavering love and mercy. This Psalm recounts God's marvelous deeds in creation and throughout Israel's history, highlighting His unending love and mercy.
5. What is the prayer of forgiveness, asking God for mercy and love?
A prayer seeking God's mercy, love, and forgiveness could be phrased thus: "Heavenly Father, I approach You with humility, recognizing my failings and transgressions. Your Word in 1 John 1:9 assures that You, being faithful and just, will forgive our sins and cleanse us from unrighteousness upon confession. I seek Your mercy and forgiveness. Flood my heart with Your love, empowering me to extend forgiveness to myself and others."
6. What is the prayer for mercy cry?
A mercy-focused prayer might be: "God of mercy, I appeal to You in my distress. Your promise in Psalm 46:1 declares You as our refuge and strength, a constant help in turmoil. Amid my trials and sufferings, extend Your mercy, Lord. Display Your lovingkindness and surround me with Your tranquility."
7. What is the morning prayer for God's love?
A morning invocation of God's love could be: "God, as dawn breaks, I am reminded of Your unwavering love that never ceases, as reiterated in Lamentations 3:22-23. Guide my actions today with Your love. Fill my heart with profound love for You and for others. May every thought, word, and deed today spring from love."
8. What is a prayer for God's mercy and protection?
A plea for God's mercy and protection, drawing from Psalm 91, could be: "Lord, I implore Your mercy and protection. Fulfill Your promise in Psalm 91—be my refuge and fortress. Protect me from hidden perils and lethal diseases. Shelter me under Your protective wings. My trust rests in Your divine promises."
9. Can you provide a short prayer for mercy?
A concise plea for mercy could be: "Compassionate Father, I appear before You in my frailty. I solicit Your mercy. Guided by Hebrews 4:16, I approach Your throne of grace with confidence, hoping to procure mercy and grace in my time of need."
10. How can I pray and ask for God's mercy?
To invoke God's mercy, you could pray: "God, I acknowledge my shortcomings in reflecting Your glory. I stand before You, seeking Your mercy. Your words in Lamentations 3:22-23 affirm that Your mercies are renewed each morning, attesting to Your faithfulness. I request Your forgiveness and the daily renewal of Your mercy."
11. What are some midnight prayer points for mercy?
For midnight prayers, you could focus on these mercy-related points: Invoke God's mercy for yourself and loved ones; confess sins and seek forgiveness; pray for a spirit of repentance; ask for mercy on the world and the suffering; express gratitude for His enduring mercy and love.
12. Can you share a prayer for both mercy and strength?
A prayer for mercy and strength could be: "Heavenly Father, I beseech Your mercy and strength. Echoing the Psalmist in Psalm 51:1, 'Have mercy on me, O God, in accordance with Your unfailing love and great compassion, erase my transgressions.' Empower me to confront challenges, maintain strong faith, and serve You wholeheartedly."
13. What is David's prayer for mercy?
David's prayer for mercy, found in Psalm 51, emerges from his admission of sin with Bathsheba. Psalm 51:1-2, "Have mercy on me, O God, according to your unfailing love; according to your great compassion blot out my transgressions. Wash away all my iniquity and cleanse me from my sin," reflects David's profound remorse and dependence on God's mercy.
Read more about bible verses about God's love here
---
READ MORE
Thursday prayer for myself.
Friday prayers for family and friends.
Saturday prayer for boyfriend and girlfriend.
Sunday Prayer for Husband and wife.
Monday prayer and blessings.
Powerful Short Tuesday prayer.
Wednesday prayer message and quotes.
---
Author: Akatakpo Dunn
Dr. Akatakpo Dunn is a dedicated follower of Christ, an active member and speaker, and an ongoing learner of the Scriptures. Passionate about his faith and serving others, he is committed to sharing his spiritual journey and insights to inspire and uplift fellow believers. He has been active in the church for more than 23 years. Through The
Faithful Christian Blog
,
Dr. Dunn
combines his love for God, philanthropy, and Scripture, providing a valuable resource for those seeking to grow in their faith.
Follow me: on Youtube, Facebook, Twitter, Instagram, and Pinterest.
Content Disclosure:
At The Faithful Christian Blog, I create authentic and inspiring content. Although I am the main author, I occasionally use AI for minor language enhancements. This minimal AI usage ensures high-quality, trustworthy articles without compromising originality or sincerity, ultimately supporting our shared faith journey.
Warmly,
Dr. Akatakpo Dunn
Was this article helpful?