Navigating the uncertainties of life can be challenging, leaving us yearning for guidance and reassurance.
The Bible, an age-old source of wisdom, has a wealth of powerful verses that shed light on the future, reminding us that ultimately, only God knows what lies ahead.
In this article, we delve into powerful Bible verses about the future, designed to bring comfort and inspire trust in God's divine plan.
As we journey together through these passages, you'll discover profound insights and spiritual truths that will help you face tomorrow with unwavering faith and confidence.
Are you ready to embrace the wisdom of the scriptures and find solace in God's promises for your future?
Jeremiah 29:11 beautifully encapsulates the divine reassurance we seek: "For I know the plans I have for you," declares the LORD, "plans to prosper you and not to harm you, plans to give you hope and a future."
Join us on this spiritual exploration, harnessing the power of scripture to strengthen your faith and trust in the God who holds our future in His loving hands.
Only God knows the future: Powerful Bible verses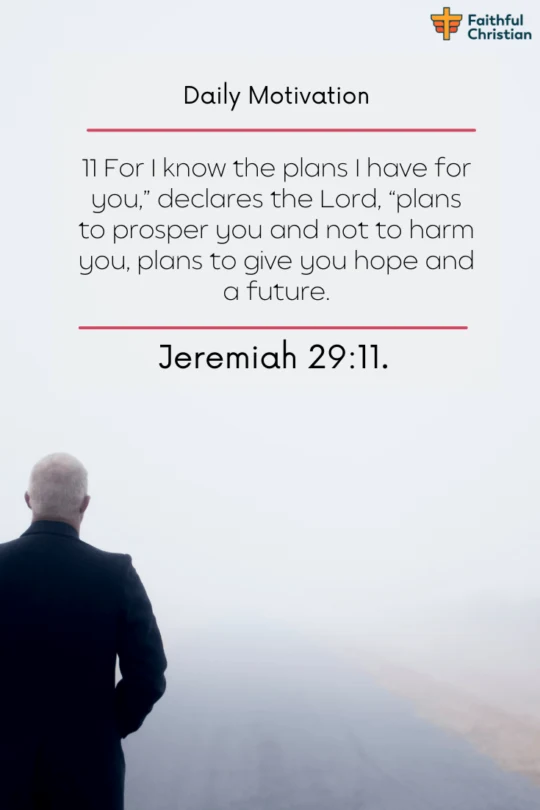 11 For I know the plans I have for you," declares the Lord, "plans to prosper you and not to harm you, plans to give you hope and a future.
The good news
Truth is, we humans can't precisely foresee what's coming.
How can we foresee what lies ahead when our own lives are uncertain?
Can we truly trust our predictions to come true?
But with God, everything is different.
He knows our future because He sees it all, and He's aware of when our struggles will fade away.
That's why prayer is so crucial. We need to pray and ask God to help shape our future positively.
We must request His guidance through turbulent times and seek healing from our pain.
The Bible verse Jeremiah 29:11 offers us hope during tough moments. God truly loves you and desires your success in every area of life. This is why relying on Him for strength when you're weary is essential.
We must remain confident that He will take our problems away. God's certainty about His plans for us is evident because He sees them.
Naturally, as humans, we can be shortsighted and impatient. We crave immediate gratification and struggle to wait. But God's perspective and reasoning are entirely different from ours.
Some time back, I faced heartache when my fiancée and I parted ways. I couldn't comprehend why God allowed me to endure such frustration and humiliation.
However, as time passed and I saw how my life transformed, I realized that God's plan was designed for my prosperity.
Additional verses like Micah 4:12 and Job 23:13 emphasize God's understanding of what lies ahead. Micah 4:12 highlights that God has plans for His people, even when they're not fully understood. His intentions remain clear, despite our limited comprehension. In Job 23:13, Job acknowledges God's unchangeable nature and His perfect plans.
A prime biblical example of God's foresight is the prophecies of Jesus found in Isaiah 53 and Micah 5:2. These ancient prophecies predicted Jesus' life, death, and resurrection, showcasing God's profound insight into the future.
So, whether you're dealing with health issues, marital troubles, a failing business, or career struggles, remember God's word that He has the perfect solution for your problems.
Keep trusting in Him to guide you through your challenges.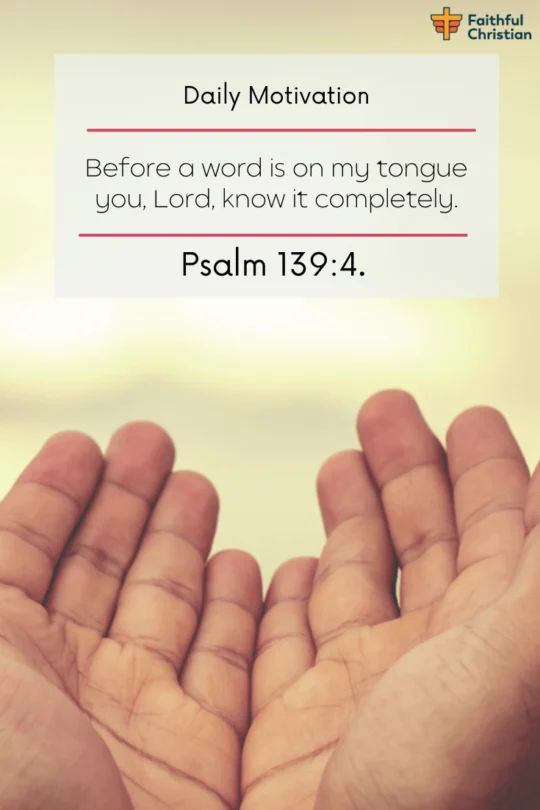 Before a word is on my tongueyou, Lord, know it completely.
The good news
Isn't it astonishing that God knows your every move, even before you make it?
Did you realize that God is already aware of the next word you'll speak?
He knows you inside out—your strengths and weaknesses alike.
That's why we must pray with unwavering faith, trusting that God understands our struggles before we even ask for help.
Sometimes, we mistakenly believe that God will only hear our prayers if we shout or repeat them incessantly.
In truth, God already knows our struggles, whether it involves our marriage or our finances.
Psalm 139:4 states, "Before a word is on my tongue, you, Lord, know it completely." This verse emphasizes that God is fully aware of our thoughts and intentions, even before we verbalize them.
Think about God's knowledge of the future. Isaiah 46:10 says He knows the end from the beginning. In Jeremiah 1:5, God tells Jeremiah He knew him before his birth.
These verses show God's all-knowing power and His deep insight into our lives.
One biblical example illustrating God's foreknowledge is the Apostle Paul's conversion in Acts 9.
Before his transformation, Paul was a fierce persecutor of Christians.
God was aware that Paul would become a highly influential apostle, spreading the Gospel throughout the world.
This event demonstrates how God not only knows the future but also has the power to change lives for His divine purposes.
With God's insight into our future, we should seek His guidance and the peace that comes from trusting His wisdom.
With the knowledge that God already knows our needs, we can confidently approach Him in prayer and seek His direction for our lives.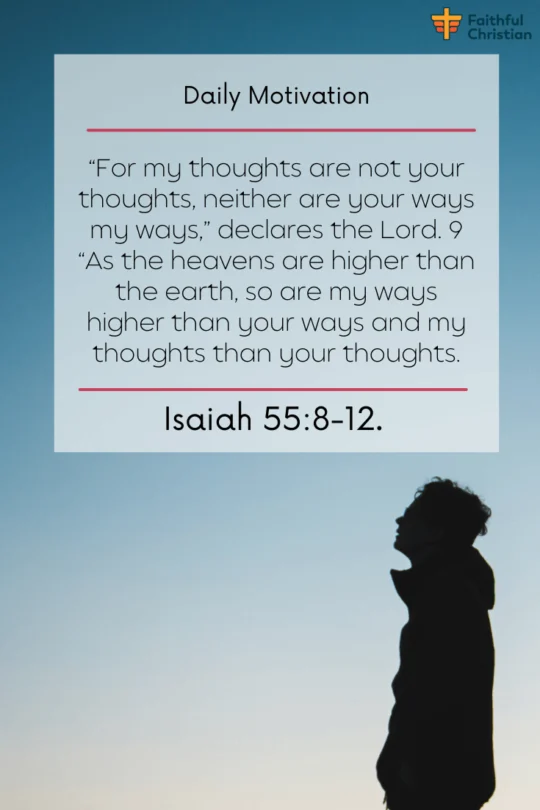 "For my thoughts are not your thoughts,neither are your ways my ways," declares the Lord. 9 "As the heavens are higher than the earth,so are my ways higher than your waysand my thoughts than your thoughts.
The good news
Ever asked yourself, if God knows the future, why should we even bother to pray?
The truth is, we see only a small part of life, while God's thoughts are huge and much deeper than ours.
Isaiah 55:8-9 conveys, "My thoughts are not like yours, and my ways are different from yours." This scripture emphasizes that God's knowledge surpasses our own, making prayer essential for seeking His guidance towards a joyful and peaceful future.
During times of uncertainty, you may question God's presence or why He lets you suffer if He truly cares. However, remember that God knows you completely and cares deeply.
Challenging times serve as a reminder that we'll encounter obstacles, as John 16:33 states: "You will have problems in this world." Yet, be encouraged, for He has overcome the world.
Delving into Moses' journey in Exodus 3-14, we learn about the value of God's foresight, which helps us recognize His divine plan. God selected Moses to liberate the Israelites from Egypt, vowing to save them from bondage. Despite encountering obstacles and doubting his own abilities, Moses trusted in God's plan. This trust allowed him to witness God's power through the plagues and the parting of the Red Sea, ultimately leading the Israelites to freedom.
So, keep pushing forward and trusting God to meet your heart's desires. As Proverbs 3:5-6 advises, "lean not on your own understanding." Remember that even though we might not comprehend the reasons for our situations, God knows what lies ahead and has a plan for each of us.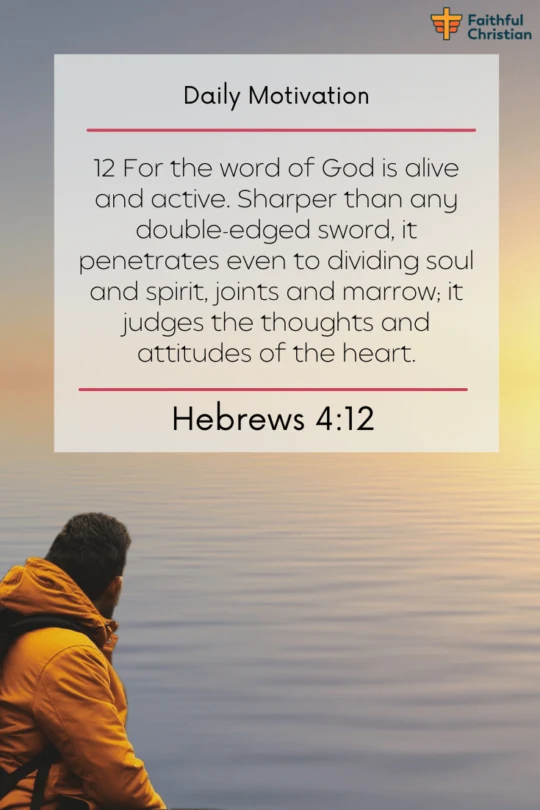 12 For the word of God is alive and active. Sharper than any double-edged sword, it penetrates even to dividing soul and spirit, joints and marrow; it judges the thoughts and attitudes of the heart.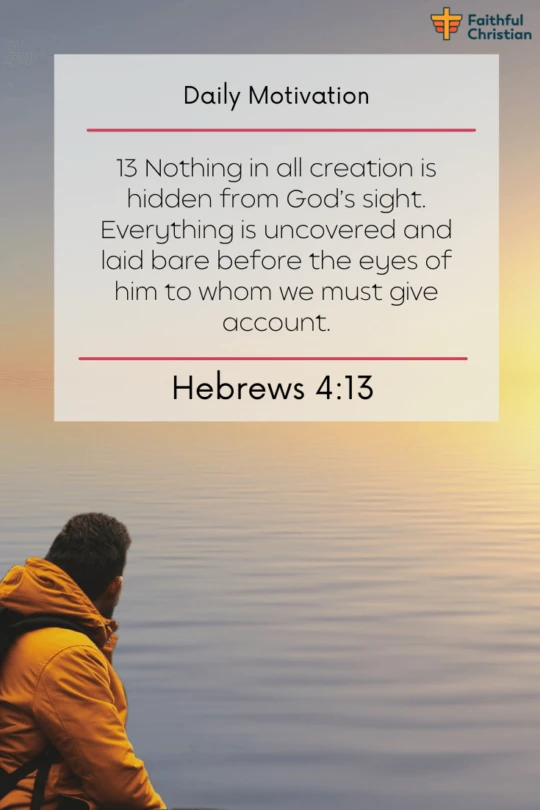 13 Nothing in all creation is hidden from God's sight. Everything is uncovered and laid bare before the eyes of him to whom we must give account.
Hebrews 4:13, an important Bible verse about God knowing tomorrow, declares that "nothing is hidden from God's sight." This emphasizes that God is aware of everything, including our future.
In 1 Corinthians 4:5, we find another scripture that supports this idea. This passage emphasizes God's ability to reveal hidden intentions and motives within our hearts. This understanding inspires us to live genuinely, knowing that He sees all.
Furthermore, Proverbs 15:3 highlights God's omnipresence and unwavering watchfulness in our lives, saying that His "eye is everywhere."
With the knowledge that God understands our future, we can trust Him to shield us from visible and hidden obstacles.
When we pray, we believe that He will dispatch angels to safeguard us from any difficulties we might face.
Genesis 22, featuring the story of Abraham and Isaac, is a compelling illustration of God's foresight.
In this tale, God tested Abraham's faith by asking him to offer his cherished son as a sacrifice.
Though the request seemed insurmountable, Abraham complied, placing his trust in God's plan.
Ultimately, God supplied a ram in place of Isaac, demonstrating that He was aware of the outcome from the beginning.
This account emphasizes the importance of trusting in God's wisdom, which can lead to extraordinary outcomes.
In summary, these Bible verses and the story of Abraham and Isaac remind us of God's knowledge of the future and comprehensive understanding of our lives.
His limitless insight ensures that nothing can be concealed from Him, regardless of whether our actions take place in the open or in secret.
With an awareness of God's constant presence, we should live our lives with integrity and have faith in His guidance for our future.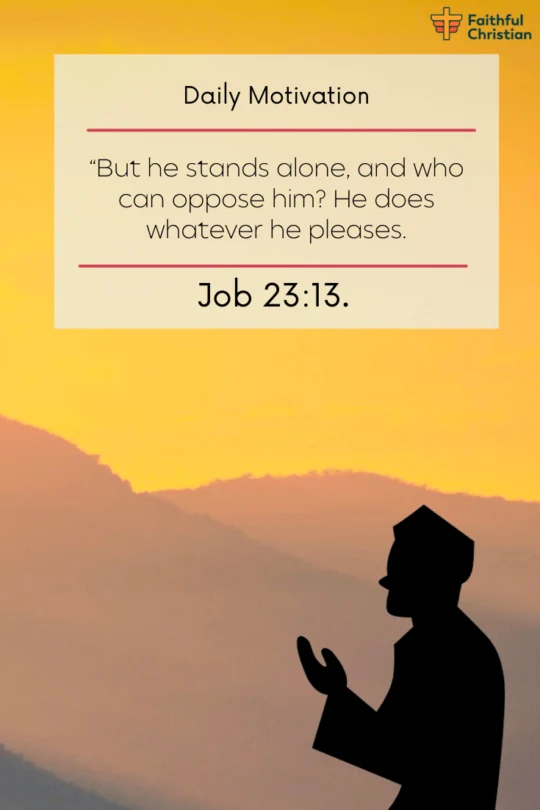 "But he stands alone, and who can oppose him?He does whatever he pleases.
Job 23:13 emphasizes God's unwavering power and will, stating, "What he desires, that he does."
In light of God's knowledge of the future, Proverbs 19:21 illustrates that even as we make plans, God's plan ultimately prevails: "Many plans fill a person's heart, but the Lord's purpose wins."
Psalm 115:3 further reminds us of God's limitless power and control: "Our God is in the heavens; He does whatever He wants."
The story of Noah's Ark in Genesis 6–9 showcases God's ability to foresee and change the future.
God, aware of humanity's impending wickedness, selected righteous Noah to build an ark, saving his family and various animals from a catastrophic flood.
This divine act highlights not only God's foresight but also His capacity to shape events for the greater good.
These verses emphasize God's infinite power over both the present and future.
With God, no feat is insurmountable.
During tough times, trust in Him, for He knows what's best and can see our future before it occurs.
Remarkably, He can transform a grim future into a bright one.
So, rather than letting hardships weigh you down or becoming disheartened by life's challenges, rely on God.
Have faith that He can fulfill your desires and create a path when all seems lost.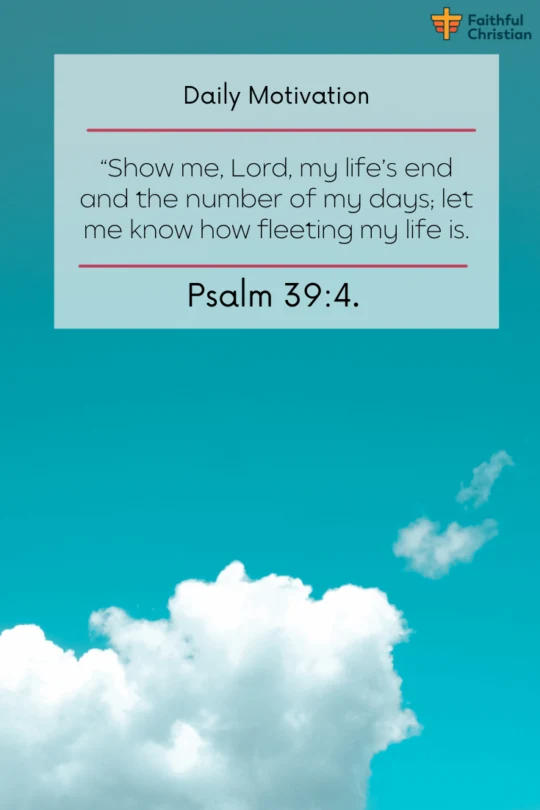 "Show me, Lord, my life's end and the number of my days;let me know how fleeting my life is.
Ever considered how deeply God knows your life, down to the tiniest details?
Psalm 39:4 reveals God's insight into our lives, stating, "LORD, make me to know my end and the measure of my days."
This verse underscores that God not only foresees the future but also grasps our lives' length and intricacies.
God's vision encompasses the next hour, tomorrow's triumphs and challenges, and even our foes' intentions. Thus, it's crucial to depend on Him and seek His counsel.
By serving God devotedly, we can respectfully request revelation and insight. In this verse, David asks for God's wisdom on life's profound mysteries, seeking the truth about his remaining time on earth.
This verse is crucial when praying for our future, reminding us that only God offers the hope and assurance we desire.
Genesis 1's Creation narrative demonstrates God's foresight, as He orchestrated a master plan for the universe. He was aware of how everything would evolve as He meticulously shaped the heavens, earth, and all living beings.
God's omniscience is evident in the world's elaborate design and the equilibrium of ecosystems. This story emphasizes God's capacity to anticipate every global occurrence, from the past and present to the future.
By comprehending these examples and related scriptures, we can fathom the remarkable scope of God's knowledge of the future. We should entrust our lives to Him, confident that He alone can offer the guidance and hope we need.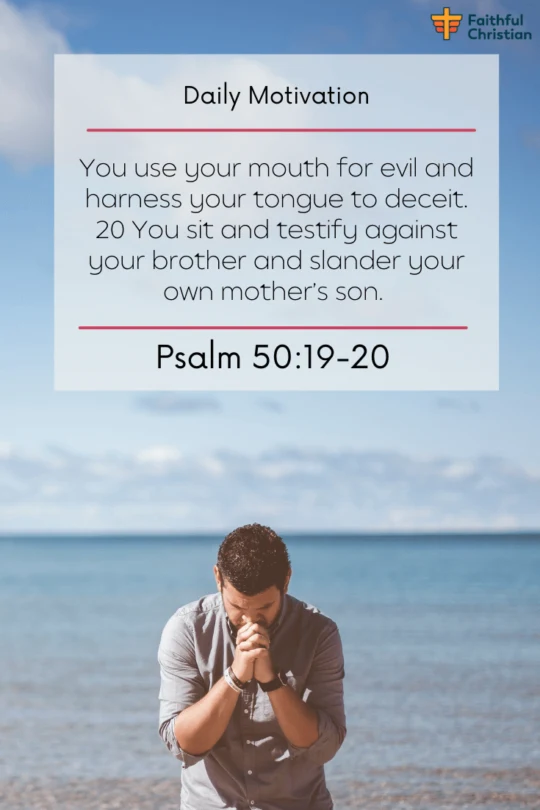 You use your mouth for eviland harness your tongue to deceit. 20 You sit and testify against your brotherand slander your own mother's son.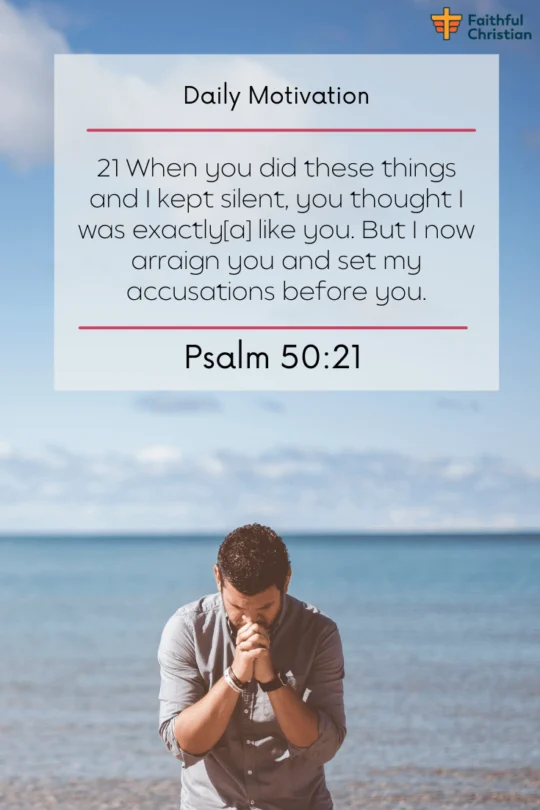 21 When you did these things and I kept silent,you thought I was exactly[a] like you. But I now arraign you and set my accusations before you.
Psalm 50:19-21 highlights that God knows our actions, even when we stumble and sin. He patiently allows us to repent and live righteously.
We should remember that His silence doesn't mean ignorance; He knows our sins and will judge us accordingly.
By realizing that God knows our future, we can find joy in keeping His commandments and living according to His will.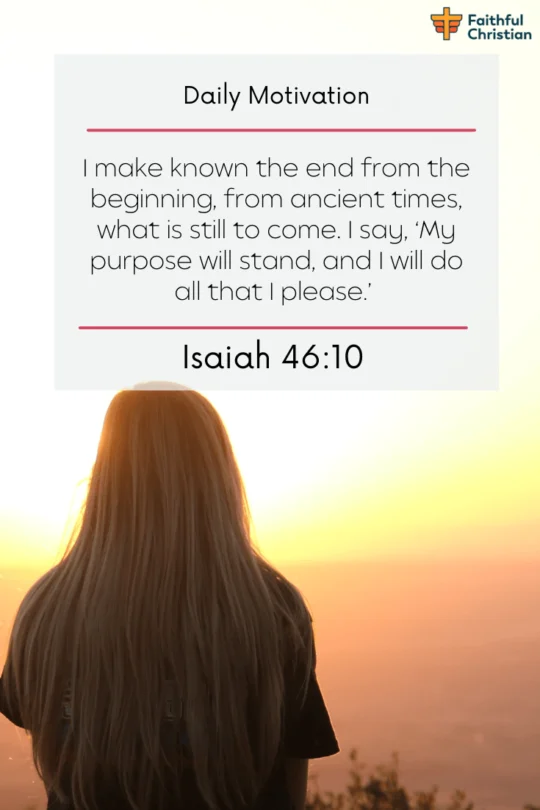 I make known the end from the beginning,from ancient times, what is still to come. I say, 'My purpose will stand,and I will do all that I please.'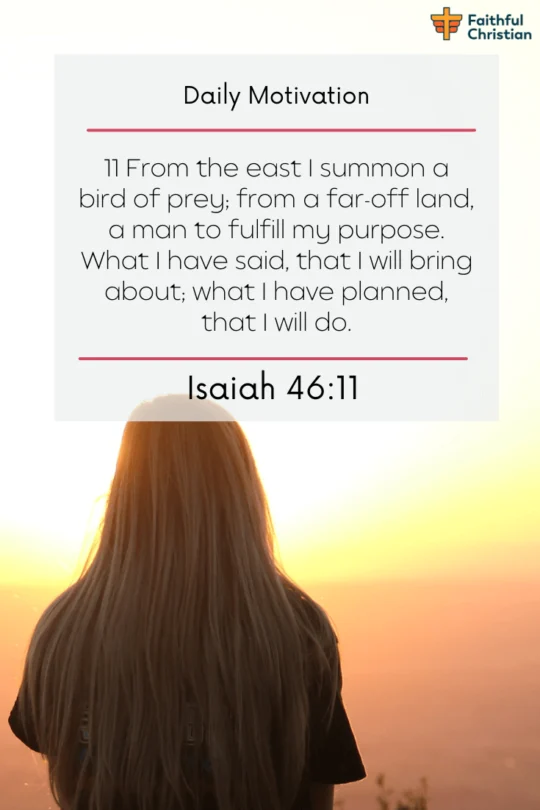 11 From the east I summon a bird of prey;from a far-off land, a man to fulfill my purpose. What I have said, that I will bring about;what I have planned, that I will do.
Isaiah 46:10-11 emphasizes God's knowledge of our future plans and the best path to our success. We can turn to God for guidance in times of confusion or uncertainty.
These verses remind us that He knows the end from the beginning, including significant events in our lives.
Trusting in His plan is crucial, as nothing can alter His divine intentions.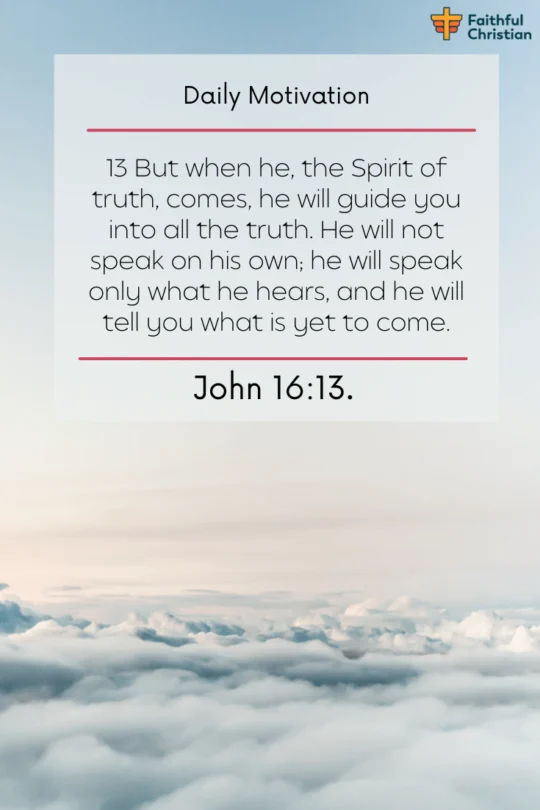 13 But when he, the Spirit of truth, comes, he will guide you into all the truth. He will not speak on his own; he will speak only what he hears, and he will tell you what is yet to come.
John 16:13 explains that accepting Christ brings the Holy Spirit into our lives, helping us discern right from wrong and follow God's plan.
God knows when our struggles will end and when we'll find happiness. The Holy Spirit guides us towards our destiny, revealing important truths about our future.
Trusting in God's plan enables us to let go of worries and embrace the future He has prepared for us.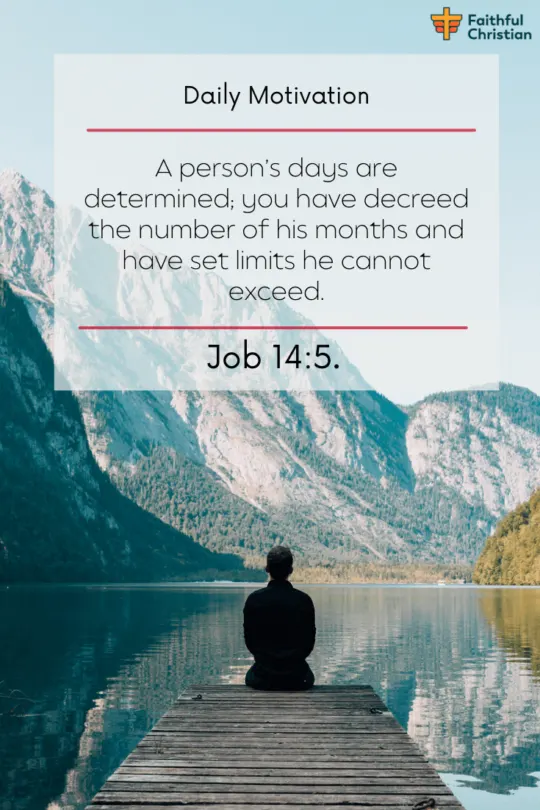 A person's days are determined;you have decreed the number of his months and have set limits he cannot exceed.
Job 14:5 underscores God's limitless understanding, including the smallest details of our lives.
He knows everything, including the number of our days on earth.
Let go of worries about the future, focusing on pleasing God, who has the power to bring significant changes to our lives.
Asking for God's guidance acknowledges His ability to provide the best possible outcome.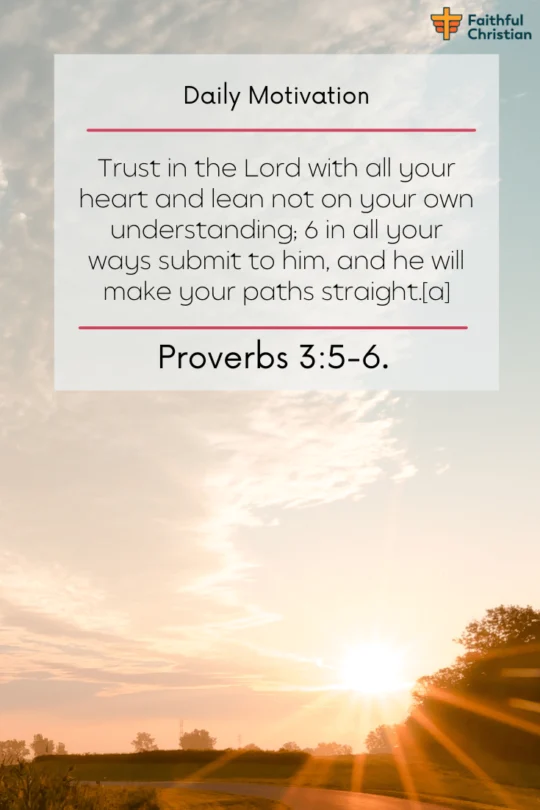 Trust in the Lord with all your heartand lean not on your own understanding; 6 in all your ways submit to him,and he will make your paths straight.[a]
Proverbs 3:5-6 advises us to trust in God during pain and disappointment, rather than depending on human understanding.
Trusting in God, who alone knows the future and can guide us through challenging times, acknowledges His omniscience and power to shape our lives.
Rely on His ability to create a way when there seems to be none, and ask for strength to overcome obstacles.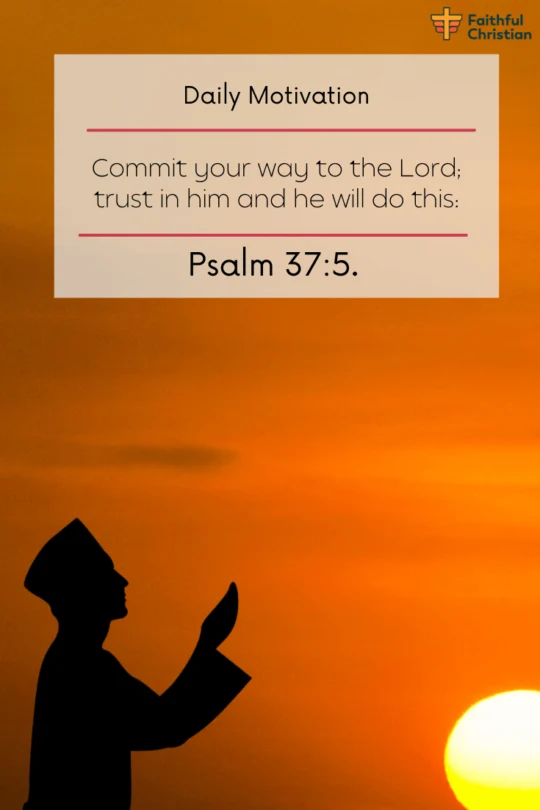 Commit your way to the Lord;trust in him and he will do this:
Psalm 37:5 urges us to trust God during difficult times and commit our paths to Him.
By seeking His guidance and revelations, we can rely on His strength and wisdom to overcome challenges.
Trusting in God ensures that He will support and guide us through our future.
Acts 17:26.
Proverbs 28:26.
Daniel 5:26.
Ephesians 2:10.
Proverbs 19:21.
Proverbs 16:9.
Isaiah 14:24.
Proverbs 16:1.
Isaiah 46:10.
Frequently Asked Questions.
Looking for a Psalm about the future?
Psalm 37:23-24 offers inspiration. It encourages trust in God, who guides and supports us throughout life's journey.
Wondering how to pray for the future?
Start by expressing gratitude for God's presence and guidance. Pray for wisdom, discernment, and courage in decision-making. Ask God to reveal His plans for you and help you align with His will. Request protection, provision, and opportunities to fulfill His purpose.
Searching for a verse promising a bright future?
Look no further than Jeremiah 29:11. It reassures us that God has a plan filled with hope and prosperity for our lives.
Need a Psalm for career success?
Psalm 90:17 offers inspiration. It seeks God's blessing and guidance in our work, which can apply to career success.
Curious about a verse stating God knows the future?
Isaiah 46:9-10 affirms God's omnipotence and omniscience, including His knowledge of future events.
Asking where the Bible says God knows the way?
Psalm 139:1-6 highlights God's intimate understanding of our lives and the paths we follow.
Wondering what the Bible says about vision for the future?
Proverbs 29:18 emphasizes the importance of a clear vision and purpose in line with God's will. It urges us to seek God's guidance and wisdom while crafting our future visions.
Author: Akatakpo Dunn
Dr. Akatakpo Dunn is a dedicated follower of Christ, an active member and speaker, and an ongoing learner of the Scriptures. Passionate about his faith and serving others, he is committed to sharing his spiritual journey and insights to inspire and uplift fellow believers. He has been active in the church for more than 23 years. Through The
Faithful Christian Blog
,
Dr. Dunn
combines his love for God, philanthropy, and Scripture, providing a valuable resource for those seeking to grow in their faith.
Follow me: on Youtube, Facebook, Twitter, Instagram, and Pinterest.
Content Disclosure:
At The Faithful Christian Blog, I create authentic and inspiring content. Although I am the main author, I occasionally use AI for minor language enhancements. This minimal AI usage ensures high-quality, trustworthy articles without compromising originality or sincerity, ultimately supporting our shared faith journey.
Warmly,
Dr. Akatakpo Dunn
Was this article helpful?