My wife and I have faced lots of challenges since we got married.
First, we had a serious disagreement in the first few months after our wedding.
And when things began to look peaceful, the devil struck with a miscarriage.
This took away joy and happiness from our home. But somehow, we were able to overcome.
Just when we were trying to set off from our troubles, the devil struck again.
About two months ago, my wife woke up and found out she was bleeding after recently testing positive for pregnancy.
At this point, I wasn't sure what to do.
It was just like the devil had chosen my space for trials and tribulations.
Yet, in my afflictions, I trusted God.
I knew, for sure, only He could return peace to my heart.
I knew he could take away all our pains and bless us in our trials.
If you are facing any trouble or temptation, there are bible verses for peace of mind.
These scriptures remind us that we can draw back to God, and he will take away all our troubles.
Immediately, I noticed my wife was bleeding; we prayed.
And by his grace, despite bleeding massively, such that the mattress and her night wears were heavily stained, she is four months pregnant today and exceedingly happy.
God has returned peace to my home, and I hope my testimony will be an inspiration to you.
I have put together bible verses about peace of mind to inspire you.
Only God can take away your troubles and bless you with peace in hard times.
---
Recommended for you
---
Bible verses about peace of mind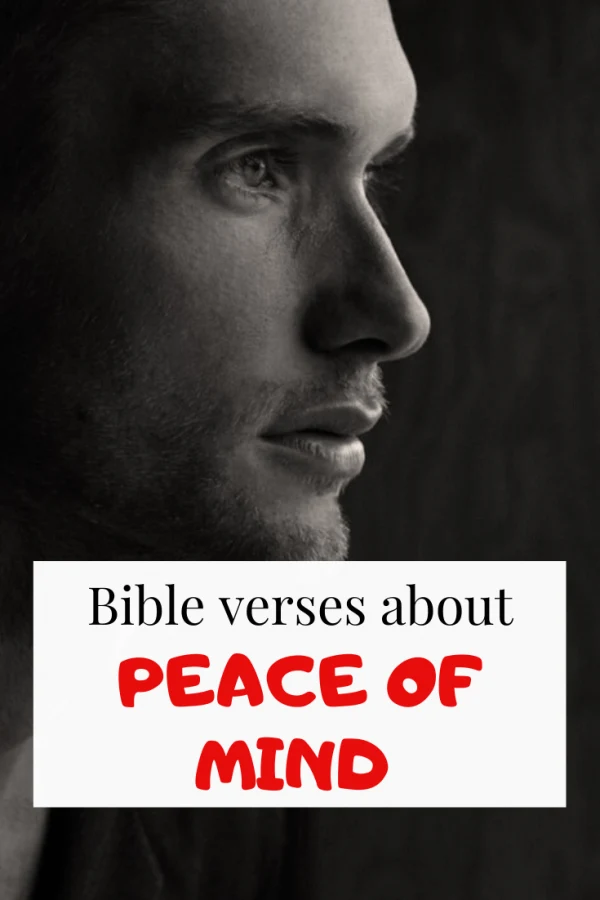 Isaiah 26:3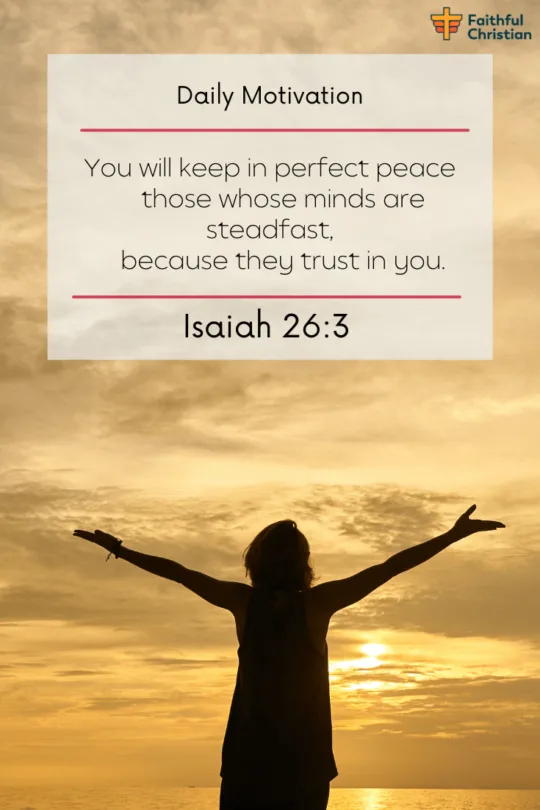 You will keep in perfect peace
those whose minds are steadfast,
because they trust in you.
Isaiah 26:3 paints a picture of a serenity unattainable by worldly means. It says, "You will keep in perfect peace those whose minds are steadfast, because they trust in you." To appreciate its depth, let's consider the power of trust.
Trust in God is a conscious decision. It's choosing to believe in His power, wisdom, and goodness. Think of Daniel in the lion's den. His steadfast faith demonstrated the peace that trust in God can instill, despite daunting circumstances.
We too can embrace this peace. We can lean on God's wisdom, rather than our own, as Proverbs 3:5-6 recommends. "Trust in the Lord with all your heart and lean not on your own understanding; in all your ways submit to him, and he will make your paths straight.
A crucial part of trusting God is understanding His nature. We're called to believe in a God characterized by love, mercy, and sincerity, as depicted in James 3:17. Understanding this helps us choose trust more easily.
This trust transcends peace and influences our daily lives. Take Martin Luther King Jr. for example. His steadfast trust in God led to peace that sustained him during the civil rights movement. Even under threat, he inspired others with peace-infused courage.
Biblical peace differs from worldly peace. Worldly peace is circumstantial, while God's peace is a constant, remaining unswerving amidst life's challenges. It offers comfort and fortitude, guaranteeing tranquility in the face of turmoil.
In sum, biblical peace of mind isn't a fanciful concept. It's a tangible reality rooted in trust in God. Through trust, like Daniel and Martin Luther King Jr., we too can attain perfect peace, a peace the world cannot comprehend nor steal.
Philippians 4:7
And the peace of God, which transcends all understanding, will guard your hearts and your minds in Christ Jesus.
Philippians 4:7 is an extraordinary verse. It gifts us an understanding of a divine peace that transcends all human comprehension. It's not just any peace; it's a peace from God. This peace doesn't simply exist; it actively guards our hearts and minds.
Remember when Jesus calmed the storm in Mark 4:35-41? His disciples were engulfed by fear, tossed about by circumstances beyond their control.
However, Jesus, in His serene majesty, commanded the storm to be still. The peace that ensued was otherworldly, leaving the disciples in awe. Just as the disciples experienced, the peace God offers can quiet our personal tempests.
Mother Teresa provides a powerful real-life embodiment of this. In the heart of Calcutta's slums, surrounded by suffering, she remained an oasis of tranquility. The strength of her faith allowed her to maintain God's peace in the most challenging environment.
This peace is strongly linked to faith and prayer. Romans 15:13 tells us that God fills us with joy and peace as we trust Him. This peace isn't a temporary comfort; it's an enduring state of being. It becomes a part of us as we communicate with God, filling us with hope and serenity.
Worldly peace is fleeting and unstable. In contrast, the peace of God is unchanging and reliable. Colossians 3:15 tells us to let this peace rule our hearts. It's our guiding compass, leading us towards unity and harmony.
Maintaining this peace is an active choice. I believe it requires us to consciously confront our anxieties. This peace is not just for tranquility; it's a proactive force. It empowers us to face our trials with a calm spirit, standing steadfast like a rock against a storm.
In conclusion, the promise of Philippians 4:7 is a beacon in our chaotic world. It's not a distant dream, but a gift that's ready to be received and lived.
We are called to embrace this peace, let it fill our hearts, and be a living testimony to its power.
John 16:33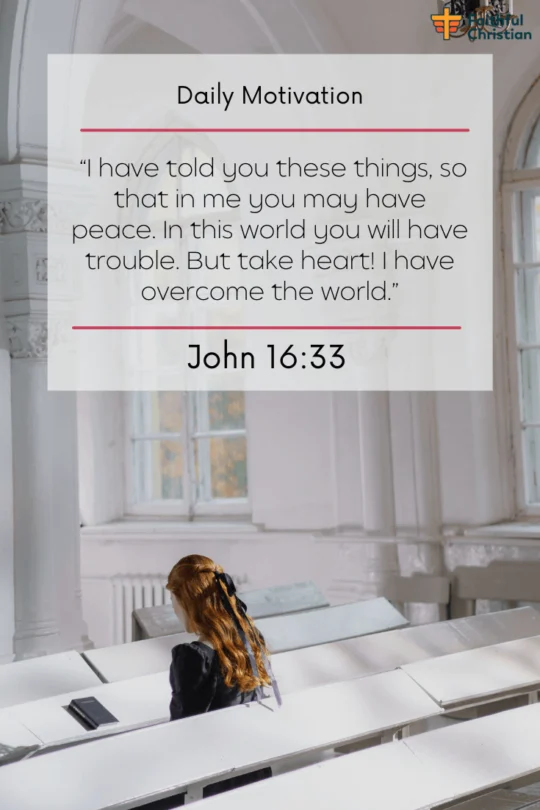 "I have told you these things, so that in me you may have peace. In this world you will have trouble. But take heart! I have overcome the world."
Life storms are inevitable, yet we're not alone. Jesus proclaims in John 16:33, "In me, you may find peace. Take heart, I have overcome the world."
This verse blends the reality of tribulation and the promise of peace. Not fleeting tranquility but steadfast serenity, firmly anchored in Jesus.
Overcoming is the heart of this verse. Romans 8:28 expands this concept, "In all things, God works for the good of those who love him." Hardships, thus, are purposeful and integral to God's plan.
In the life of the Apostle Paul, we see this idea in action. Despite severe persecution – beatings, shipwrecks, imprisonment – Paul maintained his peace by focusing on Christ's victory.
As he says in 2 Corinthians 11:24-28, he faced death multiple times, yet his faith was unwavering. His peace was resolute because it was firmly rooted in the knowledge of who Christ is – the Overcomer.
Furthermore, trials aren't merely tests. 2 Corinthians 4:17 views them as catalysts for eternal glory. They shape us, molding us more into Christ's image.
A poignant real-life example is Corrie Ten Boom. A prisoner in a Nazi camp, she discovered peace amidst torment. Her faith, not her circumstances, fortified her. Her trials were 'light and momentary,' pale against the eternal glory they cultivated.
Such trials not only refine us but inspire others. Like Paul and Corrie's stories, they can uplift and galvanize millions.
In sum, John 16:33 doesn't promise an easy life. Instead, it guarantees peace amidst turmoil. It invites us to hold fast to faith, knowing our trials are formative.
Ultimately, it urges us to embody and project this peace, lighting the world around us. This peace isn't merely possible; it's a divine guarantee.
John 14:27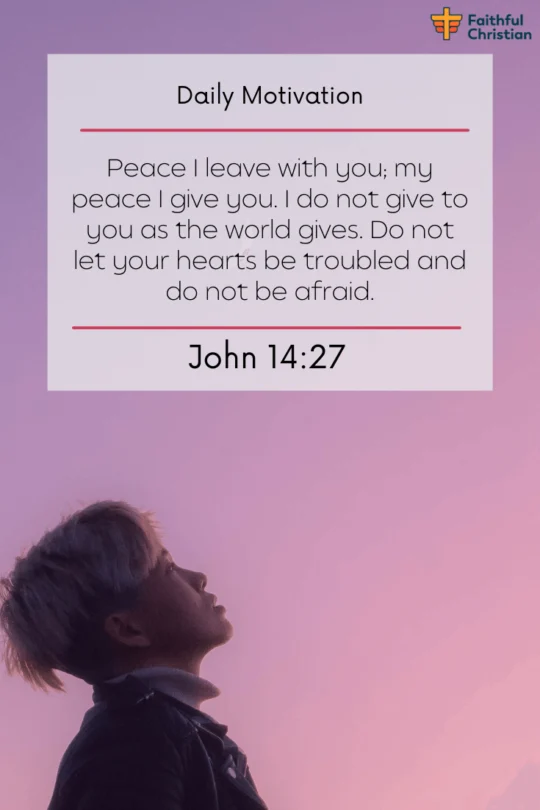 Peace I leave with you; my peace I give you. I do not give to you as the world gives. Do not let your hearts be troubled and do not be afraid.
Looking for peace of mind? John 14:27 brings good news. Jesus offers a unique peace – not as the world gives, but a divine tranquility. A peace that stands, unwavering, amidst life's upheavals. What does this mean for us? A lot.
His peace isn't like the world's. It's not fragile or fleeting. It's sturdy, steadfast. It persists through turmoil and trials. The peace Jesus gives is more than just the absence of conflict. It's a deep-rooted calm that weathers every storm.
This peace doesn't just exist – it acts. It banishes fear, quells anxiety. Jesus' peace is an antidote to life's worries. It's like a ship in rough seas, holding its course, undeterred.
Think of Stephen, the first Christian martyr. As the stones flew, he prayed, calm and serene. His persecutors were baffled. How could he remain so peaceful in the face of death? It was Jesus' peace, shielding him from fear.
Or take Dietrich Bonhoeffer. Despite standing against Hitler, knowing the cost, he had peace. He wrote about it, even on the brink of execution. Not just any peace, but Jesus' peace. It carried him through the darkest of times.
But how do we receive this peace? Enter the Holy Spirit. As Jesus' promised Comforter, the Spirit imparts His peace (2 Thessalonians 3:16). It's like a divine delivery system, taking peace from promise to experience.
When we possess this peace, we change. We sail through life's tempests, confident in His care. It's like Numbers 6:26 says, "The Lord lift up His countenance upon you, and give you peace." We gain an internal stability, a tranquil assurance that extends to all life areas.
Moreover, His peace affects our relationships. It makes us peacemakers. We interact from tranquility, not turmoil. We offer His peace to others, mirroring His calm to a world seeking peace.
In essence, Jesus' peace isn't just about calmness amidst chaos. It's an untroubled heart living life and extending His tranquility to others. Do you want that peace? It's yours for the taking.
Psalm 9:10
Those who know your name trust in you,
for you, Lord, have never forsaken those who seek you.
Imagine a life filled with unwavering tranquility. A peace that steadies you amidst a chaotic world. I wish to explore this state of mind. At its core, it's anchored in trust. More specifically, in trusting God, as reflected in Psalm 9:10.
"Those who know your name trust in you, for you, LORD, have never forsaken those who seek you." (Psalm 9:10 NIV)
At the core of this verse, you find a promise – one that's been proven time and time again throughout biblical history and beyond.
To explore this, let's consider the life of David. Even when hounded by relentless enemies, he found peace. How? He clung to the truth that God was with him.
In the calming words of Psalm 23, he spoke of God as a shepherd providing, guiding, and most importantly, offering reprieve amidst his challenges.
Fast-forwarding to modern times, we find an equivalent in Nelson Mandela. His trust lay in justice. Despite enduring 27 years in prison, Mandela held on to this cause, which became his anchor, bringing him peace.
Parallel to this notion, Nahum 1:7 presents God as a refuge during distress. This refuge ensures safety, a prerequisite for peace. Proverbs 18:10 re-emphasizes God's role as protector, promising safety and ensuing peace to those seeking Him.
Trust in God isn't passive. It's a calculated choice, a determined decision. And decision-making rooted in faith cultivates peace. It's like knowing that whatever comes your way, you are under God's sovereign watch.
Does anything provide greater peace than knowing the one you trust won't abandon you? It's this profound trust that results in enduring peace. Regardless of the turmoil outside, peace remains inside.
In a nutshell, peace of mind isn't elusive. Like David or Mandela, by anchoring our trust in something steadfast, peace morphs from a fleeting calm into a stable state of mind, insulating us from the storms around.
This is the tranquility borne of trust.
Jeremiah 17:7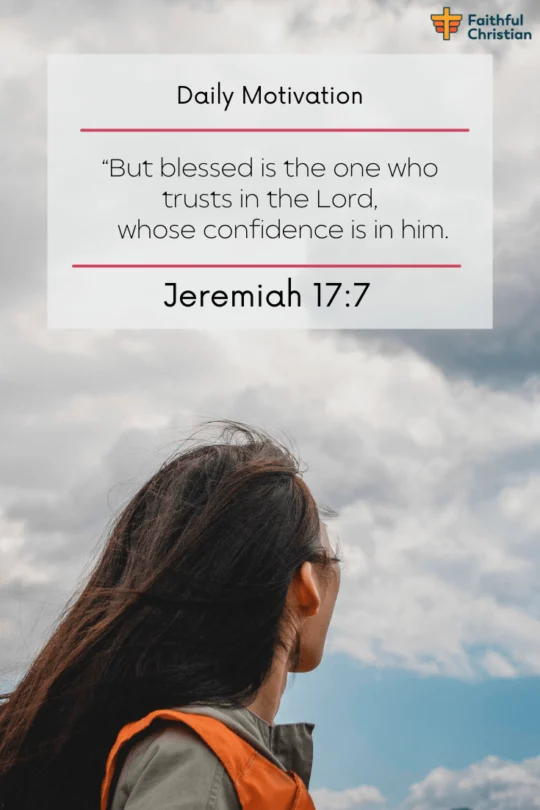 "But blessed is the one who trusts in the Lord,
whose confidence is in him.
"Trust in the Lord and you will be blessed," says Jeremiah 17:7. This verse brings to mind an image. Picture a tree beside a river. This tree, even in scorching sun or drought, stays strong and healthy. Its secret? The constant supply of water from the river. Its roots are deep, its trust in the water absolute.
Faith in God works similarly. We remain resilient in adversity when our trust in God is unwavering, like that tree. Even under the harsh sun of hardship, faith gives us a cool respite, a peace of mind.
Reflect on Abraham. Despite his old age, he trusted God's promise of fathering a nation. In a barren situation, he chose to trust God's word, thus demonstrating faith's steadiness, like a deeply rooted tree. He trusted not just the promise, but more importantly, the Promise-Giver.
Now, let's consider Elisabeth Elliot. Despite the loss of her husband to a tribe they were evangelizing, she maintained her faith. Instead of turning away, she returned to the tribe, driven by unwavering trust in God's wisdom. Her actions showcase the profound peace that deep faith can instill.
Look at Psalm 112:7. "Not afraid of bad news; his heart is firm, trusting in the Lord." Bad news is inevitable, but it doesn't sway the faithful. Their hearts remain firm, their peace of mind intact, much like our resilient tree in a storm.
In Proverbs 16:20, we're reminded of the happiness that comes with trust in God. This isn't fleeting joy, but a profound peace of mind that stems from knowing we're under God's protection. Trust provides stability and resilience, just like the tree planted by the river.
So, Jeremiah 17:7 speaks of a peace that is more than just a calm state of mind. It's the promise of resilience in challenging times, the assurance of wellbeing, and the guarantee of God's unfailing sustenance.
Like a tree by the river, we too can thrive in all circumstances, with trust rooted deeply in God.
Romans 5:1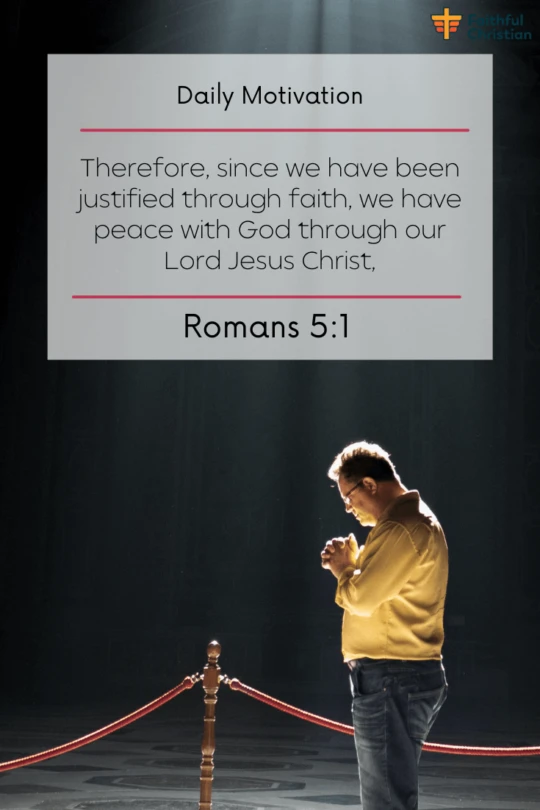 Therefore, since we have been justified through faith, we[a] have peace with God through our Lord Jesus Christ,
Romans 5:1 proclaims a simple yet profound truth: our faith in Jesus Christ brings us peace with God. This verse serves as the centerpiece in our exploration of peace of mind from a Biblical perspective.
Firstly, we delve into 'justification'. This term describes us being declared 'righteous' by God, not through our actions, but via faith in Jesus. It's like standing in a court, guilty as charged, and being pardoned because Jesus has paid our penalty.
Secondly, we consider Ephesians 2:14, which articulates that our peace is Jesus Himself. He eliminated the barriers between us and God, thereby enabling a reconnection with the Divine. This reconciliation manifests as an inner peace, unshakable by circumstances and rooted in our relationship with God.
In the third point, we refer to Colossians 1:20. Jesus reconciled us with God through His sacrifice, providing a durable peace that transcends earthly trials.
Fourthly, this peace impacts our interpersonal relationships. Having experienced God's grace, we can extend the same to others, transforming our interactions with a profound sense of peace.
I turn to the parable of the prodigal son for a tangible Biblical example. Upon his repentant return, the son experienced peace when his father forgave and embraced him. This reconciliation reflects the peace we enjoy with God.
Finally, a real-life application of this peace is seen in Desmond Tutu's work. He facilitated reconciliation in post-apartheid South Africa, creating an environment of peace where animosity once prevailed. This illustrates the transformational power of God's peace.
In conclusion, the peace of mind we seek comes from our faith in Jesus Christ. It's not merely about avoiding conflict, but about fostering Christ's presence in our lives.
So, I urge you, immerse yourself in this peace, let it rejuvenate your mind, and transform your relationships.
Psalm 85:7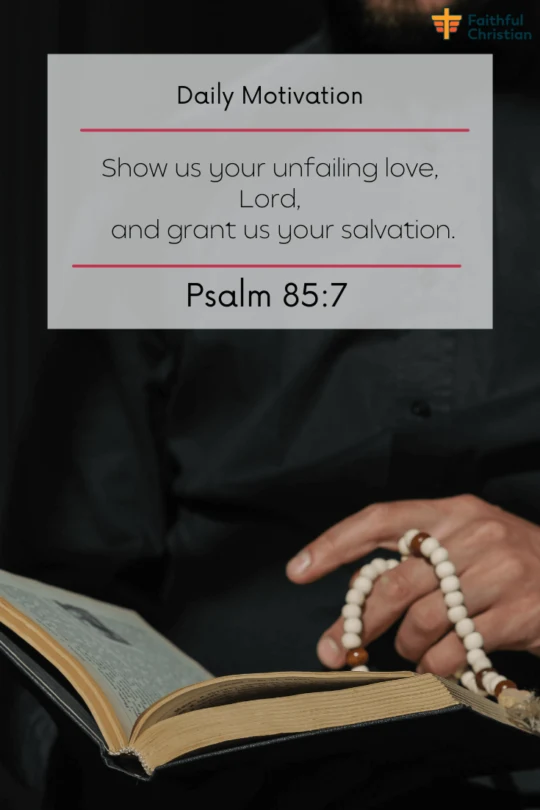 Show us your unfailing love, Lord,
and grant us your salvation.
"Show us your unfailing love, LORD, and grant us your salvation." This quote from Psalm 85:7 underlines God's promise of peace. His infinite love offers us both salvation and tranquility.
Here we explore the intertwining of these three elements: love, salvation, and peace.
The verse from Psalm exudes a divine reassurance. It's a comforting bond that ties us to our Creator. Isn't it profound that despite our imperfections, we are recipients of such peace? It's a concept that truly moves me. In our chaotic lives, God's love remains steadfast, providing us a sanctuary of peace.
This divine covenant is far from a mere poetic expression. Isaiah 54:10 confirms this: "Though the mountains be shaken and the hills be removed, yet my unfailing love for you will not be shaken nor my covenant of peace be removed." This verse comforts us. Amid life's upheavals, God's enduring love provides a peace that's unshakeable.
Luke 1:79 further elaborates this link between salvation and peace. It describes salvation as a path leading out of darkness, directly into the light of peace. Accepting this salvation ushers in an inner tranquility that surpasses human understanding. This theory resonates in real-life stories of believers throughout history.
Take Zacchaeus, for instance. This tax collector, as described in Luke 19:1-10, lived a life of corruption until he had a transformative encounter with Jesus.
In the moment of his salvation, when he chose to turn away from his old ways and embrace Jesus, he found an extraordinary peace of mind. He felt the weight of guilt and sin lifted and was filled with a peace that only comes from knowing you are a child of God.
Let's consider a modern example – Chuck Colson. This former advisor to President Nixon served prison time for his role in the Watergate Scandal.
His redemption story, however, began within those prison walls. The peace he found was rooted not in his circumstances, but in his new-found faith and salvation.
How do we emulate Zacchaeus and Colson? We accept God's salvation. We maintain faith amid adversity. We lean on God's unfailing love.
As we grapple with life's chaos, let's recall Psalm 85:7. We can find solace in God's promise and the peace it brings. Let's walk this path of faith, basking in the tranquility God freely offers.
Psalm 85:8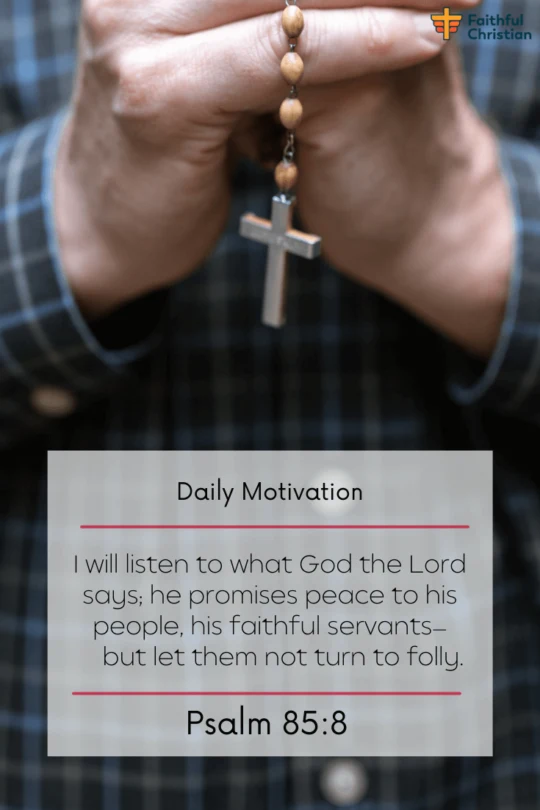 8 I will listen to what God the Lord says;
he promises peace to his people, his faithful servants—
but let them not turn to folly.
Psalm 85:8 offers a powerful insight: genuine peace intertwines with adherence to God's word.
The verse reveals that the Almighty promises tranquility to His faithful followers. But to receive this peace, we must listen to His word, as stated in Zechariah 8:16.
Moreover, we must apply these teachings in our lives, shunning any return to folly, as 1 Thessalonians 5:13 emphasizes.
Let's take a moment to dive into the story of Jonah from the Bible. Jonah initially ran away from God's command. He chose his own path, his folly. It wasn't until he turned back to God, heeding His word, that he found peace.
Jonah finally obeyed and delivered God's message to Nineveh. And guess what? Not only did Jonah find peace in obedience, but so did the whole city of Nineveh!
Nicky Cruz, a former gang leader, mirrors Jonah's journey. His life, once steeped in violence, changed when he embraced faith.
His transition from folly to faith brought him peace. His transformation continues to inspire many about the transformative power of faith-based peace.
Here's something we must remember: God's peace isn't exclusive. Its impact isn't confined to individuals alone. It permeates communities and societies when adhered to collectively.
Visualize a society rooted in truth, peace, and devoid of folly. That's the powerful transformation God's peace can effect.
In conclusion, God's peace isn't elusive. It's a profound reality, substantial and enduring. As believers, we need to tune our hearts to His words and live according to them.
Remember, peace isn't merely an absence of conflict. It's the presence of God. In my own journey, I have found this truth to be transformative.
In our collective pursuit of peace, we must listen to God's word and shun folly. As we do this, we'll experience a peace that permeates not only our hearts but also our society. We thus become catalysts for a society steeped in peace.
Embrace this journey towards God-promised peace—it's one worth embarking on for us all.
More bible verses about peace of mind and heart
---
Recommended for you
---
Peace of mind in hard times? These words will encourage you.
1.  Seek repentance
There are times when we are faced with so many problems with no hope in sight.
It could be your health that is not improving or your business that is no longer profitable.
In all our challenges, we must trust in the power of God.
But first, we must seek repentance.
We have all sinned against God.
If you say you have no sin, you make a mockery of yourself and call God a liar.
God wishes that we come close to him.
That with him, we can have anything we desire, including peace of mind.
But he will not listen to your prayers if you are wicked and unrepentant.
God is far from the wicked, and the scripture says, "there is no peace for the wicked.
Therefore, we must repent from all our sins.
Search through your heart and identify where you are going wrong.
Is it fornication, adultery, stealing, lying, cheating, or murder?
God can wash you clean and bring you into his presence where peace dwelleth.
In God, you will have peace in this wicked world.
He will guide and protect you. He will fight your battles.
And when you are weak, Our lord will give you all the strength you need.
The scripture says, "Come to Me, all you who labor and are heavily laden, and I will give you rest. Take My yoke upon you and learn from Me, for I am gentle and lowly in heart, and you will find rest for your souls. For My yoke is easy, and My burden is light." (Matthew 11:28-30)
2.  Trust in God
Whatever your situation, you lose nothing by trusting in God.
If you are finding it hard to trust God, considering the weight of your troubles, then you must have a rethink today.
God can miraculously help you in your troubles.
He can redeem you and save you from your trials.
Everything you are going through is allowed by God to test you.
It is not because he hates you, but he has allowed us to face temptations from time to time.
Think about it for a second.
God's only begotten son came to the world, was humiliated and persecuted. Then, in the end, the wicked Jews killed him.
If Christ could go through so much pain, there is no reason why we wouldn't.
Christ said, "Blessed are those who are persecuted because of righteousness, for theirs is the kingdom of heaven."
So, you see, there is a promise if you stay faithful until the end.
May God come to your rescue and return peace, joy, and happiness to the darkest parts of your heart. Amen.
Frequently Asked Questions
What Psalm is perfect peace?
When seeking perfect peace, we turn to Psalm 23. Particularly, verses 2 and 3 resonate, "He makes me lie down in green pastures, he leads me beside quiet waters, he refreshes my soul." A Psalm of tranquility, it illuminates God's calming, loving care.
What is a powerful prayer for peace of mind?
A prayer for peace might unfold thus: "Omnipotent God, your presence soothes. I trust in your promise of peace. Unburdened, I cast all worries unto you (1 Peter 5:7). Let your peace rule in my heart (Philippians 4:7). Amen."
How do I pray to God for peace of mind?
Praying for peace requires acknowledging God. Express your feelings and fears to Him. Incorporate verses about peace, such as John 14:27, "Peace I leave with you; my peace I give you." Request His peace and focus on His promises. Conclude with gratitude.
What is a good Bible verse for peace of mind?
The epistle to the Philippians offers solace: "And the peace of God, which transcends all understanding, will guard your hearts and your minds in Christ Jesus" (Philippians 4:7). It assures us of God's unfathomable, protective peace.
Which verse in the Bible talks about peace?
The Gospel of John contains a beautiful verse on peace: "Peace I leave with you; my peace I give you" (John 14:27). Here, Jesus offers his enduring, comforting peace to His followers.
What are some Bible verses about peace and strength?
Two verses intertwine peace and strength: John 16:33 assures us that Jesus has overcome worldly troubles, providing peace. Isaiah 40:31 offers strength and hope in God's renewing power.
Can you provide healing scriptures for peace of mind?
Healing scriptures for peace of mind include Psalm 34:18 and Matthew 11:28. They communicate God's nearness, His saving grace, and His offer of rest, all nourishing a peaceful mind.
Which Bible verse offers peace of mind and heart?
Philippians 4:6-7 offers peace to both mind and heart. It advises us to confide our worries to God and promises His peace will protect our hearts and minds.
Are there any Bible verses about keeping peace with others?
Romans 12:18 advises us on keeping peace with others: "If it is possible…live at peace with everyone." This verse underscores the importance of personal efforts towards peace.
What are some Bible verses that talk about peace and love?
Peace and love intertwine in 1 Peter 4:8 and John 14:27. They underscore the paramount importance of love in maintaining peace and the gift of Christ's peace.
Can you share some verses about peace and rest?
For peace and rest, consider Matthew 11:28-29 and Psalm 4:8. They emphasize the rest and peace derived from leaning on the Lord and His ability to provide safety and tranquility.
---
Recommended for you
---
Author: Akatakpo Dunn
Dr. Akatakpo Dunn is a dedicated follower of Christ, an active member and speaker, and an ongoing learner of the Scriptures. Passionate about his faith and serving others, he is committed to sharing his spiritual journey and insights to inspire and uplift fellow believers. He has been active in the church for more than 23 years. Through The
Faithful Christian Blog
,
Dr. Dunn
combines his love for God, philanthropy, and Scripture, providing a valuable resource for those seeking to grow in their faith.
Follow me: on Youtube, Facebook, Twitter, Instagram, and Pinterest.
Content Disclosure:
At The Faithful Christian Blog, I create authentic and inspiring content. Although I am the main author, I occasionally use AI for minor language enhancements. This minimal AI usage ensures high-quality, trustworthy articles without compromising originality or sincerity, ultimately supporting our shared faith journey.
Warmly,
Dr. Akatakpo Dunn
Was this article helpful?