My wife and I have faced lots of challenges since we got married.
First, we had a serious disagreement in the first few months after our wedding.
And when things began to look peaceful, the devil struck with a miscarriage.
This took away joy and happiness from our home. But somehow, we were able to overcome.
Just when we were trying to set off from our troubles, the devil struck again.
About two months ago, my wife woke up and found out she was bleeding after recently testing positive for pregnancy.
At this point, I wasn't sure what to do.
It was just like the devil had chosen my space for trials and tribulations.
Yet, in my afflictions, I trusted God.
I knew, for sure, only He could return peace to my heart.
I knew he could take away all our pains and bless us in our trials.
If you are facing any trouble or temptation, there are bible verses for peace of mind.
These scriptures remind us that we can draw back to God, and he will take away all our troubles.
Immediately, I noticed my wife was bleeding; we prayed.
And by his grace, despite bleeding massively, such that the mattress and her night wears were heavily stained, she is four months pregnant today and exceedingly happy.
God has returned peace to my home, and I hope my testimony will be an inspiration to you.
I have put together bible verses about peace of mind to inspire you.
Only God can take away your troubles and bless you with peace in hard times.
---
Recommended for you
---
Bible verses about peace of mind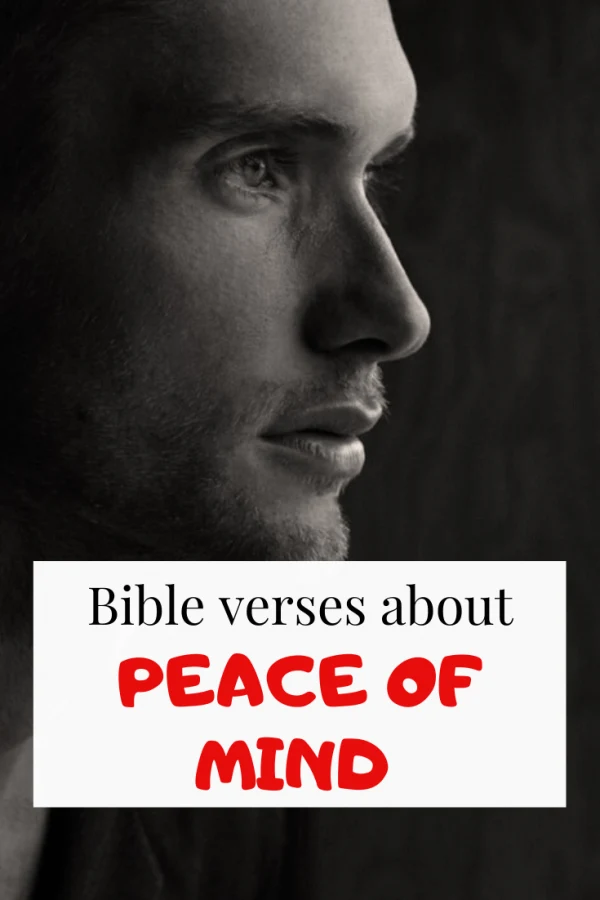 Isaiah 26:3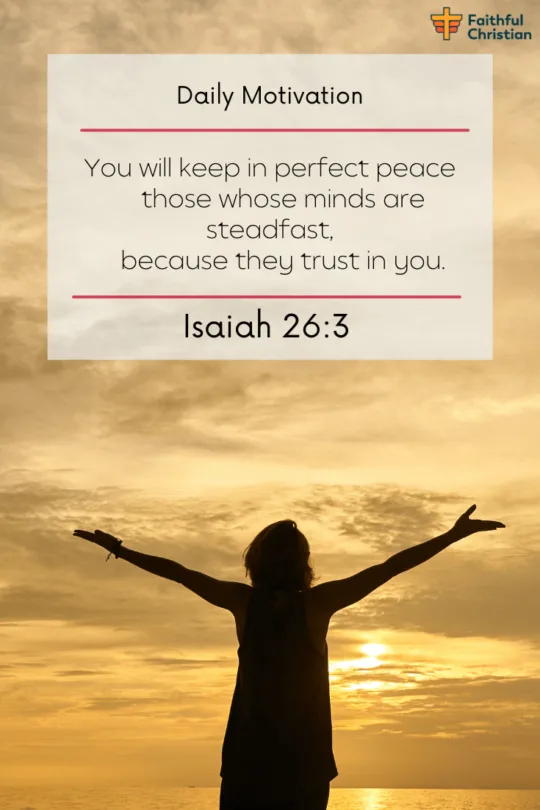 You will keep in perfect peace
    those whose minds are steadfast,
    because they trust in you.
Philippians 4:7
And the peace of God, which transcends all understanding, will guard your hearts and your minds in Christ Jesus.
John 16:33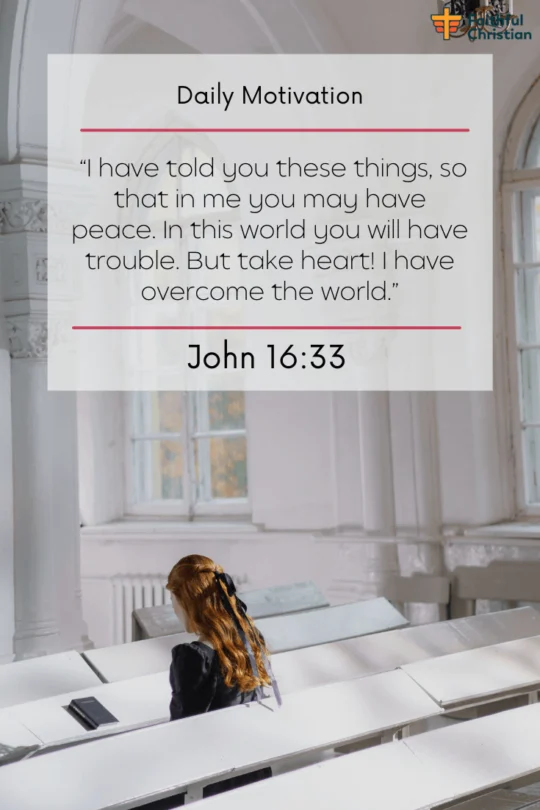 "I have told you these things, so that in me you may have peace. In this world you will have trouble. But take heart! I have overcome the world."
John 14:27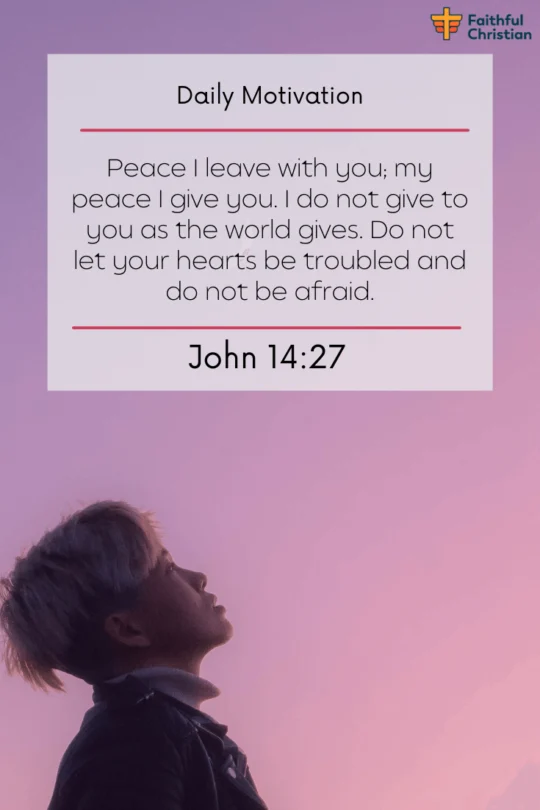 Peace I leave with you; my peace I give you. I do not give to you as the world gives. Do not let your hearts be troubled and do not be afraid.
Psalm 9:10
Those who know your name trust in you,
    for you, Lord, have never forsaken those who seek you.
Jeremiah 17:7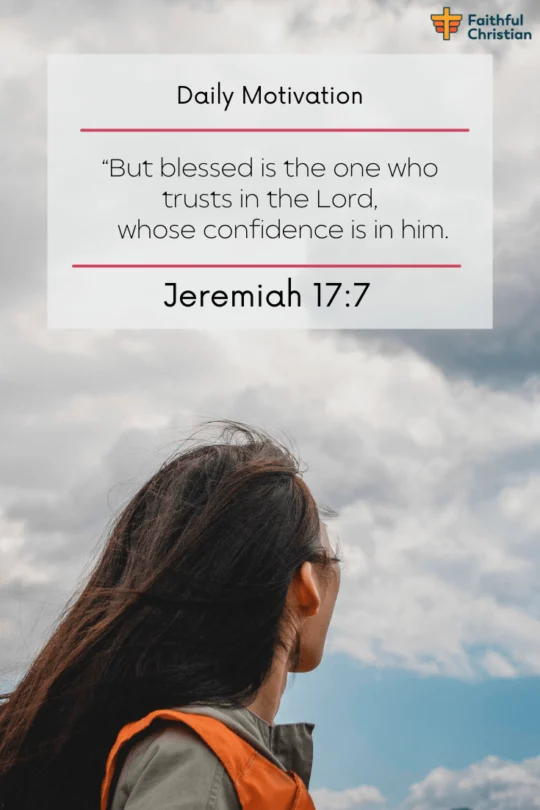 "But blessed is the one who trusts in the Lord,
    whose confidence is in him.
Jeremiah 17:8
8 They will be like a tree planted by the water
    that sends out its roots by the stream.
It does not fear when heat comes;
    its leaves are always green.
It has no worries in a year of drought
    and never fails to bear fruit."
Romans 5:1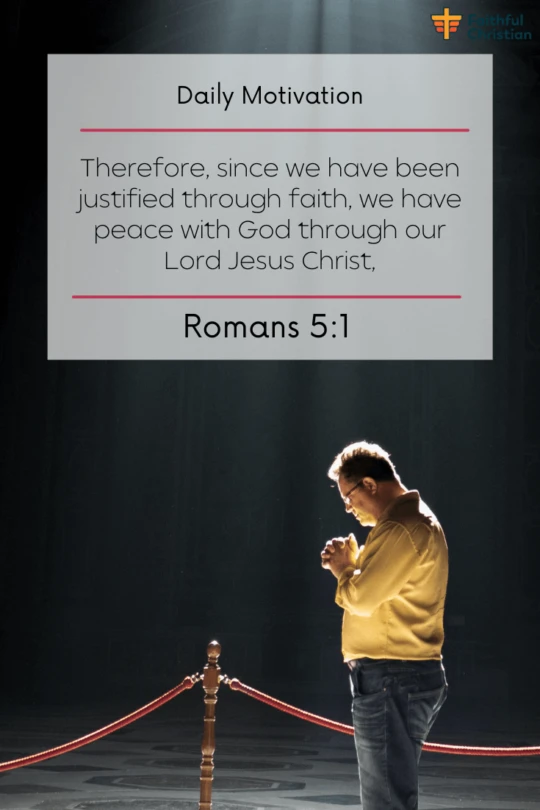 Therefore, since we have been justified through faith, we[a] have peace with God through our Lord Jesus Christ,
Psalm 85:7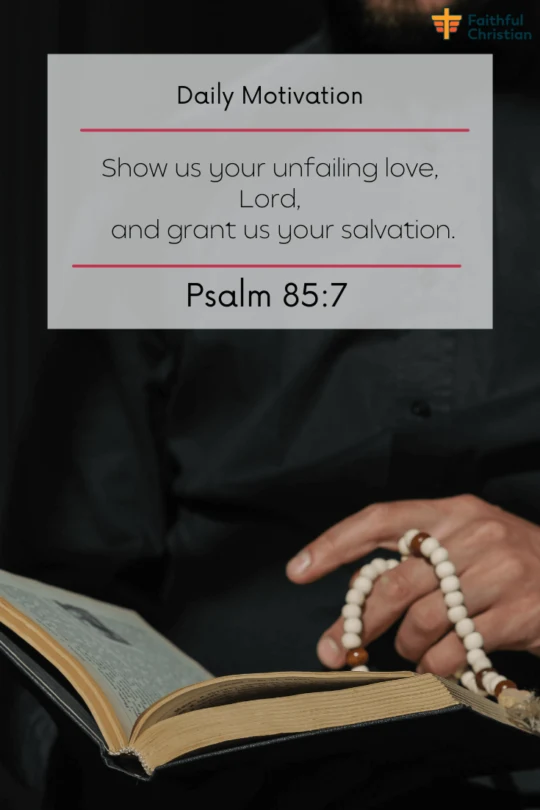 Show us your unfailing love, Lord,
    and grant us your salvation.
Psalm 85:8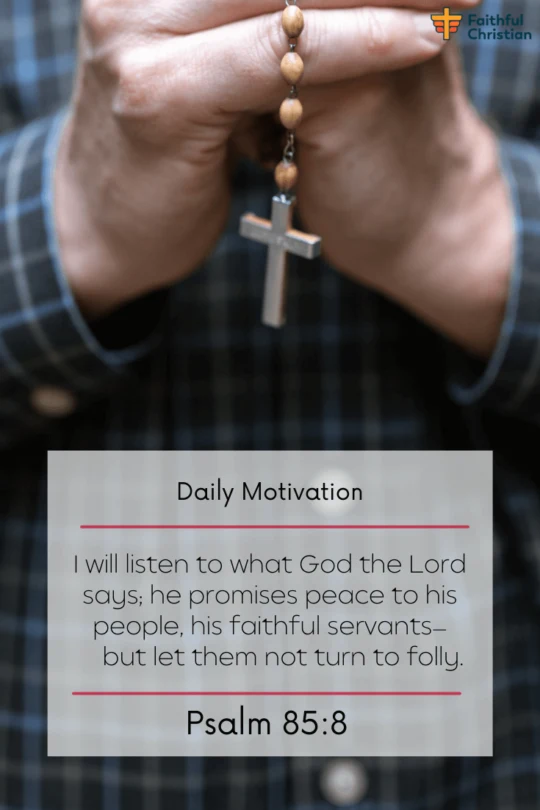 8 I will listen to what God the Lord says;
    he promises peace to his people, his faithful servants—
    but let them not turn to folly.
Ephesians 2:14
For he himself is our peace, who has made the two groups one and has destroyed the barrier, the dividing wall of hostility,
Ephesians 2:15-16
by setting aside in his flesh the law with its commands and regulations. His purpose was to create in himself one new humanity out of the two, thus making peace,  and in one body to reconcile both of them to God through the cross, by which he put to death their hostility.
Isaiah 31:1
Woe to those who go down to Egypt for help,
    who rely on horses,
who trust in the multitude of their chariots
    and in the great strength of their horsemen,
but do not look to the Holy One of Israel,
    or seek help from the Lord.
Micah 5:5
And he will be our peace
    when the Assyrians invade our land
    and march through our fortresses.
We will raise against them seven shepherds,
    even eight commanders,
Isaiah 57:19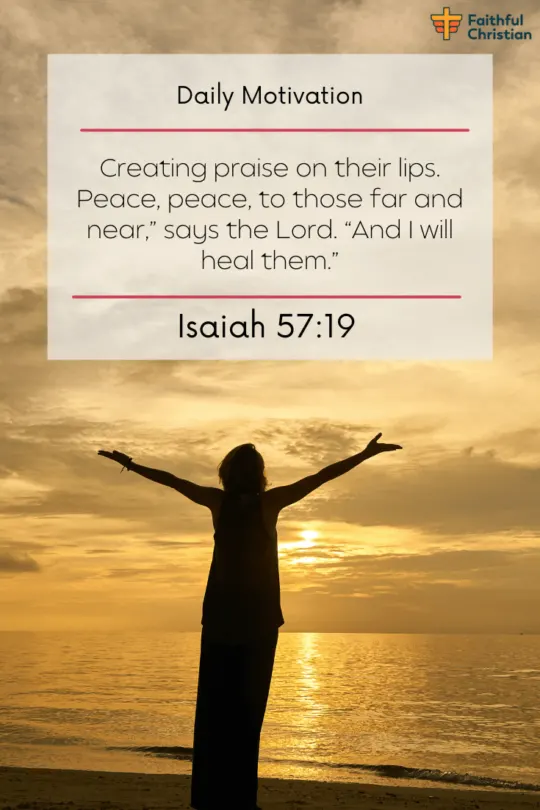 Creating praise on their lips. Peace, peace, to those far and near," says the Lord. "And I will heal them."
Isaiah 57:20-21
But the wicked are like the tossing sea, which cannot rest, whose waves cast up mire and mud. "There is no peace," says my God, "for the wicked."
2 Thessalonians 3:16
Now may the Lord of peace himself give you peace at all times and in every way. The Lord be with all of you.
Psalm 29:11
The Lord gives strength to his people;
    the Lord blesses his people with peace.
Colossians 3:15
Let the peace of Christ rule in your hearts, since as members of one body you were called to peace. And be thankful.
Romans 15:13
 May the God of hope fill you with all joy and peace as you trust in him, so that you may overflow with hope by the power of the Holy Spirit.
Romans 8:6
The mind governed by the flesh is death, but the mind governed by the Spirit is life and peace.
Romans 5:1
Therefore, since we have been justified through faith, we[a] have peace with God through our Lord Jesus Christ,
Job 22:21
"Submit to God and be at peace with him;
    in this way prosperity will come to you.
Isaiah 48:22
"There is no peace," says the Lord, "for the wicked."
2 Corinthians 13:11
Finally, brothers and sisters, rejoice! Strive for full restoration, encourage one another, be of one mind, live in peace. And the God of love and peace will be with you.
---
Recommended for you
---
Peace of mind in hard times? These words will encourage you.
1.  Seek repentance
There are times when we are faced with so many problems with no hope in sight.
It could be your health that is not improving or your business that is no longer profitable.
In all our challenges, we must trust in the power of God.
But first, we must seek repentance.
We have all sinned against God.
If you say you have no sin, you make a mockery of yourself and call God a liar.
God wishes that we come close to him.
That with him, we can have anything we desire, including peace of mind.
But he will not listen to your prayers if you are wicked and unrepentant.
God is far from the wicked, and the scripture says, "there is no peace for the wicked."
Therefore, we must repent from all our sins.
Search through your heart and identify where you are going wrong.
Is it fornication, adultery, stealing, lying, cheating, or murder?
God can wash you clean and bring you into his presence where peace dwelleth.
In God, you will have peace in this wicked world.
He will guide and protect you. He will fight your battles.
And when you are weak, Our lord will give you all the strength you need.
The scripture says, "Come to Me, all you who labor and are heavily laden, and I will give you rest. Take My yoke upon you and learn from Me, for I am gentle and lowly in heart, and you will find rest for your souls. For My yoke is easy, and My burden is light." (Matthew 11:28-30)
2.  Trust in God
Whatever your situation, you lose nothing by trusting in God.
If you are finding it hard to trust God, considering the weight of your troubles, then you must have a rethink today.
God can miraculously help you in your troubles.
He can redeem you and save you from your trials.
Everything you are going through is allowed by God to test you.
It is not because he hates you, but he has allowed us to face temptations from time to time.
Think about it for a second.
God's only begotten son came to the world, was humiliated and persecuted. Then, in the end, the wicked Jews killed him.
If Christ could go through so much pain, there is no reason why we wouldn't.
Christ said, "Blessed are those who are persecuted because of righteousness, for theirs is the kingdom of heaven."
So, you see, there is a promise if you stay faithful until the end.
May God come to your rescue and return peace, joy, and happiness to the darkest parts of your heart. Amen.
---
Recommended for you
---
Author: Akatakpo Dunn
Dr. Akatakpo Dunn is a dedicated follower of Christ, an active member and speaker, and an ongoing learner of the Scriptures. Passionate about his faith and serving others, he is committed to sharing his spiritual journey and insights to inspire and uplift fellow believers. He has been active in the church for more than 23 years. Through The
Faithful Christian Blog
,
Dr. Dunn
combines his love for God, philanthropy, and Scripture, providing a valuable resource for those seeking to grow in their faith.
Follow me: on Youtube, Facebook, Twitter, Instagram, and Pinterest.
Content Disclosure:
At The Faithful Christian Blog, I create authentic and inspiring content. Although I am the main author, I occasionally use AI for minor language enhancements. This minimal AI usage ensures high-quality, trustworthy articles without compromising originality or sincerity, ultimately supporting our shared faith journey.
Warmly,
Dr. Akatakpo Dunn
Was this article helpful?