In a world where negativity and pessimism can often prevail, it's essential to find sources of inspiration to maintain a positive mindset.
This article focuses on Bible verses about positive thinking, providing you with spiritual wisdom that can empower your thoughts and transform your perspective on life.
From overcoming challenges to embracing gratitude and fostering resilience, discover how the time-tested teachings of the Bible can support your mental well-being and guide you toward a more positive outlook.
Are you ready to infuse your thoughts with the power of scripture?
Philippians 4:8 encourages us to focus on the good: "Finally, brothers and sisters, whatever is true, whatever is noble, whatever is right, whatever is pure, whatever is lovely, whatever is admirable—if anything is excellent or praiseworthy—think about such things."
Embark on this enlightening journey, exploring Bible verses that inspire a positive mindset, and learn to harness the transformative power of faith in your everyday thinking.
Bible verses about positive mindset, Thinking [Scriptures]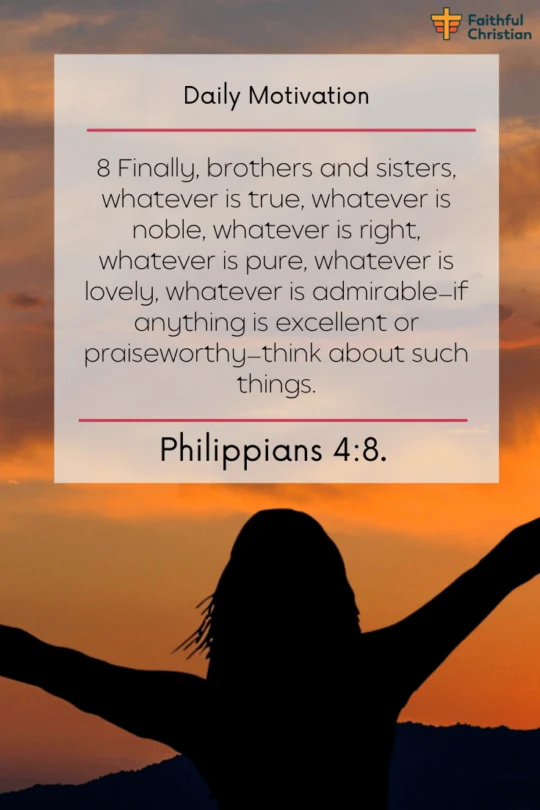 8 Finally, brothers and sisters, whatever is true, whatever is noble, whatever is right, whatever is pure, whatever is lovely, whatever is admirable—if anything is excellent or praiseworthy—think about such things.
Embracing a positive mindset is crucial for our spiritual growth, and turning to God can be the key to unlocking this powerful perspective.
In Philippians 4:8, Paul reminds us to focus on what is true, honorable, excellent, and deserving of praise. By doing so, Regardless of the obstacles we encounter, we can remain optimistic.
As followers of Christ, it's essential that we maintain hope and positivity in our lives.
When faced with challenges, aspirations, trials, or persecutions, remember to seek God's guidance and lean on His wisdom.
In any challenging situation, like marital issues or job hunting, release negativity and rely on the strength of prayer.
Through prayer, you can overcome all the obstacles in front of you. You can ask for the supernatural turnaround of your situation and ask God to make way for you.
So, instead of depending on your natural sense of your situations, Let your faith in God lead you through stormy times.
But what if things aren't going as planned despite waiting months or years for God?
What if there are no solutions to your problems despite all your effort and sacrifices?
Should you back down and become pessimistic about the future?
When facing such situations, remember the message of Romans 8:28 for guidance and reassurance. It says, "all things work together for good," meaning despite your trials and current predicaments, always maintain a positive mindset.
Another scripture to reassure you now is 1 Peter 5:7. Here; we are reminded to "cast all your anxieties on Him." When we focus on God's love and support, we can experience a transformation in our thinking, replacing negative thoughts with positive ones.
On your journey, rely on God's guidance and trust His plan for you. This will enable you to keep a positive mindset and face any obstacles with confidence.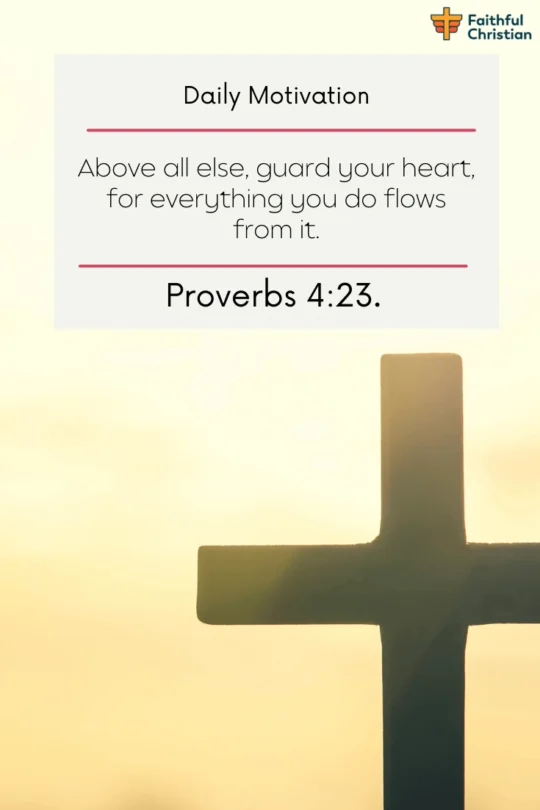 Above all else, guard your heart,for everything you do flows from it.
This Bible verse, Proverbs 4:23, emphasizes the importance of maintaining a positive mindset and outlook on life. It highlights the significance of our inner thoughts in shaping our actions and experiences.
Our heart is the center of our thoughts and emotions, and it influences our choices and behavior. In challenging times, it's crucial to regulate our inner responses to maintain a positive attitude.
We must be mindful of our thoughts and actions, avoiding negativity and fostering an optimistic view of our lives. The Bible verse reminds us that our thoughts, whether constructive or destructive, shape our reality.
Feeling defeated or incapable is often a result of negative thinking patterns. When we allow our minds to be controlled by pessimism, it can hinder our progress and success in life.
Guarding our mindset and staying positive is essential to unlocking the abundant opportunities available to us. Adopting a positive mindset invites God's support and guidance to help us overcome life's challenges.
Recall God's word in Joshua 1:9. It says, Let us "Be strong and courageous." In essence, there is no need to fear the future. Even when circumstances appear bleak, be confident that God is watching over and navigating the situation.
With a positive attitude, you can trust that God will stand with you, providing unwavering support.
Adopt an optimistic mindset and rely on God's guidance to help you overcome life's obstacles and uncertainties.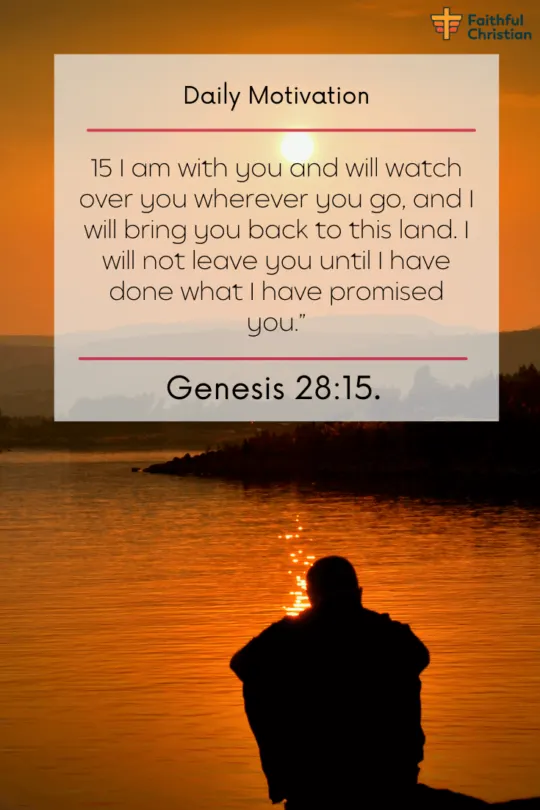 15 I am with you and will watch over you wherever you go, and I will bring you back to this land. I will not leave you until I have done what I have promised you."
This scripture inspires us to cultivate self-assurance and a positive outlook in life, drawing strength from God's inexhaustible love.
Our faith in the Lord empowers us to triumph over any adversity and trust that He will always protect and provide for us.
With unwavering optimism and assurance in God, we demonstrate our steadfast belief in His divine plan. Our reliance on His wisdom confirms that He will never let us down.
In challenging times, God provides solutions to help us overcome obstacles. This goes beyond mere positive thinking, as it involves a profound faith in God's strength and love.
As Christians, it's essential to transform our thoughts to align with our faith. Without faith, it is impossible to serve and connect with God genuinely.
How can we serve and believe in someone we don't fully trust? How can we accept Jesus as our Lord and Savior without conviction? Believing in Jesus, even without seeing Him, is crucial to our faith.
As we dedicate ourselves to God, let us hold steadfast to the certainty that His promises for our lives will come to fruition.
Genesis 28:15 offers us a message of comfort and assurance, emphasizing that God will never forsake us until His promises materialize in our lives.
Continue to pursue God's guidance in every facet of your existence. Cultivate a positive mindset and trust in His divine blueprint for your future.
During trying times, when it seems as if all hope has vanished, turn to God for His strength and support.
Isaiah 41:10 reminds us, "for I am with you; do not be dismayed," signifying that God stands beside us, supplying the fortitude to overcome any challenges. In essence, He empowers us to achieve whatever our hearts desire (Philippians 4:13).
Now is the time to depend on God and not focus on your natural perception of your conditions.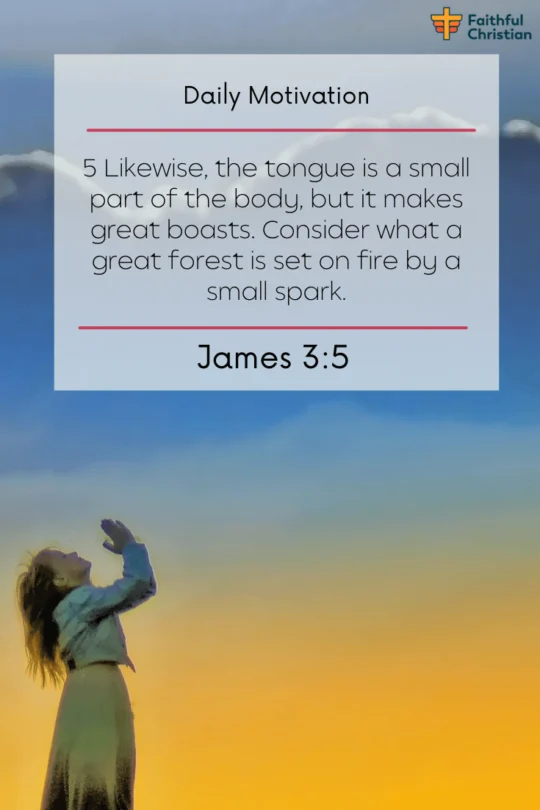 5 Likewise, the tongue is a small part of the body, but it makes great boasts. Consider what a great forest is set on fire by a small spark.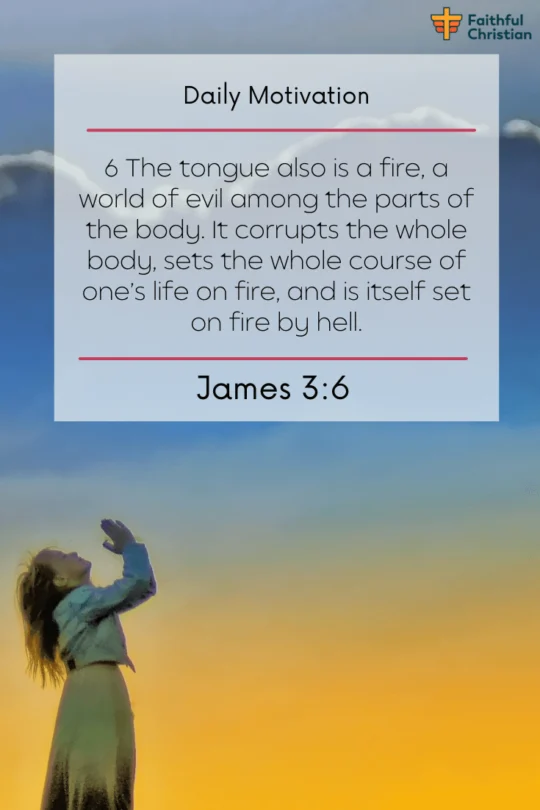 6 The tongue also is a fire, a world of evil among the parts of the body. It corrupts the whole body, sets the whole course of one's life on fire, and is itself set on fire by hell.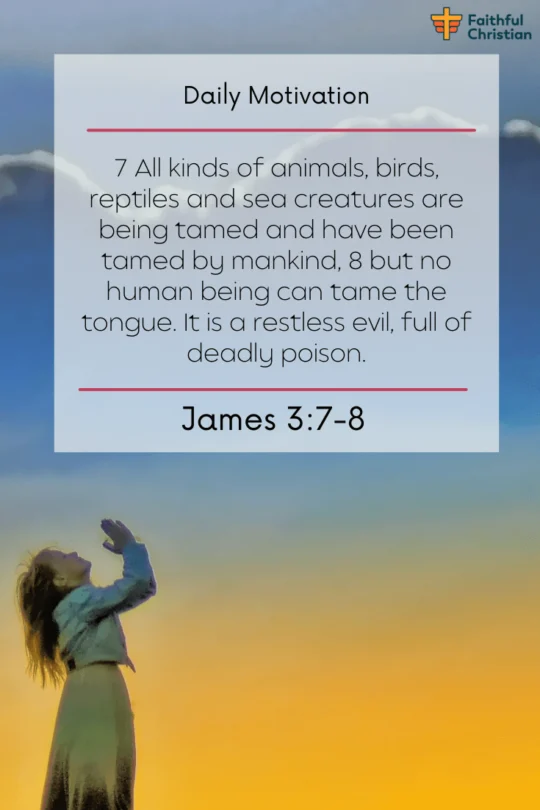 7 All kinds of animals, birds, reptiles and sea creatures are being tamed and have been tamed by mankind, 8 but no human being can tame the tongue. It is a restless evil, full of deadly poison.
As followers of Christ, we should practice self-discipline and use our tongues to spread positivity and encouragement.
Why dwell on negativity and doubt when we can empower ourselves and others through faith?
Refrain from uttering phrases like "you are sick" or "you are poor." Even when circumstances are challenging, let us speak life and hope into our future.
Failing to control our tongues may jeopardize our potential for growth and achievement. Our words hold the power to shape our reality, either boosting our aspirations or hindering them.
Remember, God grants us the strength to remain optimistic during adversity.
Thus, it is crucial to safeguard our future by refraining from uttering harmful words or expressing negative thoughts about what lies ahead. Proverbs 18:21 emphasizes, "Death and life are in the power of the tongue," signifying that our words have the potential to either build or destroy our destiny.
To secure a bright future, let us adopt a positive attitude in every situation. If you are unwell, boldly declare your healing; if you have been searching for a job without success, confidently proclaim, "God will provide me with a job."
Since our tongue wields the power to shape our lives, we must remain vigilant in choosing our words, ensuring they reflect our unwavering faith in God's guidance and support.
Despite the pain and disappointment you may face, strive to keep unkind words from escaping your lips. As Paul advises in Ephesians 4:29, we should refrain from engaging in harmful speech. Rather, let us place our faith in God, trusting He will guide us toward a brighter future.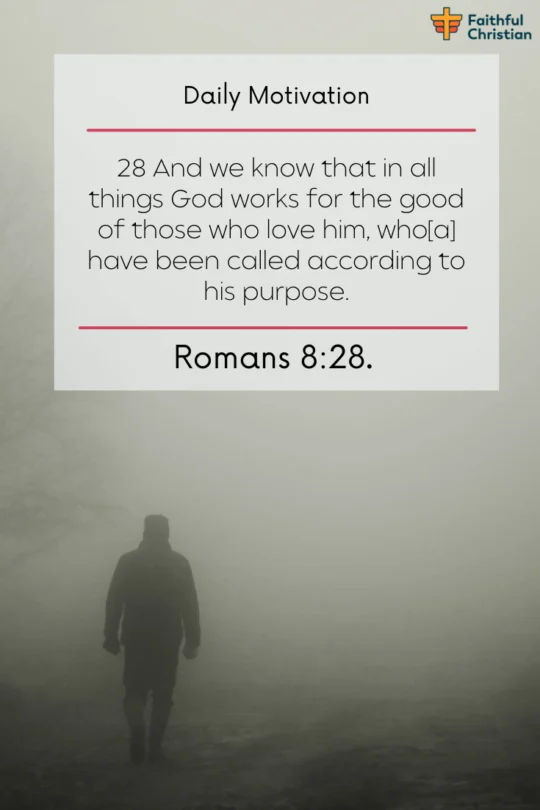 28 And we know that in all things God works for the good of those who love him, who[a] have been called according to his purpose.
This encouraging Bible verse reminds us to maintain a positive mindset even in challenging times. Ask yourself why you allow negative thoughts about the future to weigh you down.
Why should you be consumed with worry and sadness over your current circumstances?
Can you believe that God would permit unjust suffering in your life?
Remember, everything happens for a purpose, and we understand that through adversity, we grow closer to God's kingdom.
In the face of trials and temptations, negativity must never take over our lives. Instead, we must embrace a proactive attitude, trusting that every situation will ultimately work for our benefit.
If you are unwell, have faith that God has a reason for it, and maintain a positive mindset.
This Bible verse assures us that even during difficult times, it's crucial to stay optimistic.
Rather than being consumed by and discouraged by your current situation, concentrate on God's intentions for your future, bearing in mind that there is no challenge too great for Him to overcome
Therefore, cease being anxious and pessimistic about what lies ahead. Adopt an optimistic attitude and let the inspiring message from Paul in Philippians 4:6-7 uplift you: "Do not be anxious about anything." Rather than worrying, engage in prayer and persist in your efforts to create a positive influence.
As followers of Christ, we are not exempt from hardships and disappointments. We are still susceptible to the devil's temptations. However, we must constantly remind ourselves that our "light and momentary troubles" are temporary.
When God intervenes, He opens doors and offers us a future that exceeds our wildest dreams. So never stop believing. Keep trusting in God and maintain a positive outlook.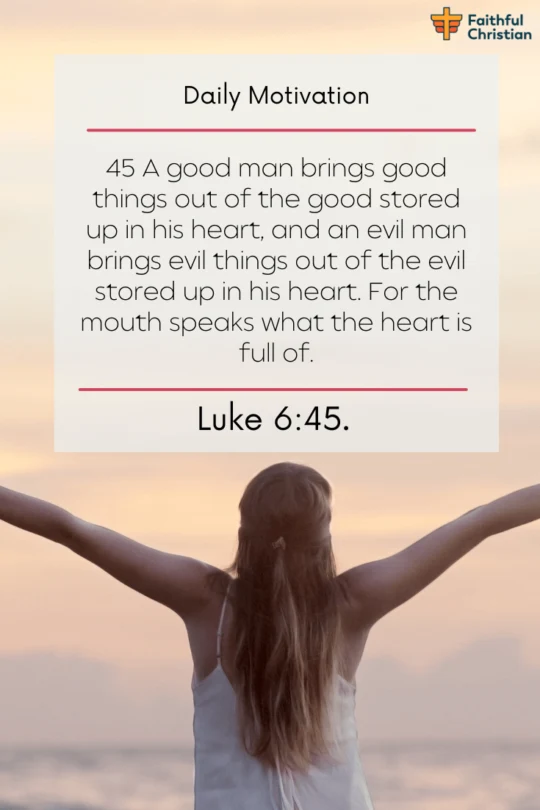 45 A good man brings good things out of the good stored up in his heart, and an evil man brings evil things out of the evil stored up in his heart. For the mouth speaks what the heart is full of.
Can we manage our thoughts and actions? Can we control our hearts and minds?
The straightforward answer is yes.
We definitely have control over our thoughts and actions.
To maintain a positive and optimistic outlook, we must consistently regulate our thoughts.
It is essential not to allow challenging situations to tarnish our hopeful expectations for the future.
Luke 6:45 emphasizes that we, as humans, express what resides in our hearts. We will only have faith in what we have embraced in our minds and pondered upon. That is why it is crucial to protect our thoughts and maintain a positive mindset toward the future.
Avoid allowing your present challenges to dictate your thoughts. It is crucial to protect your heart and concentrate on absorbing uplifting and positive information. As Proverbs 4:23 articulates, "everything you do flows from it."
Luke 6:45 emphasize the importance of focusing on positive and uplifting thoughts, guarding our hearts and minds, and allowing God's guidance to shape our mindset.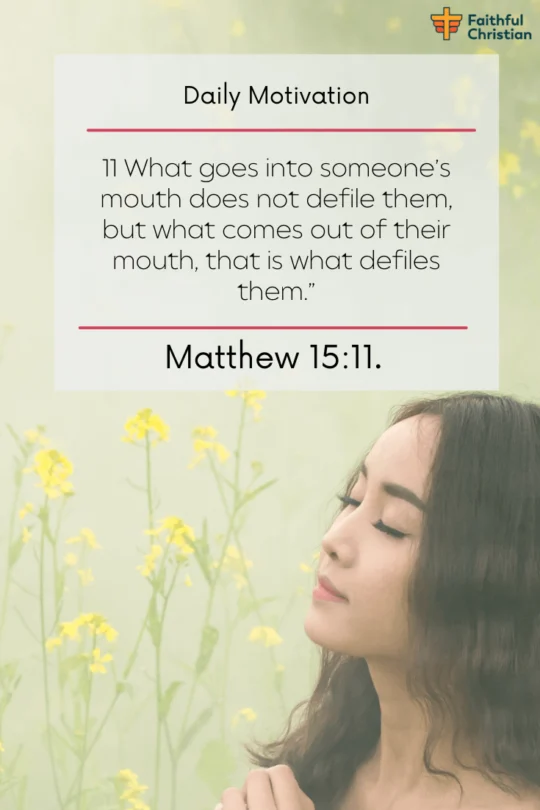 11 What goes into someone's mouth does not defile them, but what comes out of their mouth, that is what defiles them."
This Bible verse affirms that we have the power to overcome negative thoughts.
In fact, you can begin cultivating positivity today.
Don't allow negative thoughts to impact your life.
Cease doubting your abilities and capabilities.
Have faith in yourself and progressively develop a positive outlook for the future.
If God has assured us of hope, nothing can obstruct His plans for our lives.
We can always trust that God will provide a path even when it appears impossible.
So, why worry?
Why let your words convey negativity about the future?
Why maintain a pessimistic attitude or mindset for what lies ahead?
Remain positive, for God will undoubtedly help you triumph over every challenge you face.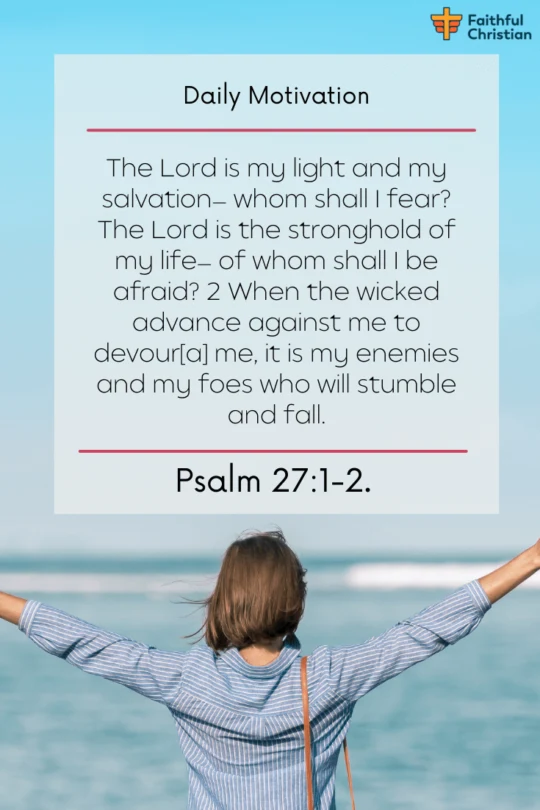 The Lord is my light and my salvation—whom shall I fear? The Lord is the stronghold of my life—of whom shall I be afraid? 2 When the wicked advance against meto devour[a] me, it is my enemies and my foeswho will stumble and fall.
In times of difficulty, God serves as our sanctuary and safe haven.
We can trust in His protection and find hope, even during challenging circumstances.
That is why maintaining a positive perspective in the face of adversity cannot be over-emphasized.
This Bible verse offers reassurance that God will always be by your side.
He will not abandon you to confront your struggles alone.
Therefore, approach the future with confidence and embrace an optimistic outlook.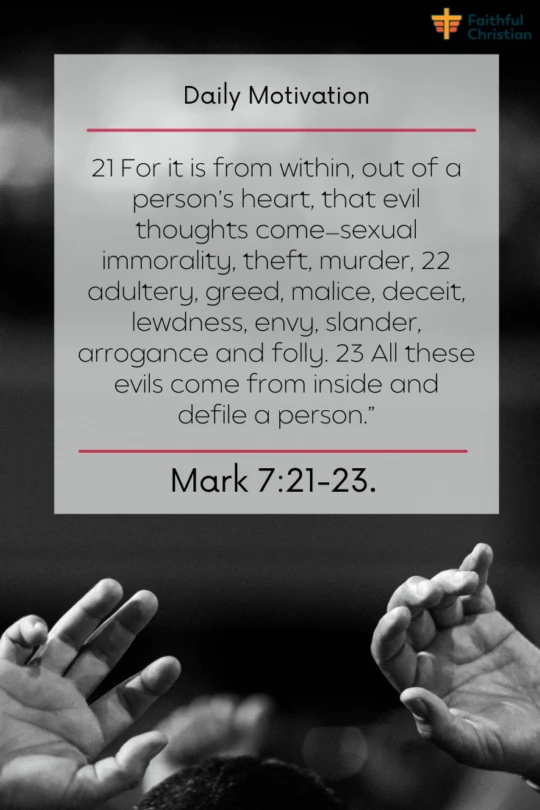 21 For it is from within, out of a person's heart, that evil thoughts come—sexual immorality, theft, murder, 22 adultery, greed, malice, deceit, lewdness, envy, slander, arrogance and folly. 23 All these evils come from inside and defile a person."
Every virtuous and wicked idea originates from within our minds.
We contemplate and evaluate both positive and negative information before making choices in our lives.
That's why it's crucial to assert control over our thoughts.
By safeguarding our thoughts and focusing on the positive, we allow God's assistance in overcoming challenges.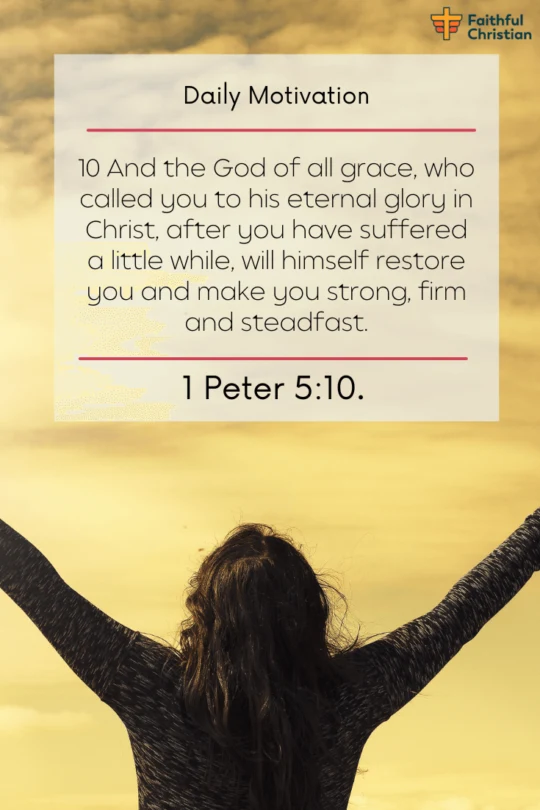 10 And the God of all grace, who called you to his eternal glory in Christ, after you have suffered a little while, will himself restore you and make you strong, firm and steadfast.
If you find yourself harboring pessimistic thoughts about the future, this significant Bible verse can provide solace and guidance.
God is aware of your struggles and hardships.
Indeed, He acknowledges that you may endure suffering for His cause. However, the Bible reassures us that our pain and trials are temporary.
God will never permit us to face temptations beyond our capacity to withstand.
He has promised to bring you back to a condition of happiness and peace.
So, why dwell on negative thoughts about the future?
Why relinquish hope in the face of adversity? Instead, adopt a healthy mindset and believe that God will help you overcome your obstacles.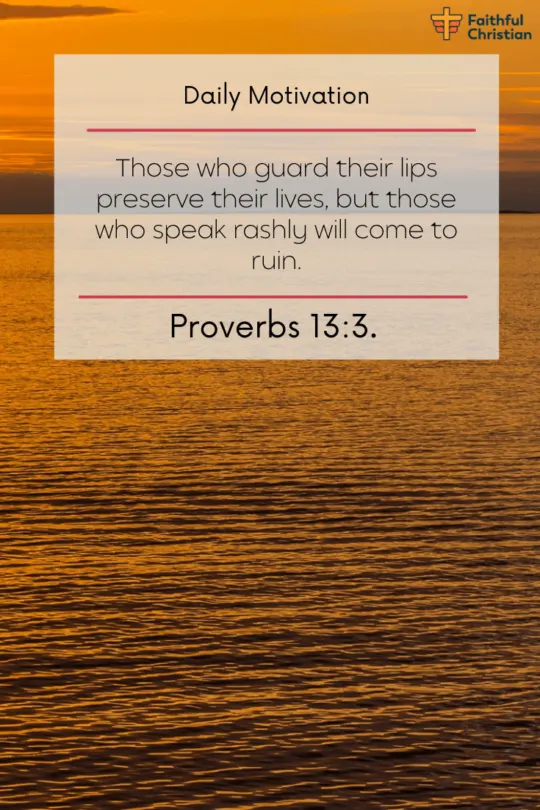 Those who guard their lips preserve their lives,but those who speak rashly will come to ruin.
Have you ever experienced despair and questioned God's presence in your heart?
Have you uttered hurtful words out of frustration due to your circumstances?
It's vital that we control our emotions when difficult circumstances arise.
Even when confronted with challenges that appear insurmountable, we must strive to think and speak positively.
This is because we are aware that nothing is beyond God's capabilities.
All things are within reach with our God, and we have confidence that He will rescue us from every one of our difficulties.
Always endeavor to maintain a cheerful attitude and be conscious of the words you use.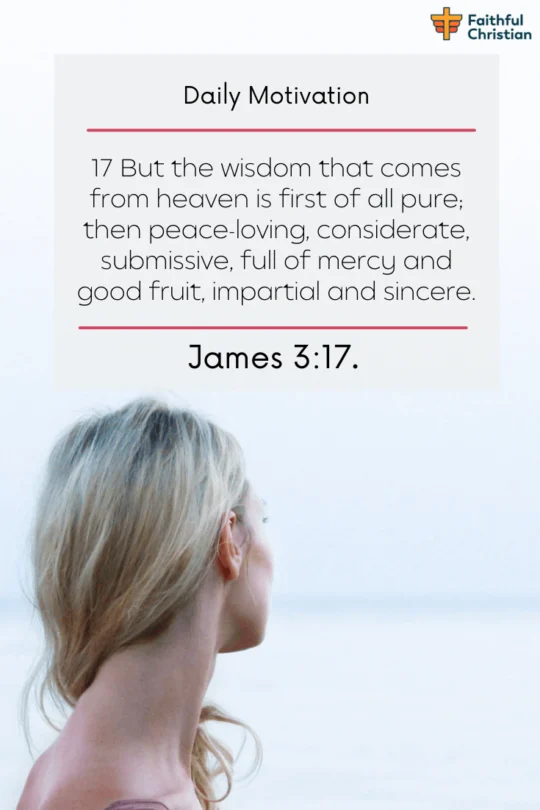 17 But the wisdom that comes from heaven is first of all pure; then peace-loving, considerate, submissive, full of mercy and good fruit, impartial and sincere.
In everything we undertake, it is essential to pursue divine wisdom from God.
We require God's wisdom to persist and patiently rely on the Lord.
We need God's wisdom to speak aptly and appropriately in every situation.
Request wisdom, and God will generously provide it to you.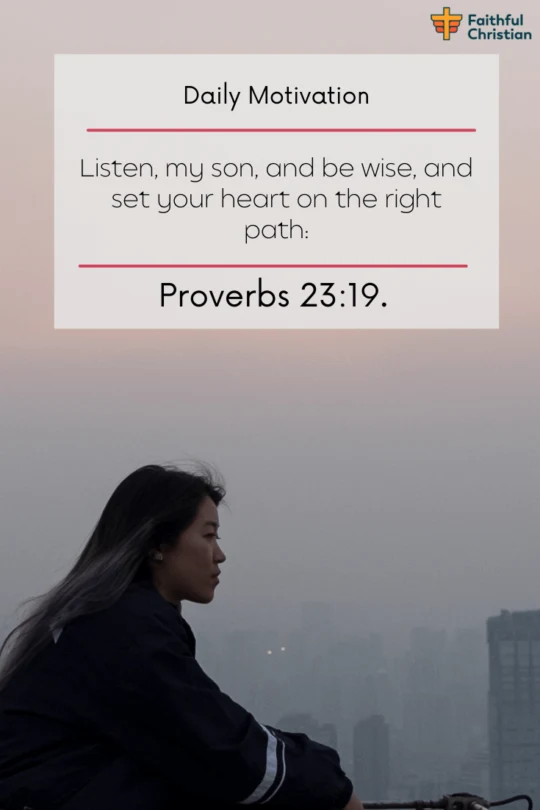 Listen, my son, and be wise,and set your heart on the right path:
This is another bible verse for positive thinking.
We must continually direct our minds towards the right path.
It's essential to govern our thoughts and concentrate on our future aspirations.
Refrain from allowing pessimistic thoughts to impact your hopes and dreams.
Transform your negative mindset and trust that God will assist you in overcoming it.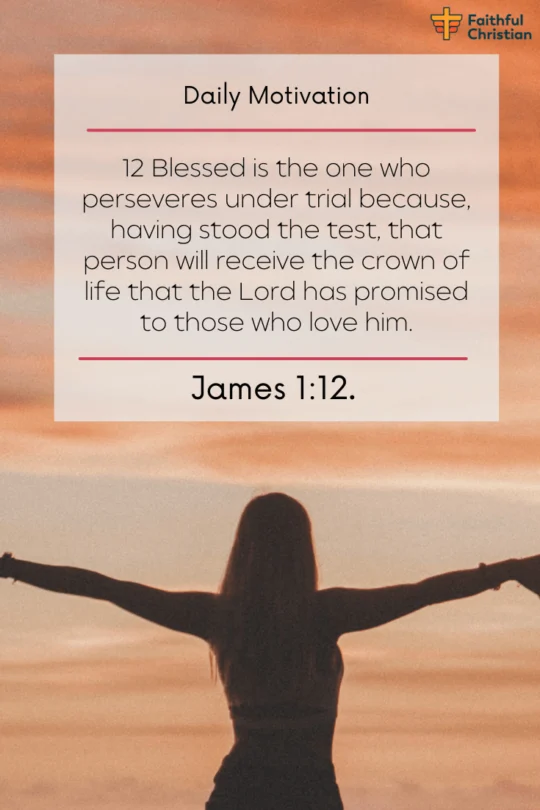 12 Blessed is the one who perseveres under trial because, having stood the test, that person will receive the crown of life that the Lord has promised to those who love him.
This Bible verse serves as a reminder that we will face trials and tribulations.
Difficulties and adversity are inevitable. But despite these difficulties, we must hold tight to our faith in God's might.
We ought to trust that He will assist us in overcoming every challenging moment in our lives.
Hence, avoid concentrating on the negative sides of your situation.
Choose to adopt an optimistic and hopeful attitude, for God has greater plans in store for your life.
FAQs
What is the prayer of positive thinking?
Looking for a prayer of positive thinking? Focus on gratitude, faith, and hope in God's promises. Ask Him for strength, wisdom, and guidance, while appreciating life's blessings. This approach cultivates positivity and trust in God, even in tough times.
What to pray to stop overthinking?
Trying to stop overthinking? Pray for God's wisdom and peace to calm your mind. Request help in focusing on the present and surrendering worries to Him. Trust His guidance and meditate on Scriptures, like Proverbs 3:5-6 and Matthew 6:25-34, to alleviate overthinking.
How do you activate positive thoughts?
Want to activate positive thoughts? Foster gratitude, mindfulness, and focus on your strengths. Surround yourself with uplifting people, books, and media. Enjoy activities that bring joy and purpose. Pray, meditate on inspiring Scriptures, and seek God's guidance for a positive outlook.
How to get positive energy from God?
Looking to get positive energy from God? Strengthen your relationship with Him through prayer, worship, and Scripture meditation. Spend time in His presence, seeking the Holy Spirit's guidance. Trust in His promises and embrace His love for joy, strength, and optimism.
What are five positive attitudes?
Five key positive attitudes include gratitude, optimism, resilience, compassion, and open-mindedness. Embracing these can boost mental well-being, happiness, and personal growth.
How do I stop thinking negative thoughts?
To stop negative thoughts, practice mindfulness, gratitude, and positive affirmations. Pray for guidance, meditate on uplifting Scriptures, and connect with positive people. Reflect and challenge negative patterns and beliefs.
How can I change my mindset and attitude?
Changing your mindset and attitude takes self-awareness, intention, and persistence. Identify negative patterns and replace them with positive alternatives. Develop habits like gratitude, mindfulness, and self-compassion. Seek God's guidance through prayer and Scripture meditation.
How do I change my mindset from negative to positive?
To shift from a negative to positive mindset, embrace gratitude, positive self-talk, and challenge negativity. Surround yourself with positivity and practice mindfulness. Pray for guidance, meditate on inspiring Scriptures, and cultivate habits that support a positive mindset.
Author: Akatakpo Dunn
Dr. Akatakpo Dunn is a dedicated follower of Christ, an active member and speaker, and an ongoing learner of the Scriptures. Passionate about his faith and serving others, he is committed to sharing his spiritual journey and insights to inspire and uplift fellow believers. He has been active in the church for more than 23 years. Through The
Faithful Christian Blog
,
Dr. Dunn
combines his love for God, philanthropy, and Scripture, providing a valuable resource for those seeking to grow in their faith.
Follow me: on Youtube, Facebook, Twitter, Instagram, and Pinterest.
Content Disclosure:
At The Faithful Christian Blog, I create authentic and inspiring content. Although I am the main author, I occasionally use AI for minor language enhancements. This minimal AI usage ensures high-quality, trustworthy articles without compromising originality or sincerity, ultimately supporting our shared faith journey.
Warmly,
Dr. Akatakpo Dunn
Was this article helpful?