We cannot run away from trials.
But in our trials, we can depend on God to save us.
No matter what you are going through, you can trust God to intervene.
There are many despairing times in my life when I have sought the help of God.
I have asked God for help in my marriage, life, and workplace.
Each time, he answers my prayers, and I know he will answer yours today.
If you have lost faith in him, just know that he hasn't lost faith in you.
Our God is faithful and will never forsake the righteous.
If you are discouraged and unhappy, I have put together this prayer for hope to strengthen you.
May God come to your aid and return joy, happiness, and optimism to your heart. Amen.
---
Recommended for you
---
Prayer Bible verses for hope and strength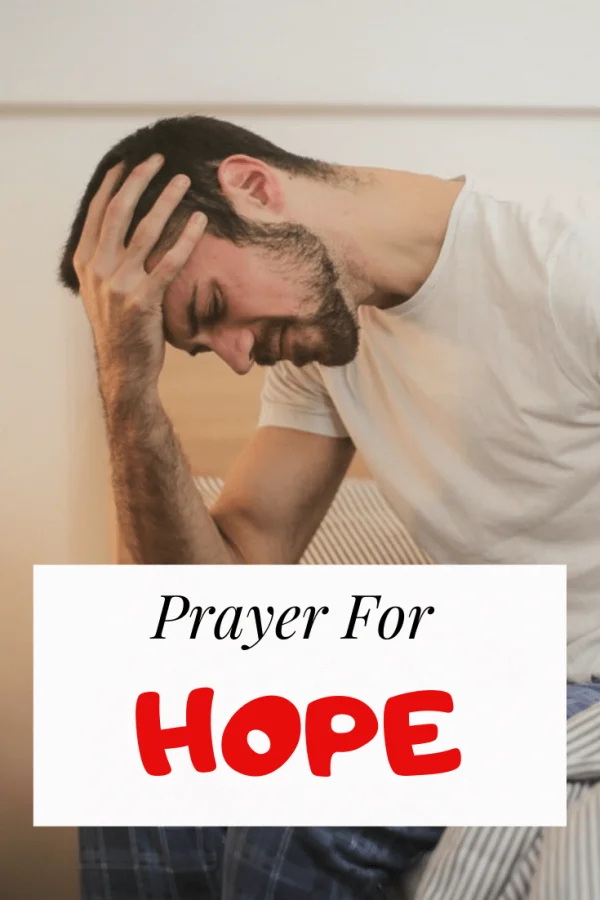 Romans 8:35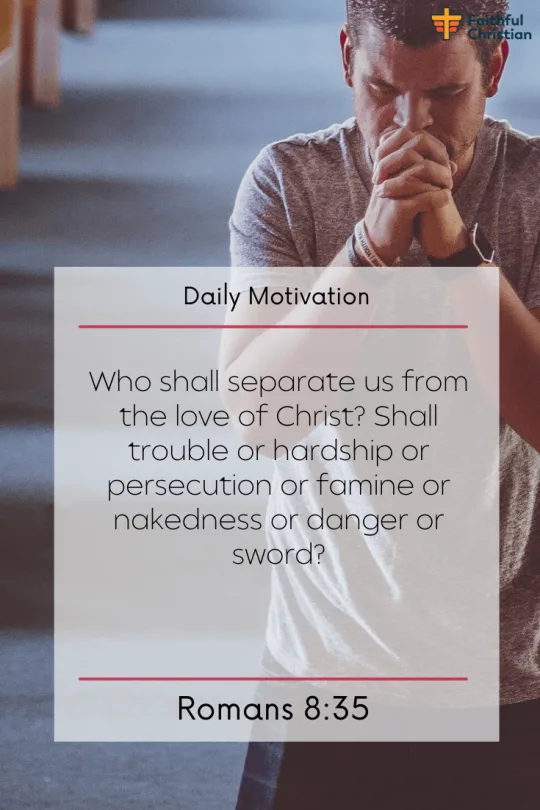 Who shall separate us from the love of Christ? Shall trouble or hardship or persecution or famine or nakedness or danger or sword?
John 16:33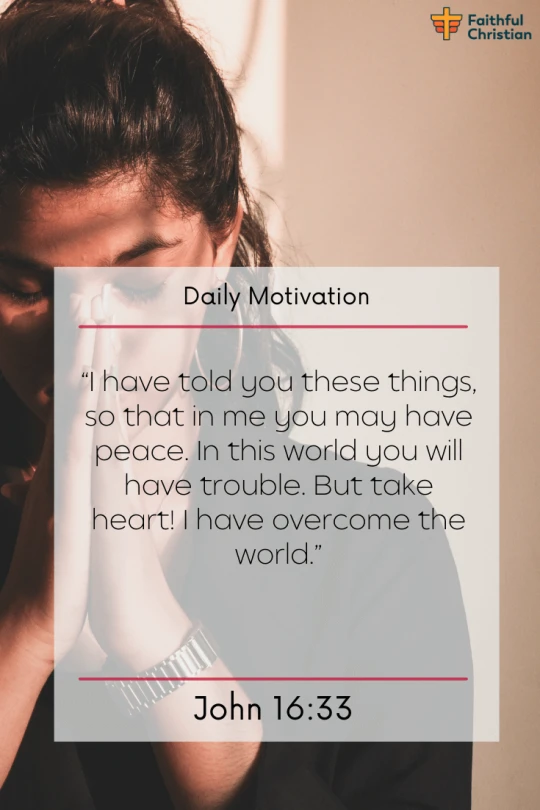 "I have told you these things, so that in me you may have peace. In this world you will have trouble. But take heart! I have overcome the world."
2 Corinthians 4:17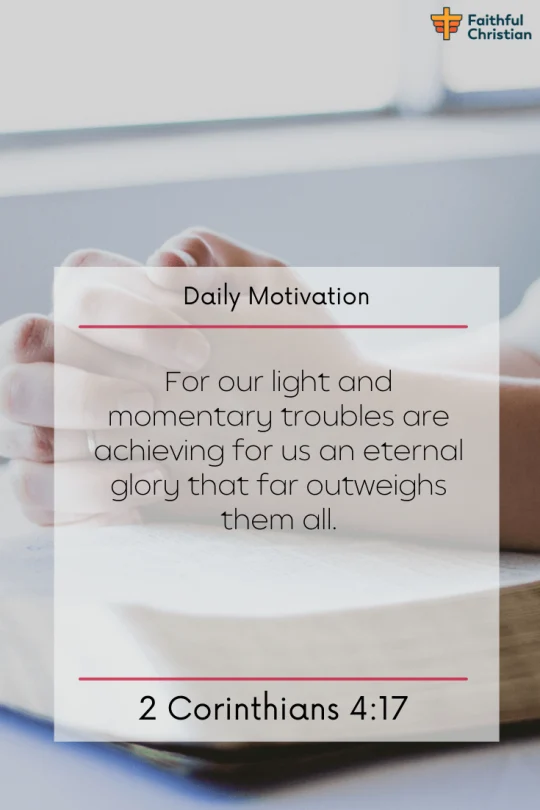 For our light and momentary troubles are achieving for us an eternal glory that far outweighs them all.
Romans 5:3-5
 Not only so, but we[a] also glory in our sufferings, because we know that suffering produces perseverance;  perseverance, character; and character, hope.
Prayer for Hope in difficult times for the Hopeless
In everything Give thanks (let us pray)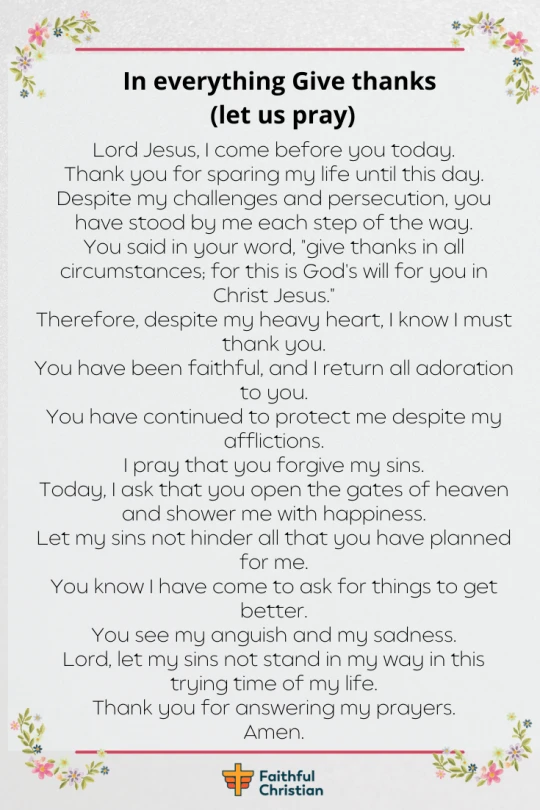 Lord Jesus, I come before you today.
Thank you for sparing my life until this day.
Despite my challenges and persecution, you have stood by me each step of the way.
You said in your word, "give thanks in all circumstances; for this is God's will for you in Christ Jesus."
Therefore, despite my heavy heart, I know I must thank you.
You have been faithful, and I return all adoration to you.
You have continued to protect me despite my afflictions.
I pray that you forgive my sins.
Today, I ask that you open the gates of heaven and shower me with happiness.
Let my sins not hinder all that you have planned for me.
You know I have come to ask for things to get better.
You see my anguish and my sadness.
Lord, let my sins not stand in my way in this trying time of my life.
Thank you for answering my prayers.
Amen.
Prayers for hope and faith – Be strong and of Good Courage (let us pray)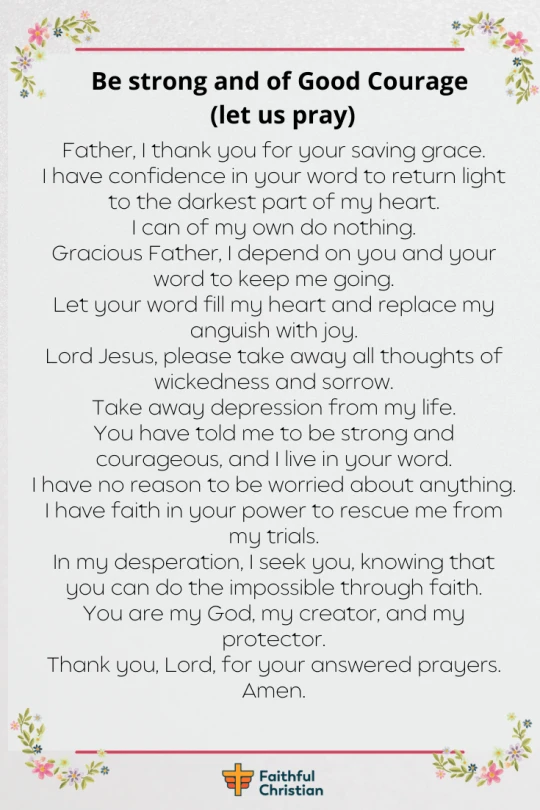 Father, I thank you for your saving grace.
I have confidence in your word to return light to the darkest part of my heart.
I can of my own do nothing.
Gracious Father, I depend on you and your word to keep me going.
Your word says, "Have I not commanded you? Be strong and courageous! Do not tremble or be dismayed, for the Lord your God is with you wherever you go."
Therefore, I ask for strength in these trying times.
Let your word fill my heart and replace my anguish with joy.
Lord Jesus, please take away all thoughts of wickedness and sorrow.
Take away depression from my life.
You have told me to be strong and courageous, and I live in your word.
I have no reason to be worried about anything.
I have faith in your power to rescue me from my trials.
In my desperation, I seek you, knowing that you can do the impossible through faith.
You are my God, my creator, and my protector.
Thank you, Lord, for your answered prayers. Amen.
Prayer for hope and guidance – Come to me, and I will give you rest (let us pray)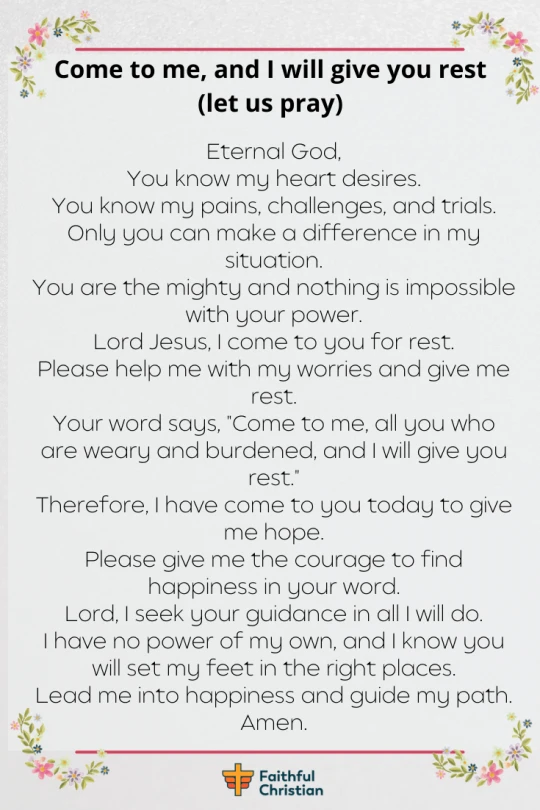 Eternal God,
You know my heart desires.
You know my pains, challenges, and trials.
Only you can make a difference in my situation.
You are the mighty and nothing is impossible with your power.
Lord Jesus, I come to you for rest.
Please help me with my worries and give me rest.
Your word says, "Come to me, all you who are weary and burdened, and I will give you rest."
Therefore, I have come to you today to give me hope.
Please give me the courage to find happiness in your word.
Lord, I seek your guidance in all I will do.
I have no power of my own, and I know you will set my feet in the right places.
Lead me into happiness and guide my path.
Amen.
I am with you always (let us pray)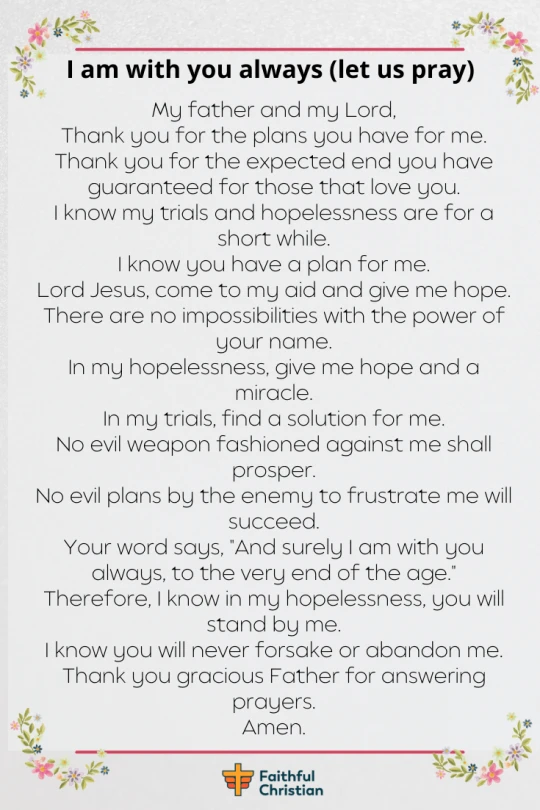 My father and my Lord,
Thank you for the plans you have for me.
Thank you for the expected end you have guaranteed for those that love you.
I know my trials and hopelessness are for a short while.
I know you have a plan for me.
Lord Jesus, come to my aid and give me hope.
There are no impossibilities with the power of your name.
In my hopelessness, give me hope and a miracle.
In my trials, find a solution for me.
No evil weapon fashioned against me shall prosper.
No evil plans by the enemy to frustrate me will succeed.
Your word says, "And surely I am with you always, to the very end of the age."
Therefore, I know in my hopelessness, you will stand by me.
I know you will never forsake or abandon me.
Thank you gracious Father for answering prayers.
Amen.
Arise and shine for your light has come (let us pray)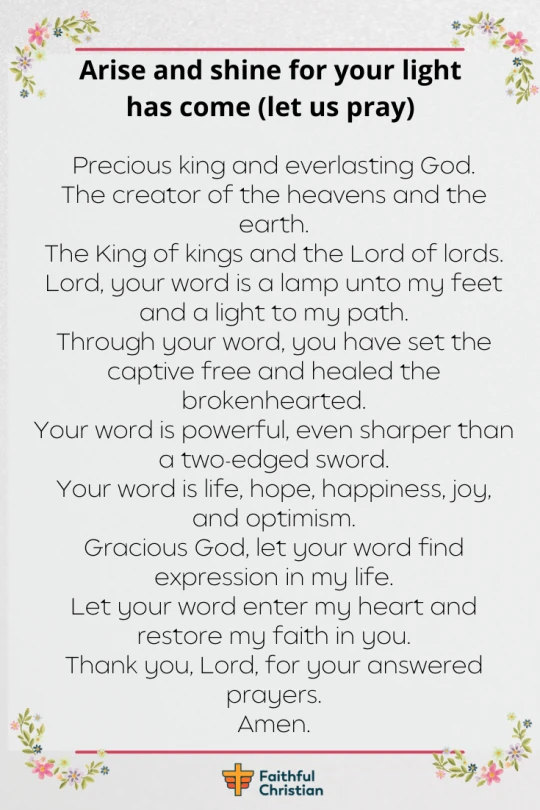 Precious king and everlasting God.
The creator of the heavens and the earth.
The King of kings and the Lord of lords.
Lord, your word is a lamp unto my feet and a light to my path.
Through your word, you have set the captive free and healed the brokenhearted.
Your word is powerful, even sharper than a two-edged sword.
Your word is life, hope, happiness, joy, and optimism.
Gracious God, let your word find expression in my life.
Let your word enter my heart and restore my faith in you.
Thank you, Lord, for your answered prayers.
Amen.
---
Recommended for you
---
Author: Akatakpo Dunn
Dr. Akatakpo Dunn is a dedicated follower of Christ, an active member and speaker, and an ongoing learner of the Scriptures. Passionate about his faith and serving others, he is committed to sharing his spiritual journey and insights to inspire and uplift fellow believers. He has been active in the church for more than 23 years. Through The
Faithful Christian Blog
,
Dr. Dunn
combines his love for God, philanthropy, and Scripture, providing a valuable resource for those seeking to grow in their faith.
Follow me: on Youtube, Facebook, Twitter, Instagram, and Pinterest.
Content Disclosure:
At The Faithful Christian Blog, I create authentic and inspiring content. Although I am the main author, I occasionally use AI for minor language enhancements. This minimal AI usage ensures high-quality, trustworthy articles without compromising originality or sincerity, ultimately supporting our shared faith journey.
Warmly,
Dr. Akatakpo Dunn
Was this article helpful?