We cannot run away from trials.
But in our trials, we can depend on God to save us.
No matter what you are going through, you can trust God to intervene.
There are many despairing times in my life when I have sought the help of God.
I have asked God for help in my marriage, life, and workplace.
Each time, he answers my prayers, and I know he will answer yours today.
If you have lost faith in him, just know that he hasn't lost faith in you.
Our God is faithful and will never forsake the righteous.
If you are discouraged and unhappy, I have put together this prayer for hope to strengthen you.
May God come to your aid and return joy, happiness, and optimism to your heart. Amen.
---
Recommended for you
---
Prayer Bible verses for hope and strength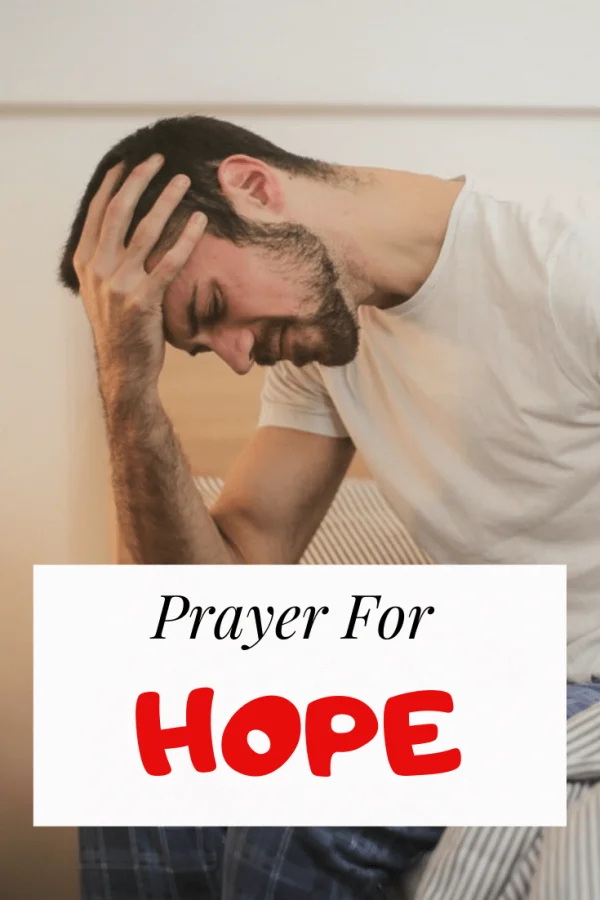 Romans 8:35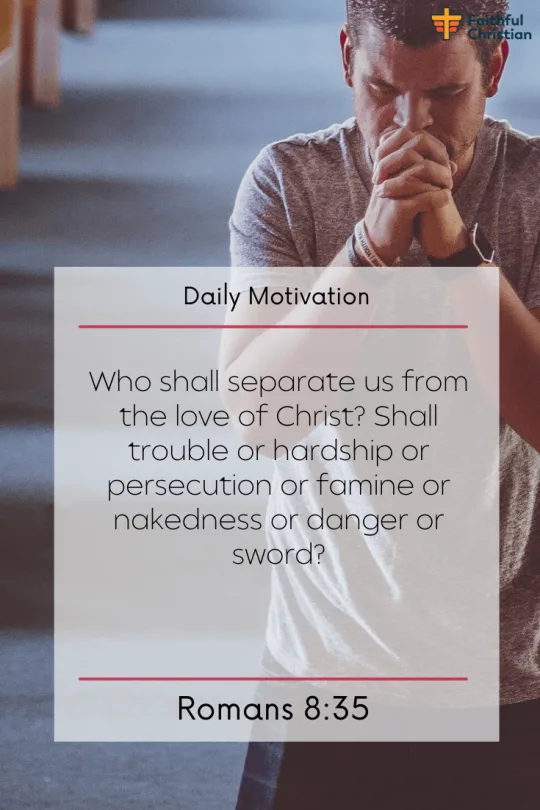 Who shall separate us from the love of Christ? Shall trouble or hardship or persecution or famine or nakedness or danger or sword?
John 16:33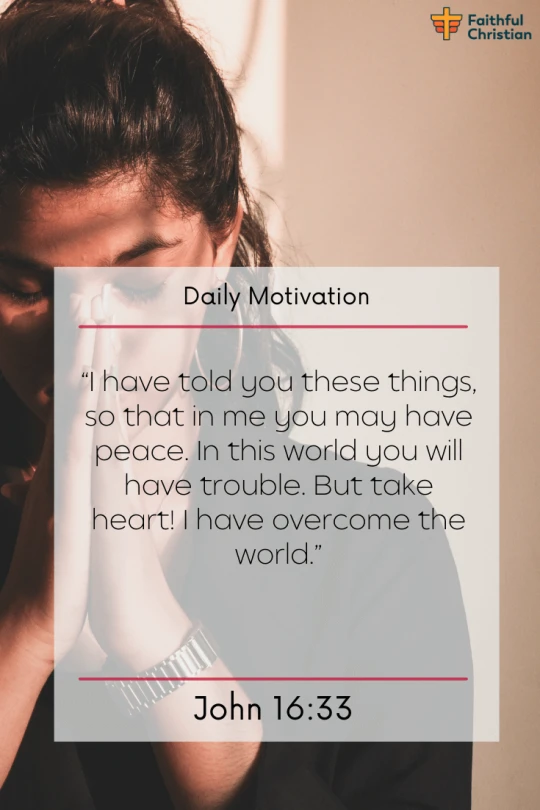 "I have told you these things, so that in me you may have peace. In this world you will have trouble. But take heart! I have overcome the world."
2 Corinthians 4:17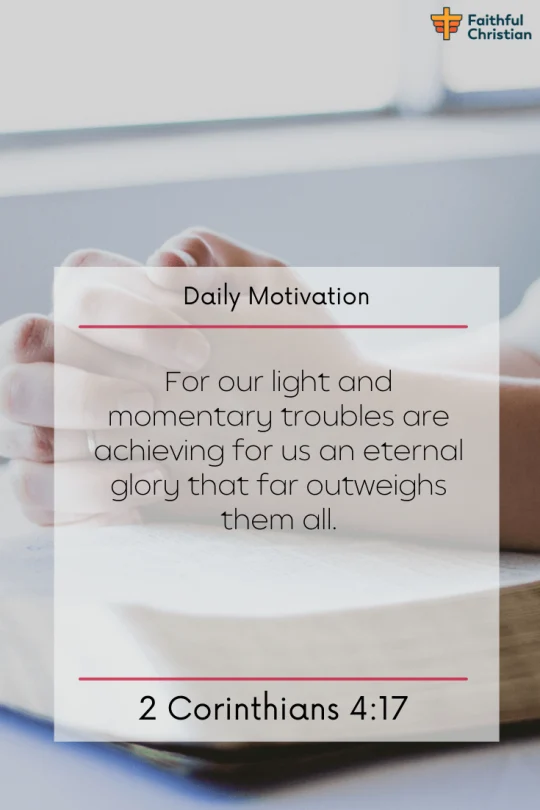 For our light and momentary troubles are achieving for us an eternal glory that far outweighs them all.
Romans 5:3-5
 Not only so, but we[a] also glory in our sufferings, because we know that suffering produces perseverance;  perseverance, character; and character, hope.
Prayer for Hope in difficult times for the Hopeless
In everything Give thanks (let us pray)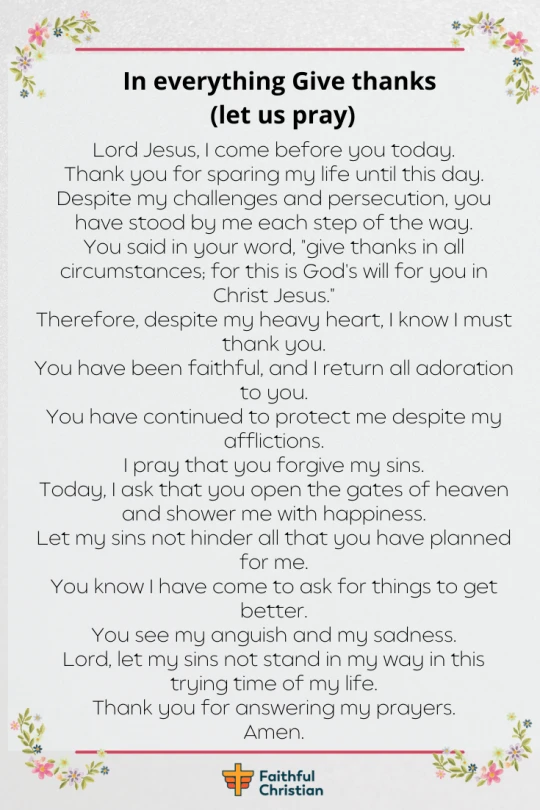 Oh, precious Jesus, I'm here again. I approach your majestic throne with a heart full of hope. Just like Hebrews 4:16 suggests, I'm here with confidence. I seek your grace and mercy in this moment of need.
Every day of my life is a priceless gift from you. This is a fact I'm reminded of in Psalms 90:12. I appreciate every sunrise, every breath. Each heartbeat is a reminder of your unfailing love.
Life can be tough, Jesus. I've climbed mountains, I've trekked through valleys. You've been with me, every step. Psalm 23:4 echoes in my heart. You're there, even in the darkest moments. I fear no evil. You're my guide, my beacon.
In your words, there's wisdom. You urge us to be thankful, always. Yes, even when my heart is heavy. This comes from 1 Thessalonians 5:18. So here I am, grateful, amidst the trials and tribulations.
Your faithfulness, Lord, is constant. It's a promise, echoed in Lamentations 3:22-23. Each morning, I witness your mercy, anew. I can't help but sing praises to you, my rock.
I've seen your protection, Lord. You're my fortress in this chaotic world. Just like Psalm 46:1 says, you're my ever-present help. You've shielded me from harm. My heart overflows with gratitude.
Today, I seek your forgiveness. For each misstep, each slip. I'm reminded of 1 John 1:9, assuring me of your grace. You cleanse me, purify me. I confess to you, seeking your mercy.
I'm here with a plea, Lord. Shower me with blessings of joy. This aligns with Matthew 7:7. I'm knocking on your door, seeking a transformation only you can provide.
Don't let my faults hinder your plans for me, Lord. You've known me before I was born, as stated in Psalm 139:16. You understand my silent prayers. I yearn for a change.
You know my pain, Jesus. My heartache. Psalm 34:18 assures me you're near to the broken-hearted. In these challenging times, I pray my sins don't block my way.
As I wrap up this prayer, my heart is full of thanks. Jeremiah 29:12 reminds me that you're listening. Your grace, your mercy is my comfort. I know you're there, listening.
I pray in your sacred name. Amen.
Prayers for hope and faith – Be strong and of Good Courage (let us pray)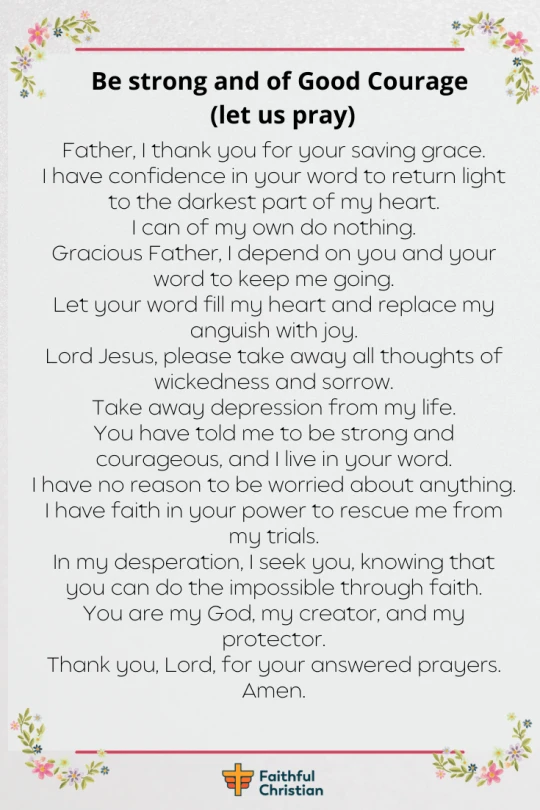 Heavenly Father, my heart swells with thanks. You've given me a gift, your boundless mercy. It's life-saving grace. Think about a lighthouse piercing the night, cutting through fog. That's your love for me. It reaches into my soul's darkest corners. It turns night into a radiant dawn.
The book of Psalms calls it a lamp to my feet, a light to my path. Alone, I'm lost. I'm like a ship without a compass. But with You, it's a different story. You're my North Star, my guiding light. Deuteronomy promises me this. You will never leave. You will never forsake.
Dear Lord, I lean on You. I'm a humble traveler on life's winding path. Your timeless teachings are my roadmap. They echo within me. When the future looks hazy, they're my compass. They're like the wisdom of Proverbs. When I trust in You, my path straightens.
You told Joshua to be brave. You told him to be strong. I hold onto that command. It fuels my courage. It feeds my strength. You are always there, right by my side.
Life isn't always smooth sailing. When storms come, I seek Your fortitude. It's like the apostle Paul's words to the Ephesians. I need to be strong. I need to tap into Your mighty power. Your holy words act as a comforting balm. They bring joy where there's despair.
Life is a battlefield of the mind. Thoughts can be our biggest foes. Lord Jesus, I need You. Chase away my sorrow. Disperse the clouds of depression. Let Your love shine instead. It's like what Corinthians tells us. Every thought should obey Christ.
You've set a high bar. You've called me to be strong, to be courageous. Every day, I strive to meet it. It's a trust exercise. A leap of faith. When I'm up against the wall, I turn to You. Matthew says it all. With You, everything is possible.
Finally, my gratitude knows no bounds. You're not just my God. You're my Creator, my Protector. You've showered me with blessings. You've answered my prayers. I'm thankful, so thankful. It's just like the Thessalonians say. Rejoice always. Pray continually. Give thanks. That's Your will for us in Christ Jesus. I pray in Your holy name. Amen.
Prayer for hope and guidance – Come to me, and I will give you rest (let us pray)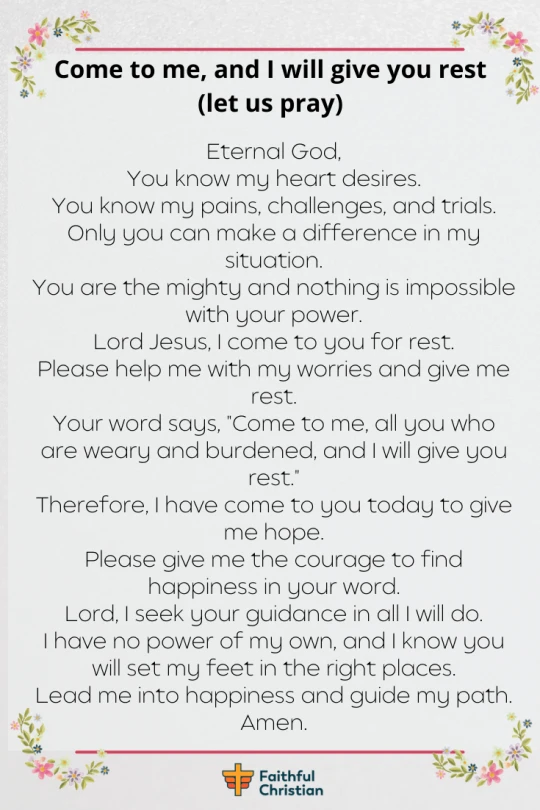 Oh, Everlasting One, your wisdom reaches beyond the heavens. You see the deepest wishes I cradle in my heart. It's like Psalm 139 says. You know everything, even before I've thought it. So, I'm certain you grasp my dreams. Each one of them.
You see more than just my everyday struggles. You see my silent battles, too. Challenges. Heartaches. Tests. You get it all. And Psalm 34:18 gets it, too. When our spirits are crushed, you're there. You heal and save. You don't just see my tears; you wipe them away.
I realize only you have the power to change my world. You're the One who lit up the stars. Tamed raging seas. It's like the angel said in Luke 1:37. Nothing's impossible with you. That's what I believe, too. Just like Abraham in Romans 4:18.
Lord Jesus, I need your help. Your rest. My heart's heavy. Worries pile up. Yet, I run to you. Why? Because Matthew 11:28-30 says I should. You give rest to the weary. So, I come. I lay my worries down. And I remember Philippians 4:7. Peace that passes understanding? Yes, please.
And while I'm here, I need hope. Your hope. It's tough sometimes. Still, I believe in your word. Your promises give me strength. Paul talked about it in Romans 15:13. Joy. Peace. Trust. That's what I want. That's what you offer.
Lord, guide me. I can't do this on my own. I'm just like the branch in John 15:5. Without you, I'm nothing. But with you? I'm strong. You're my shepherd. You lead. You guide. Like Proverbs 3:5-6 says, you make my paths straight.
Light my way, Lord. Bring joy. Peace. Psalm 119:105 paints the picture. Your word is my lamp. My light. It's what I need. Help me shine that light in all I do.
In Jesus' name, I pray. Amen.
I am with you always (let us pray)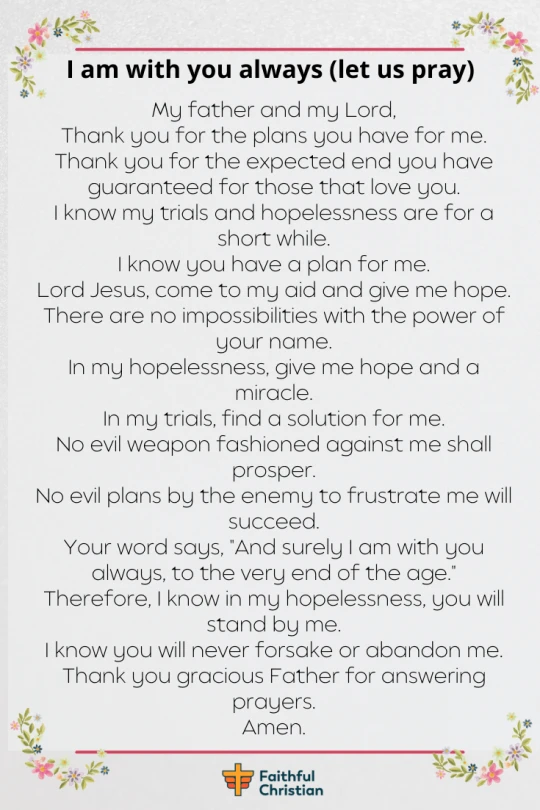 My cherished Father, my eternal Lord, I am filled with joy. You have a grand purpose set out for me. You have weaved the tapestry of my life. It's not a quick sketch. No, it's a careful masterpiece. You remind me of Jeremiah's words. A grand plan is in place. Not to hurt me, but to make me thrive.
And that future? It's not clouded in darkness, no. You promised it will be bright. Your followers know this promise well. We find it in Romans. It's simple, yet profound. All things will work out for us. For those who love God, it's a beacon of hope.
Life may seem tough. Yes, the world can be harsh. But this too shall pass. There's comfort in knowing this. It's like what Corinthians tells us. Our troubles are light, momentary. The eternal glory to come will dwarf them. It's a divine plan, beautifully drawn up with love and grace.
I turn to you, Lord Jesus. In my hour of need, you are my support. Hebrews lends us strength in a simple truth. The Lord is my helper. Fear has no place here. Your courage, your strength, your wisdom are mine to lean on.
With you, Lord, nothing is impossible. The barriers, the troubles, the trials – they cannot stand against you. Mark put it best. With God, all things are possible. And so, my despair turns into hope. My tribulations become testimonies.
When despair comes knocking, I look to you. You breathe life into me. You give me hope. You create miracles. James says, ask God for wisdom. And so, I do. In trials, I seek your divine wisdom. I trust you to guide me towards resolution.
The enemy may plot against me. But I am safe with you. No weapon, no force, no intention will succeed. Isaiah declares this boldly. No weapon formed against me shall prosper. You are my fortress. You are my shield.
Your word rings in my ears. You will be with me always, till the very end. This promise from Matthew provides solace. Even in my darkest hour, you are by my side. Your steadfast companionship guides me.
You will never forsake me. Deuteronomy reminds us to be brave. To not fear. You will never abandon us. This gives me peace. This gives me strength. Your presence is my greatest comfort.
You hear my prayers, oh gracious Father. Matthew tells us to ask. To seek. To knock. Promises will be fulfilled. Your boundless mercy, your enduring love, they are constant reminders. I am always in your care.
In your sacred name, I pray. Amen.
Arise and shine for your light has come (let us pray)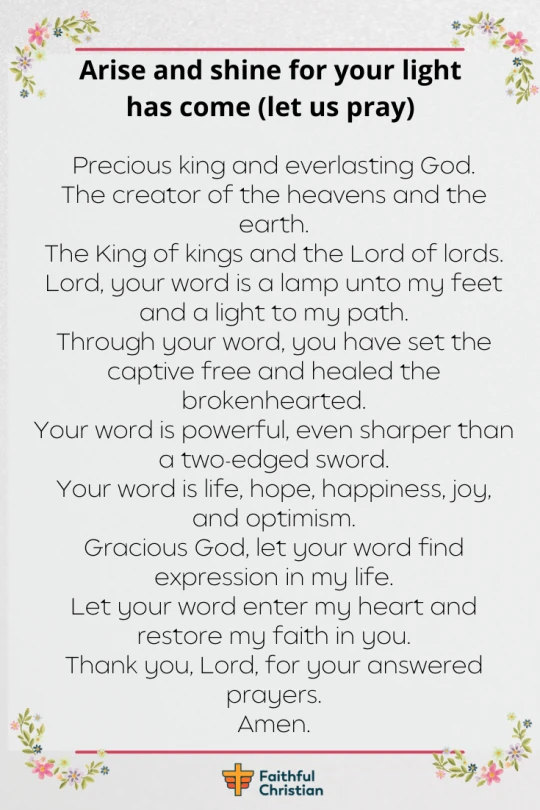 Dear Everlasting God,
Your divine guidance, as steadfast as a lighthouse, lights up our world. In the shadows of life, we find a sure way. It's your Word, radiant and unwavering, that paints our path with hope.
You mend shattered hearts with a healer's touch. You unshackle the oppressed with a liberator's strength. It's in your Word. A powerful promise that drips with compassion and echoes throughout eternity.
Your Word, sharp and true, cuts to the core. It delves deep, deciphering hidden desires. This is the mirror of our souls, the compass of our lives, and the chisel of our character.
Your Word breathes life into dust. It sows joy in the heart, and plants hope in the soul. In a world often shadowed by transient pleasures, your Word is our rock. It is an eternal spring of life, a ceaseless beacon of hope, and an unending source of joy.
Mighty God, let your Word transform us. Like a skilled craftsman, chisel our character with your wisdom. Shape our hearts with your truth. Guide our decisions, our actions, our thoughts.
Your Word is a seed, full of promise. In the fertile soil of our hearts, let it root. Let it flourish. Let it yield a harvest of faith and love. In moments of uncertainty, it's our anchor. In times of sorrow, it's our comfort.
In gratitude, we raise our voices. We thank you for your answers, your mercy, your grace. Your divine providence is a masterpiece, a living testament to your unending love and faithfulness.
In your name, we pray.
Amen.
Frequently Asked Questions
What are prayers for hope in difficult times?
During difficult times, prayers for hope are an emotional anchor. An example is: "Father in Heaven, when gloom engulfs me, illuminate my path. As Romans 15:13 says, fill me with joy and peace, enabling me to overflow with hope through Your Spirit's power."
What is a short prayer for strength and courage in difficult times?
To cultivate strength and courage during adversity, this prayer may be uttered: "Lord, grant me acceptance for the unchangeable, courage to effect change where possible, and wisdom to discern the difference. Joshua 1:9 exhorts us to be brave and fearless, remembering that God accompanies us always."
What is the miracle prayer for impossible situations?
When situations seem insurmountable, a prayer for divine intervention might be: "In these testing times, Lord, I invoke Your miraculous aid. Reflecting on Luke 1:37, I remember 'with God, nothing is impossible.' I lay my struggles at Your feet."
What is a prayer for strength during difficult times?
During tough times, a prayer for fortitude is invaluable: "Almighty God, grant me resilience in the face of trials. Isaiah 41:10 implores us not to fear or be discouraged, for God strengthens and assists us."
What is a prayer for strength and courage in difficult times for a family?
In troubled times, a family may need a prayer like this: "Heavenly Father, bless my family with courage and strength. Nehemiah 8:10 reminds us that the joy of the Lord is our strength, encouraging us to face trials with unity and faith."
What are prayers for hope and miracles?
Prayers for hope and miracles could be based on: "Father, in desperate moments, I seek Your hope and miracles. Jeremiah 29:11 declares Your plans for us, plans of prosperity and hope. I trust in Your miraculous interventions."
What is a prayer for strength and courage in difficult times for a friend?
For a friend's strength and courage, this prayer might be voiced: "Lord, guide my friend through their trials. As Deuteronomy 31:6 advises, let them be brave, remembering that God accompanies them always."
What is a prayer for strength and protection?
A prayer for strength and divine protection can be: "Lord, bestow upon me Your protection and resilience. Psalm 91:1 reassures us that those who abide in the Lord's shelter rest in His shadow."
What is the most powerful miracle prayer?
A powerful prayer for miracles might be: "Lord, in my most challenging trials, I implore Your miraculous power. Reflecting on John 14:14, 'If you ask in My name, I will do it,' I request Your miracles."
What is a powerful prayer for hope and strength?
In need of hope and strength, this prayer could be spoken: "God, in these testing times, I seek Your strength and hope. Psalm 31:24 emboldens us to be courageous and strong as we await the Lord."
How do you pray for a quick miracle?
For a swift miracle, this prayer might be used: "Dear God, I ask for an expedited miracle. Holding onto Mark 11:24's promise, I believe that my prayers are already answered."
What is the miracle prayer for the impossible request?
In the face of impossible requests, this prayer could be offered: "Father, I present my impossible request to You. As Matthew 19:26 assures us, with God, all things are possible."
What is the most powerful prayer that never fails?
The Lord's Prayer, from Matthew 6:9-13, is often considered the unfailing prayer. It involves praise, supplication for daily needs, requests for forgiveness, and pleas for protection, epitomizing total surrender to God's will.
---
Recommended for you
---
Author: Akatakpo Dunn
Dr. Akatakpo Dunn is a dedicated follower of Christ, an active member and speaker, and an ongoing learner of the Scriptures. Passionate about his faith and serving others, he is committed to sharing his spiritual journey and insights to inspire and uplift fellow believers. He has been active in the church for more than 23 years. Through The
Faithful Christian Blog
,
Dr. Dunn
combines his love for God, philanthropy, and Scripture, providing a valuable resource for those seeking to grow in their faith.
Follow me: on Youtube, Facebook, Twitter, Instagram, and Pinterest.
Content Disclosure:
At The Faithful Christian Blog, I create authentic and inspiring content. Although I am the main author, I occasionally use AI for minor language enhancements. This minimal AI usage ensures high-quality, trustworthy articles without compromising originality or sincerity, ultimately supporting our shared faith journey.
Warmly,
Dr. Akatakpo Dunn
Was this article helpful?