Struggling with life's obstacles and feeling swamped? Don't worry—you're not alone.
Many people face hardships, but hope shines bright for us all during tough times.
Where can we find this hope? The answer lies in the Bible's timeless wisdom and soothing words.
"In my Father's house are many rooms… I am going there to prepare a place for you." (John 14:2)
How comforting it is to know that our Heavenly Father offers us a safe haven, supporting us through life's stormy seas.
Bible verses about peace in hard times remind us that we can always find calm within God's loving arms, even in our darkest hours.
So, what can you expect from this collection of Bible verses? You'll uncover words that touch the heart and soul, guiding you to inner peace and spiritual renewal.
Plus, as you explore these verses, you'll learn to trust in God's steadfast presence and His boundless power to conquer any challenge.
Ready for a life-changing journey through the holy pages of the Bible? Let's stand up against despair and welcome hope.
After all, the Good Book teaches us, "Joy comes with the dawn" (Psalm 30:5).
Immerse yourself in these Bible verses about peace in hard times and experience the heavenly comfort they offer. With newfound strength and belief, you'll face life's challenges head-on.
Bible verses about peace in hard times.
27 Peace I leave with you; my peace I give you. I do not give to you as the world gives. Do not let your hearts be troubled and do not be afraid.
This verse serves as a powerful reminder that Jesus offers us His peace, which is unlike any peace the world can provide.
Peace is a divine gift provided to us to stay solid and calm amid difficulties. It encourages us not to be troubled or afraid, even when we face challenging circumstances.
Recall Philippians 4:6-7. It says, "Do not be anxious about anything, " God understands all your troubles and your pains. He sees all that you are dealing with.
That is the reason this verse encourages us to communicate our worries and anxieties to God through fasting and prayer, believing that He will supply the peace we need to conquer our difficulties.
You must know that God is our refuge and strength.
As Psalm 46:1 put it: "God is an ever-present help in trouble." He is right there when everything seems to be going bad, and he is ready to help you solve every one of your problems
So, always remember that God is always with you when facing tough times, offering strength and protection. Trust in Him to guide and support you through your trials.
This is another reason to look through the book of Isaiah 41:10: It says, "do not fear." Meaning that God understands that we may be overwhelmed by our challenges.
Or we may worry too much about every tough problem in our lives. Nonetheless, this verse serves as a reminder that God is trustworthy and always prepared to assist us in our difficulties. Do not be afraid; instead, place your trust in Him.
Recall the phrase "I will give you rest." in Matthew 11:28-30.
When you feel overwhelmed and burdened, turn to Jesus. He invites us to share our burdens with Him, and in return, He offers rest and peace for our souls.
By meditating on these scriptures in turbulent times and applying them to your life, you can find encouragement and strength to face tough times with faith and confidence.
Remember that God's peace is always available to you. Trust in His guidance, and do not be afraid or troubled.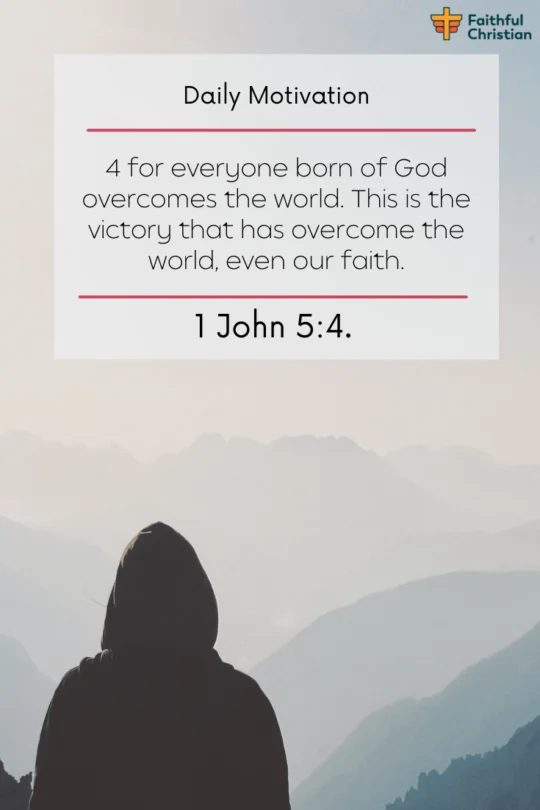 4 for everyone born of God overcomes the world. This is the victory that has overcome the world, even our faith.
This verse emphasizes the importance of faith in overcoming life's obstacles and challenges.
You can have complete trust that Jesus Christ is your safe haven and source of strength. When you encounter hardships and trials, He will ensure you don't succumb to them.
Recall Paul's words in Romans 8:37, where he states, "we are more than conquerors." This reinforces the idea that we can overcome anything with Jesus in our lives. His love empowers us to withstand all challenges and ultimately prevail in every situation.
That's why we must learn perseverance and resilience during tough times and pain because God will create a path for us.
He won't allow us to suffer beyond our capacity to cope. Nor will He abandon us to be defeated or demoralized by the devil. Instead, God will stand by our side as our protector and source of strength.
In 2 Corinthians 4:8-9: The bible clarifies, "We are hard-pressed on every side."
In other words, we may feel overwhelmed or burdened in challenging times, but these verses assure us that we are not abandoned or destroyed. God is constantly with us, giving us the vigor and strength we require to endure and overcome.
God plans everything far beyond our comprehension. His plan will bring us peace and tranquility in desperate times.
That is why in Isaiah 40:31, The bible clarifies that "The Lord will renew our strength." So, by placing our hope in God without any doubt in Him, we can experience a renewal of strength, enabling us to rise above our difficulties and face challenges with confidence and peace.
Another inspiring verse I meditate on in hard times is James 1:2-4: The phrase "Consider it pure joy, …, whenever you face trials of many kinds" should give you the strength to keep moving and believe that something great is about to happen in your life.
James 1:2-4 urges us to see our struggles as chances for personal growth and spiritual maturity. Through persevering in adversity, we cultivate resilience, eventually resulting in a deeper and more fulfilling connection with God.
Pondering these verses and integrating them into your daily life can help you discover the motivation needed to navigate difficult moments with faith and serenity.
Your unwavering faith and reliance on God give you power to overcome life's obstacles and challenges. Trust in His promises and depend on His strength to steer you through tough situations.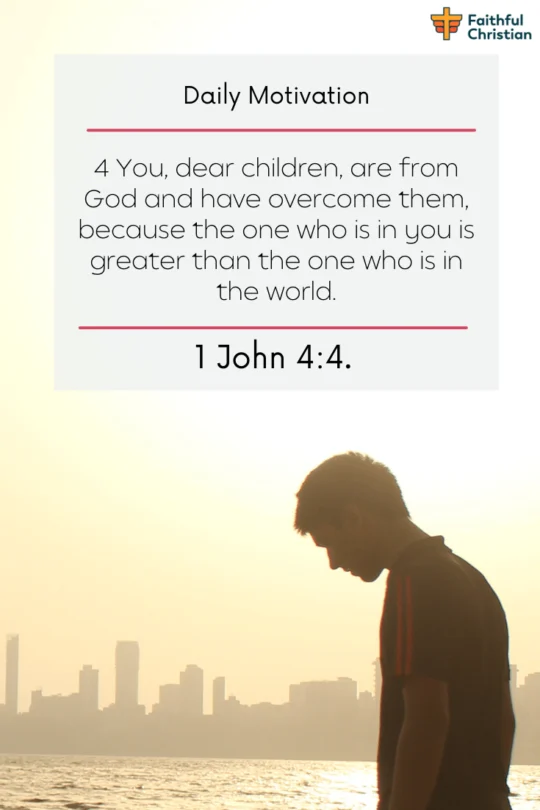 4 You, dear children, are from God and have overcome them, because the one who is in you is greater than the one who is in the world.
During the challenging moments of your life, remember to turn to this Bible verse again and again.
This scripture offers hope for those who are helpless and depressed.
Remember that there's no need to feel overwhelmed during tough times. Do you think God will ignore your calls for help? Or leave you to deal with your struggles on your own?
This passage is a potent reminder that, as people of faith, we possess the might and backing of God within us.
The Holy Spirit, residing in us, is much stronger than any earthly obstacles or trials we may face.
Consequently, we can comfort ourselves, knowing we can conquer any difficulties that cross our path.
Recall this question of Paul in Romans 8:31 "If God is for us, who can be against us?"
For me, the book of Romans 8:31 should be a reminder that when God stands by you, there is nothing your enemies or the devil can do.
Despite their attempts to bring you down, they will ultimately fail due to God's unique love and protection for you.
This is why you must also encourage yourself with the book of Philippians 4:13.
This verse says, "I can achieve anything through Christ who gives me strength." It means that by keeping your trust in God and staying persistent, you can conquer any obstacle you face.
Therefore, don't stress about the difficult times you're facing. They're just temporary, and they'll pass soon enough. You need to keep believing in God; there is nothing impossible in him.
In this manner, we can experience peace and reassurance, understanding that our trust in God will lead us through the most challenging moments.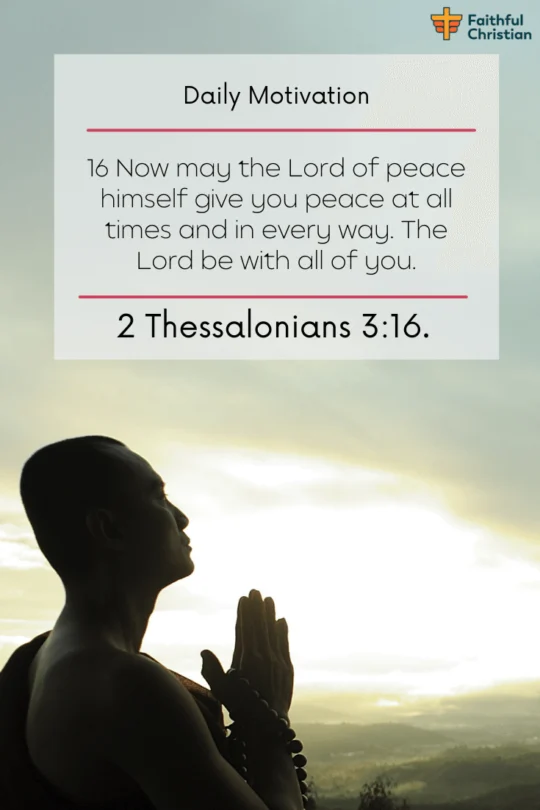 16 Now may the Lord of peace himself give you peace at all times and in every way. The Lord be with all of you.
You might wonder how to find peace amid the turmoil of this world. Where can one turn when hope seems lost? Can our friends and family provide the tranquility and happiness we seek?
While our loved ones can offer support, it's crucial to remember that, ultimately, we should turn to God for peace during tough times. In this passage, Paul refers to Jesus as the Lord of peace, emphasizing that true serenity comes through Christ.
To find the peace we long for, we must seek Jesus and bring our concerns to Him through prayer. He is the source of the peace we need, and in Him, we can find solace.
This verse serves as a prayer and reminder that the Lord is the ultimate source of peace. No matter our circumstances or challenges, God is always present to offer His peace, comfort, and guidance.
This is why we must never stop serving God. We must keep believing in him and continue in our service to him.
Most trials of the devil are meant to stop us from our commitment to God.
If we stay resilient and focus on God, he will open the heavens and bless us. The book of Isaiah 26:3 says, "You will keep in perfect peace those whose minds are steadfast." In other words, we cannot relent but remain steadfast because God's promises to heal and save us can never be broken.
Yes, we must be steadfast because we know we will face trouble in this life. In John 16:33, the bible says "In this world, you will have trouble."
But we must never be anxious or get carried away. We must believe that God will stand by us and provide everything that we desire
God's peace surpasses all understanding and helps us navigate through life's hardships with courage and hope.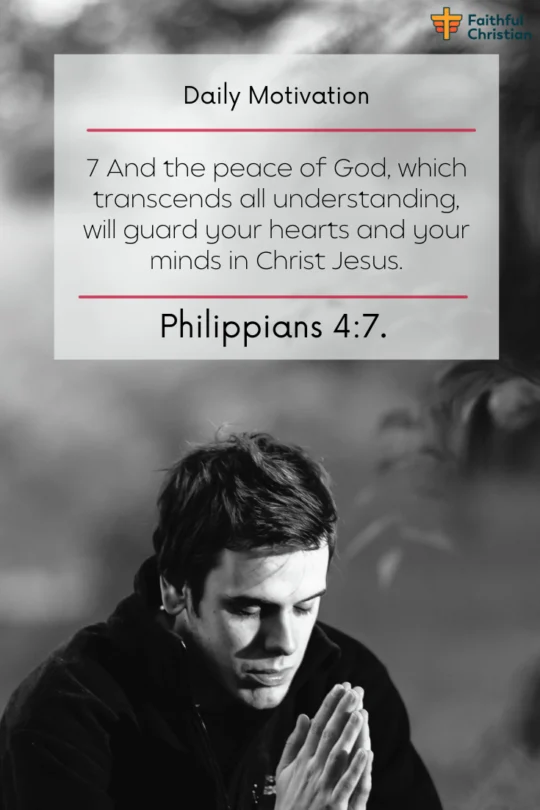 7 And the peace of God, which transcends all understanding, will guard your hearts and your minds in Christ Jesus.
In turbulent times, it's natural to question God's ability to safeguard and defend us.
You might wonder, "If God truly loves me, why doesn't He take away this storm I'm facing in my life?"
Or, "If God loves me, why must I endure pain?"
When you find yourself questioning God, turn to this scripture for reassurance.
In difficult times, God is the ultimate protector we need.
We cannot face these challenges alone and require strength to persevere.
God, who deeply understands our hardships, will provide us with the insight to grasp our challenges and the resilience to carry on.
Above all, He will deliver us and bestow upon us His peace.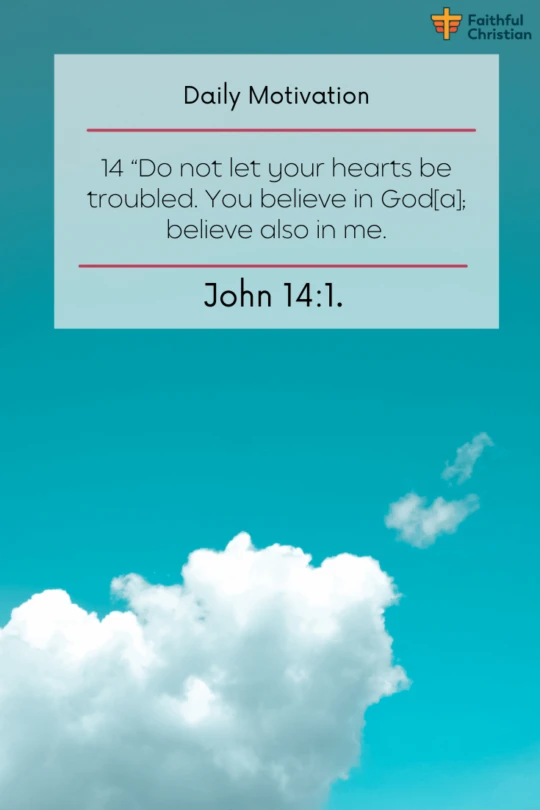 14 "Do not let your hearts be troubled. You believe in God[a]; believe also in me.
It's understandable to feel stressed when facing life's challenges, as we are all human and experience emotions.
In difficult moments, turn to scripture for inspiration and strength. Jesus encourages us to be calm and remain faithful even when we're dealing with tough situations.
Don't let the enemy's temptations trouble you. We all experience trials, whether it's a job loss or struggles in our relationships. Whatever your situation, avoid feeling overwhelmed or overly stressed.
Remember to put your faith in God, as He will lead you to peace and provide support during challenging moments. Don't worry because God is constantly by your side.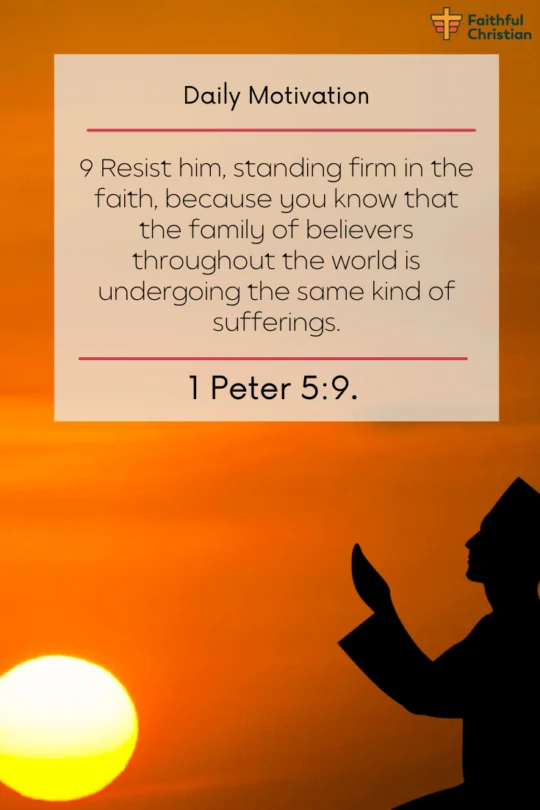 9 Resist him, standing firm in the faith, because you know that the family of believers throughout the world is undergoing the same kind of sufferings.
Only a few days back, I faced a substantial setback in one of my ventures.
Despite pouring in considerable effort and resources throughout the years, it felt like everything was falling apart.
With a heavy and sorrowful heart, I gazed at the sky.
God, why did this happen?
What are Your plans for my life?
I felt crushed and anxious about what lay ahead.
But through it all, I knew my situation wasn't the worst one out there.
Countless people are grappling with enormous challenges in their lives.
Some have lost all hope and even consider ending their lives.
Yet, here I stand, alive and hopeful for the future.
This Bible verse serves as a reminder to keep our faith in God.
We shouldn't fixate on our current struggles but trust that God has a purpose for everything.
Many believers around the world face even greater hardships than we do.
There are people battling kidney failure or terminal illnesses.
Despite our concerns, we are alive and can believe that brighter days lie ahead.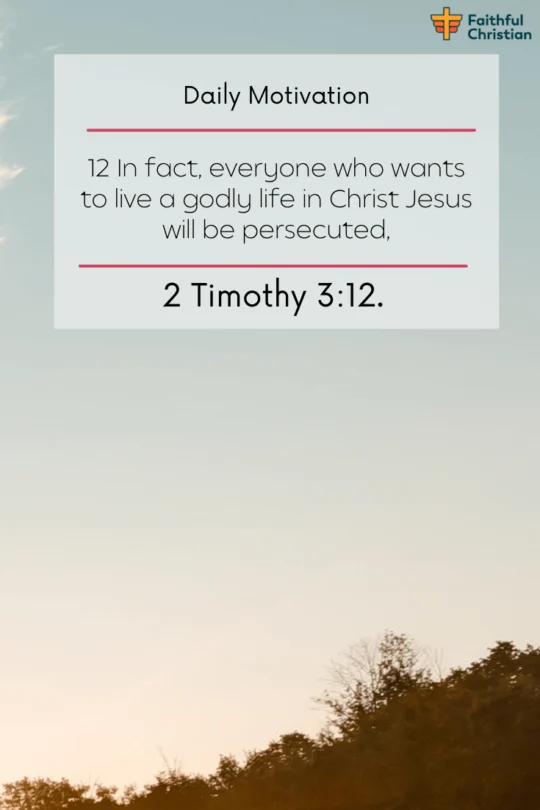 12 In fact, everyone who wants to live a godly life in Christ Jesus will be persecuted,
If you are feeling troubled and sad about your current situation, it is crucial to consider this scripture closely.
It states that anyone who desires to live a godly life will face persecution, not just sinners or non-believers.
This scripture confirms that persecution and trials are inevitable once you have committed to serving God.
As believers, we can overcome the devil's evil plans by trusting God and seeking His help.
We must pray daily that we will not be consumed by temptation and ask God to provide a way even when there seems to be none.
Persecution will come, but we must seek God for peace in the midst of it all.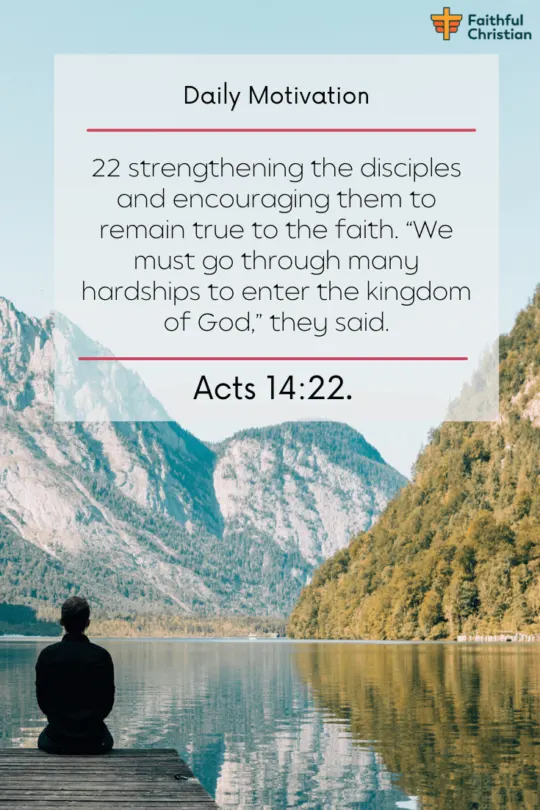 22 strengthening the disciples and encouraging them to remain true to the faith. "We must go through many hardships to enter the kingdom of God," they said.
This passage reaffirms God's promise for a brighter resolution to our challenges.
We will all encounter difficulties.
We all go through difficult times and setbacks in life.
Indeed, we will confront various challenges, big or small.
But despite all of them, we must never lose faith in God.
During each painful moment, we should seize the opportunity to draw nearer to God.
God is always prepared to provide you with tranquility.
He is eager to mend your shattered heart and fortify your trust in Him.
But while waiting, we must remain confident that God will bless us with the peace we need.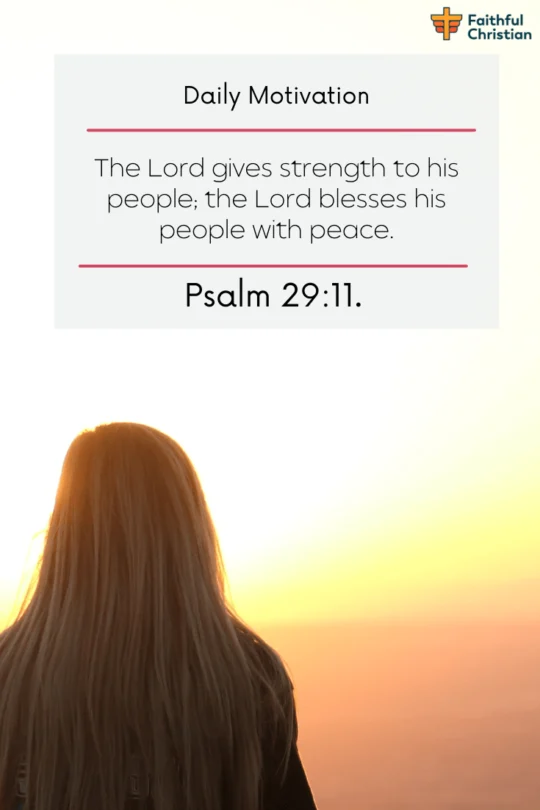 The Lord gives strength to his people;the Lord blesses his people with peace.
What do you seek God's assistance with?
Have you engaged in prayer and fasting to request divine intervention?
If not, it is time to begin praying and believing from this day forward.
God alone can bring tranquility to an agitated soul.
He is the sole source capable of exchanging our sorrows for serenity.
God alone can transform our setbacks into moments of joy.
During turbulent times, seek God's peace.
God has pledged to provide us with the peace we require.
In your marriage, God is prepared to mend every challenge.
In your profession, God is poised to unlock heaven's doors and respond to every prayer you have offered.
Ask God for fortitude and tranquility, and you shall receive His blessings.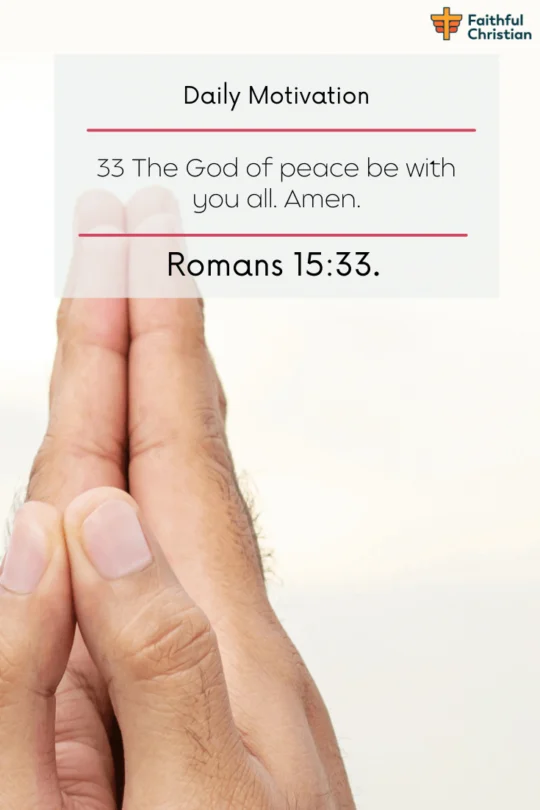 33 The God of peace be with you all. Amen.
When you are troubled, reassure yourself with this bible verse about peace in tough times.
God promises to bestow peace upon you and enrich every aspect of your existence.
He will create opportunities for you.
Your sorrows will transform into joy.
In moments of need, God will remain by your side.
He won't leave you to face your struggles alone.
If God's peace will come upon your life, why worry?
Seek His peace through prayer, and you'll be graced with His everlasting blessings.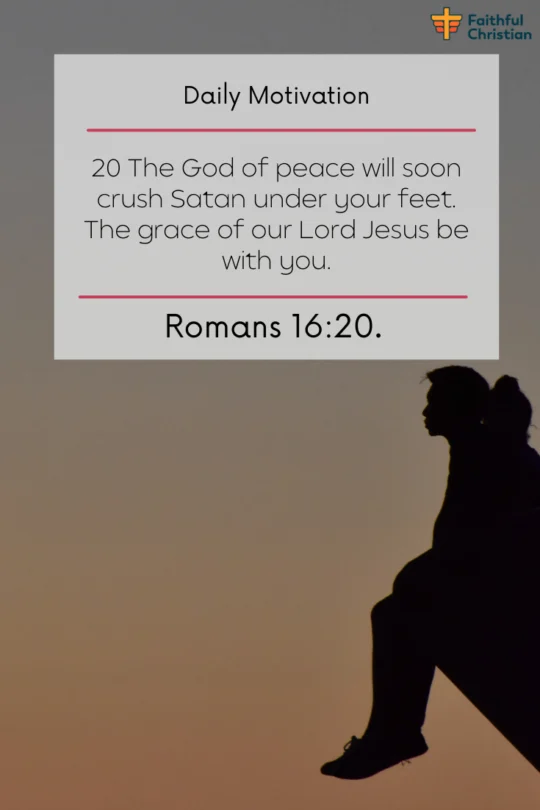 20 The God of peace will soon crush Satan under your feet. The grace of our Lord Jesus be with you.
Who is the source of the struggles and pain you face?
Who is accountable for the challenges and hardships in your life?
We understand that it is the adversary, The Devil.
The Devil has vowed to disrupt every facet of our existence.
He is perpetually seeking individuals to harm and destroy.
However, Despite all these difficulties, we know his downfall is imminent.
God has pledged to vanquish the adversary and eradicate him from our lives.
He has committed to conquering our foes and bestowing upon us tranquility.
We must maintain unwavering faith that our issues will eventually be resolved.
God will give us rest and peace in every aspect of our lives.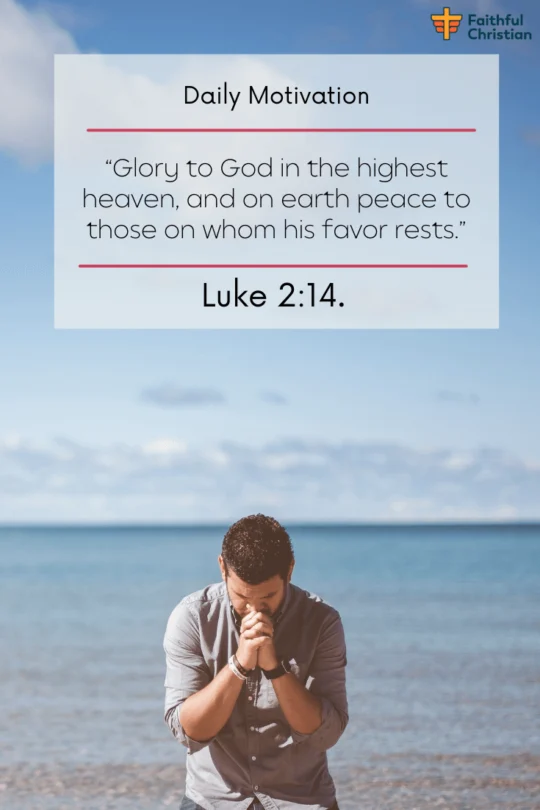 "Glory to God in the highest heaven,and on earth peace to those on whom his favor rests."
Is it essential to pray and express gratitude during difficult times?
Should we continue to serve God, even when it seems our prayers go unanswered?
In the face of hardship or misfortune, you must keep glorifying God.
We must have faith that God will consistently safeguard us from those who wish us harm.
God will ensure that the righteous remain steadfast.
He will not permit your adversaries to triumph over you.
Trust in the lord and he will give you peace.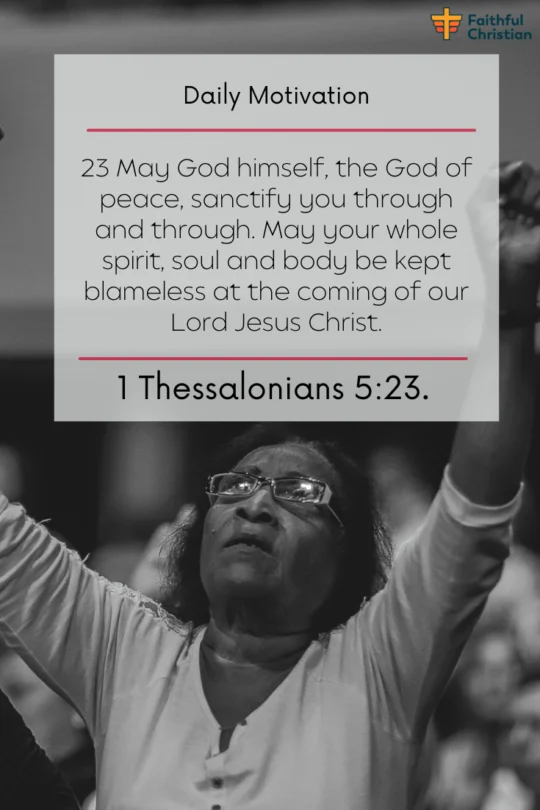 23 May God himself, the God of peace, sanctify you through and through. May your whole spirit, soul and body be kept blameless at the coming of our Lord Jesus Christ.
Today, I pray for tranquility to envelop you.
May you find the fortitude required during challenging moments.
You shall never be an object of ridicule in your community.
In all your endeavors, you will not be left behind.
May God bestow upon you serenity and the patience to navigate your tribulations.
In moments of doubt, trust in God's unwavering presence.
When faced with despair, may you discern God's purpose for your life.
We pray through Jesus Christ our Lord, Amen.
FAQs
What is a good Bible verse for peace?
Looking for a Bible verse about peace? Philippians 4:6-7 is a great choice. Trust in God and pray to experience His peace, which is beyond understanding.
What Scriptures for comfort in hard times?
Find comfort in difficult times through Scriptures like Psalm 46 and Isaiah 41. These verses remind us that God is our refuge, strength, and ever-present help. He's with us, ready to strengthen and uphold us with His righteous hand.
What Scripture talks about peace in all circumstances?
Peace in all circumstances is beautifully expressed in Philippians 4:11-13. Here, we learn that contentment is possible in every situation. Our strength comes from God, who empowers us.
How do you get peace in hard times?
To find peace in tough times, turn to prayer, trust God's promises, and meditate on His Word. Reflect on comforting Scriptures like Psalm 23 and Isaiah 40:31. Remember, God is in control, so surrender your worries to Him.
Which Psalm can I read for peace?
Craving peace? Read Psalm 23. This passage depicts God as a shepherd who provides, protects, and guides us. It's a comforting reminder during challenging times.
What are the two types of peace?
Inner and outer peace are the two types of peace. Inner peace is a sense of calm within oneself, while outer peace refers to the absence of conflict among people or nations.
How does God give us peace?
God offers us peace through His presence, comfort, and guidance. By trusting His promises and letting go of our fears, we can experience a peace that goes beyond understanding.
How do I find peace through God?
Finding peace through God involves building a close relationship with Him. Pray, read the Bible, and meditate on His Word. Seek His guidance and trust in His promises.
How to get spiritual peace?
To achieve spiritual peace, nurture your relationship with God. Engage in prayer, worship, and Scripture meditation. Practice forgiveness, gratitude, and letting go of past hurts. Embrace the peace that comes from God's presence.
How do I get peace?
To find peace, connect with God, practice gratitude and forgiveness, and live in the present moment. Connect with supportive communities, seek help, and prioritize self-care.
What is the spiritual meaning of peace?
The spiritual meaning of peace is an inner calm that comes from a deep connection with God. It goes beyond external circumstances and is rooted in trust, faith, and surrender to God's will.
What did Jesus say about peace?
Jesus shared His peace in John 14:27, a gift unlike any worldly peace. I do not give to you as the world gives." His words remind us that the peace He offers is unlike anything we can find elsewhere.
Author: Akatakpo Dunn
Dr. Akatakpo Dunn is a dedicated follower of Christ, an active member and speaker, and an ongoing learner of the Scriptures. Passionate about his faith and serving others, he is committed to sharing his spiritual journey and insights to inspire and uplift fellow believers. He has been active in the church for more than 23 years. Through The
Faithful Christian Blog
,
Dr. Dunn
combines his love for God, philanthropy, and Scripture, providing a valuable resource for those seeking to grow in their faith.
Follow me: on Youtube, Facebook, Twitter, Instagram, and Pinterest.
Content Disclosure:
At The Faithful Christian Blog, I create authentic and inspiring content. Although I am the main author, I occasionally use AI for minor language enhancements. This minimal AI usage ensures high-quality, trustworthy articles without compromising originality or sincerity, ultimately supporting our shared faith journey.
Warmly,
Dr. Akatakpo Dunn
Was this article helpful?