Death is inevitable. If we keep the commandments of Christ, when we die, we know he has great plans for us – Eternal Life.
One message of Paul that strengthens our confidence in this belief is Phillipainas 1:21 – To live is Christ to die is gain.
Being faithful comes with a reward. When we follow the ways of Christ, he has promised us everlasting life.
Our persecutions on earth should not hinder us from serving God. At all times, we must keep God's commandments.
If we love one another, we have substantially fulfilled the new commandment of Jesus. Next, we need to love God with our bodies, strength, and minds.
Our commitment to God should be genuine and wholehearted. We should be ready to display holiness when we face temptations.
Suffering in this world is nothing new. But we must endure these trials and temptations. If we do, we will be partakers of God's perfect kingdom. However, there is no reward for living a sinful life. Death for the unrighteous is not gain but destruction.
---
Recommended for you
---
To live is Christ to die is gain.
There are many words of inspiration from the message of Paul. While writing to the Philippians, he said
According to my earnest expectation and my hope, that in nothing I shall be ashamed, but that with all boldness, as always, so now also Christ shall be magnified in my body, whether it be by life, or by death. For to me to live is Christ, and to die is gain
This passage of the Bible showed the mindset of the Apostle Paul. He was not panicked about what was to come, nor was he drawn back by things he had done in the past. Instead, he was confident of the prize he would receive for being on the side of Christ.
Paul was previously called Saul in the Bible. He was a harasser of those that believed Christ was the son of God. He may or may not have killed them personally, but his actions may have contributed to the death of the early Christians.
After his calling and baptism, there was still disbelief amongst some Christians. While some were happy he was called, others preached the gospel in envy and hatred. Paul was not perturbed by this. He said in verse 18,
What then? notwithstanding, every way, whether in pretence, or in truth, Christ is preached; and I therein do rejoice, yea, and will rejoice
Paul was not concerned about their aim of preaching the gospel. He was focused on the spread of the Gospel of Christ. His focus was on the prize he would receive in the end. Therefore, he was not concerned about their actions because To live is Christ and to Die is Gain.
To live is Christ – what did Paul mean?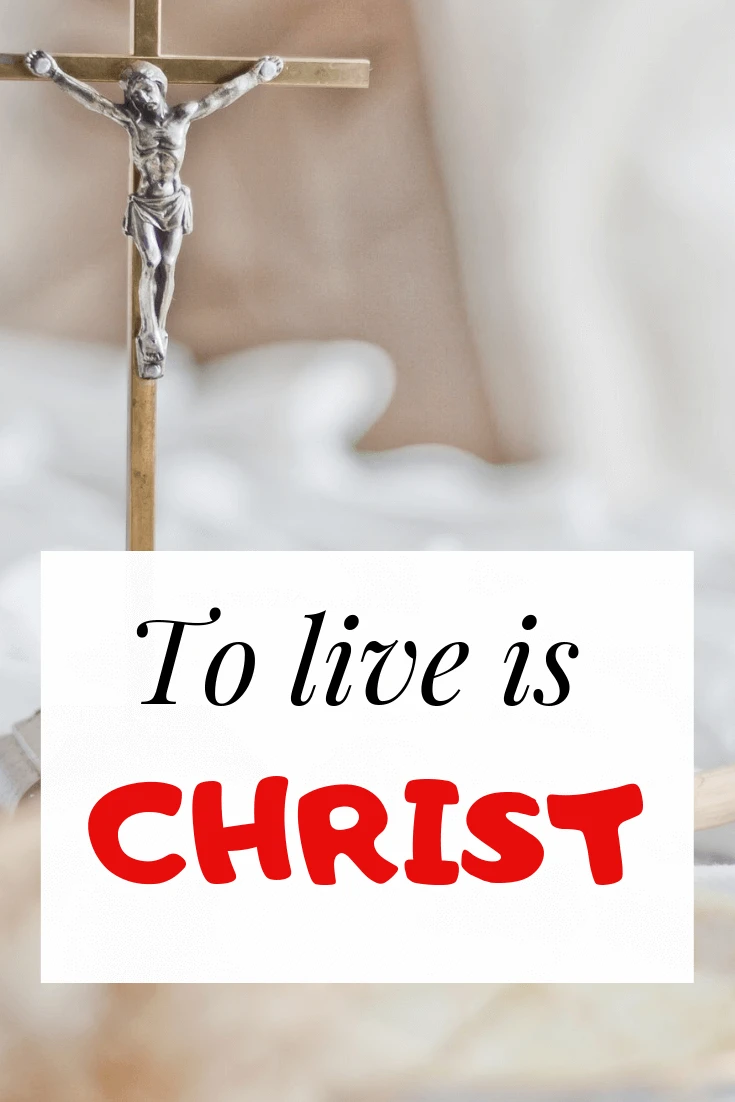 Paul's calling had an added grace. He received all commandments and teaching directly for Christ. No one taught him (Galatians 1: 11-12). From being a Pharisee that was blameless in the Mosaic laws, he became a saint of Christ (Philippians chapter 3). From being a persecutor of Christians, he became Christ trusted disciple.
Therefore, he has put away the past body of sin and has embraced Christ. Through his calling, Christ is magnified in his body. Thus, Christ lives in him.
To live in Christ means we must accept the ways of Christ. The way of Christ is love; therefore, we must keep his commandments.
Christ was without pride, humble, cheerful, patient, steadfast, obedient, bold in the spirit, and without sin. If we must live in the body of Christ, we must accept these qualities and follow them.
Christ cannot be magnified in your body when you live in sin. If you steal, fornicate, disobey the will of God, or you involve in sexual immorality, Christ is not in you.
By living in Christ, we must discipline ourselves at all times and put on self-control. Paul himself said,
But I discipline my body and bring it into subjection, lest, when I have preached to others, I myself should become disqualified.  1 Corinthians 9:27
---
Recommended for you
---
To die is gain – What did Paul mean?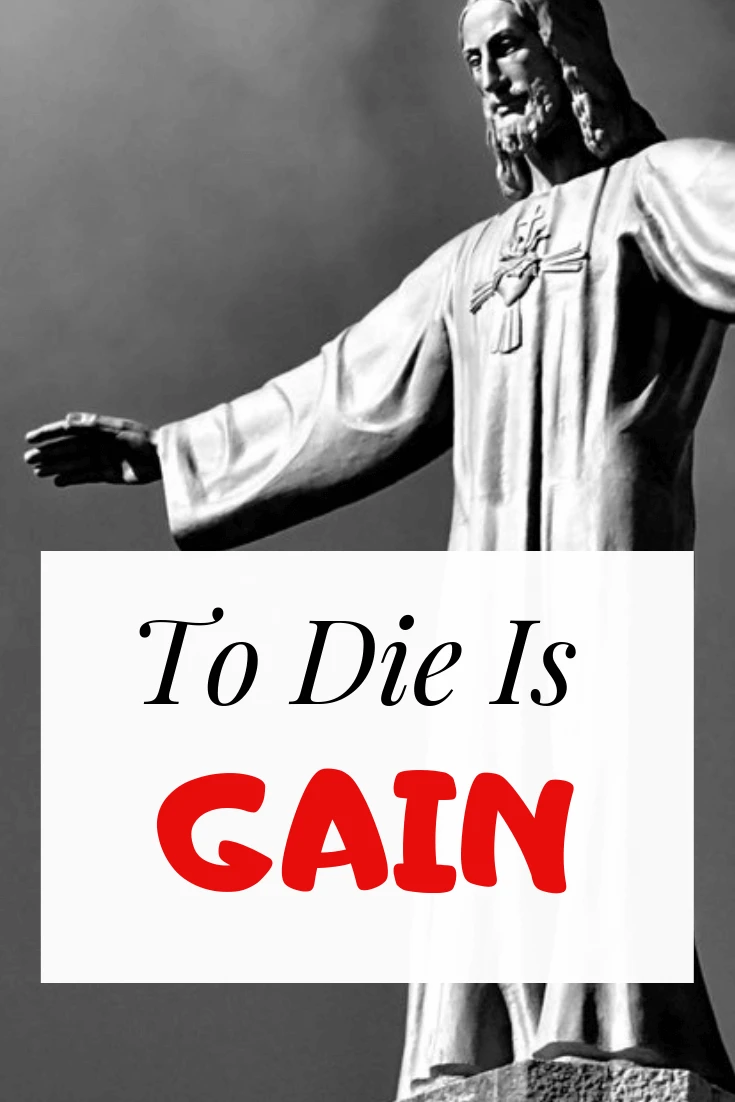 Accepting to follow Christ is one thing, Remaining steadfast when tempted is another. We will all face temptations on earth. When tempted, we must understand that Christ lives in us and follow his ways at all times.
Because we know the gift of remaining steadfast in his service, we are not afraid of death. In fact, we don't care when it comes.
By the phrase "to die is gain,"– Paul was not afraid to die. He would prefer to die and be with Christ. This is because he knew he was obeying the commandments of God diligently.
When we allow Christ to live in us and direct our ways, we are not panicked about the plans of the devil. Instead, we know that we will receive the reward prepared for us when we die.
Instead, Paul chose not to die but to live according to God's will. He knew continuing to live was for Christ. Through him, the Philippians will understand the ways of God. He would nurture them in the commandments of God and build up their faith. He said,
But if I live in the flesh, this is the fruit of my labor: yet what I shall choose I wot not. For I am in a strait betwixt two, having a desire to depart, and to be with Christ; which is far better. Nevertheless to abide in the flesh is more needful for you.

And having this confidence, I know that I shall abide and continue with you all for your furtherance and joy of faith; That your rejoicing may be more abundant in Jesus Christ for me by my coming to you again. Philippians 1:22-26
---
Recommended for you
---
Death is gain – A story to inspire your soul
Indeed, living righteously pays after death.
A good example is Christ himself. He is our savior and died for our sins. But, make no mistake, Christ is God, and he decided to die for our sins because of the love the Almighty has for us.
While on earth, there are many times the devil tempted him. He never allowed himself to be deceived by the devil. He understood the commandments of God and followed them. Until his death, he was sinless and obedient.
He was persecuted, beaten up, and died for our sins. Yet, in all, he never disobeyed the will of the father.
In the end, Christ received the reward after death. After three days, he was resurrected into glory.
Through revelation, Paul himself said,
Let this mind be in you, which was also in Christ Jesus: Who, being in the form of God, thought it not robbery to be equal with God:

But made himself of no reputation, and took upon him the form of a servant, and was made in the likeness of men: And being found in fashion as a man, he humbled himself, and became obedient unto death, even the death of the cross.

Wherefore God also hath highly exalted him, and given him a name which is above every name: That at the name of Jesus every knee should bow, of things in heaven, and things in earth, and things under the earth;And that every tongue should confess that Jesus Christ is Lord, to the glory of God the Father. Philippians 2:5-11
Therefore, we should not relent in following the ways of God. His ways lead to life and everlasting blessings. We must be steadfast until death to receive God's reward. If we derail, our labor will be in vain.
To live is Christ to die is gain bible verses.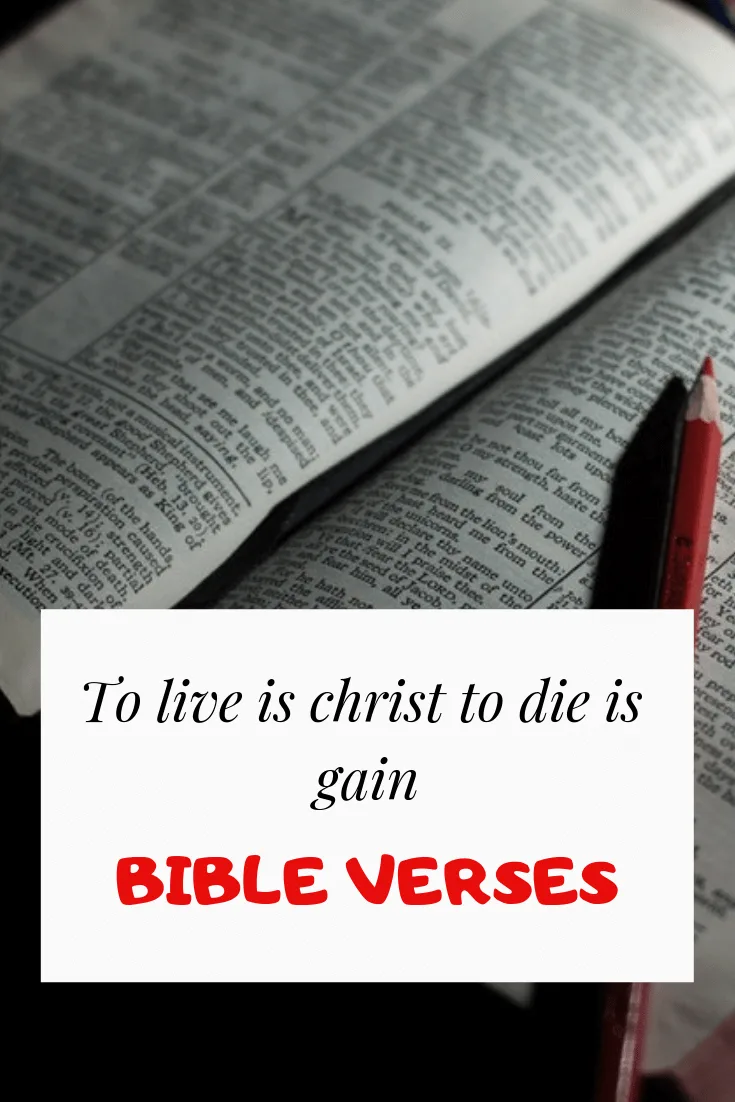 There are other Bible verses that strengthen our faith in the promise which we will receive after death. Therefore, do not be afraid. Instead, be focused on living as Christ did. Read and be blessed.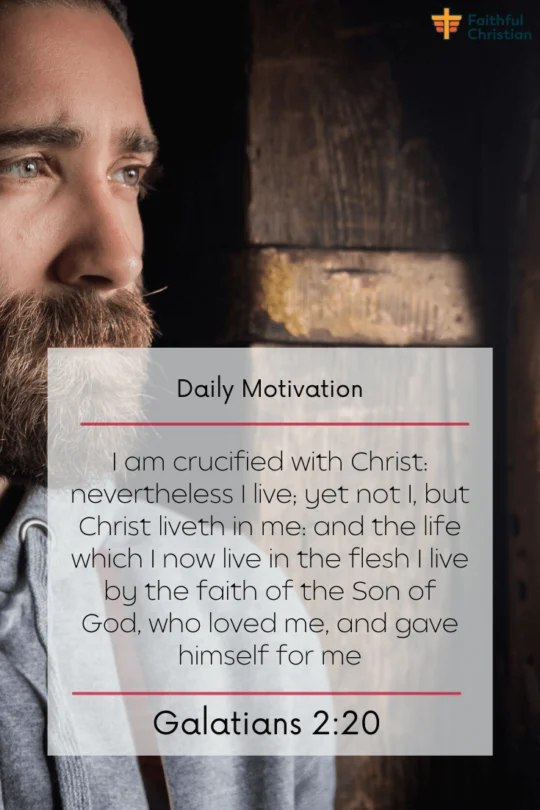 I am crucified with Christ: nevertheless I live; yet not I, but Christ liveth in me: and the life which I now live in the flesh I live by the faith of the Son of God, who loved me, and gave himself for me
The blood of Christ has given us redemption from death. Through is the precious sacrifice to God, he has given us hope to receive life after death.
Despite this, we must be righteous to receive all he has planned for us. We cannot accept the ways of the devil. We cannot love the things of the world. If we accept Christ, it means we have died with him and definitely will receive our reward.
For whether we live, we live unto the Lord; and whether we die, we die unto the Lord: whether we live therefore, or die, we are the Lord's
The happiness of the gospel of Christ is hope. Hope gives us the strength to continue in righteousness when severely persecuted by the devil. Through the hope of salvation and eternal glorification, we will remain steadfast no matter the tricks of the devil.
We know we will be glorified in the end. We know our faithfulness to God will never go unrewarded. Also, we are confident of the promise of God.
Whether we die or live, we know God's plan for us. He will never leave our soul in the hands of the devil. Instead, he will lead us to a new kingdom where righteousness reigns. Therefore, do not be afraid of death. Death takes only the body but not the soul.
3.  Revelation 14:13
And I heard a voice from heaven saying unto me, Write, Blessed are the dead which die in the Lord from henceforth: Yea, saith the Spirit, that they may rest from their labours; and their works do follow them
The phrase "die in the lord" should give you all the confidence you need. To die in the lord means death while serving Christ in holiness. Henceforth, all our labors and work will be counted for us.
We will receive all that is planned by God. Therefore, we need not be afraid of death. God will glorify our souls.
4.  Romans 8:35-39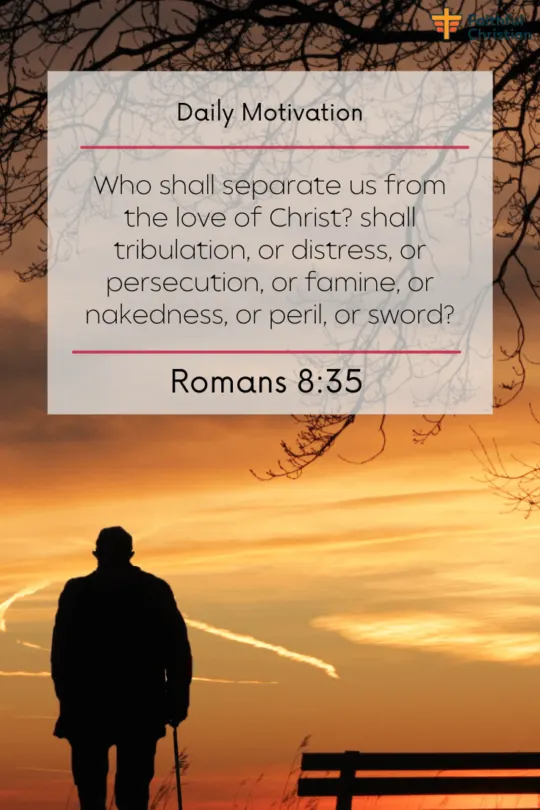 Who shall separate us from the love of Christ? shall tribulation, or distress, or persecution, or famine, or nakedness, or peril, or sword?
As it is written, For thy sake we are killed all the day long; we are accounted as sheep for the slaughter. Nay, in all these things we are more than conquerors through him that loved us.
For I am persuaded, that neither death, nor life, nor angels, nor principalities, nor powers, nor things present, nor things to come, Nor height, nor depth, nor any other creature, shall be able to separate us from the love of God, which is in Christ Jesus our Lord.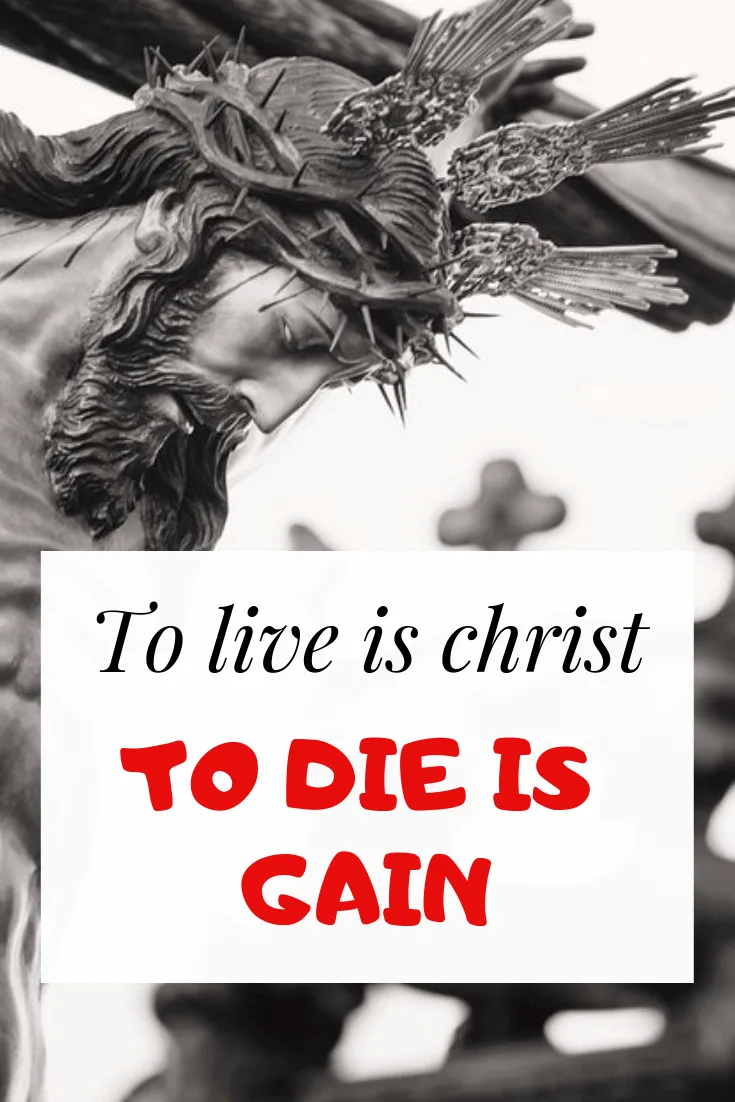 Author: Akatakpo Dunn
Dr. Akatakpo Dunn is a dedicated follower of Christ, an active member and speaker, and an ongoing learner of the Scriptures. Passionate about his faith and serving others, he is committed to sharing his spiritual journey and insights to inspire and uplift fellow believers. He has been active in the church for more than 23 years. Through The
Faithful Christian Blog
,
Dr. Dunn
combines his love for God, philanthropy, and Scripture, providing a valuable resource for those seeking to grow in their faith.
Follow me: on Youtube, Facebook, Twitter, Instagram, and Pinterest.
Content Disclosure:
At The Faithful Christian Blog, I create authentic and inspiring content. Although I am the main author, I occasionally use AI for minor language enhancements. This minimal AI usage ensures high-quality, trustworthy articles without compromising originality or sincerity, ultimately supporting our shared faith journey.
Warmly,
Dr. Akatakpo Dunn
Was this article helpful?