"Peace, be still" (Mark 4:39)
These were the exact words of Jesus when his disciples called upon him.
As they traveled through the sea, a great wind came upon them.
Jesus was asleep and wasn't bothered about the storm.
But his disciples were afraid.
They panicked among themselves, believing that they would die.
As the storm continued to beat their boat, things got even worse.
The ship began to sink as water swamped their boat.
AT this point, fear gripped their minds.
As they turned to Jesus, he was still asleep in the boat.
Quickly, they ran to Jesus and said, "Teacher, don't you care if we drown?"
Immediately, Jesus stood up and rebuked the wind by saying, "Quiet! Be still!" (NIV)
This passage of the bible is essential to strengthen our faith when we think we have lost hope.
Life can be unbearable at times, but in such circumstances, we must trust in God.
There is a lot to learn from how Jesus and his disciples reacted (more on that later).
Thankfully, there are similar peace be still scriptures that can encourage us in our trials.
Remember, the devil aims to kill and destroy.
He moves aimlessly, searching for the righteous to persecute.
But when we are tempted, we must return to God.
We must put on the amour of God and trust in his power to save us.
I have put together peace be still bible verses to inspire you today.
---
Recommended for you
---
Peace Be Still Bible Verses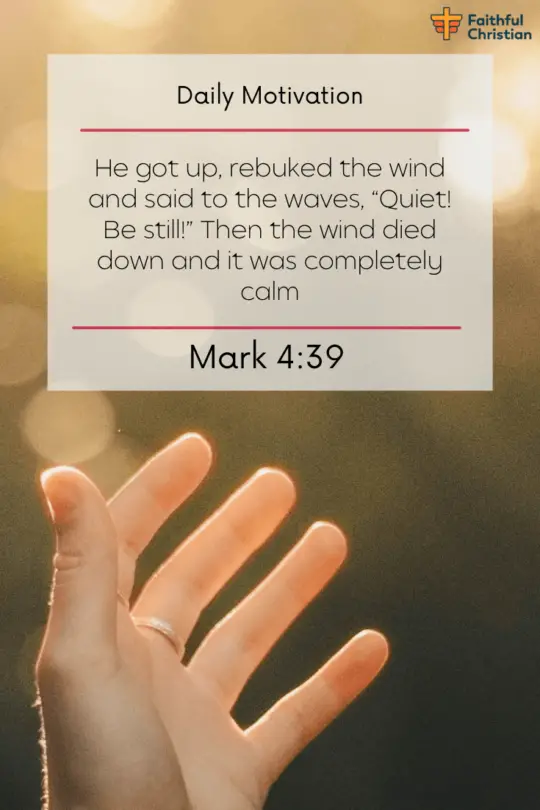 He got up, rebuked the wind and said to the waves, "Quiet! Be still!" Then the wind died down and it was completely calm
Psalm 107:29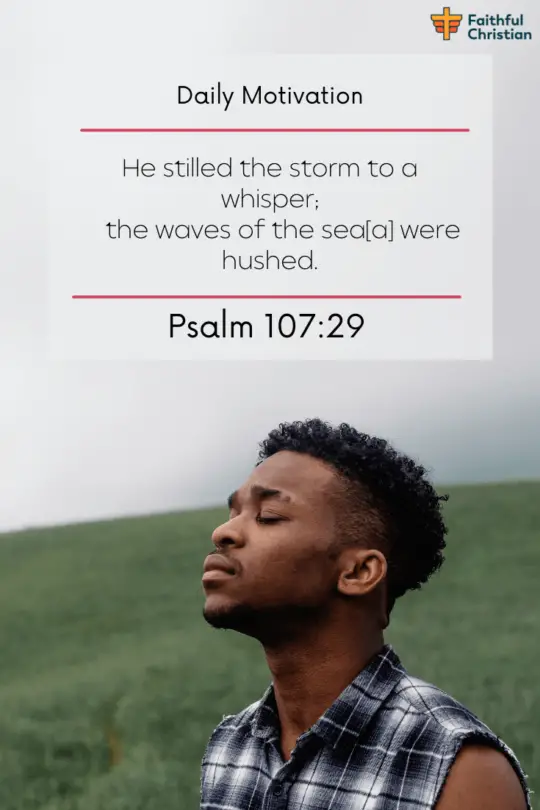 He stilled the storm to a whisper;
    the waves of the sea[a] were hushed.
Psalm 65:7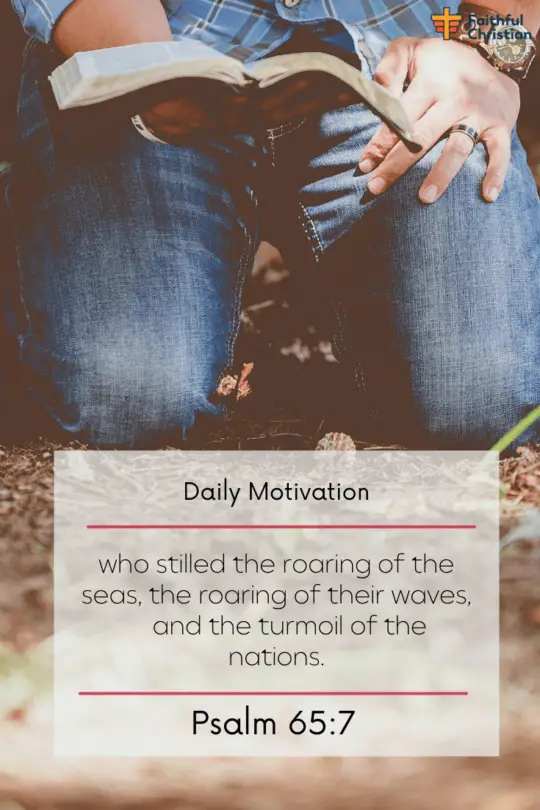 who stilled the roaring of the seas,
    the roaring of their waves,
    and the turmoil of the nations.
Psalm 89:9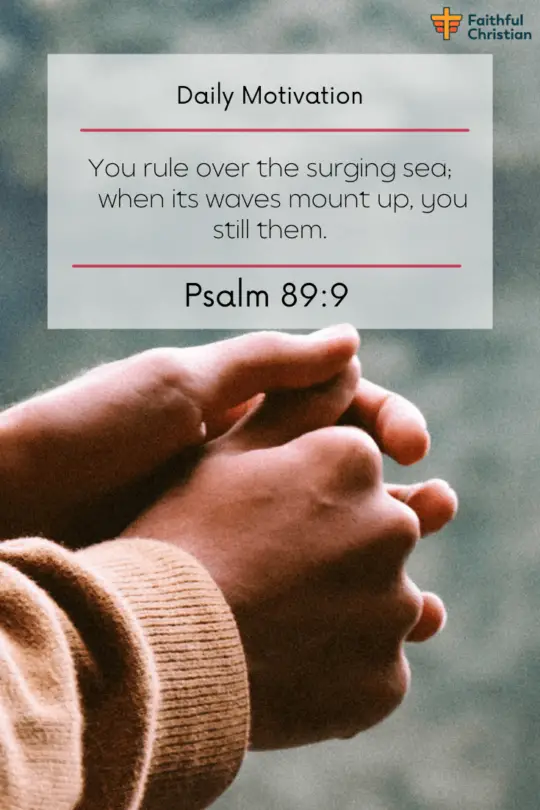 You rule over the surging sea;
    when its waves mount up, you still them.
Psalm 29:10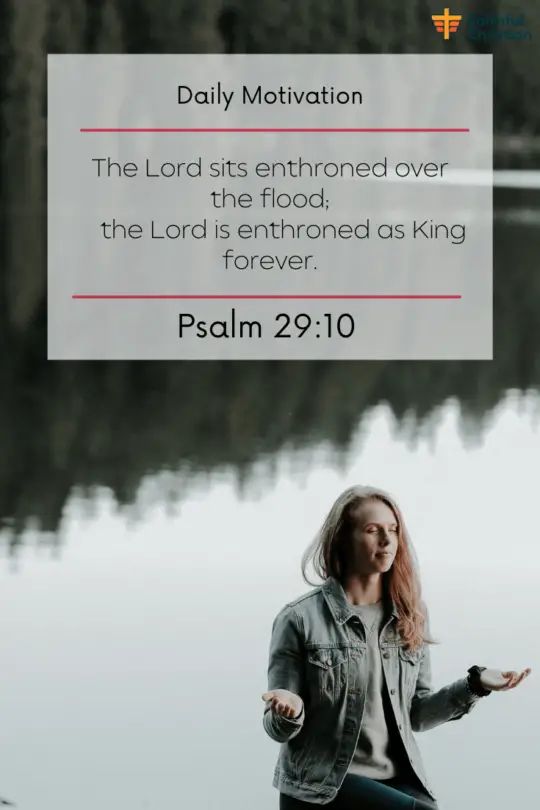 The Lord sits enthroned over the flood;
    the Lord is enthroned as King forever.
Jeremiah 5:22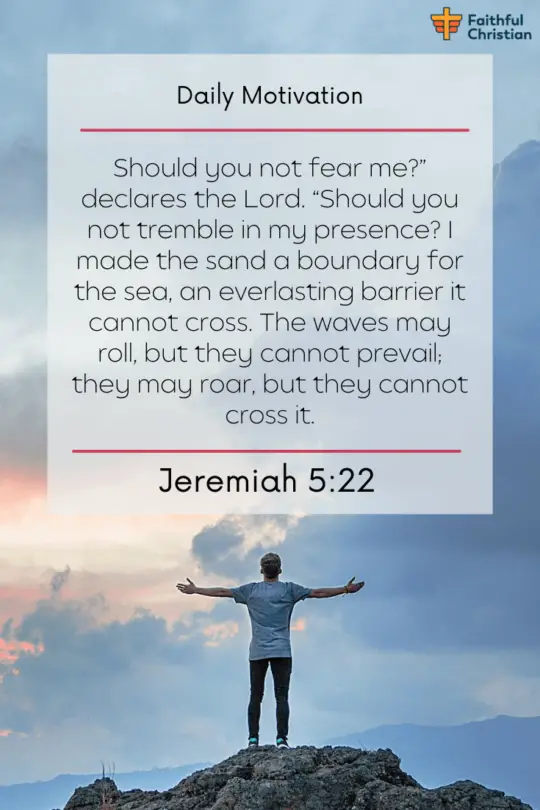 Should you not fear me?" declares the Lord.
    "Should you not tremble in my presence?
I made the sand a boundary for the sea,
    an everlasting barrier it cannot cross.
The waves may roll, but they cannot prevail;
    they may roar, but they cannot cross it.
Proverbs 8:29
when he gave the sea its boundary
    so the waters would not overstep his command,
and when he marked out the foundations of the earth.
Job 38:11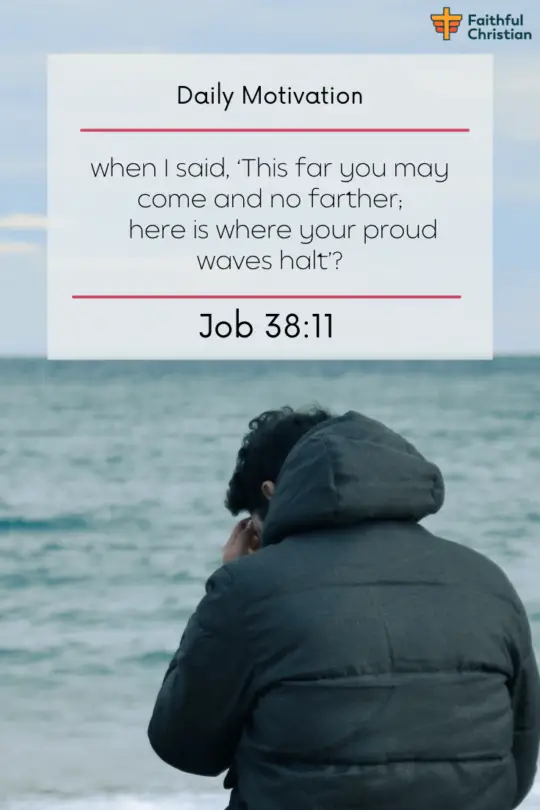 when I said, 'This far you may come and no farther;
    here is where your proud waves halt'?
Psalm 93:3-4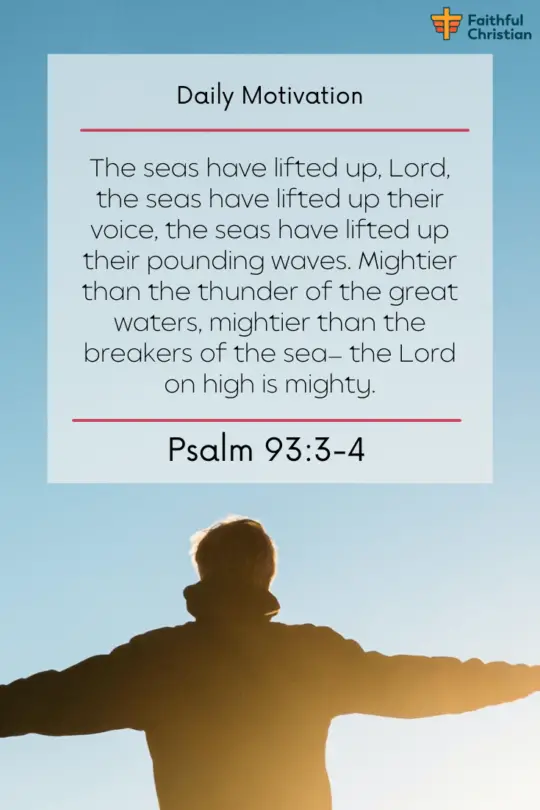 The seas have lifted up, Lord,
    the seas have lifted up their voice, the seas have lifted up their pounding waves.
4 Mightier than the thunder of the great waters,
    mightier than the breakers of the sea—
    the Lord on high is mighty.
Nahum 1:4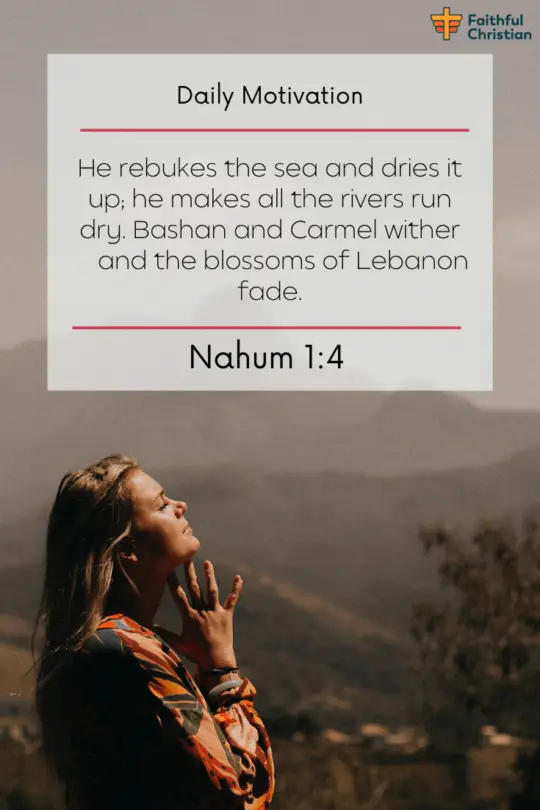 He rebukes the sea and dries it up;
    he makes all the rivers run dry.
Bashan and Carmel wither
    and the blossoms of Lebanon fade.
Psalm 46:10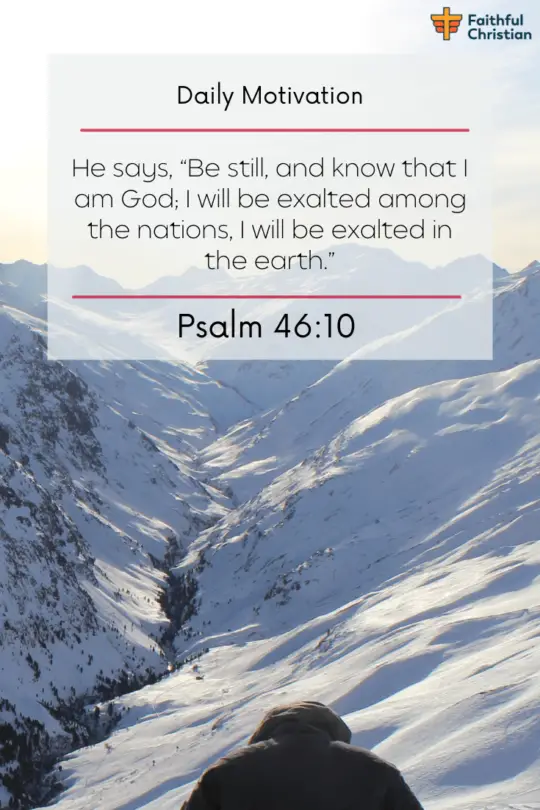 He says, "Be still, and know that I am God;
    I will be exalted among the nations,
    I will be exalted in the earth."
Psalm 100:3
Know that the Lord is God.
    It is he who made us, and we are his[a];
    we are his people, the sheep of his pasture.
Habakkuk 2:20
The Lord is in his holy temple;
    let all the earth be silent before him
Zechariah 2:13
Be still before the Lord, all mankind, because he has roused himself from his holy dwelling."
Psalm 83:18
Let them know that you, whose name is the Lord—
    that you alone are the Most High over all the earth
John 14:27
27 Peace I leave with you; my peace I give you. I do not give to you as the world gives. Do not let your hearts be troubled and do not be afraid
Philippians 4:7
 And the peace of God, which transcends all understanding, will guard your hearts and your minds in Christ Jesus.
Isaiah 41:10
So do not fear, for I am with you;
    do not be dismayed, for I am your God.
I will strengthen you and help you;
    I will uphold you with my righteous right hand.
Isaiah 26:3
You will keep in perfect peace
    those whose minds are steadfast,
    because they trust in you.
John 16:33
 "I have told you these things, so that in me you may have peace. In this world you will have trouble. But take heart! I have overcome the world."
Proverbs 3:5-6
Trust in the Lord with all your heart
    and lean not on your own understanding;
6 in all your ways submit to him,
    and he will make your paths straight.
Philippians 4:6-7
Do not be anxious about anything, but in every situation, by prayer and petition, with thanksgiving, present your requests to God. 7 And the peace of God, which transcends all understanding, will guard your hearts and your minds in Christ Jesus.
1 Peter 5:7
 Cast all your anxiety on him because he cares for you.
Jeremiah 33:3
Call to me and I will answer you and tell you great and unsearchable things you do not know.'
Psalm 119:165
Great peace have those who love your law,
    and nothing can make them stumble.
1 John 2:10
Anyone who loves their brother and sister[a] lives in the light, and there is nothing in them to make them stumble.
---
Recommended for you
---
Final words of encouragement
The scriptures were written to enlighten our souls and strengthen our faith in God.
No matter what you are going through, it would be best to depend on the scriptures for encouragement.
Here is a story to inspire you.
That day when evening came, he said to his disciples, "Let us go over to the other side."

36 Leaving the crowd behind, they took him along, just as he was, in the boat. There were also other boats with him.

37 A furious squall came up, and the waves broke over the boat so that it was nearly swamped.

38 Jesus was in the stern, sleeping on a cushion. The disciples woke him and said to him, "Teacher, don't you care if we drown?"

39 He got up, rebuked the wind, and said to the waves, "Quiet! Be still!" Then the wind died down and it was completely calm.

40 He said to his disciples, "Why are you so afraid? Do you still have no faith?"

41 They were terrified and asked each other, "Who is this? Even the wind and the waves obey him!"
What can we learn from this story?
1. Faith is a critical tool
In our trials, we must build up our faith in God.
The way we face our battles depends on how much faith we have.
Faith is the ability to trust in God even in impossible situations.
Paul, the apostle of Christ, describes faith as, "Now faith is the substance of things hoped for, the evidence of things not seen." (Hebrews 11:1)
One easy way to improve your faith is by studying the scripture and listening to the word of God.
The scriptures say, "So then faith comes by hearing, and hearing by the word of God" (Romans 10:17).
In trying times, we can depend on God through our faith.
That's exactly what happened on the ship.
While Christ was sleeping unconcerned about the wave, his disciples, with little faith, were panicking.
When there is faith, everything is calm.
2.  You will face tribulations
Don't get deceived about a life without sorrow and pain.
They will come, and it is inevitable.
We must all face trials, persecutions, and pain.
There is no hiding place from the devil and his wicked agents.
But in all, God will protect us and shield us from the wicked.
The storm symbolizes persecution that will definitely arise in our lives.
It could come in any way or form.
It could be sicknesses, disappointments, joblessness, physical pain, accidents, physical abuse, or poverty.
Whatever the case, we must trust in God.
3. Don't be afraid to call on the name of God
Since persecutions are inevitable, we must prepare for them.
We must call for help from our maker and our savior.
There is no reason to feel ashamed of your situation.
We all have our shortcomings and trials.
The disciples should have been more confident in Christ.
With the miracles they have seen firsthand, they should have been more faithful.
Yet, when faced with a storm, they quickly ran to Christ for help.
In other words, they trusted in Christ to save them.
4. Quiet, be still because God answers prayers
There are numerous passages in the scriptures that show God answers prayers.
He listens to our requests and answers them.
When you are faced with a problem, get on your knees, and pray to God.
Don't wait, doing nothing.
You will lose nothing from praying to God.
May God calm your troubles and return peace to the darkest part of your heart. Amen.
Author: Akatakpo Dunn
Dunn is a firm believer and a teacher of God's word. Suffering for Jesus is an attribute of a faithful Christian, and I hope to win new souls to Christ with every chance that I get. Articles are well-researched and backed by the scriptures.
Follow me: on Youtube, Facebook, Twitter, Instagram, and Pinterest.