Searching for life's meaning?
In a sea of turmoil and confusion, you might find yourself pondering, "What's my purpose?" Rest assured, you're not alone in this pursuit.
Fortunately, the Bible offers us invaluable guidance to unearth our life's purpose and comprehend God's intentions for us.
In this captivating blog post, we'll delve into the essence of particular Bible verses about life's purpose and God's plans for us, revealing how these divine teachings can illuminate and motivate you on your path.
"Before I formed you in the womb, I knew you," states Jeremiah 1:5, a powerful reminder of the divine intention behind our existence.
So, how can we uncover our purpose and align ourselves with God's plans? Let's delve into this topic and discover the wisdom hidden in the Bible.
Are you ready to take the first step towards a life of meaning and purpose?
Bible Verse about life's purpose.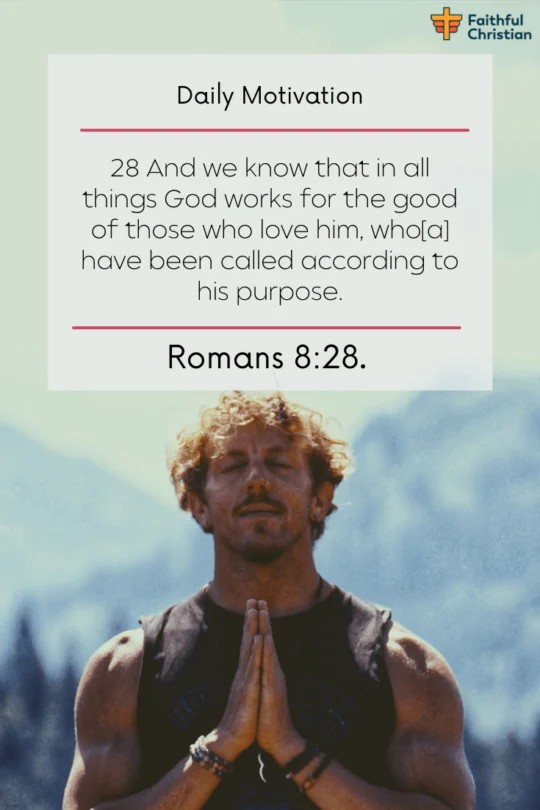 28 And we know that in all things God works for the good of those who love him, who[a] have been called according to his purpose.
Life can be tough, and full of challenges and uncertainties. Yet, we can always rely on God's unwavering love and guidance. Romans 8:28 reminds us that God's purpose and plan will work together for our good amid struggles.
Trust in God's sovereignty is vital, especially in difficult times.
Jeremiah 29:11 strengthens this idea: "For I know the plans I have for you," declares the Lord, "plans to prosper you and not to harm you, plans to give you hope and a future."
By trusting in His plan, as Proverbs 3:5-6 suggests, we lean not on our understanding but acknowledge Him in all our ways, allowing Him to direct our paths.
Faith is key to understanding God's purpose in our lives. Through faith, we can develop a deeper relationship with God and see His hand at work.
Joseph's story in Genesis 37-50 showcases this. Despite hardships, Joseph stayed faithful to God. Ultimately, God used his trials for a greater purpose, saving his family and many others from a terrible famine.
Corrie ten Boom's life exemplifies God's faithfulness during adversity.
Facing unimaginable trials in WWII concentration camps, her unwavering faith allowed her to become an influential speaker, sharing her testimony and God's faithfulness worldwide.
Her story is a testament to God's greater purpose, even in life's darkest moments.
Embracing God's plan brings comfort and strength. By surrendering to Him, we find solace, knowing He is in control, even when chaos surrounds us.
Remember, our loving Father has a divine plan, and in time, He will reveal His purpose.
Understanding that a greater purpose often lies behind our trials and tribulations is crucial. God uses these experiences to refine us, mold our character, and lead us into a deeper relationship with Him.
Persevering through challenges helps us realize that God's plan is not only to prosper us but also to shape us into the people He has called us to be.
In conclusion, Romans 8:28 reminds us that God's purpose and plan work together for our good. By placing our faith in God's sovereignty, we can confidently face life's challenges, knowing He is always with us.
Embracing God's plan brings comfort and strength, empowering us to face trials with courage and hope. Throughout life's journey, remember that God has a divine purpose for us, and He will never abandon us.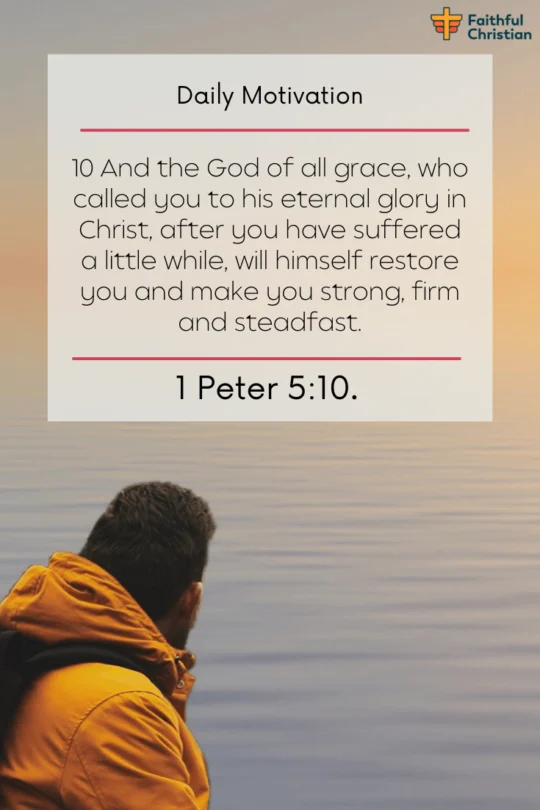 10 And the God of all grace, who called you to his eternal glory in Christ, after you have suffered a little while, will himself restore you and make you strong, firm and steadfast.
Life is a journey filled with ups and downs. In challenging times, we might question our purpose and God's plan for us.
Yet, the Bible offers hope and encouragement, especially through verses like 1 Peter 5:10. This scripture assures us that after suffering, God will restore and strengthen us, guiding us toward eternal glory.
The verse tells us that God, abundant in grace, has a plan to empower His faithful servants, even amidst their struggles. A crucial aspect of this verse is embracing humility to experience God's grace.
James 4:10 emphasizes this: "Humble yourselves before the Lord, and he will lift you up." Recognizing our dependence on God allows us to receive His grace and restoration.
During tough times, perseverance and hope are vital for maintaining faith in God's plan.
Isaiah 40:31 inspires us: "But those who hope in the Lord will renew their strength. They will soar on wings like eagles; they will run and not grow weary, they will walk and not be faint."
Trusting God renews our strength and guides us through adversity.
Job's restoration (Job 42) is a powerful biblical example of God's commitment to His faithful servants. Despite losing everything, Job's faith in God never wavered.
Ultimately, God restored and blessed Job, showcasing His unwavering devotion.
Similarly, Joni Eareckson Tada's story illustrates God's ability to use suffering for our growth. After becoming quadriplegic, Joni faced immense challenges.
Nonetheless, her steadfast faith led her to become a renowned author, speaker, and artist, inspiring many with her testimony.
Trusting in God's timing for restoration is essential for our spiritual growth. We must remember that our current suffering is temporary, and God has a greater plan.
This truth enables us to persevere, knowing that eternal glory far surpasses present difficulties.
In conclusion, 1 Peter 5:10 brings hope and encouragement to those facing life's challenges.
By embracing humility, persevering, and trusting in God's timing for restoration, we can find strength and assurance in His plan.
Reflecting on biblical stories like Job's and real-life examples like Joni Eareckson Tada, we are reminded of the eternal glory awaiting us and the transformative power of God's grace.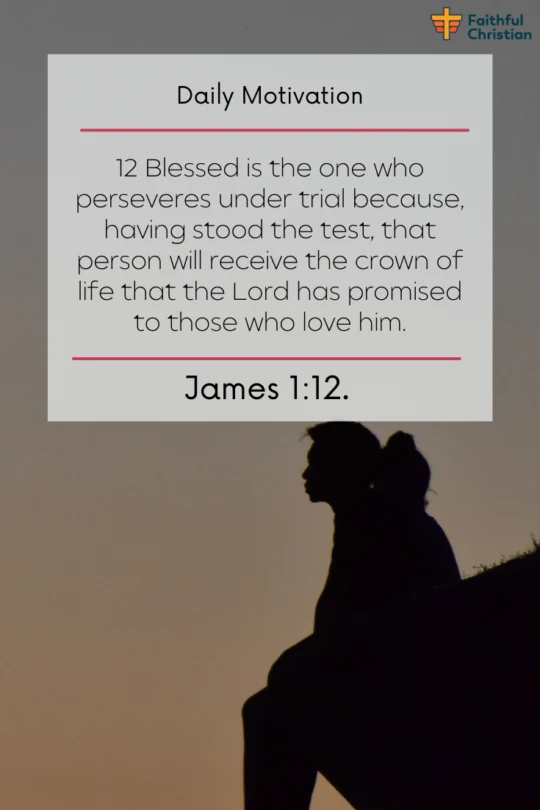 12 Blessed is the one who perseveres under trial because, having stood the test, that person will receive the crown of life that the Lord has promised to those who love him.
Perseverance is essential when facing life's challenges and discovering our purpose within God's grand plan.
James 1:12 reminds us of the blessings that come from standing firm during adversity. It highlights the value of perseverance, eternal rewards for the faithful, and the refining power of trials.
1 Corinthians 10:13 assures believers that God will not allow temptations beyond their capacity to withstand. He provides a way out of every trial, reinforcing our confidence in His faithfulness and urging us to rely on His strength.
Matthew 5:11-12 teaches that those who endure persecution for righteousness will be blessed. The kingdom of heaven is promised to such steadfast individuals, reminding us of the eternal rewards for the faithful.
Apostle Paul's life exemplifies perseverance despite adversity. He encountered numerous obstacles while spreading the Gospel, including imprisonment and beatings.
Nevertheless, he remained devoted to his mission, trusting in God's promises and the ultimate reward of the crown of life. Paul's story inspires us to persevere even during tough times.
Similarly, Richard Wurmbrand, a Romanian pastor, faced 14 years of imprisonment and torture for his faith. Despite immense suffering, he remained unwavering in his devotion to Christ.
He later founded Voice of the Martyrs, an organization supporting persecuted Christians. Wurmbrand's story demonstrates the power of perseverance and steadfast faith.
We must remember that trials serve a purpose in our lives, helping us grow and refine our faith.
Embracing this refining process allows us to view hardships as opportunities for spiritual growth and a deeper understanding of God's plans.
Encouragement to stand firm in faith is vital. Knowing we are not alone in our struggles helps us find strength in the experiences of others who have faced similar challenges.
We can lean on fellow believers and Scripture for support and encouragement.
God's promises provide strength during difficult times. Trusting in His faithfulness and remembering the eternal rewards awaiting us can give us the courage and hope to face trials.
As challenges arise, let us hold fast to our faith, knowing that God's plans for us surpass any obstacles we encounter.
In conclusion, James 1:12 and related Scriptures teach us the importance of perseverance, eternal rewards for the faithful, and the refining process of trials and testing.
Standing firm in our faith and finding strength in God's promises enable us to face life's challenges with grace and purpose, always trusting in God's plan for us.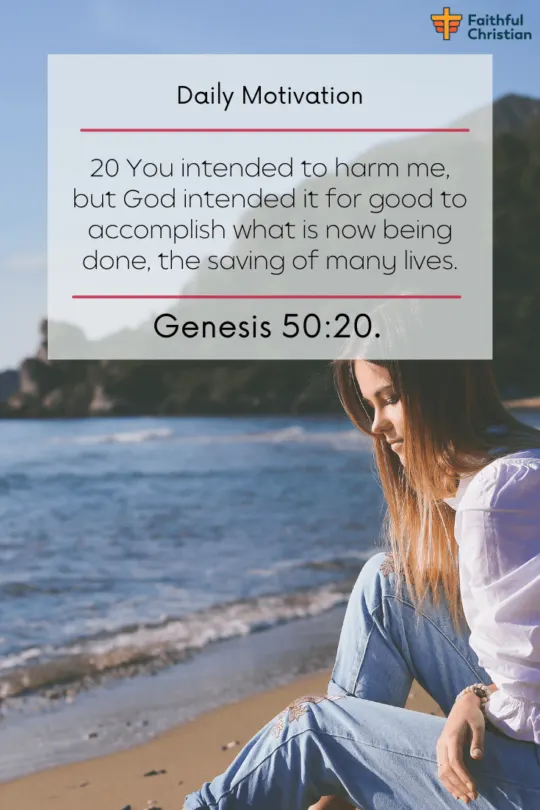 20 You intended to harm me, but God intended it for good to accomplish what is now being done, the saving of many lives.
Genesis 50:20 shines a light on God's divine purpose for us, even in tough times. The verse states, "You intended to harm me, but God intended it for good, to accomplish the saving of many lives."
This highlights trusting in God's wisdom and His power to bring good from bad situations.
As believers, we find comfort in knowing God is in control. He can use difficult circumstances for good.
For example, Esther's story shows how God positioned her as queen to save the Jewish people. Despite danger, her steadfast faith allowed her to serve God's greater purpose.
Similarly, Nick Vujicic, born without limbs, became a motivational speaker, author, and evangelist. His inspiring story has touched millions and spread the Gospel.
Both Esther and Nick showcase God's ability to turn great challenges into blessings.
Isaiah 55:8-9 reminds us that God's ways and thoughts are higher than ours. Amid trials, trusting in His wisdom and sovereignty is vital.
Proverbs 19:21 emphasizes that even though we make plans, it's the Lord's purpose that prevails. Trusting God's guidance brings peace, even when we don't fully grasp His plans.
Genesis 50:20 also reveals God's plan for redemption and healing. In Joseph's story, God used his trials to save his family and others from famine.
Likewise, Esther's faith and courage resulted in her people's deliverance. These stories show that God works tirelessly for our restoration, even in dark times.
Forgiveness is key to embracing God's plan. In Joseph's tale, he forgave his brothers, fulfilling God's purpose.
Forgiveness lets us release past hurts and embrace God's future. It paves the way for healing and reconciliation, aligning our lives with God's grand plan.
Lastly, Genesis 50:20 urges us to see God's hand at work, even in adversity. Amid struggles, we can find comfort knowing God is in control and fulfilling His purposes.
Esther's story demonstrates God's providence in saving the Jewish people. Similarly, Nick Vujicic's life shows that God can use our trials to uplift and inspire others, advancing His kingdom.
In conclusion, Genesis 50:20 is a potent reminder of God's sovereignty and purpose in our lives. Trusting His wisdom, embracing forgiveness, and recognizing His work allow us to align with His divine plan.
The stories of Esther and Nick Vujicic, combined with Isaiah 55:8-9 and Proverbs 19:21, inspire us with examples of God's ability to create good from challenging circumstances.
Let us cling to these truths, finding hope and strength in God's unwavering love and purpose for our lives.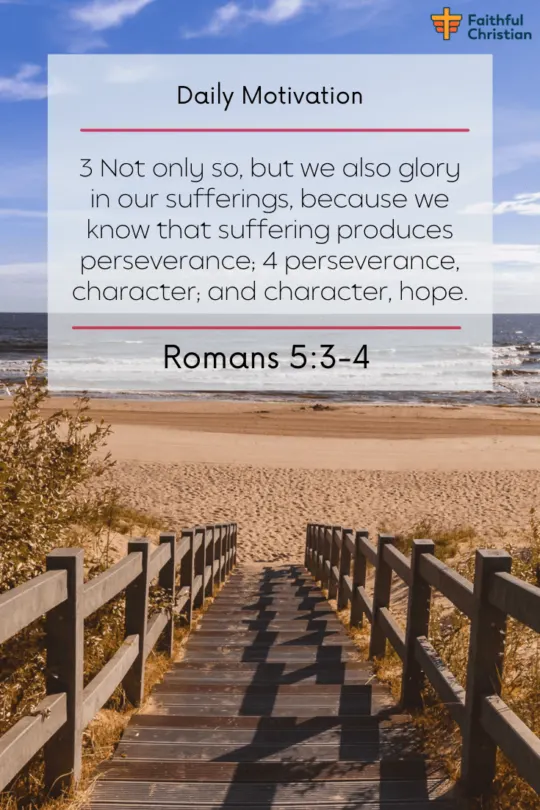 3 Not only so, but we[a] also glory in our sufferings, because we know that suffering produces perseverance; 4 perseverance, character; and character, hope.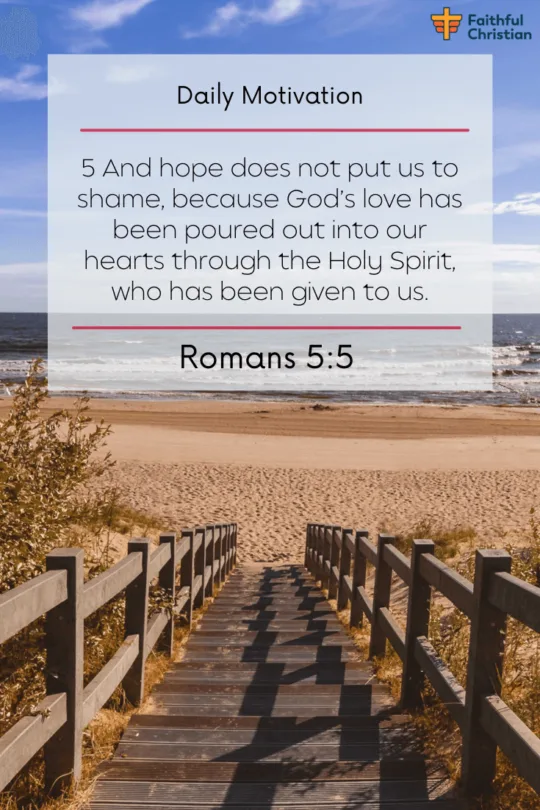 5 And hope does not put us to shame, because God's love has been poured out into our hearts through the Holy Spirit, who has been given to us.
Romans 5:3-5 highlights the transformative power of suffering. It teaches us that hardships can lead to a deeper understanding of our purpose and God's plans.
Paul explains that suffering produces perseverance, character, and hope. This hope comes from God's love, poured into our hearts through the Holy Spirit.
Paul shows us that suffering can be a catalyst for spiritual growth. Consider Peter's story; he denied Jesus during His crucifixion but later became a bold leader in the early church.
Peter's trials refined his faith, teaching him courage and determination.
Elisabeth Elliot's story also illustrates God's use of trials to shape us. When her husband, Jim, was killed by a tribe he tried to evangelize in Ecuador, she chose to forgive and live among them.
Her actions, born from pain, show how suffering refines character and aligns us with God's purpose.
Endurance is developed through trials, essential for spiritual growth. Paul writes in 2 Corinthians 4:17-18 that our troubles achieve eternal glory.
Focusing on the unseen and eternal helps us persevere, knowing our struggles are part of God's plan.
Hope in Christ is our strength during tough times. Peter shares this truth in 1 Peter 1:6-7, reminding us that trials refine our faith. This refined faith results in praise, glory, and honor when Jesus is revealed.
Romans connects trials, perseverance, and hope. As we face challenges, we trust God to shape us into the people He wants us to be.
In conclusion, Romans 5:3-5 shows that trials are integral to life's purpose and God's plan.
Embracing the transformative power of suffering, developing endurance, and finding strength in Christ's hope equips us to fulfill our divine calling.
Peter and Elisabeth Elliot's stories demonstrate that God's grace and love work even in our darkest times, refining our faith and guiding us towards His eternal purpose.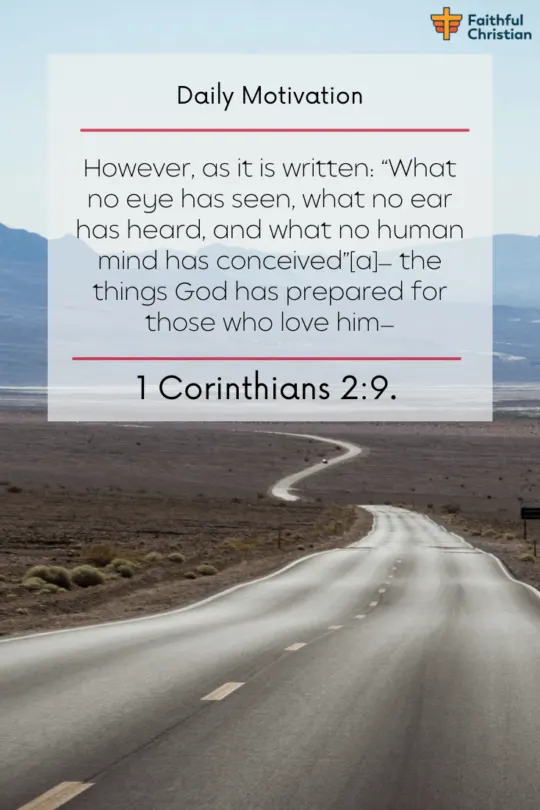 However, as it is written: "What no eye has seen,what no ear has heard, and what no human mind has conceived"[a]—the things God has prepared for those who love him—
Paul's words in 1 Corinthians 2:9 reveal a powerful truth: "No eye has seen, no ear has heard, and no mind has imagined what God has prepared for those who love him."
This verse highlights the unimaginable blessings awaiting believers, pointing to God's divine purpose and plans.
Life's journey calls for seeking God's wisdom and revelation.
Ephesians 3:20-21 reminds us of our limited understanding: "Now to him who is able to do immeasurably more than all we ask or imagine, according to his power that is at work within us, to him be glory… forever and ever! Amen."
Embracing His wisdom opens us to God's divine intervention.
Abraham's story in Genesis 12, 15, and 17 demonstrates trust in God's promises. Although childless, God promised Abraham numerous descendants.
Despite the odds, Abraham believed God, and the Lord fulfilled His promise. Trusting in God's goodness and love is vital, even when we don't fully grasp His plans.
George Müller's life illustrates the power of faith in anticipating blessings. As a Christian evangelist, he founded many orphanages in 19th-century England.
Trusting in God's promises, he relied on faith and prayer to provide for the orphans. The Lord met their needs time and time again.
Uncertainty is part of life, but our limited understanding doesn't hinder God's ability to work in our lives. Trusting in His goodness and love allows us to experience abundant blessings.
Isaiah 64:4 states, "Since ancient times no one has heard, no ear has perceived, no eye has seen any God besides you, who acts on behalf of those who wait for him."
Seeking God's wisdom, trusting His promises, and waiting patiently are key to unlocking these blessings.
In conclusion, 1 Corinthians 2:9 serves as a reminder of the blessings and divine purpose God has for each of us. By seeking His wisdom, trusting in His goodness, and exercising faith, we can embrace His extraordinary plans.
Just as Abraham and George Müller experienced God's promises and divine provision, we too can confidently walk in His purpose, knowing He will do more than we could ever ask or imagine.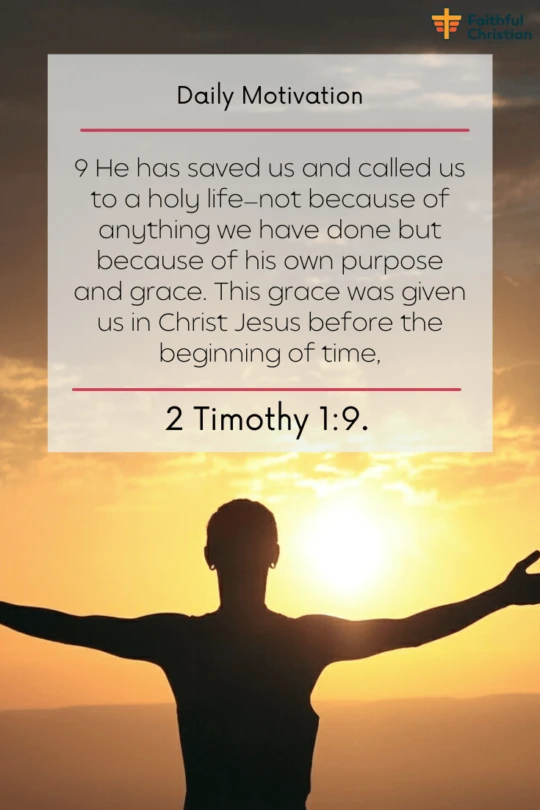 9 He has saved us and called us to a holy life—not because of anything we have done but because of his own purpose and grace. This grace was given us in Christ Jesus before the beginning of time,
2 Timothy 1:9 inspires us to discover God's purpose and plans for our lives. Each of us is called to a unique mission that shapes our destiny and brings fulfillment.
Let's explore this verse's depth in the context of life's purpose and God's plans.
Understanding our divine calling is vital for a meaningful, impactful life. 2 Timothy 1:9 reveals that God's purpose and grace define our holy calling, not our works.
This means our mission goes beyond personal ambitions, being part of a grand plan by our Creator.
The verse also highlights grace and redemption through Jesus Christ. His sacrifice on the cross ensures our salvation, enabling us to confidently pursue our divine calling.
Ephesians 1:4-5 affirms that God chose us in Christ, predestining us for adoption. This reveals God's love and Jesus' central role in our spiritual journey.
Embracing our identity as God's chosen people empowers us to live by His purpose. Titus 3:4-7 speaks of God's kindness and mercy that saved us, not our righteousness.
The passage emphasizes that we're heirs of eternal life, transformed by the Holy Spirit. Our divine identity helps us face challenges courageously.
Living by God's purpose is essential for true fulfillment. Moses' story illustrates this. God called Moses to lead the Israelites out of Egypt, even though he doubted himself (Exodus 3-4).
Moses chose to obey, ultimately delivering God's people, showing the transformative power of aligning with God's purpose.
Embracing our divine calling unlocks our potential and makes a lasting impact. Martin Luther King Jr.'s life exemplifies this.
Called to fight for civil rights, he pursued his divine purpose, inspiring millions to embrace justice and nonviolence. His work shows the power of committing to God's plan.
In conclusion, 2 Timothy 1:9 encourages us to embrace God's purpose and calling. By acknowledging Jesus' grace and redemption, recognizing our divine identity, and living by His plans, we experience a fulfilling, impactful life.
Moses and Martin Luther King Jr.'s stories remind us of the transformative power of embracing our divine calling. As we follow this path, we discover our true purpose and become instruments of God's love and grace in the world.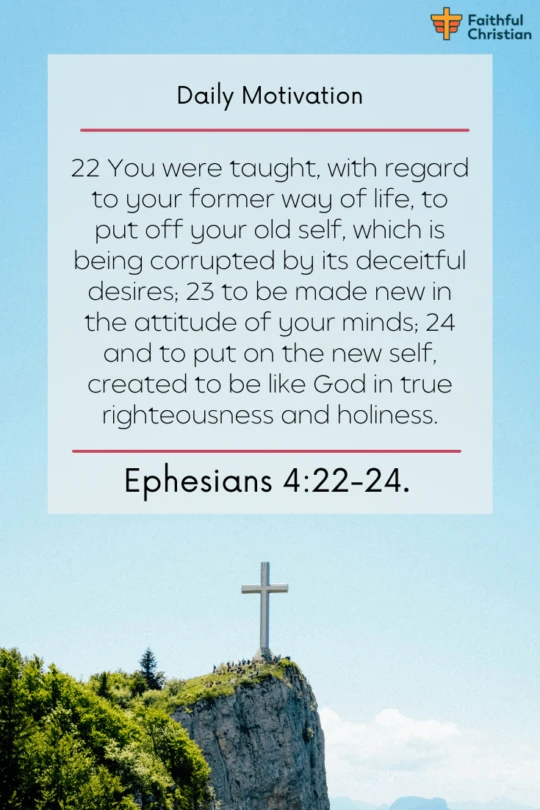 22 You were taught, with regard to your former way of life, to put off your old self, which is being corrupted by its deceitful desires; 23 to be made new in the attitude of your minds; 24 and to put on the new self, created to be like God in true righteousness and holiness.
Ephesians 4:22-24 powerfully highlights the life-changing transformation we experience when we accept God's plan. As believers, we're called to a deep spiritual renewal.
We cast off our old selves and step into the new identity Christ offers. This journey is central to discovering our purpose and living our best lives for God's glory.
Key to this process is leaving behind old ways of thinking and acting. Romans 12:2 teaches us to renew our minds. We abandon worldly behavior for divine wisdom from God.
This transformation aligns us with God's purpose, leading to a more meaningful and purposeful life.
Colossians 3:9-10 emphasizes the importance of embracing our "new self." This self is renewed in knowledge and shaped after our Creator.
This new self, marked by godly virtues and Christlike character, helps us live out God's unique plan. As our character grows, we become better ambassadors for Christ, showing His love and power to a world that needs hope.
The story of Zacchaeus in Luke 19:1-10 is a striking biblical example of transformation. Zacchaeus, a dishonest tax collector, met Jesus and was transformed.
He repented and committed to righting his wrongs. His encounter with Jesus changed his life, showcasing Christ's transformative power for those who follow Him.
Chuck Colson's story illustrates the transformative journey we take when we embrace God's plan. Colson, once a White House counsel, had a dramatic conversion.
He became a dedicated advocate for prison ministry and Christian apologetics. His transformation testifies to God's power to renew and repurpose our lives, even when our past seems beyond redemption.
The Holy Spirit is vital in this transformative journey, empowering change and growth. As we submit to the Spirit and yield to His work, we're equipped to embrace our new identity in Christ.
The Spirit helps us overcome challenges, endure trials, and become the people God created us to be.
In conclusion, Ephesians 4:22-24 invites us on a transformative journey of spiritual renewal and growth.
We align our lives with God's plan by embracing our new identity in Christ, developing godly character, and relying on the Holy Spirit.
Like Zacchaeus and Chuck Colson, we can experience radical transformation that not only affects our lives but also leaves a lasting, positive impact on the world.
2 Corinthians 5:17.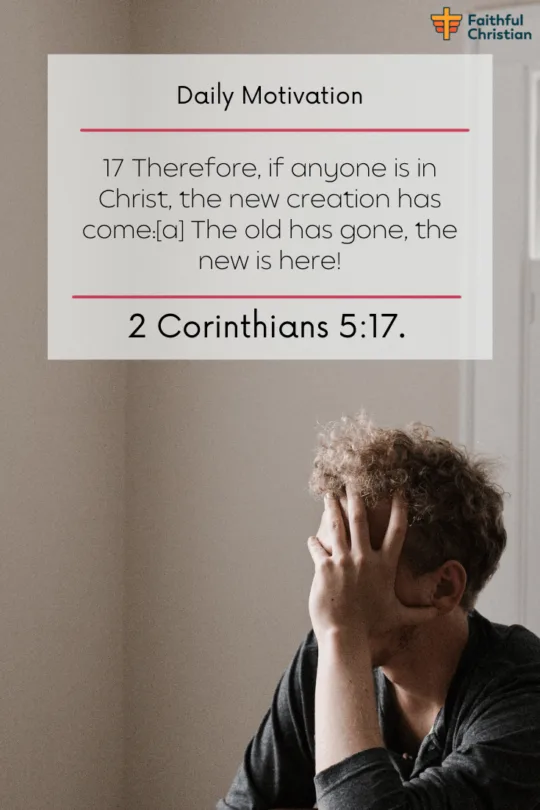 17 Therefore, if anyone is in Christ, the new creation has come:[a] The old has gone, the new is here!
The power of 2 Corinthians 5:17 is profound. It says, "If anyone is in Christ, the new creation has come: The old has gone, the new is here!"
It highlights the life-changing impact of accepting God's purpose and plan. Believers in Christ experience a radical transformation. They leave behind their old selves and embrace a new identity as children of God.
In our quest for life's purpose, this verse reminds us to live a transformed life. We must embrace Christ's redemption and forgiveness.
Our spiritual journey molds our hearts and minds. It helps us live according to God's plan and experience hope and freedom in Christ.
Galatians 2:20 is a powerful declaration of the transformation that takes place when a believer accepts Jesus Christ as their Savior.
It signifies the believer's identification with Christ's crucifixion, symbolizing the death of their old sinful nature.
By stating, "I no longer live, but Christ lives in me," the verse emphasizes that a believer's life is now centered around Christ and his teachings.
Romans 6:4 speaks to the transformative power of our relationship with Christ. It states, "We were buried with Him through baptism into death so that we too may live a new life."
This verse highlights our opportunity to walk in newness of life and live out God's purpose and plan.
Saul's conversion in Acts 9 is a striking biblical example of transformation. Once a fierce persecutor of Christians, Saul encountered the risen Christ on the road to Damascus.
This experience changed his life. He became the Apostle Paul, a passionate follower and missionary of Christ.
Paul's story shows the transformative power of Christ and the impact one can have when living according to God's purpose. Read more about Saul's conversion here.
C.S. Lewis is a modern real-life example of transformation. Once an atheist, Lewis came to faith in Christ and experienced a profound change.
He used his literary talents to defend and promote Christianity. As a result, Lewis left a lasting legacy, influencing countless spiritual journeys worldwide. Read more about C.S. Lewis's conversion here.
In conclusion, 2 Corinthians 5:17 serves as a powerful reminder of the transformative nature of life in Christ. Embracing Jesus' redemption and forgiveness gives us a new identity and purpose.
We can live according to God's plan. The stories of both the Apostle Paul and C.S. Lewis serve as inspiring examples of the impact we can have when we allow God's transformative work within us.
Living as new creations in Christ, we can experience hope and freedom by walking in the purpose God has designed for our lives.
More Scriptures about trusting God's plan
Frequently Asked Questions
What is God's purpose for your life?
Trust that God's unique plan for you is perfect, aimed at helping you thrive and glorify Him.
Source: Jeremiah 29:11
What are God's five purposes for my life?
Embrace the five purposes of worship, fellowship, discipleship, ministry, and evangelism to live a Christ-focused life.
Source: Matthew 22:37-40, Matthew 28:18-20
What is the purpose of life according to Jesus?
Jesus teaches that life's purpose is to love God wholeheartedly and love others selflessly.
Source: Matthew 22:37-40
What is the real purpose of life?
Life's true purpose is knowing, loving, and serving God while pursuing your unique calling.
Source: Ephesians 2:10
How do I find my purpose in life?
Discover your purpose by building a personal relationship with God through prayer, Bible study, and faith community involvement.
Source: Proverbs 3:5-6
How do I know my purpose in God?
Deepen your connection with God to recognize your purpose and consider your passions, skills, and opportunities for guidance.
Source: Psalm 37:23
What are some examples of life purposes?
Pursuing a purpose aligned with God's plan impacts the world positively through compassion, guidance, inspiration, and spiritual growth.
What is God's main purpose for man?
God's primary purpose is for us to glorify Him, enjoy fellowship, and be stewards of His creation.
Source: Genesis 1:26-28, Isaiah 43:7
What are the three things God wants us to do?
God wants us to prioritize loving Him, loving others, and sharing the Gospel.
Source: Matthew 22:37-40, Matthew 28:18-20
What is the purpose of God creating us?
God created us for fellowship with Him, to care for His creation, and participate in His divine nature.
Source: Genesis 1:26-28, 2 Peter 1:3-4
What is God's calling for my life?
Seek God, immerse yourself in the Bible, and connect with a faith community to understand your calling and live a purposeful life.
Source: Ephesians 4:11-16
Author: Akatakpo Dunn
Dr. Akatakpo Dunn is a dedicated follower of Christ, an active member and speaker, and an ongoing learner of the Scriptures. Passionate about his faith and serving others, he is committed to sharing his spiritual journey and insights to inspire and uplift fellow believers. He has been active in the church for more than 23 years. Through The
Faithful Christian Blog
,
Dr. Dunn
combines his love for God, philanthropy, and Scripture, providing a valuable resource for those seeking to grow in their faith.
Follow me: on Youtube, Facebook, Twitter, Instagram, and Pinterest.
Content Disclosure:
At The Faithful Christian Blog, I create authentic and inspiring content. Although I am the main author, I occasionally use AI for minor language enhancements. This minimal AI usage ensures high-quality, trustworthy articles without compromising originality or sincerity, ultimately supporting our shared faith journey.
Warmly,
Dr. Akatakpo Dunn
Was this article helpful?