You are not alone.
We all sinned against God and those around us.
In fact, if you claim you have not sinned, then you are misinformed.
The scripture says,
Indeed, there is no one on earth who is righteous,
    no one who does what is right and never sins.

Ecclesiastes 7:20
We were all conceived in sin.
But thank God, we are redeemed through Christ's death and crucifixion.
There is no need to panic or be scared of your sins.
God is willing and able to ignore all your sins if we wholeheartedly confess them to him.
God can forgive you for hurting someone. He can forgive you for adultery or fornication.
And yes, he does not remember your iniquities in the future.
He lets go and gives you a second chance.
There is no set age to ask for repentance. As children, you can pray for forgiveness.
I have put together this prayer for forgiveness for hurting someone and sinning against God.
May God, in His infinite mercies, forgive you all your sins and return peace to your mind.
Amen.
---
Recommended for you
---
Short prayers for forgiveness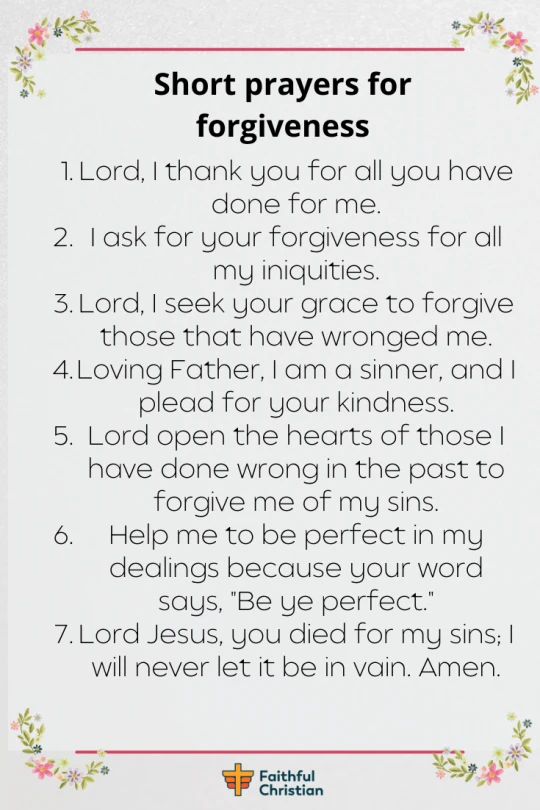 Lord, I thank you for all you have done for me.
I ask for your forgiveness for all my iniquities.
Lord, I seek your grace to forgive those that have wronged me.
Loving Father, I am a sinner, and I plead for your kindness.
Lord open the hearts of those I have done wrong in the past to forgive me of my sins.
Help me to be perfect in my dealings because your word says, "Be ye perfect."
Lord Jesus, you died for my sins; I will never let it be in vain. Amen.
Prayer Bible verses for forgiveness
Luke 17:3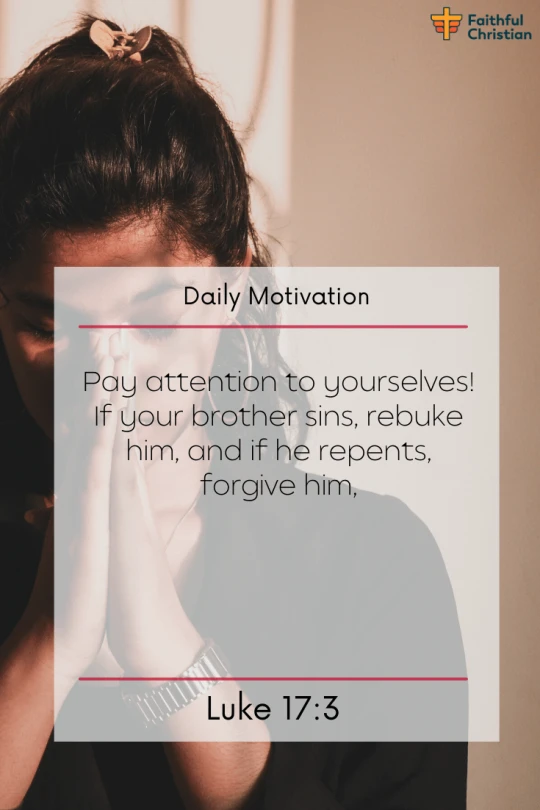 Pay attention to yourselves! If your brother sins, rebuke him, and if he repents, forgive him,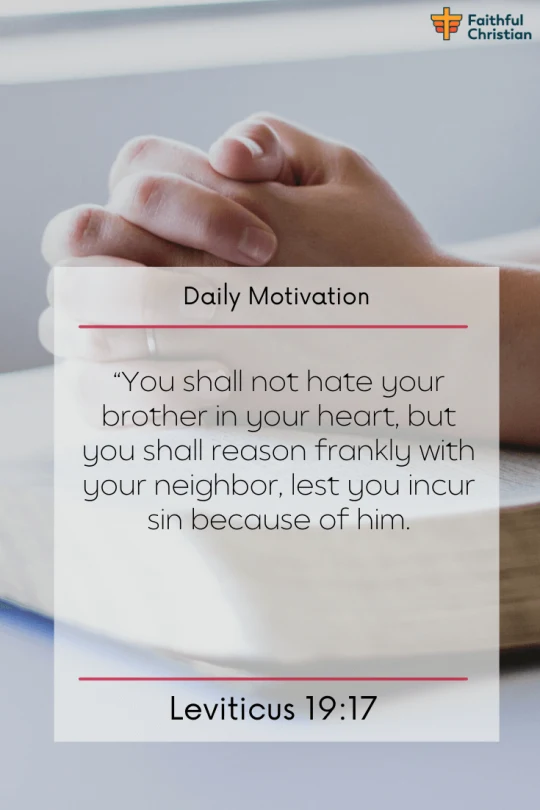 "You shall not hate your brother in your heart, but you shall reason frankly with your neighbor, lest you incur sin because of him.
1 John 1:9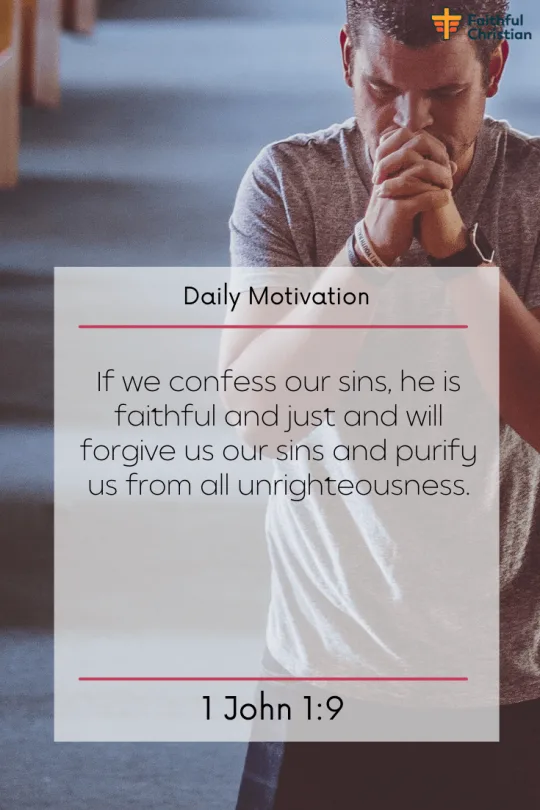 If we confess our sins, he is faithful and just and will forgive us our sins and purify us from all unrighteousness.
Prayer for the forgiveness of sins
Let us confess our sins before him for cleansing (let us pray)
Precious Lord, Today I come before you as my Lord and personal savior.
I confess my sins before you.
Please wash me with your precious blood and cleanse me from all unrighteousness.
Save me by your grace and purge me from all that will lead to sin.
Restore my soul in your presence and guide my every step towards repentance.
Great God, you alone are God.
You alone have the power to transform any life.
You are a forgiving God who is willing to hear my pleas and forgive my sins.
Loving Father, the power of forgiveness of iniquities lies in your hands alone.
Therefore, I seek your mercies for a second chance.
The scriptures say, "Come now, let us settle the matter," Though your sins are like scarlet, they shall be as white as snow; though they are red as crimson, they shall be like wool."
Therefore, I come today acknowledging my iniquities.
I have signed against you and man.
Hence, I beg for your grace and love to redeem me to yourself.
Thank you gracious and forgiving Father. Amen.
Genuinely accept him as your Lord (let's pray)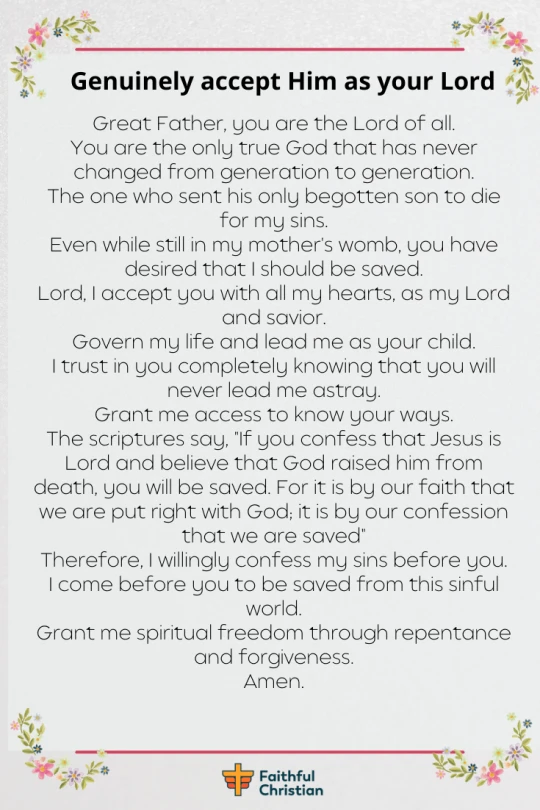 Great Father, you are the Lord of all.
You are the only true God that has never changed from generation to generation.
The one who sent his only begotten son to die for my sins.
Even while still in my mother's womb, you have desired that I should be saved.
Lord, I accept you with all my hearts, as my Lord and savior.
Govern my life and lead me as your child.
I trust in you completely knowing that you will never lead me astray.
Grant me access to know your ways.
The scriptures say, "If you confess that Jesus is Lord and believe that God raised him from death, you will be saved. For it is by our faith that we are put right with God; it is by our confession that we are saved"
Therefore, I willingly confess my sins before you.
I come before you to be saved from this sinful world.
Grant me spiritual freedom through repentance and forgiveness.
Amen.
Trust that he has forgiven you (let us pray)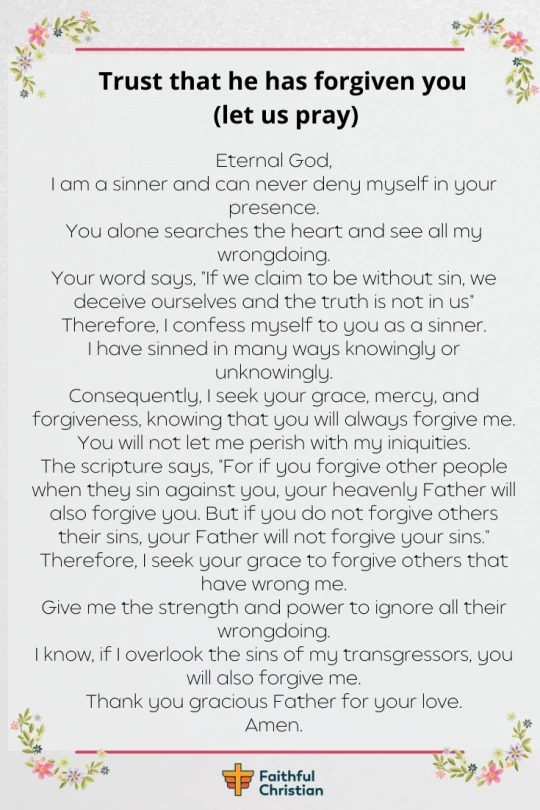 Eternal God,
I am a sinner and can never deny myself in your presence.
You alone searches the heart and see all my wrongdoing.
Your word says, "If we claim to be without sin, we deceive ourselves and the truth is not in us"
Therefore, I confess myself to you as a sinner.
I have sinned in many ways knowingly or unknowingly.
Consequently, I seek your grace, mercy, and forgiveness, knowing that you will always forgive me.
You will not let me perish with my iniquities.
The scripture says, "For if you forgive other people when they sin against you, your heavenly Father will also forgive you. But if you do not forgive others their sins, your Father will not forgive your sins."
Therefore, I seek your grace to forgive others that have wronged me.
Give me the strength and power to ignore all their wrongdoing.
I know, if I overlook the sins of my transgressors, you will also forgive me.
Thank you gracious Father for your love.
Amen.
He washed your sins through his blood (lets us pray)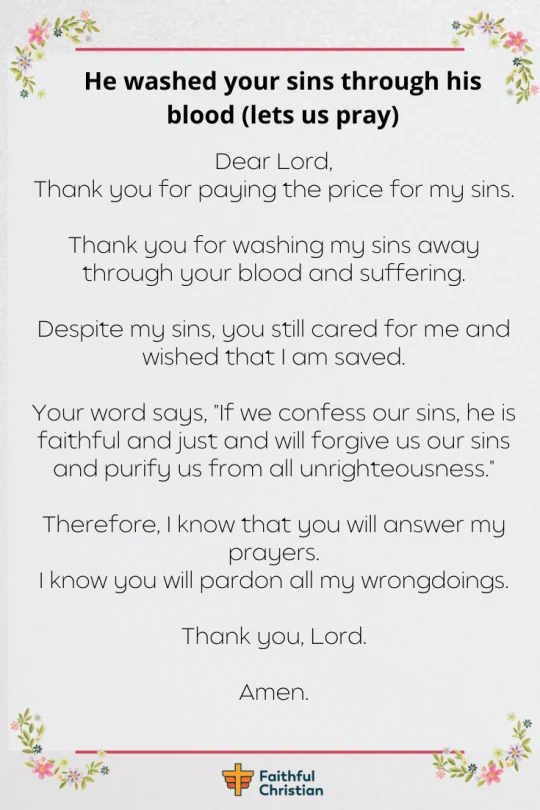 Dear Lord,
Thank you for paying the price for my sins.
Thank you for washing my sins away through your blood and suffering.
Despite my sins, you still cared for me and wished that I am saved.
Your word says, "If we confess our sins, he is faithful and just and will forgive us our sins and purify us from all unrighteousness."
Therefore, I know that you will answer my prayers.
I know you will pardon all my wrongdoings.
Thank you, Lord.
Amen.
---
Recommended for you
---
Author: Akatakpo Dunn
Dr. Akatakpo Dunn is a dedicated follower of Christ, an active member and speaker, and an ongoing learner of the Scriptures. Passionate about his faith and serving others, he is committed to sharing his spiritual journey and insights to inspire and uplift fellow believers. He has been active in the church for more than 23 years. Through The
Faithful Christian Blog
,
Dr. Dunn
combines his love for God, philanthropy, and Scripture, providing a valuable resource for those seeking to grow in their faith.
Follow me: on Youtube, Facebook, Twitter, Instagram, and Pinterest.
Content Disclosure:
At The Faithful Christian Blog, I create authentic and inspiring content. Although I am the main author, I occasionally use AI for minor language enhancements. This minimal AI usage ensures high-quality, trustworthy articles without compromising originality or sincerity, ultimately supporting our shared faith journey.
Warmly,
Dr. Akatakpo Dunn
Was this article helpful?