You are not alone.
We all sinned against God and those around us.
In fact, if you claim you have not sinned, then you are misinformed.
The scripture says,
Indeed, there is no one on earth who is righteous,
    no one who does what is right and never sins.

Ecclesiastes 7:20
We were all conceived in sin.
But thank God, we are redeemed through Christ's death and crucifixion.
There is no need to panic or be scared of your sins.
God is willing and able to ignore all your sins if we wholeheartedly confess them to him.
God can forgive you for hurting someone. He can forgive you for adultery or fornication.
And yes, he does not remember your iniquities in the future.
He lets go and gives you a second chance.
There is no set age to ask for repentance. As children, you can pray for forgiveness.
I have put together this prayer for forgiveness for hurting someone and sinning against God.
May God, in His infinite mercies, forgive you all your sins and return peace to your mind.
Amen.
---
Recommended for you
---
Short prayers for forgiveness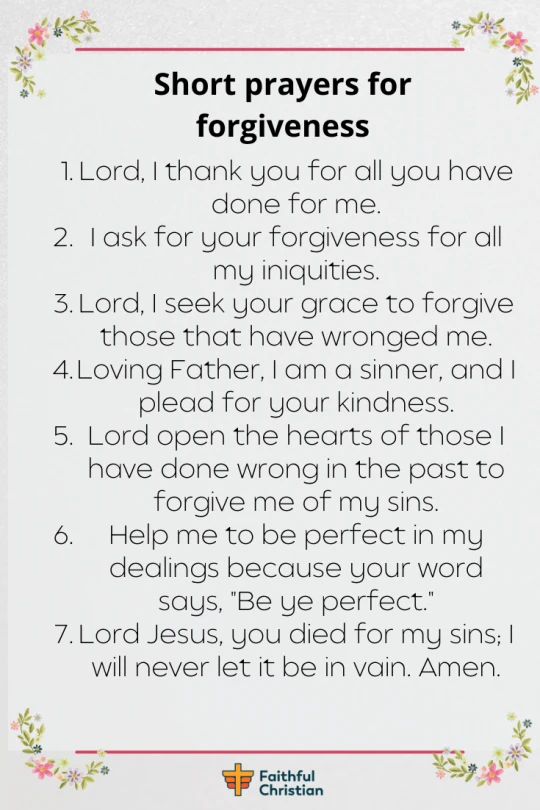 Dear Father in heaven, my heart is brimming with gratitude. I see your love all around me. The Bible says you lay a feast for us, even in times of struggle. And I've felt it, Lord. Your unwavering support has been my anchor. I thank you for it.
However, I haven't always followed your path. I've made mistakes. We all have. That's what the Apostle Paul reminds us in Romans. We've all sinned. Yet, you are faithful. You forgive us when we admit our wrongs. You cleanse us. For this, I ask your mercy, Lord.
And, just as I seek your forgiveness, I must also forgive others. Your word is clear about this. We must let go of grudges. I pray for that strength, Lord. To let go. To forgive. To emulate your merciful heart.
Admittedly, I am a sinner. It's something I cannot hide from you. Just as the tax collector in the Bible, I plead, "God, have mercy on me." I am hopeful. I believe in your grace, Lord. And so, I ask for your divine kindness.
Lord, I ask that you touch the hearts of those I've wronged. Guide them to forgive me, as the Bible teaches. We must reconcile with each other before presenting our gifts to you. With this, I hope to mend broken relationships.
You've called us to be perfect. Just like you. It's a tall order, Father. Yet, I will strive. I will reflect honesty and kindness in my dealings. I'll let the fruits of the Spirit shine through me. It's what you've asked of us in your word.
And lastly, I remember your sacrifice, Lord Jesus. While we were still sinners, you died for us. I won't forget this. It's a great act of love. I aim to live a life that reflects this. One that honors your sacrifice.
So, I stand before you, Lord. Fully aware of my shortcomings. Yet, filled with hope. Hope in your mercy and grace. In your name, I pray. Amen.
Prayer Bible verses for forgiveness
Luke 17:3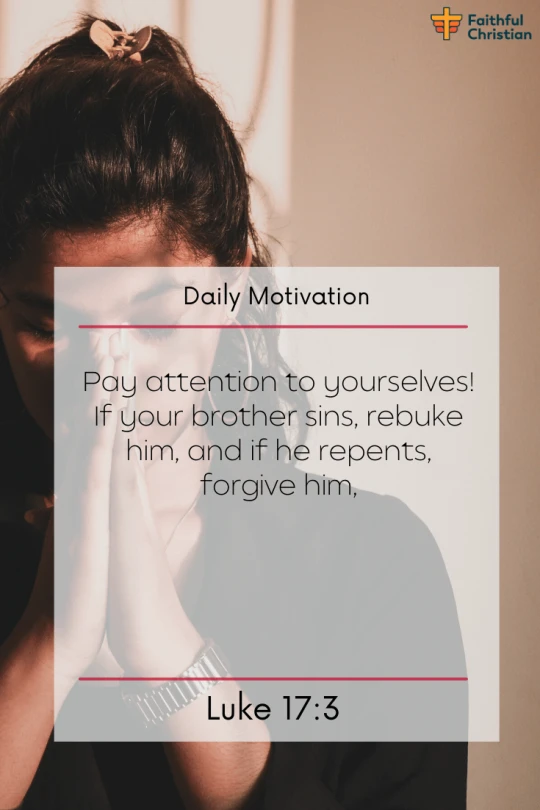 Pay attention to yourselves! If your brother sins, rebuke him, and if he repents, forgive him,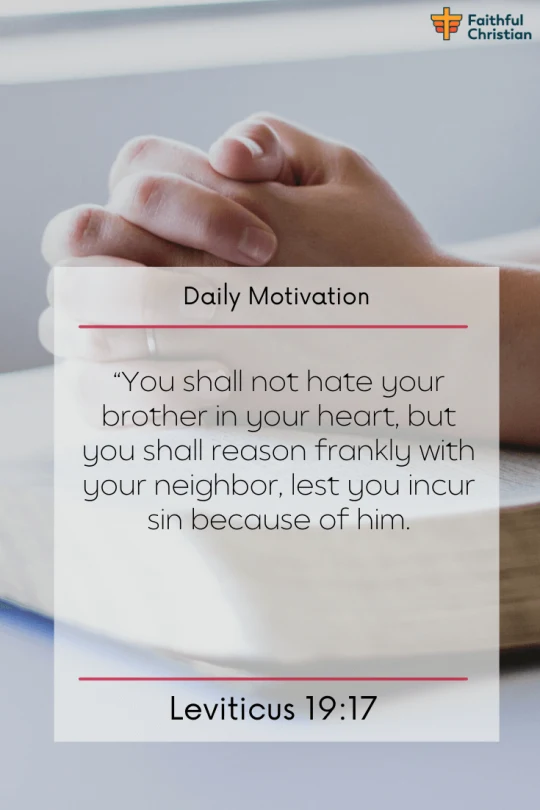 "You shall not hate your brother in your heart, but you shall reason frankly with your neighbor, lest you incur sin because of him.
1 John 1:9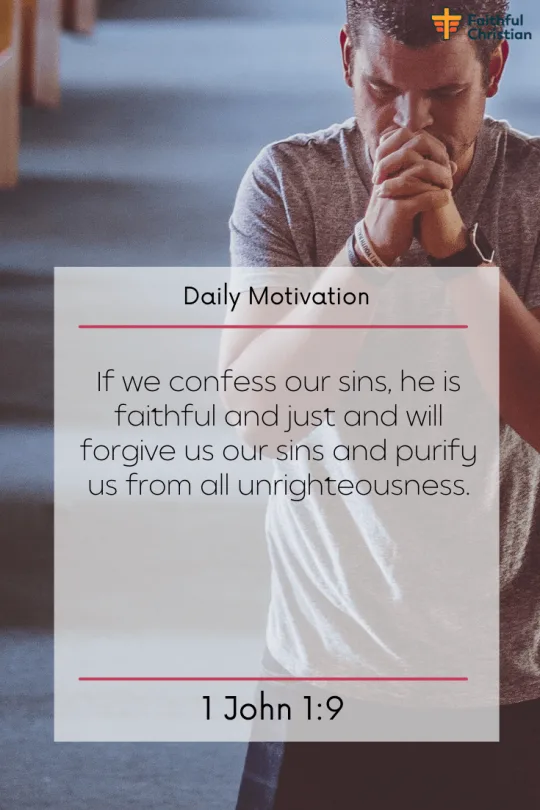 If we confess our sins, he is faithful and just and will forgive us our sins and purify us from all unrighteousness.
Prayer for the forgiveness of sins
Let us confess our sins before him for cleansing (let us pray)
Oh, Everlasting One, your wisdom reaches beyond the heavens. You see the deepest wishes I cradle in my heart. It's like Psalm 139 says. You know everything, even before I've thought it. So, I'm certain you grasp my dreams. Each one of them.
Almighty Father, today I step into your divine presence. I declare you as my personal guide, my savior. Like the humble tax collector in the gospel of Luke, I acknowledge my flaws. I admit my sins, head bowed low.
Your blood, pure and holy, I ask for its cleansing power. Like a river washing over me, it purifies my soul. It's a promise you made in 1 John, a promise I hold dear.
Save me from the snares of sin, I implore. Like King David's plea in the Psalms, I seek a fresh spirit, a pure heart. Shield me, O Lord, from the grip of temptation.
Your embrace, it's where I long to be. Like the prodigal son who yearned for home, I too seek your arms. Guide my steps back into your light. Repentance is my heart's cry.
You reign supreme, Lord. Your mighty power touches the heavens, embraces the earth. Just as 2 Corinthians reminds us, in you we become new creations. You have the power to transform lives.
Your mercy, Father, it's like a bottomless well. Always ready to forgive us, as 1 John teaches us. Hear my pleas, wash away my sins.
Only you can absolve us, Father. The authority of forgiveness is yours alone. In Mark, Jesus reminds us of this divine power. I pray for your mercy, another chance to right my wrongs.
I admit my sins, inspired by Isaiah's prophecy. I recognize the hurt caused to you and others. I seek your boundless grace, your transformative love.
I yearn for redemption, for restoration. Echoing David's words in the Psalms, I crave your joy. Sustain me, O Lord, with your willing spirit.
With a heart full of gratitude, I thank you, dear Father. Your forgiveness is a gift beyond words. It's a richness of grace Paul talks about in Ephesians. Thank you for your love, your mercy. Amen.
Genuinely accept him as your Lord (let's pray)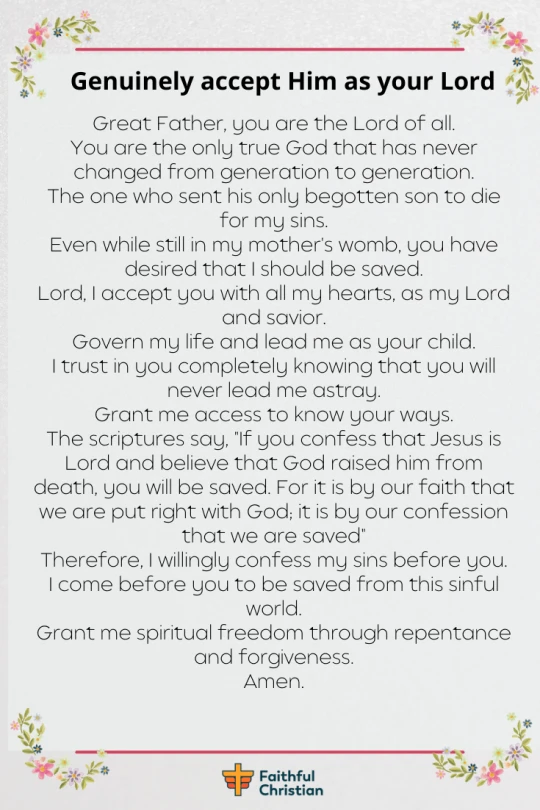 Dear Almighty Father, your reign knows no bounds. Everything under the sun bows to you, from sky's edge to earth's end. It's like the Psalmist sings in Psalms 24:1 – you own it all. You govern with a mix of justice and love that's entirely your own.
You're the unchanging, ever-present God. A timeless presence, your love is constant, like the North Star in the night sky. As declared in Malachi 3:6, you stand steady through time. A rock in a swirling sea of change, you're a sure refuge.
You made the ultimate sacrifice for us. Your Son, Jesus, took the weight of our sins, a token of your love. John 3:16 captures this perfectly. It's a love so deep it's hard to grasp, yet so real we can feel it.
Even before we drew our first breath, you were there. You had plans for us. As Jeremiah 1:5 hints, you designed us with a purpose. This shows your care, your desire for our salvation. It's a comforting truth, an assurance of your unfailing love.
Lord, I accept you. Fully. Completely. Like Romans 10:9, I declare you my Lord and Savior. A total surrender, a full commitment. It's you who guides, you who saves.
As your child, I'm asking for your guidance. Lead me to do what's right. Just like a shepherd guides his flock in Psalm 23, guide me. Show me the path to walk on, light up the way ahead.
I trust you, Lord. I believe in your wisdom, your love. You're my compass, the one who sets my course. Proverbs 3:5-6 tells us to trust you, not our understanding. With you at the helm, I know I'll reach safe harbor.
Help me understand your ways, Lord. Show me how to follow your path. Psalm 25:4-5 asks for this wisdom. It's a plea for guidance, a call for divine insight.
I admit my faults, Lord. I own my mistakes. It's like Romans 10:9-10 says, confessing our sins is key. It's a sign of humility, an act of honesty, a step towards redemption.
I come to you for salvation. I'm seeking freedom from the chains of sin. It's like Hebrews 4:16 tells us, we can approach your throne with confidence. Like the prodigal son in Luke 15, I come back home, longing for your grace.
Lastly, Lord, grant me freedom. Not the kind the world gives, but the true liberation that comes with repentance. It mirrors 1 John 1:9's promise – confessing leads to forgiveness. It's the start of a new chapter, a chance to begin afresh.
In your name, I pray, Amen.
Trust that he has forgiven you (let us pray)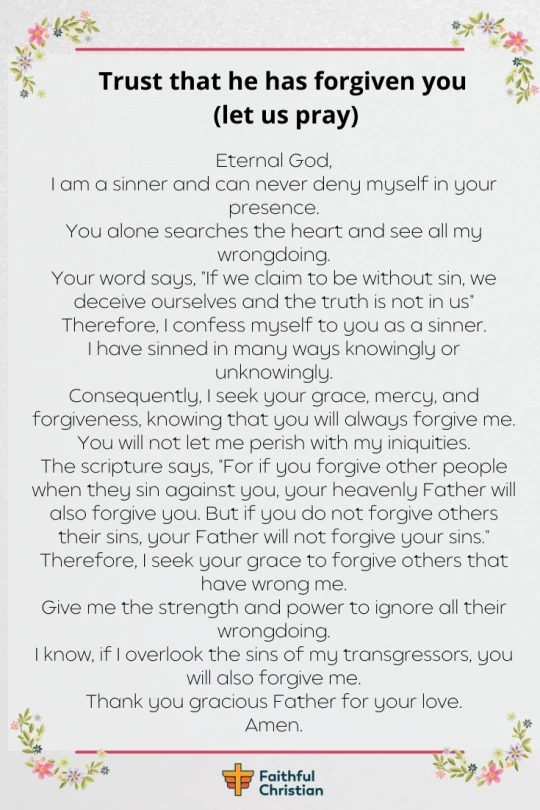 Heavenly Creator,
Standing in your divine presence, I know I'm imperfect. It's a humbling experience, echoing David's call in Psalm 139. "Search me, O God, know my heart." So, I ask. Search me. Know me. Accept me, flaws and all.
Your power goes beyond what we see. It reaches into our souls, laying bare all hidden faults. Jeremiah reminds us of this. "I, the Lord, search the heart." You are my judge. You understand me more than I do.
Your word shines a light on our self-deception. "Fooling ourselves," 1 John calls it when we say we are without sin. We can't hide. We are all flawed. I admit this to you. I am flawed, too.
My actions haven't always honored you. I've stumbled. I've strayed. And I'm reminded of Paul's words in Romans. "All have sinned." I know I fall short. But I can learn. I can grow.
In the face of my mistakes, I look to you. I seek your mercy. Your forgiveness. Hebrews tells us to approach you with confidence. So, I do. Knowing you're always ready to extend your grace. To provide comfort in times of need.
I trust in your mercy. You won't abandon me, despite my errors. Ezekiel gives me this hope. "Turn away from sins," he advises, "and you shall live." With your guidance, I believe I can.
Your teachings shape my actions. Matthew's words ring true. "Forgive others, and your Father will forgive you." I try to live this truth. To forgive as you do. Even when it's hard.
I ask for strength to let go of grudges. To forgive those who've hurt me. Colossians encourages this spirit of forgiveness. "Bear with each other." So, I strive to do just that. To reflect your grace in my own actions.
And through it all, I'm grateful. Your love is a constant force in my life. As Romans promises, nothing can separate us from your love. A reassuring truth. A comfort in trying times. And a reminder of your unfailing, boundless love.
Amen.
He washed your sins through his blood (lets us pray)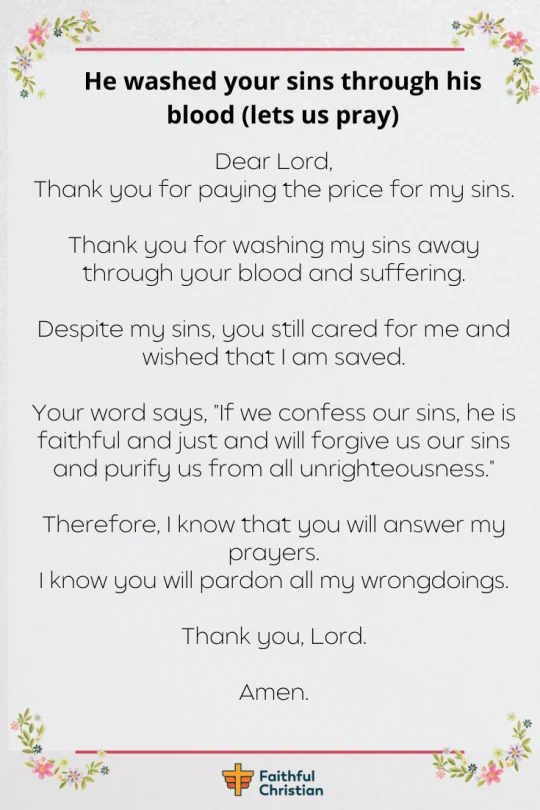 Dear Heavenly Father,
You are my refuge. As I stand before Your throne of grace today, I'm moved. Your love for me is overwhelming. You sent Your only Son to bear my sins. He carried the weight of my guilt. It was a gift I didn't earn. A gift I can never repay. Yet, I'm deeply grateful.
Jesus shed His blood for me. It's powerful. It's purifying. It wiped my sins away. My heart was stained. Now, it's whiter than snow. You let Your Son suffer. This act is beyond comprehension. Yet, it shows me Your love. You care for me, no matter what.
I've made mistakes. Plenty of them. You never pushed me away. Instead, You draw me near. You offer me life, not destruction. You pick me up when I fall. You cleanse me. You restore me. This is who You are. Merciful. Compassionate. Loving.
Your Word lights my way. It gives me hope. It promises forgiveness. When I confess my sins, You forgive me. You clean me up. This promise is my rock. I'm not righteous, but I trust in Your faithfulness.
Today, I admit my faults. I've sinned against You. I've hurt others. I'm always aware of my shortcomings. I'm sorry. I need Your forgiveness. Your Word assures me. You can forgive. You will forgive.
You are a God of second chances. You love to show mercy. Today, I need that mercy. Cleanse me from my sins. Give me strength. Let me rise from my failures. Guide me to be a better servant. Help me walk in Your light.
Thank You for Your love. Your forgiveness. Your mercies are new every morning. Your faithfulness is great. You hear my prayers. You forgive my sins. With You, I find hope. I find peace.
In Jesus' name, I pray.
Amen.
Frequently Asked Questions
The act of prayer for the forgiveness of sins symbolizes the humble acceptance of one's missteps and the sincere petition for divine mercy. In accordance with 1 John 1:9, these prayers serve to acknowledge one's errors, seek pardon, and assert a truthful intent for repentance and the abandonment of sin.
What is a prayer for forgiveness of sins, renewal, and repentance?
Prayers that encompass the forgiveness of sins, renewal, and repentance extend beyond seeking divine pardon. They also express a desire for personal transformation and a heartfelt retreat from sin. Aligning with Psalms 51:10-12, they illustrate the need for God's cleansing and renewal in order to align life with divine will.
Which Bible verse contains a prayer for forgiveness of sins?
Psalms 51 offers a biblical instance of a prayer seeking the forgiveness of sins. This Psalm, composed by King David post-sin, in verses 1-2 pleads, "Have mercy on me, O God, according to your steadfast love; according to your abundant mercy blot out my transgressions. Wash me thoroughly from my iniquity, and cleanse me from my sin!"
How can we ask for forgiveness to God through prayer?
To request divine forgiveness through prayer involves admitting to our sins, expressing genuine regret, and committing to future avoidance of these sins. As stated in 1 John 1:9, it is vital to approach this with humility and repentance.
What is a prayer for forgiveness of others who hurt you?
Praying for the forgiveness of those who have harmed you involves asking for divine help to forgive those who have wronged you. Mirroring Matthew 6:14-15, this type of prayer is based on the principle of reciprocal forgiveness – as God freely forgives us, we must forgive others.
Can you provide a short prayer for forgiveness?
A concise prayer for forgiveness might be, "Heavenly Father, with humility, I acknowledge my sins and ask for your forgiveness. I have strayed, but with sincerity, I regret my actions and aim to turn from them. Extend your mercy, cleanse me, and guide me on the path of righteousness. In Jesus' name, I pray. Amen."
How can we pray when asking for forgiveness?
During prayers for forgiveness, genuine remorse and the willingness to repent should be presented to God. It is crucial to confess sins openly to God, having faith in His promise to forgive. As 1 John 1:9 states, "If we confess our sins, he is faithful and just and will forgive us our sins and purify us from all unrighteousness."
What is a prayer for forgiveness and cleansing?
A prayer for forgiveness and cleansing seeks both divine mercy for our sins and His purifying power to cleanse us from all unrighteousness. As expressed in Psalm 51:2, it recognizes the need for God's cleansing to restore purity.
What is the prayer for forgiving others in the Bible?
Matthew 6:12, in the Lord's Prayer, guides believers in forgiving others, emphasizing both seeking God's forgiveness and the obligation to forgive others.
How do you ask for God's forgiveness of the sins committed?
Requesting God's forgiveness requires acknowledging sins, confessing them through prayer, expressing true remorse, and promising to avoid these sins in the future, as directed by 1 John 1:9.
What Psalm is about forgiving others?
Psalm 32 explores the delight of forgiveness. Additionally, it provides indirect teaching about forgiving others by reflecting on the relief and blessings that follow the receipt of God's forgiveness. As verse 1 asserts, "Blessed is the one whose transgressions are forgiven, whose sins are covered."
What is a good Bible verse for forgiveness?
Ephesians 4:32 provides a noteworthy scripture on forgiveness, "Be kind to one another, tenderhearted, forgiving one another, as God in Christ forgave you." This verse emphasizes the significance of forgiveness in Christian life, with its foundation in God's forgiveness of us.
What do the Scriptures say about forgiving quickly?
The Bible accentuates the importance of quick forgiveness in numerous verses, including Ephesians 4:26-27: "In your anger do not sin: Do not let the sun go down while you are still angry, and do not give the devil a foothold." This scripture advises the swift resolution of grievances, embodying forgiveness.
---
Recommended for you
---
Author: Akatakpo Dunn
Dr. Akatakpo Dunn is a dedicated follower of Christ, an active member and speaker, and an ongoing learner of the Scriptures. Passionate about his faith and serving others, he is committed to sharing his spiritual journey and insights to inspire and uplift fellow believers. He has been active in the church for more than 23 years. Through The
Faithful Christian Blog
,
Dr. Dunn
combines his love for God, philanthropy, and Scripture, providing a valuable resource for those seeking to grow in their faith.
Follow me: on Youtube, Facebook, Twitter, Instagram, and Pinterest.
Content Disclosure:
At The Faithful Christian Blog, I create authentic and inspiring content. Although I am the main author, I occasionally use AI for minor language enhancements. This minimal AI usage ensures high-quality, trustworthy articles without compromising originality or sincerity, ultimately supporting our shared faith journey.
Warmly,
Dr. Akatakpo Dunn
Was this article helpful?