There is exceptional power in God's word.
When you are lonely, the bible comforts you.
When you are sick or depressed, there are motivational bible verses to strengthen you.
Paul said,
No temptation has overtaken you except what is common to mankind. And God is faithful; he will not let you be tempted beyond what you can bear. But when you are tempted, he will also provide a way out so that you can endure it 1 Corinthians 10:13
So, don't be too quick to conclude that God has forsaken you.
When you are demoralized, think of God's word.
Because if you do, there are many Bible verses to motivate your soul.
He said,
My thoughts are nothing like your thoughts," Isaiah 55:8-9
And that's the truth.
When we are going through challenges, we always want a quick turnaround for our problems.
But that's not how God works.
Some days, he is quick to render help; other days, he may allow us to be tempted for a while.
As Christian, we must learn how to motivate ourselves with bible scriptures.
And most importantly, Learn God's spiritual thinking.
I have compiled uplifting bible verses that will motivate your soul. These bible verses will encourage you in the Lord.
---
Recommended for you
---
10 Motivational Bible verses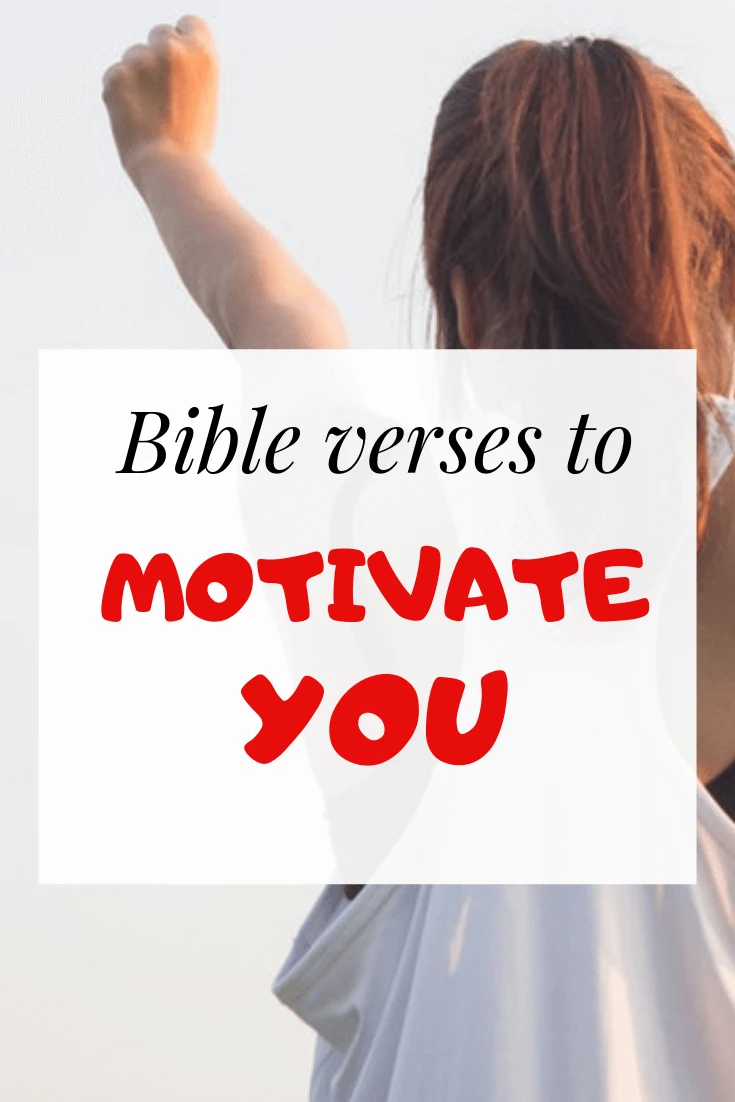 If you are sick, depressed, angry, losing faith in Christ, unemployed, hurting, these Bible verses will motivate you.
1.  Isaiah 41:10 – God will uplift and strengthen you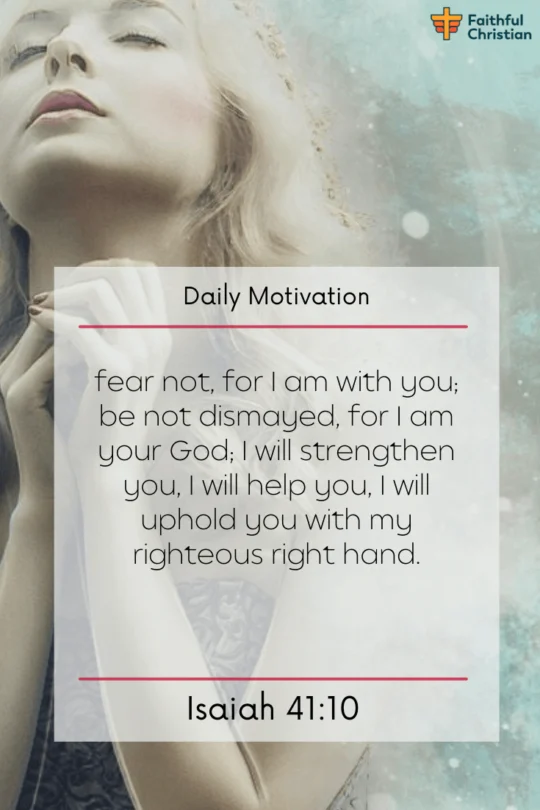 fear not, for I am with you; be not dismayed, for I am your God; I will strengthen you, I will help you, I will uphold you with my righteous right hand.
Sometimes, life tosses us into a storm of fear and doubt. But fear not! In Isaiah 41:10, we find a life raft. God says, "Do not fear, I am with you." This isn't a mere comforting phrase. It's a solid promise, reaffirmed in Deuteronomy 31:6 and Joshua 1:9.
Deuteronomy tells us not to be afraid. God will never leave us. Joshua echoes this sentiment. Be strong, it says. God is with you, no matter where life takes you. These verses interlink, forming a robust chain of divine support, ready to pull us from any abyss.
Let's take a journey back in time. We find a shepherd boy named David in the ancient script of 1 Samuel 17. He's an unlikely hero facing a gargantuan warrior, Goliath. It's a classic showdown of apparent weakness against brute strength.
But David, armed with his slingshot, faith, and the promises of God, conquers the giant. This is more than a story; it's a living testament to the infinite power of God at work in moments of human weakness.
My friend's story mirrors David's. Facing a health crisis, she leaned on Isaiah 41:10. It became her anchor in the tempest of uncertainty. She found solace in God's presence, strength in His promise. Her testimony illuminates these biblical truths, making them a beacon of hope for all.
These promises aren't exclusive. They are for everyone. They are our wellspring of courage when fear threatens. They uplift us when life's battles become too fierce.
So, when your Goliath looms large, remember Isaiah 41:10. Let its comforting words fortify your soul. Trust in God's promises and His eternal power. This, my friend, is the surest way to weather any storm.
Let these scriptures uplift and inspire you. After all, they aren't mere words. They are God's steadfast promises, the life-preserving truths that will uphold and strengthen you.
2.  Psalm 55:22 on putting your troubles in God's hands
Cast your burden on the Lord, and he will sustain you; he will never permit the righteous to be moved
Psalm 55:22 offers solace to the weary heart. The verse reads, "Cast your cares on the LORD and he will sustain you; he will never let the righteous be shaken." It nudges us towards trust. Trust in God's unlimited provision and enduring protection.
The same essence of trust echoes in Matthew 11:28-30. Jesus implores us, "Come to me, all who labor and are heavy laden, and I will give you rest." This is an invitation to surrender our burdens to Him. A promise of divine tranquility follows this surrender.
One can find a practical illustration of this trust in the biblical account of Hannah (1 Samuel 1:9-20). Barren and in despair, Hannah surrendered her deep-seated sorrow to God. The Lord rewarded her trust with the birth of Samuel. Hannah's story is a vivid display of God's care. It illustrates how He can turn our sorrows into joy.
1 Peter 5:7 reinforces this message, "Casting all your anxieties on him, because he cares for you." These words inspire a deeper faith in God's nurturing love. They reiterate that no trouble is too heavy if we place our faith in God.
These verses find relevance not only in biblical times but also in our daily life. Consider an individual grappling with financial woes. This weight can often cloud their judgment.
But, when they surrender their worries to God, new opportunities often unfold. These could range from a job offer, a scholarship, or a friend's unexpected assistance.
I can attest, from my own life, that surrendering our worries to God often uncovers solutions we'd overlooked. These solutions, often beyond our comprehension, are a testament to God's guiding hand in our lives.
In summary, Psalm 55:22 offers an anchor for our souls amidst life's storms. It invites us to place our faith in God's sustaining power. Regardless of the nature of your burden, remember, God is ready to carry it.
By trusting in His love and His promises, you'll discover a peace that surpasses all understanding. This peace comes from the knowledge that your burdens are in God's capable hands.
3. Psalm 18:6 – God answers prayers. Let him know your pains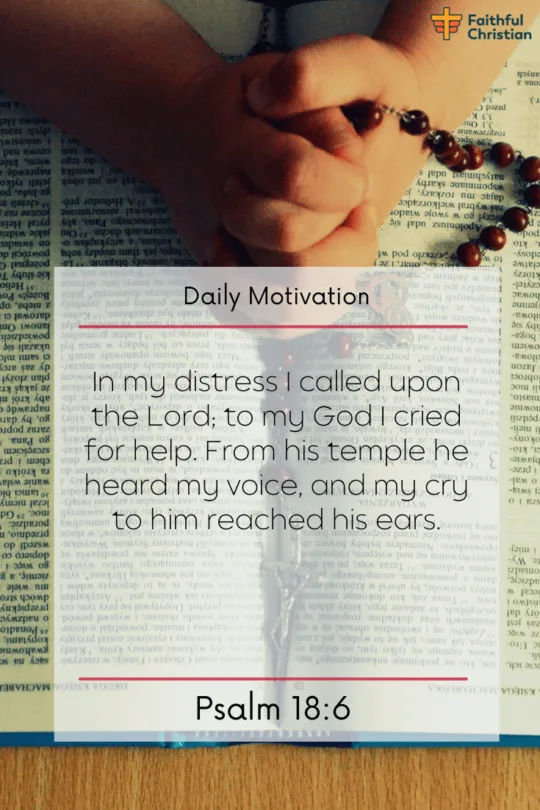 In my distress I called upon the Lord; to my God I cried for help. From his temple he heard my voice, and my cry to him reached his ears.
The potency of prayer shines in Psalm 18:6. This scripture underscores God's constant accessibility. It urges us to confide our struggles and sorrows in the Divine.
Our prayers never fall on deaf ears. There's no celestial 'hold' button. As per Jeremiah 29:12, God listens and responds. Each answer is timely and custom-made for our needs.
If you've ever felt a tinge of doubt, consider the Apostle Paul's encounter with God's grace. This stalwart of faith had a 'thorn in the flesh.' He wasn't perfect, far from it. He prayed, once, twice, thrice, beseeching God to remove this hindrance.
God's answer? An empowering reassurance that His grace is sufficient and that His strength is perfected in our weakness. The thorn remained, but so did God's grace. It enveloped Paul, uplifting him, driving him forward in his mission.
God's reactions are not always as we anticipate. They may not come as an audible voice. Often, they manifest as a comforting peace, a novel opportunity, or supportive words from a friend. The promise of divine attention is reaffirmed in 1 John 5:14 – if our requests align with God's will, He listens.
Picture yourself feeling lonely, lost, a ship adrift at sea. I've been there. You reach out in prayer, a plea for companionship, for understanding.
Slowly but surely, you notice a change. A new friend, a compassionate community, a faithful pet – companionship materializes in your life, relieving your loneliness. I can tell you, it's not a mere coincidence. It's an answer, an uplifting response to your heartfelt prayer.
Psalm 18:6 is a lighthouse of hope amid life's turbulent seas. It encourages perseverance in faith, highlighting God's constant presence and readiness to help. No matter our plight, He's just a prayer away.
So, remember: seeking God isn't a mere fallback; it's a lifeline. This dialogue uplifts our souls, fortifies our spirits, and propels us forward. Pray, knowing that the Almighty listens and responds.
Let the strength derived from this verse navigate you through life's challenges. The power of prayer is, indeed, transformative.
4.  Romans 12:12 – Rejoice and pray even in tribulations
Rejoice in hope, be patient in tribulation, be constant in prayer.
Romans 12:12 teaches us, "Rejoice in hope, be patient in tribulation, be constant in prayer." Simple words, yet profound wisdom is encapsulated within. Let's dig deeper to unveil their true potency.
Complementary teachings in 1 Thessalonians 5:16-18 amplify the message. Rejoice always, pray without ceasing, give thanks in all circumstances." This directive urges us to maintain consistent joy and prayer, regardless of our situation.
Another complementing scripture, James 1:2-3, challenges us to view trials as opportunities for growth. From this, we learn that tribulations are not mere obstacles but molding tools for our faith.
These verses form an encouraging triad, emphasizing the power of hope, patience, and prayer. These three points are the pillars for navigating life's hardships.
Now, let's see these principles in action. In the Bible, Paul and Silas turned their prison into a sanctuary of worship (Acts 16:25). Shackled but unbroken, they rejoiced in hope, embodied patience, and fervently prayed. As a result, divine intervention led to their freedom. Their story vividly showcases Romans 12:12.
In modern times, I know a man who, after losing his job, chose to remain hopeful. He found joy in his faith and family, remaining patient, and he never stopped praying. The result? He ended up in a better position. His story illustrates the power of hope, patience, and prayer in overcoming adversity.
In essence, Romans 12:12 is a roadmap for resilience. It guides us to maintain joy and faith, view challenges as stepping stones, and recognize prayer as a lifeline. This verse is not just uplifting but empowering, fostering strength and patience.
Whenever life's storm threatens, remember Romans 12:12. Let it strengthen your spirit. Keep rejoicing, keep being patient, keep praying. This, I assure you, will lead you to the dawn of relief. A fitting end to our exploration, and a reassuring guide for your spiritual journey.
5. Psalm 22:21 – Even with impossibilities, God can save you
Save me from the mouth of the lion! You have rescued me from the horns of the wild oxen!
Psalm 22:21 captivates us with its potent blend of urgency and faith. This verse is not just a cry for divine assistance but also a beacon of hope. It epitomizes the miraculous power of God and His ability to deliver us from our deepest trials.
At its core, the verse delivers a potent message: "God can save you, even in the face of impossibilities." This truth resonates universally, with all who have confronted formidable challenges.
The words from Jeremiah 32:27, "I am the Lord, the God of all mankind. Is anything too hard for me?" strengthen our faith in the omnipotence of God.
Matthew 19:26, where Jesus assures, "With man, this is impossible, but with God, all things are possible," aligns with this sentiment. The common theme across these verses is the affirmation that God is our steadfast ally during adversity.
The story of Daniel springs to mind here. Remember him? Daniel, a man of unwavering faith, thrown into a den of lions for refusing to renounce his faith. The odds were certainly against him. Yet, he emerged unscathed, untouched.
It was his faith that saved him, his belief in a God bigger than any lion, any threat, any danger. Daniel's story paints a vivid picture of divine intervention, underscoring the truth embedded in Psalm 22:21.
In real-life too, we come across stories of miraculous survival. Individuals, trapped in perilous situations like natural disasters, experience unexpected rescue. Their stories resonate with divine intervention, further reinforcing the message of Psalm 22:21.
The takeaway here is the power of faith. When faced with daunting adversities, remember: God is aware, and nothing is too challenging for Him. Amidst hardships, your belief in divine help can uplift your spirit.
Remember, God's unfailing love surrounds us. His readiness to help is an enduring promise. Such love motivates and fosters faith, especially when facing the impossible.
In essence, Psalm 22:21 is a lifeline—a ray of hope that illuminates our soul. It assures us that with God, impossibilities vanish, and that's a potent motivator.
More uplifting Bible verses and quotes
6. Psalm 40:5 – God has the best plan for us
You have multiplied, O Lord my God, your wondrous deeds and your thoughts toward us; none can compare with you! I will proclaim and tell of them, yet they are more than can be told
Life is full of surprises. Sometimes they leave us questioning, "Why me?" Amid these mysteries, Psalm 40:5 provides hope. It tells us of God's wise and benevolent plan for each of us.
Consider Jeremiah 29:11, which echoes this promise. It states that God's plan for us is one of prosperity, not harm. It assures a future filled with hope. When we pair this verse with Psalm 40:5, it becomes clear: Our lives aren't random. They are carefully orchestrated by a loving, caring God.
The Bible story of Joseph, found in Genesis 37-50, brings this concept to life. Despite being betrayed by his brothers, sold into slavery, and wrongly imprisoned, Joseph ultimately ascends to a high-ranking position in Egypt.
His journey wasn't easy, but it was part of God's plan. His suffering eventually led to the survival of his family during a devastating famine.
Now, let's consider a real-life scenario. Imagine someone persistently facing job rejections. Each refusal feels like a personal failure. However, these disappointments may be guiding them towards a job they've never dreamed of — one that brings joy and fulfillment.
This scenario aligns with Proverbs 3:5-6. The verse encourages trust in God's timing and decisions, even when our understanding is limited. It reminds us that God is paving our path.
Psalm 40:5 thus offers comfort and reassurance. It tells us that God's plan, even if unclear at present, is for our good. It encourages us to trust in His wisdom and anticipate His blessings.
So, when life's path seems foggy, remember Psalm 40:5. Remember God's promise of hope and prosperity. These verses are our lighthouse in the storm, illuminating our way and uplifting our souls. Despite life's uncertainties, we can rest assured, knowing that we are part of a larger divine plan — a plan that is undoubtedly good.
7. Luke 18:27 on the power of God
But he said, "What is impossible with men is possible with God."
Luke 18:27 proclaims, "What is impossible with man is possible with God." This verse magnifies God's limitless power. It instills hope in believers facing immense challenges. Yes, it's a beacon of encouragement that God, our Creator, can overcome all obstacles.
The Bible, a treasure trove of faith-inspiring narratives, fortifies this truth. Matthew 19:26 echoes similar sentiments. It depicts Jesus asserting, "With God, all things are possible." We see this miraculous power in action in the feeding of the five thousand.
Recounted in Matthew 14:13-21, this event is extraordinary. Five loaves and two fish were all Jesus had. Yet, with a prayer, he multiplied this meager supply. Thousands ate and were satisfied, with leftovers to spare. This event wasn't just about food. It was a demonstration of divine power, transforming scarcity into abundance.
Jeremiah 32:17 parallels this recognition of divine omnipotence. It describes Jeremiah acknowledging God's creative power. It holds a promise that God's power knows no limits. If He can shape the universe, He can certainly handle our earthly challenges.
Let's translate this to a real-world context. Picture a small non-profit with grand ambitions but limited resources. They face seemingly insurmountable obstacles. Still, they lean on faith, confident that God's power shines brightest in our weakness.
Miraculously, doors swing open, partnerships form, and funds pour in. Their faith in God's power breathes life into their vision. Their success serves as a testimony of Luke 18:27's promise.
In conclusion, Luke 18:27 is a potent motivator. It bolsters our faith during challenging times. It assures us that God's power is vast, unlimited, and accessible.
So, when faced with adversity, remember, nothing is impossible for God. The God who transformed a few loaves and fish into a feast can turn your trials into triumphs. I testify, no matter the challenge, with faith in God's power, you'll overcome.
8. Jeremiah 17:7-8 on trusting the almighty God
"Blessed is the man who trusts in the Lord, whose trust is the Lord. He is like a tree planted by water, that sends out its roots by the stream, and does not fear when heat comes, for its leaves remain green, and is not anxious in the year of drought, for it does not cease to bear fruit."
Reflecting on Jeremiah 17:7-8, one grasps the essence of unflinching faith in God. These verses beautifully illustrate our potential to thrive, even in adversity, when rooted in God. We're likened to a tree by the water, our roots deep, never fearing drought, always bearing fruit.
Trusting God is our lifeline. It isn't occasional, but enduring. It's about choosing divine wisdom over personal understanding. Proverbs 3:5-6 captures this concept. By leaning on God's comprehension, we find our paths straightened.
How do we embody such trust? Psalm 37:3-5 offers guidance. Its recipe for faith is threefold: trust, delight, and commit. We're urged to embrace God's love, find joy in His presence, and dedicate our ways to Him.
Reflect on the story of Abraham for a moment. It's an astonishing example of unwavering faith in action.
Despite his advanced age and seemingly impossible circumstances, Abraham's deep-rooted trust in God's promise led him to become the father of many nations (Genesis 17:5). Against all odds, his faith bore fruit – just like the tree planted by the water in Jeremiah's verse.
I'd like to share a modern parallel. A courageous entrepreneur, teetering on the edge of a significant business decision, decides to take the plunge, fueled by faith. The odds may be daunting, but the trust in God's guiding hand is stronger.
As time passes, their business flourishes, bearing testament to their steadfast faith. Through the highs and lows, their trust in God remains, resembling the unwithering leaves of Jeremiah's tree.
In conclusion, Jeremiah 17:7-8 isn't a call for survival, but an invitation to thrive. It's a message of resilience and growth, rooted in God's love. It motivates and uplifts, reminding us that God equips us for the storm. He empowers us not just to weather it, but to flourish amidst it. When pondering these verses, I am filled with profound gratitude.
9. Psalm 138:7 Fear not even in temptations
Though I walk in the midst of trouble, you preserve my life; you stretch out your hand against the wrath of my enemies, and your right hand delivers me.
Psalm 138:7 serves as a spiritual lighthouse. It assures us that God's protection and guidance are ever-present in adversity. As we delve into this verse, we find it enriched and clarified by additional scriptures.
Isaiah 43:1-2 emphasizes God's personal relationship with us and His promise of protection during life's storms. It reassures us of His recognition of us as individuals and His commitment to prevent us from being overwhelmed by challenges.
Similarly, 1 Corinthians 10:13 pledges that God won't let our trials exceed our capacity. It assures us that we won't face anything uncommon or unsurmountable. Furthermore, God will provide a means to endure, ensuring our ability to navigate any storm.
Does it sound too good to be true? Look at Jesus in the wilderness. Matthew 4:1-11 narrates how Satan tempts Jesus, trying to lure Him away from His divine path. But Jesus, grounded in God's words, resists these tests. A reassuring promise for us: if Jesus, our divine example, can navigate such trials, so can we.
I find Psalm 138:7, alongside Isaiah 43:1-2 and 1 Corinthians 10:13, paints a picture of divine protection and guidance. It offers hope and reassurance to those navigating challenging paths. It's a testament to God's unwavering support and promise of deliverance.
When we comprehend these verses' depth, fear diminishes, replaced by courage. Doubt gives way to newfound confidence. We're motivated to continue our spiritual journey, secure in God's support. Psalm 138:7 becomes a potent reminder of God's life-preserving presence amidst our troubles.
To summarize, Psalm 138:7 serves as an inspiring guide in our life's storms, ensuring we never feel isolated in our struggles. More importantly, it infuses hope and solace, fostering fortitude and resilience when confronting hardship.
10. 1 Peter 5:10 – God's blessings await you if you remain faithful
And after you have suffered a little while, the God of all grace, who has called you to his eternal glory in Christ, will himself restore, confirm, strengthen, and establish you.
In the tempest of life, maintaining optimism can be tough. A guiding light is 1 Peter 5:10, a source of hope and motivation. This verse reassures us: remaining faithful amidst adversity bears fruit.
Consider Job's story. He's the epitome of steadfast faith in the face of adversity. His life, filled with abundance, was drastically turned upside down. His wealth was stripped away. His children were tragically taken from him. His health deteriorated. His friends turned against him, hurling accusations and blame.
And yet, Job, despite everything, clung to his faith in God. He did not let despair consume him. The outcome? Job's life was not only restored but also blessed twofold (Job 42:10). This is the power of enduring faith.
1 Peter 5:10 resonates with comforting assurance. It promises: faithfulness breeds blessings. They may not come instantly or in expected forms, but they will arrive. This future blessing fosters hope, sparks patience, and fuels endurance.
Complementing this message, James 1:12 declares, "Blessed is the man who remains steadfast under trial…he will receive the crown of life." It underpins the divine recompense concept, a reminder that God sees our struggles and rewards our faithfulness. Similarly, Revelation 2:10 reiterates the call for faithfulness, even unto death, promising life's crown.
1 Peter 5:10 and these supporting scriptures collectively inspire perseverance in faith. They provide an approach to handle life's trials. The key takeaway? God will strengthen and settle us. He won't let us buckle under our burdens.
If you're weary, let these words uplift you. Understand that your trials serve a purpose. Hold steadfast to your faith. The storms will pass, and you'll emerge stronger and firmly rooted in faith. Remember God's promise – His blessings await your faithful endurance.
---
Recommended for you
---
Recommended for you
---
Author: Akatakpo Dunn
Dr. Akatakpo Dunn is a dedicated follower of Christ, an active member and speaker, and an ongoing learner of the Scriptures. Passionate about his faith and serving others, he is committed to sharing his spiritual journey and insights to inspire and uplift fellow believers. He has been active in the church for more than 23 years. Through The
Faithful Christian Blog
,
Dr. Dunn
combines his love for God, philanthropy, and Scripture, providing a valuable resource for those seeking to grow in their faith.
Follow me: on Youtube, Facebook, Twitter, Instagram, and Pinterest.
Content Disclosure:
At The Faithful Christian Blog, I create authentic and inspiring content. Although I am the main author, I occasionally use AI for minor language enhancements. This minimal AI usage ensures high-quality, trustworthy articles without compromising originality or sincerity, ultimately supporting our shared faith journey.
Warmly,
Dr. Akatakpo Dunn
Was this article helpful?