About three days ago, I was feeling unwell.
I woke up in the morning feeling a little bit sick with headaches and dizziness.
I wondered what was wrong with me.
So, I decided to check my blood pressure, and lo and behold, it was high.
I became worried and stressed up.
My heart filled with so much unhappiness and sadness.
How did my blood pressure get so high?
I have been a hypertensive patient for years.
And I've tried to control my blood pressure without drugs – that is, exercise and diet.
But it seems all my effort isn't working.
That morning, I knew I had no other option but to begin taking medications.
Since then, I have been a little been scared and worried.
My mum was such a lovely woman that we lost to stroke.
For many years she battled hypertension but to no avail.
Though I have lots of hypertensive patients under my care, this is the first time I understood the pain they were going through.
If you are worried and worked up with any situation in your life, there are a lot of scriptures to encourage you.
You can depend on God instead of trusting people or in your abilities.
I have since understood that, with God, you can overcome your worries and fears.
That's why this morning, I decided to compile bible verses for stressful times to encourage people that are coping with one challenge or the other.
Since yesterday, I have noticed a considerable decline in my blood pressure.
And I know full well that God has a hand in it.
Likewise, if you trust in God, he will assist you in all areas of your life.
These bible verses about worry and anxiety will strengthen you.
---
Recommended for you
---
Bible verses about worry and anxiety
Philippians 4:6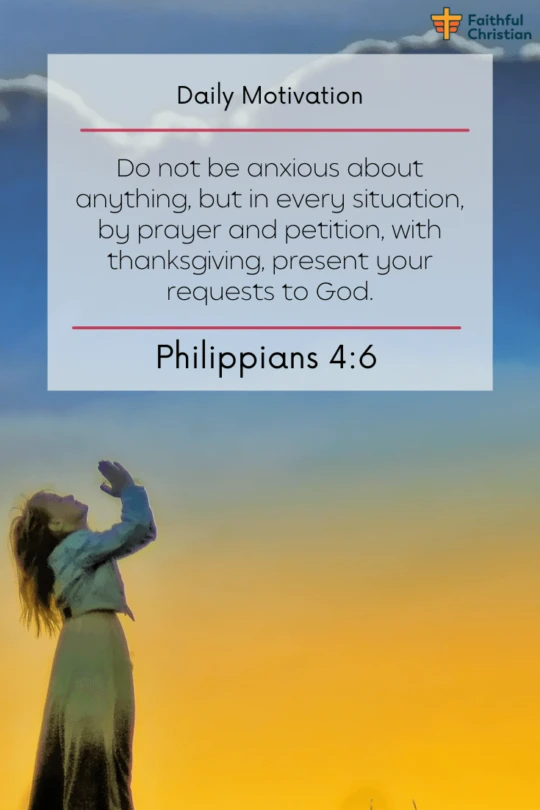 Do not be anxious about anything, but in every situation, by prayer and petition, with thanksgiving, present your requests to God.
Matthew 6:25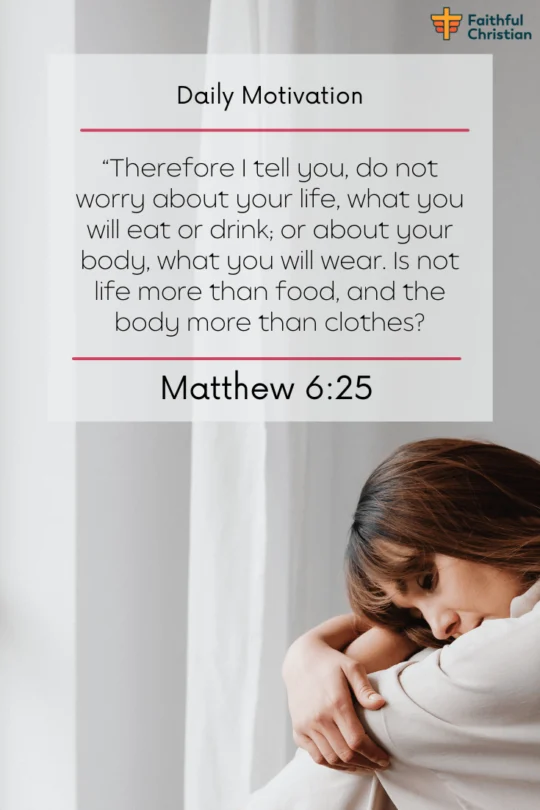 "Therefore I tell you, do not worry about your life, what you will eat or drink; or about your body, what you will wear. Is not life more than food, and the body more than clothes?
Matthew 6:26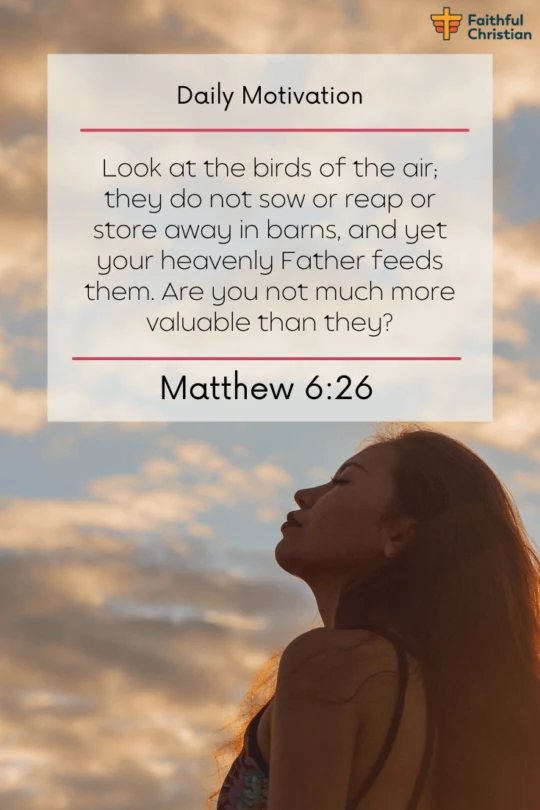 26 Look at the birds of the air; they do not sow or reap or store away in barns, and yet your heavenly Father feeds them. Are you not much more valuable than they?
Matthew 6:27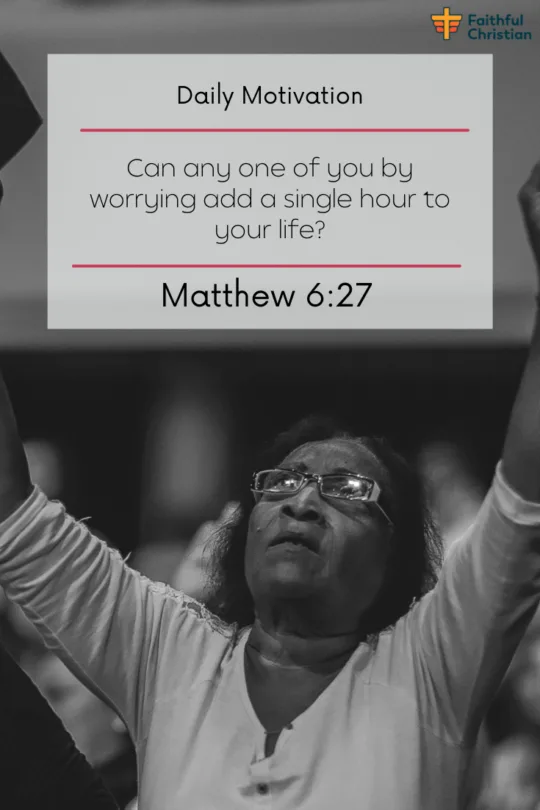 27 Can any one of you by worrying add a single hour to your life[a]?
Matthew 6:28-29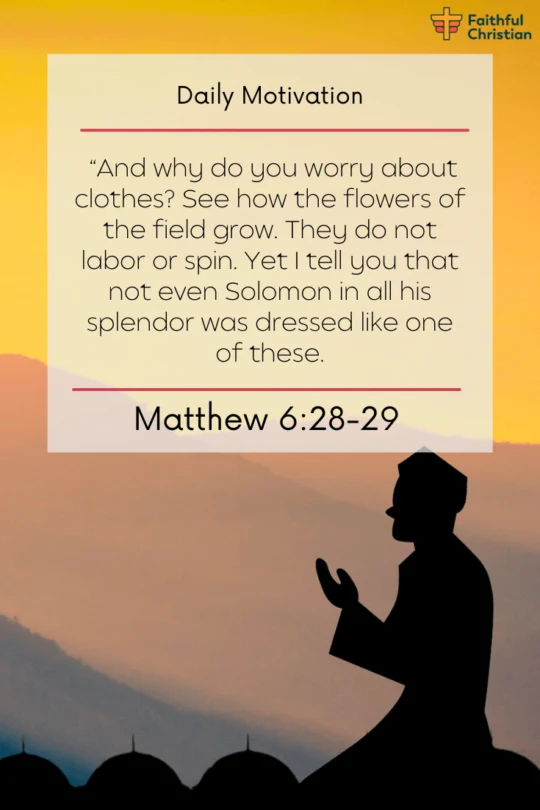 28 "And why do you worry about clothes? See how the flowers of the field grow. They do not labor or spin. 29 Yet I tell you that not even Solomon in all his splendor was dressed like one of these.
Matthew 6:30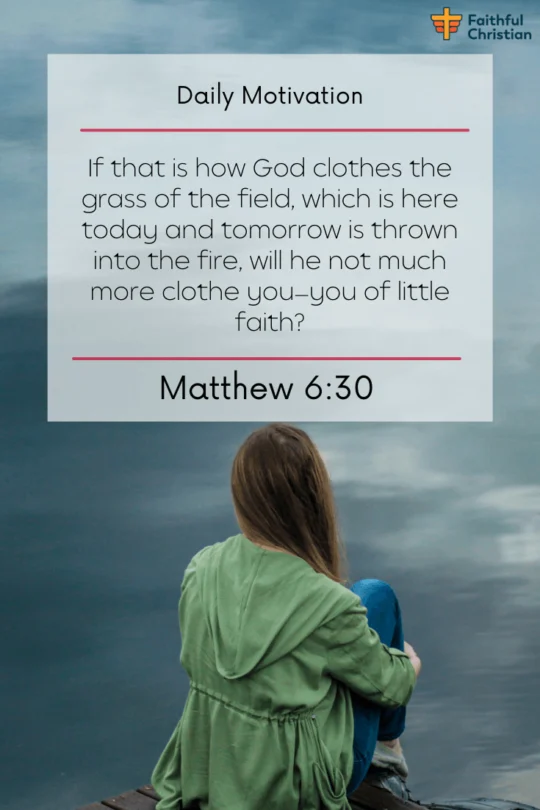 30 If that is how God clothes the grass of the field, which is here today and tomorrow is thrown into the fire, will he not much more clothe you—you of little faith?
Matthew 6:31-32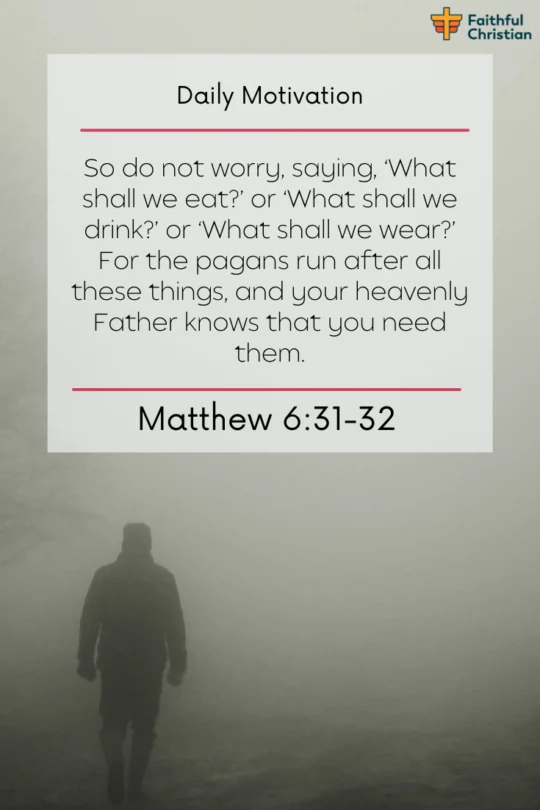 31 So do not worry, saying, 'What shall we eat?' or 'What shall we drink?' or 'What shall we wear?' 32 For the pagans run after all these things, and your heavenly Father knows that you need them.
Matthew 6:33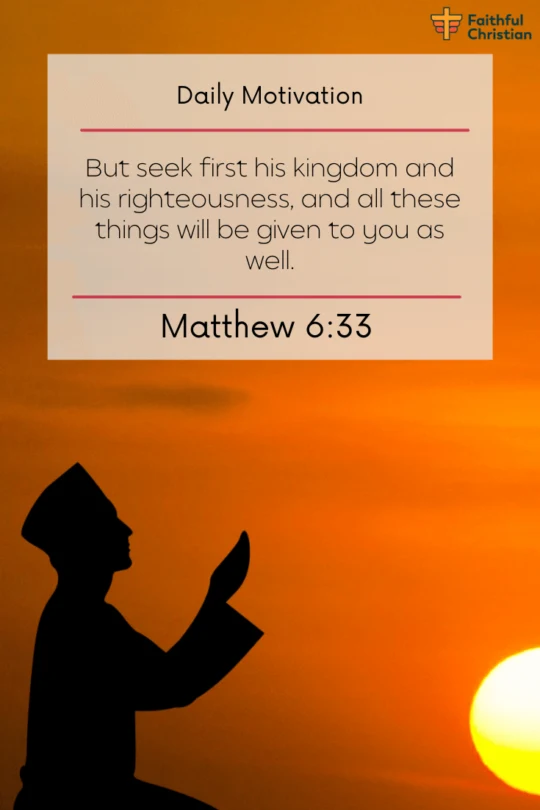 33 But seek first his kingdom and his righteousness, and all these things will be given to you as well.
Proverbs 3:5-6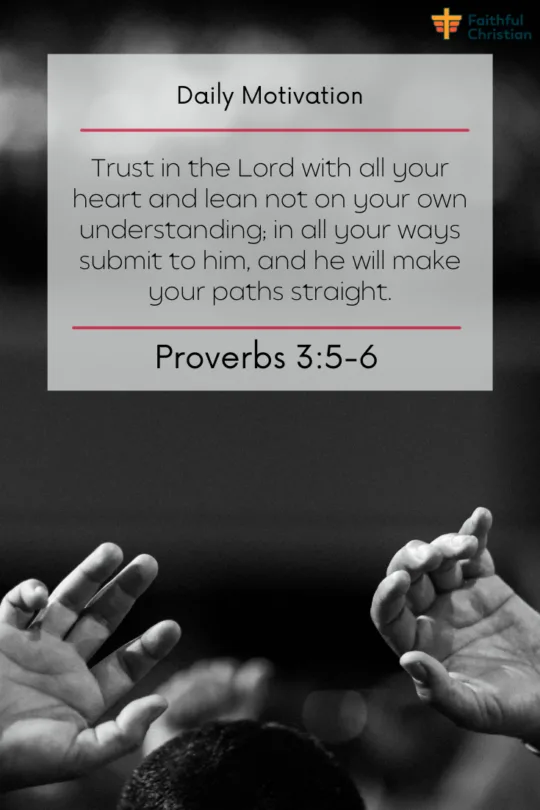 Trust in the Lord with all your heart
    and lean not on your own understanding;
6 in all your ways submit to him,
    and he will make your paths straight.
1 Peter 5:7
 Cast all your anxiety on him because he cares for you.
Psalm 55:22
Cast your cares on the Lord
    and he will sustain you;
he will never let
    the righteous be shaken.
Matthew 7:7-8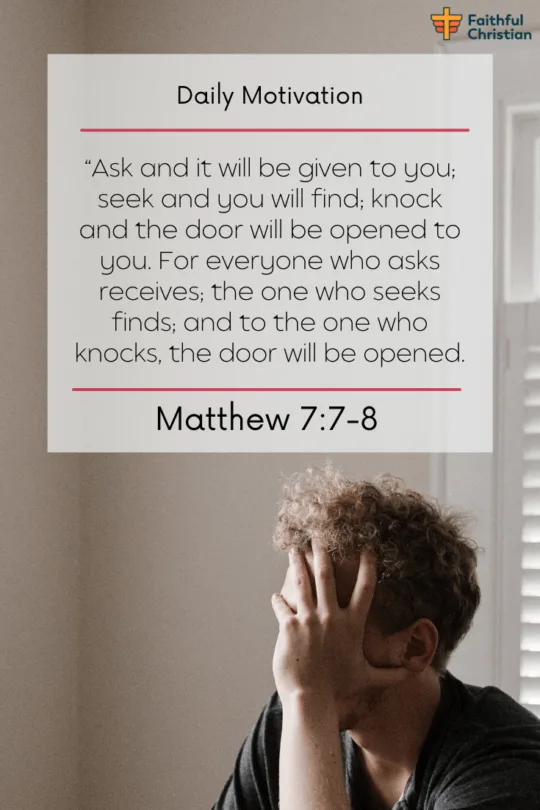 "Ask and it will be given to you; seek and you will find; knock and the door will be opened to you. 8 For everyone who asks receives; the one who seeks finds; and to the one who knocks, the door will be opened.
Psalm 34:5-7
Those who look to him are radiant;
    their faces are never covered with shame.
6 This poor man called, and the Lord heard him;
    he saved him out of all his troubles.
7 The angel of the Lord encamps around those who fear him,
    and he delivers them.
1 Thessalonians 5:17-18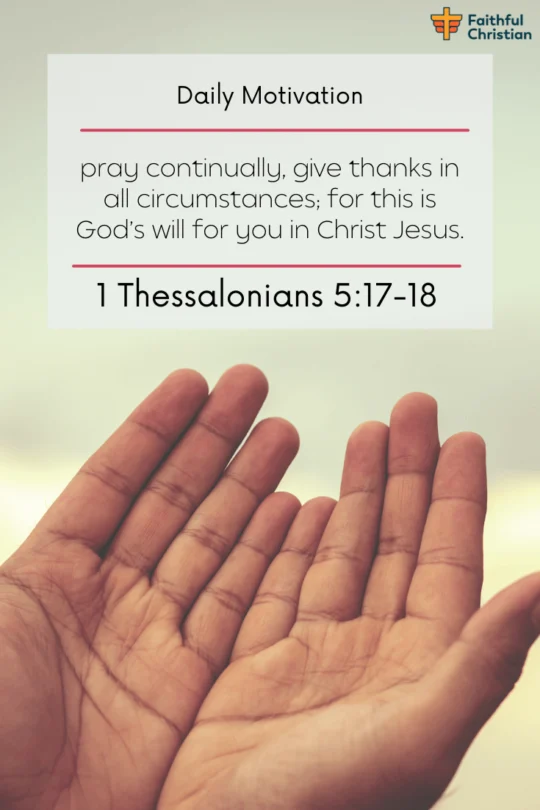 pray continually, 18 give thanks in all circumstances; for this is God's will for you in Christ Jesus.
Matthew 6:8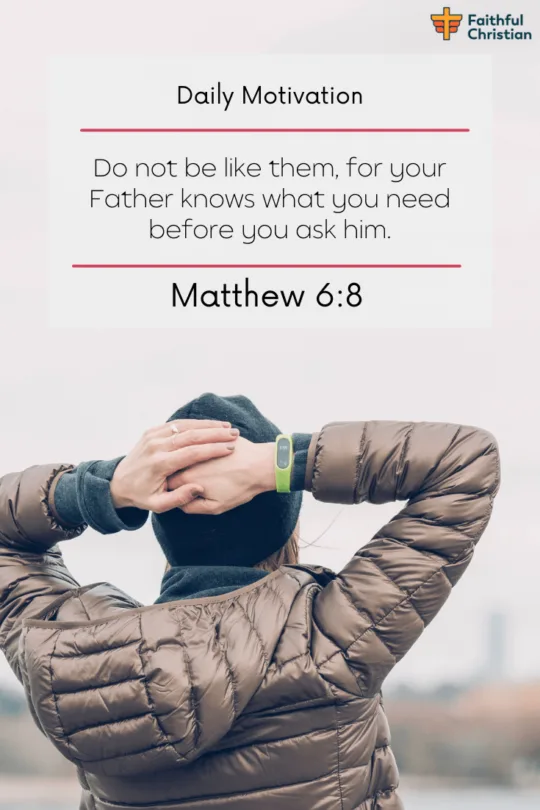 Do not be like them, for your Father knows what you need before you ask him.
---
Recommended for you
---
More Bible verses about stressful times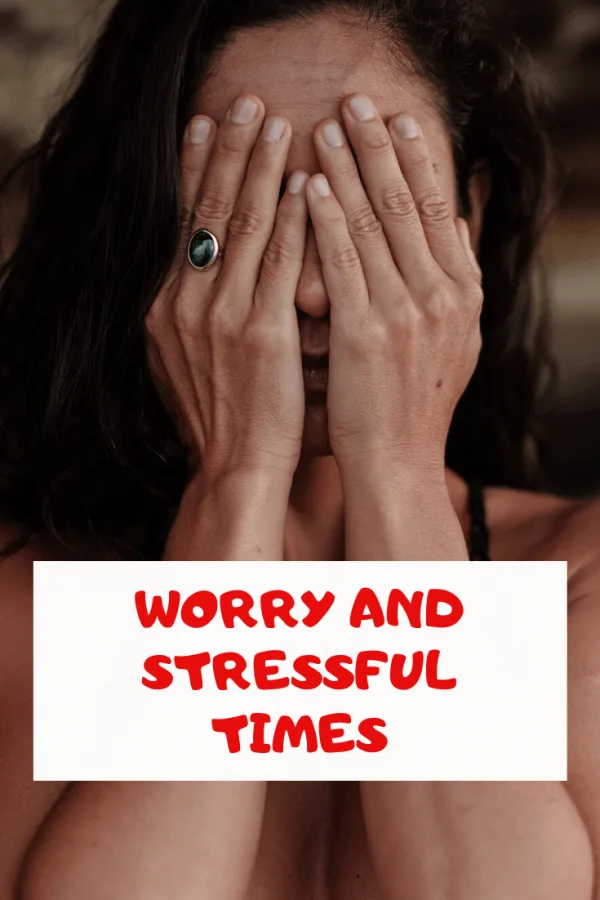 Jeremiah 33:3
'Call to me and I will answer you and tell you great and unsearchable things you do not know.'
Proverbs 16:3
Commit to the Lord whatever you do,
    and he will establish your plans.
Isaiah 41:10
So do not fear, for I am with you;
    do not be dismayed, for I am your God.
I will strengthen you and help you;
    I will uphold you with my righteous right hand.
Joshua 1:9
Have I not commanded you? Be strong and courageous. Do not be afraid; do not be discouraged, for the Lord your God will be with you wherever you go."
Isaiah 43:1
But now, this is what the Lord says—
    he who created you, Jacob,
    he who formed you, Israel:
"Do not fear, for I have redeemed you;
    I have summoned you by name; you are mine.
Isaiah 43:2
2 When you pass through the waters,
    I will be with you;
and when you pass through the rivers,
    they will not sweep over you.
When you walk through the fire,
    you will not be burned;
    the flames will not set you ablaze.
Romans 8:31
What, then, shall we say in response to these things? If God is for us, who can be against us?
Philippians 4:13
I can do all this through him who gives me strength.
Isaiah 40:29-30
He gives strength to the weary and increases the power of the weak.30 Even youths grow tired and weary, and young men stumble and fall;
Isaiah 40:31
31 but those who hope in the Lord will renew their strength. They will soar on wings like eagles; they will run and not grow weary, they will walk and not be faint.
2 Corinthians 12:9
But he said to me, "My grace is sufficient for you, for my power is made perfect in weakness." Therefore I will boast all the more gladly about my weaknesses, so that Christ's power may rest on me.
2 Corinthians 1:4-5
who comforts us in all our troubles, so that we can comfort those in any trouble with the comfort we ourselves receive from God. 5 For just as we share abundantly in the sufferings of Christ, so also our comfort abounds through Christ.
Psalm 94:19
When anxiety was great within me,
    your consolation brought me joy.
Ecclesiastes 11:10
So then, banish anxiety from your heart
    and cast off the troubles of your body,
    for youth and vigor are meaningless.
Worrying during stressful times? Words for encouragement
1.  Jesus was stressed and worried too
Most times, when we can't get resolutions to our problems, we get worried.
We ask numerous questions in our hearts, such as, why has God allowed me to feel so much pain?
It is understandable that you quickly want God to come to your aid.
But the truth is, God sometimes allows us to pass through pain to test us.
I was reading through the scriptures a few days back and noticed the stress Christ was going through.
He was sent to the world to redeem humankind back to God.
He knew from the beginning that he would face humiliation and death.
Yet, when the time came, Christ was overwhelmed with emotions.
The scripture says, "Going a little farther, he fell with his face to the ground and prayed, "My Father, if it is possible, may this cup be taken from me. Yet not as I will, but as you will."
As the moment of his crucifixion came closer, Christ became worried.
He even prayed for the suffering to be lifted (if it were possible).
This simply shows that, despite our faith in God, we may face stressful times.
But the good news is that we can de-stress with the help of the scriptures.
If we trust in God and depend solely on his power, he is able to save us.
The scripture says,
The name of the Lord is a fortified tower;
    the righteous run to it and are safe.

Proverbs 18:10
2.  Pray always
Don't ever underestimate the power of prayer.
If you are yet to encounter the miraculous, powerful nature of prayer, you can start today.
There are a lot of people in the world that don't know how to pray.
But praying is not rocket science.
It all about trusting God and telling him your problem.
As you begin to pray regularly, the Holy Spirit will fill your heart with what to say.
First, you must understand that, before you ask, God already knows.
He sees all your challenges, so that's enough reason to trust in him.
Next, guide your words with faith and love.
You don't need to pray for hours and shout to be heard by God.
Be sincere, and tell God all you want him to do for you.
There is no need for repetition. Just be as concise as possible, pouring your troubles to God.
One thing I do is to pray with my whole heart.
I open my heart, trusting God that he will act (even in impossible times).
May God take away your worries and return peace of mind to you, your household, and your friends. Amen.
Paying tithes scriptures to guide you
Author: Akatakpo Dunn
Dr. Akatakpo Dunn is a dedicated follower of Christ, an active member and speaker, and an ongoing learner of the Scriptures. Passionate about his faith and serving others, he is committed to sharing his spiritual journey and insights to inspire and uplift fellow believers. He has been active in the church for more than 23 years. Through The
Faithful Christian Blog
,
Dr. Dunn
combines his love for God, philanthropy, and Scripture, providing a valuable resource for those seeking to grow in their faith.
Follow me: on Youtube, Facebook, Twitter, Instagram, and Pinterest.
Content Disclosure:
At The Faithful Christian Blog, I create authentic and inspiring content. Although I am the main author, I occasionally use AI for minor language enhancements. This minimal AI usage ensures high-quality, trustworthy articles without compromising originality or sincerity, ultimately supporting our shared faith journey.
Warmly,
Dr. Akatakpo Dunn
Was this article helpful?