The quote "examine yourself whether you are in the faith" was a warning from Paul, the apostle of Christ, to the Christians at Corinthians.
Does that quote apply to us today? Are we to examine ourselves always in the body of Christ?
It is a simple answer –Yes.
Think about it this way.
We independently make our life decisions.
And that's why salvation is a personal race.
At all times, we must examine where we stand in Christ.
Am I doing enough as a Christian? Am I serving God with all my heart?
Over the past few years, I have had to rethink so many wrong decisions.
In the past, I was involved in fornication, clubbing, and lying.
But my life changed the moment I started meditating on God's word.
As I continued going to church and studying God's word in the bible, I found the truth.
So, I had to re-assess my lifestyle.
Are they in keeping with God's instructions?
Will I be saved if I continue living this way?
As Christians, the fight for our salvation is a daily struggle.
The sins of this world are so numerous that we could be swayed.
Stop sinning
At any given time, we are continually tempted by the devil.
One essential tool we all need when tempted by the devil is self-control (this powerful blog post explains more).
Fornication, drunkenness, revellings, lying, anger, adultery, and homosexuality are common sins around us.
Therefore, we must constantly scrutinize ourselves.
Are we following the true gospel of Christ? Are we taking the purpose of Christ's calling for granted? 
---
Recommended for you
---
Examine yourself whether you are in the faith: what did Paul mean?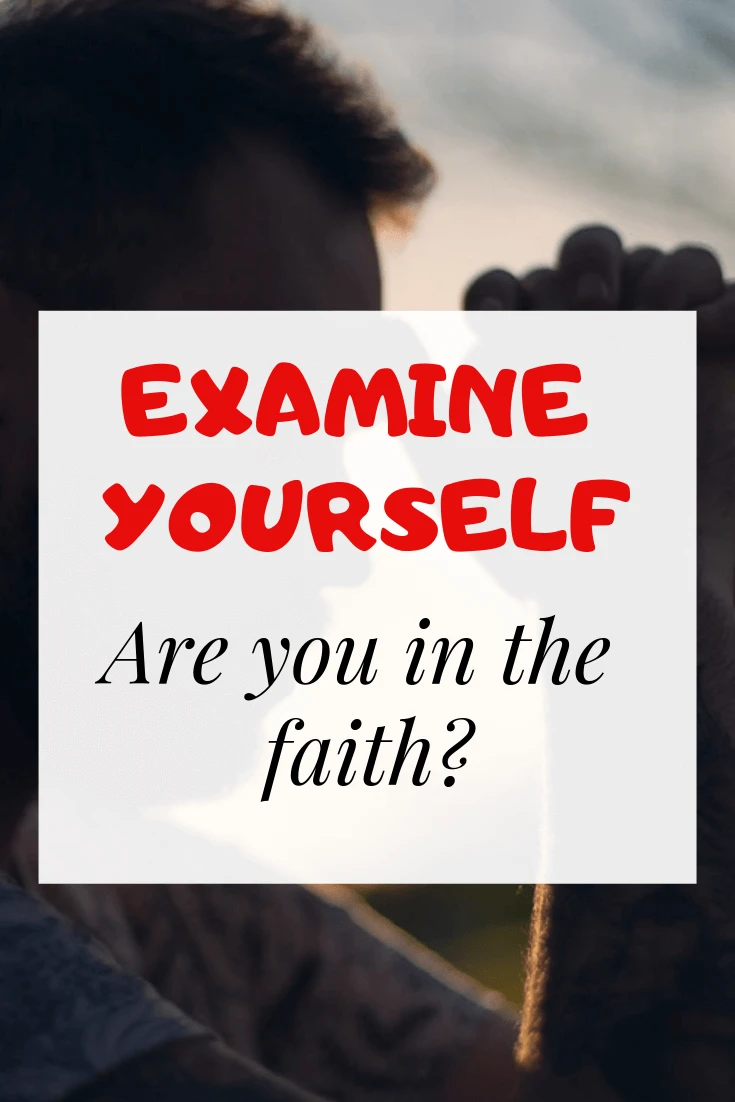 In the second letter of Paul to the Christians at Corinthians, he admonished them to examine themselves.
In 2 Corinthians 13:5, he said,
Examine yourselves to see whether you are in the faith; test yourselves. Do you not realize that Christ Jesus is in you—unless, of course, you fail the test? (New International Version)
So, What does it mean to examine yourself to see if you are in the faith?
There are two main ways to examine ourselves as Christians – Examining our faith through the gospel and Examining our faith through our works.
Examine yourself through the gospel
Examining yourself through the gospel is critical for your salvation. The gospel is the word of God. And if you believe something contrary to God's will, it means you could be led astray.
We all belong to different Christian denominations. While we serve the same God, we must understand that the purpose of God cannot change.
We should, therefore, not accept everything we hear from our pastors or teachers without confirming God's purpose through reading the bible.
The only way to examine yourself through the gospel is by reading through the scripture. They are there for our improvement. When you study the scriptures, you will identify the purpose of God firsthand.
All scripture is given by inspiration of God, and is profitable for doctrine, for reproof, for correction, for instruction in righteousness: That the man of God may be perfect, thoroughly furnished unto all good works. 2 Timothy 3:16-17 (KJV)
The main reason Paul was saying this is that so many false prophets will come into this world. They come to deceive and speak their own truth.
They are agents used by the devil to cause divisions in the faith. They preach a wrong Doctrine and have, in so doing, led thousands away from the truth.
Now I beseech you, brethren, mark them which cause divisions and offences contrary to the doctrine which ye have learned; and avoid them.For they that are such serve not our Lord Jesus Christ, but their own belly; and by good words and fair speeches deceive the hearts of the simple. 

Romans 16:17-18
Examine yourself through your works
Knowing the truth of the gospel is one thing; doing them is another. Apostle Paul is reminding us constantly to shun sin. We should, at all times, prove that Christ is in us by living a righteous life.
On accepting Christ, we receive the Holy Spirit. This spirit makes intercessions for us and directs us on how to live in Christ. If you live in the spirit, fornication, murder, adultery, drunkenness, revellings, lustfulness, and hatred will be far from you.
If we live in Christ, we should, therefore, live in the spirit. The things of the spirit are hope, peace, love, faith in Christ, goodness, and humility.
But the fruit of the Spirit is love, joy, peace, longsuffering, gentleness, goodness, faith, Meekness, temperance: against such there is no law. Galatians 5:22-23
Being called and repenting from your sins is critical to our salvation. However, if we continue in sinful ways after being called by Christ, God will be unhappy and punish us severely.
Peter the Apostle of Christ said
For if, after they have escaped the defilements of the world through the knowledge of our Lord and Savior Jesus Christ, they are again entangled in them and overcome, the last state has become worse for them than the first. For it would have been better for them never to have known the way of righteousness than after knowing it to turn back from the holy commandment delivered to them. What the true proverb says has happened to them: "The dog returns to its own vomit, and the sow, after washing herself, returns to wallow in the mire. 2 Peter 2:20-22
Paul himself reiterated the same point of commitment after repentance. God frowns at deliberate sinful nature after being called to his fold of righteousness.
For if we sin wilfully after that we have received the knowledge of the truth, there remaineth no more sacrifice for sins, But a certain fearful looking for of judgment and fiery indignation, which shall devour the adversaries. Hebrews 10:26-27
---
Recommended for you
---
Examine yourself Bible Verses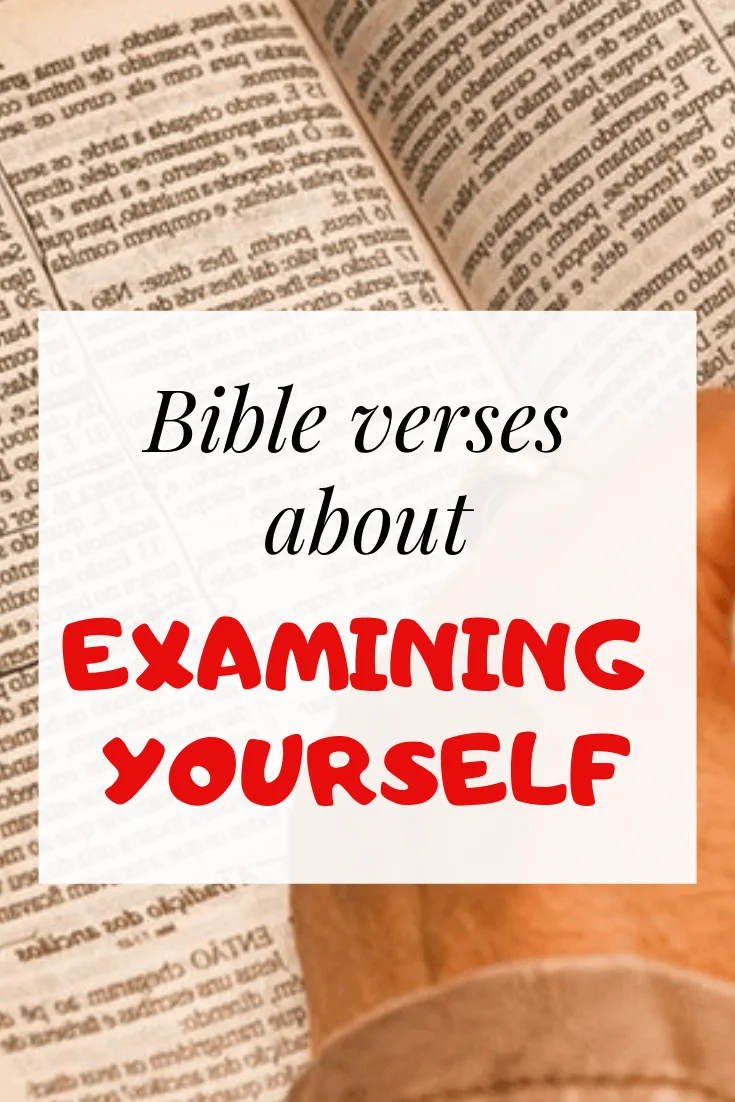 1.  Lamentations 3:40 on repentance and forgiveness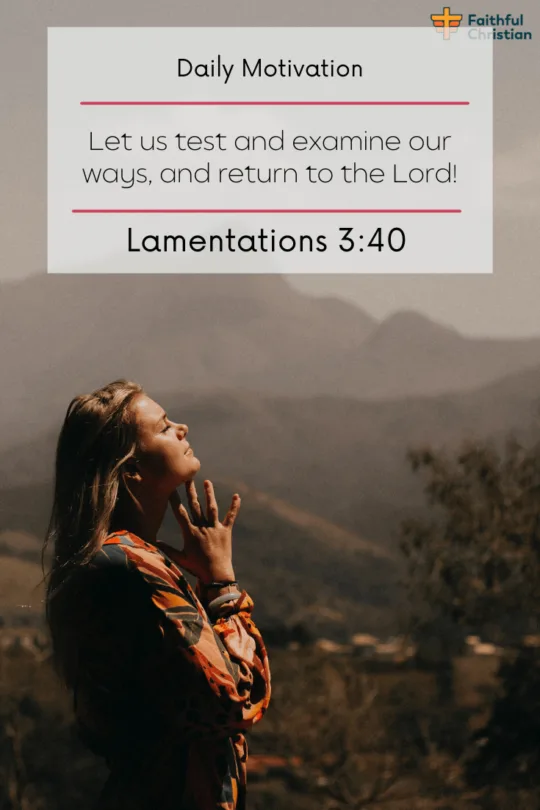 Let us test and examine our ways, and return to the Lord!
The race for salvation comes with hurdles. From time to time, we are tempted to do the wrong things. If we fall from grace and sin, God is willing to forgive us.
The prophet Jeremiah is saying that we should test ourselves if we follow the ways of Christ. If we are, then God is happy with us. If we are not, then we should examine our ways and repent.
We should repent from every sin we indulge in. We should pray for forgiveness because he is always there to forgive us if we ask. If we do, God will be happy, and eternal salvation is our reward.
2.  1 Corinthians 11:28 on worthily sharing in Christ body and blood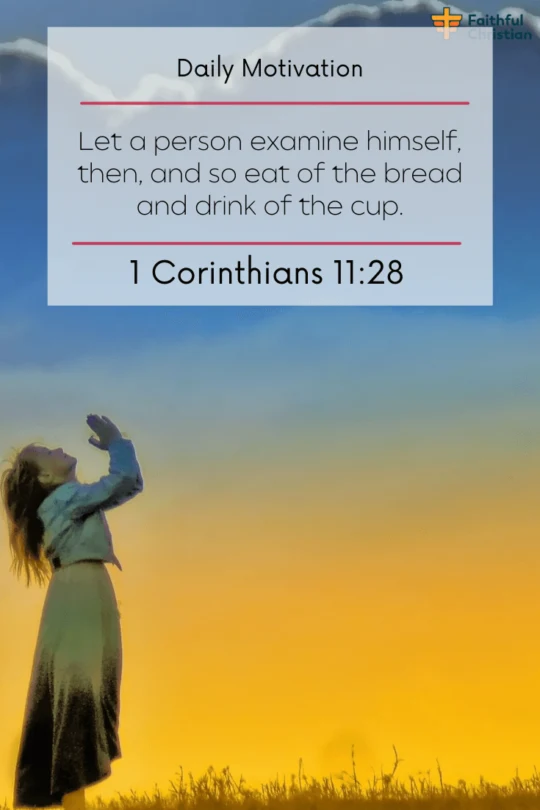 Let a person examine himself, then, and so eat of the bread and drink of the cup.
Before Christ died, he asked us to continue sharing in his body and blood. This we must do in remembrance of him until he comes.
However, it is utterly shameful if we live in sin and partake of Christ's body. We must examine ourselves first if we walk in the spirit before partaking in the body of Christ.
If we do not share in Christ's holy body, there are consequences. Paul says some are weak and sick by unworthily sharing from Christ's body.
For he that eateth and drinketh unworthily, eateth and drinketh damnation to himself, not discerning the Lord's body. For this cause many are weak and sickly among you, and many sleep.
3.  Galatians 6:4 – God judges us with our own works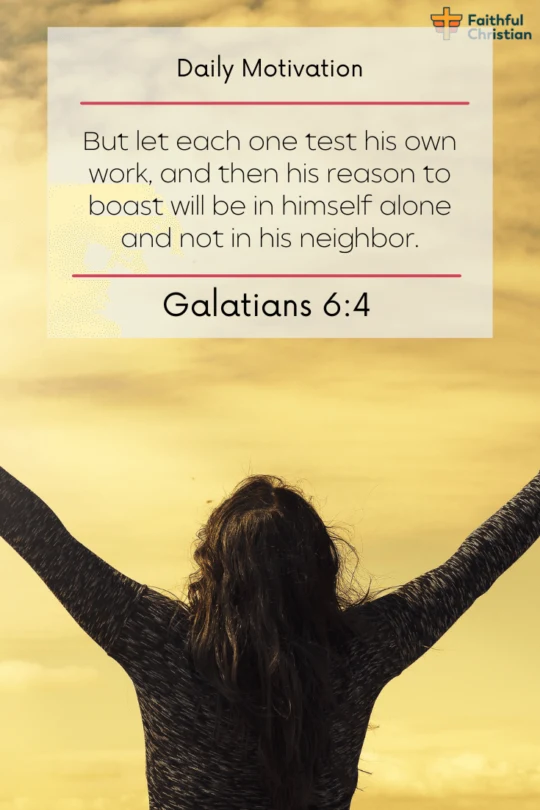 But let each one test his own work, and then his reason to boast will be in himself alone and not in his neighbor.
The race of salvation is personal. Your mum, dad, and friends will run their's themselves. If you live in sin, you will be punished alone. If you live in righteousness, you will have eternal life.
Wherefore, my beloved, as ye have always obeyed, not as in my presence only, but now much more in my absence, work out your own salvation with fear and trembling. Philippians 2:12
4.  Psalm 139:23-24 God can lead us to righteousness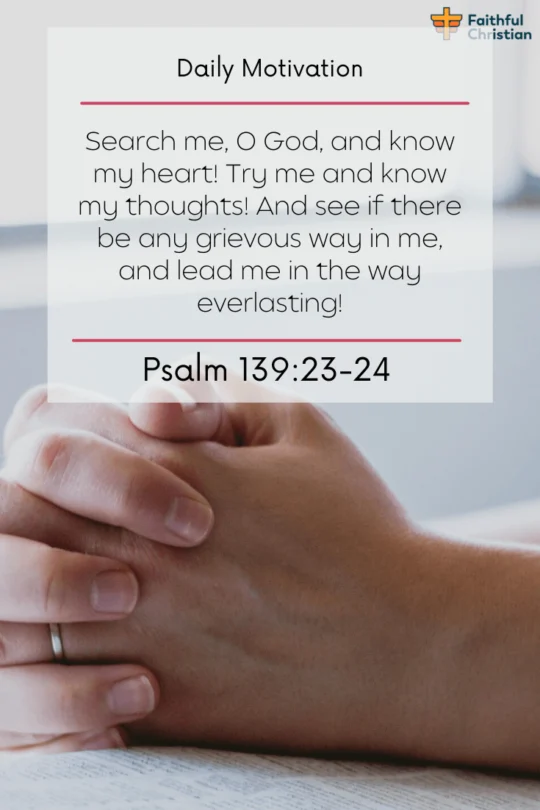 Search me, O God, and know my heart! Try me and know my thoughts! And see if there be any grievous way in me, and lead me in the way everlasting!
You've not come to Christ on your own. Through grace, he called you into his fold. God also knows all you think about. He knows your heart and all your plans. Before you were created, he understood the nature of man's heart.
When God first destroyed the world with water, he made a promise never to do it again. This is because he knew the heart of man is wicked from its youth.
And the Lord smelled a sweet savour; and the Lord said in his heart, I will not again curse the ground any more for man's sake; for the imagination of man's heart is evil from his youth; neither will I again smite any more every thing living, as I have done.
The psalmist David is saying, God searches the heart. He is the only one that can look into our hearts know where we stand. Through the prophet Jeremiah, God said,
The heart is deceitful above all things and beyond cure. Who can understand it?
Therefore, we should pray to God to lead us into the part of righteousness. Then, through being righteous, we will have everlasting life.
5.  Titus 1:16 on professing God with Good works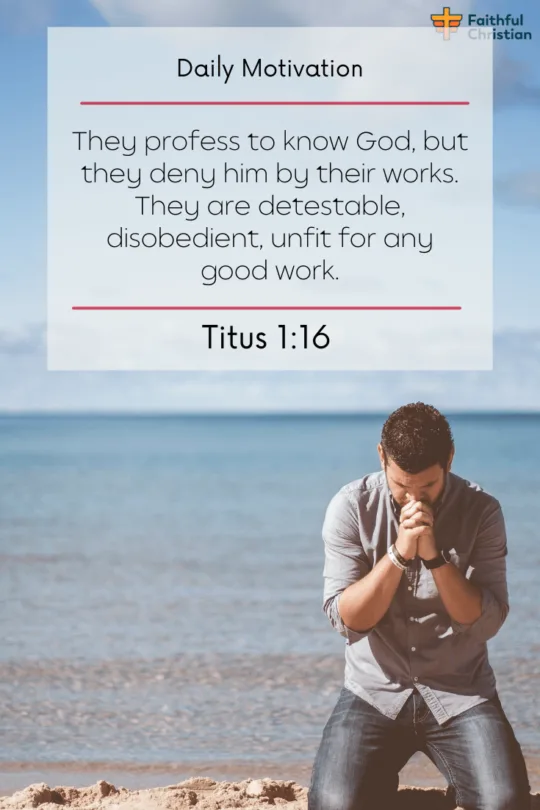 They profess to know God, but they deny him by their works. They are detestable, disobedient, unfit for any good work.
You cannot claim to know God and actively live in sin. If you know God's way and follow them, God is happy with your decision. However, it is shameful and disobedient to live in sin.
---
Recommended for you
---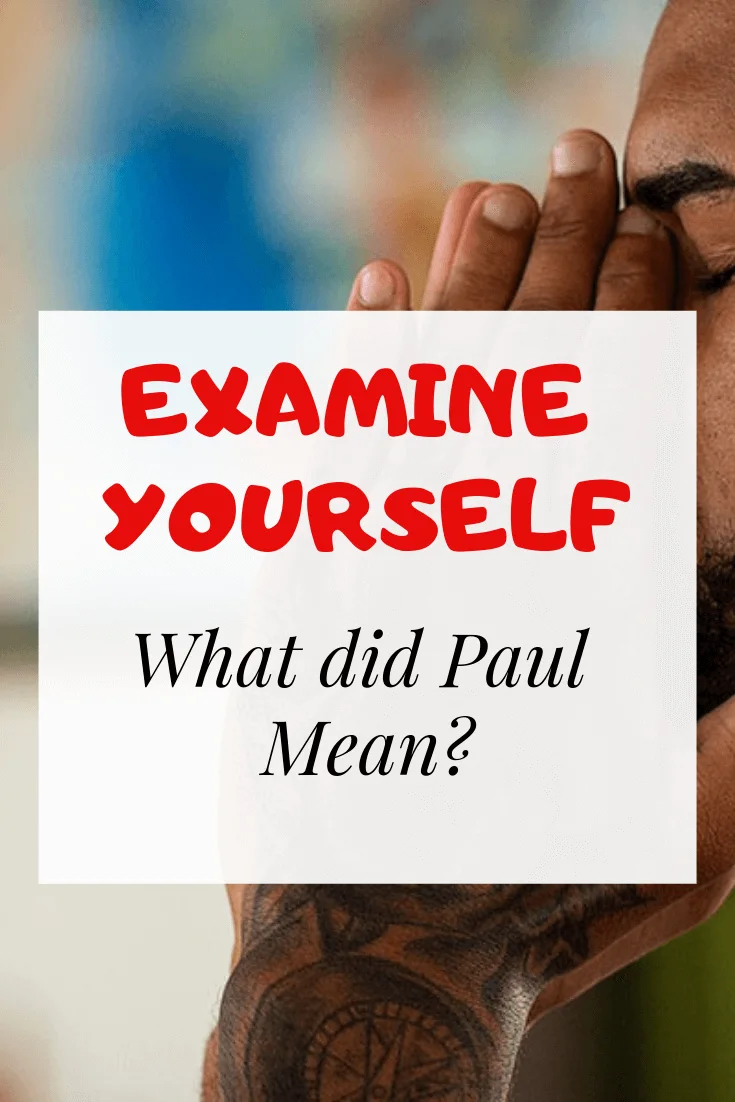 Author: Akatakpo Dunn
Dr. Akatakpo Dunn is a dedicated follower of Christ, an active member and speaker, and an ongoing learner of the Scriptures. Passionate about his faith and serving others, he is committed to sharing his spiritual journey and insights to inspire and uplift fellow believers. He has been active in the church for more than 23 years. Through The
Faithful Christian Blog
,
Dr. Dunn
combines his love for God, philanthropy, and Scripture, providing a valuable resource for those seeking to grow in their faith.
Follow me: on Youtube, Facebook, Twitter, Instagram, and Pinterest.
Content Disclosure:
At The Faithful Christian Blog, I create authentic and inspiring content. Although I am the main author, I occasionally use AI for minor language enhancements. This minimal AI usage ensures high-quality, trustworthy articles without compromising originality or sincerity, ultimately supporting our shared faith journey.
Warmly,
Dr. Akatakpo Dunn
Was this article helpful?