Battling depression and sadness is a reality for countless individuals. But there's hope.
In this article, we'll explore the transformative power of prayer for overcoming depression and finding solace during times of sadness.
We'll show you how faith and spirituality can serve as a guiding light through life's darkest moments.
Seeking comfort for yourself or a loved one?
Remember Psalm 34:18: "The Lord is close to the brokenhearted and saves those who are crushed in spirit."
Join us as we explore the potential of prayer to uplift and renew the spirit.
Prayer Bible verses for depression
Psalm 30:11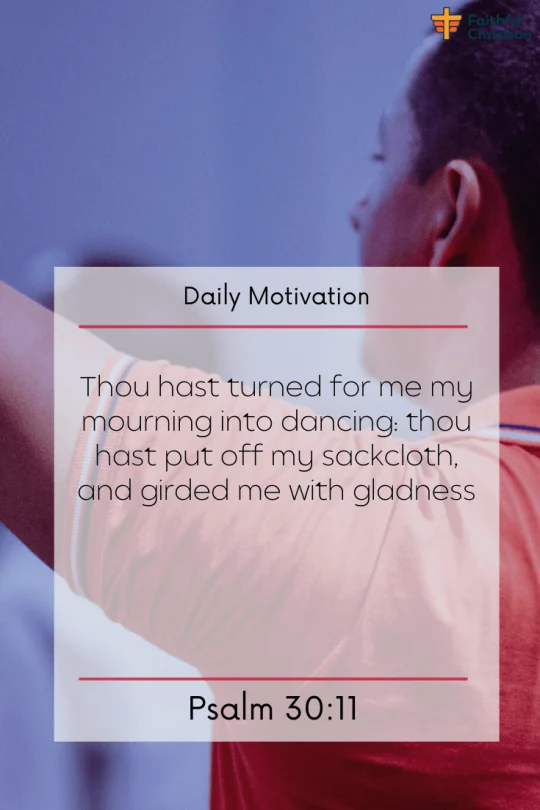 Thou hast turned for me my mourning into dancing: thou hast put off my sackcloth, and girded me with gladness;
Let's say a Prayer for Depression with Psalm 30:11
Heavenly Father, our hope and healer, we turn to You in our time of need, seeking relief from depression. Inspired by Psalm 30:11, we find solace in Your promise: "You've turned my mourning into joyful dancing; You've removed my sorrow and clothed me with joy."
We pray, Lord, that You dispel the dark cloud of depression that weighs on our hearts. Replace our sadness with joy, our despair with hope, and our anxiety with peace. May we dance once more, celebrating the renewal of our spirits.
Remind us that You are our refuge and strength, a constant source of comfort and grace, especially in our darkest moments. Help us to lean on Your promises and trust in Your unfailing love.
Guide us through this challenging season, and let us feel Your presence as we navigate the darkness. We believe in Your power to heal and bring new life to our weary souls.
In Jesus' name, who conquered death and darkness, we humbly ask for Your divine intervention. May Your healing touch envelop us, transforming our mourning into dancing and clothing us with joy.
Amen.
Matthew 11:28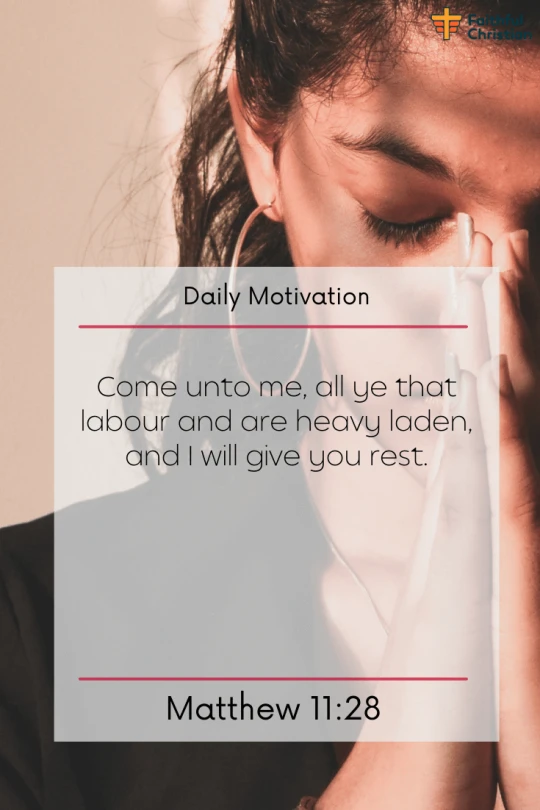 Come unto me, all ye that labour and are heavy laden, and I will give you rest.
Let's say a Prayer for someone feeling Sad with Matthew 11:28
Heavenly Father, we turn to You on behalf of our dear friend who is feeling sad and weighed down. We ask that Your loving embrace surrounds them, providing comfort in their time of need.
Inspired by Your words in Matthew 11:28, "Come to me, all you who are weary and burdened, and I will give you rest," we pray that our friend finds solace in Your reassuring presence. May they experience the soothing touch of Your love and discover the peace that only You can offer.
Lord, we ask that You fill their heart with hope and joy as they seek refuge in Your arms. Guide them through this challenging time and remind them they are never alone. Your love, compassion, and grace know no bounds.
In the name of Jesus Christ we pray. Amen.
Powerful Prayer for Depression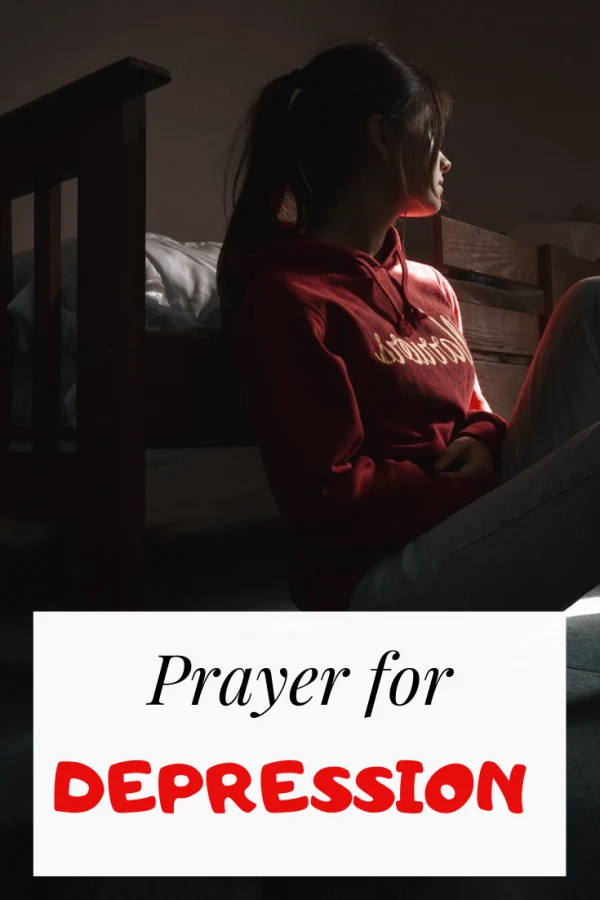 Cast your cares on him (let us pray)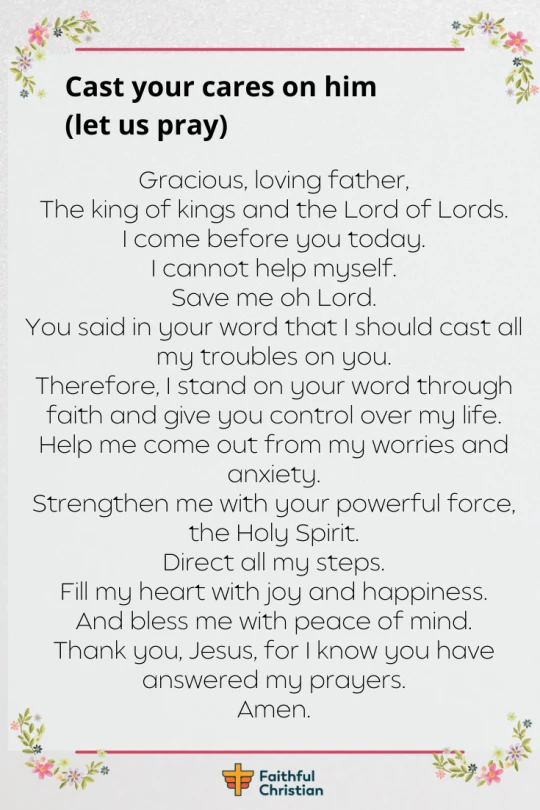 Oh, loving Father in heaven, the majestic Ruler of all, Your power and glory are beyond compare. I stand in awe of Your endless love and grace, feeling an overwhelming sense of gratitude.
Humbly, I step into Your presence today. I admit my own shortcomings, knowing that I can't go it alone. Just like the Apostle Paul, I find solace in Your words: Your grace is enough, and Your strength perfects my weakness.
Your holy scriptures tell me to cast my worries and troubles upon You. With a heart full of faith, I cling to Your promises and hand over the reins of my life. You urge me to trust in You completely, and I do—knowing You'll guide me on the right path.
Rescue me from my fears and anxieties, Lord. Jesus Himself said not to worry about life's troubles. Empower me with the strength of the Holy Spirit, so I can conquer any challenge that comes my way.
Lead me, Father. Your word lights my path, showing me where to go. Fill my heart with abundant joy and happiness, so that Your grace shines brightly in my life. You promise that in Your presence, joy is complete.
Grant me peace of mind and a tranquil heart. Your divine peace surpasses all understanding, guarding my thoughts and emotions. I thank You, Jesus, trusting that You've heard my prayers and graciously answered them.
In Your holy name, I pray. Amen.
Be strong and be of good cheers (let us pray)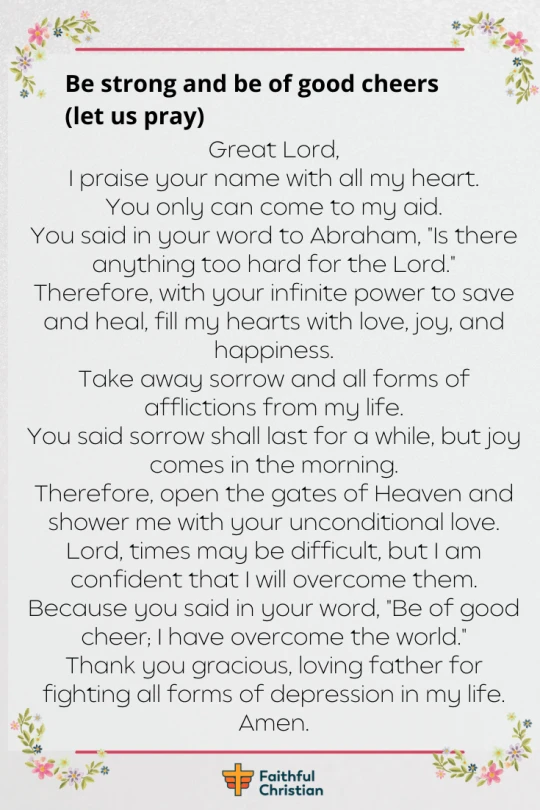 Majestic Lord,
With deep love and gratitude, my heart sings praises to Your holy name. Like the psalmist, I celebrate Your faithfulness and love (Psalm 103:1).
In trying times, You're my refuge and strength (Psalm 46:1). I trust in Your promise to never leave nor forsake me (Hebrews 13:5).
You asked Abraham, "Is there anything too hard for the Lord?" (Genesis 18:14). You've shown Your miraculous power throughout history. May Your boundless might fill my heart with love, joy, and happiness (Romans 15:13).
Please remove sorrow, anguish, and affliction from my life. Isaiah spoke of Your healing power for the brokenhearted (Isaiah 61:1). I eagerly await the joy You promise each new day (Psalm 30:5).
Open the gates of Heaven, and shower me with Your love (Ephesians 3:17-19). May I embrace the grace of Jesus, who gave His life for all (1 Timothy 2:6).
In challenging times, I believe I can overcome any obstacle (James 1:2-4). You said, "Be of good cheer; I have overcome the world" (John 16:33). Through Christ, I can do all things (Philippians 4:13).
Thank You, Father, for shielding me from despair and depression. Your presence fills my life with comfort, peace, and hope (Psalm 23:4). In Your holy name, I pray. Amen.
The devil comes to steal, kill and destroy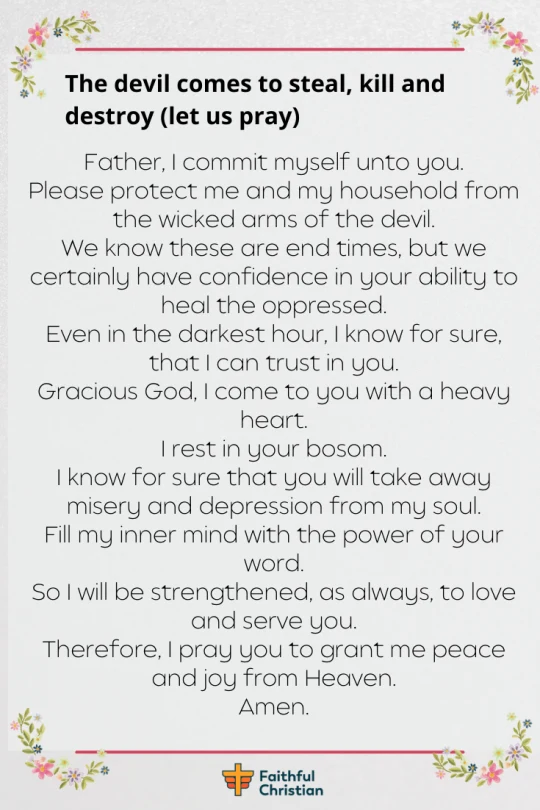 Heavenly Father, with a humble heart, I place my life into Your loving hands. Inspired by Proverbs 3:5-6, I trust You fully and let go of my own understanding. I seek Your divine protection for my family and me, as You guard us from the enemy's wicked plans, just as Psalm 91:11 promises.
We know we live in the end times, facing trials and tribulations. Yet, we stand firm in our faith, believing You can heal and deliver the oppressed. Your Word in Isaiah 61:1 assures us that You mend the brokenhearted and set captives free. You're our refuge and strength.
In life's darkest moments, I trust in You. You are the light guiding me through every storm. Psalm 23:4 tells us that even in the darkest valley, we need not fear, for You are with us. Your unwavering love and grace comfort us, and we fear no evil.
Gracious God, I come to You with a heavy heart. I find solace in Your divine embrace, laying my burdens at Your feet. You promise in Matthew 11:28 to give rest to those who come to You. I ask You to fill my mind with Your Word's power and wisdom, renewing me in Your love. Ephesians 6:10-11 encourages us to be strong in the Lord, putting on the full armor of God.
Empower me, Lord, to love and serve You wholeheartedly, reflecting Your grace to others. 1 Peter 4:10 teaches us to use our gifts in service, sharing God's grace. I humbly pray for peace and joy from Heaven, filling my heart with gratitude and praise. Philippians 4:7 tells us Your peace transcends understanding, guarding our hearts and minds in Christ Jesus.
In Your holy name, I pray. Amen.
You will overcome depression because you are precious to God (let us pray)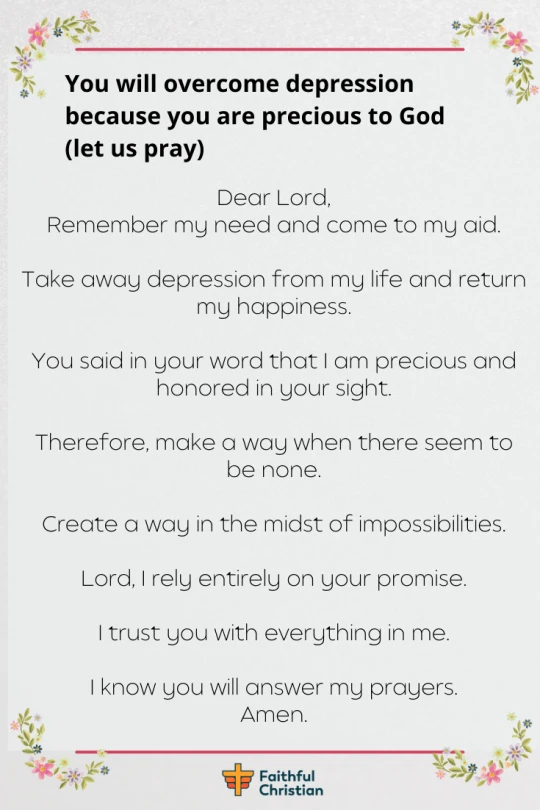 Heavenly Father,
Today, I come to you with a humble heart. I seek your divine touch in my life. You know my needs, and I trust you'll lend a helping hand. Philippians 4:6 reminds me to let go of my worries. Instead, I'll share my concerns with you in prayer.
I'm struggling with depression, Lord. Please take it away and bring back the joy that once filled me. Psalm 30:11 says you can turn mourning into dancing. I hold onto the truth from Isaiah 43:4. I am precious and honored in your sight.
Sometimes, the path ahead is unclear or impossible. In those moments, I ask you to make a way for me. Isaiah 43:19 promises you can make a way in the wilderness. I trust in your power, as Matthew 19:26 says, "With you, Lord, nothing is impossible."
Lord, I trust your promises and your love. I believe you hear my prayers and will answer at the perfect time. 1 John 5:14-15 assures me that you hear us when we pray according to your will. Your presence and grace sustain me, as 2 Corinthians 12:9 reveals your power shines in our weakness.
In Jesus' name, I pray.
Amen.
My prayer for you breaks the shackles of depression.
O Heavenly Father, our Faithful and Supreme Ruler, we stand in awe of Your eternal and infinite power. You are the sovereign Lord of all creation, the great King above all gods, as Psalm 95:3 proclaims.
We humbly seek Your boundless mercy, for You have promised in Exodus 33:19 to show compassion to those You choose. Your grace reaches all who call upon Your name, and we trust in Your loving-kindness.
We ask for deliverance from depression, for You are close to the brokenhearted, as Psalm 34:18 assures. Your love can heal and lift the weight of sadness from our hearts. Be our comfort in these trying times.
Protect us from the enemy's grasp, for James 4:7 tells us to resist the devil, and he will flee. We stand firm against harm, trusting in Your divine shield.
Bring peace to our hearts, as You invite us in Matthew 11:28-29 to find rest in Your gentle and humble presence. We seek the serenity that only You can provide.
You know our hearts' deepest desires, as Jeremiah 17:10 reveals Your ability to search our hearts and minds. We trust You will provide for us according to Your wisdom.
You understand our needs better than we do, and as Matthew 6:8 confirms, You know what we need before we ask. Confidently, we place our requests in Your loving hands.
You hold the power to shape our lives according to Your perfect plan, as described in Jeremiah 29:11. We find hope in Your promise of a bright future.
We rely on Your endless compassion to meet our diverse needs, as Philippians 4:19 states that You will provide according to Your glory in Christ Jesus. You are the source of all blessings.
We trust You will answer our prayers in line with Your divine plan, for 1 John 5:14-15 gives us confidence that if we ask according to Your will, You will hear us.
Amen
Frequently Asked Questions
What can you say to those people who have depression?
If you're struggling with depression, remember that you're not alone. Reach out to friends, family, or professionals for help. God deeply cares for you, as shown in Psalm 34:18. Turn to Him in prayer, share your feelings, and find comfort in scripture.
What does God say about depressed people?
God understands the pain of those battling depression and offers hope and healing. In Isaiah 41:10, He reassures us, saying, "Fear not, I am with you." Rely on God and trust His promise to help you overcome your struggles.
How does God say to deal with depression?
To face depression, lean on God, pray, and seek support from others. As 1 Peter 5:7 suggests, cast your anxieties on God. By sharing your burdens with Him, you'll find solace and strength.
What is a prayer for someone that needs mental help?
When praying for someone needing mental help, try this: "Heavenly Father, please heal those struggling with mental health. Grant clarity, strength, and support to overcome challenges. In Jesus' name, Amen."
How do you pray for someone who is depressed?
To pray for a depressed friend, say: "Lord, comfort and strengthen our friend during their battle with depression. Surround them with Your love and guide them through this dark time. Amen."
How do you pray for someone feeling down?
For someone feeling down, consider this prayer: "Dear God, uplift our friend who's feeling low. Fill their heart with love and joy, reminding them of Your presence and care. In Jesus' name, Amen."
What Prayer to send a friend who is depressed?
Send a prayer to a depressed friend: "Dear friend, I pray for you during this tough time. May God's love and peace surround you, providing strength and hope to overcome your depression. You're not alone. Amen."
What is a Prayer for feeling lonely and depressed?
If you're lonely and depressed, pray: "Heavenly Father, in times of loneliness and depression, comfort and accompany us. Fill our hearts with love, reminding us that You're always by our side. Amen."
What is the best Prayer for sadness?
For sadness, pray: "Lord, replace our sadness with joy and help us find hope in Your promises. Strengthen and comfort us as we navigate difficult emotions. In Jesus' name, Amen."
How do you pray for someone going through a hard time?
To pray for someone facing challenges, say: "Dear God, strengthen, guide, and support our friend during their hard times. May they feel Your love and encouragement every step of the way. Amen."
Author: Akatakpo Dunn
Dr. Akatakpo Dunn is a dedicated follower of Christ, an active member and speaker, and an ongoing learner of the Scriptures. Passionate about his faith and serving others, he is committed to sharing his spiritual journey and insights to inspire and uplift fellow believers. He has been active in the church for more than 23 years. Through The
Faithful Christian Blog
,
Dr. Dunn
combines his love for God, philanthropy, and Scripture, providing a valuable resource for those seeking to grow in their faith.
Follow me: on Youtube, Facebook, Twitter, Instagram, and Pinterest.
Content Disclosure:
At The Faithful Christian Blog, I create authentic and inspiring content. Although I am the main author, I occasionally use AI for minor language enhancements. This minimal AI usage ensures high-quality, trustworthy articles without compromising originality or sincerity, ultimately supporting our shared faith journey.
Warmly,
Dr. Akatakpo Dunn
Was this article helpful?