The fight against depression is not a physical one.
That's because true happiness only comes from God.
If you are battling with different kinds of problems in your life, God can set you free.
He can turn around your situation and take away sadness from your life.
And that's if you believe.
God is able to save the faithful when they call upon his name through prayer.
So, if you are depressed, We can triumph over unhappiness with prayers.
I have been there in the past, just after I lost my mum.
With so many rumors back then, it was truly difficult to find happiness.
But somehow, God intervened.
Likewise, God is willing and able to return joy and happiness to the darkest parts of your heart.
He said in his word,
Delight yourself in the Lord, and he will give you the desires of your heart.

Psalm 37:4
So, today, we will pray over any unhappiness and depression in your life.
We will seek God's mercy to always watch over your daily affairs.
I have put together prayers for depression and unhappiness to strengthen you.
Prayer Bible verses for depression
Psalm 30:11
Thou hast turned for me my mourning into dancing: thou hast put off my sackcloth, and girded me with gladness;
Matthew 11:28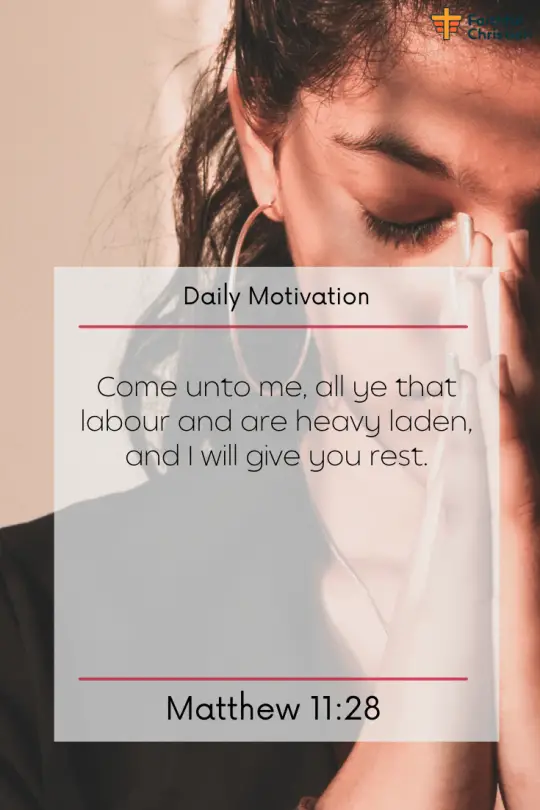 Come unto me, all ye that labour and are heavy laden, and I will give you rest.
Powerful Prayer for Depression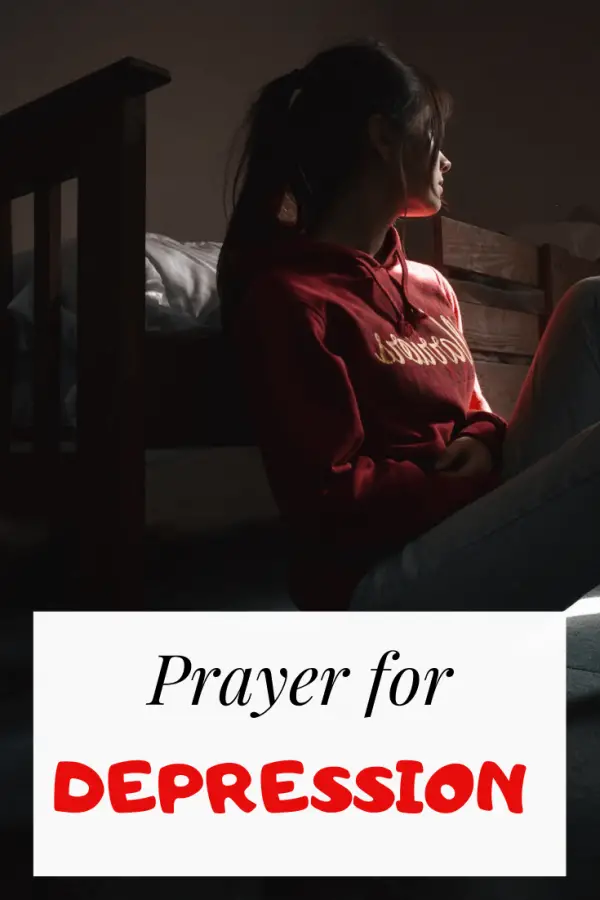 Cast your cares on him (let us pray)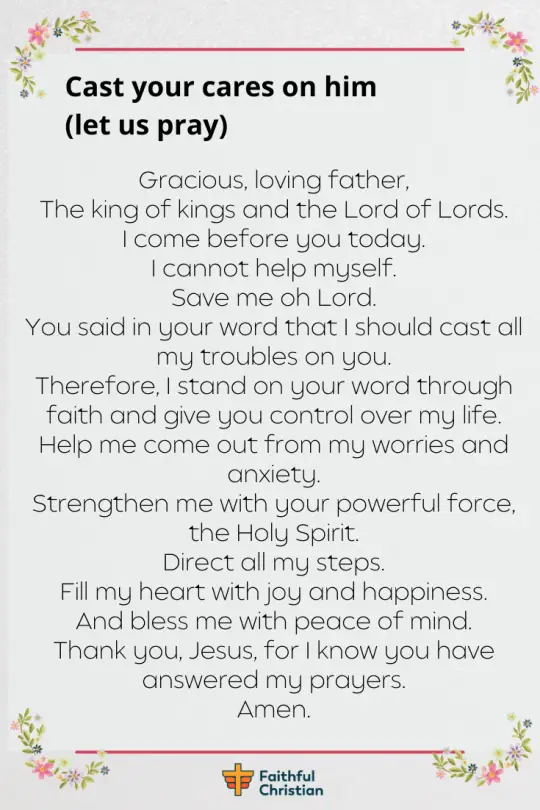 Gracious, loving father,
The king of kings and the Lord of Lords.
I come before you today.
I cannot help myself.
Save me oh Lord.
You said in your word that I should cast all my troubles on you.
Therefore, I stand on your word through faith and give you control over my life.
Help me come out from my worries and anxiety.
Strengthen me with your powerful force, the Holy Spirit.
Direct all my steps.
Fill my heart with joy and happiness.
And bless me with peace of mind.
Thank you, Jesus, for I know you have answered my prayers.
Amen.
Be strong and be of good cheers (let us pray)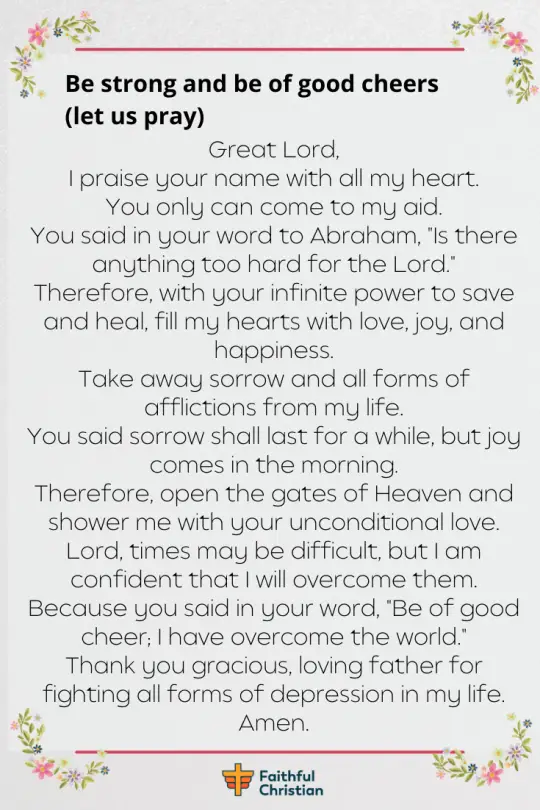 Great Lord,
I praise your name with all my heart.
You only can come to my aid.
You said in your word to Abraham, "Is there anything too hard for the Lord."
Therefore, with your infinite power to save and heal, fill my hearts with love, joy, and happiness.
Take away sorrow and all forms of afflictions from my life.
You said sorrow shall last for a while, but joy comes in the morning.
Therefore, open the gates of Heaven and shower me with your unconditional love.
Lord, times may be difficult, but I am confident that I will overcome them.
Because you said in your word, "Be of good cheer; I have overcome the world."
Thank you gracious, loving father for fighting all forms of depression in my life.
Amen.
The devil comes to steal, kill and destroy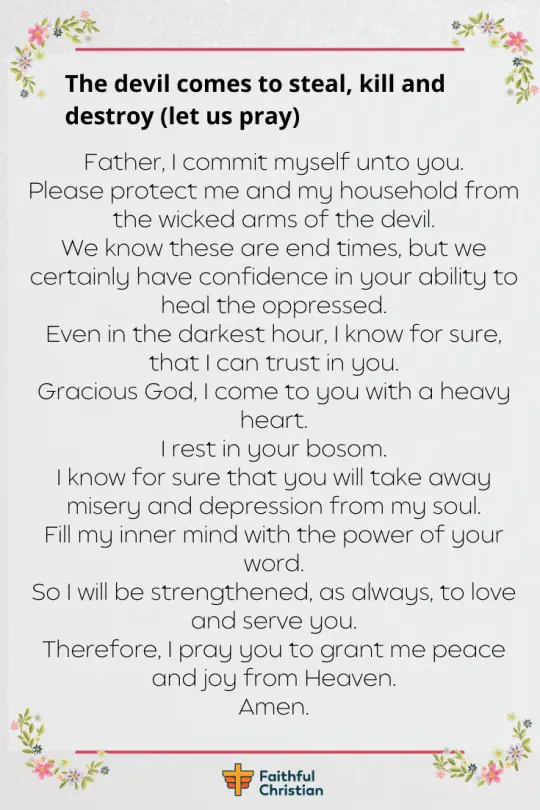 Father, I commit myself unto you.
Please protect me and my household from the wicked arms of the devil.
We know these are end times, but we certainly have confidence in your ability to heal the oppressed.
Even in the darkest hour, I know for sure, that I can trust in you.
Gracious God, I come to you with a heavy heart.
I rest in your bosom.
I know for sure that you will take away misery and depression from my soul.
Fill my inner mind with the power of your word.
So I will be strengthened, as always, to love and serve you.
Therefore, I pray you to grant me peace and joy from Heaven.
Amen.
You will overcome depression because you are precious to God (let us pray)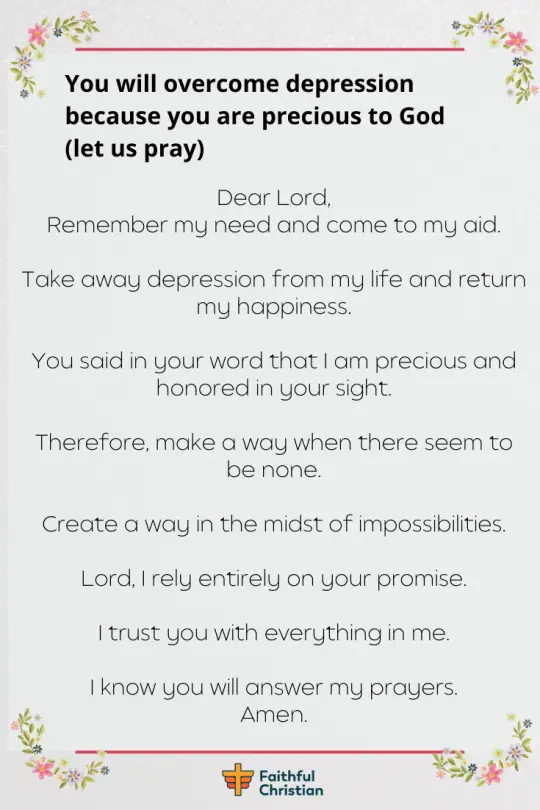 Dear Lord,
Remember my need and come to my aid.
Take away depression from my life and return my happiness.
You said in your word that I am precious and honored in your sight.
Therefore, make a way when there seem to be none.
Create a way in the midst of impossibilities.
Lord, I rely entirely on your promise.
I trust you with everything in me.
I know you will answer my prayers.
Amen.
My prayer for you breaks the shackles of depression.
Heavenly faithful Father
The king of kings and everlasting God
You said you would have mercy on whom you will have mercy
Save your children from all signs of depression
Save you servant from the wicked arms of the devil
Return peace and tranquility to their hearts
You alone searches the hearts of all men
You know our needs even better than we know
You see the future from the beginning
Therefore, compassionate Father, satisfy your servant's necessities in every area of their lives
I am confident you will answer my prayer according to your will
Amen
Author: Akatakpo Dunn
Dunn is a firm believer and a teacher of God's word. Suffering for Jesus is an attribute of a faithful Christian, and I hope to win new souls to Christ with every chance that I get. Articles are well-researched and backed by the scriptures.
Follow me: on Youtube, Facebook, Twitter, Instagram, and Pinterest.