Life got you down? You're not the only one.
Facing life's challenges can make hope for the future seem like a distant dream.
But guess what? the Bible's potent words hold wisdom and inspiration for you.
In this post, we'll uncover Bible verses about hope for the future and looking forward. These uplifting passages can guide, comfort, and encourage you during tough times.
You might wonder, "Why should I explore these Bible verses?"
It's simple! These verses can change your outlook on life. As you delve into them, you'll find the strength to face each day with faith and a positive attitude.
Proverbs 23:18 reassures us, "There is surely a future hope for you, and your hope will not be cut off."
Ready for a dose of hope?
Keep reading to discover how these Bible verses about looking forward to the future can be the guiding light you need.
Bible verses about hope for the future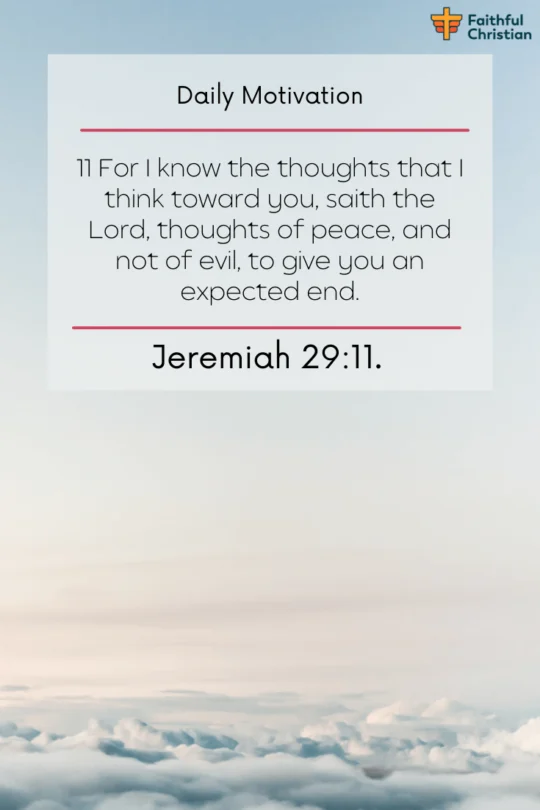 11 For I know the thoughts that I think toward you, saith the Lord, thoughts of peace, and not of evil, to give you an expected end.
Jeremiah 29:11 serves as a source of hope and inspiration.
It reminds us that the Lord has thoughtfully designed plans for each of us, with the intention of bringing prosperity, protection, and a future filled with hope.
Facing tough times or life's challenges?
Keep in mind that God sees your pain and struggles. He won't abandon you.
Our Heavenly Father has divine plans for each of us and is crafting a brighter future. Trust Him and never lose hope.
Related scriptures offer further reassurance.
Psalm 33:11 emphasizes God's unshakable plans, providing us solace as we journey through life's highs and lows.
Knowing that God's intentions for us are steadfast and enduring, we can find hope and security.
Job 23:13 highlights God's sovereignty and omnipotence. He is unmatched in authority, and His will always triumphs.
Trusting His control over our lives, even amid chaos, allows us to look to the future with hope, knowing He works for our good.
Lamentations 3:26 teaches the value of waiting on the Lord.
By quieting our hearts and minds, we can deepen our relationship with God and foster trust in His timing.
Waiting on the Lord promotes faith growth and helps us experience His salvation fully.
Noah's Ark (Genesis 6-9) showcases the power of faith and obedience.
Despite dark times, Noah trusted God's plan, leading to the deliverance of him and his family.
This story is a reminder that God's plan prevails, even when unseen.
So, during life's difficulties, whether seeking a good job or battling illness, trust that God has a plan for you.
He has promised a brighter future, filled with joy and happiness.
The scriptures and stories above reveal God's unwavering love, power, and wisdom. He has divine plans for each of us, and His promises remain firm.
Trusting in Him, waiting patiently, and staying steadfast in faith, we can anticipate a brighter and more hopeful future, secure in the hands of our loving Creator.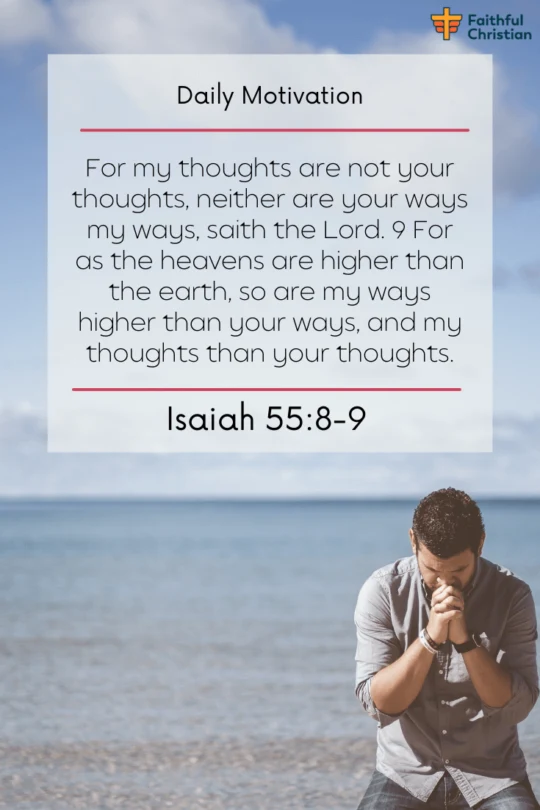 For my thoughts are not your thoughts, neither are your ways my ways, saith the Lord. 9 For as the heavens are higher than the earth, so are my ways higher than your ways, and my thoughts than your thoughts.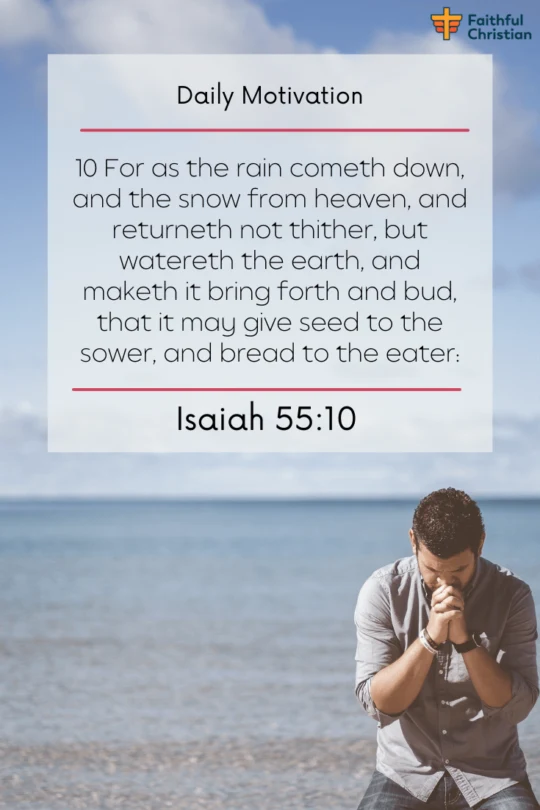 10 For as the rain cometh down, and the snow from heaven, and returneth not thither, but watereth the earth, and maketh it bring forth and bud, that it may give seed to the sower, and bread to the eater: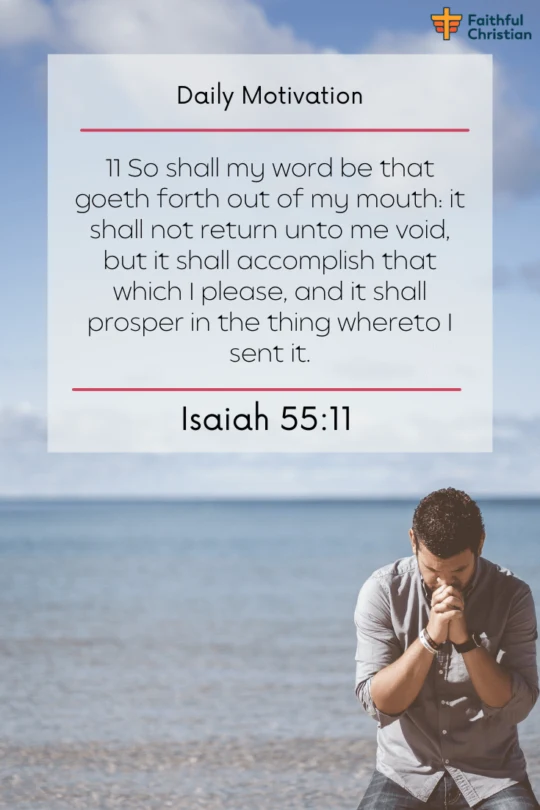 11 So shall my word be that goeth forth out of my mouth: it shall not return unto me void, but it shall accomplish that which I please, and it shall prosper in the thing whereto I sent it.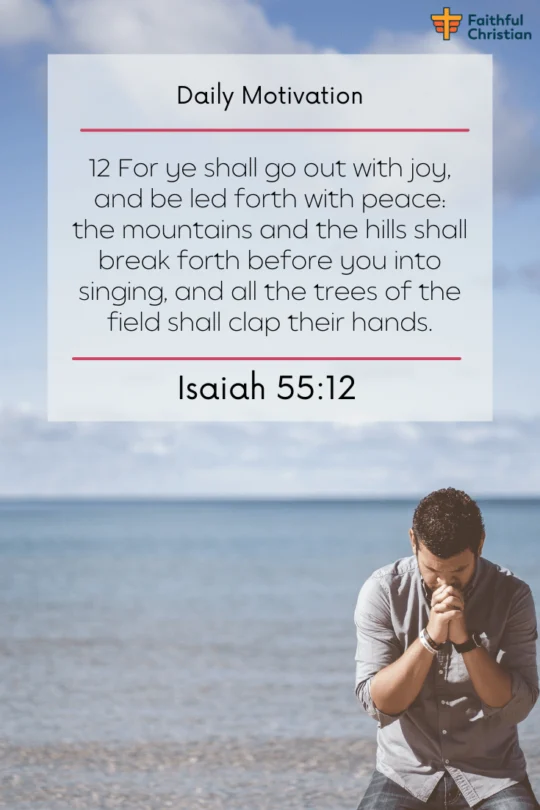 12 For ye shall go out with joy, and be led forth with peace: the mountains and the hills shall break forth before you into singing, and all the trees of the field shall clap their hands.
Isaiah 55:8-12 serves as a reminder that God's thoughts and ways surpass our own. We may not grasp His plans, but we can trust they are perfect and for our benefit. It's crucial not to let current circumstances dictate our future or undermine our faith in God's promises.
Psalm 92:5 extols the profoundness of God's wisdom and the greatness of His thoughts. This verse reminds us to rely on His infinite wisdom when looking forward to a hopeful future, as His plans for us go beyond our comprehension.
Hosea 14:9 highlights the significance of discerning and following God's ways. By understanding His guidance and walking His path, we can enjoy His blessings and assurance, fostering an optimistic outlook for our future.
Psalm 40:5 teaches us that God's thoughts and plans for us are countless and marvelous. It encourages us to trust in His divine intervention, remaining hopeful amid challenges, knowing He has abundant blessings awaiting us.
Together, these scriptures reinforce Isaiah 55:8-12's message to trust in God's superior thoughts and plans. In doing so, we cultivate a hopeful, forward-looking perspective on our future, confident that He's always working for our good, even if we don't comprehend His ways.
The story of Abraham and Sarah (Genesis 12-21) exemplifies trust and patience in God's timing. Despite their age, they believed God would grant them a child. After years of waiting, they were blessed with Isaac, demonstrating God's promises are fulfilled in His perfect time.
Challenges, like long job searches, can lead to lost hope and doubt in God's ability to help. It's vital to remember God has a plan, expecting us to patiently wait while maintaining hope.
Incredible stories of people starting businesses after years of job searching reveal God's plan may vary from ours. Trusting His divine plan allows us to anticipate a future filled with His perfect blessings.
Embrace the certainty that God's promises will be fulfilled. Whether it's protection or a better future, have faith in His word. Keep your gaze fixed on what lies ahead, trust in God, and eagerly await the realization of His promises in your life.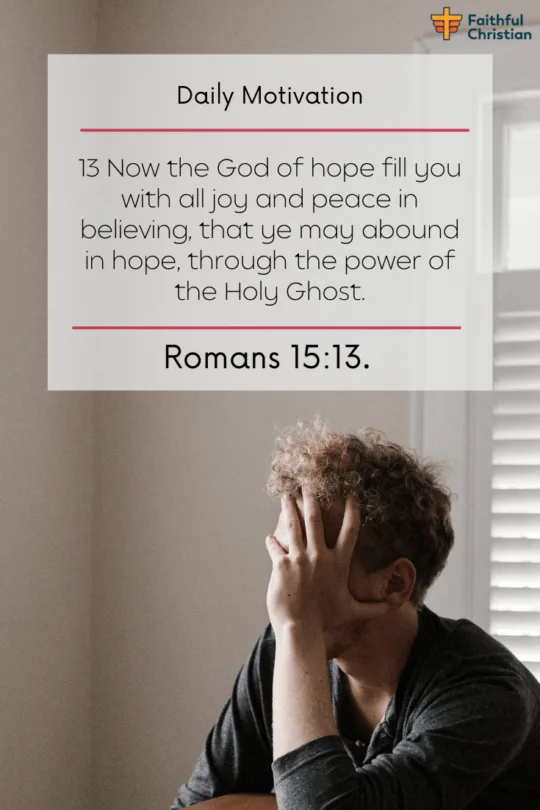 13 Now the God of hope fill you with all joy and peace in believing, that ye may abound in hope, through the power of the Holy Ghost.
Romans 15:13 shines a light on hope for the future.
God represents the fountain of hope.
As we place our trust in Him, He seeks to enrich our hearts with happiness and serenity.
He desires for us not only to experience hope but to overflow with it, fueled by the Holy Spirit.
Related scriptures echo this hopeful message:
Romans 14:17 highlights that true satisfaction comes not from earthly pursuits but from living in harmony with God's will.
By embracing righteousness, peace, and joy in the Holy Spirit, we can cultivate lasting hope and create a future reflecting God's kingdom.
Romans 12:12 urges us to keep a joyful outlook anchored in hope, even amid difficulties.
Demonstrating patience in hard times and remaining devoted to prayer, we can deepen our connection with God and trust that He will steer us towards a promising future.
2 Thessalonians 2:16-17 present a prayer for encouragement and fortitude in actions and words.
The eternal upliftment and hope we receive through God's grace remind us of His unwavering love.
By relying on God's love and guidance, we can muster the courage to tackle challenges and anticipate a brighter future.
Collectively, these scriptures stress the importance of putting our hope in God and trusting His divine plan.
By concentrating on righteousness, peace, and joy in the Holy Spirit, we can foster hope for the future and overcome life's hurdles with resilience.
Joseph's story (Genesis 37, 39-45) embodies this trust in God's plan.
Sold into slavery by his brothers, Joseph endured many hardships, including false charges and imprisonment.
Despite hardships, Joseph never lost faith in God.
Eventually, God transformed Joseph's tribulations into victories, raising him to a powerful position in Egypt.
This role enabled Joseph to rescue his family and countless others during a catastrophic famine.
Joseph's ascent to power showcases God's steadfast presence in our lives, even amidst adversity.
By believing in His plan and nurturing hope for the future, we can experience joy and peace, assured that our loving Heavenly Father is guiding us at every turn.
Embrace this hope, and let it propel you towards a brighter future.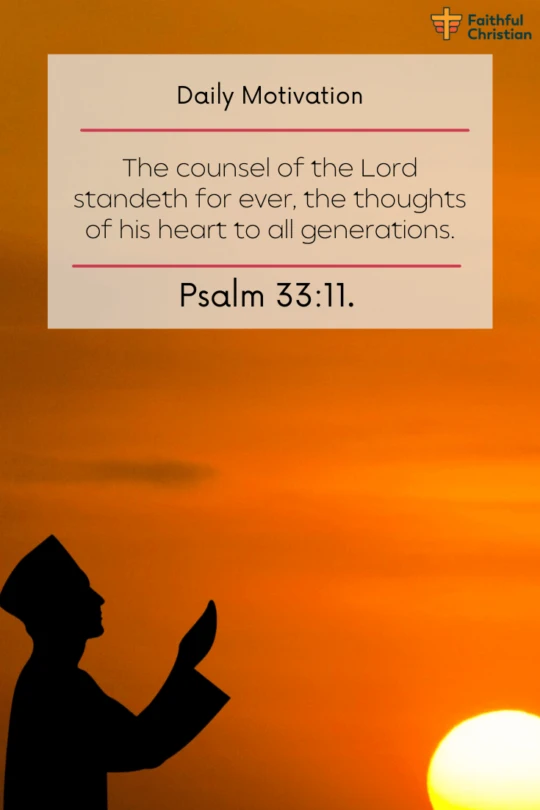 The counsel of the Lord standeth for ever, the thoughts of his heart to all generations.
Psalm 33:11 emphasizes that God's plans for us go beyond our current situation, impacting future generations as well. His blessings are not fleeting but enduring and shared across generations.
Digging deeper into related scriptures inspires hope for the future and the significance of embracing faith-filled anticipation.
Proverbs 19:21 highlights that our plans may differ from God's ultimate purpose. This verse encourages trusting in His wisdom and guidance, as His designs surpass our own.
Isaiah 46:10 displays God's sovereignty and comprehensive understanding of our lives. He knows our beginning and end, ensuring everything unfolds under His watch. This verse reassures us that we can depend on God to steer us towards our divinely appointed future.
Isaiah 14:27 reinforces the unshakable nature of God's plans. No power, human or spiritual, can obstruct His intentions. This verse instills confidence that His plans for our lives will prevail, despite any obstacles we face.
The Exodus story (Exodus 1-14) exemplifies the resilience of God's plans amid adversity. The Israelites, enslaved in Egypt, sought the Lord's deliverance. In the face of Egyptian might, God unleashed a series of plagues, ultimately liberating His people.
The tale illustrates God's steadfast love and devotion to His children, demonstrating His guidance towards a brighter future, even amid significant challenges. The Exodus story also underscores the importance of trusting in God's plan, even when the way forward is unclear.
Armed with these scriptures, let's continually pray for God's guidance in shaping our future. Seek the manifestation of His plans, protection from the enemy's strategies, and, crucially, the patience to wait for the Lord.
Patience allows us to witness God's plans unfolding, while faith empowers our belief in Him. Rejoice amidst trials, knowing brighter days lie ahead according to God's purpose. Pray and stay hopeful, eagerly awaiting the Lord's magnificent plan for you and future generations.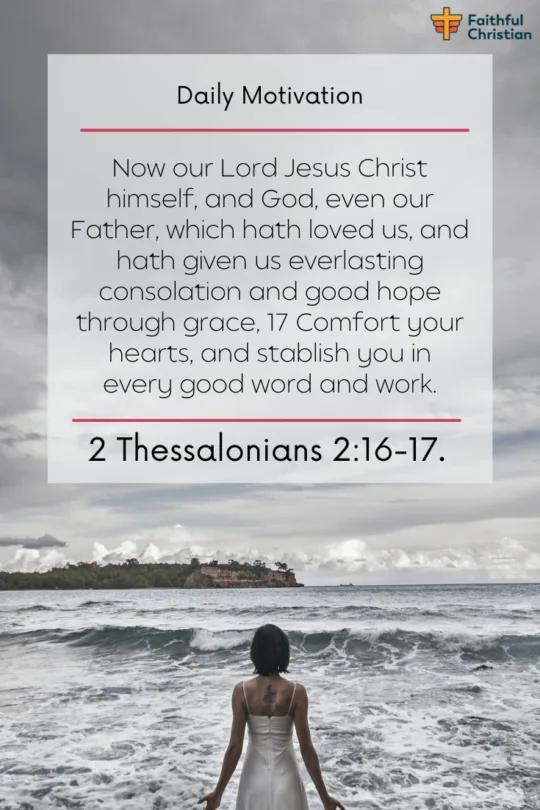 Now our Lord Jesus Christ himself, and God, even our Father, which hath loved us, and hath given us everlasting consolation and good hope through grace, 17 Comfort your hearts, and stablish you in every good word and work.
What do we do in trying times?
How can we find inspiration amid life's trials?
Remember to turn to Christ, as these Bible verses suggest. On our own, our abilities are limited, but with God, anything is possible.
We may not know what the future holds, but we can trust God to make a way when none seems apparent.
If you've lost a loved one, a job, or face illness, stay hopeful, for God has a plan.
In hard times, remind yourself that God is always present, never abandoning you.
Beside us, He provides eternal consolation and support.
God promises eternal life, a gift no one can steal.
He ensures a heavenly kingdom of peace and happiness awaits us.
God also commits to comforting and strengthening us when we need it most.
Focus on God and trust in His plan for your future.
2 Thessalonians 2:16-17 reveals that Jesus and God the Father offer eternal comfort and hope through grace. They strengthen and encourage us in every good work and word. We can find hope in God's love and guidance in difficult times.
Let's explore other related scriptures.
Romans 5:2-5 highlights the importance of finding joy in God's glory, emphasizing that our trials eventually give rise to hope. This hope doesn't disappoint, for God's love fills our hearts through the Holy Spirit.
Romans 8:24-25 highlights that we are saved by hope, even if unseen. Patiently, we wait, knowing our faith will be rewarded in God's timing.
David and Goliath's story (1 Samuel 17) illustrates triumph over daunting obstacles. David, a young shepherd, defeats Goliath with faith in God. This tale inspires us to confront our "giants" confidently, trusting in God's power.
Turn to these verses and stories to find hope and strength to overcome life's challenges. Have faith in God's plan and anticipate a brighter future.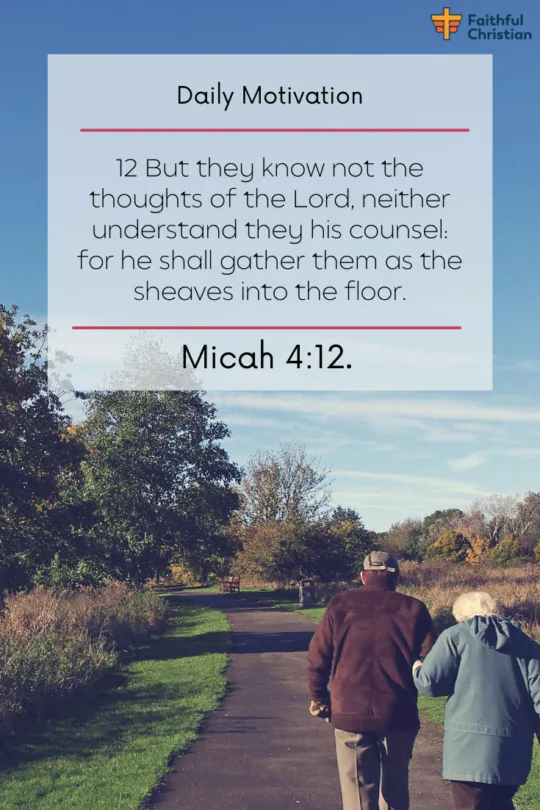 12 But they know not the thoughts of the Lord, neither understand they his counsel: for he shall gather them as the sheaves into the floor.
What awaits you beyond life's challenges?
Ever find yourself questioning God's plan?
During tough times, it's easy to doubt God's intentions. However, it's vital to stay firm in our faith, trusting His vision even when we can't grasp it. His timing is always perfect, so we must learn to be patient.
When facing uncertainty, cling to hope for a brighter future. Believe that God will guide you towards better days.
Trials are a given for God's people. We all encounter difficulties, but they lead us to His kingdom. Life isn't always smooth, but God's plan remains steadfast.
Hold onto hope, even amidst adversity or heartache. Have faith in God to steer you towards a brighter future.
Micah 4:12 reveals God's mysterious ways and how His wisdom is often underestimated. This verse underlines the need to trust His plan, as He knows what's ahead.
The Prodigal Son (Luke 15:11-32) is a beautiful depiction of God's unconditional love and forgiveness. It demonstrates that our future can be redeemed, despite past mistakes. The father embraces his wayward son, giving us hope that God will welcome us similarly.
Jonah and the Whale (Jonah 1-4) highlights the importance of obedience and God's mercy. Even after Jonah's defiance, God still used him to rescue Nineveh, showing that it's never too late to change and pursue a hopeful future.
In closing, trust in God's plan, even during hardships. Trials are part of the journey, but God's love and guidance are unwavering. Embrace hope and anticipate the bright future He has in store for you.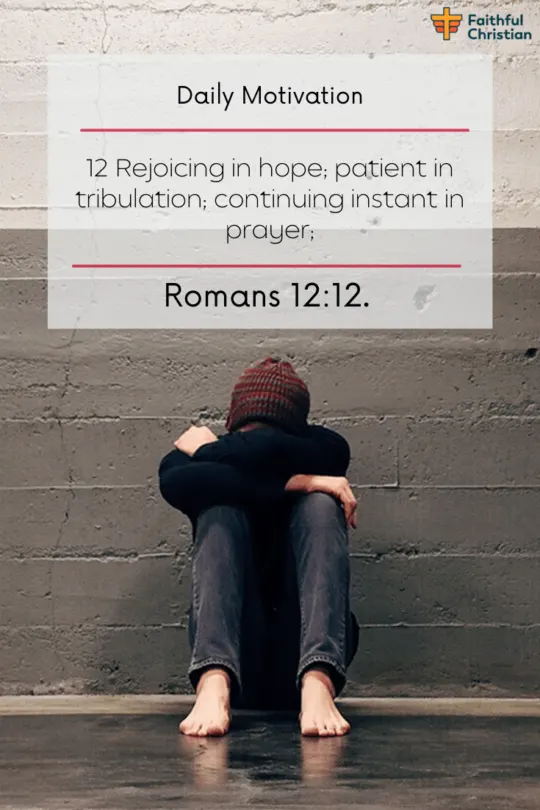 12 Rejoicing in hope; patient in tribulation; continuing instant in prayer;
Romans 12:12 urges us to trust in God's plan, even during tough times.
As Christians, staying hopeful and believing in a brighter future is vital.
Maintain faith in God's power to save us, rather than feeling discouraged or afraid. Patience is key, and we must persist in prayer for strength and divine guidance.
Paul's Conversion (Acts 9) highlights how God uses unexpected people to create hopeful futures, reminding us that challenging periods won't last.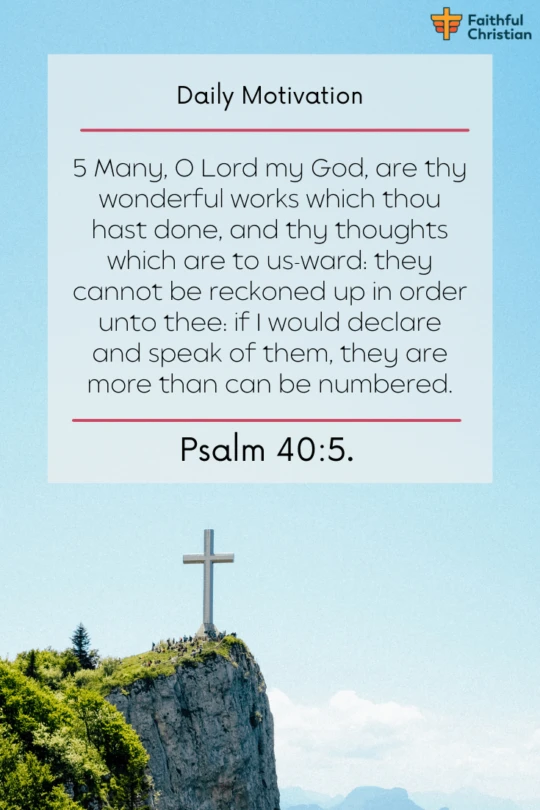 5 Many, O Lord my God, are thy wonderful works which thou hast done, and thy thoughts which are to us-ward: they cannot be reckoned up in order unto thee: if I would declare and speak of them, they are more than can be numbered.
Psalm 40:5 inspires us to value God's endless blessings, even if we don't get everything we want.
Staying grateful for daily provisions and God's unseen gifts is essential.
Trust that He is always with you and will respond to your prayers.
Jesus' miracles demonstrate His might and foster hope in believers, emphasizing the importance of gratitude and trust in God's plan.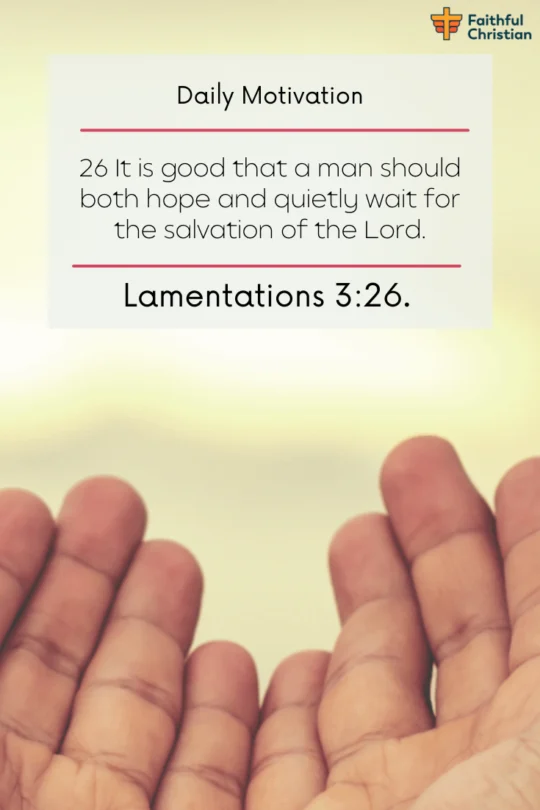 26 It is good that a man should both hope and quietly wait for the salvation of the Lord.
Lamentations 3:26 stresses the necessity of patience and faith in God's perfect timing.
He knows what is best for us and grants blessings accordingly.
Although humans can be impatient and impulsive, God possesses a broader perspective and knows our true needs.
We must remain patient, work diligently, and keep believing in His plan. Remember, He is constantly with you and has never abandoned you.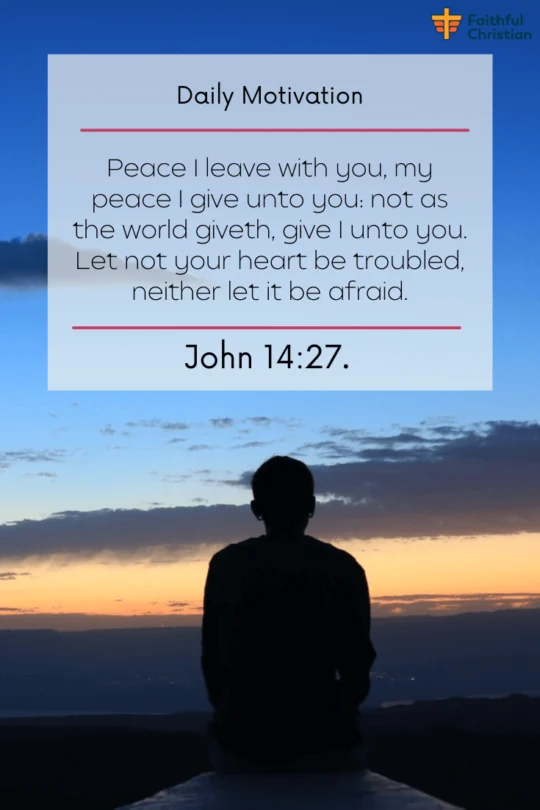 Peace I leave with you, my peace I give unto you: not as the world giveth, give I unto you. Let not your heart be troubled, neither let it be afraid.
John 14:27 comforts us to rely on God, even when hope feels out of reach.
Worry won't alter our circumstances, but through prayer, we can connect with God and depend on His support.
The Resurrection of Jesus symbolizes ultimate hope, as He conquers death and offers eternal life to believers.
This potent message encourages us to stay untroubled and anticipate God's plan for our future.
Psalm 33:22.
Psalm 119:76.
Hebrews 10:23.
1 Thessalonians 5:24.
Hebrews 6:18.
2 Thessalonians 3:3.
Hebrews 3:6.
1 Corinthians 10:13.
Isaiah 55:11.
Matthew 24:35.
Isaiah 46:10.
Psalm 130:5.
Psalm 33:20.
Isaiah 30:18.
Psalm 119:81.
Psalm 62:5.
1 Corinthians 1:9.
Psalm 27:14.
Psalm 147:11.
Deuteronomy 31:6.
Joshua 1:9.
Ephesians 6:10.
Psalm 27:14.
Frequently Asked Questions
What Scripture says about hope for a future?
Discover hope in Jeremiah 29:11, a Scripture offering assurance that God has a purposeful plan for our lives, filled with hope and prosperity.
What Scripture says about looking forward?
Look to Philippians 3:13-14 for inspiration to focus on the future. This passage encourages us to leave the past behind and pursue the future God intends for us.
What Psalm says about the bright future?
Psalm 37:37 envisions a promising future for the righteous. This verse underscores the significance of seeking peace and righteousness to achieve a bright future.
What God says about planning for the future?
For guidance on planning the future, consult Proverbs 16:3. This Scripture teaches us to trust our plans and future to God, allowing Him to direct and shape them according to His will.
How to pray for the future?
To pray for the future, present your dreams and concerns to God with faith. Seek His guidance, wisdom, and discernment. Request strength, perseverance, and steadfast trust in His plan. Remember to express gratitude for His love and presence in your life.
What is the scripture for a successful future?
Joshua 1:8 points to a successful future by following God's Word and reflecting on it, leading to prosperity and success.
What psalm is the prayer for hope?
Psalm 62 serves as a heartfelt prayer for hope, instilling trust in God as a refuge. This Psalm encourages us to put our hope in God, the source of our strength and salvation.
What Scripture says I will lift up mine eyes?
Psalm 121:1-2 directs us to seek help from above. This passage urges us to rely on God for support, as He is the Creator and sustainer of all things.
Where in the Bible does it say surely there is a future?
Proverbs 23:18 reassures us of a hopeful future. This verse comforts us with the knowledge that our future in God brims with hope, and our trust in Him will not be in vain.
Author: Akatakpo Dunn
Dr. Akatakpo Dunn is a dedicated follower of Christ, an active member and speaker, and an ongoing learner of the Scriptures. Passionate about his faith and serving others, he is committed to sharing his spiritual journey and insights to inspire and uplift fellow believers. He has been active in the church for more than 23 years. Through The
Faithful Christian Blog
,
Dr. Dunn
combines his love for God, philanthropy, and Scripture, providing a valuable resource for those seeking to grow in their faith.
Follow me: on Youtube, Facebook, Twitter, Instagram, and Pinterest.
Content Disclosure:
At The Faithful Christian Blog, I create authentic and inspiring content. Although I am the main author, I occasionally use AI for minor language enhancements. This minimal AI usage ensures high-quality, trustworthy articles without compromising originality or sincerity, ultimately supporting our shared faith journey.
Warmly,
Dr. Akatakpo Dunn
Was this article helpful?