Facing life's struggles can be challenging, but we're never alone in our journey.
In this article, we delve into inspiring Bible verses about life struggles (NIV) that offer solace and guidance for overcoming adversity.
Are you seeking comfort and strength in times of hardship?
Through these powerful scriptures, you'll discover how God's Word provides hope and encouragement, reminding us that we have the strength to persevere even in the most difficult moments.
"You are my hiding place; you will protect me from trouble and surround me with songs of deliverance." – Psalm 32:7
As you explore these uplifting verses, gain a deeper understanding of how God's presence can transform your perspective on life's challenges. Let these biblical truths empower you to overcome adversity with resilience and grace.
Ready to embrace God's wisdom and strength in your life?
Join us on this journey as we uncover the valuable lessons within these Bible verses, allowing you to face life struggles with courage and unwavering faith.
Bible verses about life struggles (NIV)
1. Psalm 46:1-3 (NIV), – bible verse about overcoming adversity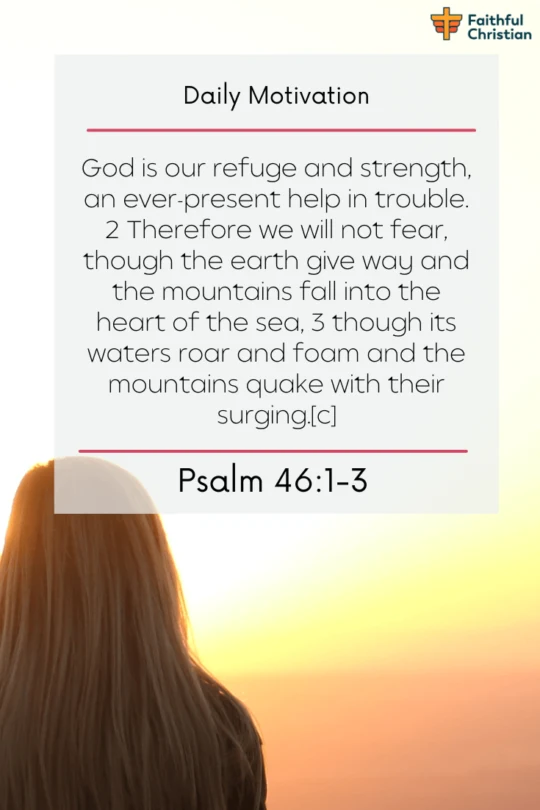 God is our refuge and strength, an ever-present help in trouble. 2 Therefore we will not fear, though the earth give way and the mountains fall into the heart of the sea, 3 though its waters roar and foam and the mountains quake with their surging.[c]
In the face of life's struggles and adversity, Psalm 46:1-3 offers comfort and guidance. The psalmist reassures us that God is our stronghold and ever-present help.
As we confront life's uncertainties and challenges, these words remind us to trust God and rely on His strength.
Life's struggles can make us feel overwhelmed and isolated. Yet, Psalm 46:1-3 promises that God is our refuge, providing solace and protection.
By praying and trusting His promises, we find comfort, knowing we're never alone in our battles.
Adversity may cause feelings of weakness and fear. Looking to God as our source of strength helps us find the courage to face challenges.
Psalm 18:2 portrays God as our rock, fortress, and deliverer, assuring us of His support in overcoming obstacles.
Faith is essential in conquering life's struggles. Trusting God and His promises connect us with a powerful source of strength, helping us persevere through tough times.
Psalm 91:2 invites us to trust the Lord, our refuge and fortress, where we find safety and security.
Trusting God during difficult times is vital for overcoming adversity. The story of David and Goliath (1 Samuel 17) showcases a young shepherd's unwavering faith in God.
Despite his size and inexperience, David faced his fears and triumphed over the giant warrior.
Fear is a common response to life's struggles, but it can paralyze us. Psalm 46:1-3 encourages us to rely on God, overcoming fears and facing challenges with confidence.
By focusing on God's promises and love, we gain strength to conquer our fears and achieve victory.
In conclusion, the powerful message in Psalm 46:1-3 offers hope and encouragement as we face life's struggles and adversity.
Trusting in God, finding strength through faith, and overcoming fears lead to peace and assurance.
When life's storms arise, remember the psalmist's words and turn to the One who always provides shelter, strength, and comfort amid the storm.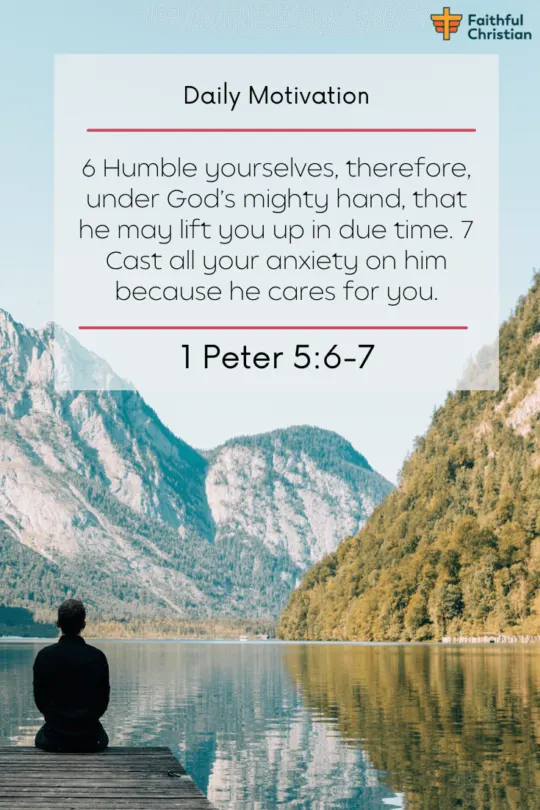 6 Humble yourselves, therefore, under God's mighty hand, that he may lift you up in due time. 7 Cast all your anxiety on him because he cares for you.
Life is full of challenges that test our faith and strength. In such times, the Bible offers comfort and guidance. A passage that provides solace and wisdom is 1 Peter 5:6-7 (NIV). It teaches us to rely on God and let go of our worries.
Bible Verses for Overcoming Adversity and Struggles show that God is always with us. He offers peace and strength in times of need. We must be humble before God and recognize His sovereignty. This draws us closer to Him.
Jesus in the garden of Gethsemane shows profound humility and trust in God. (Matthew 26:36-46).
As Jesus faced crucifixion, He prayed for comfort and guidance, ultimately surrendering to God's will in His darkest hour. This example highlights the profound strength of faith.
In modern times, we can also experience the power of faith. Picture losing your job suddenly and feeling overwhelmed.
By casting your anxieties on God, as 1 Peter 5:6-7 advises, you can find peace and guidance. Following Jesus' example, we can overcome adversity through faith.
Other scriptures deepen our understanding of God's care. Matthew 11:28-30 offers comfort that God is always willing to ease our struggles.
Philippians 4:19 encourages us to trust God with our worries, knowing that He will provide.
Prayer is a potent means to conquer adversity, enabling communication with God, sharing fears, and requesting guidance. It instills calm and peace as we trust in God's care.
In conclusion, Bible Verses for Overcoming Adversity and Struggles, like 1 Peter 5:6-7, offer hope and strength.
As we learn to humble ourselves, trust God, and cast our cares upon Him, we find solace and guidance to face any challenge. Embracing the power of prayer and surrender, we find peace and strength in God's loving embrace.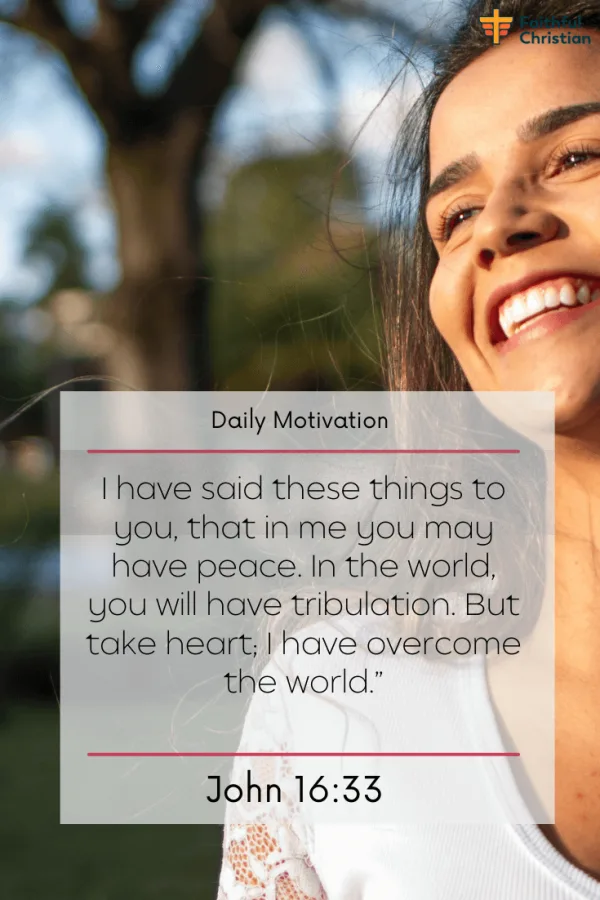 33 "I have told you these things, so that in me you may have peace. In this world you will have trouble. But take heart! I have overcome the world."
Life is full of challenges and obstacles. In these times, we seek strength and comfort. John 16:33 (NIV) offers hope. This verse reminds us that through Christ, we can overcome life's struggles.
The world is full of trials, but Jesus ensures us of His victory. By conquering the world, He provides us with the means to overcome adversity. Through faith in Him, we find solace and draw strength from His triumph.
As Christ's believers, we have access to the power that helped Him overcome the world. Romans 8:37 (NIV) says, "No, in all these things we are more than conquerors through Him who loved us."
This scripture highlights the promise of victory in Christ. With unwavering faith, we can conquer life's challenges.
Faith in Jesus is a powerful force against adversity.
1 John 5:4 (NIV) states, "for everyone born of God overcomes the world. This is the victory that has overcome the world, even our faith." By nurturing our faith, we can face struggles with courage and achieve victory.
Jesus offers us peace amid chaos. Trusting in Him, we can find inner calm that surpasses our circumstances. This peace helps us stand firm against life's storms.
Paul and Silas in Acts 16:25-34 show the power of faith in Christ. Imprisoned and beaten, they prayed and sang hymns.
Their steadfast faith led to a miraculous earthquake, freeing them and leading the jailer and his family to believe in Jesus.
In conclusion, scriptures about overcoming life struggles through Christ offer hope and power to triumph over adversity.
By placing our faith in Jesus, we can face challenges with confidence and ultimately conquer life's obstacles. With Christ by our side, we are more than conquerors.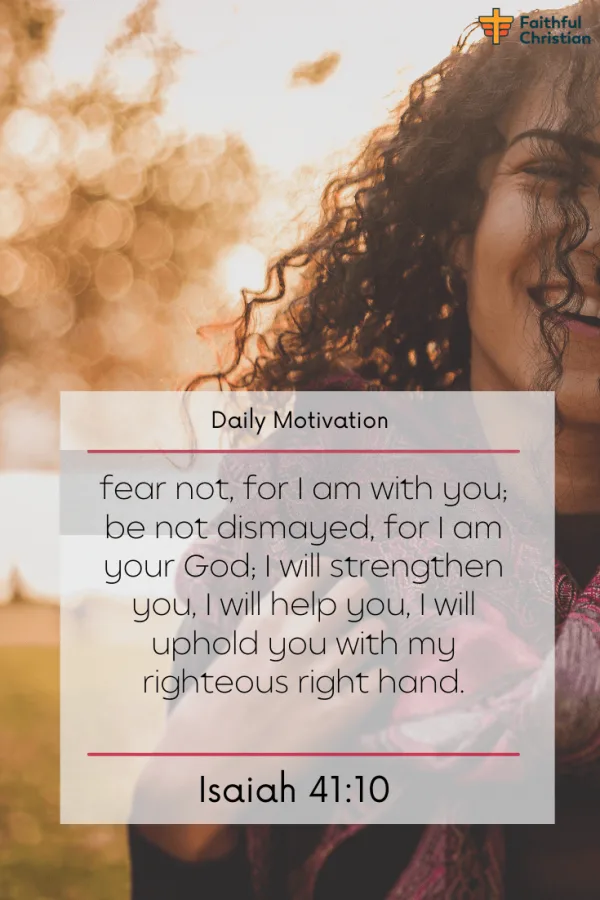 So do not fear, for I am with you;do not be dismayed, for I am your God. I will strengthen you and help you;I will uphold you with my righteous right hand.
Facing life's struggles and adversity often leaves us seeking strength and guidance. The Bible, especially Isaiah 41:10 (NIV), offers a powerful source of inspiration.
This verse tells us not to fear, as God is with us and will strengthen and help us.
Isaiah 41:10 is a comforting promise from God. It reminds us that we're never alone during tough times. God's presence provides us with encouragement and strength, allowing us to tackle challenges with hope and confidence.
God's help and strength are also assured in Isaiah 41:10. This reminder highlights that we don't face struggles alone. We can rely on God's support, always available to help in our time of need.
Fear and uncertainty can be overwhelming. Yet, Isaiah 41:10 shows that faith in God's presence helps us find courage to overcome adversity.
Deuteronomy 31:6 and Joshua 1:9 also emphasize trusting in God's power, encouraging us to be strong and brave.
Life struggles can make us question our path. Trusting in God's plan is vital during such times. Isaiah 41:10 encourages reliance on God's wisdom and guidance, enabling us to persevere through adversity.
In life's challenges, seeking God's guidance is crucial. Moses, who led the Israelites through the wilderness (Exodus), exemplifies this principle.
Despite facing obstacles, Moses constantly turned to God, eventually leading the Israelites to their Promised Land.
In conclusion, the Bible offers invaluable wisdom and encouragement for overcoming life's struggles.
Verses like Isaiah 41:10, Deuteronomy 31:6, and Joshua 1:9 remind us of God's unwavering presence, strength, and guidance.
By embracing these truths and seeking God's help, we can overcome adversity and emerge stronger in our faith.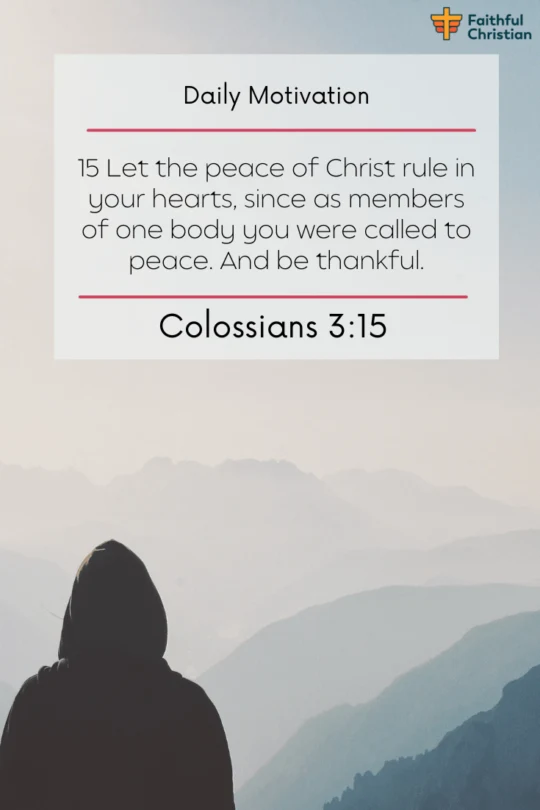 15 Let the peace of Christ rule in your hearts, since as members of one body you were called to peace. And be thankful.
In life, we often face struggles and adversity. Amidst these challenges, finding peace can seem impossible. Yet, Colossians 3:15 (NIV) offers a powerful reminder to let Christ's peace rule our hearts.
This divine peace is not just the absence of conflict. It's a deep sense of tranquility and wholeness (Philippians 4:7). By embracing Christ's peace, we become more resilient during tough times.
Gratitude is essential for finding inner peace. Focusing on our blessings helps us stay grounded and connected to God, our source of peace. When we're thankful, our perspective shifts, and peace becomes attainable.
Unity and harmony are also crucial. The Apostle Paul faced many trials but responded peacefully (Acts). He knew that unity was key to overcoming adversity and finding peace.
Trusting God's plan for our lives is vital.
Isaiah 26:3 says, "You will keep in perfect peace those whose minds are steadfast, because they trust in you." When we trust in God's goodness, we can be at peace, knowing our lives are in His loving hands.
In conclusion, embracing Christ's peace is essential for navigating life's challenges.
By allowing His peace to rule, practicing gratitude, maintaining unity, and trusting in God's plan, we can find the strength and resilience to face life's struggles.
Engaging with Scriptures like Colossians 3:15, Philippians 4:7, and Isaiah 26:3 offers divine wisdom and guidance, leading us to experience Christ's peace, even in life's storms.
16 Now may the Lord of peace himself give you peace at all times and in every way. The Lord be with all of you.
Life's struggles and adversities often leave us seeking peace and tranquility. The Bible provides guidance and comfort in these challenging times.
One inspiring passage is 2 Thessalonians 3:16 (NIV). It reminds us that solace is found in God's presence, and we can rely on His promises to overcome adversity.
The Bible consistently shows God's commitment to providing peace and comfort. In Numbers 6:24-26, God promises to protect, be gracious, and give peace to His people.
Romans 15:13 speaks of the hope and peace from believing in God. The Lord of peace is always ready to offer His divine peace, regardless of life's circumstances.
During adversity, knowing that God is always with us brings immense comfort. The biblical story of the disciples receiving peace after Jesus' resurrection (John 20:19-21) showcases God's transformative presence.
Despite fear and uncertainty, the disciples found solace when Jesus appeared, offering His peace. This story reminds us that God's presence brings comfort and reassurance even in our darkest moments.
Life is unpredictable, and we often feel overwhelmed and anxious. In these moments, trusting God and believing He will provide peace is crucial.
Placing faith in God's promises and His ability to bring peace enables us to face life's challenges with confidence and hope.
God's promises of peace and protection are found throughout the Bible. These promises offer hope and guidance in adversity.
By trusting in them, we can overcome struggles and become stronger and more resilient. Our faith in God's promises allows us to face adversity courageously, knowing He is by our side, ready to provide the peace we need.
Prayer is essential in our relationship with God. It allows us to communicate our fears, worries, and desires. In times of struggle, prayer becomes vital in seeking God's peace and guidance.
Praying strengthens our faith and deepens our connection with God. Through prayer, we find the peace and comfort needed to overcome life's challenges and emerge stronger.
In conclusion, the Bible offers wisdom and encouragement for facing life's struggles and overcoming adversity.
Passages like 2 Thessalonians 3:16 remind us of the peace found in God's presence, the importance of trusting His promises, and the power of prayer in seeking His peace.
By embracing these truths, we can face life's challenges courageously, knowing He is always with us and ready to provide the peace we need.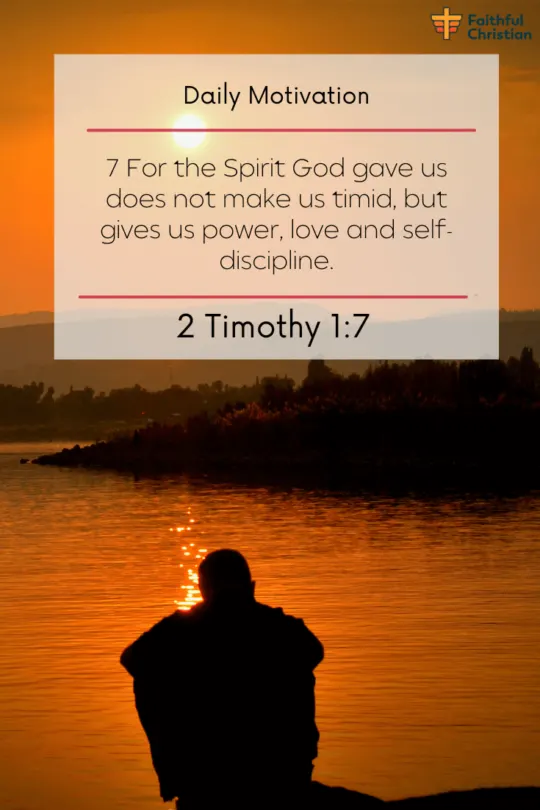 7 For the Spirit God gave us does not make us timid, but gives us power, love and self-discipline.
Facing life's struggles and adversity can be daunting, but we're never alone. Through faith, we tap into a spirit of power, love, and self-discipline.
This Scripture offers guidance and inspiration, helping us conquer fear and challenges with grace and determination.
God's gift of power, love, and self-discipline is crucial. The Holy Spirit is our source of strength, empowering us to face life's obstacles courageously.
Trusting God's guidance and relying on faith, we can navigate difficult times with confidence.
The biblical story of Daniel in the lion's den (Daniel 6) illustrates overcoming fear through the Holy Spirit. Daniel, a man of unwavering faith, faced a den of lions as punishment for his devotion to God.
Instead of succumbing to fear, he trusted God's protection, emerging unscathed. This story shows the power of faith in facing life struggles.
Romans 8:15 further emphasizes the role of faith and the Holy Spirit. It states, "For you did not receive the spirit of bondage again to fear, but you received the Spirit of adoption by whom we cry out, 'Abba, Father.'"
This scripture reminds us we are God's children and have access to His strength and guidance. Turning to God in times of need, we can conquer fear and challenges.
1 John 4:18 highlights the power of love in overcoming fear and adversity. It reads, "There is no fear in love. But perfect love drives out fear because fear has to do with punishment. The one who fears is not made perfect in love."
Embracing God's love and sharing it with others, we cultivate courage and strength to face life's struggles head-on.
In conclusion, we have access to a spirit of power, love, and self-discipline through faith in God. We can overcome fear and grow stronger by trusting His guidance and embracing the Holy Spirit.
The Scriptures for Courage in Life Struggles, like 2 Timothy 1:7, remind us of God's presence and the strength we can draw from faith.
Inspired by these scriptures and the examples of people like Daniel, let us trust in God and triumph over adversity.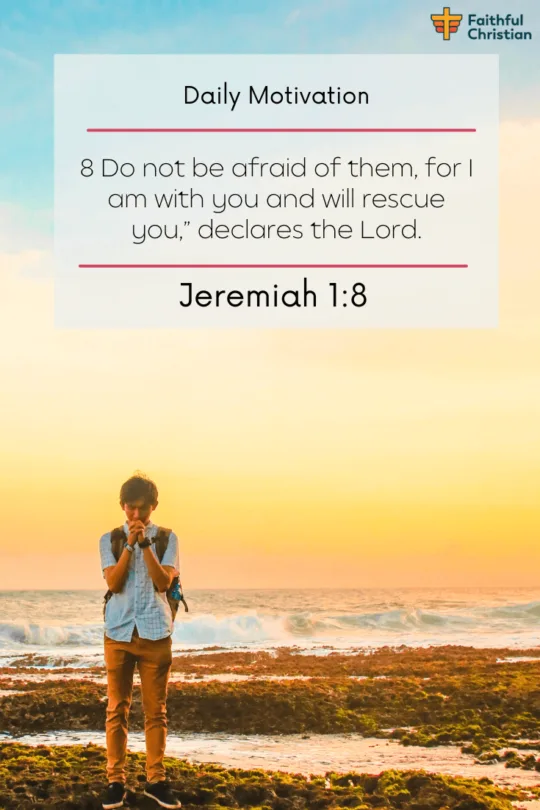 8 Do not be afraid of them, for I am with you and will rescue you," declares the Lord.
Jeremiah 1:8 (NIV) offers hope during life's struggles, promising God's presence and rescue. Exodus 3:12 and Isaiah 43:2 reinforce this message, emphasizing God's unwavering presence and protection throughout life's challenges.
Joseph's story in Genesis 37-45 is a testament to trusting God's plan, even in adversity. Despite setbacks like slavery, false accusations, and imprisonment, Joseph's faith never wavered.
Ultimately, he saved his family and the region from famine.
God's presence empowers us to face our fears and conquer adversity. Trusting His promises lets us step out in faith, confident in His protection and provision. Relying on God helps us face challenges without fear or anxiety.
Obedience to God is vital, especially in tough times. It's tempting to rely on our understanding instead of seeking God's guidance.
However, the Bible, through examples like Joseph, shows that obedience leads to blessings in difficulties. By submitting to God's will, we experience His help and deliverance.
God is our source of strength and protection in life's struggles. Relying on Him, we can be confident He will carry us through.
In adversity, it's God's strength, not ours, that empowers us to overcome. Trusting God, we find refuge and comfort during life's storms.
In conclusion, Jeremiah 1:8 and related verses offer hope and reassurance amidst life's struggles.
Trusting God's promises, embracing His presence, and following His guidance help us overcome fear, remain obedient, and rely on His strength.
As we face challenges, remember God is always with us, ready to rescue and help. With faith and guidance, we can navigate life's storms confidently, knowing our loving Father walks with us every step of the way.
34 Therefore do not worry about tomorrow, for tomorrow will worry about itself. Each day has enough trouble of its own.
In today's world, worries about the future are common. Life's challenges can make us feel anxious and uncertain. But the Bible offers us valuable wisdom for overcoming worry and living in the present.
Matthew 6:34 (NIV) encourages us not to worry about tomorrow. Instead, we should focus on today's troubles. By trusting in God's guidance, we can overcome anxiety and embrace life's journey.
Living in the present is key to overcoming worry. Engaging fully with each day's experiences builds resilience and adaptability.
Proverbs 3:5-6 reminds us to trust in God and submit to His guidance. This trust enables us to let go of worry and embrace the present moment.
Relying on God to provide for our daily needs is vital. By focusing on His promises, we can find comfort even in challenging times.
The story of God providing manna for the Israelites in Exodus 16 shows us His faithfulness. Despite their fears, they trusted in His provision.
Faith in God's provision helps us overcome anxiety. Recognizing that God is in control brings peace amid adversity.
James 4:13-15 reminds us that our lives are in His hands. Instead of worrying about the future, we should trust in Him.
It is important to live each day as it comes. By focusing on the present, we appreciate each day as a gift. We can trust in God's plan and timing without trying to control every detail of our lives.
Seeking God's guidance in uncertainty brings peace and reassurance. Turning to Him in prayer and seeking His wisdom strengthens us. With confidence, we can face each day, knowing He is with us every step of the way.
In conclusion, Scriptures for Overcoming Worry teach us to focus on the present, trust in God's provision, and seek His guidance.
Embracing these principles helps us find peace and overcome anxiety. As we face life's challenges, let's remember to live one day at a time, trusting that God is always by our side.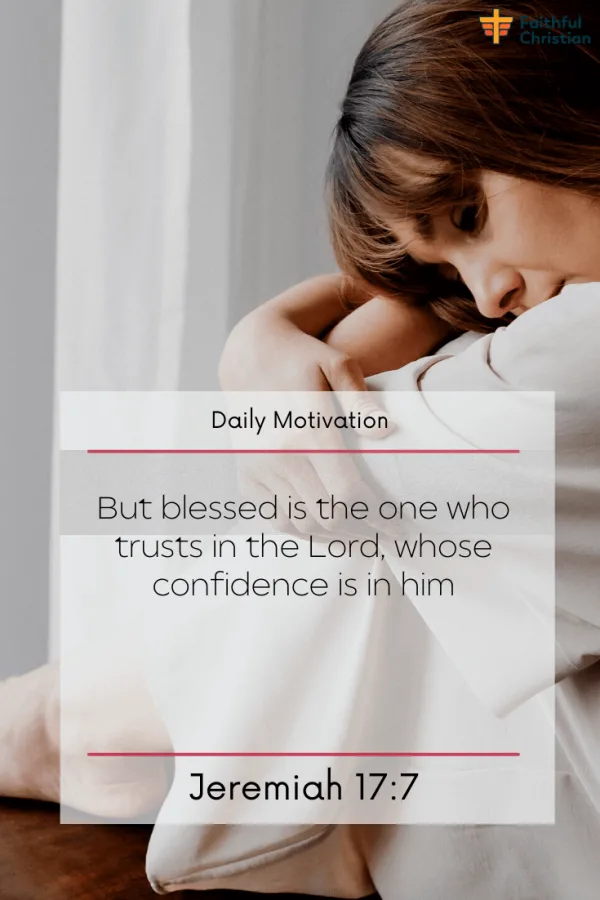 "But blessed is the one who trusts in the Lord,whose confidence is in him.
In times of struggle, finding strength is vital. Jeremiah 17:7 (NIV) reminds us to trust in the Lord. With God's help, we can overcome life's challenges.
Let's explore this verse, using Psalm 1:1-3 and Proverbs 3:5-6 as supporting scriptures.
Picture a tree planted by the water. This is the image Jeremiah 17:7 paints for those who trust in the Lord. Psalm 1:1-3 echoes this idea.
When we're rooted in God's Word, we find nourishment and stability. In adversity, our faith becomes sustenance, helping us grow spiritually.
To overcome adversity, rely on God. Proverbs 3:5-6 emphasizes this. Trusting in the Lord means acknowledging our limitations. By submitting our struggles to Him, God can guide us through life's storms.
Spiritual growth is crucial during tough times. Facing adversity tests and refines our faith, resulting in a stronger connection with God. This growth equips us to handle future challenges with resilience and courage.
Stability and strength in faith are essential for overcoming life's struggles. Trusting God provides a solid foundation for our lives. With God's strength, we can face adversity and navigate through difficult times.
The story of Job exemplifies the blessing of trusting God in hard times. Despite immense hardships, Job's faith never wavered. In the end, God rewarded his trust with even greater blessings.
In conclusion, Jeremiah 17:7, Psalm 1:1-3, and Proverbs 3:5-6 inspire us to trust God during tough times.
Relying on His strength, we can find stability, nurture spiritual growth, and enjoy the rewards of a faithful relationship with Him. Turn to God's wisdom when in need, and trust Him to help overcome life's challenges.
What does the Bible teach about life struggles?
Everyone faces challenges, including Adam and Eve and even Jesus Christ. What truly matters is how we respond to these trials.
Consider Job, a man who experienced immense struggles while serving God. He wasn't an ordinary servant; he was blameless and devoted. Yet, he faced significant trials.
Job lost his ten children and all his wealth in a single day, and he became seriously ill. Still, he remained steadfast. Two lessons from Job's story can inspire us.
God always protects us
The devil has no power over us unless God allows it.
In Job's case, the devil said, "Have you not put a hedge around him and his household and everything he has? You have blessed the work of his hands, so that his flocks and herds are spread throughout the land." (Job 1:10)
We often forget God's past provisions and protection. Remember to be grateful for each day and the constant care God provides.
The righteous may still face adversity
Sometimes, we may feel disappointed that God allows us to encounter challenges despite our devotion. Job's inspiring words offer comfort: "Shall we accept good from God, and not trouble?" (Job 2:10)
God has blessed and protected us in countless ways. When facing difficulties, remember His past provisions and remain steadfast in faith, just like Job.
Frequently Asked questions
Who in the Bible had struggles?
Numerous biblical figures faced struggles. Job, a faithful servant, suffered immensely, losing his wealth, children, and health. Despite this, his devotion to God never wavered (Job 1-2).
Joseph, too, faced betrayal, false accusations, and imprisonment. Yet, he rose to power in Egypt and forgave his brothers (Genesis 37-50).
These stories show that even the most devoted people encounter challenges, but trusting in God leads to triumph.
How to overcome challenges in life with Bible verses?
Overcoming life's challenges with Bible verses involves immersing yourself in God's Word and drawing strength from its teachings.
Verses like Philippians 4:13 and Isaiah 41:10 remind us that God is our support in difficult times. Reflecting on these verses and applying their wisdom helps us face adversity with faith and resilience.
What verse is in the face of adversity?
Facing adversity, Psalm 46:1-3 offers comfort, emphasizing God's unwavering presence and support. It provides hope and security when challenges arise.
What is an inspirational Bible quote about life and struggles?
James 1:2-4 is an inspirational Bible quote about life and struggles, encouraging us to view trials as opportunities for spiritual growth. Embracing adversity with perseverance leads to a mature and complete faith.
Author: Akatakpo Dunn
Dr. Akatakpo Dunn is a dedicated follower of Christ, an active member and speaker, and an ongoing learner of the Scriptures. Passionate about his faith and serving others, he is committed to sharing his spiritual journey and insights to inspire and uplift fellow believers. He has been active in the church for more than 23 years. Through The
Faithful Christian Blog
,
Dr. Dunn
combines his love for God, philanthropy, and Scripture, providing a valuable resource for those seeking to grow in their faith.
Follow me: on Youtube, Facebook, Twitter, Instagram, and Pinterest.
Content Disclosure:
At The Faithful Christian Blog, I create authentic and inspiring content. Although I am the main author, I occasionally use AI for minor language enhancements. This minimal AI usage ensures high-quality, trustworthy articles without compromising originality or sincerity, ultimately supporting our shared faith journey.
Warmly,
Dr. Akatakpo Dunn
Was this article helpful?