Trust in the Lord with all your heart and lean not on your own understanding
We've all faced frightening challenges in the past.
And it does not end there.
The devil continues to tempt us daily in diverse ways.
When you are fearful about where you are, it's important to always consider the book of Proverbs 3:5.
King Solomon, the wisest king in his time, admonishes us to never lean on our own understanding.
Instead, we must trust in God first, before anything else.
But here is the truth.
Trusting God is not an easy thing to do.
And that's because, as humans, we need an easy and quick escape from our trials.
For instance, If you are yet to get a job for years, it is difficult to continue trusting God.
Likewise, if you are sick for years, it is normal that you will steadily lose your faith in God.
And there is also nothing wrong with doubting God. We are humans after all.
I read through the story of Sarah and Abraham.
When she was told she would have a child, she laughed.
At that point, It was difficult for Sarah to trust in the Lord.
She was ninety years old and could never imagine getting pregnant at that age.
But God had a plan from the beginning.
Then the Lord said to Abraham, "Why did Sarah laugh and say, 'Will I really have a child, now that I am old?'  Is anything too hard for the Lord? I will return to you at the appointed time next year, and Sarah will have a son." Genesis 18:13
In the end, God fulfilled his promise and Sarah conceived and had a child.
If you are finding it difficult to trust in the Lord with all your heart, mind, and soul, here are inspiring bible verses to invigorate you.
---
Recommended for you
---
Trust In the Lord with all your heart (Bible verses)
Psalm 37:5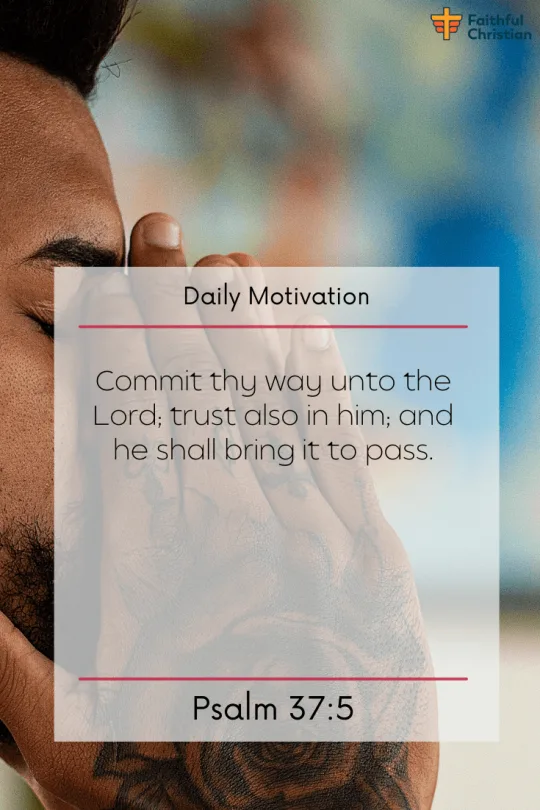 Commit thy way unto the Lord; trust also in him; and he shall bring it to pass.
When we explore Psalm 37:5, we find a full invitation. This verse encourages active surrender of our lives and our plans to God's guiding hand.
Imagine your life as a journey. You have a plan and a destination in mind. Psalm 37:5 asks us to hand our roadmap to God. This isn't a demand, it's an offering of relief. Similar to a child trusting a parent to navigate a crowded marketplace, we're invited to place our lives in God's hands.
Let's recall Abraham's narrative. God instructed him to leave his familiar surroundings and venture into uncharted territory (Genesis 12:1-4). It was a difficult call, but Abraham heeded it. He entrusted his path to God. We're asked to express the same level of trust in our lives, opening ourselves to immense comfort and strength.
In modern terms, consider this scenario: you're in a stable job, but feel a tug towards something bigger – perhaps initiating a ministry or a non-profit. The prospect is intimidating. Yet, you make the jump, leaning on God's guidance. This is what Psalm 37:5 means in our contemporary context.
However, entrusting our path to God doesn't mean mere resignation. It's a deep-rooted belief that God will act in our best interest, even when outcomes defy our expectations. As per Proverbs 16:3, as we trust God, our desires align with His will, and our plans flourish.
Relinquishing control is tough in a world that prizes self-reliance. But trust in God's timing means believing "He shall bring it to pass" at the perfect moment.
Psalm 37:5 reassures us of God's ideal timing, even when it clashes with our timelines. Psalm 55:22 bolsters this theme of surrender and trust, reminding us that God sustains us during adversity.
In life's journey, we travel with purpose, not aimlessly. As we "commit our way to the Lord," we find our trust well-placed. God holds our maps, guiding us at every bend.
Psalm 46:10
Be still, and know that I am God: I will be exalted among the heathen, I will be exalted in the earth.
Imagine being trapped, a sea in front and a menacing army at your heels. That's the scene in Exodus 14. In the face of fear and seeming defeat, they heard a potent command: "Be still."
The echo of this command rings in Psalm 46:10, urging us to pause and perceive God's omnipotence. Amid our worries, choosing to be still carves out a sacred space, where we feel God's presence and grasp His majesty.
To trust in God entirely, we need to acknowledge His divine wisdom over our limited understanding. Trusting God isn't a passive surrender; it's an active embrace of His superior guidance.
God's declaration of His exaltation among nations in Psalm 46:10 reaffirms His ultimate authority. Trusting Him gives us the reassurance that He is in control, even when circumstances seem bleak. Our faith in Him becomes our sanctuary amidst life's tempests.
An individual battling a health crisis illustrates the practical application of this trust. Amid fear and uncertainty, they found peace in prayer and meditation. They chose to trust God with their situation, finding tranquility in the midst of turbulence.
Stillness is vital in fostering our relationship with God. It's in these quiet moments that we open our hearts to His divine intervention, making room for the miraculous. This relationship with God, underpinned by trust, enriches our lives, giving us peace in times of storm.
In conclusion, trusting in the Lord is a deliberate choice. It's choosing stillness in chaos, listening amidst noise, and acknowledging His sovereignty when overwhelmed. It's a courageous declaration: "I may not comprehend, but I trust You, Lord." This trust, ultimately, is what transforms us.
Jeremiah 17:7
Blessed is the man that trusteth in the Lord, and whose hope the Lord is.
Ever felt like a wind-tossed tree, grappling to stand amidst life's storms? Let's delve into Jeremiah 17:7.
The verse paints a vivid image: a tree planted by water, extending its roots deep into the fertile soil. This symbolizes those who place their unwavering trust in the divine.
The analogy is rich and meaningful. The tree signifies steadfast faith, its roots representing our souls yearning for God's presence. As we draw nearer to Him, our faith roots deepen, cultivating stability and resilience. This concept echoes Psalm 1:3, which further illustrates the benefits of trust: a thriving life that flourishes despite trials.
Trials are inevitable. As a tree endures drought, we confront adversities. However, Jeremiah 17:7 offers solace and inspiration, encouraging us to remain steadfast: "They will be like a tree planted by the water that sends out its roots by the stream. It does not fear when heat comes; its leaves are always green."
This depicts a serene confidence that trust in the Lord instills within us.
Consider the biblical account of Joseph (Genesis 37, 39-41). Despite being sold into slavery and unjustly imprisoned, Joseph remained firmly rooted in God. His faith never faltered, leading him to a position of authority in Egypt. This narrative underlines the enduring power of trust in God, even in the face of hardship.
Joseph's story is far from an anomaly. Jeremiah 17:8 underscores the lasting nature of trust in God: "They will have no worries in a year of drought and never fail to bear fruit." Trust in God remains steadfast, irrespective of the circumstances, and always bears fruit.
Here's what I'd like us to take away: Trust in God isn't transient; it's enduring, much like the tree beside the water. Amid fluctuating seasons and circumstances, we can maintain deep-rooted faith, undeterred and unafraid. It's a life-long journey, replete with God's peace, strength, and the promise of perpetual fruitfulness.
A single verse opens a world of understanding, where trust forms our spiritual bedrock, and faith, our sustenance. Let's aim to emulate the tree by the water, standing tall and fruitful, irrespective of the season.
Proverbs 28:26
He that trusteth in his own heart is a fool: but whoso walketh wisely, he shall be delivered.
Proverbs 28:26 sparks deep introspection. It offers critical guidance to those seeking to "Trust in the Lord with All Your Heart."
Our hearts can be misleading, as cautioned in Jeremiah 17:9. We often find ourselves swayed by inner voices promoting self-reliance. However, Proverbs 28:26 alerts us to the risks of this approach, hinting at the folly of such trust.
King Solomon's story, documented in 1 Kings 3:5-14, is an apt example. He chose wisdom over riches or power, thus displaying a clear trust in God's wisdom. He acknowledged his limitations, acting contrary to the self-dependence that Proverbs 28:26 discourages. This tale illustrates that wisdom is a divine gift, not a human attribute.
Proverbs 3:7 says, "Do not be wise in your own eyes; fear the Lord and shun evil." Solomon took this to heart, recognizing the fallibility of human wisdom. His request for divine wisdom symbolizes humility, a prerequisite for trust in God.
As we journey through life's challenges, our trust must be discerning. Proverbs 28:26 encourages us to lean on God's wisdom for protection. This discernment is vital to navigate life's maze effectively.
Walking wisely, as suggested by the verse, involves seeking divine guidance. Like Solomon, we should pause and pray when decisions loom, rather than trusting our own understanding. This wisdom often contradicts our instincts but yields more fruitful outcomes.
In sum, Proverbs 28:26 guides us in trusting the Lord with all our hearts. True trust lies in choosing humility over pride, discernment over haste, and God-reliance over self-reliance. Such a journey leads us to the serenity and assurance found in walking wisely with God.
Isaiah 12:2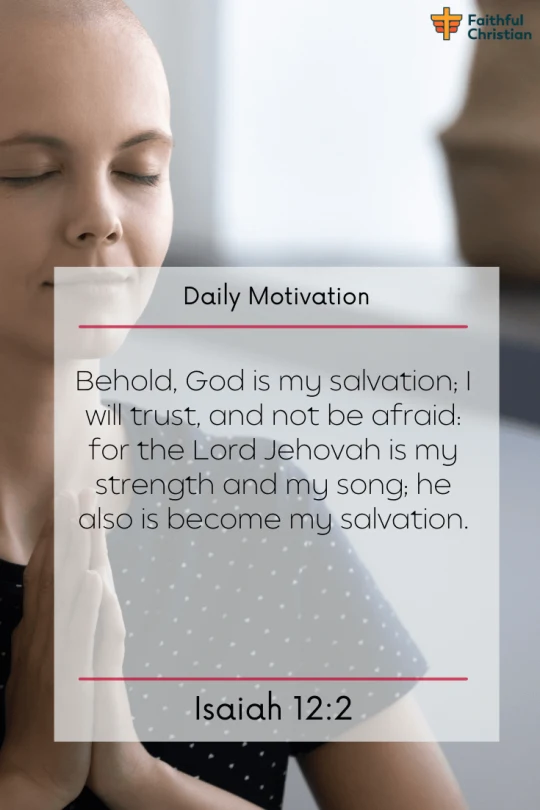 Behold, God is my salvation; I will trust, and not be afraid: for the Lord Jehovah is my strength and my song; he also is become my salvation.
Imagine yourself at a crossroads of uncertainty. In these moments, Isaiah 12:2 brings comfort.
Trust is not a fleeting emotion; it is a deliberate choice. It's choosing to believe in the transformative power of faith, even when the ground beneath us trembles.
Let's delve into this deeper. The Lord Jehovah is referred to as our "strength and song."
Strength implies defense, a refuge, an unyielding tower of protection. Do you see the power in that? God isn't merely a passive observer. He actively safeguards us, reinforcing the feeling of security that blossoms from trust.
And song? It denotes joy, the kind that wells up within and cascades out of us like a melodious stream. Herein lies a fundamental truth. Trust in the Lord is not a solemn march; it's a joyous dance!
Isaiah 26:4 further illustrates this: "Trust in the Lord forever, for the Lord God is an everlasting rock." God is our everlasting rock, enduring and steadfast. The metaphor drives home His unchanging nature, offering unyielding support.
Psalm 27:1 adds, "The Lord is my light and my salvation; whom shall I fear?" Here, God's light extinguishes fear, a constant source of reassurance.
Remember Jesus in the Garden of Gethsemane, confronted by imminent crucifixion? His prayer in Luke 22:42 illuminates His trust in God: "Father, if you are willing, take this cup from me; yet not my will, but yours be done." Even in deep anguish, Jesus exhibited unwavering trust, accepting God's will over His fear.
This is the essence of trust in God. It's an empowering choice. We're not just to passively receive God's salvation but actively lean on His strength. We're invited to echo His joyous song, despite the world's cacophony. It's about letting God's love light our path, not simply closing our eyes to fear.
In conclusion, trust in God is transformative. It's not just an intellectual concept, but a heartfelt decision impacting our lives. Today, choose trust. Embrace His love, strength, and experience the comfort and joy of trusting in the Lord wholeheartedly. He's not just our strength; He's our song of joy too!
Psalm 13:5
But I have trusted in thy mercy; my heart shall rejoice in thy salvation.
"Trust in God's unfailing love; rejoice in His salvation." This is the essence of Psalm 13:5, a call for unwavering faith even amidst adversities. It underlines the intersection of trust, God's mercy, and the joy that arises from this unique connection.
Delve deeper into the psalmist's words. His trust isn't groundless. It's anchored in his personal experience with God's mercy. As we navigate our own life's journey, have we not all tasted the sweetness of His mercy? I can affirmatively say, I have.
The psalmist, however, doesn't sugarcoat reality. Life can be tough. What he affirms is the comforting presence of God's mercy during these trials. It's this trust that allows him to stay anchored, even in the stormiest of seas.
The psalmist also draws a vivid link between trust and joy. As our trust in God's mercy deepens, a wellspring of joy fills our hearts. It's an inner joy, one rooted in the awareness of God's salvation.
Take Job's story as an example. Despite staggering losses, Job's trust in God never wavered. Like the psalmist, he held on to God's mercy, finding strength in it to rejoice even amidst intense suffering.
Psalm 52:8 and 2 Corinthians 4:16 further underline this concept. The former paints a picture of a flourishing life rooted in trust in God's mercy. The latter speaks of the daily renewal that comes with trusting in God's mercy, a source of strength to face life's challenges.
In conclusion, Psalm 13:5 serves as a powerful reminder of the transformative power of trusting in God's mercy. It invites us to find comfort in trials, experience joy in salvation, and rejoice in the heart's strength. As we meditate on these truths, I encourage each one of us to cultivate this trust.
Psalm 118:6-9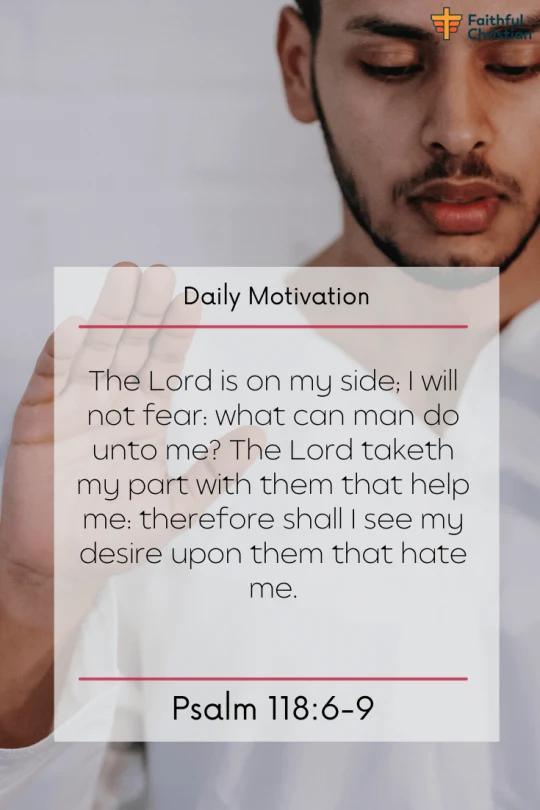 The Lord is on my side; I will not fear: what can man do unto me? The Lord taketh my part with them that help me: therefore shall I see my desire upon them that hate me.
Psalm 118:6-9 presents a powerful question: Where do we place our trust? The psalmist unequivocally points to God, dismissing humans and princes as dependable anchors.
This passage underlines a truth we often overlook. Earthly authorities and peers can disappoint us, as their abilities are bounded by human limitations. God, however, is different. His reliability is eternal, unaffected by our transient circumstances.
This superiority of Divine over temporal is echoed in the psalmist's words, "It is better to take refuge in the Lord than to trust in humans. It is better to take refuge in the Lord than to trust in princes." (Psalm 118:8-9)
Daniel's life offers a potent illustration of this trust. Faced with a life-threatening edict, he didn't waver. His trust in God overshadowed any fear of earthly authority. Remarkably, this trust transformed a lion's den from a death sentence into a divine sanctuary.
Trust in God also liberates us from fear. As expressed in Hebrews 13:6, when we realize that the omnipotent God is our helper, fear loses its power. We understand that "What can mere mortals do to me?" is rhetorical. Essentially, the answer is nothing. This freedom from fear is reiterated in Psalm 56:11.
As we grapple with life's challenges, we must reflect on our trust's foundations. While the world's reliability fluctuates, God's constancy remains unswerving. Opinions or actions of others should not deter our trust in Him. Rather, we should affirm the resolve to trust God more.
In the end, Psalm 118:6-9 challenges us to root our trust in God's eternal reliability. It invites us to face life with an unshakeable trust in Him. After all, against the divine certainty, what can mere mortals really do?
Romans 8:28
And we know that all things work together for good to them that love God, to them who are the called according to his purpose.
Delving into the depths of Romans 8:28, we discover a powerful message of trust in God's grand design for our lives. This scripture invites us to embrace the concept that our experiences, whether joyful or challenging, shape us according to a divine plan.
Life frequently presents us with obstacles. It's in these moments of adversity, however, that Romans 8:28 imparts reassurance. Every trial we face isn't arbitrary but serves a specific, purposeful role in God's inherently good plan.
As we examine Jeremiah 29:11, we uncover God's promise of hope, prosperity, and a positive future. This verse amplifies our understanding of Romans 8:28, confirming God's benevolent intentions even amid adversity.
Paul, the author of Romans, wasn't unfamiliar with hardships. Despite facing tribulations, he remained steadfast, drawing solace from his trust in God. Paul's experiences amplify Romans 8:28's message: trust in God provides an antidote to despair.
Our trust allows us to perceive life through a spiritual lens, interpreting our experiences as integral elements of God's plan. Consider 1 Corinthians 2:9, which suggests the unimaginable blessings God has prepared for His followers. This verse encourages us to view our immediate circumstances within the context of a grander divine plan.
Trusting in God's wisdom, surrendering control, and immersing ourselves in His love can transform our lives into a testimony of faith. As we internalize the message of Romans 8:28, we realize that all facets of our lives contribute to our divine journey, guided by a master planner.
In conclusion, Romans 8:28 offers profound reassurance. It equips us with an understanding that every experience, high or low, shapes us according to God's purposeful and inherently good plan. We're encouraged to embrace this understanding, trusting in God's plan, and finding peace amid life's complexities.
James 1:12
Blessed is the man that endureth temptation: for when he is tried, he shall receive the crown of life, which the Lord hath promised to them that love him.
James 1:12, a cornerstone of biblical scripture, imparts deep wisdom about trust and endurance. Let's consider the martyr, Stephen (Acts 7:54-60). Amid his execution, he held on to faith, embodying the essence of this verse. His trust carried him through a horrendous trial, offering us a blueprint for perseverance.
In the scripture, the endurance of trials associates with receiving the "crown of life." This metaphorical crown, awarded by the Lord, signifies divine approval. Such approval doesn't come without enduring trials.
The scripture aligns trust in God with the ability to endure hardship. Trust becomes an active form of faith, pushing us to overcome adversity.
Consider an athlete running a marathon. Every hurdle tackled reinforces their strength. Similarly, our spiritual muscles develop as we navigate life's trials. They shape us, much like a blacksmith molding iron into a beautiful artifact.
Peter reinforces this notion, "After you have suffered…God…will himself restore, confirm, strengthen, and establish you" (1 Peter 5:10).
The promise here isn't of short-lived suffering, but of an enlightening journey. We endure, we grow, and we find strength, not despite our trials, but because of them. Our trials thus transform from daunting hurdles into catalysts for growth.
Adding to this, Paul said, "suffering produces perseverance; perseverance, character; and character, hope" (Romans 5:3-4). Hence, our trials become a stepping stone towards deepening our trust in God and fostering a brighter future.
Stephen's life, marked by brutal persecution, exemplified trust. His story prompts us to approach our trials as opportunities for spiritual growth and ultimate reward. Trust in the Lord becomes a journey towards the eternal "crown of life."
The journey may be tough, but the destination is truly worthwhile. So, when trials come, let's stand firm, trust wholeheartedly, and press on. Remember Stephen, remember James 1:12. Our "crown of life" awaits beyond these trials.
Proverbs 3:5-6
Trust in the Lord with all your heart and lean not on your own understanding
Proverbs 3:5-6 form a robust foundation for a relationship with God, marked by trust and surrender.
This profound trust is not half-hearted. It's a full commitment. It's about letting God guide, even when the journey seems challenging. It's about setting aside our limited understanding, embracing humility, and surrendering to divine wisdom.
There's a promise here that deserves attention: "He will make your paths straight." This isn't a vague metaphor. It's a concrete assurance of divine guidance. It's like a celestial GPS, always guiding us, even when life takes an unexpected turn.
Matthew 6:33 is a key companion to this concept. It says, "Seek first his kingdom and his righteousness, and all these things will be given to you." This underscores the wisdom of prioritizing God's will. When we do, the pieces of life fit together beautifully.
The essence of Proverbs 3:5-6 extends to all aspects of life. We must acknowledge Him in everything we do. As Jeremiah 29:13 asserts, "You will seek me and find me when you seek me with all your heart." Trust is an immersive, intentional act.
Consider Joshua's victory in Jericho. His trust in God's unusual battle plan led to an epic victory. It's a striking illustration of Proverbs 3:5-6, demonstrating the reward of trusting in divine wisdom.
In essence, Proverbs 3:5-6 offers a blueprint for living. I see it as an invitation to a deep, fulfilling relationship with God. It's about pervasive trust, about leaning on His understanding, confident that He will guide us through life's intricate paths.
Trusting in the Lord with all our heart is a lifelong journey of faith and surrender. It's an invitation to embark on a journey marked by divine assurance and guidance, leading us to a more profound bond with our Creator.
---
Recommended for you
---
Frequently Asked Questions
What does it mean to trust in the LORD with all of our hearts?
Trusting in the LORD wholeheartedly means placing total faith in Him. It's relinquishing reliance on our limited knowledge, choosing instead to lean on His infinite wisdom.
This submission requires humility, a surrender of our will, and a commitment to seek His guidance in every area of life.
Proverbs 3:5-6 underscores this concept, urging us to trust in the LORD with all our heart, steering away from our own understanding, and acknowledging Him in all ways.
What are the benefits of trusting God?
Reaping the benefits of trusting God offers peace, guidance, and assurance amidst life's stormy weather.
With unwavering faith in God, we navigate life's complexities with an underlying tranquility, secure in the knowledge of His control.
Strength to endure trials and hardships manifests, reflected in Isaiah 40:31, "But those who trust in the LORD will renew their strength." Trusting God paves the way for remarkable experiences of His faithfulness and goodness.
How do I trust God completely?
Full trust in God requires an ongoing act of faith. It's a conscious daily surrender of our ambitions, plans, and comprehension to His superior will.
Consistently seeking His direction, acknowledging His supremacy, and opening ourselves to His leading, no matter the circumstances, underpin this trust.
Proverbs 3:5-6 encapsulates this posture of complete dependence, urging us to trust in the Lord with all our heart and steer clear of leaning on our understanding.
What does the Bible mean when it says all my heart?
When the Bible speaks of "all my heart," it refers to an unrestrained, complete commitment. It symbolizes a dedication that influences every aspect of one's life.
This refers to complete faith, which involves placing every aspect of our lives under God's control. Deuteronomy 6:5 articulates this principle, calling us to love God wholly, encompassing heart, soul, and strength.
How can we trust in the Lord with all our heart, soul, mind, and strength?
Trusting in the Lord with all our heart, soul, mind, and strength requires a unified, holistic commitment.
It necessitates aligning every part of our being – our feelings (heart), our spiritual self (soul), our intellect (mind), and our physical abilities (strength) – with trusting God.
Comprehensive faith is about passionate pursuit, deep love, and willing obedience to God. Mark 12:30 reiterates this concept, encouraging us to love God with all our heart, soul, mind, and strength.
Author: Akatakpo Dunn
Dr. Akatakpo Dunn is a dedicated follower of Christ, an active member and speaker, and an ongoing learner of the Scriptures. Passionate about his faith and serving others, he is committed to sharing his spiritual journey and insights to inspire and uplift fellow believers. He has been active in the church for more than 23 years. Through The
Faithful Christian Blog
,
Dr. Dunn
combines his love for God, philanthropy, and Scripture, providing a valuable resource for those seeking to grow in their faith.
Follow me: on Youtube, Facebook, Twitter, Instagram, and Pinterest.
Content Disclosure:
At The Faithful Christian Blog, I create authentic and inspiring content. Although I am the main author, I occasionally use AI for minor language enhancements. This minimal AI usage ensures high-quality, trustworthy articles without compromising originality or sincerity, ultimately supporting our shared faith journey.
Warmly,
Dr. Akatakpo Dunn
Was this article helpful?