The past few weeks have taught me a lot.
And the most important lesson so far is that virtuous women are hard to find.
The good news is that there are many scriptures about virtuous women in the bible.
And regrettably, without God's help, you may find it difficult to identify a Godly or good woman.
Is it beauty? Or Stature or based on a woman's intelligence?
For most people, a virtuous woman is beautiful and attractive.
But the truth is, outward beauty isn't one of the qualities of a true Godly woman.
It is so easy to mix things up, especially when you are already in love with a woman that looks very attractive.
But Godliness means more than outward beauty.
About three weeks ago, I developed a COVID-like illness will cough, difficulty breathing, fever, chills, and rigor.
And things got even worse as I became scared for my life.
With so many medications already taken by me, there seems to be no improvement at all.
But all through my trials and pain, my wife was by my side.
For a fact, I know she loves me so much. And as expected, she would be there for me.
But that wasn't all she did for me.
All through my trials, she stood by me and encouraged me through the word.
All night, I could hear her praying ceaselessly for me to get well.
The truth is, a virtuous woman must display God's attributes of love and holiness.
She is someone that is respectful, loving, caring, God-fearing, humble, prayerful, and devoted to God's service.
Thankfully, there are many scriptures about virtuous women that we can learn from.
I have compiled bible verses about virtuous women to inspire you.
---
Recommended for you
---
Bible verses about virtuous woman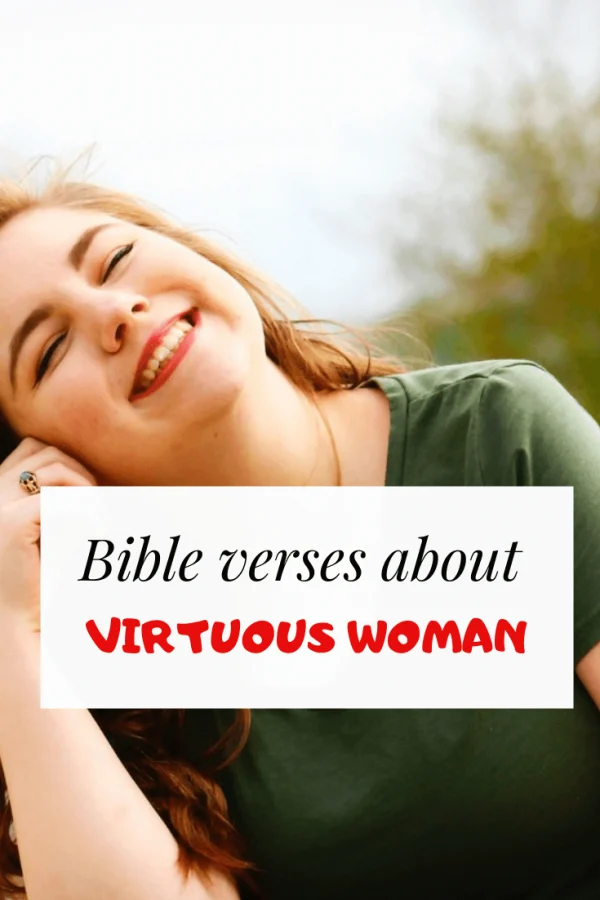 1.  Proverbs 3:15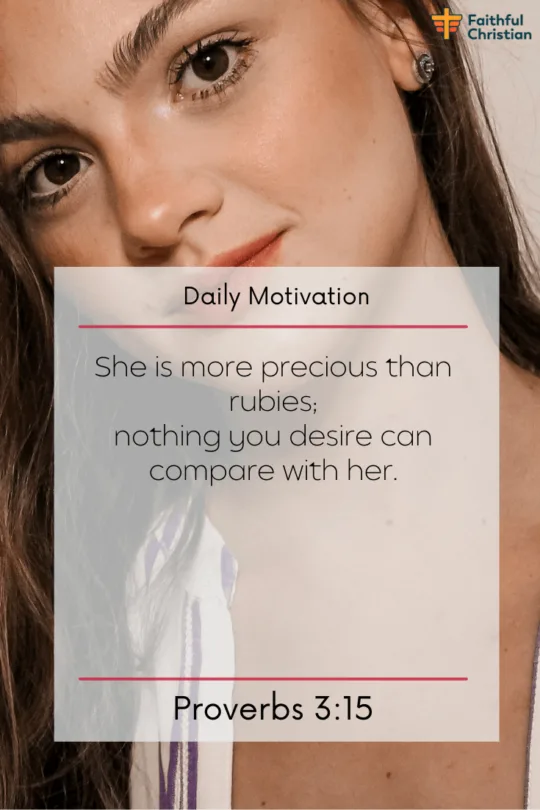 She is more precious than rubies;
nothing you desire can compare with her.
The Bottom Line
The world's understanding of a true perfect woman is one that is beautiful outwardly.
Many years before I gave my life to Christ, I was actively involved with fornication.
My thoughts about a good woman are one that is attractive and has a good-paying job.
But the truth is, it's not that easy to find a virtuous woman.
If you have found one already, you have been blessed by God.
For me, I feel like one of the luckiest people alive for having such a wonderful lady as a wife.
My wife is the epitome of beauty. But surprisingly, that's the least of her qualities.
She is respectful and loving and takes care of the home.
Such women are hard to find, and we must ask God to direct us when planning to take a wife.
God sees our hearts and knows the best people to compliment us.
Therefore, let's pray because a virtuous woman isn't one you can easily compare with others.
2.  Proverbs 31:10
A wife of noble character who can find?
She is worth far more than rubies.
The Bottom Line
Here's another verse like the one above.
I decided to show you this verse to let you know we need God's grace when searching for a wife.
God knows our weaknesses, and through prayers, he will lead us to the best person for us.
A woman with an entirely noble character isn't easy to find.
It is difficult but can only be achieved through prayer and supplication to God.
For a fact, a virtuous woman isn't interested in your looks and how rich you are.
She knows her worth in Christ and is willing to stand by you even in terrible times.
3.  Proverbs 31:11-12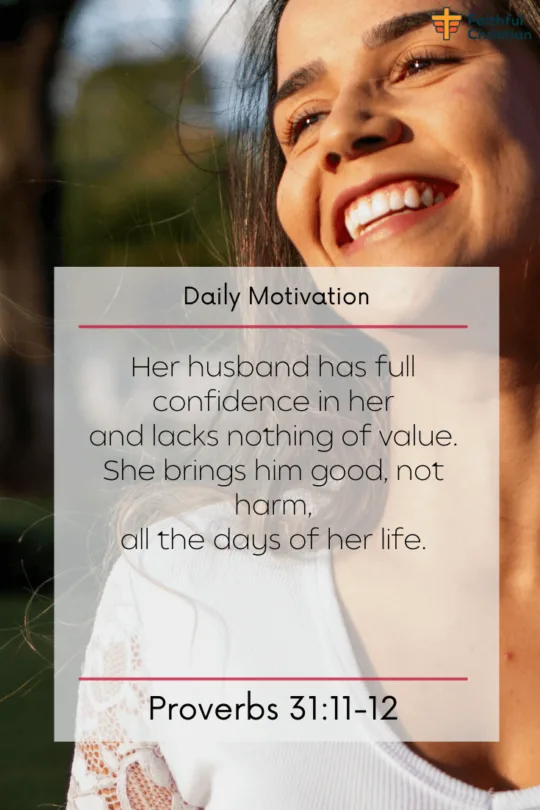 Her husband has full confidence in her
and lacks nothing of value.
12 She brings him good, not harm,
all the days of her life.
The bottom line
This is one of the essential qualities you will find in virtuous women.
They are trustworthy and without any blemish of shame.
There are lots of married women that still break their marital vows.
It is so common these days that studies now show that more than ten percent of married women have cheated on their husbands at least once.
Adultery is a terrible sin before God.
In fact, as stated in the scriptures, God would permit a marriage to dissolve on the grounds of infidelity.
So, it is a serious issue capable of ruining your happiness and that of your family.
And that's why it has never been so important to pray for a virtuous woman.
Because she is trustworthy and understands her worth as a wife.
All the days of her life, she will never bring shame or harm to your home.
4.  Proverbs 31:14-15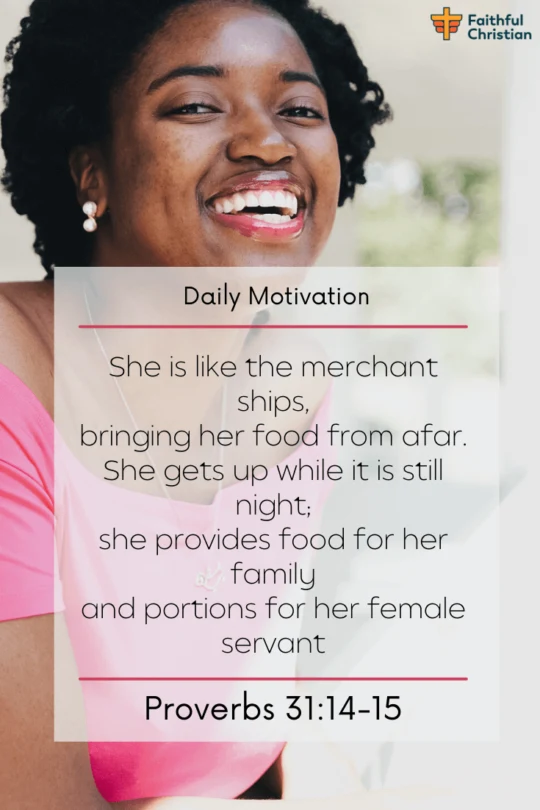 She is like the merchant ships,
bringing her food from afar.
15 She gets up while it is still night;
she provides food for her family
and portions for her female servant
The Bottom Line
Here's another quality of a virtuous woman.
She is not lazy and passive.
She knows her duties in the home, and she is willing and happy to fulfill them.
There are lots of changes in the 21st century regarding feminism and equality.
Women now want men to actively support the house chores and in the kitchen.
The truth is, I do this all the time and assist my wife in the best way possible.
But this does not negate the fact that a virtuous woman takes good care of the home.
I could remember my mum waking up as early as 4 in the morning in my very early days on earth.
She wakes up to prepare food for us and prepares the family for the day ahead.
Proverbs 31:18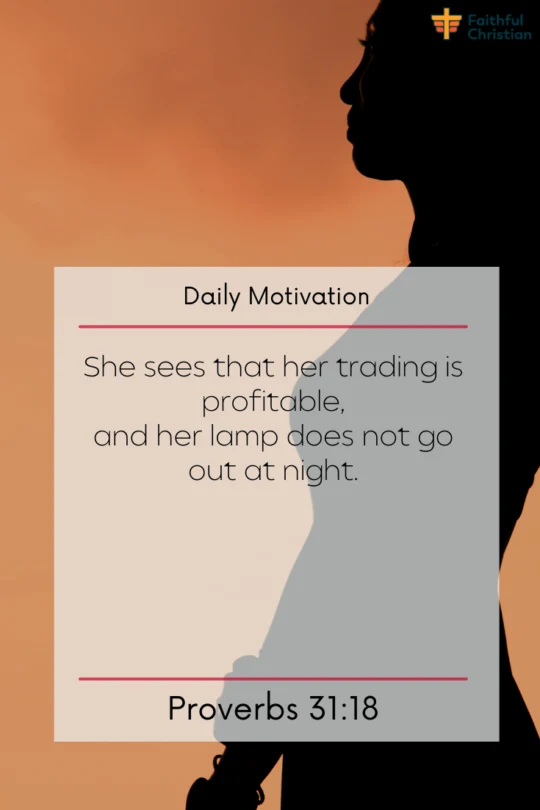 She sees that her trading is profitable,
and her lamp does not go out at night.
The bottom line
A virtuous woman is hardworking in all aspects.
Besides just taking care of the home, she can assist with other kinds of businesses.
She searches for a business that will be profitable, and she engages in them.
She carefully grows her business until it is profitable to assist her family.
There are lots of issues regarding if a wife should work or not.
As some would say, "Who then takes care of the kids while my husband is away?"
But the truth is, provided that you are willing, there are many kinds of jobs you can do to assist the family.
Laziness and idleness are not qualities of a good woman.
Proverbs 31:30-31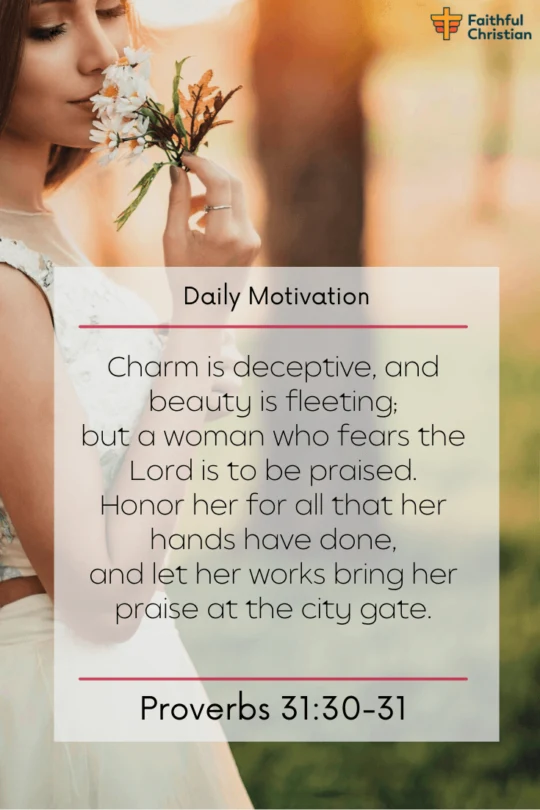 Charm is deceptive, and beauty is fleeting;
but a woman who fears the Lord is to be praised.
31 Honor her for all that her hands have done,
and let her works bring her praise at the city gate.
The bottom line
A good woman wholeheartedly fears God.
She understands God's ways and keeps them.
She is not willing to disobey God's command for selfish reasons.
Most times, we see a lot of women sinning without remorse.
But on the flip side, a virtuous woman regrets her sinful actions and is quick to ask God for forgiveness.
As I have always said in this blog, my wife has impacted my Christian life enormously.
When we met, I wasn't interested in the ways of God.
But so many years down the line, I have changed into an incredible Godfearing man.
I now preach the scriptures online to win souls to God.
The benefits of a virtuous woman are too numerous to mention.
But in all, serving God and keeping his laws are evident in their way of life.
Ephesians 5:22-24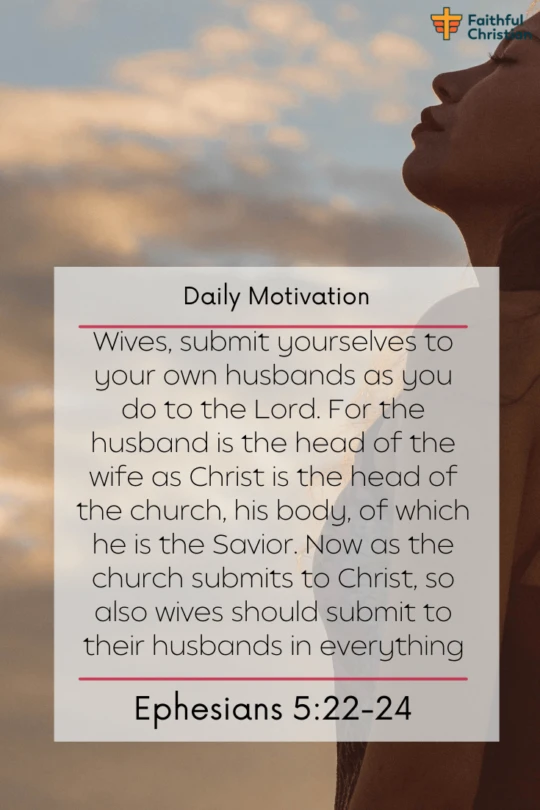 Wives, submit yourselves to your own husbands as you do to the Lord. 23 For the husband is the head of the wife as Christ is the head of the church, his body, of which he is the Savior. 24 Now as the church submits to Christ, so also wives should submit to their husbands in everything
The bottom line.
This is another vital quality of a good woman.
She must be submissive to her husband in all things.
We know all the fuss about women's submissiveness in the 21st century.
And how lots of women frown at ultimately subjecting themselves to their husband.
But a virtuous woman knows that she must.
She understands the hierarchy set by God from the beginning.
That the man is the head of the family.
So, right from the get-go, she willfully submits to the authority of her husband for peace and happiness.
A woman that disobeys and insults her husband isn't virtuous in any way.
---
Recommended for you
---
More scriptures about virtuous women
Proverbs 21:9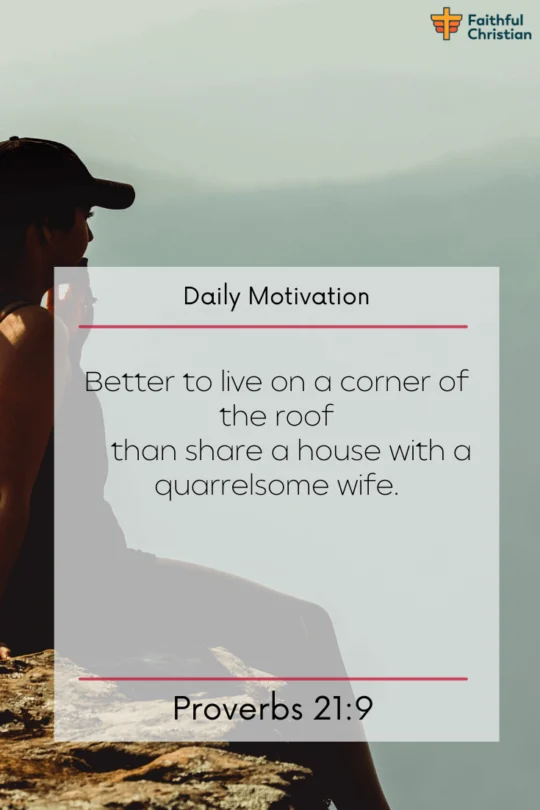 Better to live on a corner of the roof
    than share a house with a quarrelsome wife.
Proverbs 12:4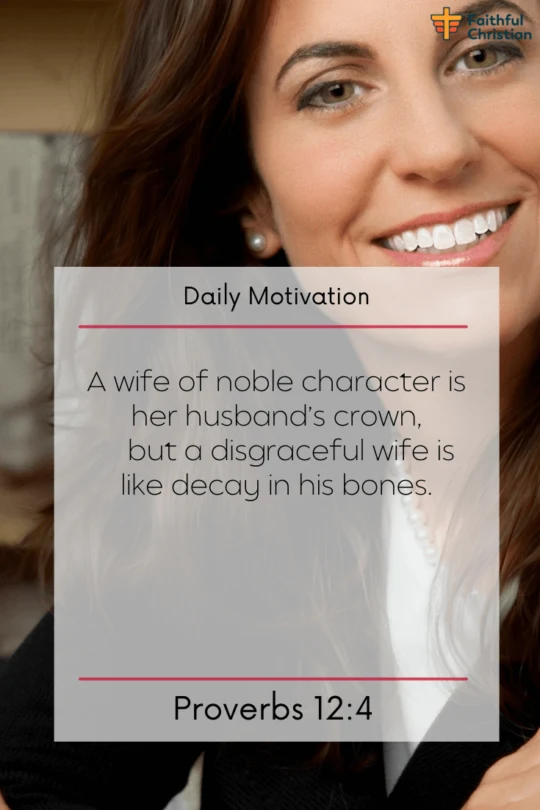 A wife of noble character is her husband's crown,
    but a disgraceful wife is like decay in his bones.
Titus 2:3-5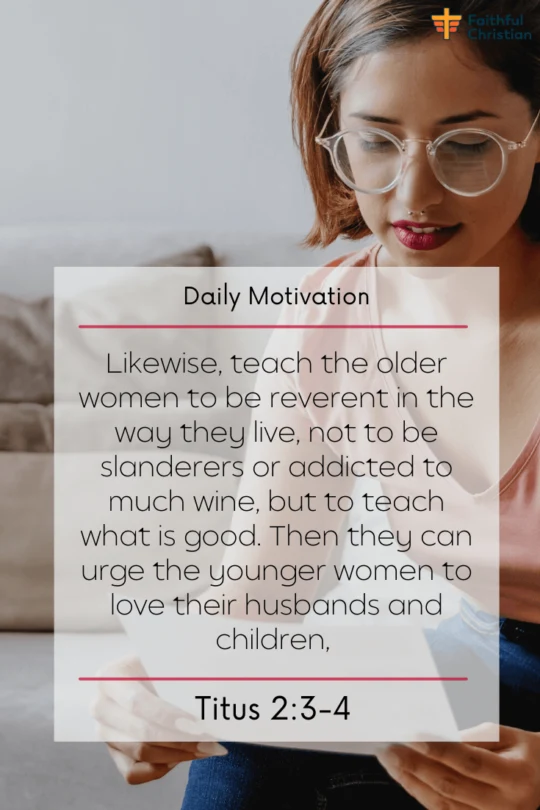 Likewise, teach the older women to be reverent in the way they live, not to be slanderers or addicted to much wine, but to teach what is good. 4 Then they can urge the younger women to love their husbands and children,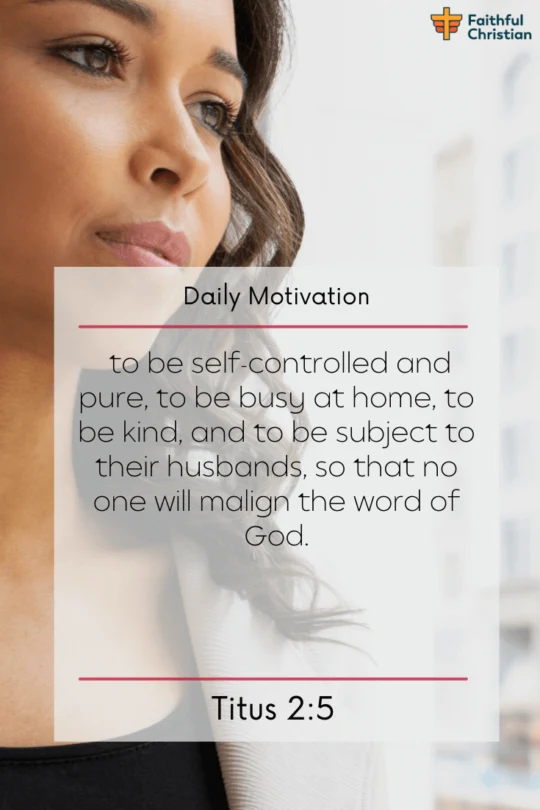 5 to be self-controlled and pure, to be busy at home, to be kind, and to be subject to their husbands, so that no one will malign the word of God.
More Bible verses about Good woman
Proverbs 31:27-28
She watches over the affairs of her household
    and does not eat the bread of idleness.
28 Her children arise and call her blessed;
    her husband also, and he praises her:
Proverbs 31:17
She sets about her work vigorously;
    her arms are strong for her tasks.
Proverbs 31:20-21
She opens her arms to the poor
    and extends her hands to the needy.
21 When it snows, she has no fear for her household;
    for all of them are clothed in scarlet.
Proverbs 31:26
She speaks with wisdom,
    and faithful instruction is on her tongue.
Proverbs 22:6
Start children off on the way they should go,
and even when they are old they will not turn from it.
Author: Akatakpo Dunn
Dr. Akatakpo Dunn is a dedicated follower of Christ, an active member and speaker, and an ongoing learner of the Scriptures. Passionate about his faith and serving others, he is committed to sharing his spiritual journey and insights to inspire and uplift fellow believers. He has been active in the church for more than 23 years. Through The
Faithful Christian Blog
,
Dr. Dunn
combines his love for God, philanthropy, and Scripture, providing a valuable resource for those seeking to grow in their faith.
Follow me: on Youtube, Facebook, Twitter, Instagram, and Pinterest.
Content Disclosure:
At The Faithful Christian Blog, I create authentic and inspiring content. Although I am the main author, I occasionally use AI for minor language enhancements. This minimal AI usage ensures high-quality, trustworthy articles without compromising originality or sincerity, ultimately supporting our shared faith journey.
Warmly,
Dr. Akatakpo Dunn
Was this article helpful?