Indeed, we will all be tempted by the devil.
And, God allows it to happen to test our faith.
When you find it difficult to overcome your vices, you can inspire yourself with Bible verses about temptations.
These scriptures are there to remind you that salvation is a daily battle.
Not surprisingly, the devil takes a cue from what you desire the most.
Since I got married, I have continued to have regular fights against the sin of adultery.
For years before I got married, I was seriously involved with fornication.
But thankfully, God has forgiven me of my sins through my repentance.
I have told myself multiple times that I cannot cheat on my adorable wife.
But this has not been easy as the devil continually tries to test my resolve.
Each day, I am conscious of the devil's trick, focusing on keeping God's commands.
Likewise, you could be dealing with many temptations –from fornication, adultery, smoking, drug abuse, homosexuality, stealing, or corruption.
Whatever the case, be rest assured that you can overcome any temptation if you stay focused on your mind.
The word of God can pierce any heart and give you unimaginable strength in your weaknesses.
I have put together reassuring bible verses to resist temptations.
May God strengthen you in your weaknesses and provide a way out from your temptations.
Amen.
---
Recommended for you
---
Bible verses about temptations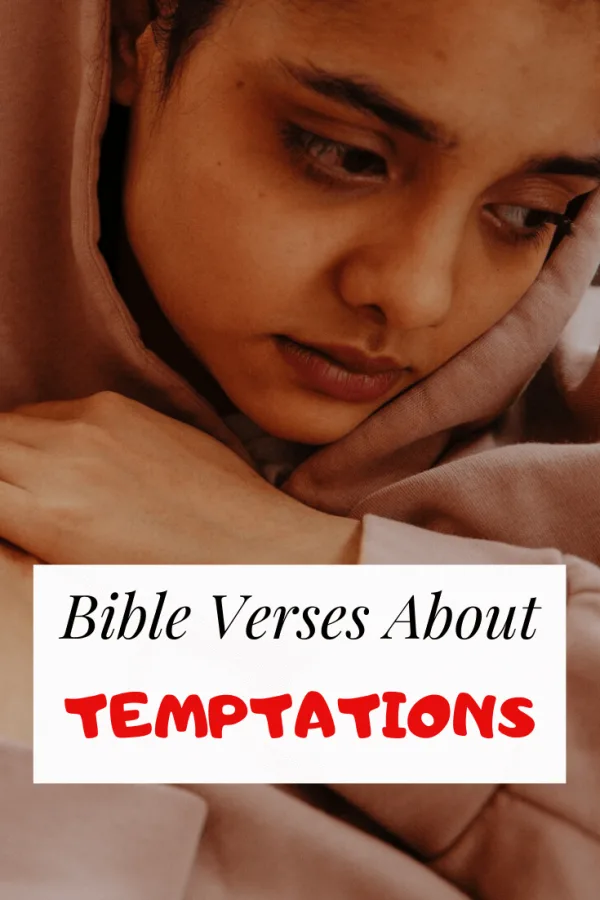 1.  1 Corinthians 10:13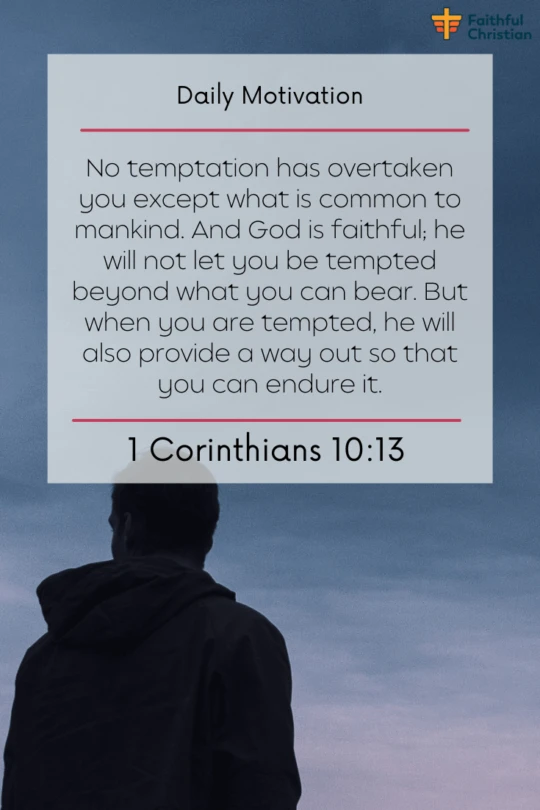 No temptation[a] has overtaken you except what is common to mankind. And God is faithful; he will not let you be tempted[b] beyond what you can bear. But when you are tempted,[c] he will also provide a way out so that you can endure it.
Temptation is a universal human truth. From the pages of 1 Corinthians 10:13, we find the assurance that none of our temptations are unique. God, in His faithfulness, provides a way of escape.
Picture a student preparing for a test. A peer offers an answer sheet, a quick-fix to a challenging situation. Temptation arises. Yet, the student rejects the easy path. Instead, they dedicate their time to studying, valuing long-term knowledge over a momentary victory.
Here, we see a reflection of divine intervention. God does not abandon us in the face of temptation. Rather, He provides a way out, a lifeline in the depths of our trials.
Take Joseph's story, told in Genesis 39:12. Faced with Potipar's wife's advances, he was in a far more daunting situation. However, like our conscientious student, he chose what's right. By fleeing, he upheld his commitment to his master and God.
This brings us to James 1:12, a scripture promising a reward for those enduring trials. By resisting temptation, we open ourselves to blessings. Our steadfastness in such trials secures us the crown of life, promised to those who love the Lord.
Understanding temptation helps us resist it. 1 John 2:16 paints a clear picture: worldly temptations often revolve around lust and pride, not divine inspiration. Recognizing this helps us guard our hearts.
So, how do we resist when faced with temptation? Prayer, community support, and immersion in scripture are practical steps. We can learn from Joseph's resilience and the student's choice, reminding us of the divine escape route.
In conclusion, while temptation is a part of life, we're not powerless. God's provision equips us to resist and overcome. With endurance, we open ourselves to His blessings. This promise, this potential victory, should guide our response to temptation. As the Scripture says, "God is faithful.
2.  2 Peter 2:9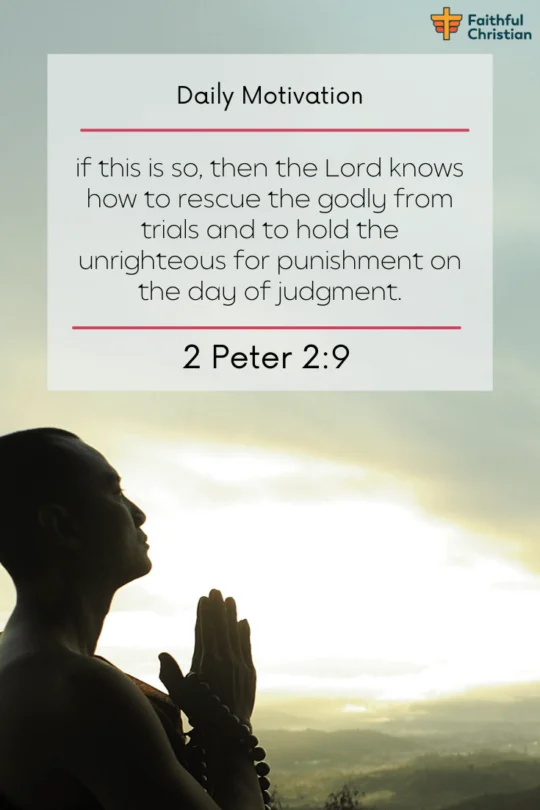 if this is so, then the Lord knows how to rescue the godly from trials and to hold the unrighteous for punishment on the day of judgment.
Temptations can often feel like a treacherous den of lions. Our escape can seem elusive, almost impossible. But hold fast! There's a glimmer of hope in the scriptures. Look to 2 Peter 2:9. It's our guiding star, our beacon in the darkness, proclaiming, "The Lord knows how to deliver the godly out of temptations."
Think back to the biblical account of Daniel in the lion's den (Daniel 6). His unwavering faith and commitment to righteousness landed him in a perilous situation, facing ravenous lions. Did he give in to despair? No. Did he question his faith or righteousness? Not for a moment.
Instead, he held onto his faith, fully trusting in God's providence for the righteous. And sure enough, God did not abandon him. Miraculously, Daniel was unscathed, emerging from the lion's den unharmed.
Now, let's shift our gaze to Psalm 34:19. This verse underscores the idea of divine intervention, stating, "Many are the afflictions of the righteous, but the Lord delivers him out of them all." Here, we find assurance. Righteousness in the face of temptation is rewarded with deliverance.
Jeremiah 29:11 further amplifies this promise. It reads, "For I know the plans I have for you, declares the Lord, plans to prosper you and not to harm you, plans to give you hope and a future." This promise of prosperity even amidst tempting circumstances offers us the strength to endure.
Consider the real-life battle of an individual grappling with addiction. The constant pull of temptation can be overwhelming. But seeking help, reaching out to professionals, and using a supportive network mirrors Daniel's faith in the den. And like Daniel, they too can emerge victorious from their personal "lion's den."
In essence, faith and righteousness are our shields against temptation. As we uphold these values, we are promised divine help. God is not just an observer. He is actively working towards our prosperity and deliverance.
Remember, He shut the mouths of lions for Daniel. Just imagine what He can do for us in our battles against temptation. Stand firm in your faith, trust in His deliverance, and you too can overcome.
3.  2 Timothy 4:18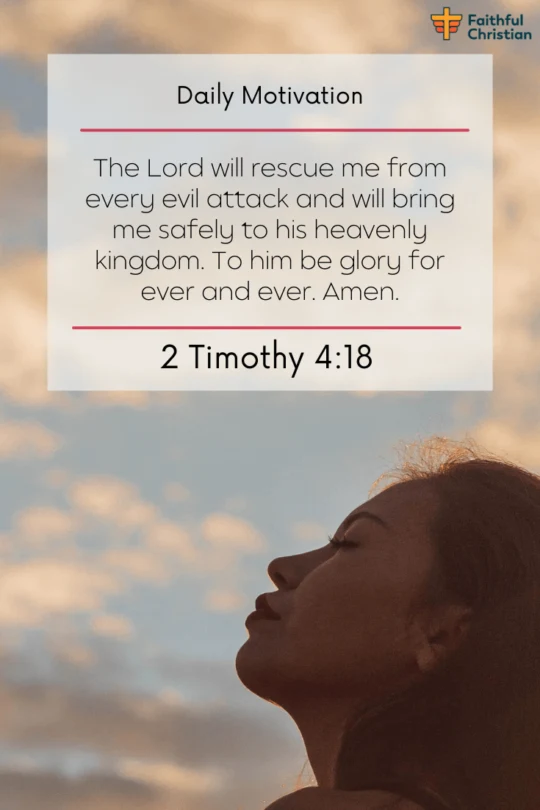 The Lord will rescue me from every evil attack and will bring me safely to his heavenly kingdom. To him be glory for ever and ever. Amen.
The challenge of temptation is a universal struggle, but so too is the promise of deliverance. This is a concept succinctly illustrated in 2 Timothy 4:18.
Penned by Paul, a former persecutor of Christians, this verse bears testament to unwavering faith amid hardship. As we unpack the meaning of this verse, we'll weave in related scriptures to further enhance our understanding.
Take Paul's journey from relentless tormentor to fervent believer, as narrated in Acts 9. A divine encounter transformed him. Yet, he found himself subjected to persecution. Paul's response? Trust in God's deliverance. Each escape from danger attests to God's promise to rescue His people from evil.
Now consider Psalm 121:7-8. The verses express God's role as protector. He safeguards us from harm, watches over our lives, and guides our steps, "both now and forevermore". This psalm beautifully captures the timelessness of God's protective mantle.
This thread of divine safeguarding continues in 1 John 5:18. The verse underlines God's custodianship over believers, offering spiritual immunity from the enemy. The realm of God's protection is all-encompassing – physical safety is just one aspect.
Remember, the scope of God's saving power is eternal, not confined to particular moments. Ponder this in the context of a real-life scenario.
Imagine a person living in a neighborhood plagued with crime. They're faced with daily temptations – easy money through illegal means, the allure of power through fear. It's a tightrope walk, isn't it?
But then, they find their way out. They break away from the cycle of crime, perhaps through education or a helping hand. They decide to walk the path of honesty, no matter how challenging it seems.
In the face of temptation, scriptures can serve as our guide. They act as a beacon, showing us the way out. I've realized this in my journey. My hope is that these words will not only inform but also inspire you. These are not mere verses, but divine promises of protection and deliverance.
So, when you find yourself ensnared in temptation, recall Paul's unwavering faith, God's protective hand, and His eternal promise of deliverance. The way out is always there, illuminated by the divine light of scripture.
4.  1 Peter 5:8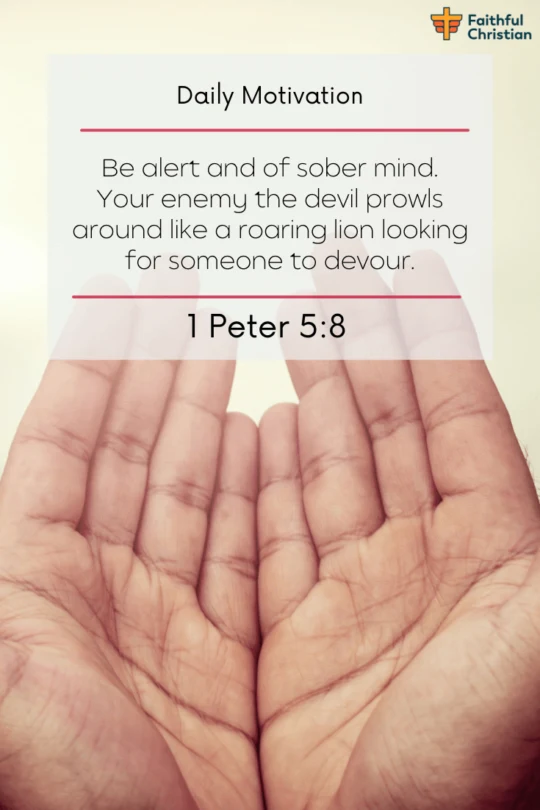 Be alert and of sober mind. Your enemy the devil prowls around like a roaring lion looking for someone to devour.
In 1 Peter 5:8, we are told, "Be sober, be vigilant." It paints the devil as a roaring lion. This metaphor is a rich one. The devil, like a cunning lion, is always ready to strike. His main weapon? Temptation.
Next, we look to James 4:7. It urges us to "Resist the devil, and he will flee from you." This is our call to arms. Yet the battleground isn't physical, but spiritual. It exists in our hearts and minds.
Ephesians 6:11 provides our strategy: "Put on the whole armor of God." We must be spiritually ready to resist the devil's crafty attacks. We arm ourselves with truth, righteousness, faith, and the word of God.
Jesus' temptation in the wilderness (Matthew 4:1-11) illustrates this. Hungry and weak, Jesus could have easily succumbed. But He didn't. He stood firm. He quoted Scripture. He resisted. His victory in the wilderness underscores the power of vigilance, spiritual readiness, and resistance in overcoming temptation.
Reflecting this biblical example in real life, I recall a story of a friend who was offered a high-paying job. The catch? It involved unethical practices. The temptation was there – the promise of money, comfort, a good life.
But he chose to resist. He understood the stakes were higher than just financial gain. Like Jesus in the wilderness, he chose integrity over immediate gratification.
Understanding the devil's role in temptation is essential. He's not a cartoonish figure, but a relentless adversary. However, we're not defenseless. We are equipped to resist and stand firm.
In the end, dealing with temptation is about making a choice. Will we give in or resist? Will we be complacent or vigilant?
Personally, I choose vigilance. I know the devil is a roaring lion, but I am not his prey. With God's help, I will stand my ground. Armed with spiritual readiness, I am prepared to resist temptation at every turn.
Temptation will come, but with vigilance and resistance, we can overcome. Remember, the choice is always ours to make.
5. 2 Corinthians 12:9-10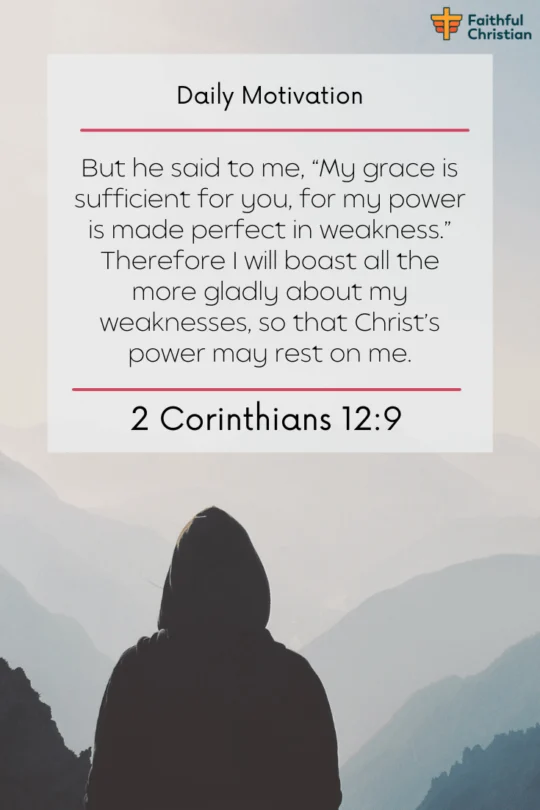 But he said to me, "My grace is sufficient for you, for my power is made perfect in weakness." Therefore I will boast all the more gladly about my weaknesses, so that Christ's power may rest on me.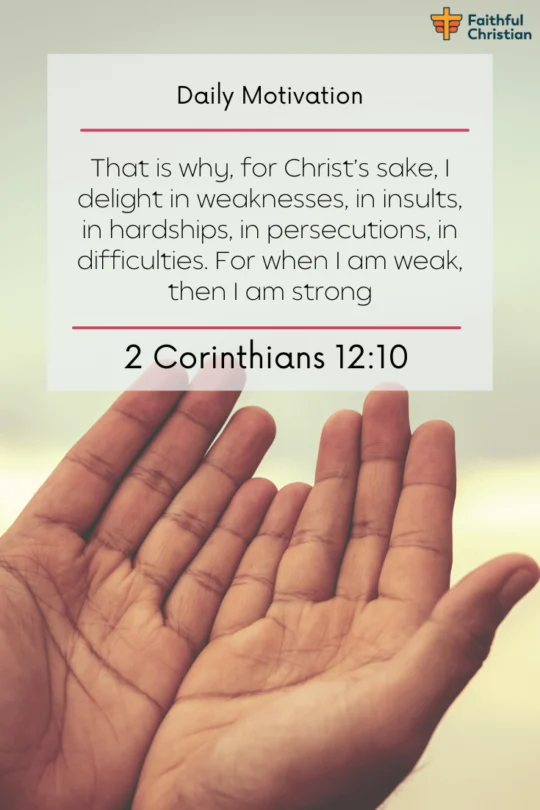 10 That is why, for Christ's sake, I delight in weaknesses, in insults, in hardships, in persecutions, in difficulties. For when I am weak, then I am strong
Envision a time of frailty, where the weight of the world seemed unbearable. Now, picture deriving strength from this very weakness. This is the profound lesson that Apostle Paul shares in 2 Corinthians 12:9-10.
Paul's ministry was marred by trials, insults, and afflictions. His transformative moment occurred during his blindness on the road to Damascus (Acts 9:17-19). The moment that could have been his downfall became his stepping stone to spiritual strength.
In the same way, consider a real-life example. Perhaps you've encountered individuals who, despite physical disabilities, have turned their adversity into a platform to inspire others.
They thrive, not in spite of their weakness, but because of it. In what could have been a stumbling block, they found their cornerstone, their unique strength.
The secret is a shift in perspective. Paul found that his vulnerability allowed God's power to work through him most effectively. His weakest moments became his strongest: "For when I am weak, then I am strong."
Let's turn to Isaiah 40:29-31. It promises the weary rejuvenation and the weak, power. Those who hope in the Lord will find their strength renewed. This Scripture paints a hopeful image of resilience in the face of trials and temptations.
Hebrews 4:16 urges us to confidently seek God's mercy and grace in times of need. When we feel weakest, we are encouraged to rely on God's strength. In Colossians 1:11, Paul emphasizes the divine origin of our endurance and patience amidst trials. Our strength comes from God's power.
In conclusion, life's storms and temptations often leave us feeling frail. But remember, it's in these very moments that God's power can shine the brightest.
By surrendering our weaknesses to God, we allow Him to transform them into platforms for His strength. Just as with Paul, our weakest moments can birth our greatest strength.
6.  2 Thessalonians 3:3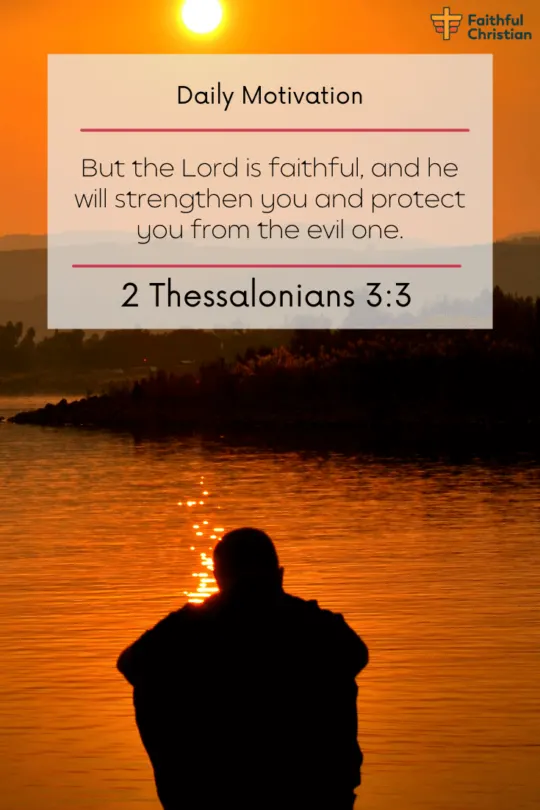 But the Lord is faithful, and he will strengthen you and protect you from the evil one.
Facing temptation is a universal struggle. Yet, 2 Thessalonians 3:3 offers us a beacon of hope. The verse asserts, "The Lord is faithful, He will strengthen and protect you from evil."
First, consider God's faithfulness. It's an unyielding shield, our fortitude amidst life's storms. His steadfastness shelters us, providing solace in turbulent times.
Let's explore Isaiah 41:10, "So do not fear, for I am with you." These divine words reiterate God's continuous presence. We're never alone in our trials. This verse acts as a soothing balm, dispelling fear and inviting courage.
Philippians 4:13 states, "I can do all things through Christ who strengthens me." It's not just about survival. It's about overcoming. God's strength transforms us into conquerors of temptation, fortifying our human fragility.
There's a synergy between divine protection and human responsibility. God provides the shield. We must utilize His teachings to battle temptation. The act of overcoming isn't passive. It requires our active engagement.
Now, let's bring this home with a story from the Bible – the Israelites in the wilderness. Despite the harsh conditions and the lure of returning to Egypt, they persevered, bolstered by God's miraculous provisions. This tale from Exodus 16 emphasizes God's faithfulness in providing for us, even in the direst circumstances.
Let's mirror this with a real-life scenario. Picture a person striving to maintain their faith and moral compass, despite being in a negative environment.
Amid cynical voices and discouraging remarks, they persist in doing good, holding fast to their faith. It's like a single tree standing tall amidst a raging storm. It bends, but it doesn't break. That, my friends, is the power of maintaining faith amidst temptation.
Lastly, the concept of divine assurance comes to the fore. It's like a friend whispering encouragement in our darkest hours. This assurance equips us to triumph over temptations.
So when temptation looms, remember: you're not alone. God's faithfulness, His strength, and your own determination form your shields. Stand firm, knowing that God provides the ultimate 'way out.'
Remember, with God, you're not just a survivor but an overcomer.
7.  Romans 8:28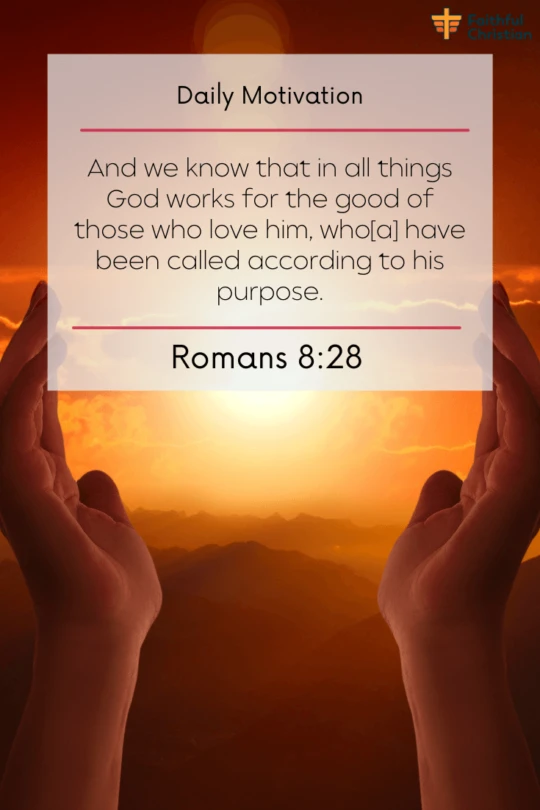 And we know that in all things God works for the good of those who love him, who[a] have been called according to his purpose.
Life's trials and temptations bring us face-to-face with Romans 8:28, a promise of hope. The verse says, "All things work together for good to those who love God." At first glance, it's hard to see how trials can be good. But a deep dive reveals its profound truth.
God's sovereignty is the starting point. He holds the reins of our lives, even when temptations loom. God doesn't lead us into hardship. He ensures, though, that even trials serve a purpose. In every struggle, He's working for our good.
Jeremiah 29:11 underpins this. I know the plans I have for you," declares God, "plans to prosper you, not to harm you." His plan for us is one of hope, promising a future of prosperity.
Navigating temptations is tough. Proverbs 3:5-6 guides us here. "Trust in the LORD with all your heart," it advises. We are to rely on God, not our strength, when facing temptations. His guidance makes our paths straight.
Joseph's story from the Bible brings these principles to life. Sold into slavery, wrongly accused, and forgotten in prison – Joseph faced many trials.
Yet, he rose to power in Egypt, saving lives during famine. His trials weren't a hindrance but a route to the fulfillment of God's plan. His story is a testament to Romans 8:28.
We face trials too. But we can learn from Joseph. I knew someone who failed a critical exam. Rather than quitting, they took it as motivation. Studying harder, they finally passed and succeeded. Their failure, their temptation to quit, worked for their good.
In conclusion, remember Romans 8:28 when facing trials. God's sovereignty ensures good plans for you. Trust in Him and live according to His purpose.
With hope and faith, even trials and temptations can lead to good. I believe, as the verse promises, all things work for your good.
8.  Hebrews 12:4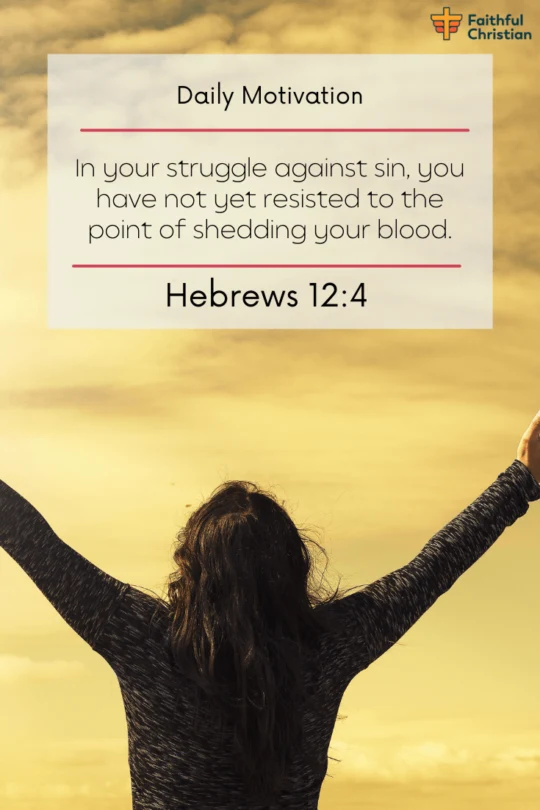 In your struggle against sin, you have not yet resisted to the point of shedding your blood.
Studying the Bible, I find that life is a marathon. This concept springs from Hebrews 12:4. This metaphorical endurance race, brimming with hurdles and pitfalls, symbolizes our struggle against sin.
Building on this metaphor, Apostle Paul in 1 Corinthians 9:24-27 emphasizes self-discipline. Picture an athlete training for a marathon. Winning isn't about race day; it's about disciplined preparation.
The same applies to our spiritual journey. Resisting temptation demands constant discipline and vigilance.
Yet, what are we battling in this race? Galatians 5:16-17 illuminates an internal conflict: flesh versus Spirit. This tug of war is at the crux of temptation. It's a choice between immediate gratification and long-term righteousness.
Just as a marathoner resists the urge to stop, we fight our desires to stay on the righteous path.
Perseverance is integral in this journey. Hebrews 12:2 tells of Jesus enduring the cross, disregarding its shame, due to the joy set before him: our salvation. His perseverance encourages us to resist temptations, maintaining focus on the ultimate reward.
In reality, consider an athlete's demanding regimen. Despite long hours, strenuous work, strict diet, and social sacrifices, they persevere. Why? The competition thrill and victory hope are worth it. This parallels our spiritual marathon. It may require sacrifices, but the reward justifies the struggle.
This struggle understanding provides us with a perspective against personal temptations. It's not a sprint, it's a marathon. Temptations vary, but our resolve to overcome remains unwavering. This enduring knowledge keeps us in the race.
In conclusion, the scriptures provide escape routes from temptations. It's a challenging race, but we're fully equipped for it. I find comfort in knowing that we're not alone.
Together, we'll finish this race. The struggles are real, but so is our collective strength. In unity, we will conquer and complete our spiritual marathon.
9.  Ephesians 6:12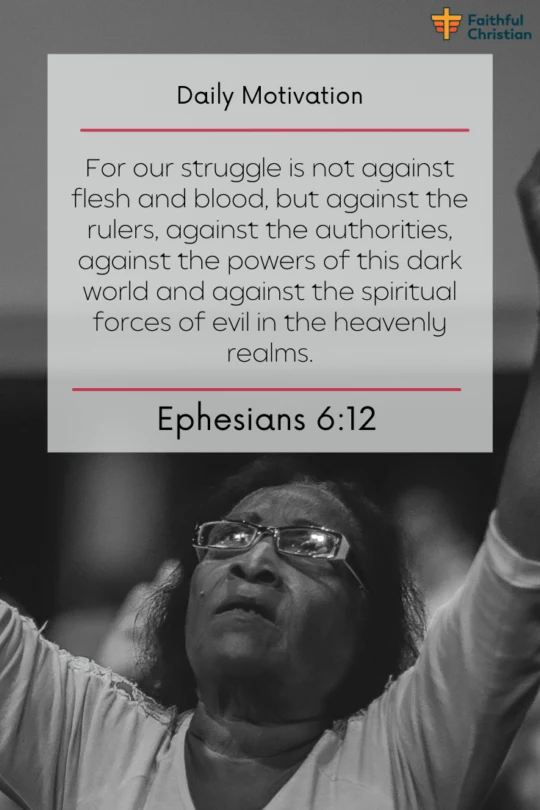 For our struggle is not against flesh and blood, but against the rulers, against the authorities, against the powers of this dark world and against the spiritual forces of evil in the heavenly realms.
Understanding temptation requires recognizing the spiritual warfare we're engaged in, as Ephesians 6:12 reminds us. Here, our adversaries are not our annoying neighbors or unjust colleagues, but unseen spiritual forces. Our struggle, then, isn't merely a physical one; it's fundamentally spiritual.
The Apostle Paul, in 2 Corinthians 10:3-4, elucidates this concept. Our warfare differs from worldly battles, and so do our weapons. Instead of physical artillery, we're equipped with divine weapons – faith, truth, righteousness. These aren't tools of destruction, but of liberation from temptation's grip.
What empowers these spiritual weapons? It's the divine love of God. Romans 8:38-39 reveals that nothing can sever our bond with this love. In the face of temptation, this steadfast love is our refuge and stronghold.
This spiritual warfare and divine weaponry are visible in Jesus' temptation in the wilderness (Matthew 4:1-11). Jesus faced Satan, not with physical force, but armed with God's Word. His spiritual acumen and absolute trust in God's love were his defense against Satan's clever temptations.
This truth permeates our lives too. Let's imagine a community fighting systemic injustice. Their battle isn't with individuals but against a system – a spiritual struggle in essence. They unite, wielding truth, unity, resilience as their weapons, resisting the injustice and advocating for change.
In this fight, they, like us, learn a crucial lesson. Recognizing the real enemy and understanding the unwavering love shared in the community forms their bastion against systemic forces.
In the face of temptation, recall Ephesians 6:12. Remember, the battlefield isn't physical; it's spiritual. Arm yourself with spiritual weapons, understanding the magnitude of God's love. For no spiritual force can sever us from this love, our ultimate defense against temptation.
10.  Luke 22:46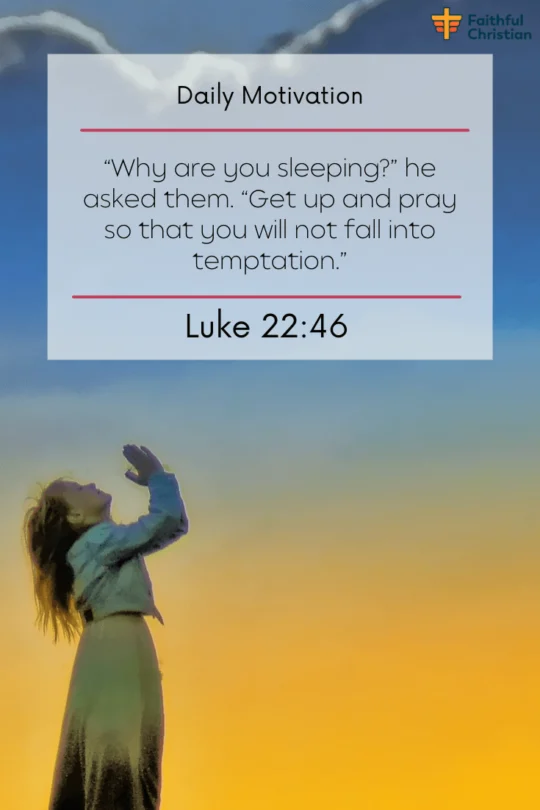 "Why are you sleeping?" he asked them. "Get up and pray so that you will not fall into temptation."
In the hush of the Garden of Gethsemane, Jesus delivered a vital teaching. He told his disciples, "Get up and pray, lest you fall into temptation" (Luke 22:46). This instruction outlines the interplay between prayer and the avoidance of temptation.
Jesus' words echo in another similar scene in Matthew 26:41, which states, "Watch and pray, lest you fall into temptation." I believe the essence of these words from Jesus is that prayer is our primary tool against worldly allurements.
We all have our battles. We stumble, waver, and sometimes stray. But in prayer, we find our haven, our fortress. I've discovered that it's not only a comfort, but a strength, just as you may have.
In 1 Thessalonians 5:17, we're advised to "pray continually". This counsel changes our perception of prayer. It isn't just an occasional retreat. It's a continuous dialogue with God. By weaving prayer into our lives, we build spiritual resilience against temptations.
The timing of Jesus' advice is significant. It was before his crucifixion, a monumental trial. Yet, even then, he cared about his disciples' spiritual strength. His admonishment? Stay awake. Be vigilant. Our vigilance in prayer empowers us to withstand temptation.
Let's consider a real-life application of this lesson. Imagine someone battling a negative habit. The struggle seems unending, the habit overpowering. However, the person then decides to spend the time usually dedicated to the habit in prayer and meditation.
Over time, they realize that the habit's grip on them is loosening. Prayer has given them strength, gradually illuminating a way out of the darkness of temptation. This is the transformative power of prayer.
Today, the lesson from Gethsemane still rings true. It encourages us to stand, to pray, and to face temptations head-on. Through prayer, we navigate a way out. We uncover the strength to resist temptation and remain resolute on our journey.
More bible verses to resist and overcome temptations
---
Recommended for you
---
Overcoming temptations: 3 things you should know
1.  You can be tempted anytime
Temptations can arise anytime.
That's why, as Christians, we must be prepared at all times.
What are your weaknesses? What do you desire the most? Are you content with what you have?
The devil is very tricky and clever.
He knows the desires of man and will tempt us through our cravings.
I have, for years, struggled with fornication. It all started many years ago before I got married.
Yet, despite being married, the devil tries me at every chance he gets.
Sometimes, when the thoughts come into my head, I smile, knowing full well the devil's tricks.
We must be prepared and watch the times we live in.
Just like Job in the scriptures, he was going about his daily activities when temptation struck.
2.  You may suffer in your temptations
The truth about being a devoted Christian is that you are conscious of sin.
You know when the evil is coming, and you are well prepared.
Sometimes, the devil may even go further to hurt or persecute you.
In the case of Job, he was a faithful servant of God.
Despite his faithfulness to God, he was still tempted by the devil.
He lost all his riches and children in a single day.
And despite his pains, the devil didn't stop tempting him.
The devil is cunning and wicked and may go to any extent to hurt you.
Job's wife said to him, "curse God and die."
Despite losing all he cared for — His children and wealth, the devil, struck him with sickness.
He developed painful boils all over his body.
But in all, Job was committed to serving God, and he said,
shall we receive good at the hand of God, and shall we not receive evil? In all this did not Job sin with his lips.
3.  The temptation of the mind is even more dangerous
If you can control your mind, you can weather the storm.
The truth is, before every one of our sinful actions, we think about it.
We must always control our thoughts and our body.
We must put our bodies under subjection.
May God continue to strengthen you in the face of repeated temptations from the devil. Amen.
Frequently Asked Questions
What Psalm deals with temptation?
In Psalm 141:4, we find a poignant cry against temptation. It states: "Do not let my heart be drawn to what is evil… do not let me eat their delicacies."
This verse encapsulates the psalmist's yearning to resist all forms of evil. His plea to the Divine is not only to avoid participation in wicked acts but also to shun the enticing allure of sinful pleasures.
What verse in Matthew talks about temptation?
Matthew 26:41 tackles the issue of temptation, offering both a warning and an understanding of its nature. Here, Jesus advises, "Watch and pray so that you will not fall into temptation."
He emphasizes vigilance and prayer as proactive measures against succumbing to temptation. He further acknowledges the inherent struggle between the spirit's willingness and the weakness of the flesh.
How do you fight temptation?
The approach to combating temptation, as per biblical teachings, can be found in 1 Corinthians 10:13. It underlines that no temptation is unique but rather a common human experience.
This scripture reassures us of God's faithfulness, His understanding of human limitations, and His provision of a way out from the ensnaring clutches of temptation.
What is the Bible verse for temptation?
James 1:13-14 provides insightful clarity on the source of temptation. These verses underscore that God neither succumbs to evil nor does He lead anyone towards it.
Instead, they illuminate the uncomfortable truth that temptation arises from one's own desires. This calls for introspection and personal responsibility when dealing with temptation.
What are the temptations in Matthew 4?
Matthew 4 outlines three distinct temptations faced by Jesus in the wilderness. These include the temptation of physical need, the temptation of testing God, and the temptation of power and glory.
Jesus, however, countered each of these with apt scripture, setting an example of how to resist temptations.
What are some Bible verses about resisting temptation?
Bible verses like 1 Corinthians 10:13 and James 4:7 provide strategies to resist temptation. The former assures us of God's watchfulness and provision for escape when temptation seems unbearable.
The latter instructs submission to God and resistance to the devil as effective defenses against temptation.
How does the Bible teach us to resist temptation sexually?
The Bible addresses sexual temptation with clear directives. 1 Corinthians 6:18-20 highlights the significance of our bodies as vessels of the Holy Spirit, cautioning against sexual immorality.
It calls for recognizing and honoring the sanctity of our bodies as divine temples.
Who are some individuals in the Bible that overcame temptation?
Biblical narratives offer several instances of individuals who overcame temptation. Notably, Joseph, in Genesis 39:7-12, resisted Potipar's wife's attempts to seduce him.
Similarly, Daniel, in Daniel 1:8-16, refused the king's rich food and wine, choosing instead a simple diet, in obedience to God.
Is there a Bible verse that specifically addresses worldly temptations?
While there isn't a specific Bible verse addressing "worldly temptations," 1 John 2:15-17 serves as a comprehensive warning.
It exhorts us to avoid the love of the world and its desires, which are transient, and instead, to seek to do God's eternal will.
Which Bible verse tells the story of Jesus' temptation?
The story of Jesus' temptation in the wilderness is found in Matthew 4:1-11. This account narrates the threefold temptation of Jesus by the devil and His responses to each.
Jesus relied on Scripture to counteract the devil's attempts to make Him succumb, demonstrating the power of God's Word as a tool against temptation.
Author: Akatakpo Dunn
Dr. Akatakpo Dunn is a dedicated follower of Christ, an active member and speaker, and an ongoing learner of the Scriptures. Passionate about his faith and serving others, he is committed to sharing his spiritual journey and insights to inspire and uplift fellow believers. He has been active in the church for more than 23 years. Through The
Faithful Christian Blog
,
Dr. Dunn
combines his love for God, philanthropy, and Scripture, providing a valuable resource for those seeking to grow in their faith.
Follow me: on Youtube, Facebook, Twitter, Instagram, and Pinterest.
Content Disclosure:
At The Faithful Christian Blog, I create authentic and inspiring content. Although I am the main author, I occasionally use AI for minor language enhancements. This minimal AI usage ensures high-quality, trustworthy articles without compromising originality or sincerity, ultimately supporting our shared faith journey.
Warmly,
Dr. Akatakpo Dunn
Was this article helpful?