Indeed, we will all be tempted by the devil.
And, God allows it to happen to test our faith.
When you find it difficult to overcome your vices, you can inspire yourself with Bible verses about temptations.
These scriptures are there to remind you that salvation is a daily battle.
Not surprisingly, the devil takes a cue from what you desire the most.
Since I got married, I have continued to have regular fights against the sin of adultery.
For years before I got married, I was seriously involved with fornication.
But thankfully, God has forgiven me of my sins through my repentance.
I have told myself multiple times that I cannot cheat on my adorable wife.
But this has not been easy as the devil continually tries to test my resolve.
Each day, I am conscious of the devil's trick, focusing on keeping God's commands.
Likewise, you could be dealing with many temptations –from fornication, adultery, smoking, drug abuse, homosexuality, stealing, or corruption.
Whatever the case, be rest assured that you can overcome any temptation if you stay focused on your mind.
The word of God can pierce any heart and give you unimaginable strength in your weaknesses.
I have put together reassuring bible verses to resist temptations.
May God strengthen you in your weaknesses and provide a way out from your temptations.
Amen.
---
Recommended for you
---
Bible verses about temptations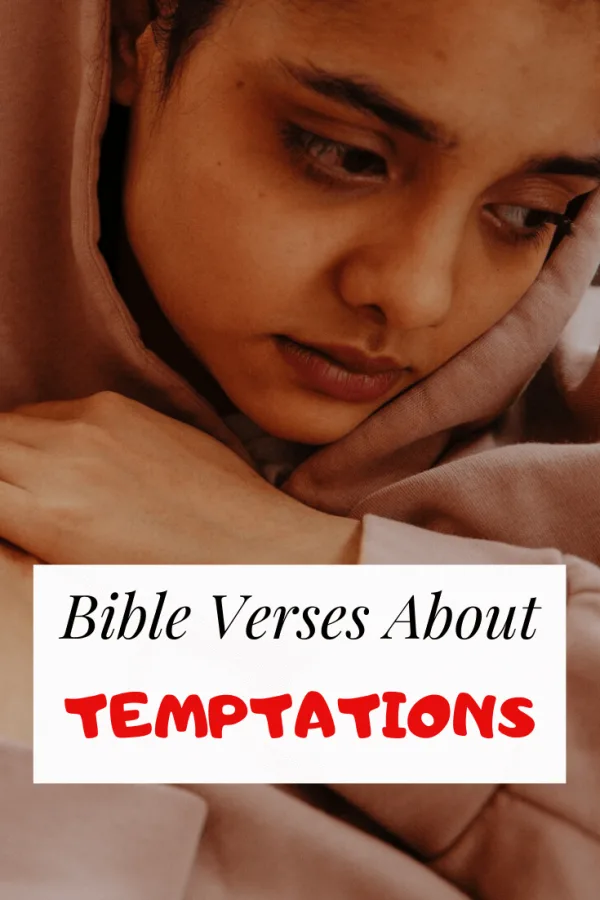 1.  1 Corinthians 10:13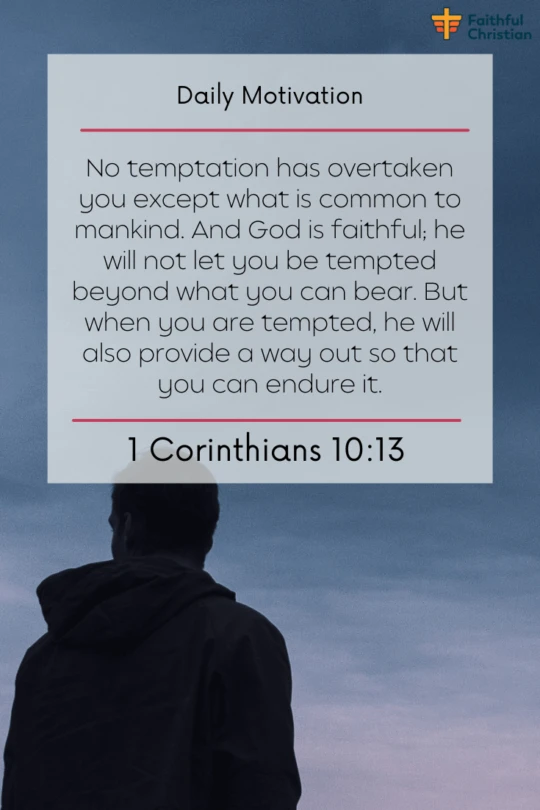 No temptation[a] has overtaken you except what is common to mankind. And God is faithful; he will not let you be tempted[b] beyond what you can bear. But when you are tempted,[c] he will also provide a way out so that you can endure it.
2.  2 Peter 2:9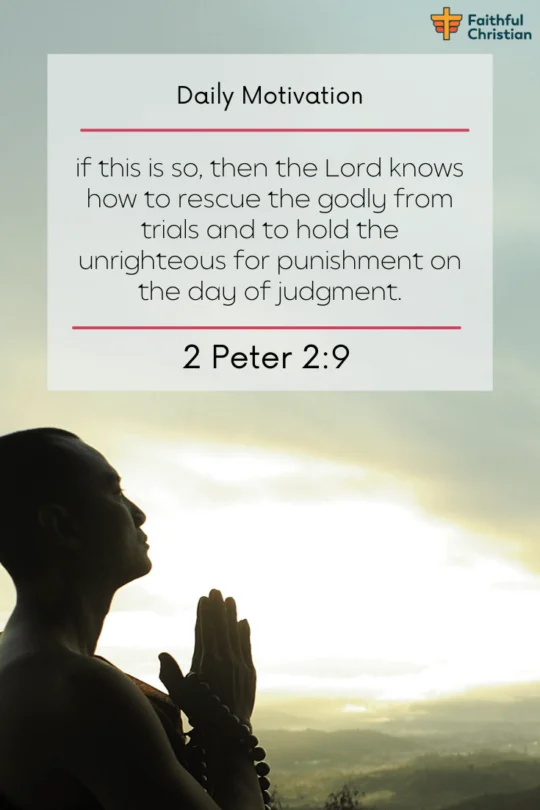 if this is so, then the Lord knows how to rescue the godly from trials and to hold the unrighteous for punishment on the day of judgment.
3.  2 Timothy 4:18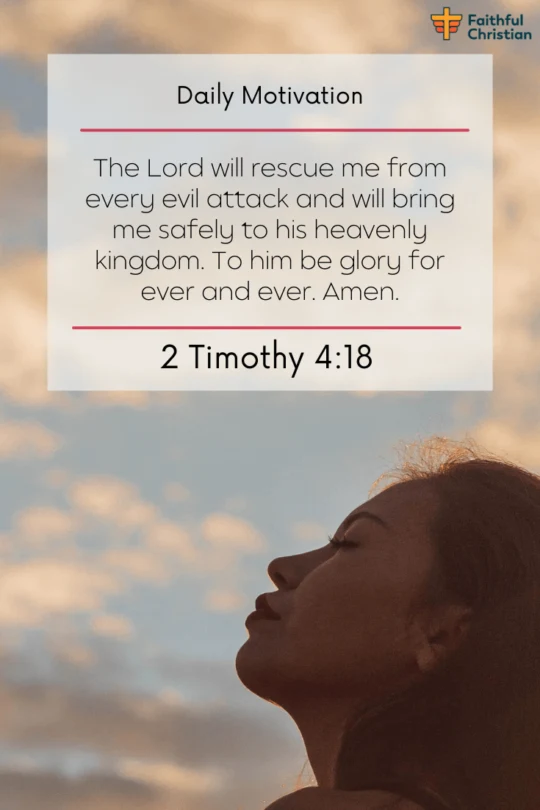 The Lord will rescue me from every evil attack and will bring me safely to his heavenly kingdom. To him be glory for ever and ever. Amen.
4.  1 Peter 5:8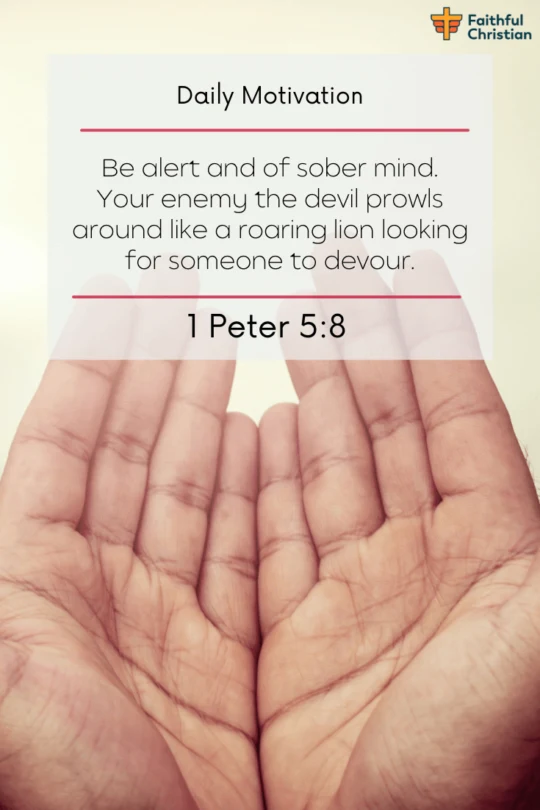 Be alert and of sober mind. Your enemy the devil prowls around like a roaring lion looking for someone to devour.
5.  1 Peter 5:9
Resist him, standing firm in the faith, because you know that the family of believers throughout the world is undergoing the same kind of sufferings.
6.  2 Thessalonians 3:3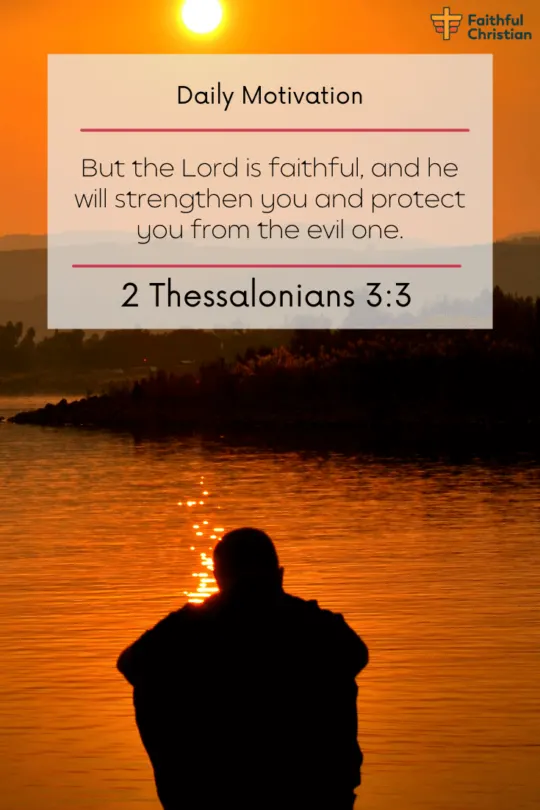 But the Lord is faithful, and he will strengthen you and protect you from the evil one.
7.  Romans 8:28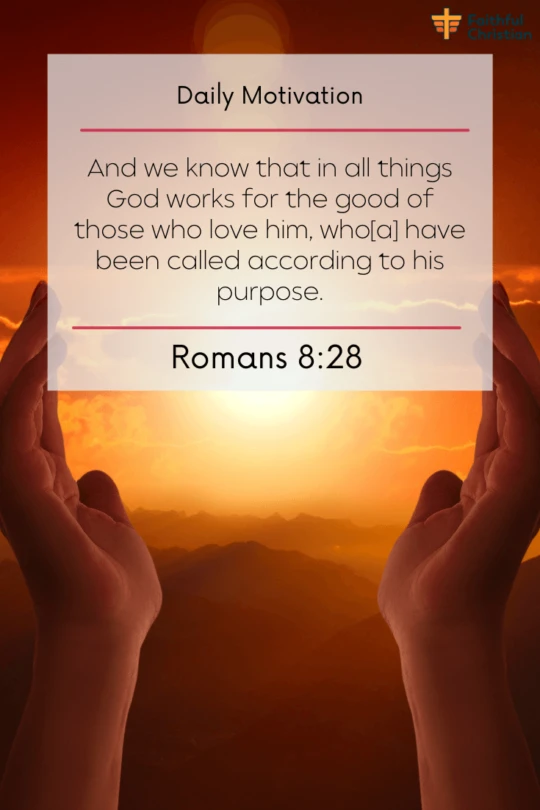 And we know that in all things God works for the good of those who love him, who[a] have been called according to his purpose.
8.  Hebrews 12:4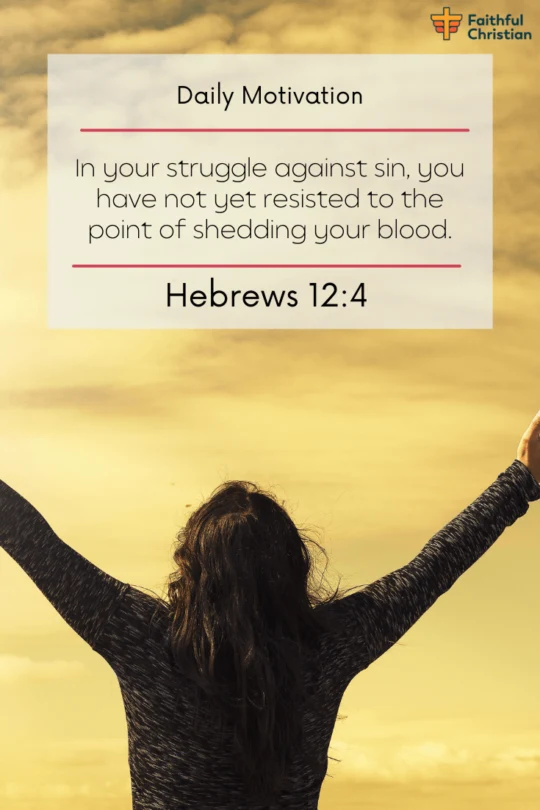 In your struggle against sin, you have not yet resisted to the point of shedding your blood.
9.  Ephesians 6:12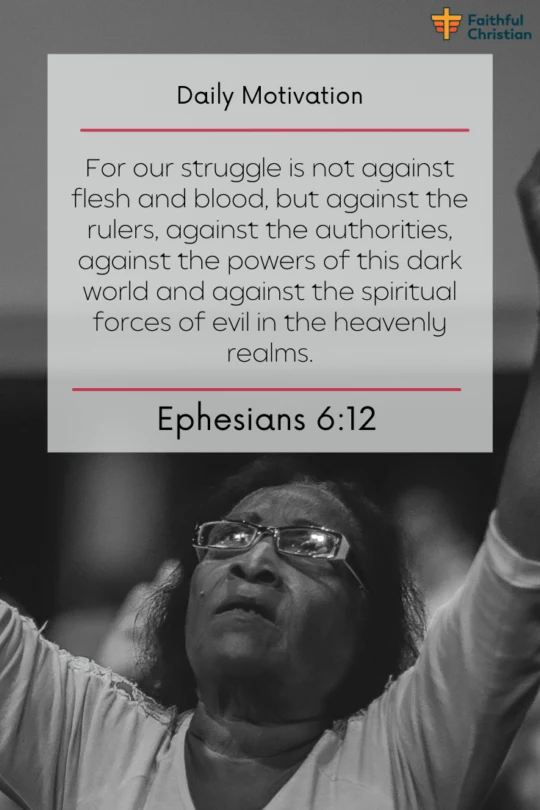 For our struggle is not against flesh and blood, but against the rulers, against the authorities, against the powers of this dark world and against the spiritual forces of evil in the heavenly realms.
10.  Ephesians 6:13
13 Therefore put on the full armor of God, so that when the day of evil comes, you may be able to stand your ground, and after you have done everything, to stand.
11.  2 Corinthians 12:9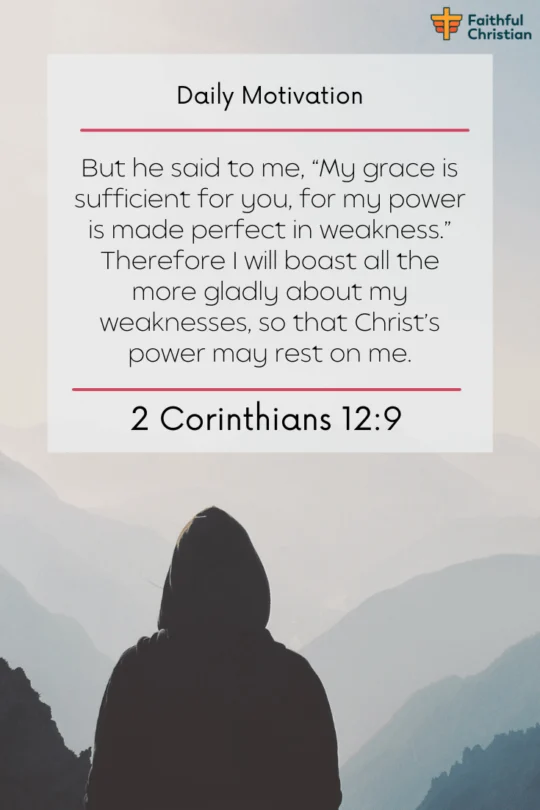 But he said to me, "My grace is sufficient for you, for my power is made perfect in weakness." Therefore I will boast all the more gladly about my weaknesses, so that Christ's power may rest on me.
12.  2 Corinthians 12:10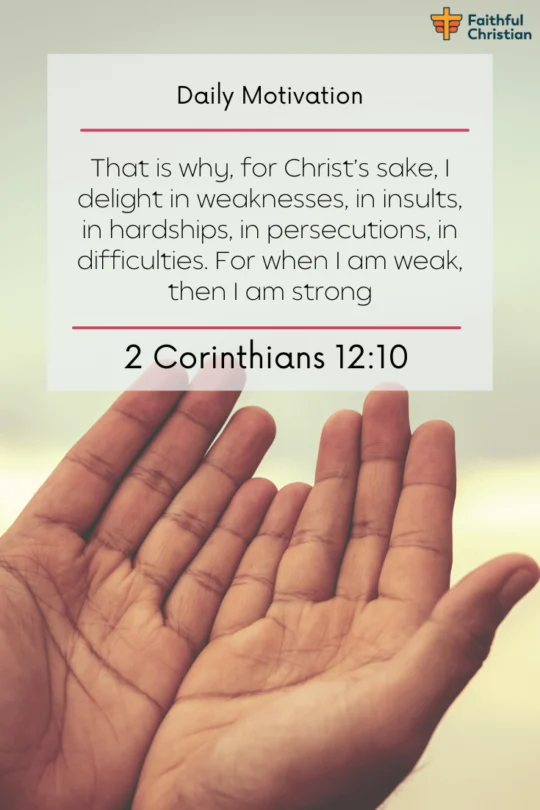 10 That is why, for Christ's sake, I delight in weaknesses, in insults, in hardships, in persecutions, in difficulties. For when I am weak, then I am strong
13.  Luke 22:46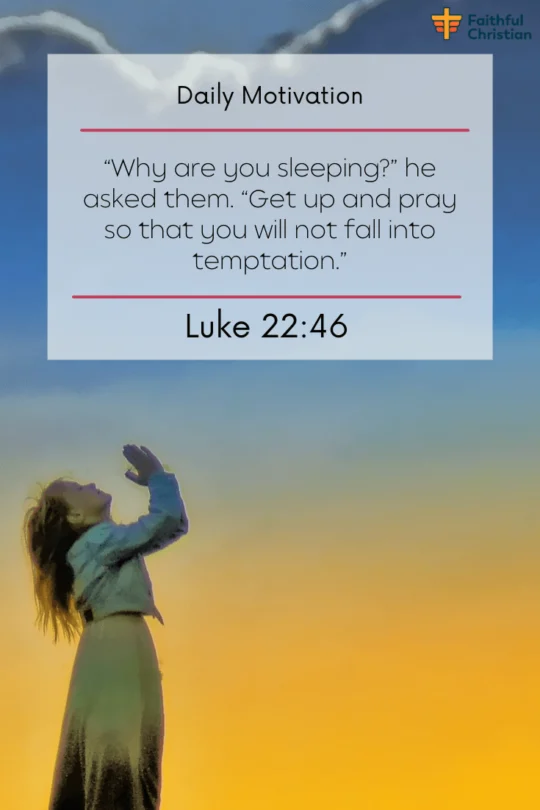 "Why are you sleeping?" he asked them. "Get up and pray so that you will not fall into temptation."
14.  Daniel 3:17
If we are thrown into the blazing furnace, the God we serve is able to deliver us from it, and he will deliver us[a] from Your Majesty's hand.
15.  Revelation 3:10
Since you have kept my command to endure patiently, I will also keep you from the hour of trial that is going to come on the whole world to test the inhabitants of the earth.
More bible verses to resist and overcome temptations
16.  James 1:12
Blessed is the one who perseveres under trial because, having stood the test, that person will receive the crown of life that the Lord has promised to those who love him
17.  Revelation 2:10
Do not be afraid of what you are about to suffer. I tell you, the devil will put some of you in prison to test you, and you will suffer persecution for ten days. Be faithful, even to the point of death, and I will give you life as your victor's crown
18.  1 Peter 1:6-8
In all this you greatly rejoice, though now for a little while you may have had to suffer grief in all kinds of trials. 7 These have come so that the proven genuineness of your faith—of greater worth than gold, which perishes even though refined by fire—may result in praise, glory and honor when Jesus Christ is revealed
19.  Psalm 124:7
We have escaped like a bird
    from the fowler's snare;
the snare has been broken,
    and we have escaped.
20.  1 Peter 5:10
And the God of all grace, who called you to his eternal glory in Christ, after you have suffered a little while, will himself restore you and make you strong, firm and steadfast.
21.  James 1:2-4
Consider it pure joy, my brothers and sisters,[a] whenever you face trials of many kinds, 3 because you know that the testing of your faith produces perseverance. 4 Let perseverance finish its work so that you may be mature and complete, not lacking anything.
22.  Matthew 26:41
"Watch and pray so that you will not fall into temptation. The spirit is willing, but the flesh is weak."
23.  Matthew 6:13
And lead us not into temptation,[a]
    but deliver us from the evil one.[b]'
24.  Mark 14:38
Watch and pray so that you will not fall into temptation. The spirit is willing, but the flesh is weak."
25.  Revelation 16:15
"Look, I come like a thief! Blessed is the one who stays awake and remains clothed, so as not to go naked and be shamefully exposed."
26.  Galatians 5:16-17
So I say, walk by the Spirit, and you will not gratify the desires of the flesh. 17 For the flesh desires what is contrary to the Spirit, and the Spirit what is contrary to the flesh. They are in conflict with each other, so that you are not to do whatever[a] you want.
27.  Luke 21:36
Be always on the watch, and pray that you may be able to escape all that is about to happen, and that you may be able to stand before the Son of Man."
28.  James 1:13
When tempted, no one should say, "God is tempting me." For God cannot be tempted by evil, nor does he tempt anyone;
29.  Galatians 6:1
Brothers and sisters, if someone is caught in a sin, you who live by the Spirit should restore that person gently. But watch yourselves, or you also may be tempted.
30.  Romans 15:1
We who are strong ought to bear with the failings of the weak and not to please ourselves.
---
Recommended for you
---
Overcoming temptations: 3 things you should know
1.  You can be tempted anytime
Temptations can arise anytime.
That's why, as Christians, we must be prepared at all times.
What are your weaknesses? What do you desire the most? Are you content with what you have?
The devil is very tricky and clever.
He knows the desires of man and will tempt us through our cravings.
I have, for years, struggled with fornication. It all started many years ago before I got married.
Yet, despite being married, the devil tries me at every chance he gets.
Sometimes, when the thoughts come into my head, I smile, knowing full well the devil's tricks.
We must be prepared and watch the times we live in.
Just like Job in the scriptures, he was going about his daily activities when temptation struck.
2.  You may suffer in your temptations
The truth about being a devoted Christian is that you are conscious of sin.
You know when the evil is coming, and you are well prepared.
Sometimes, the devil may even go further to hurt or persecute you.
In the case of Job, he was a faithful servant of God.
Despite his faithfulness to God, he was still tempted by the devil.
He lost all his riches and children in a single day.
And despite his pains, the devil didn't stop tempting him.
The devil is cunning and wicked and may go to any extent to hurt you.
Job's wife said to him, "curse God and die."
Despite losing all he cared for — His children and wealth, the devil, struck him with sickness.
He developed painful boils all over his body.
But in all, Job was committed to serving God, and he said,
shall we receive good at the hand of God, and shall we not receive evil? In all this did not Job sin with his lips.
3.  The temptation of the mind is even more dangerous
If you can control your mind, you can weather the storm.
The truth is, before every one of our sinful actions, we think about it.
We must always control our thoughts and our body.
We must put our bodies under subjection.
May God continue to strengthen you in the face of repeated temptations from the devil. Amen.
Author: Akatakpo Dunn
Dr. Akatakpo Dunn is a dedicated follower of Christ, an active member and speaker, and an ongoing learner of the Scriptures. Passionate about his faith and serving others, he is committed to sharing his spiritual journey and insights to inspire and uplift fellow believers. He has been active in the church for more than 23 years. Through The
Faithful Christian Blog
,
Dr. Dunn
combines his love for God, philanthropy, and Scripture, providing a valuable resource for those seeking to grow in their faith.
Follow me: on Youtube, Facebook, Twitter, Instagram, and Pinterest.
Content Disclosure:
At The Faithful Christian Blog, I create authentic and inspiring content. Although I am the main author, I occasionally use AI for minor language enhancements. This minimal AI usage ensures high-quality, trustworthy articles without compromising originality or sincerity, ultimately supporting our shared faith journey.
Warmly,
Dr. Akatakpo Dunn
Was this article helpful?