I am thankful to my wife in so many ways.
She has been an inspiration to me.
She loves me so much that she always prays for me.
Her prayers have brought upliftment to my life.
Today, we are going to pray for your husband at work.
We will ask God to intervene and protect him from fake friends.
We will seek promotions and prosperity in all he does.
Not just that, we will pray for God to protect him from other women.
Long-distance or not, God is able to fulfill our prayer even if your husband resides abroad.
I have put together this prayer for your husband at work to guide you.
May God protect, provide, secure, and bless your husband in all areas of his life.
---
Recommended for you
---
Short prayer for husband at work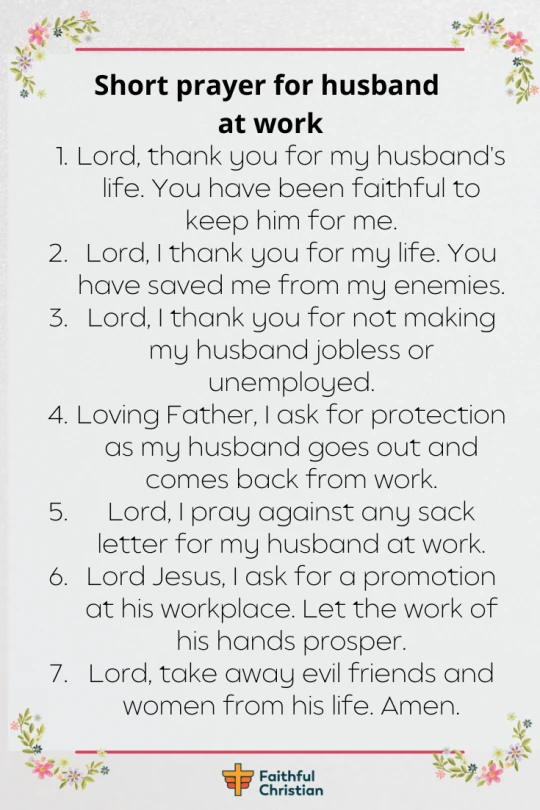 Prayer Bible verses for husband at workplace
Proverbs 22:29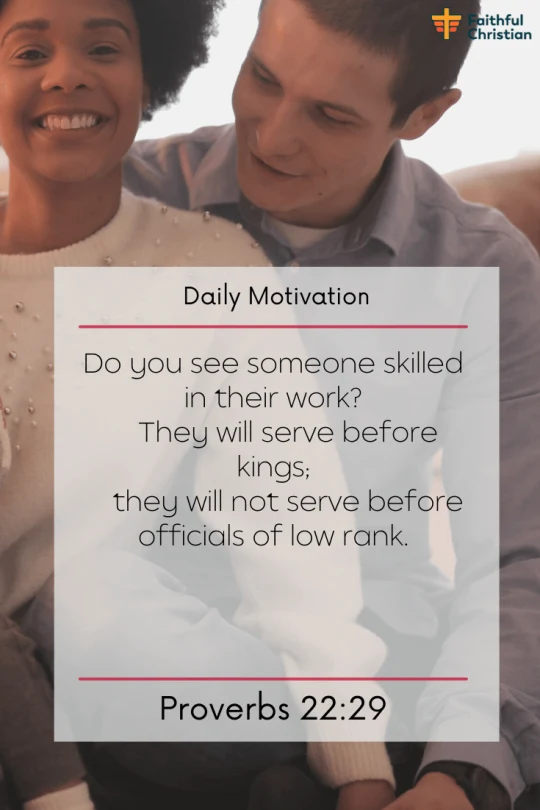 Do you see someone skilled in their work?
    They will serve before kings;
    they will not serve before officials of low rank.
Proverbs 10:4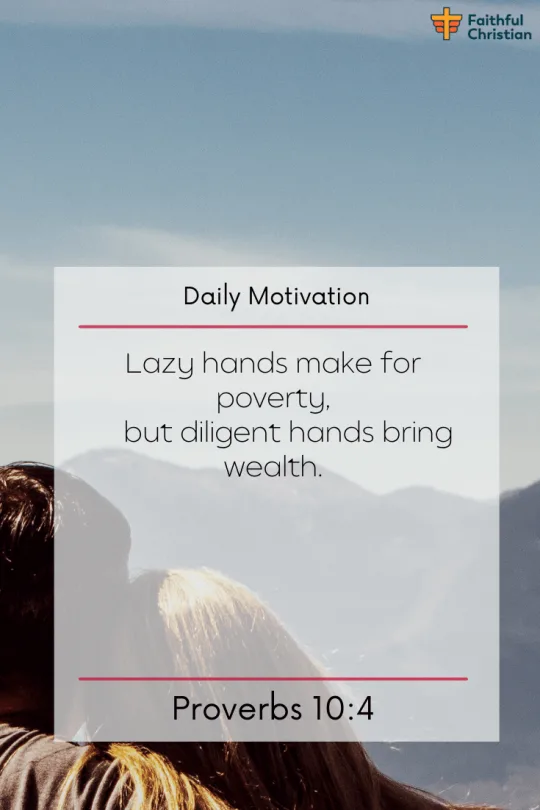 Lazy hands make for poverty,
    but diligent hands bring wealth.
3 John 2
Beloved, I wish above all things that thou mayest prosper and be in health, even as thy soul prospereth
Psalm 121:8
the Lord will watch over your coming and going
both now and forevermore.
---
Recommended for you
---
Prayer for my husband at work
Thank you, Lord, for my husband (let us pray)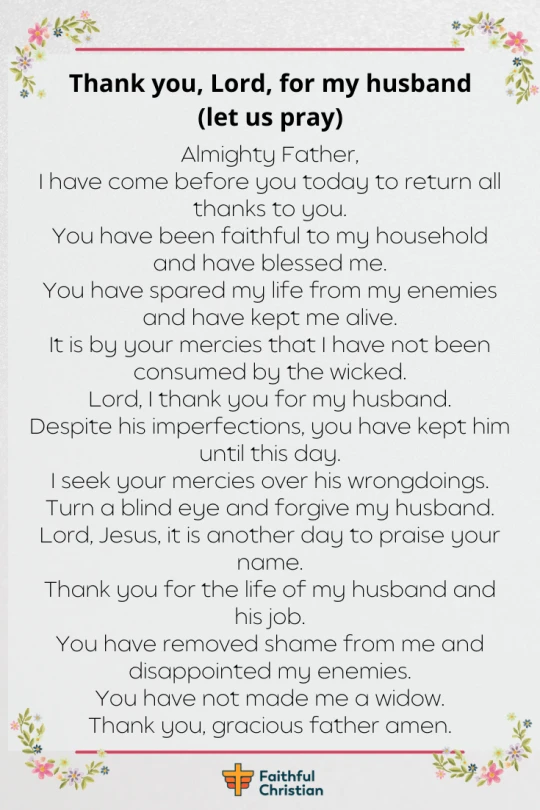 Oh, Architect of All Creation,
Today, I'm here, standing in awe before your radiant presence. I carry an overflowing cup of gratitude. Just as we're taught in 1 Thessalonians 5:18, giving thanks in every situation is a command straight from the heavens.
You've filled my home with love. Your steadfast love has been our rock. Blessings, those beautiful gifts from you, have been plenty, enriching our lives each day. It's like we're seated at a grand feast, surrounded by adversities, but still feasting. This scene, straight from Psalm 23, is our reality.
My life has known your protection. You've been my shield against those who wish me harm. Like a watchful shepherd, you've stood guard, keeping me safe. This love mirrors Psalm 121's promise of God's protective watch over our lives.
Your mercy has been my fortress. I've found shelter in your love when faced with ill intentions. This is a testament to your great love, described in Lamentations 3:22-23. A love that never allows us to be consumed.
And Lord, my husband, he too basks in your grace. He's not perfect, but you've given him life, day after day. It's like a scene straight from 2 Corinthians 12:9. Despite our weaknesses, your grace remains sufficient.
We look to you for mercy, to cleanse him of his wrongdoings. I call upon your boundless compassion and forgiveness. It's a humble echo of the hope given in 1 John 1:9. Confession leads to purification.
A new day is a new chance to sing praises for you, Lord Jesus. It's a joyous gift that inspires us to rejoice. Just as Psalm 118:24 says, each day is a creation of the Lord, a cause for gladness.
I'm grateful for my husband's life, his job, and the dignity it brings. You've prevented shame from reaching my door. This divine assistance is proof of Proverbs 3:5-6. Trust in God, and He will make our paths straight.
You've guarded me from the pain of losing my spouse. A testament to the love whispered in Jeremiah 29:11, plans of prosperity and hope for our future.
All this makes my heart swell with gratitude. I thank you, Lord, for your immeasurable love and grace. Echoing Ephesians 5:20, my gratitude extends to everything you've done, all in Jesus' name. Amen.
Let my husband be diligent at work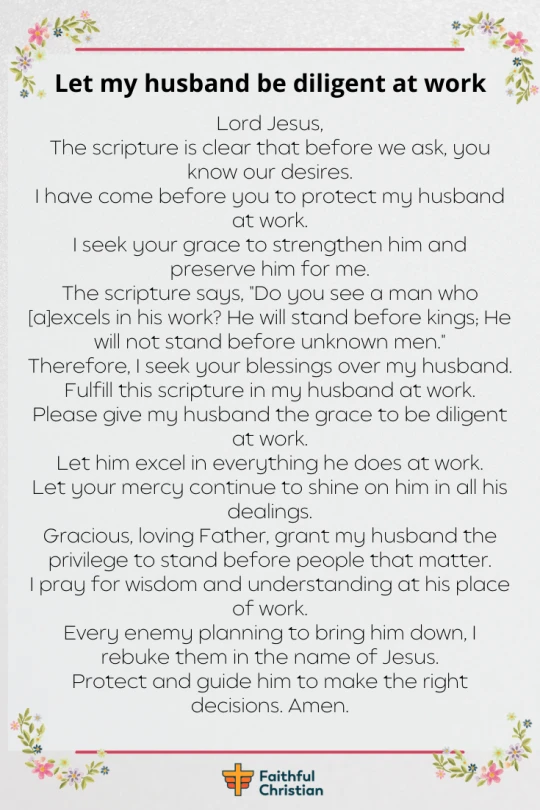 Dearest Jesus, our guiding light,
You are the one who sees our hearts. Every whispered prayer, every hidden hope – you know it all. It's like you're reading our minds, knowing our desires even before they cross our lips. That's the magic of your love.
Today, I'm reaching out with a special request. I need your watchful eyes on my husband. His workspace is a jungle. Deadlines loom like fierce predators; competition roars at every corner. I'm asking you to be his shield, his mighty protector. Just as a shepherd guards his flock, I trust you to keep him safe from harm.
God, we need your strength. Life can be tough, demanding. But you said it best: "In weakness, my power is made perfect."
So, here I am, praying for a divine power-boost for my husband. Let him find strength in every challenge, courage in every trial. He is my rock, my anchor – preserve him for me.
Excellence – it's a golden thread woven into the pages of Proverbs. It tells us that a man of excellence will stand before kings, not obscure folks. That's my prayer for my husband. Pour on him a spirit of diligence, perseverance, and tenacity. May he stand tall, not just blend into the crowd, but shine brightly for all to see.
Each sunrise paints a picture of your unfailing love. Your mercy is as sure as the dawn, never-ending and ever new. Lord, let my husband feel this divine grace, lighting up every business deal, every relationship, and every decision he makes. May he know that your guiding hand is on him, always.
Jesus, you taught us that we're the world's light, a city on a hill. We can't hide our light. So, I ask, make my husband a beacon at his workplace. Let his actions speak volumes. Let him earn respect, acknowledgement. And may he stand before influential folks, as he mirrors your brilliance in his work.
God, you promised wisdom to those who ask. It's an open invitation, a promise to guide our thoughts, our decisions. So, for my husband, I pray for an extra helping of divine wisdom. Let his choices be like pebbles dropped in a pond, sending out ripples of positive impact on his team, his company.
We know life's battlefield extends beyond what our eyes can see. There are forces at work, invisible foes. But in your name, Jesus, I say no to these dark powers plotting against my husband. I trust your protective shield to guard him, guiding him to the right moves at the right time.
In closing, my prayer remains as simple as it is heartfelt. God, watch over my husband. Guide him, guard him. Let success and safety be his companions at work. Just as a loving parent guides their child, your promise assures us – you'll show us the way to go.
And so, with a heart full of faith, I say, Amen.
God bless my husband (let us pray)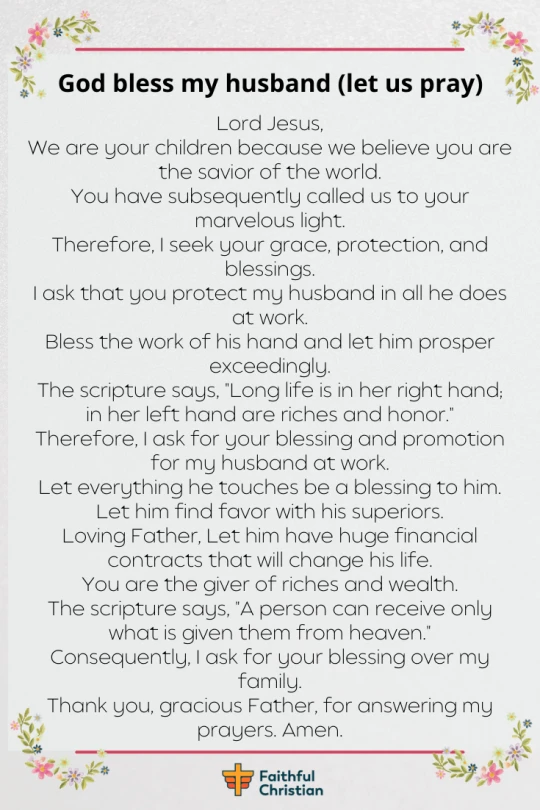 Beloved Savior, Jesus,
We are the children of your boundless love. Faithfully, we hold tight to the truth that you are our world's ultimate hope. This belief isn't just a whisper in our hearts. It's a shout that echoes throughout our souls, rooted in your promise of eternal life in John 3:16.
Your radiant light calls us. It's a beacon, a spotlight cutting through life's darkest corners. Your words in 1 Peter 2:9 resonate here. You've summoned us, guided us towards hope, and replaced despair with peace.
In this space of gratitude, we seek your divine favor. The Bible tells us in Hebrews 4:16 – grace is accessible to us. This grace, your celestial shield, is our fortress. These blessings strengthen us. They feed our spirits, deepen our bond with you, and keep our faith alive.
Our prayer is simple, yet deeply rooted in faith. Watch over my husband. Shepherd him through the labyrinth of work. As promised in Proverbs 3:6, straighten his path. Lighten his burdens as in Matthew 11:28-30. Just as Deuteronomy 28:12 assures us, bless his endeavors. Let his work yield abundance, satisfaction, and prosperity.
Proverbs 3:16 gives us hope. Wisdom brings long life and riches. Drawing from this wisdom, we humbly ask for your blessings. Let his professional life be a channel of your favor.
Your promise in Deuteronomy 28:12 inspires us. Open the heavens, Lord. Let every effort bear fruit. Like Joseph in Genesis 39:21, let him find favor. Gift him with profitable contracts. Let these bless his life and enable us to extend our hands to those in need.
All good things come from you, Father. This truth is etched in Deuteronomy 8:18. We acknowledge every blessing as your gift. Each perfect gift, as James 1:17 illuminates, is from you. With this spirit of humility, we seek your favor. Bless our family, Father.
In conclusion, we say thank you. Your love and constant presence fill our hearts. Philippians 4:6-7 teaches us to express gratitude. We acknowledge your timely answers. Your love is our fortress, our refuge. We entrust our lives, our prayers to you.
In your holy name,
Amen.
Pray against temptations at work.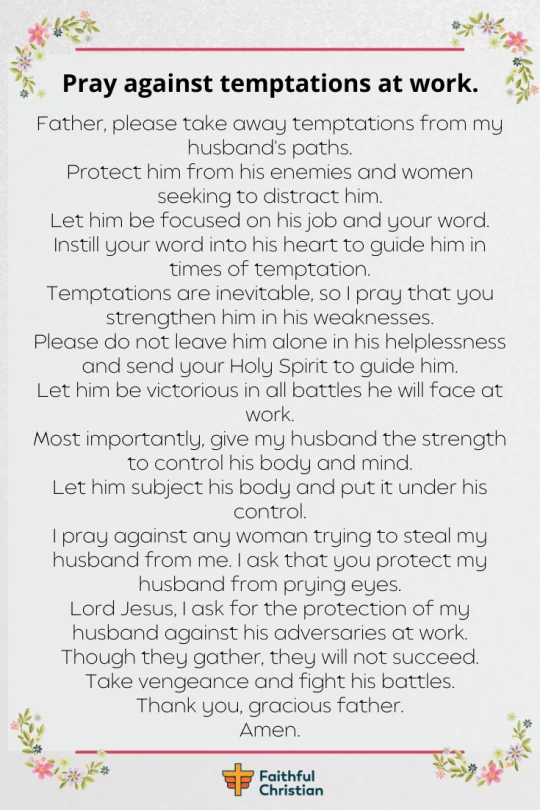 Oh, Loving Father, I approach You today with a sincere heart, holding my dear husband in my prayer. In the spirit of James 4:7, I implore you, let not the shadow of temptation touch him. Our world is a maze of distractions and enticements. Yet, with Your guidance, symbolized in Psalm 119:105, I believe his path will be pure and true.
Father, shield my husband from harm. From foes to the flirtatious, let none derail him. The promise of 2 Thessalonians 3:3 is clear: You are faithful. You guard us from the wicked. Under your protection, their efforts will falter. Their charm will fail to ensnare him.
Proverbs 4:25-27 teaches us to stay focused. To keep our gaze steady. To turn away from evil. So, I pray, let my husband remain centered. May his eyes stay on his work and Your holy Word. May his mind be a sanctuary of wisdom, free of distractions.
Hebrews 4:12 paints Your Word as a living force. It's a beacon in our hearts, guiding us through moral storms. Father, I ask You to plant this beacon in my husband's heart. Let it shine bright in his moments of doubt, keeping him steadfast in faith.
Temptations are a part of life. Yet, as 1 Corinthians 10:13 tells us, You won't let us face more than we can handle. So, I pray, strengthen my husband in his weak moments. Equip him to resist, to stay true to his vows.
The reassurance of Psalm 46:1 is profound. You are our refuge and strength, ever-present in times of trouble. So, in his moments of despair, let him not feel alone. Dispatch Your Holy Spirit to guide him, comfort him. Surround him with Your divine presence. Remind him of Your constant companionship.
Father, grant my husband resilience and courage. As per James 1:12, may he stay steadfast under trial. Bless him with the strength to overcome professional hurdles. To triumph over adversaries. To succeed in his work.
1 Corinthians 9:27 speaks of discipline and control over one's body. Lord, bless my husband with this strength. Let him be the master of his desires and thoughts. Let his mind and body align with Your will.
Hebrews 13:4 reminds us of the sanctity of marriage. So, against any woman seeking to lure him, I pray for Your divine intervention. Safeguard our union, Lord. Let our marital harmony remain undisturbed.
Father, protect my husband from prying eyes. Psalm 121:7-8 assures us of Your watchful protection. Let him be shielded by Your grace. Let ill-intentions find no way to him.
The words of Isaiah 54:17 are potent. "No weapon forged against you will prevail…" I seek Your divine protection for my husband. Against work adversaries. Against those conspiring against him. Let them not succeed.
Romans 12:19 teaches us to leave revenge to You. So, if anyone tries to block his deserved success, I beseech Your divine justice. Fight for him, Lord.
In all, I am grateful, Father. Psalm 103:8 paints You as compassionate and gracious. I trust in Your divine guidance. In Your holy name, I pray. Amen.
Let us pray for consistency in his business/job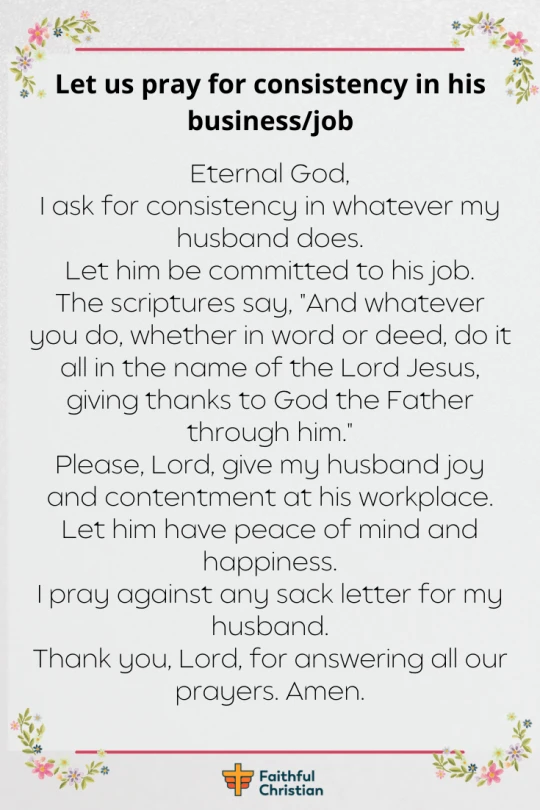 Almighty God, Everlasting Light,
Today, I stand before You with a hopeful heart, seeking guidance for my husband. Just like a compass needle finds north, I pray that he finds consistency – the steady rhythm in every heartbeat of his life.
Drawing wisdom from Proverbs 16:3, I ask him to lay all his actions, thoughts, and words at Your feet. His choices, large or small, may they always seek Your counsel.
Professional life often feels like a vast ocean. My husband is a sailor navigating through its tumultuous waves. Remind him of Colossians 3:23-24. May he anchor his boat with unwavering dedication, working wholeheartedly, seeing You in every task. Success, personal growth, fulfillment – may these be the islands he discovers on his journey.
Scriptures remind us of a beautiful truth – "Do everything in the name of Lord Jesus" (Colossians 3:17). With that in heart, may my husband live. Every word he speaks, every action he takes, may they echo Your divine love. Let his life be an orchestra playing a symphony of gratitude to You.
Workplace joy and contentment, that's the treasure I seek for him, oh Lord. Philippians 4:6-7 encourages us to swap anxiety with prayer and thanksgiving. May he do the same. With every challenge, every success, may his heart overflow with happiness. May his mind stay as calm as a serene lake, untouched by the whirlwind of duties.
Work can be a battlefield, and peace, a rare gem. But as the psalmist found in Psalm 119:165, peace comes from loving Your law. May my husband find such peace in his work. Let it radiate like a beacon, lighting up his workspace and sparking positivity.
I stand firm in Your mighty name against any storm threatening his career. With the shield of Isaiah 54:17, no weapon formed against him shall prevail. Rejecting the possibility of a sack letter, I pray for Your intervention. Guide him. Strengthen him. Be his armor in times of trial. Guard him from stress, wrap him in Your love.
Thank you, Lord, for being our listening ear, our guiding star. David's words in Psalm 28:6 resonate with our hearts – "Praise be to the LORD, for he has heard my cry for mercy." You've been our compass in the past, guiding us through uncharted waters. We trust You to be the same today, and always.
In Your name, holy and precious, we lay our prayers. Amen.
Frequently Asked Questions
1. What is a powerful prayer for a good husband?
"Oh Loving Lord, I yearn for a spouse. A spouse who carries a steadfast faith and walks in your light. I seek a partner of great wisdom, immeasurable strength, and unending patience. Guide me towards a man who embodies kindness and humility, much like the righteous in Proverbs 20:7. Bless me, dear Lord, with a life partner who mirrors such virtue. In the loving name of Jesus, I pray. Amen."
2. How do you pray for success at work?
"Divine Father, I pray for triumph in my profession. Guide my every move, infuse my decisions with wisdom, and let my endeavors bear fruit. As Proverbs 16:3 says, I entrust my plans to You. For Your promises never fail. I pray in the name of Jesus. Amen."
3. What is a good morning prayer for my husband at work?
"Merciful Lord, protect my husband as he steps into another workday. May your wisdom guide his choices and your strength fuel his tasks. As echoed in Psalms 90:17, I pray for Your favor to grace us and establish our works. I pray in Jesus' name. Amen."
4. What is an inspirational prayer for the workplace?
"Oh, Great Architect of the Universe, let Your wisdom and love fill our workplace. May our actions shine with Your light. Colossians 3:23 reminds us that our work should be filled with heart and dedication, as if serving You. Guide us in fostering a peaceful and efficient workspace. I pray this in the name of Jesus. Amen."
5. How do I pray for my husband at work?
"Oh, Gracious Lord, I place my husband in Your hands as he embarks on his workday. Equip him with wisdom and energy to excel. Let his presence illuminate Your love. I trust in Your word in Psalm 1:3 that those who follow You prosper. Shower such prosperity on my husband's efforts. In Jesus' name, I pray. Amen."
6. How do I appreciate and pray for my husband?
"Oh, Heavenly Father, I am deeply grateful for my husband. I cherish his love, his courage, his faith in You. May you continually guide him in life. Shower him with blessings as described in Numbers 6:24-26. In the name of Jesus, I pray. Amen."
7. What is a short prayer for my husband at work?
"Oh, Guiding Light, lead my husband at work. Grant him wisdom. Bestow him strength. Proverbs 3:5-6 reminds us that trusting You clears our paths. I pray in Jesus' name. Amen."
8. What is a prayer for my husband's success and protection?
"Oh, Mighty God, I pray for my husband's triumph and Your protective shield around him. Let his steps tread on paths of righteousness, as the shepherd in Psalm 23:1-3 guides his flock. In Jesus' name, I pray. Amen."
9. What is a prayer for my husband's protection at work?
"Oh, Guardian Lord, cover my husband with Your protection at his workplace. Secure him from harm. Psalms 121:8 assures Your eternal watch over our comings and goings. In Your Holy name, I pray. Amen."
10. What is a morning prayer for him at work?
"Loving Father, guide my husband at work as this day dawns. Grant him clarity, resilience, and success. Lamentations 3:22-23 speaks of Your never-ending mercies that are renewed each morning. May such mercy guide him today. In Jesus' name, I pray. Amen."
11. What is a prayer for my husband's financial success?
"Oh, Provider of All, bless my husband's financial journey. May his labor yield prosperity and fulfill our needs. As promised in Philippians 4:19, let our needs be met according to Your abundant glory. In Your Holy name, I pray. Amen."
12. What is a prayer for my husband's employment?
"Oh, Sustainer of Life, I seek stability and joy for my husband at his job. May he find favor in the eyes of his employers. As Psalm 90:17 says, may Your favor rest on us and establish our works. In Jesus' name, I pray. Amen."
13. What is a prayer for my husband's job interview?
"Oh, God of Wisdom, I pray for calm and confidence for my husband as he prepares for his interview. Let Your favor shine on him as described in Luke 2:52. In Your name, I pray. Amen."
---
Recommended for you
---
Author: Akatakpo Dunn
Dr. Akatakpo Dunn is a dedicated follower of Christ, an active member and speaker, and an ongoing learner of the Scriptures. Passionate about his faith and serving others, he is committed to sharing his spiritual journey and insights to inspire and uplift fellow believers. He has been active in the church for more than 23 years. Through The
Faithful Christian Blog
,
Dr. Dunn
combines his love for God, philanthropy, and Scripture, providing a valuable resource for those seeking to grow in their faith.
Follow me: on Youtube, Facebook, Twitter, Instagram, and Pinterest.
Content Disclosure:
At The Faithful Christian Blog, I create authentic and inspiring content. Although I am the main author, I occasionally use AI for minor language enhancements. This minimal AI usage ensures high-quality, trustworthy articles without compromising originality or sincerity, ultimately supporting our shared faith journey.
Warmly,
Dr. Akatakpo Dunn
Was this article helpful?