Pain is inevitable.
We've all experienced pain at one point in our lives.
Pain could mean physically hurt, sickness, financial disappointment, difficulties with getting a Job, heartbreaks, and emotional distress.
I met a young lady suffering from massive vaginal bleeding a few weeks back.
It turned out that she had multiple huge fibroid masses.
She was so scared of her next period because of the expected massive blood loss.
When she presented at the clinic, she was crying and inconsolable.
She had tried all non-surgical options but failed.
At this point, she has lost hope for a cure – And, of course, was scared of her life.
But today, she is okay.
So, Why does God allow suffering in the first place? Are there bible verses about pain and suffering that can strengthen my soul?
Yes, there are numerous bible verses about pain and suffering in the scriptures.
We all go through challenges, and you are not alone.
Paul said: "God will never allow us to be tempted beyond what we can handle." 
Therefore, be immovable and trust in God.
---
Recommended for you
---
Bible verses about pain and suffering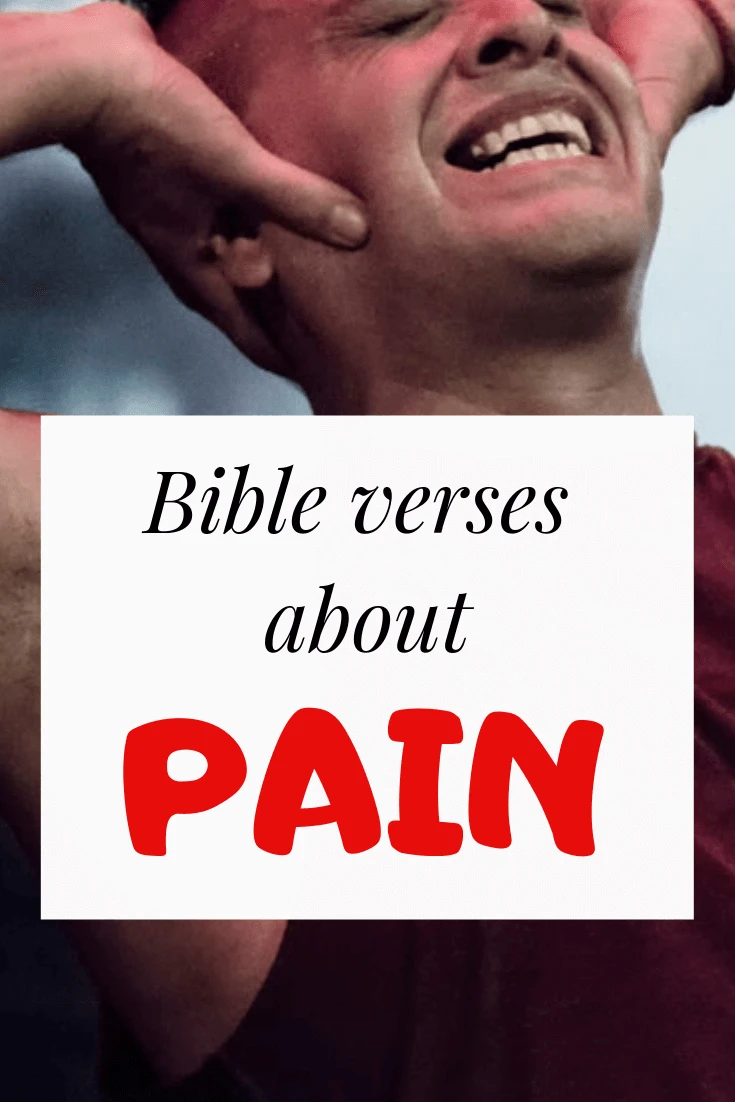 I have compiled a list of encouraging bible verses about pain and suffering to strengthen your soul. Read and be blessed
1.  Romans 8:18 – God promises an end to physical pain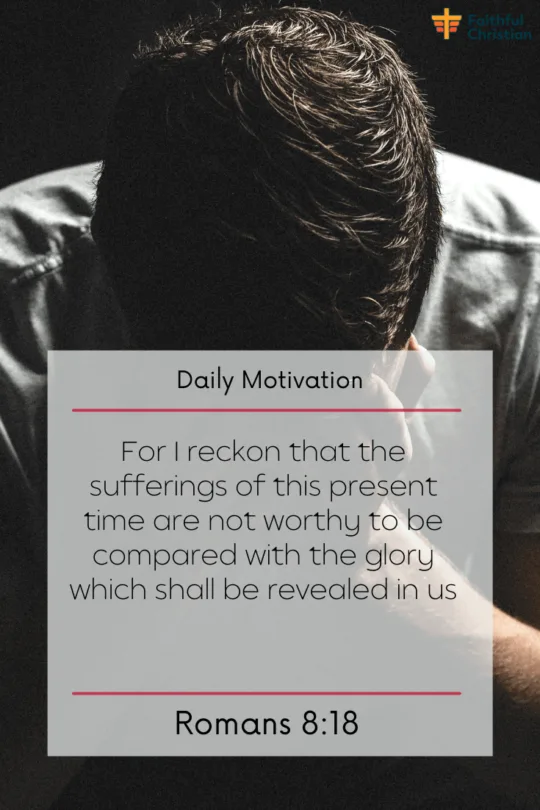 For I reckon that the sufferings of this present time are not worthy to be compared with the glory which shall be revealed in us
Life's journey weaves a tapestry of joy and suffering. Romans 8:18 sparks a beacon of hope amidst this intricate fabric. It offers a compelling view: our current discomfort is merely a footnote compared to the future glory.
Reflect on Job's narrative. Stripped of family, wealth, and health, he exemplified steadfast faith. He clung to hope, enduring unimaginable pain. Job's fortitude teaches us a profound lesson: we can hold onto hope, even amid severe trials.
A modern-day example of this principle is Nick Vujicic. Born without arms and legs, Nick encountered unimaginable physical challenges. But instead of succumbing to despair, he turned his adversities into strengths. Nick didn't allow his circumstances to define him; instead, he chose to inspire millions around the globe.
I admire Nick's undying spirit and optimism – a testament to human resilience. His life echoes Romans 8:18, revealing that suffering can be eclipsed by the radiant hope of glory.
Revelation 21:5 complements this view. "I am making everything new!" promises a future devoid of pain. It reassures us: our present suffering is transient. The future, a realm of glory and joy, awaits us.
Further, 1 Corinthians 2:9 amplifies this message. It asserts the unimaginable delights God has for those who love Him. Our current struggles seem trivial compared to the forthcoming splendor.
In trials, endurance is a challenge. However, Job's and Nick's lives inspire us to mirror Romans 8:18's call. They endured, suffered, but held onto hope.
Suffering may darken our path, yet faith illuminates it. When we grip the promise of a new Heaven and Earth, we gather strength. This expectation of a future devoid of pain, filled with glory, bolsters us in difficult times.
In sum, our journey might bear trials, but the destination holds unmatched joy. As we navigate our present suffering, let's remember: it's a prelude to the glory that awaits us.
Let's draw strength from Job and Nick, cling to our faith, and remember: present pain is ephemeral, overshadowed by the yet-to-be-revealed eternal glory.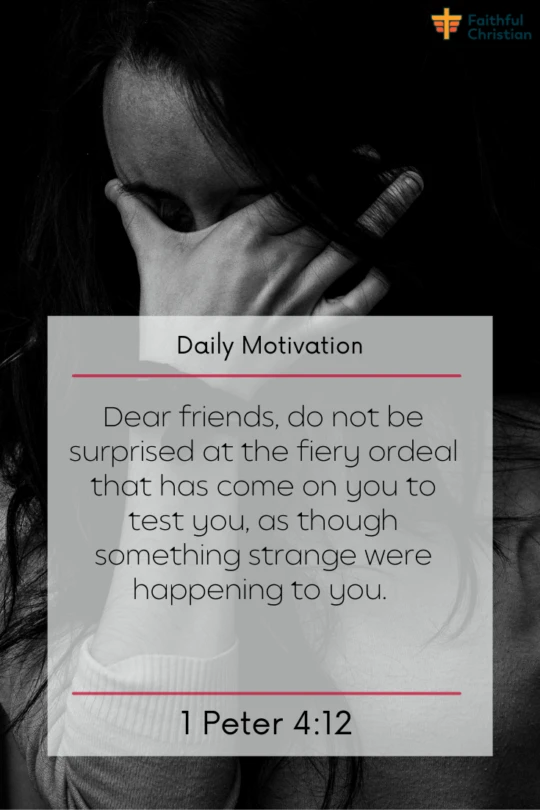 Dear friends, do not be surprised at the fiery ordeal that has come on you to test you, as though something strange were happening to you.
But rejoice inasmuch as you participate in the sufferings of Christ, so that you may be overjoyed when his glory is revealed. (NIV)
Pain is a universal human experience. Amid such times, many seek solace in scriptures, and 1 Peter 4:12-19 offers a unique viewpoint.
The apostle Peter asserts that suffering is a test of faith, much like gold in a furnace. This idea, echoed in James 1:2-4, might seem odd at first. However, a deeper consideration reveals its wisdom. Trials build endurance, which refines our faith. This process of refinement, in turn, matures us, leaving us lacking nothing.
But trials have a further role, beyond simply making us resilient. As suggested by Romans 5:3-4, enduring trials shapes character. Importantly, it also kindles hope.
Peter exemplifies this. Despite facing severe persecution, he remained steadfast. His suffering didn't just test his faith; it refined it, nurtured his character, and solidified his hope.
Peter also posits another profound concept. He views suffering as participation in Christ's sufferings. Thus, in the face of trials, we're not alone. We're sharing in Christ's experiences, providing solace and a sense of unity.
Corrie Ten Boom's story illustrates this beautifully. Despite enduring the horrors of a Nazi camp, she clung to faith. Her suffering tested and refined her faith. Remarkably, she forgave her tormentors, embodying Christ-like forgiveness. Her faith in these trials was her beacon of hope.
Finally, the response to suffering is vital. While it's tempting to retreat, Peter's teachings suggest a different approach. Instead of recoiling, face the trials. View them as catalysts for growth. Trust in God, allowing for His work in our lives.
In summary, suffering can be transformative. It tests and refines faith, molds character, and kindles hope. It provides a unique experience of participation in Christ's sufferings.
Most crucially, it reinforces our trust in God. Through suffering, we can experience profound spiritual growth.
In times of pain, remember: you are not alone. God is with you, through every high and low.
3.  Psalm 147:3-5 – Bible verses about emotional pain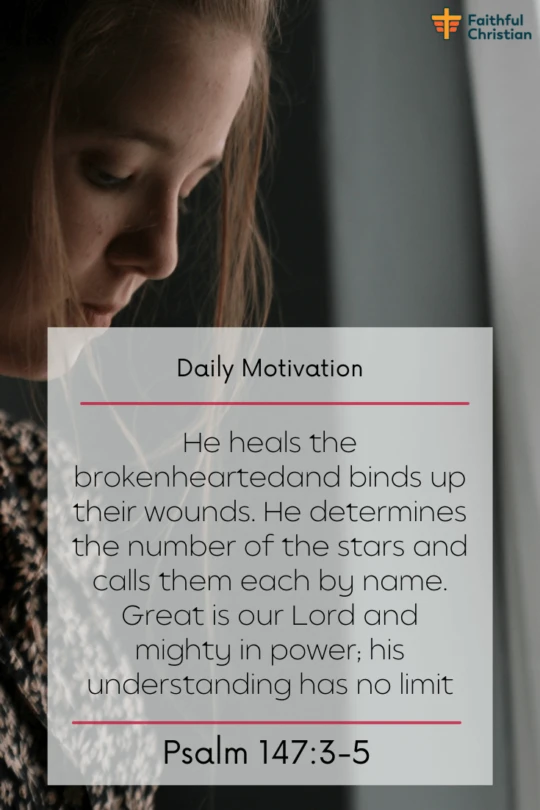 He heals the brokenheartedand binds up their wounds. He determines the number of the stars and calls them each by name. Great is our Lord and mighty in power; his understanding has no limit
Pain and suffering can shatter hearts, but Psalm 147:3-5 promises healing from an unexpected source: God. He commands the cosmos, yet he cares for our hearts. Knowing each star, He knows our heartache too. He's not distant but is close in our suffering.
Take King David as an example. A figure of great biblical significance, he often grappled with emotional distress. Yet, in the midst of his pain, he found solace in God's promise of healing. He channeled his faith into Psalms that became timeless symbols of hope.
Consider also Elizabeth Smart, a modern symbol of resilience. Kidnapped at 14, she endured a harrowing 9-month ordeal. However, instead of succumbing to despair, she shared her story to help others, finding healing in advocacy and change.
Jesus Christ himself offers solace in Matthew 11:28-30. He urges us, the weary and burdened, to find rest in him. This offer isn't an ephemeral comfort but a lasting relief from our afflictions. It underscores God's compassionate, healing nature.
Psalm 34:18 reassures us further: "The Lord is near to the brokenhearted and saves the crushed in spirit." This image of God is one of intimate involvement and care. In his divine presence, we find a haven, a place of healing and safety.
I want to emphasize the importance of seeking God in times of emotional pain. It is in his understanding, limitless as it is, that we find our refuge. As we expose our suffering to Him, he breathes hope back into our lives.
In conclusion, let's remember that no matter our pain or suffering, God offers not just temporary solace, but healing.
He mends hearts, binds wounds, and transforms despair into hope. He is not just the Creator of the universe, but the Healer of broken hearts.
An omnipotent being, yet our tender caregiver, He offers solace in suffering and promises restoration. He is, indeed, near to the brokenhearted.
4.  Psalm 37:24-25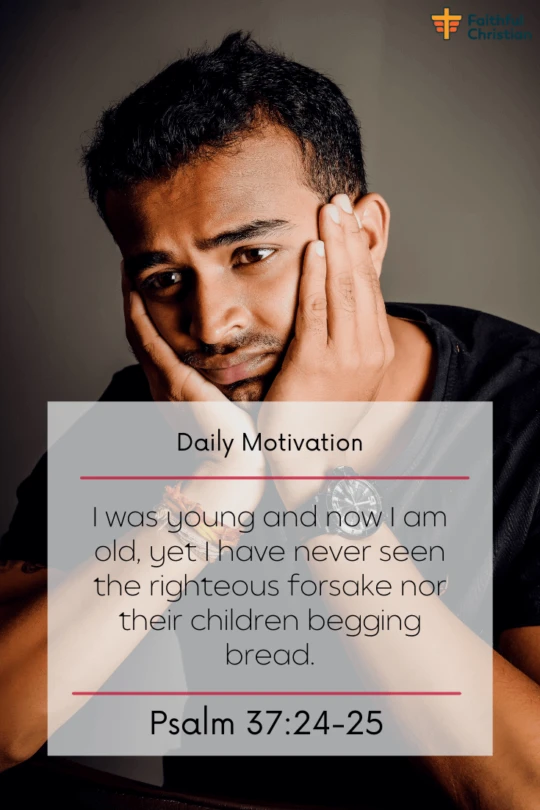 I was young and now I am old, yet I have never seen the righteous forsake nor their children begging bread.
Life's journey is rarely straight or smooth. We face obstacles, detours, and sometimes, full stops. Amidst these challenges, Psalm 37:24-25 rings out with a comforting echo. It's a reliable beacon in life's stormy seas.
"Though he fall, he shall not be utterly cast down; for the Lord upholds him with His hand. I have been young, and now am old; yet I have not seen the righteous forsaken, nor his descendants begging bread."
Delving into this Scripture, we find a reassuring message. Even when we trip over life's challenges, God, with unwavering love, steadies us. His steadfast hand guides us, pulling us back to our path.
Consider the prophet Daniel. Cast into a lions' den, Daniel trusted in divine guidance. His story highlights God's providential care and protection. Even amidst despair, Daniel chose faith over fear, trust over doubt.
Likewise, recall Martin Luther King Jr. Facing adversity during the Civil Rights Movement, he stood unyielding. It's evident that King leaned on divine understanding, even in darkness.
Proverbs 3:5-6 emphasizes complete trust in God rather than in our understanding. By submitting to God in all our actions, He promises to guide us towards the right path.
These examples illuminate that faith is about trusting God's faithfulness across generations. Psalm 37:25 reflects this: "I have been young, and now am old; yet I have not seen the righteous forsaken, nor his descendants begging bread." Despite hardship, David acknowledged God's unchanging love and protection.
Isaiah 41:10 underscores God's comforting reassurance. Amid our struggles, we're not alone. God promises to strengthen, help, and uphold us, affirming His unceasing presence in our lives.
We may suffer, but God's grace defines our journey. The road may be rough, but an unfailing Hand guides us. Trust in it, lean on it, and find solace in its steadfast grasp.
5.  Psalm 34:18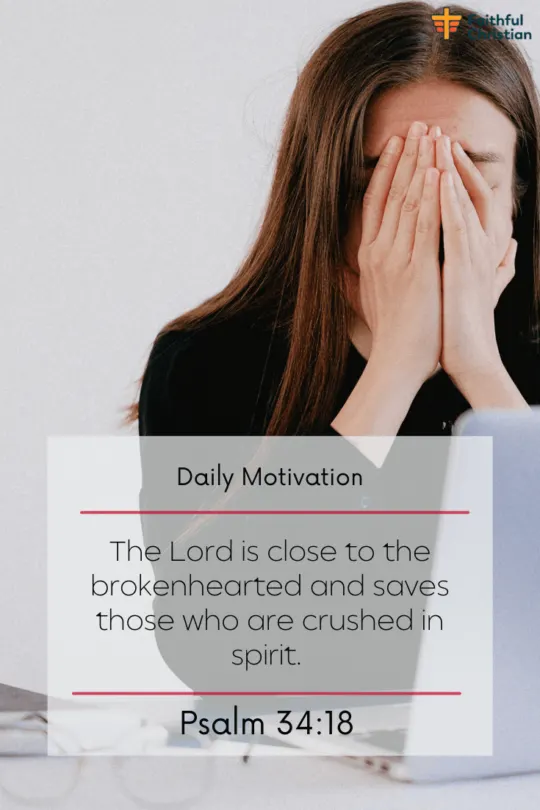 The Lord is close to the brokenhearted and saves those who are crushed in spirit. 
When life's turbulence grips us, we can find solace in Psalm 34:18. This scripture, far from being a mere comforting platitude, is a profound beacon of hope amidst life's storms.
Take Hannah from the Bible, for instance. She was heartbroken, childless, and tormented. However, in her deepest sorrow, she found God near. In her most vulnerable moments, God didn't distance Himself. Instead, He leaned in closer. Hannah's story teaches us that suffering can bring us nearer to God's heart.
Drawing a parallel to modern times, consider Mother Teresa. She served amidst squalor and despair, embodying the message of Psalm 34:18. With every challenge she faced, she found divine comfort, transforming pain into love. Her story testifies to the presence of God in suffering.
These narratives find echoes in Jesus' sermon on the mount, specifically in Matthew 5:4. Jesus assures us that God is attentive to our pain. Mourning elicits divine comfort. It's an invitation to experience God's heart in our trials.
Similarly, in Isaiah 57:15, God is depicted as both transcendent and immanent. The Creator, residing in a high and holy place, chooses to dwell with those of lowly and contrite spirits. This verse signifies that our pain doesn't repel God. In fact, it draws Him closer.
In life's valleys, we're urged to let our guard down. Our admission of suffering isn't a sign of weakness. Rather, it's an open door to divine comfort. It's an opportunity to experience God's heart, especially when we are most vulnerable.
Pain is a reality we must confront. It's not pleasant, yet it's universal. Remember, God is with us in our pain. He's drawn towards our brokenness, offering solace and healing in our most challenging moments.
I can affirm, from personal experience, that God's nearness is more than comforting words. It's a transformative reality. Even in the darkest times, His presence remains our strongest solace.
In our pain, let us remember this: We are not alone. The God of the cosmos is close, cradling our broken hearts and offering healing for our crushed spirits.
In all this you greatly rejoice, though now for a little while you may have had to suffer grief in all kinds of trials.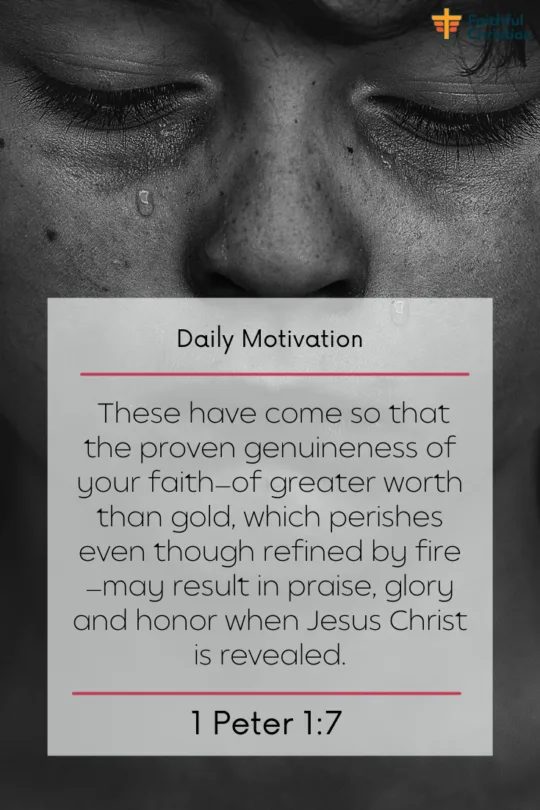 7 These have come so that the proven genuineness of your faith—of greater worth than gold, which perishes even though refined by fire—may result in praise, glory and honor when Jesus Christ is revealed.
Trials and suffering are inevitable. Yet, they serve a profound purpose, eloquently illustrated in 1 Peter 1:6-7. "In this you greatly rejoice, though now for a little while you may have had to suffer grief in all kinds of trials." So, why this suffering?
Consider the refining of gold. Its purity emerges from the intensity of the fire. Our trials operate similarly. They strip away the unnecessary, refining our faith to its purest form.
Take the biblical patriarch, Abraham. He clung to God's promise, fathering many nations despite his age. Abraham's faith faced trials, emerging as strong as gold. His story paints a vivid picture of faith refined by trials.
Switch scenes now. Imagine being Louis Zamperini, an Olympic athlete whose world crashed, literally. Surviving a plane crash, shark attacks, starvation, and life as a POW, he held onto hope. His faith was unshaken, his resilience a testament to enduring faith.
Both stories illustrate James 1:12, "Blessed is the one who perseveres under trial because…that person will receive the crown of life that the Lord has promised…" I want you to know, perseverance during trials is never in vain.
Romans 5:5 states, "And hope does not put us to shame…" Our hope isn't wishful thinking, but a confident expectation. This hope becomes our anchor during suffering, leading us towards future glory.
Trials refine our faith, create pleasing character, and mature us. When suffering strikes, remember: you're in the refiner's fire. Your faith, emerging as precious gold, prepares you for a glorious future. Your suffering isn't meaningless, it's shaping and refining you.
Embrace your trials, knowing they bear fruit more valuable than gold. So hold onto hope, a steadfast anchor in times of suffering.
7.  2 Corinthians 4:17-18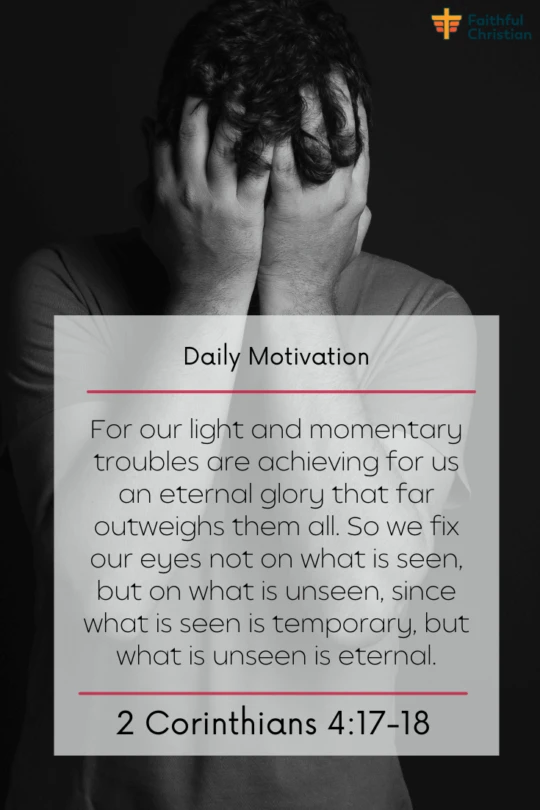 For our light affliction, which is but for a moment, is working for us a far more exceeding and eternal weight of glory, while we do not look at the things which are seen, but at the things which are not seen. For the things which are seen are temporary, but the things which are not seen are eternal. 
Suffering is real. It's raw, it's brutal, and at times, it feels insurmountable. Yet, the Apostle Paul offers us a shift in perspective. In 2 Corinthians 4:17-18, he calls our earthly troubles "light and momentary." He urges us to focus on the unseen, the eternal.
Let's unpack this profound truth. We're reminded in Romans 8:28 that God uses all things for our good. This includes our deepest pain, our most pressing trials. They serve a purpose. They refine us, strengthen our faith. They're tools in God's hands, molding us for His glory.
Take Paul himself. Despite enduring countless hardships, he didn't waver. He held steadfast, his eyes fixed on the eternal glory to come. Today, his letters inspire and guide millions of believers worldwide.
Consider Nelson Mandela too. Despite 27 years of grueling imprisonment, his vision of a free South Africa never blurred. His suffering became a catalyst, inspiring change on a global scale.
The path of faith isn't meant to be comfortable. It calls for courage, endurance. Hebrews 12:1-2 reminds us to run our race with determination, fixing our eyes on Jesus. He's our rock, our fortress amid the storm.
So, what's the message here? It's simple. This life's suffering, however hard, is temporary. It's shaping us, preparing us for an eternal glory that outweighs it all. Understand this, and you'll face any trial with newfound resilience.
In conclusion, let us remember to shift our focus from our present trials to the eternal. It's a tough but necessary transition. And believe me, it makes a world of difference. For our light and momentary troubles are indeed crafting an eternal glory that far outweighs them all.
8.  Revelation 21:4
'He will wipe every tear from their eyes. There will be no more death'[a] or mourning or crying or pain, for the old order of things has passed away."
Revelation 21:4, a source of solace, offers a vision of hope amid suffering. It presents a promise – an existence where grief, pain, and death are no more.
Our understanding of this transformative vision deepens when we bring Isaiah 25:8 and Revelation 7:17 into the picture. These scriptures resonate with the promise of Revelation 21:4. Isaiah assures us of a future where God obliterates death, while Revelation 7:17 portrays God as a shepherd guiding us towards life-giving waters.
The scriptures offer solace, promising an end to suffering. But let's bring this idea to life with an example. Lazarus, once dead, resurrected by Jesus, exemplifies the future promise of an existence devoid of death and mourning. His story foreshadows the dawn of a reality brimming with eternal life.
In our own time, there's another interesting perspective. Some patients who have had near-death experiences often talk about the peaceful afterlife they've seen. A place filled with light, warmth, and a sense of unconditional love. Many lose their fear of death after these encounters, finding hope and courage in the face of suffering.
This hope shapes our present reality. It injects purpose into our pain, serving as a reminder that our current trials are transient. This promise invites us to envisage our struggles within the broader narrative of God's ultimate victory over death and suffering.
In essence, our faith roots us in the profound promises of God. Among these, the promise in Revelation 21:4 offers solace in our suffering, igniting a resilient hope for eternal peace. As we tread the path of life, this hope serves as our guiding light, leading us towards a joyful eternity.
9.  Romans 8:17-18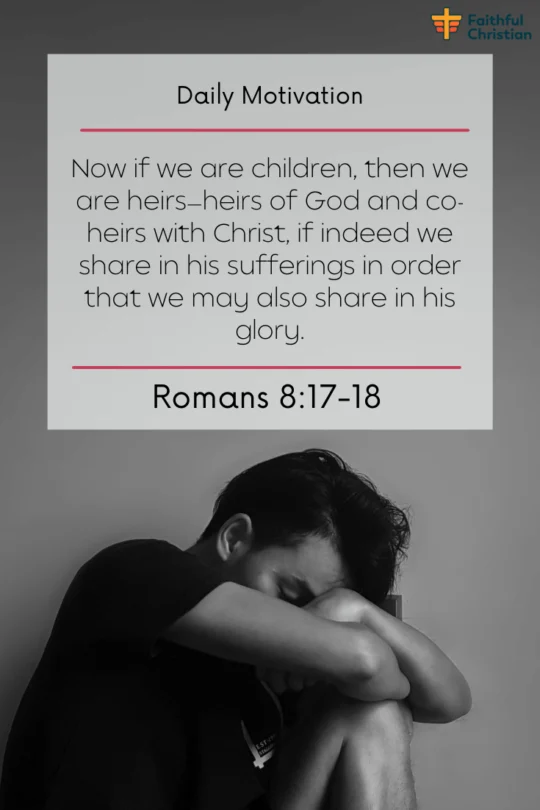 Now if we are children, then we are heirs—heirs of God and co-heirs with Christ, if indeed we share in his sufferings in order that we may also share in his glory.
Paul's words in Romans 8:17-18 invite a fresh perspective on suffering. They suggest that our present trials aren't comparable to the future glory we'll experience. But what does that mean in real terms?
Stephen, the first Christian martyr, provides a compelling biblical case study. As he faced death, he clung to his faith. He viewed his suffering as a shared experience with Christ, with future glory as his hope. Like Stephen, we too can find courage in our faith.
Philippians 3:10-11 expands on this concept. It outlines the paradoxical nature of Christian life: suffering and joy, pain and resurrection are intertwined. Our trials aren't purposeless. Instead, they can lead to growth, transformation, and an intimate understanding of Christ's resurrection power.
Our earthly trials can seem monumental. But the message of Romans 8:17-18 underlines their temporary nature. They are dwarfed by the eternal glory that awaits us. In 2 Timothy 2:12, Paul reiterates this promise, offering us the assurance of reigning with Christ if we endure.
Take Dietrich Bonhoeffer as a poignant real-life example. This German pastor stood firmly against the Nazi regime.
Despite facing imprisonment and execution, his faith remained steadfast. His writings continue to inspire, demonstrating that his suffering was far from futile. Like Bonhoeffer, our faith and courage in suffering can create a lasting legacy.
In suffering, we may feel alone, but we're not. The same God who resurrected Jesus from the dead accompanies us in our trials. It's in the intersection of suffering and hope that our faith becomes truly beautiful.
Romans 8:17-18 isn't merely a verse. It's a beacon of hope for believers amid pain. It assures us that suffering is part of a grander story, a story that culminates in eternal glory.
With this in mind, let's embrace these promises. They bring hope and courage in our trials, reminding us that current struggles are stepping stones to future glory.
10.  Deuteronomy 31:8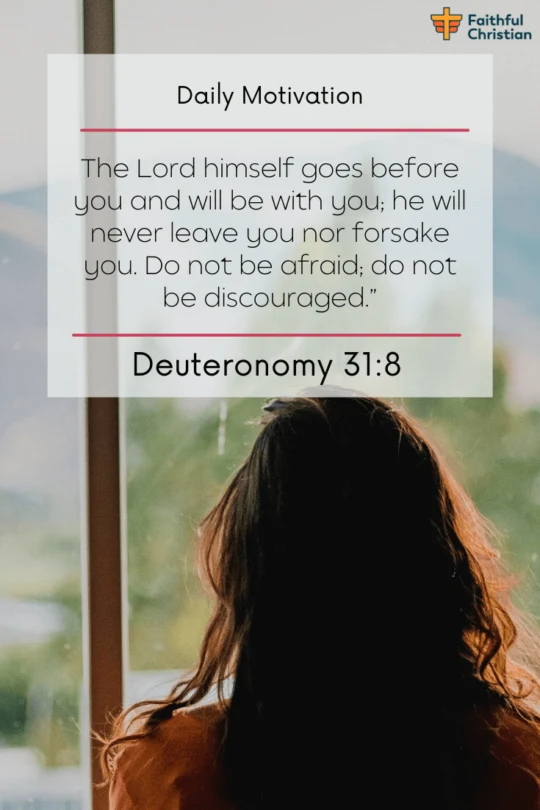 The Lord himself goes before you and will be with you; he will never leave you nor forsake you. Do not be afraid; do not be discouraged."
The timeless verse of Deuteronomy 31:8 provides us a lifeline in hardship. You're not alone. The Lord, your God, promises His presence, guidance, and deliverance. Amid life's stormy seas, He serves as a steadfast lighthouse.
Remember Moses, shepherd turned liberator? Facing an enormous task, he led the Israelites out of Egypt. A mission riddled with adversity and uncertainty. Yet, he trusted God's promise. He overcame, bolstered by God's guidance and presence. Here, we witness courage and strength fueled by the Lord's constant presence.
Now, consider Malala Yousafzai. A girl from Pakistan who defied the norm, advocating for girls' education. Despite threats and an assassination attempt, she stood firm. She persevered, believing in her mission's worthiness. Like Moses, Malala shows us the transformative power of steadfast courage.
Imagine the tranquillity of knowing that God's presence remains unchanging. A firm rock amidst tumultuous waters. Hebrews 13:5 reiterates this promise. God will not abandon us. This knowledge offers profound comfort, especially in times of suffering.
As pain and suffering loom, remember that God's constant presence provides solace. It's an assurance whispering, "You're not alone." A warm comfort against the chill of fear and uncertainty.
So, as we navigate life's highs and lows, remember Moses and Malala. Draw strength from their courage. Embrace the knowledge of God's unchanging presence. In the face of pain and suffering, let His promise guide us, bring us comfort, and grant us peace. After all, He is with us, every step of the journey.
---
Recommended for you
---
More Bible Verses About Suffering and Hope
What does the bible say about pain and suffering?
The Bible's teachings about pain and suffering are multifaceted and profound, with the tale of Job providing key insights. Four important lessons arise from this narrative.
1. Even devout believers experience suffering:
Life's trials spare no one, irrespective of their faith. Job was not a mere believer, but a devout servant of God. Described as "perfect and upright" (Job 1:1), he was blameless in God's eyes.
Yet, he suffered. He lost his wealth and children. This narrative teaches that faithfulness doesn't exempt us from hardship. It emphasizes God's omniscience, and his full understanding of our predicaments.
2. Maintaining faith during adversity is crucial:
During times of suffering, it's natural to feel sorrow and anger. However, sinning against God out of these emotions should be avoided. Job demonstrated this virtue, expressing gratitude instead of resentment towards God.
He famously stated, "Naked came I out of my mother's womb, and naked shall I return thither: the Lord gave, and the Lord hath taken away; blessed be the name of the Lord" (Job 1:21-22).
Therefore, no matter the suffering, whether physical pain, infertility, or illness, we should "bless the name of the Lord." His promise is to alleviate all suffering in His own time.
3. God's mercy removes suffering and bestows blessings:
In the end, God removed Job's suffering and blessed him more abundantly. He replaced the children Job had lost and allowed Job to live a long, fulfilled life. Scripture reads, "So the Lord blessed the latter end of Job more than his beginning" (Job 42:12).
This underscores God's mercy, and His promise to those who persevere in faith during suffering. It encourages us to hold fast to our faith, promising that God can turn our pain into abundant blessings.
In conclusion, the Bible's narrative of Job provides valuable insights into understanding and handling suffering. By maintaining faith and patience, we can emerge from our trials stronger and more blessed.
Frequently Asked Questions
What does Jesus say about suffering?
The teachings of Jesus shed considerable light on human suffering. In John 16:33, He reveals, "In this world, you will have trouble."
However, He doesn't leave it there. He encourages, "But take heart! I have overcome the world." Thus, He acknowledges suffering but also offers comfort.
Moreover, Matthew 5:10-12 during His Sermon on the Mount is enlightening. Here, He promises blessings for those suffering for righteousness' sake. This suggests an inherent value in enduring suffering nobly.
Is pain part of God's plan?
Pain, albeit unpleasant, has a role in God's grand design. Genesis 50:20 is key here. Joseph tells his brothers, "You intended to harm me, but God intended it for good."
This implies that God, while not causing pain, allows it. He uses pain and suffering to fulfill His larger, benevolent plans.
What verse talks about God knowing our pain and suffering?
God isn't removed from our suffering. Hebrews 4:15 emphasizes this beautifully. It tells us, "We do not have a high priest who is unable to empathize with our weaknesses."
Jesus, the High Priest here, lived a human life. He faced our struggles and so fully understands our sufferings.
What is God's purpose for pain?
Pain, according to the Bible, serves a higher purpose. It forms a pathway to personal growth and reliance on God. Romans 5:3-4 encapsulates this notion. It declares that suffering engenders perseverance.
Perseverance then cultivates character, and character produces hope. This implies that God can transform our painful experiences into catalysts for growth.
What are some Bible verses about pain and healing?
The Bible offers numerous assurances about healing from pain. Psalm 147:3 assures us, "He heals the brokenhearted and binds up their wounds." In Jeremiah 17:14, we are encouraged to turn to God for healing.
Isaiah 41:10 offers comforting words of strength and help from God. Finally, 2 Corinthians 1:3-4 praises God as a source of comfort in our troubles.
Is there a specific Bible verse about pain in love?
The Bible even touches on pain within love. Proverbs 27:6 stands out: "Wounds from a friend can be trusted, but an enemy multiplies kisses."
It highlights the potential hurt in genuine relationships but underscores the deceptive harm in false ones.
Is there a Bible verse that states God has a purpose for your pain?
The Bible offers a clear statement about God's purpose for our pain. In 2 Corinthians 12:7-9, Paul shares his own experience. Here, God allows Paul's suffering to prevent his pride. God's power, He says, is made perfect in our weakness. This demonstrates how God uses pain to shape us spiritually.
Can you provide some Bible verses about suffering and death?
Suffering and death are two profound themes in the Bible. Psalm 34:18 reassures that God is close to the brokenhearted. It promises His salvation for the crushed in spirit. Additionally, 2 Corinthians 4:17-18 reminds us that our earthly troubles are temporary. They are outweighed by the unseen, eternal glory that awaits.
Is there a Bible verse that says "blessed are those who suffer"?
While the Bible does not explicitly say "blessed are those who suffer," similar sentiments are found. Matthew 5:4 is one: "Blessed are those who mourn, for they will be comforted." This offers solace that consolation follows sorrow.
Is there a Bible verse that assures suffering is temporary?
Suffering is temporary, the Bible assures. 2 Corinthians 4:17 refers to our earthly troubles as "light and momentary." It tells us they lead to an "eternal glory" far greater than our present suffering.
Is there a Bible verse that talks about an end to pain and suffering?
The Bible gives hope for an end to all pain and suffering. Revelation 21:4 paints a beautiful picture. It promises a future where God "will wipe every tear from their eyes." There will be no more death, mourning, crying, or pain, marking a glorious end to suffering.
Author: Akatakpo Dunn
Dr. Akatakpo Dunn is a dedicated follower of Christ, an active member and speaker, and an ongoing learner of the Scriptures. Passionate about his faith and serving others, he is committed to sharing his spiritual journey and insights to inspire and uplift fellow believers. He has been active in the church for more than 23 years. Through The
Faithful Christian Blog
,
Dr. Dunn
combines his love for God, philanthropy, and Scripture, providing a valuable resource for those seeking to grow in their faith.
Follow me: on Youtube, Facebook, Twitter, Instagram, and Pinterest.
Content Disclosure:
At The Faithful Christian Blog, I create authentic and inspiring content. Although I am the main author, I occasionally use AI for minor language enhancements. This minimal AI usage ensures high-quality, trustworthy articles without compromising originality or sincerity, ultimately supporting our shared faith journey.
Warmly,
Dr. Akatakpo Dunn
Was this article helpful?