"Patience is a virtue."
We've certainly heard about this idiom.
But what does it really mean?
Why should Christians be patient even in pain?
The truth is, without Patience, we cannot serve God.
Sometimes we are faced with so many tribulations, and we feel like giving up.
If you've lost Patience with God, there are bible verses about Patience and perseverance to inspire you.
Always remember God's word.
Paul said,
"Rejoice in hope, be patient in tribulation, be constant in prayer." Romans 12:12 
Therefore, if you are losing faith and Patience, it's best to get on your knees and pray.
Be careful for nothing; but in every thing by prayer and supplication with thanksgiving let your requests be made known unto God" Philippians 4:6
---
Recommended for you
---
Bible verses about Patience in hard times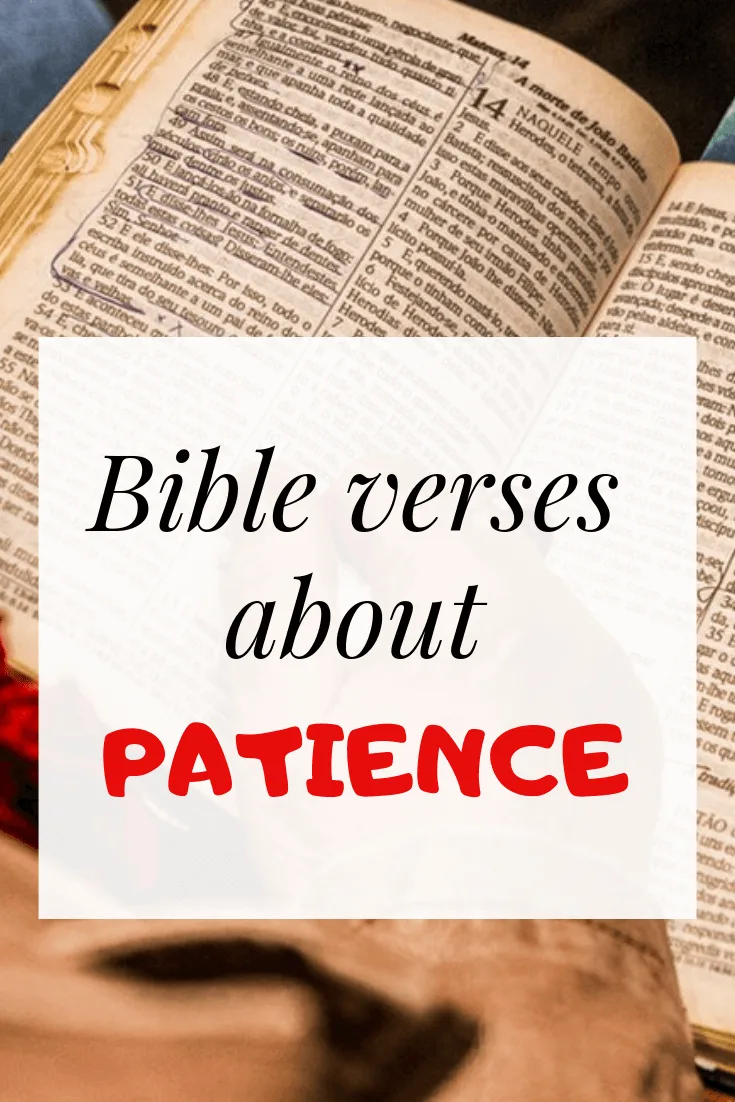 As already noted, being a Christian is no guarantee for a temptation-free life.
However, while you are struggling with sadness, God has promised an escape route.
Paul said,
 No temptation has overtaken you but such as is common to man; and God is faithful, who will not allow you to be tempted beyond what you are able, but with the temptation will provide the way of escape also, so that you will be able to endure it 1 Corinthians 10:13
Here are Bible verses about Patience that should strengthen your faith and keep your going.
1.  Romans 8:25 on having Patience in God's promise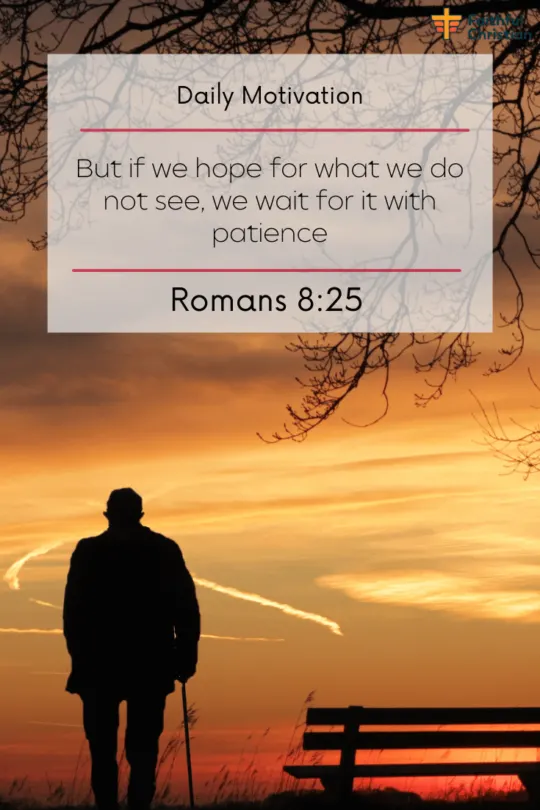 But if we hope for what we do not see, we wait for it with patience
Have you ever watched a sunrise? The anticipation, the wait, it's nerve-wracking, isn't it? Now imagine the sunrise as God's promises. The wait is our patience, discussed vividly by Paul in Romans 8:25. "If we hope for what we do not yet have, we wait for it patiently."
Consider yourself in a medical facility, heart pounding in your chest. You're waiting for a medical diagnosis. As the minutes tick by, you hang on to your faith, remaining hopeful in the promise of healing and good health.
It is at times like this that patience, inspired by trust in God's promise, becomes vital. Each tick of the clock is a nudge to surrender your fear and anxiety and embrace the healing power of patient waiting.
In the realm of faith, the biblical character Abraham stands as a symbol of patience. He clung to God's promise of abundant descendants, despite advanced age and seemingly insurmountable odds. His unwavering faith in Genesis 15:4-6 speaks volumes about the strength and resilience born out of patience.
Yet, embracing such patience isn't always straightforward. Our timelines often clash with God's, leaving us feeling impatient, anxious even. It's crucial to remember the words of 2 Peter 3:9, "The Lord is not slow in keeping his promise."
God's timeline differs from ours. When we feel rushed, God is still in control, working according to His perfect schedule.
So, how do we foster patience, especially when the stakes are high and the wait feels eternal? I would suggest three core practices: meditation on God's word, prayer, and surrounding oneself with a supportive community.
By immersing ourselves in biblical promises, we anchor our hearts in the assurance of God's faithfulness. Prayer acts as a bridge, allowing us to convey our deepest emotions, while a positive and supportive community offers encouragement during our wait.
In closing, I'd like to reiterate that patience is a journey, a sunrise waiting to break the horizon. While the wait might feel long, remember that God's promises are unfailing and will manifest in His perfect timing.
Through patience, we understand the divine purpose hidden in delays and trust that, just like the dawn, God's promises will arrive in all their glory.
2.  Galatians 6:9 On being patient in Good works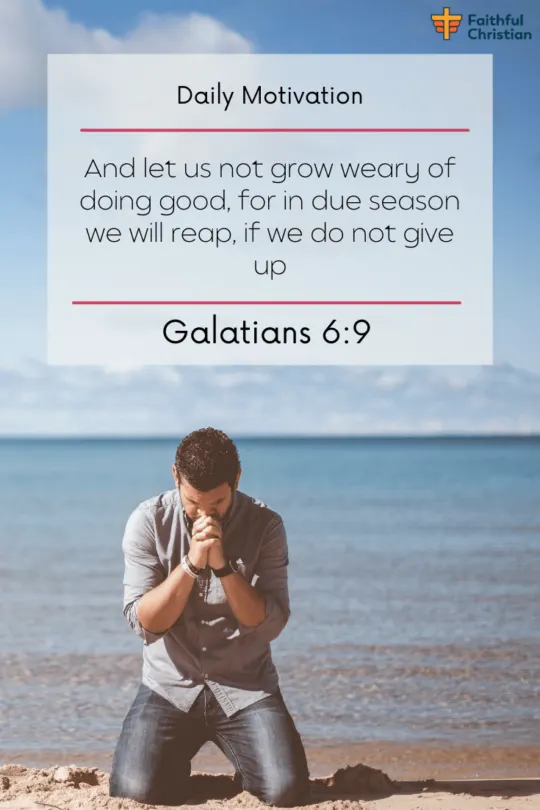 And let us not grow weary of doing good, for in due season we will reap, if we do not give up
The Bible verse Galatians 6:9 resonates with profound inspiration. It states, "Let us not become weary in doing good, for at the proper time we will reap a harvest if we do not give up." This passage is an uplifting reminder of the rewards of persistence.
The concept of reaping in due time likens us to patient farmers. Our good deeds represent seeds sown, which will, with time, yield a harvest. However, this process demands patience as the harvest comes at the "proper time."
Perseverance in good works isn't always easy. We might grow weary when the journey is long and arduous. At such times, 2 Thessalonians 3:13 provides solace, urging us to never tire of doing good. It is a beacon that guides us through weariness.
1 Corinthians 15:58 emphasizes this tenacity, imploring us to be "steadfast, immovable, always abounding in the work of the Lord." Our perseverance isn't futile; rather, it carries purpose and divine recognition.
Consider the Apostle Paul, an embodiment of resilient service. Despite persecution and adversity, he persisted in preaching the Gospel (2 Corinthians 11:24-28). His faith and resilience offer a blueprint for our path of service.
In our present-day reality, I find parallels in the relentless work of a social worker. This dedicated professional continually advocates for disadvantaged children, tirelessly navigating bureaucratic hurdles to secure a brighter future for those in their care. Their patience, their determination, mirrors the scriptural principles we've discussed.
How do we harness this strength in our own lives? We can take comfort in divine promises, ensuring our efforts are not in vain. We can also draw inspiration from those who've exhibited such tenacity before us, and find solace in the supportive community of our faith.
Most importantly, we should remember we are not alone. The One who called us to service accompanies us. He knows our weariness, offering us rest and strength.
A harvest awaits us—we just need to remain steadfast. In this journey, persistence is not just valuable, it's divine.
3. Psalm 37:7-9 waiting for God's time with patience and self-control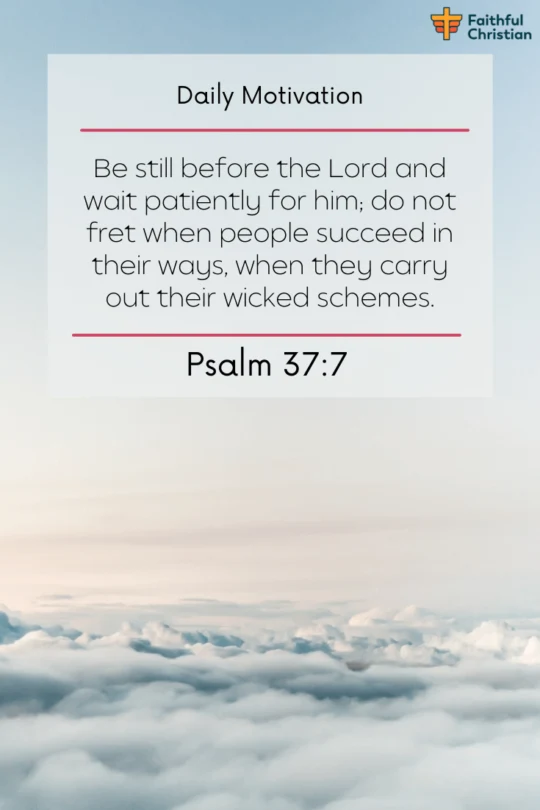 Be still before the Lordand wait patiently for him; do not fret when people succeed in their ways,when they carry out their wicked schemes.
8 Refrain from anger and turn from wrath;do not fret—it leads only to evil.For those who are evil will be destroyed,but those who hope in the Lord will inherit the land.
Navigating life's challenges requires patience, particularly during times of waiting. Consider the Biblical example of Joseph. Betrayed by his brothers, enslaved, and unjustly imprisoned, he held onto his dreams.
Despite his trials, Joseph exemplified patience and trust in God's perfect timing, eventually rising to power in Egypt.
Parallel this with a young professional, ambitious and eager to lead. Yet, they must first develop their skills, gain experience, and slowly climb the career ladder. Patience is essential during this waiting period, mirroring Joseph's time in prison.
Psalm 37:7-9 advises us to wait patiently before the Lord, to curb anger, and to avoid wrath. This is a challenge in our fast-paced world. Yet, understanding that God's timing surpasses ours helps to cultivate patience.
Proverbs 19:21 provides reassurance during this process. It tells us that despite numerous plans in a person's heart, it's God's purpose that prevails. This verse serves as a reminder that God's timing, not ours, steers our destiny.
Adding to this, Habakkuk 2:3 states, "For the vision is yet for an appointed time… though it tarries, wait for it." Our visions have an appointed time in God's plan. Though they seem to delay, they will occur. We're encouraged to wait patiently, assured they will come to pass.
Cultivating patience involves two key steps. Firstly, acknowledging that God's timing is perfect, even when it contrasts with ours. Secondly, practicing consistent prayer and meditation on God's Word. This helps seek His peace and righteousness during waiting periods, as Psalm 37:11 suggests.
In summary, Psalm 37, Proverbs 19:21, and Habakkuk 2:3, illustrated through Joseph's story and the journey of a young professional, highlight the importance of patience. They urge active waiting and trust in God's promises.
Even in life's waiting rooms, remember these scriptures and stories, allowing patience to work while trusting in God's timing. This practice, I assure you, invites peace and prosperity.
4. James 5:7-11 on being patient like Job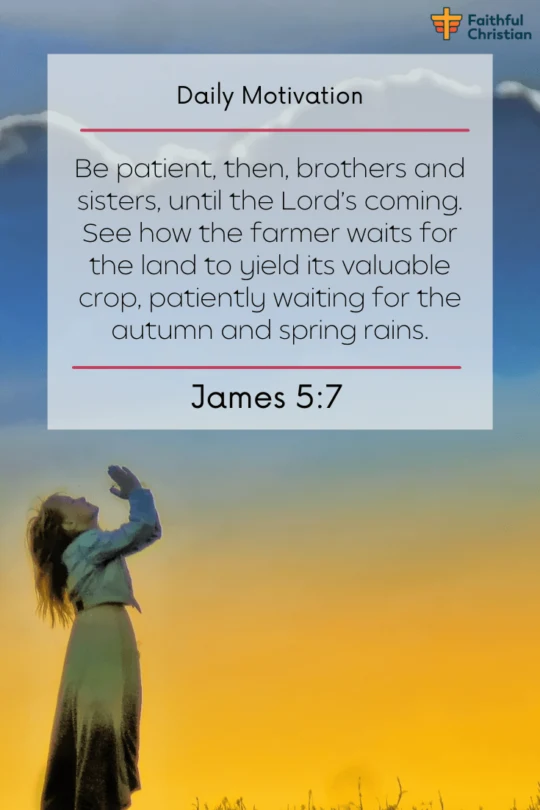 7 Be patient, then, brothers and sisters, until the Lord's coming. See how the farmer waits for the land to yield its valuable crop, patiently waiting for the autumn and spring rains.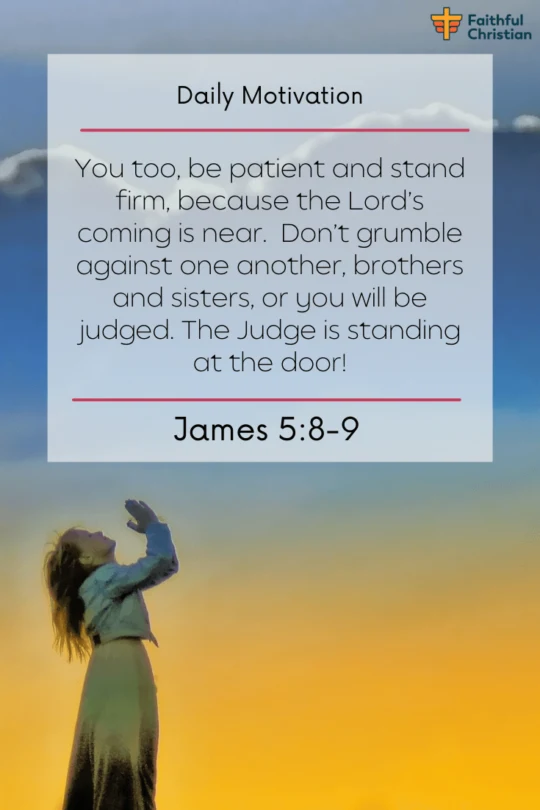 8 You too, be patient and stand firm, because the Lord's coming is near. 9 Don't grumble against one another, brothers and sisters, or you will be judged. The Judge is standing at the door!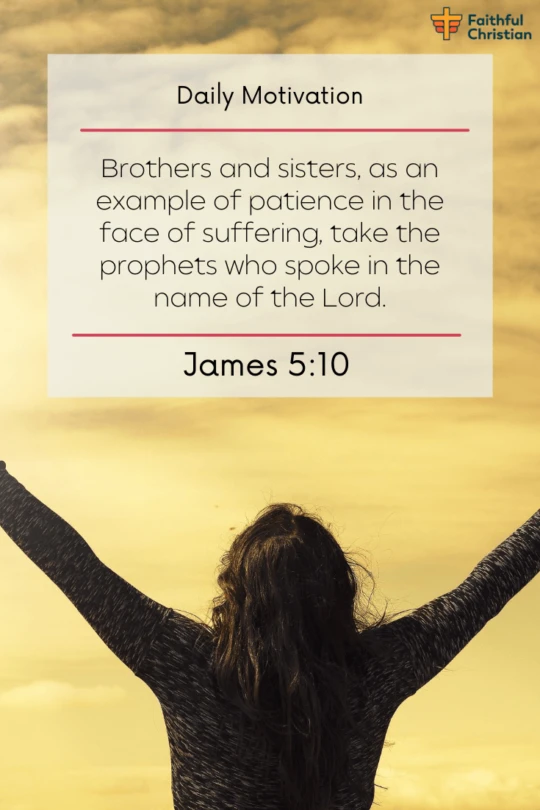 10 Brothers and sisters, as an example of patience in the face of suffering, take the prophets who spoke in the name of the Lord.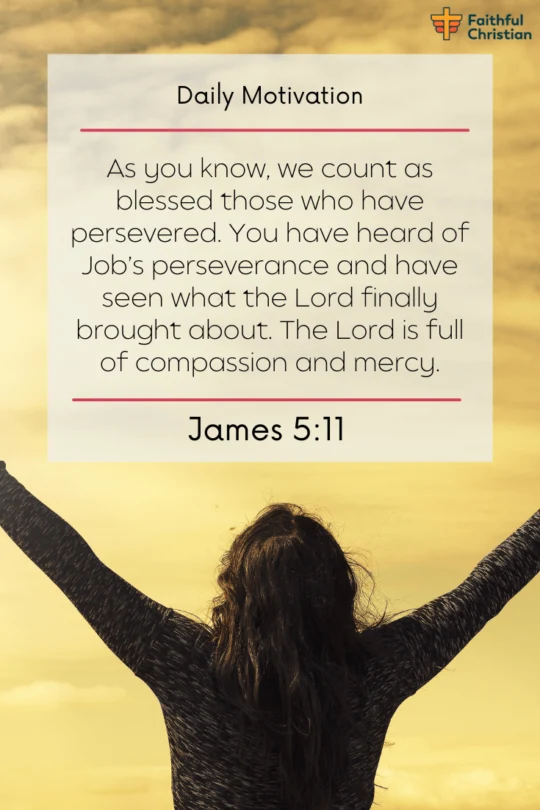 11 As you know, we count as blessed those who have persevered. You have heard of Job's perseverance and have seen what the Lord finally brought about. The Lord is full of compassion and mercy.
Consider Job's tale, a man who enjoyed immense wealth and happiness. Then, life took a swift, tragic turn. He lost his family, wealth, and health almost simultaneously. Yet, in the face of adversity, Job's faith in God remained unshaken, demonstrating unmatched patience amid suffering.
Job's extraordinary story emphasizes the virtue of patience in the face of adversity. It's remarkable how he retained his faith, even in the midst of profound loss.
His words in Job 1:21-22 embody this faith, recognizing God's authority over all things. Job said, "Naked I came from my mother's womb, and naked I will depart. The Lord gave and the Lord has taken away; may the name of the Lord be praised."
Now, imagine a modern-day Job, like my friend, enduring a prolonged illness. She battles daily pain, but like Job, her faith persists. She looks to Job's example for strength, maintaining her faith and patience in the most challenging times.
The lessons from Job's story are clear. We are to acknowledge God's sovereignty, as Job did, even in times of great loss.
1 Peter 2:20 provides further guidance, stating: "But if when you do good and suffer for it you endure, this is a gracious thing in the sight of God." Enduring suffering, especially while doing good, is admirable in God's eyes.
As Christians, we can strive to emulate Job's patience and enduring faith. Our trials may differ from Job's, but they can challenge our faith in similar ways.
Remembering Job's words and 1 Peter's guidance can strengthen us during trials. Pray for patience and faith like Job's, and keep your eyes on God. I assure you, as did Job, we will emerge stronger from our trials.
Let's strive to exemplify God's faithfulness and the power of patient endurance in hard times.
5. Isaiah 40:31 on blessing Christians with Patience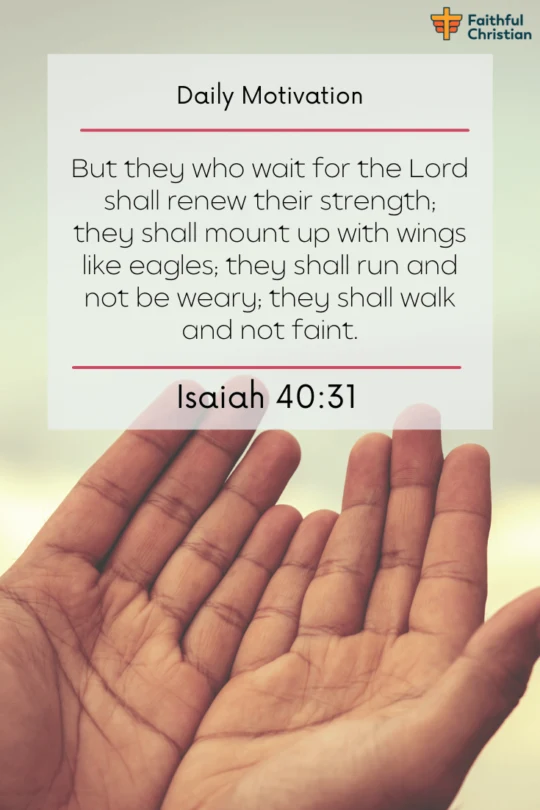 But they who wait for the Lord shall renew their strength; they shall mount up with wings like eagles; they shall run and not be weary; they shall walk and not faint.
Are you traversing through trying times? Isaiah 40:31 offers a comforting truth: those who wait upon the Lord renew their strength. This waiting isn't passive; it's active hope and faith in God's timely intervention. It's a crucible for growth, a stage for preparing our hearts for God's plan.
Consider the Israelites. They yearned for the promised Messiah, living under Roman rule, oppressed and longing for liberation. Their wait wasn't in vain; it was part of God's grand plan.
Waiting upon the Lord was their beacon of hope in their darkest hours. And just like the Israelites, we too can find solace in our waiting, for in our patience, we find God's strength and assurance.
Waiting upon the Lord invites rejuvenation, strengthening our spirit, bolstering our resolve. This renewal isn't a singular event, but a continual process echoing 2 Corinthians 4:16, "Though outwardly we are wasting away, yet inwardly we are being renewed day by day."
Each hardship molds us, refines us, deepens our faith, drawing us nearer to God. It echoes the Psalmist's conviction in Psalm 27:14, "Wait for the LORD; be strong and take heart and wait for the LORD."
Consider parents praying for a lost child to return home. Their patient prayers and waiting express their unshakeable faith. Through this faith, they find their strength replenished, and they experience a peace that transcends human comprehension.
This narrative isn't exclusive; it's universal. You and I may wait for something—a healing, a breakthrough, or a promise. While waiting is challenging, it carries a purpose. It allows us to experience the transformative potency of patience and faith.
In waiting, we aren't just observers. We are participants, maturing in our faith. As we wait upon the Lord, we receive divine strength to run and not grow weary, to walk and not faint.
So, in tough times, remember, patience isn't merely waiting—it's about expecting God's renewal and strength as we wait.
6. Ecclesiastes 7:8 on being patient for God's blessing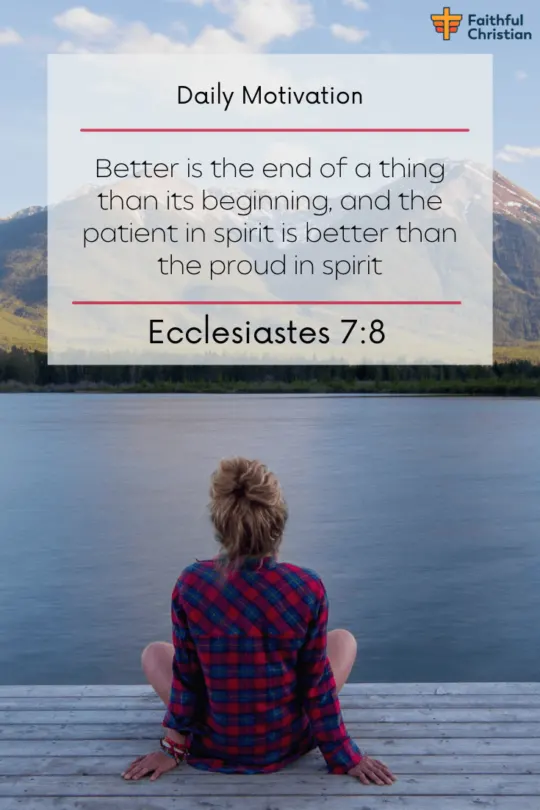 Better is the end of a thing than its beginning, and the patient in spirit is better than the proud in spirit
In Ecclesiastes 7:8, we find a life-affirming statement: "Better is the end of a thing than its beginning, and the patient in spirit is better than the proud in spirit."
This verse unravels the power of patience, particularly during challenges. Here, we are reminded that the journey, though tough, is worth every step.
Patience is central to our understanding. This idea is reaffirmed in Proverbs 14:29: "Whoever is patient has great understanding, but one who is quick-tempered displays folly." In this way, patience is an illuminating beacon of wisdom, keeping us grounded during adversities.
James 1:4 extols the virtues of patience: "Let perseverance finish its work so that you may be mature and complete, not lacking anything." Patience, thus, becomes a crucible for maturity. It crafts completeness within us, aiding our development.
How does one cultivate patience? Start by acknowledging that trials are a part of life. Prayer, trust in divine timing, and reliance on God's promises nurture patience. In this journey, patience does not mean passivity but active trust.
A fitting example is Hannah, from the Bible. Despite being barren, she embodied patience, persistently praying for a child. Her son, Samuel, was a blessing born out of her endurance (1 Samuel 1:10-20).
Similarly, a contemporary tale of patience is that of an aspiring writer. Despite repeated rejections, they persist. Patiently, they rewrite, improve, and resubmit their work until one day, their patience pays off. Their manuscript is accepted, making every setback worthwhile.
In conclusion, Ecclesiastes 7:8 and its corresponding verses empower us to embrace patience. Challenges, then, morph into stepping stones, leading us to growth and maturity.
So, in times of hardship, let's remember to anchor ourselves in patience, aware that the end of our journey promises to outshine its beginning.
I urge us all to embrace patience, especially during tough times, as the fruits it bears are rewarding indeed.
7.  Colossians 3:12 on Patience is a vital tool for a Christian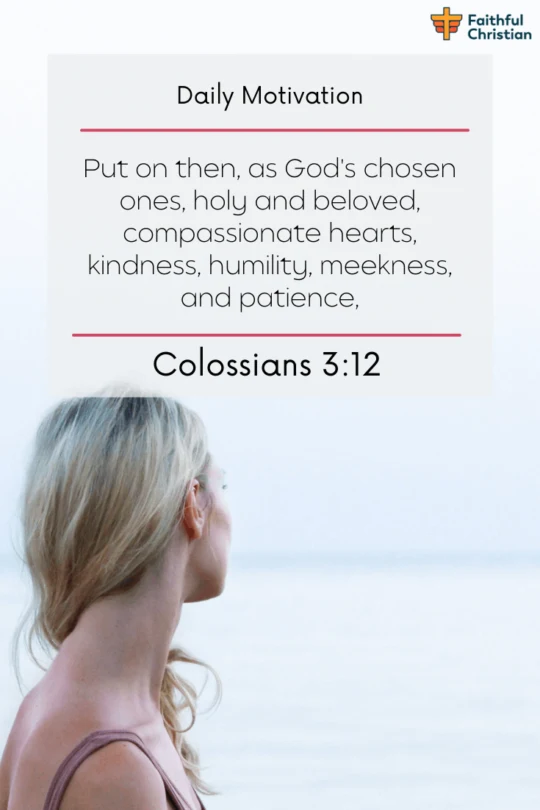 Put on then, as God's chosen ones, holy and beloved, compassionate hearts, kindness, humility, meekness, and patience,
In navigating life's storms, patience stands as a beacon of resilience. Embedded in Colossians 3:12 is a compelling call to clothe ourselves in patience. This is a virtue key to a Christian's life. Its role is comparable to a conductor's in a choir, bringing together various voices into a harmonious melody.
Similarly, patience harmonizes the diverse elements within a Christian community.
The apostle Paul, in Ephesians 4:2, states, "Be completely humble and gentle; be patient, bearing with one another in love."
This verse illuminates patience's role as a binding force, essential for community harmony. It reminds us that during disagreements or misunderstandings, patience enables reconciliation and understanding.
In Romans 12:12, we find a guide for hard times, "Be joyful in hope, patient in affliction, faithful in prayer." This isn't a call for inaction but an invitation to active endurance. I have seen this patience reshape perspectives and transform trials into growth opportunities.
Consider Jesus' patience with His disciples in Matthew 17:17. Despite their lack of faith, He remains patient and continues to guide them.
This mirrors a teacher's patience with a challenging student. The teacher, believing in the student's potential, offers extra help and remains patient. This narrative teaches us about endurance and faith in potential despite difficulties.
We can adopt certain practices to nurture patience. Empathy towards others' struggles, active listening, personal reflection, and prayer can equip us to remain patient during trials.
In sum, as Christians, embodying patience during hardships maintains community harmony and reflects our faith. By looking to Jesus, the ultimate example of patience, we can truly embody this virtue in our lives.
8.  Galatians 5:22 on Patience is a sign of the Holy Spirit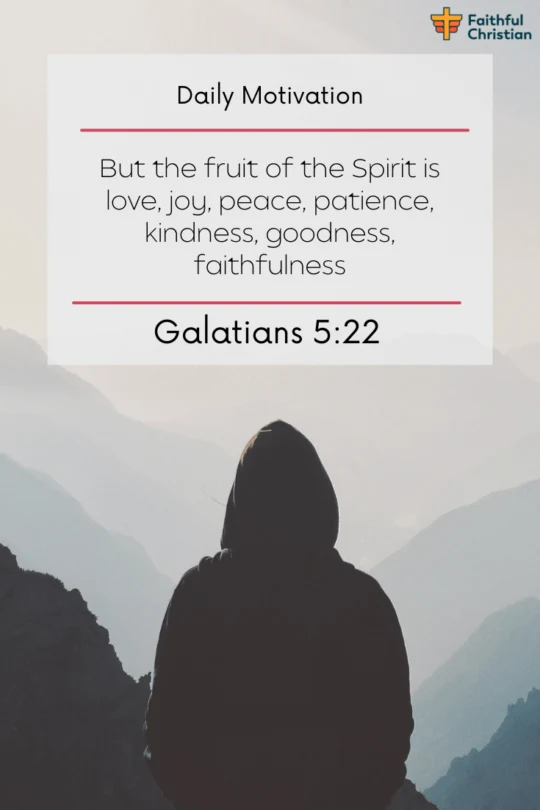 But the fruit of the Spirit is love, joy, peace, patience, kindness, goodness, faithfulness
In Galatians 5:22, we encounter the Fruit of the Spirit. Patience stands out as a divine virtue. When life throws us curveballs, this divine patience acts as an anchor, a stabilizing force. It's more than a trait; it's a reflection of a profound spiritual transformation.
The Holy Spirit ignites this transformation. It leads to bearing fruits, namely love, joy, peace, and patience. Among these, patience bears testament to our resilience. It echoes our trust in divine timing, and our unwavering faith.
Ephesians 5:9 expands on this. It portrays patience as a facet of light, revealing traits of goodness and righteousness.
Romans 5:5 threads these elements together. It tells of God's love, poured into our hearts via the Holy Spirit. This divine love fuels our patience, enabling endurance and persistence.
Stephen, an early Christian martyr, exemplifies this virtue. Amidst persecution, he showed immense patience. He forgave his oppressors, reflecting Christ-like endurance. This narrative resonates with believers, epitomizing the potential of divine patience.
A real-life example can mirror this. Imagine a friend who wronged you. Feelings of betrayal and anger may surge. Yet, you find a capacity for patience. You forgive. This patience is a manifestation of the Holy Spirit's transformative power.
Cultivating patience involves yielding to the Holy Spirit. It requires embracing God's timing and nurturing a forgiving heart. This spiritual journey nurtures the roots of patience, fostering its growth.
Patience during adversity is challenging but achievable with the Holy Spirit. As believers, we can become beacons of hope and resilience.
So, let's embrace patience and welcome the transformation it brings. The impact it has on us, and those around us, can be profound.
9.  1 Thessalonians 5:14 on being patient with everyone
Now we exhort you, brethren, warn them that are unruly, comfort the feeble-minded, support the weak, be patient toward all men
In today's fast-paced world, patience feels almost counter-cultural. Yet, the timeless wisdom of 1 Thessalonians 5:14 rings clear: Be patient with all. It's not just a challenge – it's a call to action.
The story of King David epitomizes this. Even as Saul sought his life, David's patience remained unshaken, his respect for Saul undiminished. He resisted the urge to harm Saul when he had the chance, choosing instead the path of patience.
This story serves as a testament to the strength of patience and a reminder that even in the face of aggression, we too can choose patience.
Ephesians 4:32 draws an essential connection: patience, forgiveness, and love. These three interwoven elements form the core of Christian life.
Here's what I've learned: Patience isn't just about waiting; it's an active embodiment of love. By practicing patience, we mirror God's love, illuminating His command to forgive.
The call to patience intensifies in 2 Timothy 2:24. It's a mark of a servant of the Lord: Remaining patient when wronged. Difficult, yes, but it's a skill that can be honed and practiced, just like any other.
In daily life, patience is paramount. Consider a team leader guiding a complex project. Obstacles appear. Delays happen. The leader's patience, however, creates an environment of respect and growth. Their patience drives the team towards success.
Reflecting on the impact of patience, we find it fosters unity and resilience. It brings about understanding and peace, contributing to the well-being of communities. With patience, adversity morphs into growth opportunities.
In conclusion, practicing patience is transformative. It's not merely about enduring hard times, but turning trials into occasions for growth and unity. Patience isn't the easy choice, but it's the rewarding one.
As we strive to live out 1 Thessalonians 5:14, we contribute to a world reverberating with patience.
10. Hebrews 10:36 on waiting for God's blessing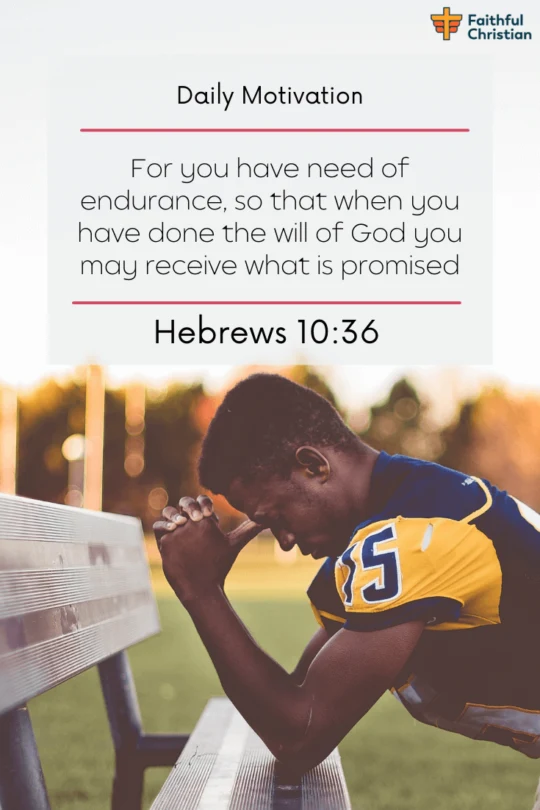 For you have need of endurance, so that when you have done the will of God you may receive what is promised
"Endurance is vital for receiving God's promise," so states Hebrews 10:36. This verse is a guidepost in life's storms, illuminating the path of patience.
Imagine the prodigal son's father in the parable found in Luke 15:20. He had every reason to lose patience, every right to let hope fizzle out. His son had been reckless, squandering his inheritance in a far-off land.
Yet, the father waited. He yearned for his son's return, continually gazing into the distance. Then, one day, his patience bore fruit. His lost son returned, repentant and humbled.
This father's enduring patience is a powerful illustration of what Hebrews 10:36 teaches us.
In real life, imagine a diligent scientist in a lab, chasing a crucial discovery. The path is marred with failure and frustration, but the scientist persists. This patience echoes the spirit of Hebrews 10:36.
James 1:12 elevates our comprehension of patience's significance, stating, "Blessed is the man who remains steadfast under trial." It assures us that trials aren't futile. They're precursors to God's blessings.
Revelation 2:10 pushes the boundaries further, exhorting faithfulness, even unto death. This unwavering patience leads to eternal life, a magnificent promise.
How can we nurture this kind of patience? First, I suggest, remember the promise of Hebrews 10:36 and the blessing in James 1:12. Let them anchor us in turbulent times.
Second, let's take inspiration from examples of patience, such as the father in the biblical story and the persevering scientist. Their stories underscore that patience is active hope, not passive waiting.
Lastly, I propose prayer and meditation on God's Word. They are the spiritual sustenance that fuels our perseverance, enabling us to keep going when the wait seems never-ending.
In summary, enduring hard times isn't just about grit. It's about understanding God's promises, holding onto them, and believing in His perfect timing.
Just as the waiting father experienced joy and the patient scientist may find discoveries, our endurance during tough times will lead us to God's blessings.
The journey is hard, but the reward is great. Stay patient. Stay hopeful.
---
Recommended for you
---
Frequently Asked Questions.
1. How do you keep patience in hard times?
Maintaining patience during challenging periods is an uphill battle, though feasible. Anchoring oneself to faith and frequent reflection on scriptures can be particularly beneficial. Activities such as prayer and meditation serve as powerful tools for tranquility in tough times.
Additionally, reaching out to trustworthy individuals for comfort and guidance can be effective. Adopting a mindset of acceptance over resistance to hardships can foster patience. As Romans 8:25 (NIV) indicates: "But if we hope for what we do not see, we wait for it with patience."
2. What are the spiritual benefits of patience?
Patience boasts numerous spiritual boons. It intensifies faith, bolsters resilience, and paves the way for understanding and compassion. Trust in God's timing, a byproduct of patience, facilitates the surrender of fears and worries to Him.
Additionally, patience, rooted in self-control and endurance, ushers spiritual maturity. This is reflected in James 1:4 (NIV): "And let steadfastness have its full effect, that you may be perfect and complete, lacking in nothing."
3. What does the Bible say about patience in hard times?
The Bible frequently addresses patience during trying times. It underscores the imperative of resilience and reliance on God's will.
James 1:12 (KJV) exemplifies this: "Blessed is the man that endureth temptation: for when he is tried, he shall receive the crown of life, which the Lord hath promised to them that love him."
Here, endurance in hard times is not merely praised, but also tied to blessings.
4. What Psalm is for patience?
Psalm 37 offers substantial insights on patience, especially concerning evildoers. Verse 7 (NIV) advises: "Be still before the LORD and wait patiently for him; fret not yourself over the one who prospers in his way, over the man who carries out evil devices!"
This call to patience, peace, and trust in God is enlightening.
5. What verse is patience long suffering?
Galatians 5:22 (KJV) presents patience as long-suffering: "But the fruit of the Spirit is love, joy, peace, longsuffering, gentleness, goodness, faith,".
This passage places long-suffering, a synonym for patience, among the fruits of the Holy Spirit.
6. What are 3 Bible verses about patience?
Three prominent Bible verses encapsulate the concept of patience:
7. What does the Bible say about the power of patience?
The Bible associates patience with enduring trials, shaping character, and fulfilling promises.
James 1:3-4 (ESV) affirms: "for you know that the testing of your faith produces steadfastness. And let steadfastness have its full effect, that you may be perfect and complete, lacking in nothing."
This illustrates the transformative power of patience in refining character and facilitating spiritual maturity.
8. Is there a Bible verse that talks about patience and God's timing?
Ecclesiastes 3:1 (KJV) connects patience with God's timing: "To every thing there is a season, and a time to every purpose under the heaven:".
This suggests that every event unfolds according to divine timing, and patience is key to honoring this divine rhythm.
9. Which Bible verses specifically mention patience (KJV)?
Numerous Bible verses (KJV) explicitly mention patience, including:
10. Are there any Bible verses about patience in relationships?
1 Corinthians 13:4 (NIV) highlights patience in relationships: "Love is patient, love is kind. It does not envy, it does not boast, it is not proud." This encapsulates the vital role of patience in fostering harmonious relationships.
11. Are there any Bible verses about waiting for the right person?
The Bible also discusses waiting for the right person. As Psalm 27:14 (ESV) imparts, "Wait for the LORD; be strong, and let your heart take courage; wait for the LORD!" Though not explicitly about romantic relationships, this affirms the importance of patience and trust in God's timing in all aspects of life.
12. Is there a scripture that advises against praying for patience?
There's no scripture that overtly discourages praying for patience. However, it's understood that seeking patience could invite trials, as it's through hardships that patience often develops.
As James 1:3 (NIV) puts it: "because you know that the testing of your faith produces perseverance."
13. Can you provide some stories of patience in the Bible?
The Bible chronicles numerous tales of patience. The story of Job, who displayed remarkable patience amidst suffering, and Abraham, who waited patiently for God's promise of a son, are notable examples.
These stories underline the virtue of patience in navigating life's trials.
14. Is there a Bible verse that connects faith and patience?
Hebrews 6:12 (ESV) links faith and patience: "so that you may not be sluggish, but imitators of those who through faith and patience inherit the promises."
This illustrates that faith, paired with patience, unlocks the fruition of God's promises.
Author: Akatakpo Dunn
Dr. Akatakpo Dunn is a dedicated follower of Christ, an active member and speaker, and an ongoing learner of the Scriptures. Passionate about his faith and serving others, he is committed to sharing his spiritual journey and insights to inspire and uplift fellow believers. He has been active in the church for more than 23 years. Through The
Faithful Christian Blog
,
Dr. Dunn
combines his love for God, philanthropy, and Scripture, providing a valuable resource for those seeking to grow in their faith.
Follow me: on Youtube, Facebook, Twitter, Instagram, and Pinterest.
Content Disclosure:
At The Faithful Christian Blog, I create authentic and inspiring content. Although I am the main author, I occasionally use AI for minor language enhancements. This minimal AI usage ensures high-quality, trustworthy articles without compromising originality or sincerity, ultimately supporting our shared faith journey.
Warmly,
Dr. Akatakpo Dunn
Was this article helpful?