It's just two weeks since she missed her period.
And the news of her pregnancy has sprung up so much joy in our home.
Just the other day, my wife told me the names she wanted for our babies.
Yes, babies because, through faith, she believed she would be having twins.
But the devil struck.
In the early hours of the morning, while easing herself, she saw a lump of blood.
When she told me, I thought it was nothing serious, or maybe she is joking as usual (because we play a lot).
But the reality did set in when I saw bloodstains on her night wears.
At this point, I was devastated.
I could imagine what she was going through and tried to give my wife all the support she needed.
As a practicing medical doctor of over eight years, I have seen and counseled multiple cases of miscarriages.
But, this is the first time I understood the true emotional impact of a miscarriage.
The most damning part of a miscarriage is that it erases the confidence of women.
It makes you feel you are not capable of having and keeping a pregnancy.
That's just how my wife is feeling now, and I have tried to make her understand that "all is well."
I am writing this post with a huge pain in my heart.
But I believe someone, somewhere is also dealing with a miscarriage.
If you are struggling with a miscarriage (or any of the signs), be positive.
There are many encouraging bible verses for a miscarriage to strengthen you today.
---
Recommended for you
---
Bible verses for miscarriage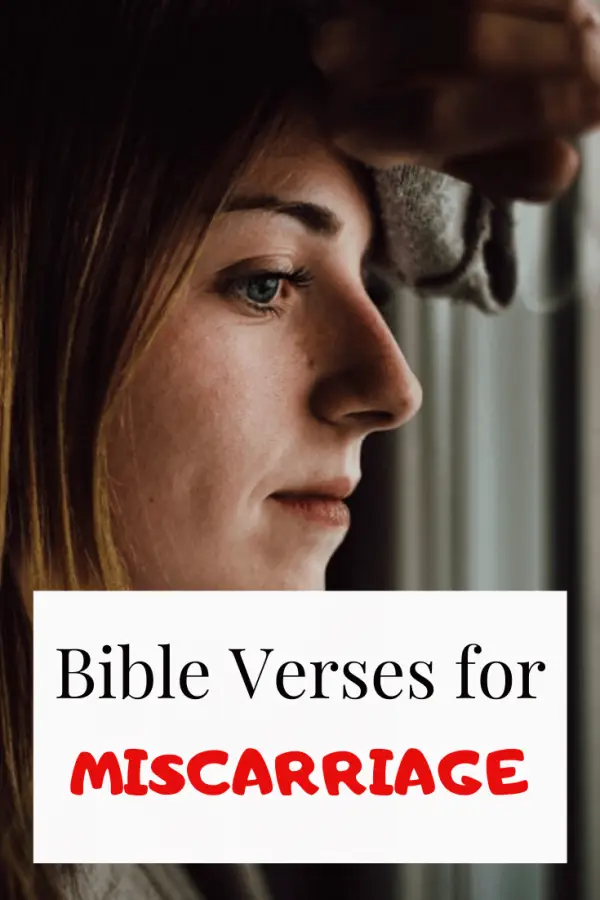 1.  Psalm 34:18-19
The Lord is close to the brokenhearted and saves those who are crushed in spirit. The righteous person may have many troubles,but the Lord delivers him from them all;
2.  Ecclesiastes 11:5
As you do not know the path of the wind,
    or how the body is formed in a mother's womb,
so you cannot understand the work of God,
    the Maker of all things.
3.  Romans 8:18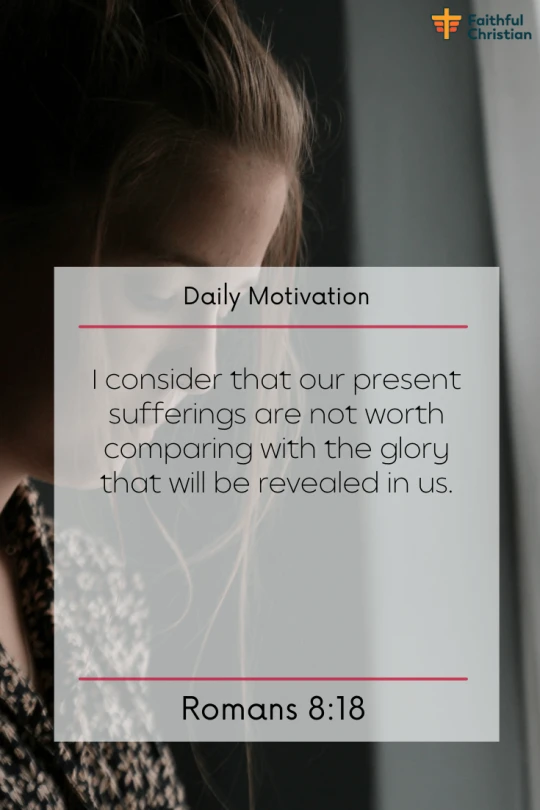 I consider that our present sufferings are not worth comparing with the glory that will be revealed in us.
4.  Isaiah 41:10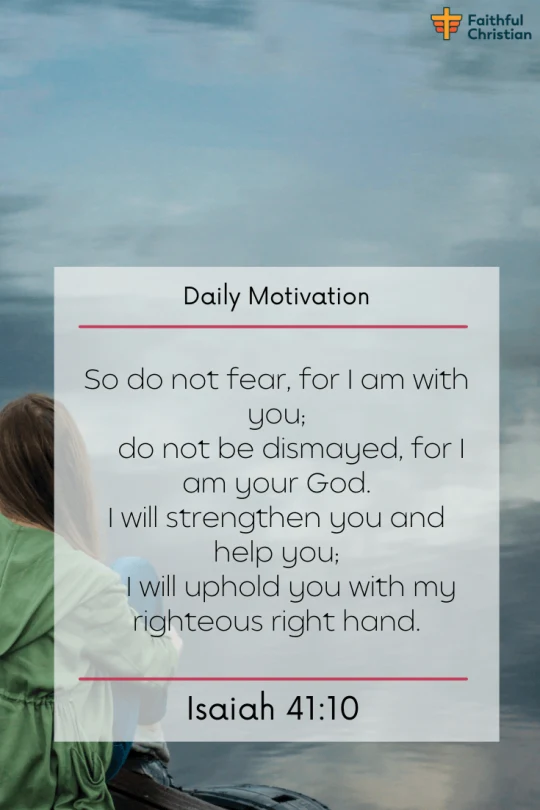 So do not fear, for I am with you;
    do not be dismayed, for I am your God.
I will strengthen you and help you;
    I will uphold you with my righteous right hand.
5.  Exodus 23:26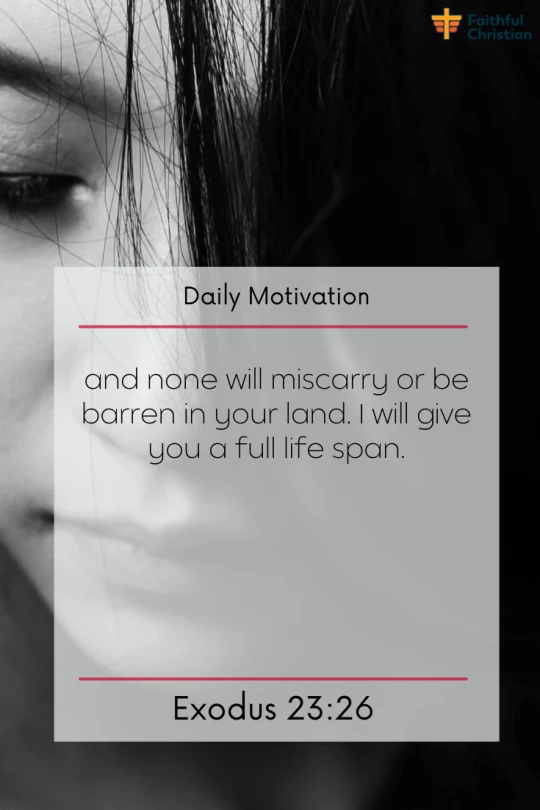 and none will miscarry or be barren in your land. I will give you a full life span.
6.  Jeremiah 1:5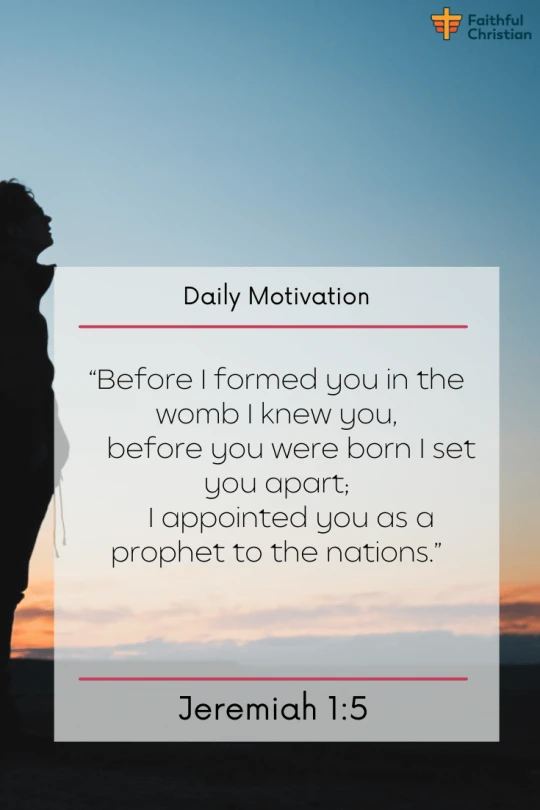 "Before I formed you in the womb I knew[a] you,
    before you were born I set you apart;
    I appointed you as a prophet to the nations."
7.  Psalm 139:13-16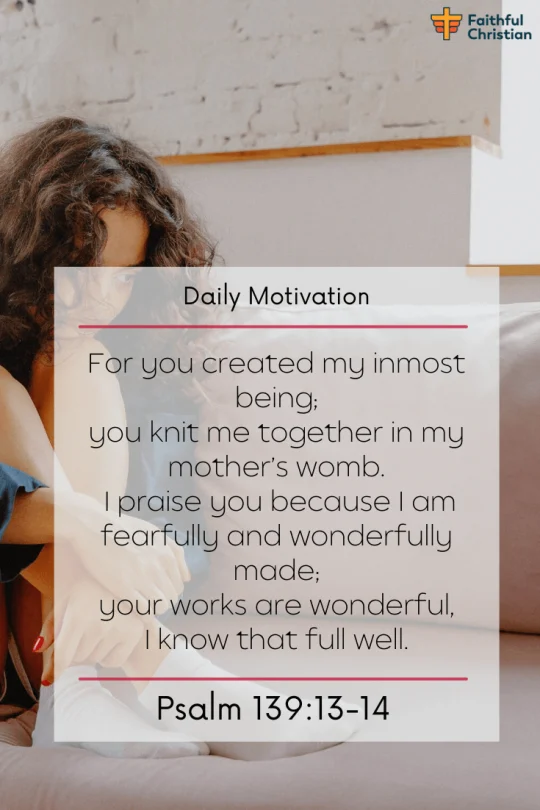 For you created my inmost being;
you knit me together in my mother's womb.
14 I praise you because I am fearfully and wonderfully made;
your works are wonderful,
I know that full well.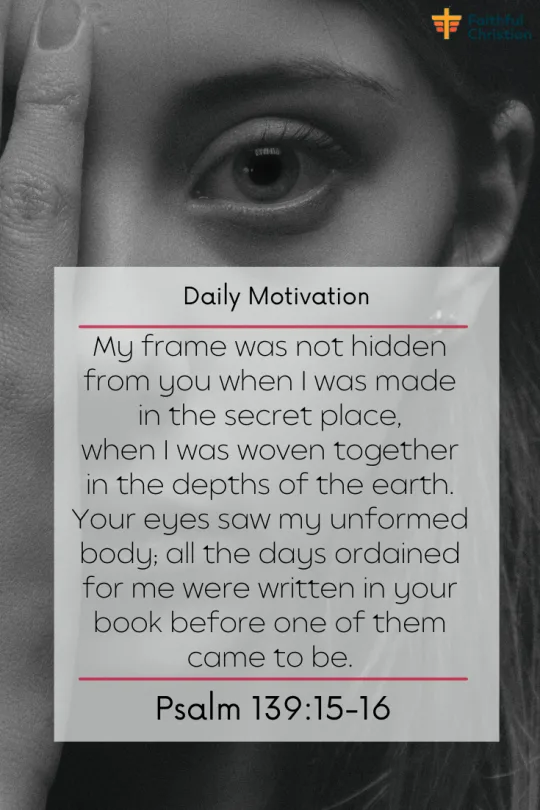 15 My frame was not hidden from you
when I was made in the secret place,
when I was woven together in the depths of the earth.
16 Your eyes saw my unformed body;
all the days ordained for me were written in your book
before one of them came to be.
8.  Jeremiah 29:11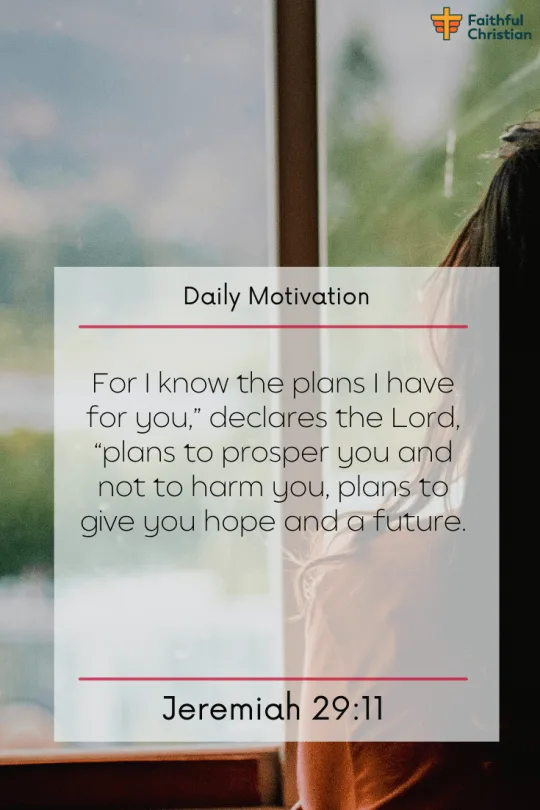 For I know the plans I have for you," declares the Lord, "plans to prosper you and not to harm you, plans to give you hope and a future.
9.  Matthew 18:14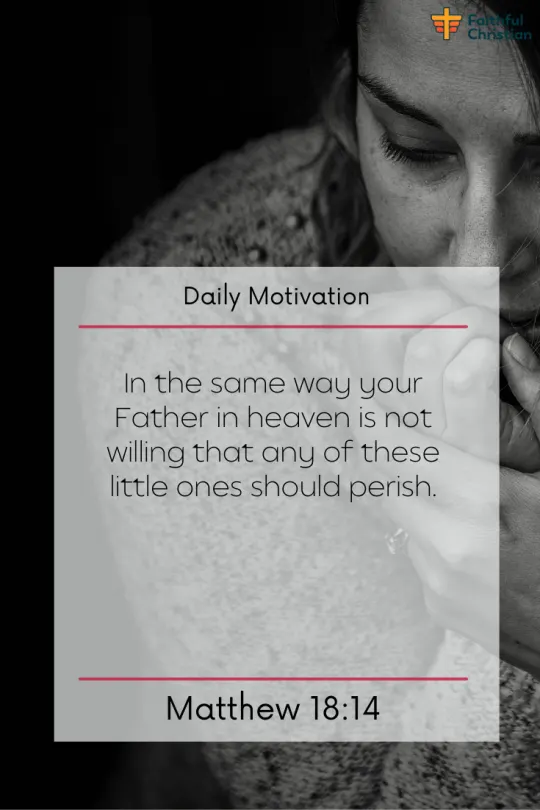 In the same way your Father in heaven is not willing that any of these little ones should perish.
10.  Romans 8:28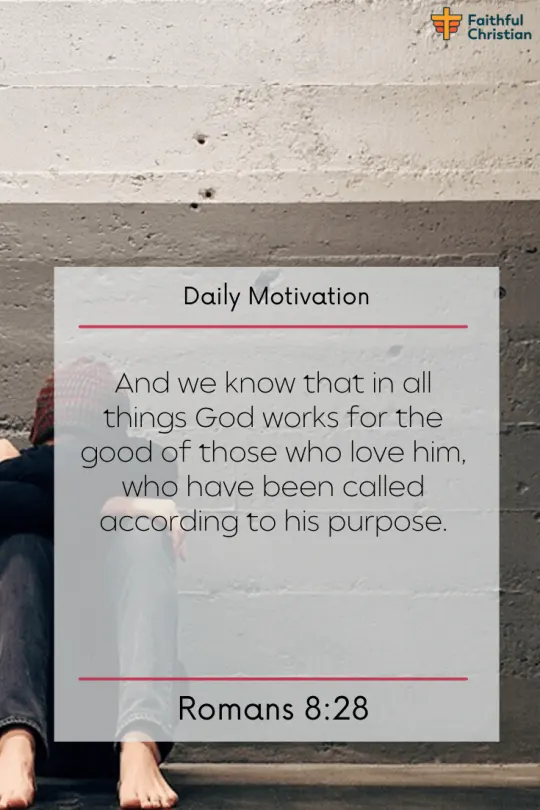 And we know that in all things God works for the good of those who love him, who have been called according to his purpose.
11.  Romans 9:11
Yet, before the twins were born or had done anything good or bad—in order that God's purpose in election might stand:
12.  1 Samuel 1:27-28
I prayed for this child, and the Lord has granted me what I asked of him. 28 So now I give him to the Lord. For his whole life he will be given over to the Lord." And he worshiped the Lord there.
13.  Isaiah 55:8-9
"For my thoughts are not your thoughts,
    neither are your ways my ways,"
declares the Lord.
9 "As the heavens are higher than the earth,
    so are my ways higher than your ways
    and my thoughts than your thoughts.
14.  2 Corinthians 1:3-5
Praise be to the God and Father of our Lord Jesus Christ, the Father of compassion and the God of all comfort, 4 who comforts us in all our troubles so that we can comfort those in any trouble with the comfort we ourselves receive from God.
5 For just as we share abundantly in the sufferings of Christ, so also our comfort abounds through Christ.
15.  Philippians 4:6-7
Do not be anxious about anything, but in every situation, by prayer and petition, with thanksgiving, present your requests to God. 7 And the peace of God, which transcends all understanding, will guard your hearts and your minds in Christ Jesus.
---
Recommended for you
---
Comfort for miscarriage during this trying time
1. Miscarriage is spiritual
I am a medical doctor, and I have come to see lots of women struggling with one, two or three consecutive miscarriages
Medically, we know most miscarriages happen because of abnormal genetic profiles of the growing baby.
But, as a Christian, I know it is more than that.
A miscarriage is highly spiritual and is a tool of the devil.
But sometimes, God allows us to deal with these temptations.
Yes, we pray "lead us not into temptations."
But it's God's mercy that we are or are not tempted.
God has created us in his image and likeness.
He knows all we are going through.
Right from inside the womb, he knows when a baby develops.
I refuse to believe that a miscarriage happens without God's approval.
Therefore, If you are feeling depressed about miscarriage bleeding, stay strong.
Psalm 46:1-3
God is our refuge and strength, an ever-present help in trouble. Therefore we will not fear, though the earth give way and the mountains fall into the heart of the sea, though its waters roar and foam and the mountains quake with their surging.
2.  Believe in God to keep your pregnancy
My wife is a very devoted Christian woman.
Each day she prays at least three times.
But that's not all.
She works with the church choir and is very devoted to God's service.
I felt touched when she woke up in the morning (after noticing signs of miscarriage) and went to the church.
She told me she is going for evangelism.
In other words, she is going to preach to convert more souls for Christ.
I knew as a medical doctor that she needed to have lots of rest (At least that's what we advise women with signs of a miscarriage).
But this time, I had faith in God.
We know that God will take away any form of illness if we serve him.
After all, in my experience, bed rest does not always stop a miscarriage from happening.
God confirmed in his word,
Exodus 23:25
And ye shall serve the Lord your God, and he shall bless thy bread, and thy water; and I will take sickness away from the midst of thee
3.  Pray to God to stop your miscarriage signs
A prayerful woman has the power to stop a miscarriage.
Yes, God knows the best, but don't assume until you've prayed.
I read about the death of David's son with the widowed wife of Uriah.
David had just killed an innocent man and married his wife.
But even when it is evident that God's judgment was for the Adulterous son was to die, David still prayed, day and night, for seven days.
That's how you should commit yourself and your family in prayers.
There are many obvious signs of miscarriage such as vaginal spotting, heavy vaginal bleeding, not experiencing pregnancy symptoms anymore, or lower abdominal pain.
But do not be afraid.
Commit every situation into God's hand and watch him take control.
Since yesterday, my wife has been in prayers. We prayed in the morning trusting in God for a miracle.
Until now, she has not seen any vaginal bleeding or had belly cramps.
Philippians 4:6-7
Do not be anxious about anything, but in every situation, by prayer and petition, with thanksgiving, present your requests to God. 7 And the peace of God, which transcends all understanding, will guard your hearts and your minds in Christ Jesus.
4.  Trusting God after a miscarriage
I know within myself that God's plans are unsearchable to man.
Yes, we may understand the physical things of this world, but there is a vast spiritual undertone.
If it's God's will that you've had a miscarriage, don't lose hope.
Remember Pauls's encouraging words.
Romans 8:28
And we know that in all things God works for the good of those who love him, who have been called according to his purpose.
God bless you.
Author: Akatakpo Dunn
Dr. Akatakpo Dunn is a dedicated follower of Christ, an active member and speaker, and an ongoing learner of the Scriptures. Passionate about his faith and serving others, he is committed to sharing his spiritual journey and insights to inspire and uplift fellow believers. He has been active in the church for more than 23 years. Through The
Faithful Christian Blog
,
Dr. Dunn
combines his love for God, philanthropy, and Scripture, providing a valuable resource for those seeking to grow in their faith.
Follow me: on Youtube, Facebook, Twitter, Instagram, and Pinterest.
Content Disclosure:
At The Faithful Christian Blog, I create authentic and inspiring content. Although I am the main author, I occasionally use AI for minor language enhancements. This minimal AI usage ensures high-quality, trustworthy articles without compromising originality or sincerity, ultimately supporting our shared faith journey.
Warmly,
Dr. Akatakpo Dunn
Was this article helpful?