The journey to parenthood can be both exhilarating and challenging, with many couples seeking divine intervention to help them conceive.
In this article, we delve into the power of fertility prayer for a baby, whether you're hoping for a boy or a girl, and the role of faith in the process of trying to get pregnant.
Are you ready to strengthen your faith and invite blessings into your life?
Psalm 127:3 reminds us of the gift of parenthood: "Behold, children are a heritage from the Lord, the fruit of the womb a reward."
Embark on this sacred journey with us, as we explore the profound impact of fertility prayers on the path to becoming loving and devoted parents.
---
Recommended for you
---
Prayer Bible verses to conceive and open womb
Exodus 23:26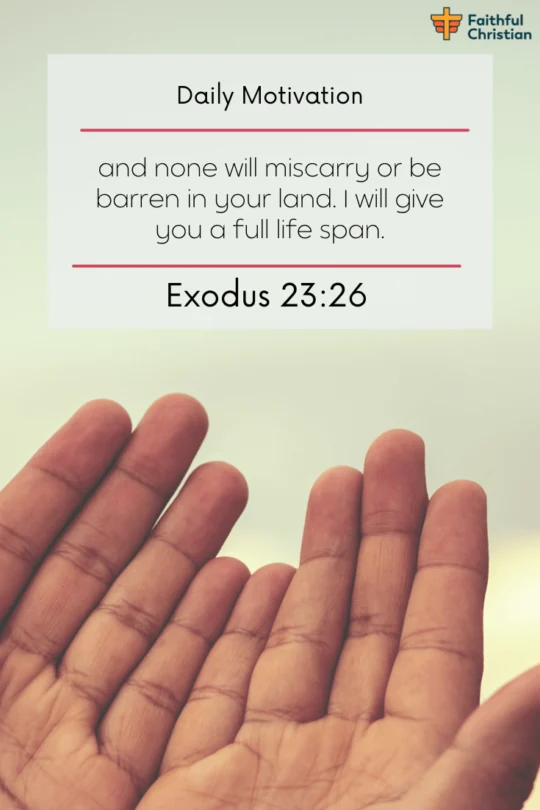 and none will miscarry or be barren in your land. I will give you a full life span.
Deuteronomy 7:14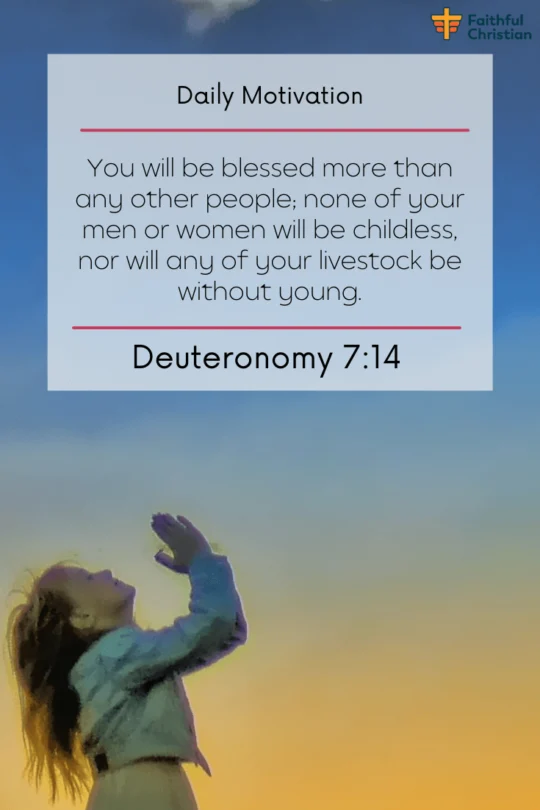 You will be blessed more than any other people; none of your men or women will be childless, nor will any of your livestock be without young.
Job 21:10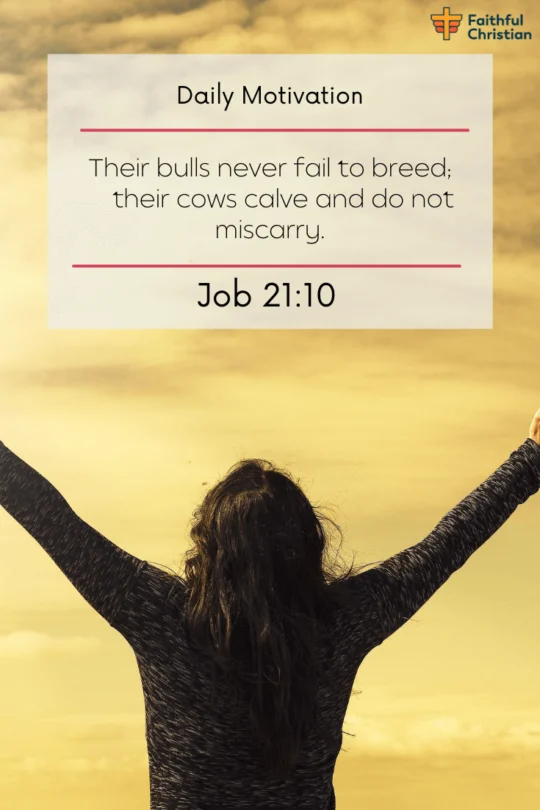 Their bulls never fail to breed;
    their cows calve and do not miscarry.
Joshua 1:9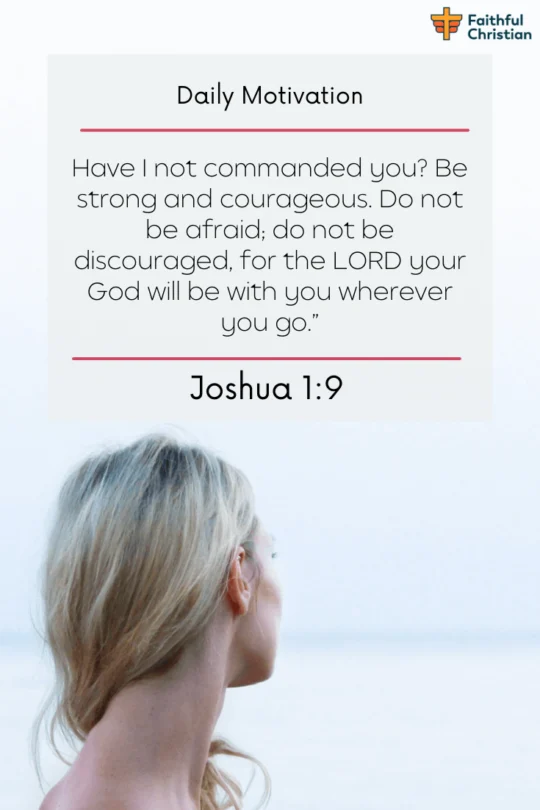 Have I not commanded you? Be strong and courageous. Do not be afraid; do not be discouraged, for the LORD your God will be with you wherever you go."
Fertility Prayer for a Baby boy or girl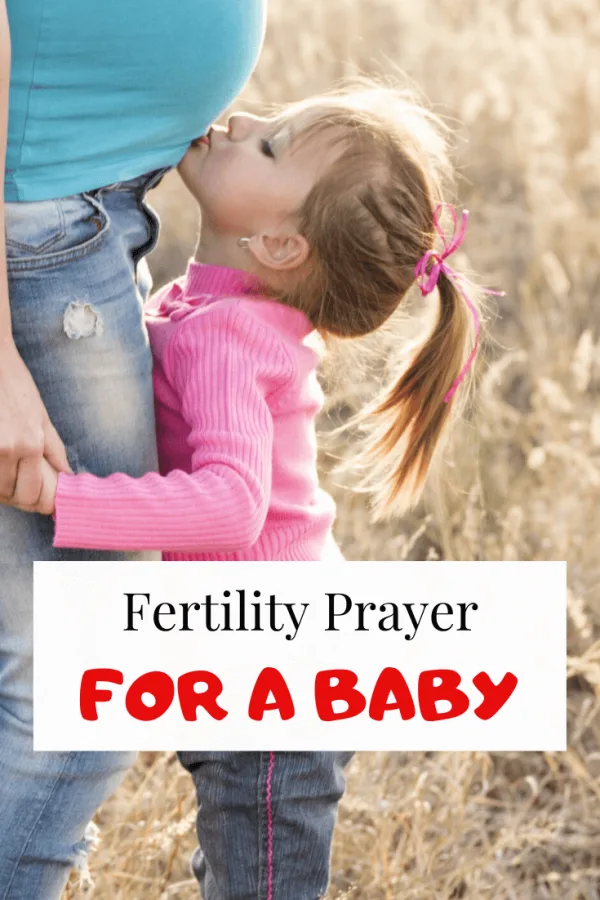 Let's give thanks
It is pretty common not to be inspired enough to thank God.
Why should you thank him when he has abandoned you? Or,
Why should you yet worship him when he hasn't fulfilled his word?
About a week or so, I met a young lady joyously playing with her child.
She was delighted, and I could understand her happiness.
For years, she had tried to get pregnant to no avail.
Later on, after some years, God opened her womb, and she conceived
Unfortunately, she lost the baby just after labor.
Since, then she has been worried, together with her husband.
In one of their clinic visits, the husband almost collapsed on hearing she was having a miscarriage.
But today, God has removed that pain and shame from her.
So, first of all, we must thank God for our lives.
We must thank God for the life of our husband and our household.
The scripture says,
 Through Jesus, therefore, let us continually offer to God a sacrifice of praise—the fruit of lips that openly profess his name.

Hebrews 13:15
Let us pray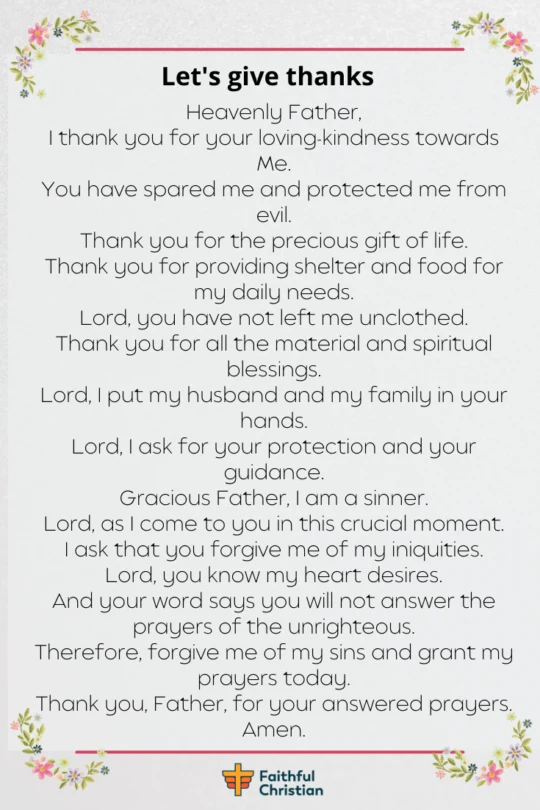 Heavenly Father,
I thank you for your loving-kindness towards Me.
You have spared me and protected me from evil.
Thank you for the precious gift of life.
Thank you for providing shelter and food for my daily needs.
Lord, you have not left me unclothed.
Thank you for all the material and spiritual blessings.
Lord, I put my husband and my family in your hands.
Lord, I ask for your protection and your guidance.
Gracious Father, I am a sinner.
Lord, as I come to you in this crucial moment.
I ask that you forgive me for my iniquities.
Lord, you know my heart desires.
And your word says you will not answer the prayers of the unrighteous.
Therefore, forgive me of my sins and grant my prayers today.
Thank you, Father, for your answered prayers.
Amen.
Nothing shall cast your young away.
I could vividly remember my wife's issue with a friend.
She used all sorts of annoying words during a quarrel.
She said, "you will be barren forever."
Though she has apologized for all her wrong actions, initially, my wife was troubled to hear that.
She became uneasily worried, thinking those words would affect our marriage.
When she lost her first pregnancy to a miscarriage, it even made her lose some strength.
But today, she is five months pregnant.
And that's because, with God, you need not panic.
Whatever anyone has planned for you shall fail.
Anything God has not planned in your life will be uprooted.
The scripture says,
There shall nothing cast their young, nor be barren, in thy land: the number of thy days I will fulfil.

Exodus 23:26
Let us pray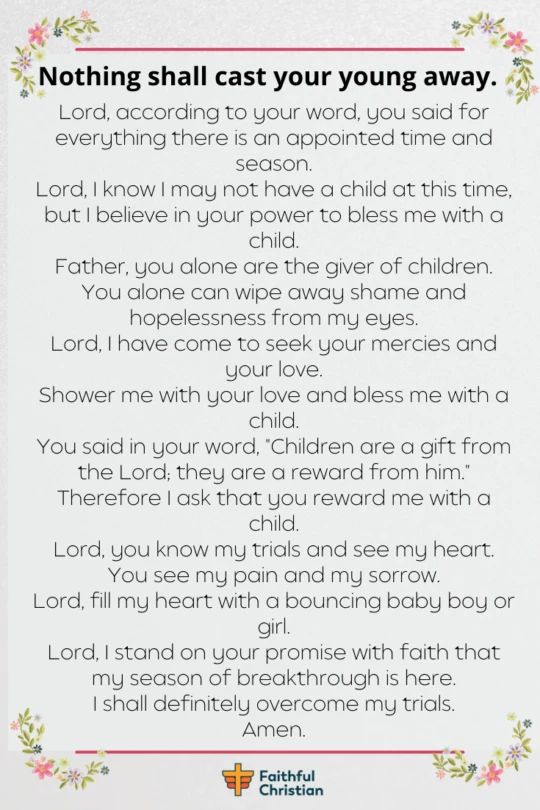 Lord, according to your word, you said for everything there is an appointed time and season.
Lord, I know I may not have a child at this time, but I believe in your power to bless me with a child.
Father, you alone are the giver of children.
You alone can wipe away shame and hopelessness from my eyes.
Lord, I have come to seek your mercies and your love.
Shower me with your love and bless me with a child.
You said in your word, "Children are a gift from the Lord; they are a reward from him."
Therefore I ask that you reward me with a child.
Lord, you know my trials and see my heart.
You see my pain and my sorrow.
Lord, fill my heart with a bouncing baby boy or girl.
Lord, I stand on your promise with faith that my season of breakthrough is here.
I shall definitely overcome my trials.
Amen.
---
Recommended for you
---
None shall be barren in the land.
Do you remember Sarah, Rebekah, Samson's mother, Hannah, and Elizabeth?
Each of these women had already lost hope of getting pregnant.
It was either they were too old, or their co-wives were getting pregnant.
In each of these circumstances, when it was time, God visited them.
Why, then, will God abandon you?
Your case will never be different.
Fertility and conception are God's blessings for your service.
The scripture says,
You will be blessed more than any other people; none of your men or women will be childless, nor will any of your livestock be without young
Let us pray
Father, your word has been settled in heaven and on earth.
Your word says that I shall not be barren. Neither shall my animals be infertile.
Lord, I know if you will not make my livestock barren, you will visit me.
Lord, I know if you haven't made my mother barren, you will visit me.
Gracious Father, I reject every report from the doctor's office over my situation.
Lord, I reject all evil reports from anyone over my fertility.
Lord, I depend on your report today.
Your report says I will have my boy or girl child.
Your report says I will spend the rest of my life happily with my children.
Lord, your report says, I will see my children's children.
You said unto Sarah, "is there anything too hard for me?"
Lord, I believe in your miraculous hand.
Nothing is too hard for you.
Turnaround my situation and return peace to my heart.
Amen.
Prayer to open womb – Be fruitful and multiply (prayer to get pregnant)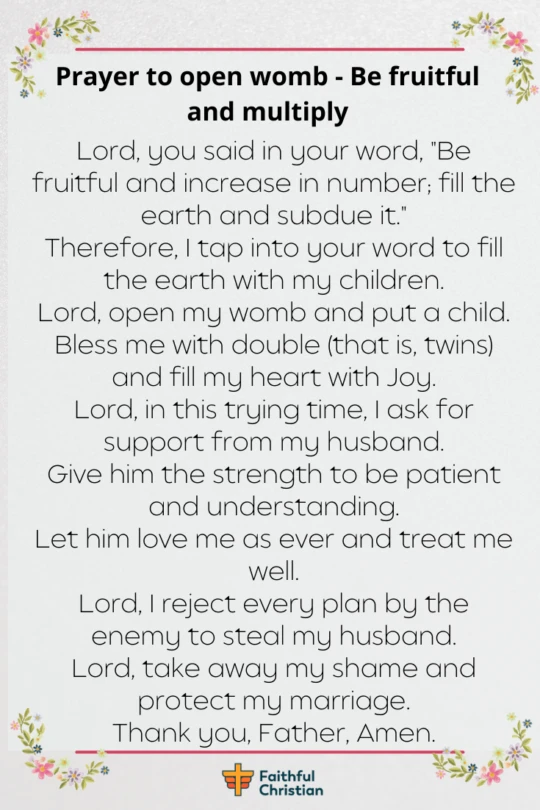 Lord, you said in your word, "Be fruitful and increase in number; fill the earth and subdue it."
Therefore, I tap into your word to fill the earth with my children.
Lord, open my womb and put a child.
Bless me with double (that is, twins) and fill my heart with Joy.
Lord, in this trying time, I ask for support from my husband.
Give him the strength to be patient and understanding.
Let him love me as ever and treat me well.
Lord, I reject every plan by the enemy to steal my husband.
Lord, take away my shame and protect my marriage.
Thank you, Father, Amen.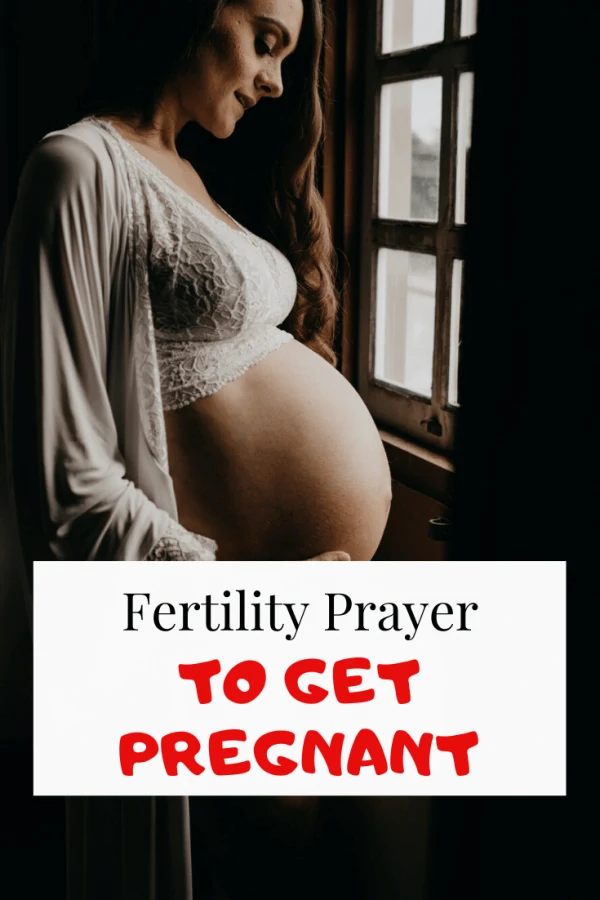 Author: Akatakpo Dunn
Dr. Akatakpo Dunn is a dedicated follower of Christ, an active member and speaker, and an ongoing learner of the Scriptures. Passionate about his faith and serving others, he is committed to sharing his spiritual journey and insights to inspire and uplift fellow believers. He has been active in the church for more than 23 years. Through The
Faithful Christian Blog
,
Dr. Dunn
combines his love for God, philanthropy, and Scripture, providing a valuable resource for those seeking to grow in their faith.
Follow me: on Youtube, Facebook, Twitter, Instagram, and Pinterest.
Content Disclosure:
At The Faithful Christian Blog, I create authentic and inspiring content. Although I am the main author, I occasionally use AI for minor language enhancements. This minimal AI usage ensures high-quality, trustworthy articles without compromising originality or sincerity, ultimately supporting our shared faith journey.
Warmly,
Dr. Akatakpo Dunn
Was this article helpful?