Grieving is tough. Are you grappling with heartache and seeking solace?
In this post, we delve into a comforting prayer for the loss of a loved one.
This powerful, healing grieving prayer guides you through dark times.
What's in store? We'll embrace faith's power and the strength it provides during our darkest hours.
As Psalm 34:18 reassures us, "The Lord is close to the brokenhearted and saves those who are crushed in spirit."
By embracing this comforting prayer, you'll experience peace and support.
So, let's begin, and remember—you're not alone.
Short Comforting prayers for the loss of a loved one (prayer points)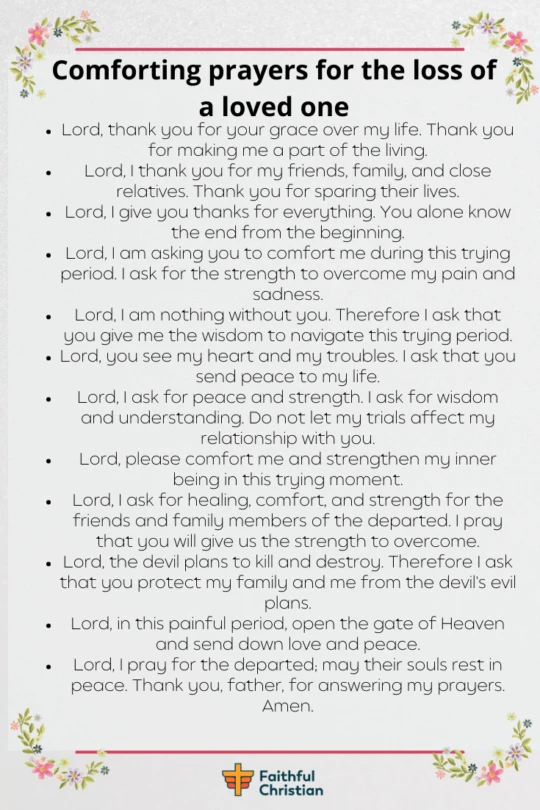 Comforting bible verses for the loss of a loved one
Isaiah 25:8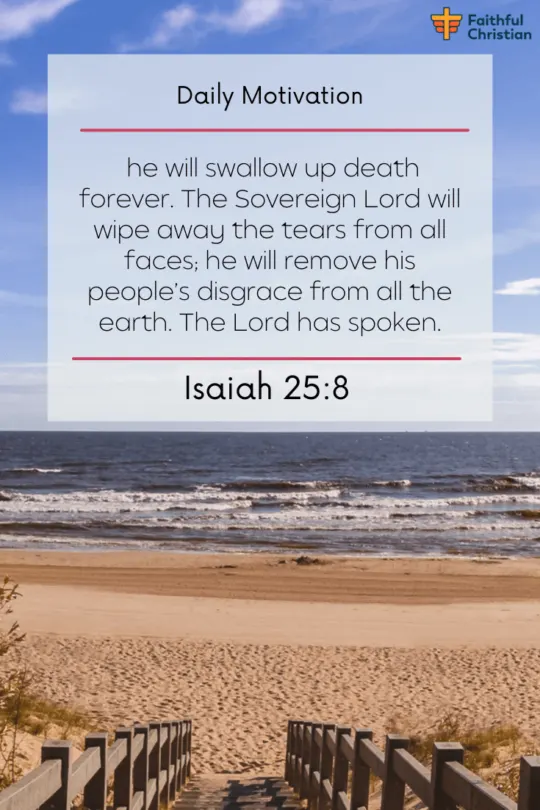 he will swallow up death forever. The Sovereign Lord will wipe away the tears from all faces; he will remove his people's disgrace from all the earth. The Lord has spoken.
Revelation 21:4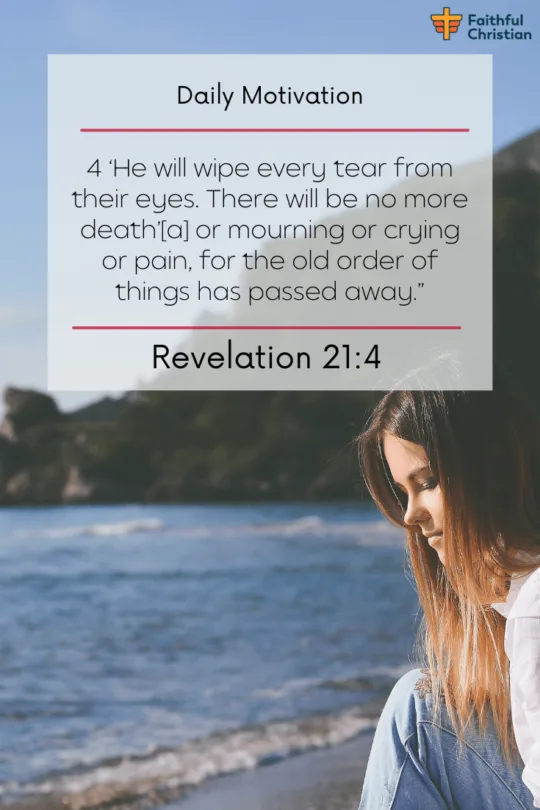 4 'He will wipe every tear from their eyes. There will be no more death'[a] or mourning or crying or pain, for the old order of things has passed away."
1 Corinthians 15:54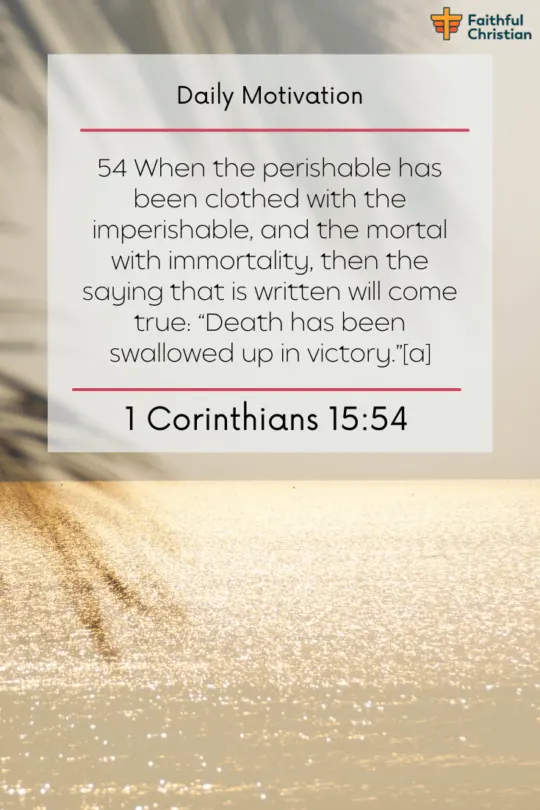 54 When the perishable has been clothed with the imperishable, and the mortal with immortality, then the saying that is written will come true: "Death has been swallowed up in victory."[a]
Comforting prayer for the loss of a loved one.
For the lord will wipe away tears from your eyes.
Life's journey is full of change, and the Bible teaches us that there's a time for everything – birth and death included.
Amidst challenging moments, such as the loss of a loved one, we can seek solace in the teachings of God's Word. Trusting in God's wisdom and plan can bring us peace during our darkest moments.
Facing loss, we can take comfort in knowing God's authority covers our lives, including adversity. The story of Job in the Bible is a powerful reminder that God's sovereignty prevails over everything, guiding us through life's trials.
The promise of eternal life and reuniting with loved ones brings comfort to the faithful. The Bible reveals God's immense love, as He sent His only Son, Jesus, to grant eternal life to believers.
This divine love ends death, mourning, and pain, surrounding us with comfort.
By seeking His wisdom, immersing ourselves in His Word, and asking for His support, we can find hope and comfort in His eternal promises.
We can discover solace, peace, and inspiration through God's loving embrace, even in life's most challenging moments.
Comforting prayer for the loss of a loved one- let us pray.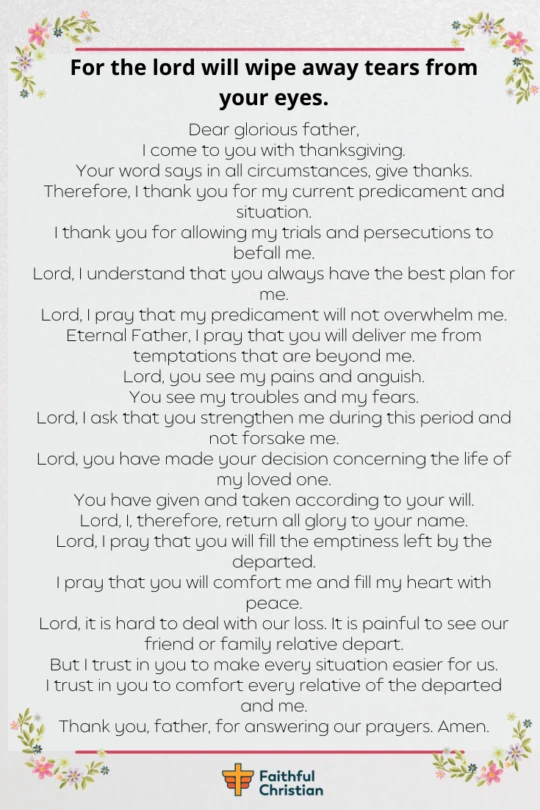 Dear magnificent and loving Father, In humble gratitude, I come before you today.
I express my gratitude for both blessings and challenges, as 1 Thessalonians 5:18 encourages. Amidst heartache and loss, I thank you for the opportunity to grow through trials and tribulations.
I am reminded of your wisdom and sovereignty, trusting in your perfect plan for my life, as expressed in Jeremiah 29:11.
Gracious Lord, I pray that my current circumstances will not consume me, and that you will provide the strength to endure, as described in Isaiah 40:31.
Eternal Father, I ask that you deliver me from temptations beyond my capacity, in accordance with 1 Corinthians 10:13.
Lord, you know my pain and struggles, as Psalm 56:8 reveals your intimate understanding of my heartache.
During this season of sorrow, I ask that you strengthen me and never forsake me, as promised in Deuteronomy 31:6.
Ecclesiastes 3:1-2 reminds us that there's a time for everything, including birth and death, as part of life's natural cycle.
Lord, in your infinite wisdom, you have chosen the time for my loved one's departure, and I acknowledge your sovereign will in all things, returning all glory to your name.
I pray, Father, that you will fill the void left by my loved one's passing, providing comfort and peace to my heart as promised in Psalm 34:18.
In the midst of loss, I trust in your ability to bring solace and alleviate our suffering, as 2 Corinthians 1:3-4 promises.
I believe in your power to console every grieving relative and friend, including myself, during this difficult time.
Almighty God, please take away our anguish, disappointment, hopelessness, and tears, as you are our refuge and strength, according to Psalm 46:1.
May your divine comfort make us strong and resilient in these trying hours.
Psalm 30:5 reminds us that "your anger lasts only a moment, but your favor is for a lifetime; weeping may last through the night, but joy comes in the morning."
Lord, grant us the peace and understanding to accept our present circumstances, and fill our hearts with hope and joy in all we do.
Send your heavenly joy to replenish our souls swiftly, in accordance with Psalm 16:11.
Thank you, gracious Father, for hearing and answering our prayers. In your holy name, I pray. Amen.
Affliction shall not rise the second time.
In uncertain times, we must be aware of the devil's wicked plans. The Bible (John 10:10) warns that Satan's goal is to steal our joy and tear our families apart.
He wants to break our bond with God's love, weakening our spiritual strength.
When we pray, let's ask the Lord to shield our loved ones from harm. Psalm 121:7-8 assures us that God watches over our lives, keeping us safe. We desperately seek His protection so that our families can heal.
During tough times, we need the spiritual armor of God (Ephesians 6:11). Wearing this armor helps us resist the devil's tricks and face life's challenges head-on.
1 Peter 5:8 urges us to stay alert, as the devil prowls like a hungry lion, hunting for victims. It's vital that we keep our eyes open, looking past the issues we face today.
We must focus on the enemy's schemes (James 4:7). Resisting the devil makes him run away. When we ask for God's help, He rescues us from danger.
Psalm 46:1 reminds us that God is our rock and our helper in times of need. So let's cling to our faith, trusting in His steadfast protection.
Comforting prayer for the loss of a loved one- let us pray.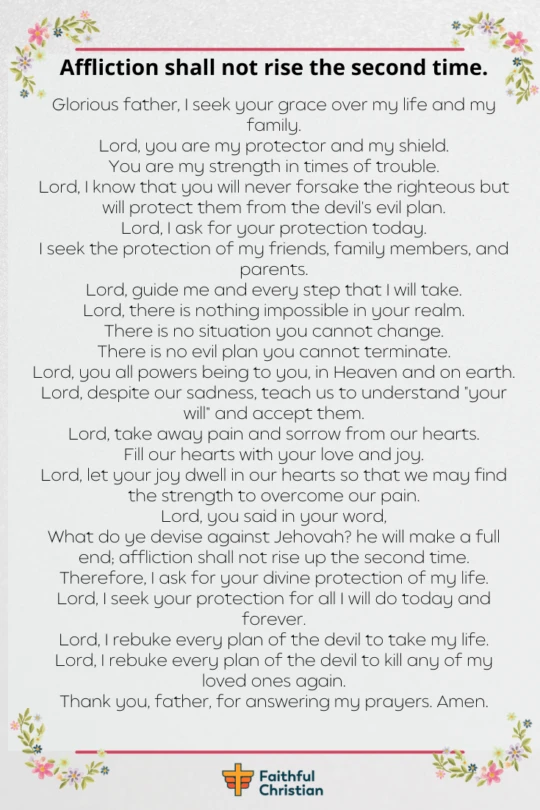 Glorious Father, I humbly seek Your grace and guidance over my life and my family, just as Psalm 23 reminds us that You are our shepherd, and we shall not want.
Lord, You are my steadfast protector and my unyielding shield, as declared in Psalm 28:7, for You are our strength and our shield, and our hearts trust in You.
You are the source of strength in times of trouble, as eloquently expressed in Isaiah 40:29, where You grant power to the weak and increase the strength of the weary.
Father, I am confident that You will never forsake the righteous, as stated in Psalm 37:28, for You are faithful and protect us from the malicious schemes of the devil.
I pray for Your protection over my life and my loved ones, seeking Your guidance and safety. Your guidance is invaluable, as in Psalm 32:8, where You promise to instruct us and teach us the way we should go.
Lord, there is nothing impossible in Your realm, for in Matthew 19:26, You remind us that with You, all things are possible.
There is no situation beyond Your reach, no obstacle You cannot overcome, and no wicked plan You cannot thwart.
You possess all power and authority in Heaven and Earth, as Jesus has been granted complete authority.
In the midst of our grief, teach us to understand Your will and embrace it, as Paul urges us in Romans 12:2, to be transformed by the renewing of our minds and to discern Your perfect will.
Remove our heartache and fill us with love and joy, as You provide the path to a fulfilled life in Your presence.
Let Your joy reside in our hearts, giving us the strength to overcome our pain, as in Nehemiah 8:10, for the joy of the Lord is our strength.
Lord, You assured us in Nahum 1:9 that affliction will not rise up the second time. Therefore, I pray for Your divine protection and guidance in all I do today and forever.
I rebuke every plan of the devil to harm me or my loved ones, as You have given us authority in Luke 10:19 to trample on serpents and scorpions and overcome all the powers of the enemy.
Grateful for Your comfort and answered prayers during our times of need, as You are the God of all comfort. Amen.
Fear not; I am with you.
In tough times, we need to ask God to calm our fears. He's our safe place and protector. Psalm 34:4 tells us that God takes away our fears when we pray, helping us through hard times.
When we lose a loved one, it leaves an emptiness. Think of David's pain in Psalm 23. In those moments, we must rely on God. He comforts us and heals our hearts.
Loss can also make us worry about our lives. Philippians 4:6-7 says to give our worries to God in prayer. He'll replace them with peace, guarding our hearts and minds.
Besides loss, we might fear the devil's tricks. Ephesians 6:11 says we should wear God's armor. That way, we can resist the enemy and stay safe from spiritual harm.
During these struggles, building our faith is key. As we grow closer to God, our fears fade. Mark 11:22 tells us to have faith in God, which is the core of our spiritual life.
When faith increases, fear shrinks. 2 Timothy 1:7 says God gives us power, love, and self-discipline, not fear. By drawing near to Him, we find strength and courage.
Even in hard times, trust God. Proverbs 3:5-6 says to trust Him with all our hearts, not just our minds. He'll lead the way if we let Him.
Don't let death or other troubles hurt your bond with God. Romans 8:38-39 says nothing, not even death, can take away God's love for us. This truth helps us stay strong in our faith.
Lastly, remember that God has good plans for us. Jeremiah 29:11 says He wants us to thrive and have hope. Trusting Him gives us comfort and strength, even in our darkest hours.
Prayer for someone grieving- let us pray.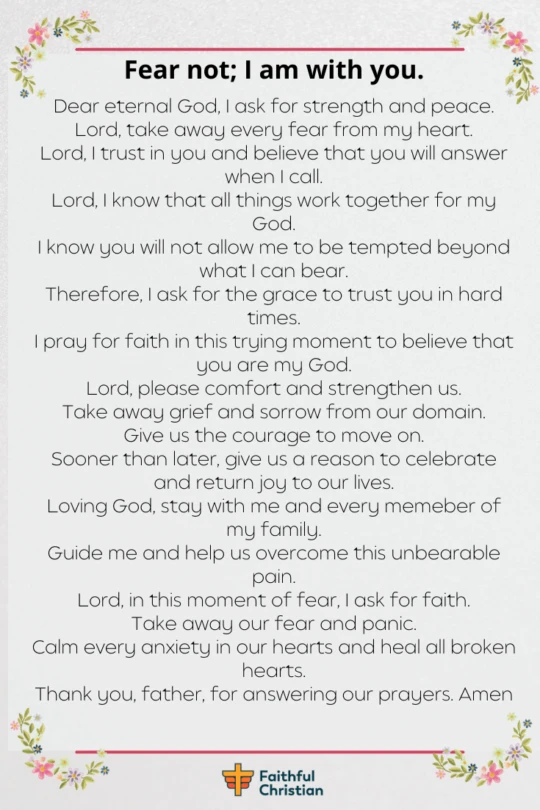 Dear eternal God, in the face of losing our loved one, we ask for strength and peace that goes beyond understanding, as you've promised.
Divine Protector, please remove all fears from our hearts. We recall your words in Isaiah 41:10, telling us not to be afraid, for you're with us, providing strength and support.
Lord, we trust you'll answer when we call. Like in Psalm 91:15, you said you'd be with us in times of trouble, rescuing us from our distress.
Father, we remember Romans 8:28, where you say all things work for good for those who love you. Help us see your plan even in our pain.
You promised in 1 Corinthians 10:13 that we'd never face more than we can handle. So, we ask for grace to trust you during tough times.
We pray for faith now, like the father in Mark 9:24, who asked for help with his unbelief. We choose to believe you're our God and refuge.
Lord, as the God of comfort (2 Corinthians 1:3-4), bring solace and strength to us. Lift the weight of grief and sorrow, as you vowed in Matthew 11:28-30 to give rest to weary souls.
Give us courage to move on, like Joshua in Joshua 1:9, who faced challenges with your guidance. In your timing, help us celebrate and find joy again.
Loving God, stay with our family during this time of mourning. Like in Psalm 23:4, we know you're with us in dark valleys, guiding and comforting.
Now, we ask for faith amid fear. You told us in 1 Peter 5:7 to cast our worries on you because you care. Ease our troubled hearts and heal broken hearts, as in Psalm 147:3.
Gracious Father, we're thankful for your presence and answered prayers. In faith, we say, Amen.
A comforting prayer: "God of comfort, we turn to You in our sorrow. Embrace us with Your love, providing solace and strength.
Help us find hope in Your promises and trust in Your care for our loved one. Give us the grace to face each day with faith. Amen."
Author: Akatakpo Dunn
Dr. Akatakpo Dunn is a dedicated follower of Christ, an active member and speaker, and an ongoing learner of the Scriptures. Passionate about his faith and serving others, he is committed to sharing his spiritual journey and insights to inspire and uplift fellow believers. He has been active in the church for more than 23 years. Through The
Faithful Christian Blog
,
Dr. Dunn
combines his love for God, philanthropy, and Scripture, providing a valuable resource for those seeking to grow in their faith.
Follow me: on Youtube, Facebook, Twitter, Instagram, and Pinterest.
Content Disclosure:
At The Faithful Christian Blog, I create authentic and inspiring content. Although I am the main author, I occasionally use AI for minor language enhancements. This minimal AI usage ensures high-quality, trustworthy articles without compromising originality or sincerity, ultimately supporting our shared faith journey.
Warmly,
Dr. Akatakpo Dunn
Was this article helpful?