"Jesus wept"
I've gone through the bible several times to understand why Jesus, the beloved son of God, wept.
I was surprised;
Isn't our creator meant to be stronger than we are?
I was even more surprised when He said, "Blessed are those who are persecuted because of righteousness."
In other words, he knew we would definitely go through pain.
More so, Paul said the same thing in the book of Timothy. He said, "In fact, everyone who wants to live a godly life in Christ Jesus will be persecuted.
We've all been persecuted in one way or the other.
I have had my own experiences that have made me even stronger. Four years ago, I invested heavily in a project. After spending a lot of money, my business crumbled.
I was so devastated that I felt like giving up. But, at this point, I had no one to run to but to hope for a turnaround from God.
The truth is, God understands your challenges. So if you are feeling disappointed, NEVER GIVE UP.
I have compiled my top Bible verses about staying strong in faith, and I hope you never give up on yourself because God has not given up on you.
---
Recommended for you
---
Bible verses about staying strong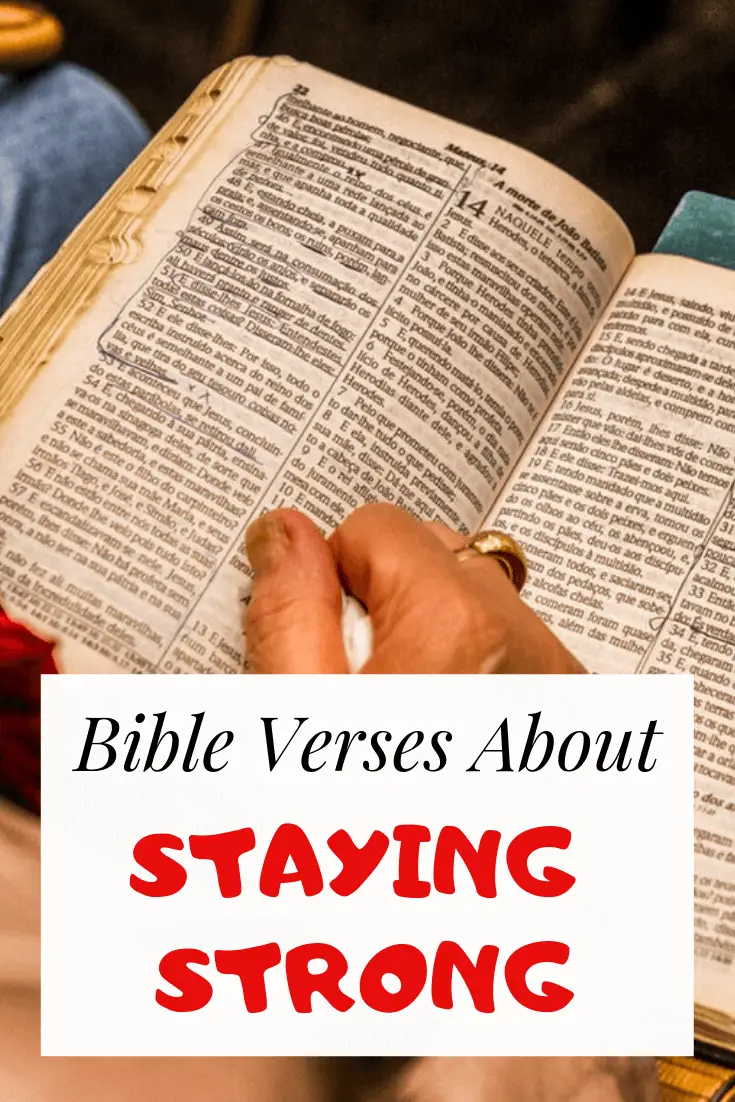 1. Isaiah 41:10 — God will give you strength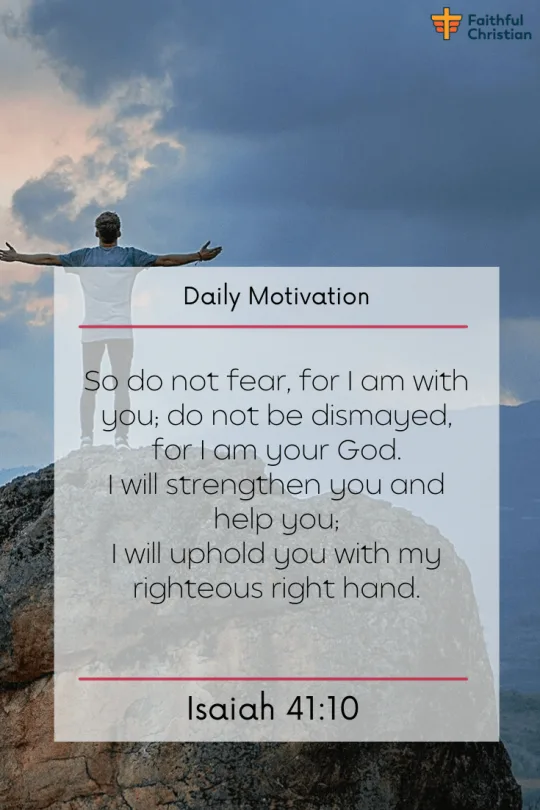 So do not fear, for I am with you;
do not be dismayed, for I am your God.
I will strengthen you and help you;
I will uphold you with my righteous right hand.
Do you ever feel life is a mountain too steep to climb? Or a tempest too fierce to weather? In times like these, one biblical verse becomes our lifeline – Isaiah 41:10. Let's dive in to understand why.
Firstly, it reminds us, "So do not fear, for I am with you…" An assurance of God's perpetual presence. Imagine the comfort of a friend's shoulder in tough times. Now, multiply that comfort a thousand times over. That's the essence of God's presence.
His presence brings serenity, guidance, and a sense of belonging. He is always with us, as reiterated in Joshua 1:9.
Next, it promises, "I will strengthen you and help you…" This highlights God's active involvement in our lives. He's not a passive observer. He shares divine strength with us, supporting us through life's trials. This is clearly depicted in Deuteronomy 31:6.
The third part is about overcoming fear through trust in God. Life can be intimidating. Yet, trusting in God helps us face our fears. We can draw courage from the story of Daniel.
Despite being tossed into a den filled with ravenous lions, Daniel didn't give in to fear. Instead, he held onto his faith, continuing to pray and worship God. His reward? A stunning deliverance!
Then, the verse continues, "I will uphold you with my righteous right hand…" Here, we see God's role as our upholder in times of despair. He's like a father, steadying his child's first steps, but on a grand scale.
Finally, it underscores God's righteousness. When injustices surround us, we can rely on His righteous judgment. He stands up for the oppressed, proving His righteousness is infallible.
In essence, Isaiah 41:10 is our guide during tumultuous times. It's God saying, "I am here. You are not alone." It's a beacon of hope, encouraging us to stay strong and never give up.
So, as we weather life's storms, let's anchor ourselves in these truths. Trust in His presence, His strength, His righteousness, and above all, His enduring love.
2. John 14:27 – Let not your hearts be troubled
Peace I leave with you; my peace I give to you. Not as the world gives do I give to you. Let not your hearts be troubled, neither let them be afraid.
Navigating life's storms requires a unique kind of tranquility, one that persists amidst chaos. This enduring calm is beautifully encapsulated in John 14:27. In this scripture, Jesus offers us a profound gift – His divine peace. This isn't a fleeting solace, but a constant comfort, a buffer against life's harsh trials.
A distinguishing factor is the origin of this peace. Unlike worldly offerings that depend on transient pleasures or possessions, Christ's peace is divine. Philippians 4:7 reminds us of its transcendental nature, extending beyond our understanding. I invite you to contemplate this distinction, to appreciate the depth of peace Christ offers.
This divine peace doesn't merely comfort; it strengthens. It fortifies our hearts during turmoil, enabling us to remain steadfast. Remember Jesus' advice, "Do not let your hearts be troubled." Consider it an invitation to let His peace take root in your heart, offering stability amidst life's tempests.
To truly understand the depth of this peace, consider Jesus Himself as our example. In Luke 23, we witness Jesus facing His own trial and crucifixion. Most of us can't fathom the magnitude of such suffering, the weight of the world's sin He bore on His shoulders.
Yet, amid this, He remained peaceful, even forgiving those who tortured Him. Can you imagine the strength His peace granted Him to endure such anguish and not falter?
His peace is about overcoming, not avoiding fear. It's about perseverance, not escapism. It's a refuge, a shield when fear threatens our resolve. Psalm 29:11 reinforces this idea, associating God's strength with His peace.
Finally, understand that the peace of Christ differs from worldly peace. The latter is fickle, shattering at the slightest trouble. But Christ's peace is enduring, fortifying us to withstand adversity.
In conclusion, remember the unique peace Christ offers. Embrace it, let it strengthen your heart and dissipate your fears. It's a peace that bolsters resilience, a peace that empowers us to persist through adversity.
3. Ephesians 6:12-13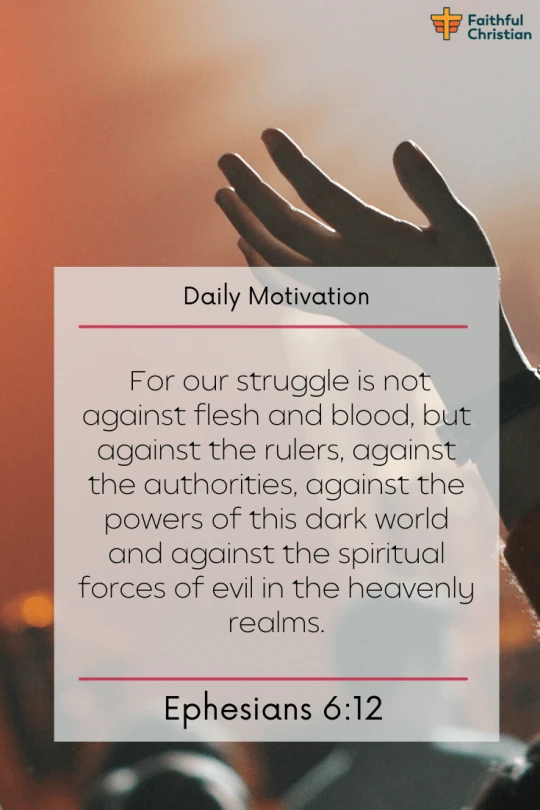 For our struggle is not against flesh and blood, but against the rulers, against the authorities, against the powers of this dark world and against the spiritual forces of evil in the heavenly realms.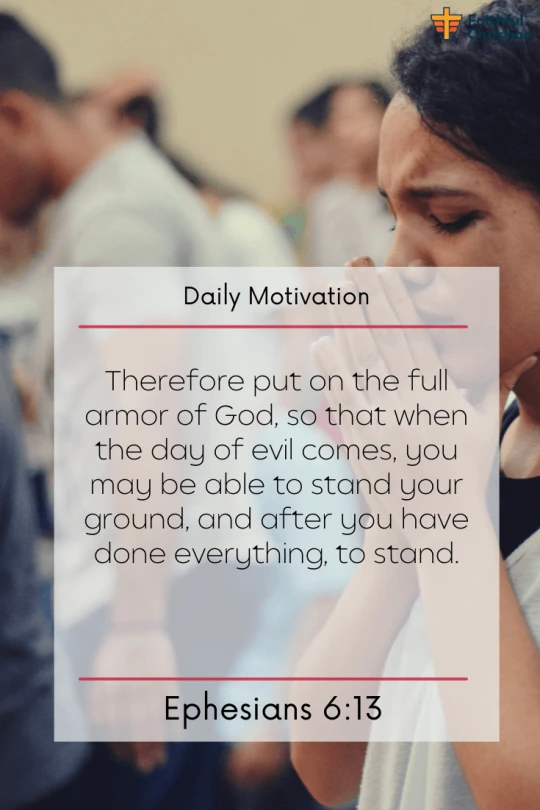 Therefore put on the full armor of God, so that when the day of evil comes, you may be able to stand your ground, and after you have done everything, to stand.
Ephesians 6:12-13 confronts us with a reality: our struggles are not merely human, but spiritual.
Consider Job, an ancient patriarch. His story in the Bible (Job 1-42) showcases a man who found himself in the midst of an extraordinary spiritual storm. Stripped of his health, wealth, and children, Job wrestled not with people, but with his faith and understanding of God.
Yet, he didn't curse God. Instead, he held onto his faith, showing us a resilient spirit amidst life-shattering circumstances.
Fast forward to the 20th century. Martin Luther King Jr. offers us another enlightening example. Amidst a tumult of racial violence, he stood unwavering. His struggle wasn't merely sociopolitical; it was spiritual, and his faith was his fortress.
Now, how can we apply such resilient faith in our own spiritual warfare? Ephesians equips us with the answer – the armor of God. More than a metaphor, it represents our divine defenses, tools for spiritual warfare.
Among these, the 'word of God' is our sword. It's an assertion seconded by 2 Corinthians 10:4, reminding us of the divine power we wield. So, clad in God's armor, we're equipped to stand our ground, persist, and overcome.
Romans 13:12 further reinforces this perspective. As a new day dawns, we shed our deeds of darkness. In their place, we embrace the armor of light. For me, this verse serves as a timely reminder whenever trials loom large.
Ultimately, our spiritual journey hinges on perseverance. It's a lifelong commitment, not a one-off battle. Even when we've exhausted all human efforts, we're called to stand firm, to press on.
I promise you, such perseverance won't go unrewarded. Looking back, we'll see not a trail of defeat, but a testament to faith and divine strength. The struggles might be tough, but we're tougher.
March on, knowing we're not alone. The God of Job stands with us. The God who empowered King empowers us too. And in Christ, victory is ours. Remember, we're not just fighters in a spiritual battle; we're victors, armed and guarded by God's own hand.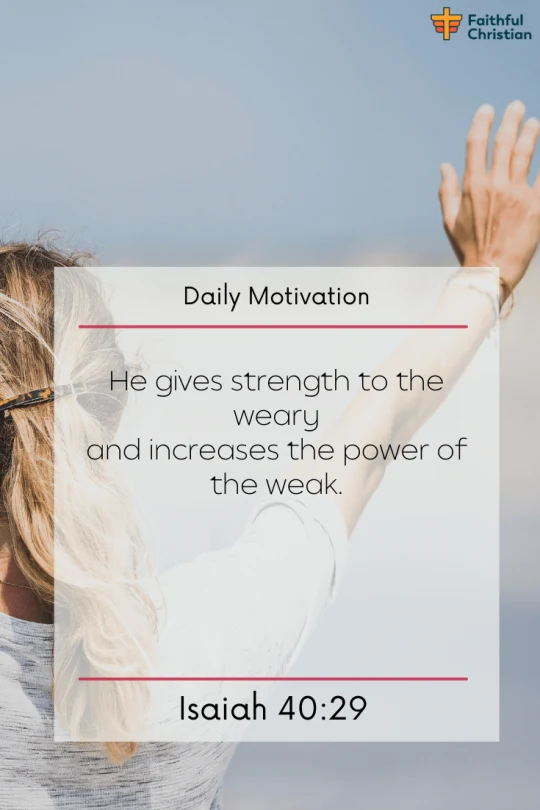 He gives strength to the weary
and increases the power of the weak.
Life's journey often presents exhausting challenges. But we have a promise, firmly rooted in Isaiah 40:29. Here, God positions Himself as an unending source of strength.
Remember David, the shepherd boy from the Bible? His encounter with the mighty Goliath serves as a prime example of God's empowering nature. David, by any measure, was not the natural choice to face a seasoned giant warrior.
Yet, with a slingshot, a few stones, and the strength of the Lord, David emerged victorious. How could a young shepherd achieve this feat? The secret lies in relying on God, the inexhaustible source of strength.
Parallel to Isaiah's words, Psalm 29:11 pledges, "The Lord gives strength to his people; the Lord blesses his people with peace." This verse provides a divine recipe. God does not merely impart strength but supplements it with peace. This potent combination functions as a source of sustenance, a lifeline in times of fatigue and weariness.
The essence of resilience and perseverance lies in tapping into God's unlimited power. It's the same strength that fortified David against Goliath. This strength is available to us, offering the grit to stand firm and persevere.
In the face of overwhelming odds, remember Isaiah 40:29. In times of weariness, remember Psalm 29:11. In the throes of weakness, remember 2 Corinthians 12:9. There's divine strength, always within reach, empowering us to press on.
Our individual 'Goliath' may loom large, but with divine strength, we can face it head-on. Remember, "He gives strength to the weary and increases the power of the weak.
5.  2 Corinthians 12:9-10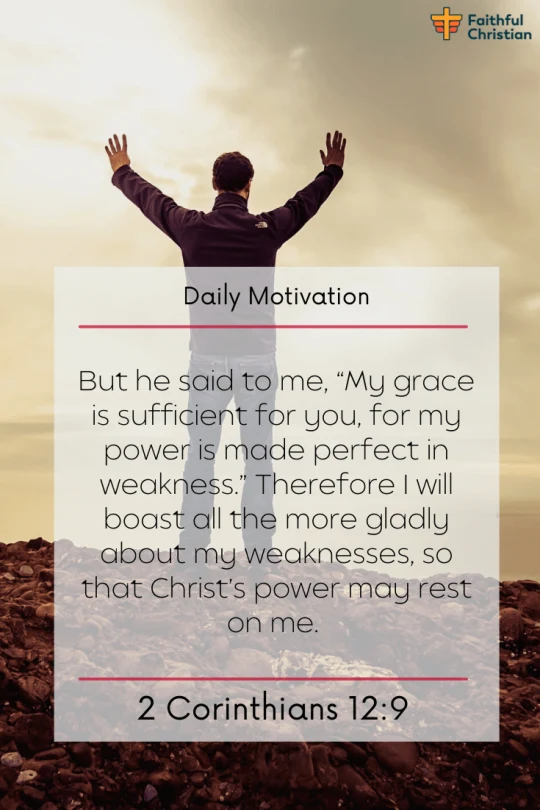 But he said to me, "My grace is sufficient for you, for my power is made perfect in weakness." Therefore I will boast all the more gladly about my weaknesses, so that Christ's power may rest on me.
That is why, for Christ's sake, I delight in weaknesses, in insults, in hardships, in persecutions, in difficulties. For when I am weak, then I am strong
Navigating life's challenges can seem daunting, often pushing us to the brink of surrender. But in these trials, 2 Corinthians 12:9-10 shines a beacon of hope. It recounts Paul's struggle with his "thorn in the flesh" and God's comforting reply: His grace is sufficient, His power perfect in weakness.
This divine exchange illuminates the first point: the sufficiency of God's grace. It reassures us that God's grace abounds, even in our darkest moments. This echoes Hebrews 4:16, where we're invited to approach God's throne of grace confidently, promising us mercy and timely help.
Next, we delve into an intriguing paradox: strength in weakness. This principle, counter to worldly notions of strength, highlights God's power outshining our frailties. It invites us to view our weaknesses as conduits for His might.
The third point springs from Paul's surprising resolve to boast in his weaknesses. In a world that prizes perfection, this concept appears counterintuitive. However, Paul celebrates his frailties, for they spotlight Christ's power.
This segues into our fourth point: the indwelling power of Christ. By accepting our weaknesses and entrusting them to Christ, we invite His power to rest upon us. In this, we are empowered to face trials, not with our strength but with His.
Lastly, we touch on perseverance powered by grace in weakness. The promise in 1 Peter 5:10 assures us that, after suffering briefly, God will restore us, fortifying us to stand steadfast. This resilience originates not from us but from God's grace and power in our weaknesses.
Take the inspiring real-life story of Nick Vujicic. Born limbless, he transformed his disability into an inspiration for millions. His secret? His unshakeable faith. He found strength not within himself, but through the grace and power of a limitless God, mirroring Paul's experience.
In closing, remember this: When your strength wavers, turn to God's boundless grace. Embrace your weaknesses; they are stepping stones for His power to shine through. With Christ's power in you, I guarantee, you'll weather any storm. As Paul concluded: "For when I am weak, then I am strong."
6. Psalm 18:1-2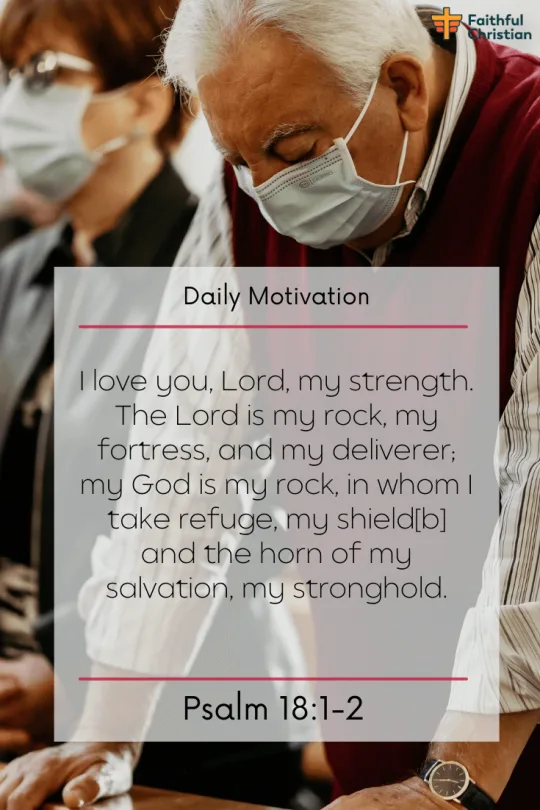 I love you, Lord, my strength. The Lord is my rock, my fortress, and my deliverer;my God is my rock, in whom I take refuge,my shield[b] and the horn[c] of my salvation, my stronghold.
Have you ever been on the brink of surrender, just a step away from despair? Imagine the biblical figure, Moses, in a similar circumstance, leading the Israelites out of Egypt. They were being pursued by a furious Pharaoh and faced with an unyielding Red Sea. How did Moses remain unwavering?
Psalm 18:1-2 provides a guide. These verses echo the resolve of King David, a man well-versed in facing hardships. David's praise begins with: 'I love you, LORD, my strength.'
Notice the connection between strength and love here. David found power in his devotion to God. Like him, Moses derived strength from this divine source of love during the Exodus.
The Psalm proceeds to portray God as a steadfast rock and fortress. Envision a fortress – sturdy, impenetrable. Amid uncertainty, God is our unwavering rock and secure refuge. This was Moses' conviction too as he confronted the Red Sea.
Next, we explore taking refuge in God during challenging times. David considers God his safe haven. Moses found solace in this truth during his wilderness journey. He trusted God's guidance when the path forward was obscure.
Protection is another aspect of God's strength. David speaks of God as 'my shield and the horn of my salvation.' The words 'shield' and 'horn' imply protection and power. They remind us of Moses' experience – despite immense challenges, he was divinely shielded.
Lastly, we explore God as the stronghold of salvation. A stronghold denotes security, something invincible. Much like Moses, we can find solace in God's promise of deliverance during our trials.
Psalm 28:7 and Psalm 62:2 mirror these sentiments. They teach us to trust in the Lord as our unshakeable rock, a fortress that cannot be breached. I take solace in these words during challenging times. They embolden me to stand firm in my faith.
These scriptures bridge time and circumstances. They assure us that we can draw strength from God in our adversities. As David confidently stated, "The LORD is my rock, my fortress, and my deliverer." Embrace this message, and you too will find the strength to persevere.
7. Hebrews 4:12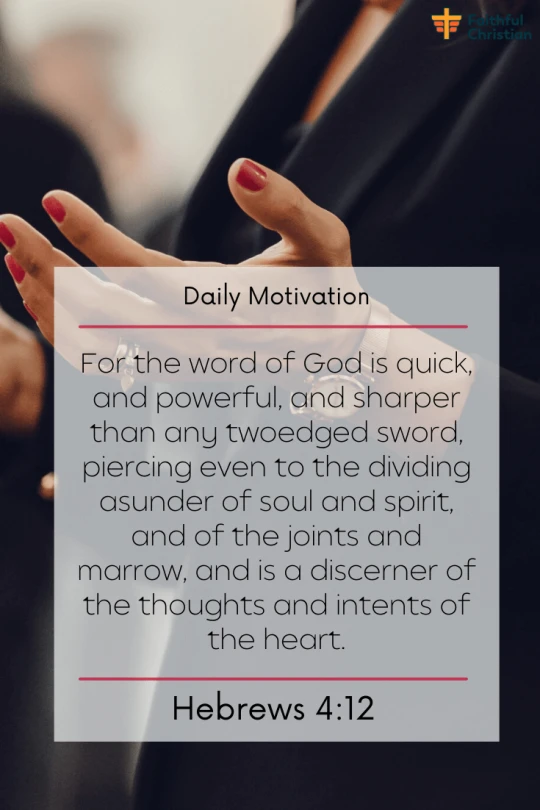 For the word of God is quick, and powerful, and sharper than any twoedged sword, piercing even to the dividing asunder of soul and spirit, and of the joints and marrow, and is a discerner of the thoughts and intents of the heart.
On life's challenging paths, we often seek solace and guidance. Many turn to the Bible, an extraordinary book offering strength during trials. In this exploration, we delve into Hebrews 4:12. A verse that inspires us to stay strong.
Hebrews 4:12 asserts, "the word of God is alive and active." This powerful scripture isn't just a historical record, but a vibrant, dynamic force. It provides guidance, offers encouragement, and fuels transformation.
Reflect on 2 Timothy 3:16. It suggests the Bible, breathed out by God Himself, is instrumental in teaching and correction. This divine authorship makes the Bible a compass in our lives, a tool for navigating hardship. It brings life to our spirits, boosting our endurance.
Consider the transformative power in Isaiah 55:11. Here, God's word promises to fulfill its purpose. It's like a seed transforming into a tree, giving us strength to press on.
I recall the story of Jeremiah. Initially reluctant to be a prophet, he ultimately surrendered to his calling. Jeremiah clung to God's word to confront the people of Judah, despite opposition and personal suffering (Jeremiah 1).
His story echoes with our struggles today. We, too, can turn to the word of God, which discerns our thoughts and attitudes, shining a light on our paths, just as it did for Jeremiah.
Lastly, aligning our attitudes with God's word is essential. As we face trials, the scriptures fortify our resolve, helping us persevere. By realigning our perspectives, the Bible bridges the gap between us and God's will, ensuring we stay strong.
In conclusion, the Bible is more than a book. It's a beacon in life's stormy seas, guiding and fortifying us. As we navigate life's path, we can find courage in this living, breathing document. It's a testament to the power of divine words that inspire us to persevere.
8. Psalm 44:3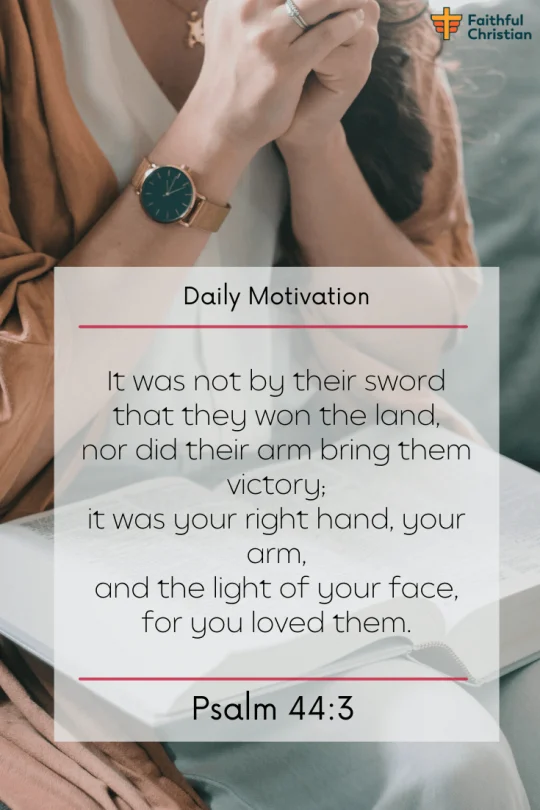 It was not by their sword that they won the land,
nor did their arm bring them victory;
it was your right hand, your arm,
and the light of your face, for you loved them.
Psalm 44:3 offers a robust mantra for resilience: 'It was not by their sword that they won the land… it was your right hand, your arm… for you loved them.' It's a reminder that victory comes from divine, not human, intervention.
Firstly, let's consider victory through God's hand. As Deuteronomy 20:4 suggests, it's God who fights for us, granting victory. Our abilities and hard work play roles, but the Ultimate Victor is God.
A splendid example of this is the story of Gideon in Judges 7. Gideon, leading a significantly smaller army, was up against the vast Midianite forces. He could have conceded, but he didn't. He trusted God's promise of victory.
Despite his small numbers, Gideon's faith didn't waver, showcasing the power of trust in God over reliance on human strength. His unwavering faith led him to an unlikely victory, highlighting the might of God's power.
Secondly, acknowledging God's role in our success is crucial. Joshua 1:9 promises: 'Be strong and courageous… for the Lord your God will be with you wherever you go.' God's presence is constant, His support, unwavering.
Mother Teresa's life is an epitome of this recognition. She devoted her existence to the poor of Kolkata, India. Despite her task's enormity, she persevered, driven by God's guidance. This unwavering faith became a beacon, transforming countless lives.
Thirdly, God's favor is our strength reservoir. His power and love render us victorious, and His favor grants us resilience. His love, mirrored through His favor, fuels our endurance engine, enabling us to persist in adversity.
Lastly, let's talk about perseverance. Armed with the assurance of God's love, perseverance becomes our potent shield against surrender. Psalm 44:3 underlines this – God's love makes us victorious.
So, when you're against the ropes and quitting seems the easy way out, breathe deep and look to these verses. In God, I find strength. In Him, you can too. Stand tall. Never give up. His love is the victory.
9. Philippians 4:13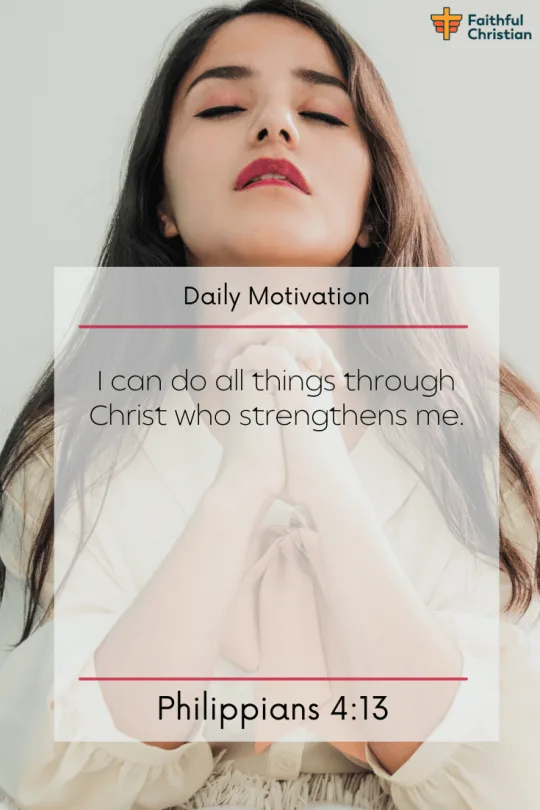 I can do all things through Christ who strengthens me.
Philippians 4:13 offers a potent message, "I can do all this through him who gives me strength." This phrase fuels resilience and encourages endurance in adversity. It anchors us in the divine strength of Christ, an empowering force which emboldens us to face life's trials.
Let's put ourselves in the shoes of a long-distance runner. Imagine the exhaustion setting in, the burn in your lungs, the ache in your muscles. The finish line seems miles away.
Then, you remember these words from Philippians and Isaiah, and suddenly, you find an energy within you that you didn't know existed. You keep going, pushing past your limits, relying on God for strength.
That's the empowering nature of Christ's strength.
Peter, one of Jesus' closest disciples, knew this power firsthand. He was an ordinary fisherman with no particular skills that made him stand out. But, one fateful night, he did something extraordinary – he walked on water (Matthew 14:22-33).
As the storm raged around him, Peter stepped out of the boat and onto the stormy sea, fixing his gaze on Jesus. Though he faltered for a moment, when he kept his focus on Christ, he was able to do the impossible.
Ephesians 3:16 reinforces this idea, "I pray that out of his glorious riches he may strengthen you with power through his Spirit in your inner being." It points to a limitless capability in Christ. This isn't about performing supernatural feats, but about surmounting life's obstacles, regardless of their magnitude.
Philippians 4:13 emphasizes perseverance through divine enablement. Paul, despite experiencing numerous hardships, thrived due to his unshakeable faith. His story exemplifies the enduring power of God's strength within us, inspiring us to remain steadfast.
In conclusion, Philippians 4:13 is not merely a comforting scripture. It's a divine promise of resilience. It assures us that we have access to this strength. It reminds us that with God, we can stay strong and never give up.
No matter the hardship, we can confidently say: "I can do all this through him who gives me strength."
10. Ephesians 6:10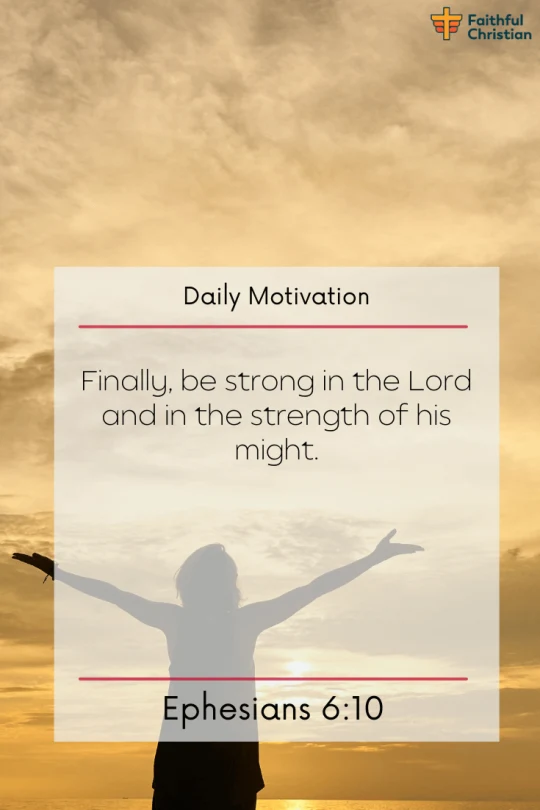 Finally, be strong in the Lord and in the strength of his might.
The journey of life ebbs and flows. Ephesians 6:10, a beacon of resilience, urges us to remain strong in the Lord, grounded in His potent power. It's not a mere suggestion, but an affirmation of unwavering faith, a guide through life's toughest trials.
What does it mean to be strong in the Lord? It's about fostering a deep-seated belief within you, a conviction that withstands life's tempests. Like a sturdy tree anchored by the river, our strength lies not in ourselves but in God's unshakeable power.
So, how do we harness this divine strength? 1 Corinthians 16:13 provides an answer. It calls us to be alert, firm in faith, courageous, and strong. It compels us to become active vessels of God's power, letting His divine might flow through us.
Psalm 27:1 expands this notion further. This verse perceives strength as a virtue that empowers us to overcome our fears. Like a lighthouse guiding ships through the dark, God, our light and stronghold, lights our path and fortifies our spirit, enabling us to face challenges fearlessly.
Biblical stories beautifully illustrate these principles. Take Joshua, for instance. As he led the Israelites into the Promised Land, he encountered massive fortified cities and intimidating warriors. But did he falter? No.
Instead, he relied on God's strength, unyielding in his faith, proving that with God, no obstacle is insurmountable. From facing the formidable walls of Jericho to battling the armies of Canaan, Joshua's story is a testimony to the invincible power of God that dwells within a believer.
In conclusion, Ephesians 6:10 encourages us to persist, harnessing God's power to endure and triumph. It reassures us that giving up isn't an option with God on our side. It's not about being powerful, but recognizing our true strength.
As we navigate life's journey, let's remember Ephesians 6:10. No matter where we stand, our strength resides not in ourselves but in the Lord. I urge you, as I do myself, to stand firm in Him, weathering life's storms as beacons of His light in this world. Stand strong, for God's power dwells within you.
---
Recommended for you
---
Frequently Asked Questions
The book of James in the Bible, specifically James 1:12, serves as a beacon of strength during challenging times. It expresses the blessedness of enduring trials and promises a reward – the crown of life. Those who love God and remain steadfast amid difficulties receive this divine affirmation.
Are there any short Bible verses about not giving up?
The Bible speaks about resilience and determination, encapsulated succinctly in Galatians 6:9. It advises against growing weary in pursuing virtuous actions. The scripture promises that persistence will yield a bountiful harvest, symbolizing a reward for steadfastness.
Can you provide Bible verses about staying strong and not giving up in the King James Version (KJV)?
Joshua 1:9, from the King James Version, provides a command and a reassurance. It urges strength and courage, dispelling fear and dismay. The comforting assurance of God's presence regardless of our whereabouts underscores this exhortation.
Are there any Bible verses about not giving up on someone you love?
Love's perseverance shines through 1 Corinthians 13:7. This scripture portrays love as bearing, believing, hoping, and enduring all things. It conveys the unfailing and enduring nature of true love, highlighting the importance of not giving up on loved ones.
Which Bible verses talk about healing?
Healing, according to Isaiah 41:10, comes from God's strength and support. This verse urges us to eschew fear and dismay, given God's presence. It assures God's strength, help, and sustaining power – all critical elements for healing and recovery.
Is there a biblical message on not giving up?
2 Corinthians 4:16-17 provides an inspiring message of resilience. It highlights the juxtaposition of outward decline and inward renewal. Here, our temporary afflictions contribute to an eternal glory that far outweighs the present trials.
Could you share some short Bible verses about strength?
For strength, Isaiah 40:29 offers reassurance. The scripture depicts God as a generous giver of power to the weary and strength to the powerless.
What does the Bible say about staying strong through hard times?
Romans 5:3-4 discusses the virtue of staying strong through hardships. It portrays tribulations as character-building experiences, leading to patience, experience, and ultimately, hope. This perspective reshapes our understanding of struggles, viewing them as stepping stones towards personal growth.
How do you stay strong in the Lord?
Ephesians 6:10 shares a strategy to stay strong in the Lord. It encourages us to draw strength from God's power and might, underscoring the divine as our primary source of fortitude.
Does God want us to be strong?
God's desire for our strength resonates in 1 Corinthians 16:13. This verse advises vigilance, faithfulness, courage, and strength, embodying the attributes God desires for us.
What does God say about staying strong?
In Deuteronomy 31:6, God encourages us to stay strong. His comforting words negate fear and assure His unfailing presence and support, reemphasizing the promise of divine companionship and protection.
What God says about not giving up?
Hebrews 12:1 encourages steadfastness. The scripture uses a metaphor of a race, urging us to cast off hindrances and sins, and run with patience the journey set before us, portraying life as a marathon, not a sprint.
What Psalm talks about staying strong?
Psalm 31:24 encourages staying strong. The psalmist exhorts us to take heart and hope in the Lord, promising that God will fortify our hearts, a poetic depiction of emotional strength and resilience.
Author: Akatakpo Dunn
Dr. Akatakpo Dunn is a dedicated follower of Christ, an active member and speaker, and an ongoing learner of the Scriptures. Passionate about his faith and serving others, he is committed to sharing his spiritual journey and insights to inspire and uplift fellow believers. He has been active in the church for more than 23 years. Through The
Faithful Christian Blog
,
Dr. Dunn
combines his love for God, philanthropy, and Scripture, providing a valuable resource for those seeking to grow in their faith.
Follow me: on Youtube, Facebook, Twitter, Instagram, and Pinterest.
Content Disclosure:
At The Faithful Christian Blog, I create authentic and inspiring content. Although I am the main author, I occasionally use AI for minor language enhancements. This minimal AI usage ensures high-quality, trustworthy articles without compromising originality or sincerity, ultimately supporting our shared faith journey.
Warmly,
Dr. Akatakpo Dunn
Was this article helpful?