Infidelity can shatter the trust and bond within a marriage, leaving both partners grappling with feelings of hurt and betrayal.
For those seeking forgiveness and healing, repentant prayers can be a powerful tool to help navigate this difficult time.
In this article, we'll delve into a selection of heartfelt repentant prayers for an unfaithful wife, supported by meaningful Bible verses that provide guidance and solace.
Discover the transformative power of faith as you work towards rebuilding trust and restoring the sanctity of your marriage.
Are you ready to embark on a journey of forgiveness and healing?
As Psalm 51:10 states, "Create in me a clean heart, O God, and renew a steadfast spirit within me."
Let us join hands in seeking God's grace and mercy, and find strength in His Word as we navigate the path to a stronger, more faithful relationship.
---
Recommended for you
---
Prayer for a cheating wife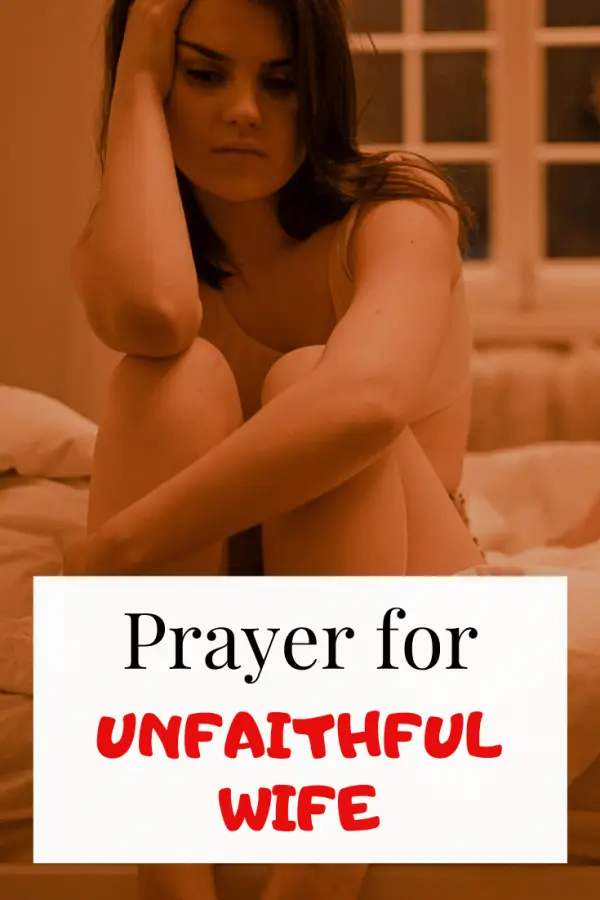 Let's ask God for forgiveness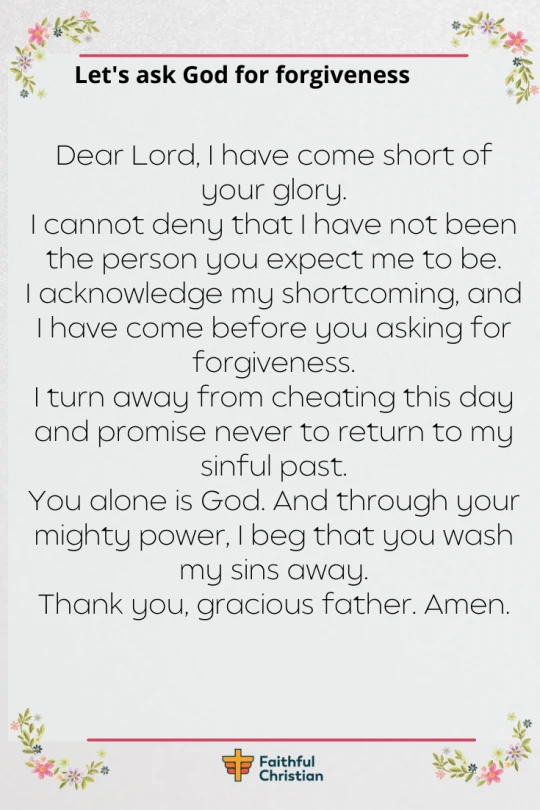 Oh, Almighty Lord, I admit with humility that I've stumbled and missed Your incredible glory. Your teachings in Romans 3:23 remind me that we all sin and fall short of Your divine standards.
I own up to my flaws and now stand before You, seeking Your mercy and forgiveness with a heartfelt sincerity. Inspired by Psalm 51:1-2, I ask You to shower me with Your loving kindness, erasing my misdeeds. Eager to change, I step away from past deceit and embrace a new path.
Today, I commit to leaving my sinful ways behind. I acknowledge You as the one and only true God, as stated in Deuteronomy 4:39. Your endless power and love can wash away my sins, just like Ezekiel 36:26 promises a new heart and spirit.
I ask You for the strength and wisdom to follow the righteous path to Your eternal kingdom. James 1:5 encourages me to seek Your guidance when I need wisdom. Your generosity knows no bounds.
Grateful beyond words, I thank You for the chance to find redemption and for Your unwavering support. Lamentations 3:22-23 reassures me that Your love is steadfast and Your mercies renew each day. Amen.
Let us ask for the grace to be a better person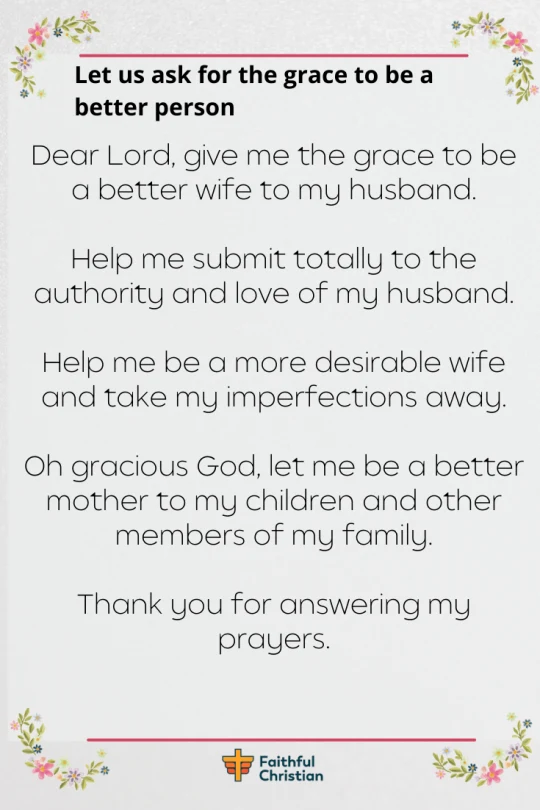 Dearest Heavenly Father, I humbly come before You. I seek Your divine grace to become a better wife. Your word in Ephesians 5:22-23 teaches the importance of unity in marriage. Bless our union. Strengthen our love, trust, and understanding.
Grant me wisdom, patience, and humility. Help me submit to my husband's leadership and love. We'll grow together in faith and partnership. Inspired by Proverbs 31:10-12, I'll be his loving, supportive partner. Together, we'll honor each other, as 1 Peter 3:7 suggests.
Father, help me embrace my unique beauty and strength. Make me an even more desirable wife. Refine my qualities and remove my imperfections. As Proverbs 31:30 says, a woman who fears the Lord is to be praised. Guide me to cultivate a heart seeking You.
Lord, bless me with motherhood. Let me nurture and love our children. Proverbs 22:6 teaches us to train our children in the right way. Help me to care for our family, fostering unity at home. Ephesians 6:4 reminds us of the importance of discipline and instruction.
I'm grateful for Your divine presence. Trusting that You'll answer my heartfelt prayers. Thank you for Your boundless love, protection, and guidance. Colossians 3:17 encourages us to honor You in everything we do. I strive to fulfill my sacred roles, always praising Your name. Amen.
Let us pray for the grace to overcome temptations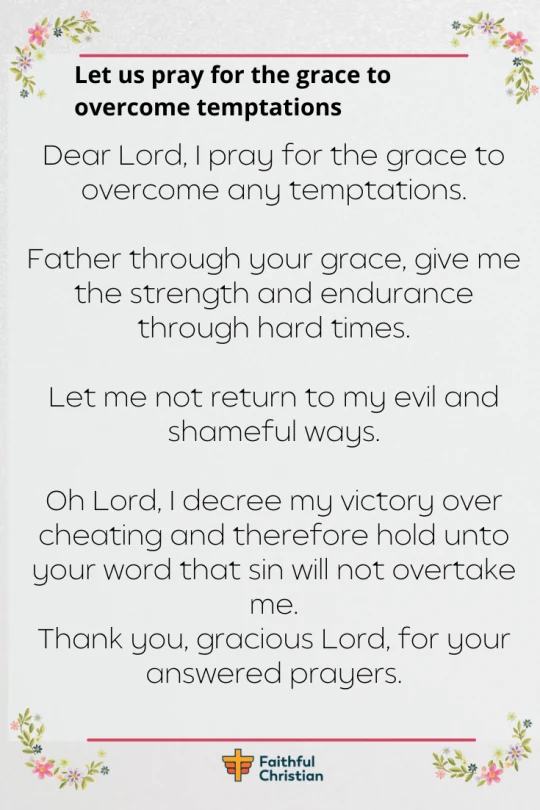 Dearest Heavenly Father, with a humble heart, I seek Your grace and strength. I long to resist and overcome life's temptations. Just as James 4:7 teaches, I submit myself to You, trusting that the devil will flee from me.
Your Holy Word promises that You won't let me be tempted beyond my limits (1 Corinthians 10:13). Jesus, too, faced temptation but emerged triumphant (Matthew 4:1-11). In His footsteps, I rely on Your Word and guidance to conquer my own trials.
Lord, grant me the fortitude to persevere during tough times. In Psalm 46:1, You're described as our refuge and strength. May I always remember to seek Your shelter and rely on Your might when faced with challenges. Guide me along the path of righteousness (Psalm 23:3) and away from sin and shame.
Sovereign Lord, I declare victory over any deceitful inclinations. I stand firm on Your promise that sin will not rule over me. Empower me to walk in Your light (1 John 1:7), serving as a living testimony of Your love and faithfulness.
Gracious Father, I'm grateful for Your constant presence and Your attentive ear to my prayers (1 John 5:14). Thank You for Your unwavering love and the blessings that enrich my life (Psalm 103:2). In Your holy name, I pray. Amen.
Let us pray for the grace to live right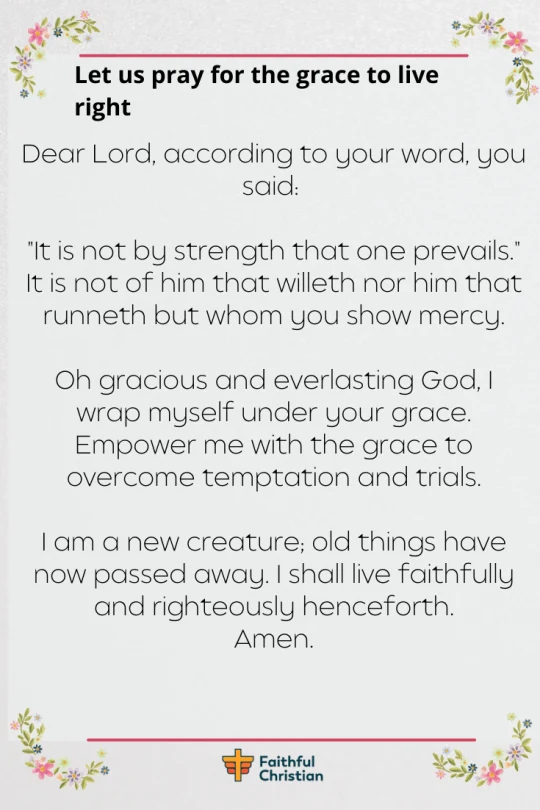 Dearest Heavenly Father, Your divine teachings reveal an essential truth: "It is not by strength that one prevails" (1 Samuel 2:9). This insight shows us that true success comes from relying on Your power and guidance, rather than our own limited human strength. The Apostle Paul reminds us that "God works in you to fulfill His good purpose" (Philippians 2:13).
Success is not about our own efforts. Instead, it's about Your boundless mercy and love. You choose whom to bless. Romans 9:16 highlights the importance of surrendering to Your will and trusting Your divine plan for our lives.
Oh gracious and eternal Lord, I seek refuge under Your grace. Your grace sustains and strengthens me through life's challenges. Isaiah 40:29 assures us that "He gives strength to the weary and increases the power of the weak." Trusting in You, I can face any obstacle with courage.
Please endow me with grace to withstand temptation and trials. By doing so, I'll grow in faith and wisdom. James 1:12 states that those who persevere under trial will receive the crown of life. Your divine intervention equips me to overcome challenges and understand Your love and purpose.
As a renewed creation in Your image, I leave behind my old self. I embrace the transformation You have initiated within me. 2 Corinthians 5:17 celebrates this change: "The old has gone, the new is here!" Through Your love and mercy, I can live a transformed life, reflecting Your glory.
Guided by Your divine light, I commit to living a life of faith and righteousness. I'll honor You in every thought, word, and action. Micah 6:8 outlines what the Lord requires of us: "To act justly, love mercy, and walk humbly with your God." Following these principles, I'll fulfill Your purpose and honor Your holy name.
In Your holy name, I pray.
Amen.
---
Recommended for you
---
Bible verses about cheating wife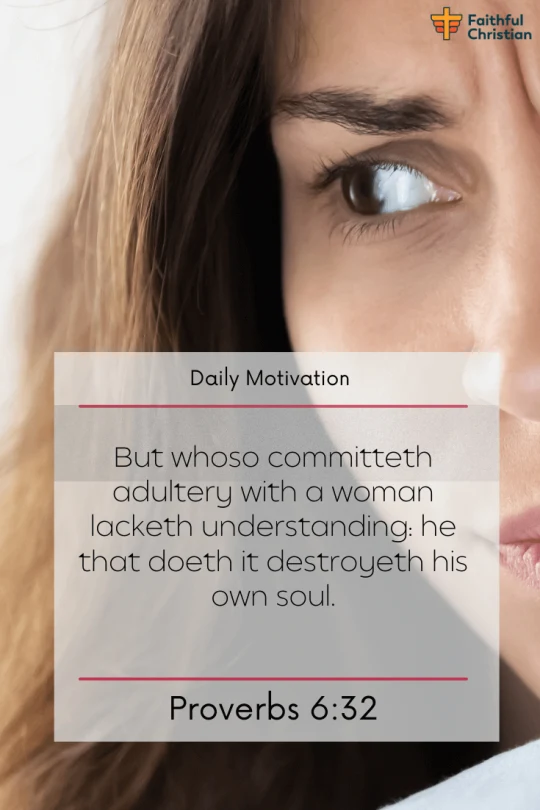 But whoso committeth adultery with a woman lacketh understanding: he that doeth it destroyeth his own soul.
Let's say a Repentant Prayer for a cheating wife with Proverbs 6:32
Heavenly Father, I stand before You with a heavy heart, acknowledging the pain I've caused through my unfaithfulness. I know my actions have hurt my spouse and grieved Your heart. Proverbs 6:32 reminds us of the gravity of adultery, stating that "whoever does so destroys himself." I am truly remorseful for my sin.
Lord, I ask for Your forgiveness and mercy. Help me turn away from my sinful ways and rebuild trust in my marriage. I confess my weakness and inability to resist temptation alone. Humbly, I seek Your strength and wisdom during this challenging time.
Please heal the wounds I've inflicted on my spouse and family. Bring reconciliation and restoration to our relationship. Help us both forgive one another and move forward with love and compassion. May we be grounded in Your Word and guided by Your Spirit.
Teach me, Lord, to be a faithful and loving partner to my spouse. Help me honor our marriage covenant and cherish the sacred bond You've established. Guide me to walk in integrity and righteousness, showcasing Your redeeming grace.
In Your holy name, I pray.
Amen.
Exodus 20:14
"You must not commit adultery."
Let's say a Repentant Prayer for an unfaithful wife with Exodus 20:14
Heavenly Father, with a heavy heart, I come before You. I admit my unfaithfulness and seek Your forgiveness. Exodus 20:14 reminds us, "You shall not commit adultery." I have failed to uphold this commandment and deeply regret my actions.
Lord, I ask for Your mercy and forgiveness as I repent for my infidelity. Your love and grace surpass my sins, and I believe You can restore me. Cleanse my heart and mind, creating a pure spirit within me, and renew my commitment to my spouse.
I pray for healing and strength for my spouse, hurt by my betrayal. Comfort them in their pain and grant us wisdom to rebuild our relationship on trust and faithfulness.
Help me resist future temptations and stay true to my marriage vows. Guide me in righteousness, integrity, and faithfulness, as I follow Your divine example of love.
I trust in Your power to restore and redeem. I humbly ask for Your guidance as we work towards healing and rebuilding our marriage.
In Your holy name, I pray.
Amen.
Read more bible verses about cheating here
---
Recommended for you
---
Frequently Asked Questions
How do you deal with a cheating wife biblically?
Navigating infidelity in a marriage is challenging. Yet, a biblical approach calls for forgiveness, empathy, and patience. Ephesians 4:32 teaches us to be tenderhearted and forgiving, just as Christ forgave us.
Open communication is vital, and seeking guidance from spiritual leaders, trusted friends, or professional therapists can help manage complex emotions. With dedication and prayer, it's possible to rebuild trust and heal.
How do you pray for an unfaithful spouse?
Praying for an unfaithful spouse requires focusing on God's wisdom.
Ask for strength to forgive, your partner's repentance, and the restoration of your relationship.
James 5:16 reminds us that a righteous person's prayer is powerful and effective. Turn to God for healing and clarity as you face this challenge together.
How do you repent of cheating in a marriage?
To repent for cheating, honesty and humility are crucial. Confess your sins to God, as 1 John 1:9 assures us of His forgiveness and cleansing.
Approach your spouse with genuine remorse, seeking forgiveness and understanding. Pledge to rebuild trust through consistent actions, open communication, and guidance, both spiritual and professional.
Can a cheating wife be forgiven?
Yes, but it takes effort from both partners. Matthew 6:14-15 emphasizes the importance of forgiveness. However, it's essential to address the issues that led to infidelity and work together to strengthen the marriage.
By embracing forgiveness, open communication, and a sincere commitment to change, a renewed relationship is within reach.
Author: Akatakpo Dunn
Dr. Akatakpo Dunn is a dedicated follower of Christ, an active member and speaker, and an ongoing learner of the Scriptures. Passionate about his faith and serving others, he is committed to sharing his spiritual journey and insights to inspire and uplift fellow believers. He has been active in the church for more than 23 years. Through The
Faithful Christian Blog
,
Dr. Dunn
combines his love for God, philanthropy, and Scripture, providing a valuable resource for those seeking to grow in their faith.
Follow me: on Youtube, Facebook, Twitter, Instagram, and Pinterest.
Content Disclosure:
At The Faithful Christian Blog, I create authentic and inspiring content. Although I am the main author, I occasionally use AI for minor language enhancements. This minimal AI usage ensures high-quality, trustworthy articles without compromising originality or sincerity, ultimately supporting our shared faith journey.
Warmly,
Dr. Akatakpo Dunn
Was this article helpful?