Just a few weeks after our wedding, my wife got pregnant.
I was undoubtedly so happy and excited to be a father.
I have always dreamed of having kids around me.
And I couldn't believe how fast God was answering my prayers.
Unfortunately, my wife started spotting.
At first, I thought it would end, as it is not unusual to experience some form of light vaginal bleeding during pregnancy.
But, hell, no!!! The bleeding continued the next day.
As she bled, I knew she had already lost the baby.
I was unhappy and devastated.
We weren't even sure what the problem was.
Did we do anything wrong? Or did God abandon us in our trying moments?
My wife and I have since moved on from that terrible experience.
And today, I have decided to pen down this article to encourage anyone who has lost his or her child.
God knows everything and why you are facing challenges.
He understands your pain and sorrow.
If you have lost your son, daughter or had a miscarriage or stillbirth, trust in God with all your heart.
I have put together this prayer for grieving mothers who have lost a child.
You can also pray for a friend, brother, or sister that has lost her baby.
As you pray today, God will definitely return happiness to them and comfort them.
---
Recommended for you
---
Bible verse for loss of a child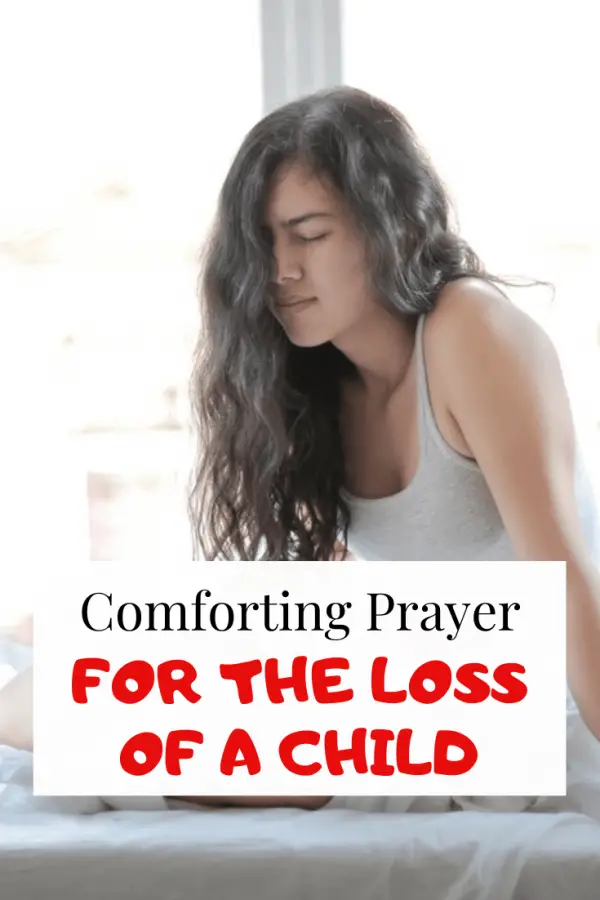 John 14:27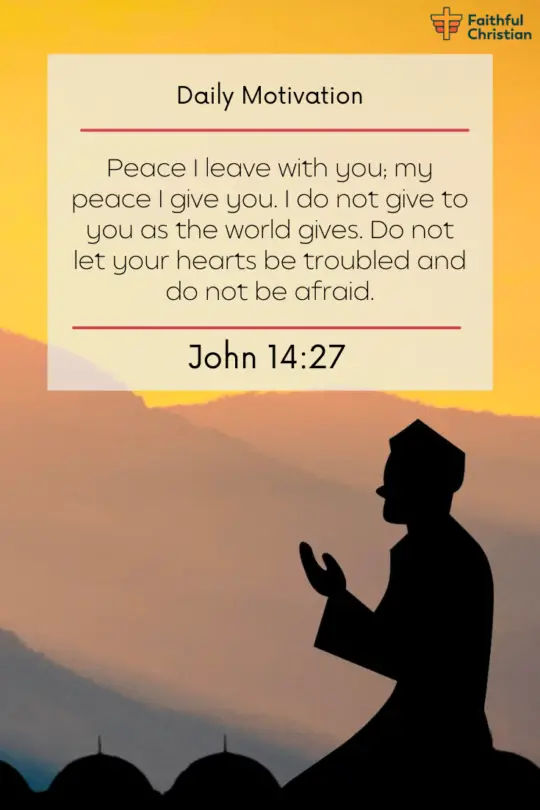 Peace I leave with you; my peace I give you. I do not give to you as the world gives. Do not let your hearts be troubled and do not be afraid.
Philippians 4:7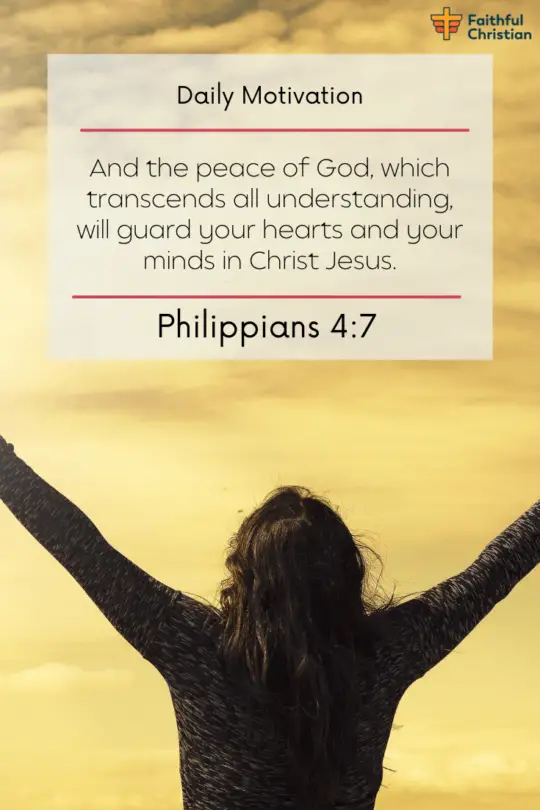 And the peace of God, which transcends all understanding, will guard your hearts and your minds in Christ Jesus.
Isaiah 25:8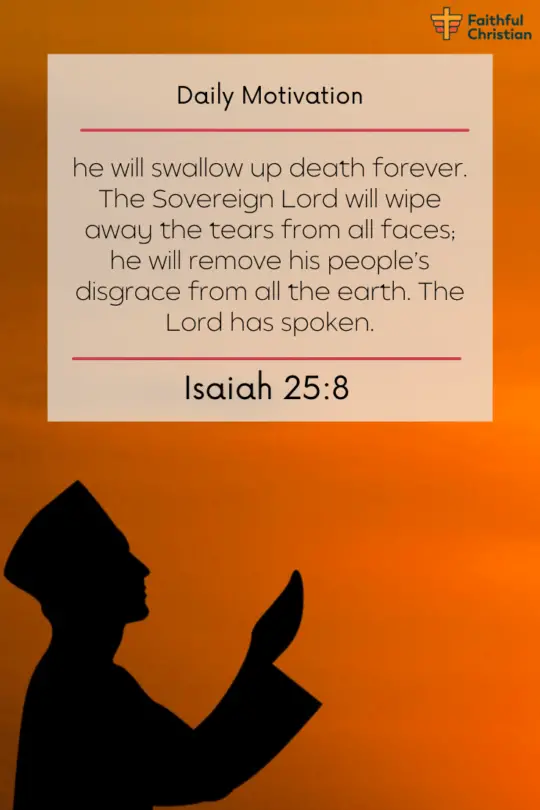 he will swallow up death forever. The Sovereign Lord will wipe away the tears from all faces; he will remove his people's disgrace from all the earth. The Lord has spoken.
Revelation 21:4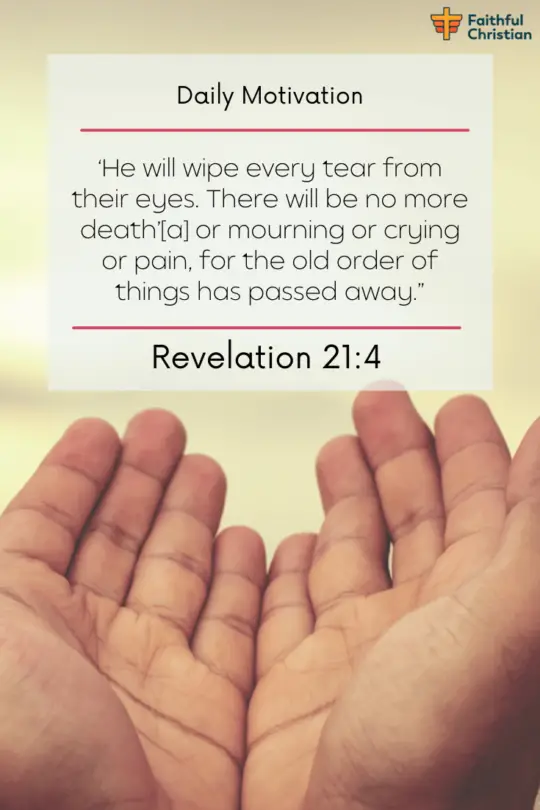 'He will wipe every tear from their eyes. There will be no more death'[a] or mourning or crying or pain, for the old order of things has passed away."
Short prayer points for loss of baby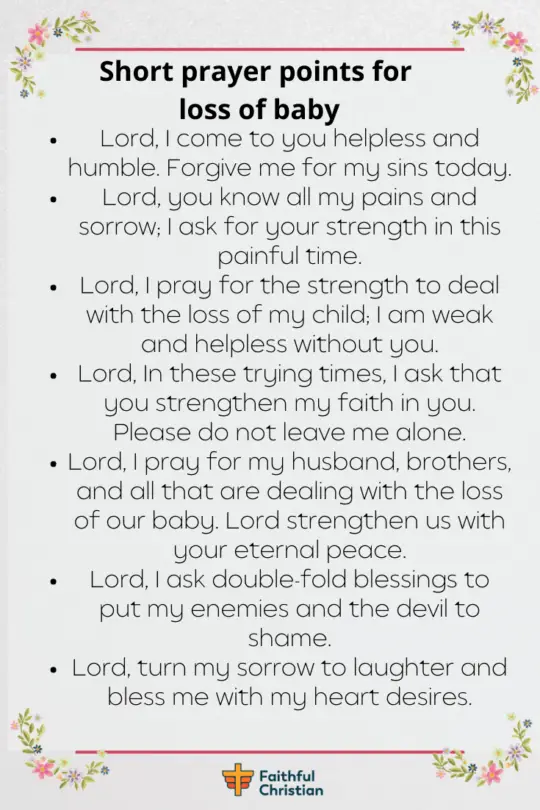 Lord, I come to you helpless and humble. Forgive me for my sins today.
Lord, you know all my pains and sorrow; I ask for your strength in this painful time.
Lord, I pray for the strength to deal with the loss of my child; I am weak and helpless without you.
Lord, In these trying times, I ask that you strengthen my faith in you. Please do not leave me alone.
Lord, I pray for my husband, brothers, and all that are dealing with the loss of our baby. Lord strengthen us with your eternal peace.
Lord, I ask double-fold blessings to put my enemies and the devil to shame.
Lord, turn my sorrow to laughter and bless me with my heart desires.
---
Recommended for you
---
Comforting prayer for the loss of a child
Let's give thanks
Immediately, I told my wife she was having an inevitable miscarriage; she initially felt discouraged.
At first, she wondered why she would go through so much pain.
She has always been a dedicated member of the church.
She is currently the assistant choir mistress and has been so dedicated to God's service.
I could remember she kept saying, "why did God let me down?."
But soon after, she began to realize that its the will of God.
And this opened her heart to give thanks.
We must thank God for all he has done, whether we are sad or not.
A few days back, I read the passage of God's servant, Job, in the book of Job chapter 1.
He was a faithful servant of God, yet he lost all his children in the twinkling of an eye.
Here are the inspiring and comforting words from Job.
"Naked I came from my mother's womb,
    and naked I will depart.[a]
The Lord gave and the Lord has taken away;
    may the name of the Lord be praised."

Job 1:20-22
Let us pray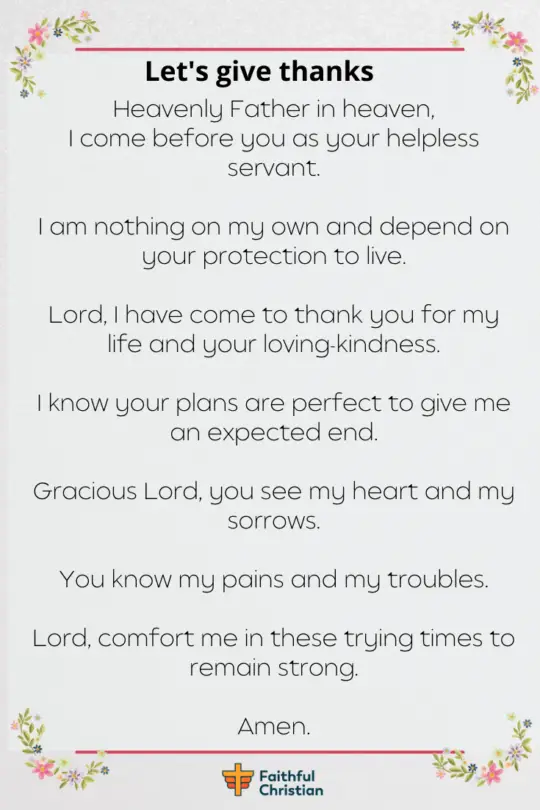 Heavenly Father in heaven,
I come before you as your helpless servant.
I am nothing on my own and depend on your protection to live.
Lord, I have come to thank you for my life and your loving-kindness.
I know your plans are perfect to give me an expected end.
Gracious Lord, you see my heart and my sorrows.
You know my pains and my troubles.
Lord, comfort me in these trying times to remain strong.
Amen.
A time to be born and a time to die
We are always too quick to lose sight of God's plan.
Death to us isn't hopelessness but a path to eternal glorification.
God has promised that we will be delivered to eternity to worship him forever.
So, if you've lost any of your loved ones, be strong, knowing that it is God's plan.
The truth is nothing happens without God's permission.
The scripture says, in 1 John 3:20, that God knows everything.
The scripture says,
For to me, to live is Christ and to die is gain.

Philippians 1:21
Let us pray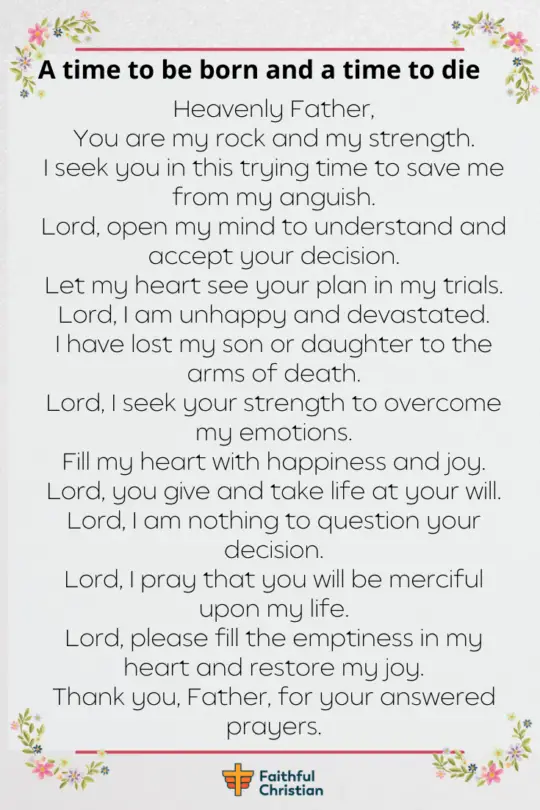 Heavenly Father,
You are my rock and my strength.
I seek you in this trying time to save me from my anguish.
Lord, open my mind to understand and accept your decision.
Let my heart see your plan in my trials.
Lord, I am unhappy and devastated.
I have lost my son or daughter to the arms of death.
Lord, I seek your strength to overcome my emotions.
Fill my heart with happiness and joy.
Lord, you give and take life at your will.
Lord, I am nothing to question your decision.
Lord, I pray that you will be merciful upon my life.
Lord, please fill the emptiness in my heart and restore my joy.
Thank you, Father, for your answered prayers.
God is all-knowing and unquestionable.
In painful moments, you may be tempted to doubt God's love.
Why did he abandon you? Why did he allow your loved one to die?
But the truth is, no one can question God.
God is not a man.
His thoughts and ways are nothing like ours.
He sees the future from the beginning.
In our sorrow, we must stand by God in his decision.
The scripture says,
"For my thoughts are not your thoughts,
    neither are your ways my ways,"
declares the Lord.

Isaiah 55:8
Let us pray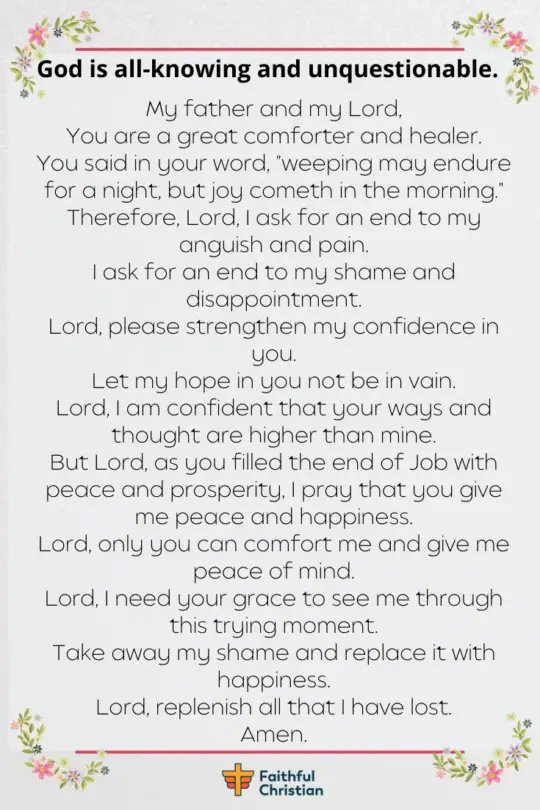 My father and my Lord,
You are a great comforter and healer.
You said in your word, "weeping may endure for a night, but joy cometh in the morning."
Therefore, Lord, I ask for an end to my anguish and pain.
I ask for an end to my shame and disappointment.
Lord, please strengthen my confidence in you.
Let my hope in you not be in vain.
Lord, I am confident that your ways and thought are higher than mine.
But Lord, as you filled the end of Job with peace and prosperity, I pray that you give me peace and happiness.
Lord, only you can comfort me and give me peace of mind.
Lord, I need your grace to see me through this trying moment.
Take away my shame and replace it with happiness.
Lord, replenish all that I have lost.
Amen.
---
Recommended for you
---
God has better plans for you.
Despite my family's unhappiness about my wife's miscarriage, we have since moved on.
God has always had a perfect plan for us despite our loss.
My wife is about five months pregnant today.
And we are happy and grateful to God for his kindness.
Don't lose hope in God. Instead, have faith in God and his plans.
Let us pray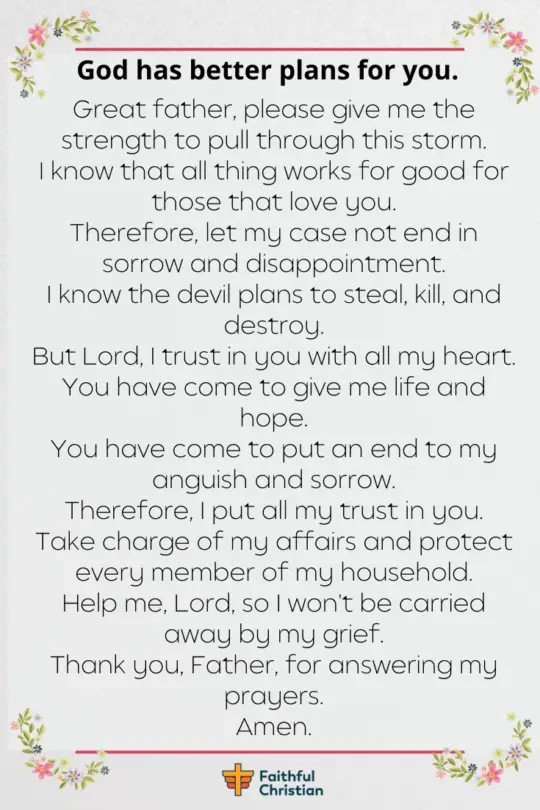 Great father, please give me the strength to pull through this storm.
I know that all thing works for good for those that love you.
Therefore, let my case not end in sorrow and disappointment.
I know the devil plans to steal, kill, and destroy.
But Lord, I trust in you with all my heart.
You have come to give me life and hope.
You have come to put an end to my anguish and sorrow.
Therefore, I put all my trust in you.
Take charge of my affairs and protect every member of my household.
Help me, Lord, so I won't be carried away by my grief.
Thank you, Father, for answering my prayers.
Amen.
Author: Akatakpo Dunn
Dunn is a firm believer and a teacher of God's word. Suffering for Jesus is an attribute of a faithful Christian, and I hope to win new souls to Christ with every chance that I get. Articles are well-researched and backed by the scriptures.
Follow me: on Youtube, Facebook, Twitter, Instagram, and Pinterest.