Just a few weeks after our wedding, my wife got pregnant.
I was undoubtedly so happy and excited to be a father.
I have always dreamed of having kids around me.
And I couldn't believe how fast God was answering my prayers.
Unfortunately, my wife started spotting.
At first, I thought it would end, as it is not unusual to experience some form of light vaginal bleeding during pregnancy.
But, hell, no!!! The bleeding continued the next day.
As she bled, I knew she had already lost the baby.
I was unhappy and devastated.
We weren't even sure what the problem was.
Did we do anything wrong? Or did God abandon us in our trying moments?
My wife and I have since moved on from that terrible experience.
And today, I have decided to pen down this article to encourage anyone who has lost his or her child.
God knows everything and why you are facing challenges.
He understands your pain and sorrow.
If you have lost your son, daughter or had a miscarriage or stillbirth, trust in God with all your heart.
I have put together this prayer for grieving mothers who have lost a child.
You can also pray for a friend, brother, or sister that has lost her baby.
As you pray today, God will definitely return happiness to them and comfort them.
---
Recommended for you
---
Bible verse for loss of a child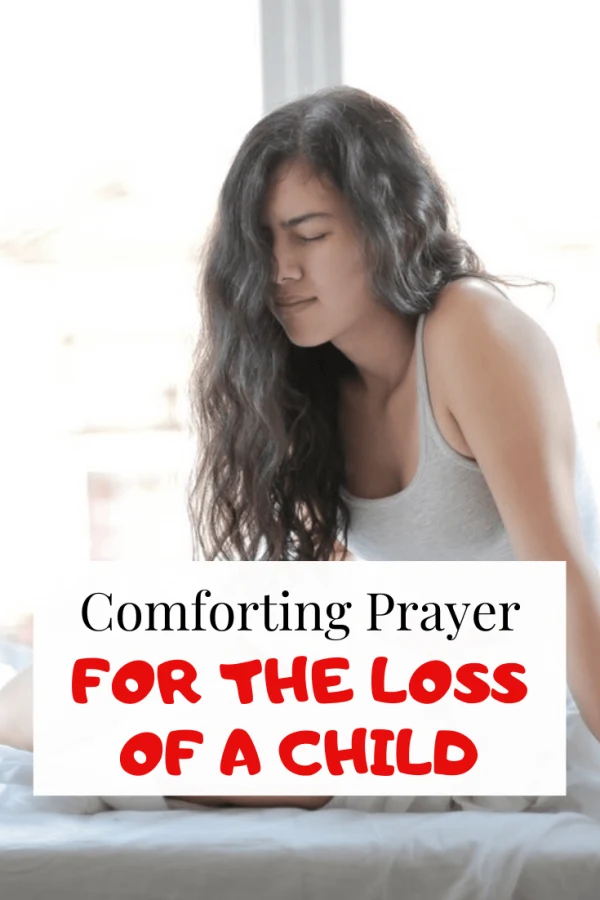 John 14:27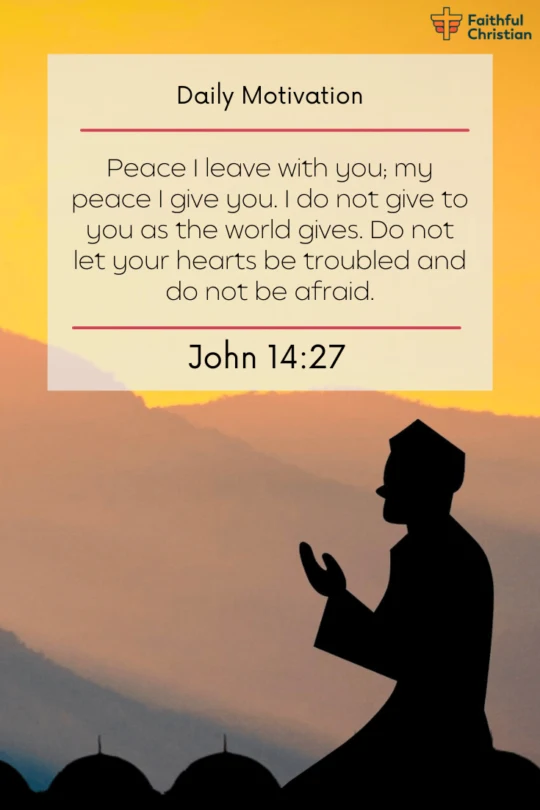 Peace I leave with you; my peace I give you. I do not give to you as the world gives. Do not let your hearts be troubled and do not be afraid.
Philippians 4:7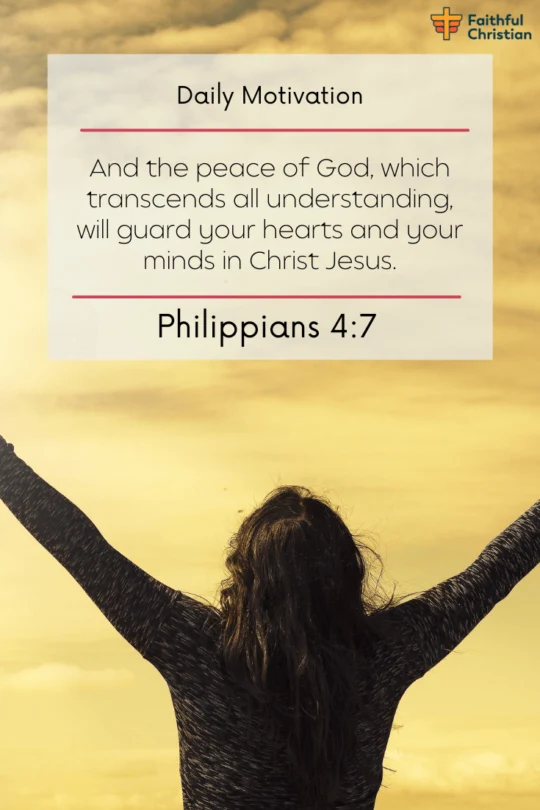 And the peace of God, which transcends all understanding, will guard your hearts and your minds in Christ Jesus.
Isaiah 25:8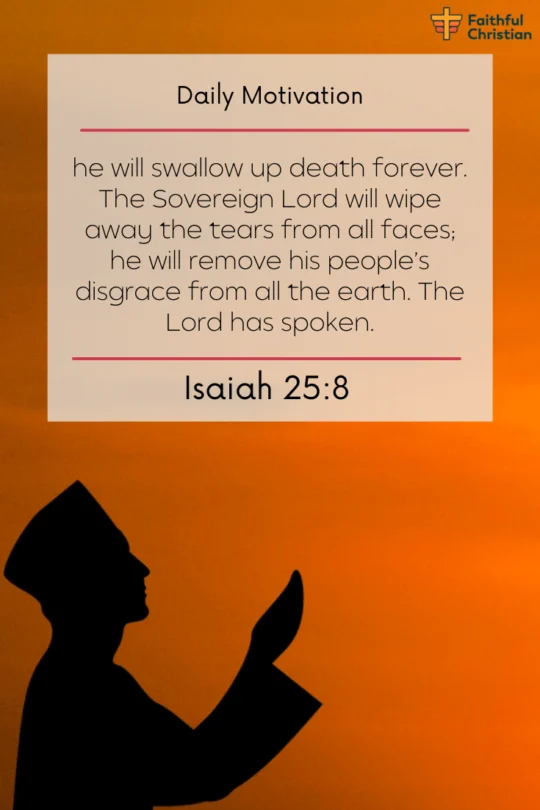 he will swallow up death forever. The Sovereign Lord will wipe away the tears from all faces; he will remove his people's disgrace from all the earth. The Lord has spoken.
Revelation 21:4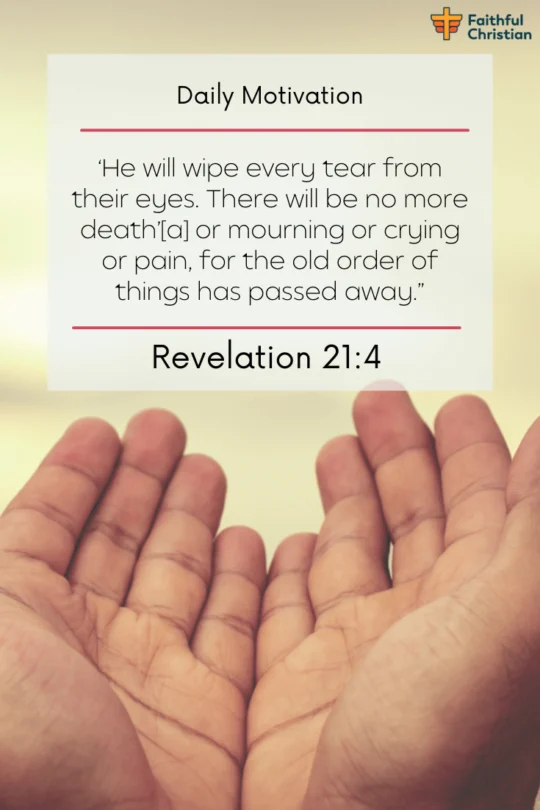 'He will wipe every tear from their eyes. There will be no more death'[a] or mourning or crying or pain, for the old order of things has passed away."
Short prayer points for loss of baby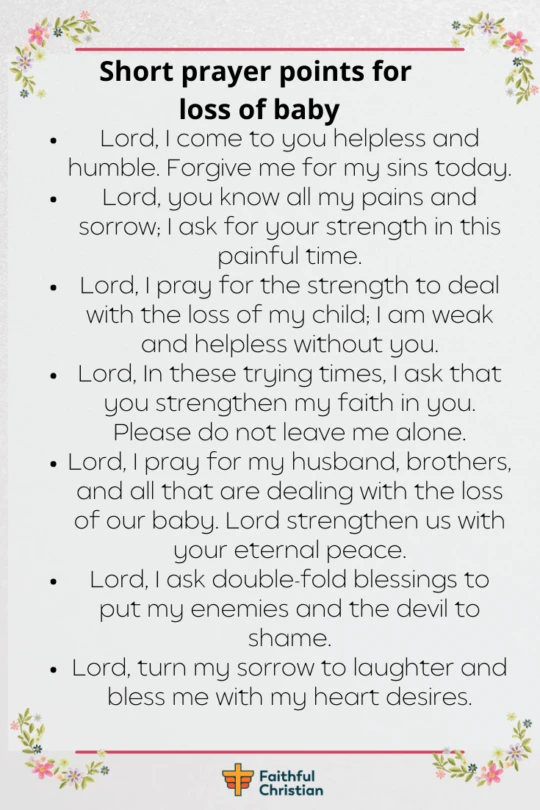 Oh, Loving Father, my heart bows before Your boundless mercy. In this sea of life, I'm just a tiny boat. Your forgiveness, I seek. Remember Psalm 51:17, "The sacrifices of God are a broken spirit; a broken and contrite heart, O God, thou wilt not despise."
You, the Almighty, understand my sorrows like no other. As I weather this storm of losing my child, I need Your strength. Can't do it alone. I'm reminded of the promise in Isaiah 40:29, "He gives power to the weak, and to those who have no might, He increases strength."
Oh, my Lord, my heart is heavy. Give me the courage to bear this loss. I'm weak, but You're my strength. Don't You say in 2 Corinthians 12:10, "For when I am weak, then I am strong?" I hold onto that promise now.
In these challenging times, my faith in You needs bolstering, Lord. I feel lost. But I trust in Your word in Deuteronomy 31:6, "Be strong and courageous. Do not fear or be in dread of them, for it is the LORD your God who goes with you. He will not leave you or forsake you."
Almighty Father, see my family's pain. My husband, brothers, all hurting over the loss of our child. Shower us with Your peace. Psalm 29:11 assures us, "The Lord gives strength to his people; the Lord blesses his people with peace."
Lord, bless us doubly. Let our trials stand as a testament to Your glory, confounding our foes and the devil. Proverbs 10:22, "The blessing of the LORD makes rich, and He adds no sorrow with it."
Turn my sorrow into joy, Lord. Fill the void in my heart. Bless me, Almighty. Psalm 30:11 promises, "You have turned for me my mourning into dancing; you have loosed my sackcloth and clothed me with gladness." I trust in Your promise.
---
Recommended for you
---
Comforting prayer for the loss of a child
Let's give thanks
Immediately, I told my wife she was having an inevitable miscarriage; she initially felt discouraged.
At first, she wondered why she would go through so much pain.
She has always been a dedicated member of the church.
She is currently the assistant choir mistress and has been so dedicated to God's service.
I could remember she kept saying, "why did God let me down?."
But soon after, she began to realize that its the will of God.
And this opened her heart to give thanks.
We must thank God for all he has done, whether we are sad or not.
A few days back, I read the passage of God's servant, Job, in the book of Job chapter 1.
He was a faithful servant of God, yet he lost all his children in the twinkling of an eye.
Here are the inspiring and comforting words from Job.
"Naked I came from my mother's womb,
    and naked I will depart.[a]
The Lord gave and the Lord has taken away;
    may the name of the Lord be praised."

Job 1:20-22
Let us pray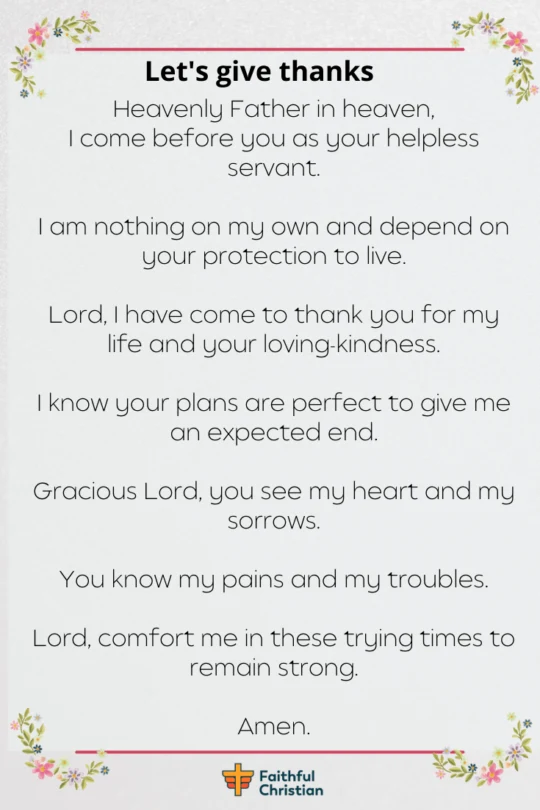 Dear Lord, our Heavenly Father,
In Your divine presence, I stand. Humble and vulnerable. I need your grace, Almighty.
Without You, I am but a whisper. I rely on You for strength, for breath, for life.
My heart brims with gratitude, Father. I thank You for the precious gift of life.
I'm reminded of Jeremiah 29:11. You have plans for me. Plans not to harm, but to prosper. Plans of hope and a future.
Your intentions are flawless, woven with divine precision. They guide me, even through the murk.
Benevolent Father, Your understanding is without bounds. You perceive my deepest sorrow, my quiet tears.
You're the balm to my pains, my aching loss. You see my turmoil, You hear my silent cries.
The loss of my child has left a void. A void only You comprehend.
In this time of despair, You are my sanctuary. You are the lifeline to my drowning heart.
I echo the words of Psalm 34:18. You are near to the brokenhearted. You save those crushed in spirit.
I seek Your comfort, Lord. Fill my heart with courage.
Your wisdom is my beacon. In the darkest night, You promise dawn. In pain, You promise healing.
I am encased in sorrow, yet Your peace encircles me. Your mercy is my compass in this sea of despair.
Let your love accompany me, like a steady flame. Remind me, I am not alone.
I submit to Your will, Heavenly Father. In this prayer and always.
Amen.
A time to be born and a time to die
We are always too quick to lose sight of God's plan.
Death to us isn't hopelessness but a path to eternal glorification.
God has promised that we will be delivered to eternity to worship him forever.
So, if you've lost any of your loved ones, be strong, knowing that it is God's plan.
The truth is nothing happens without God's permission.
The scripture says, in 1 John 3:20, that God knows everything.
The scripture says,
For to me, to live is Christ and to die is gain.

Philippians 1:21
Let us pray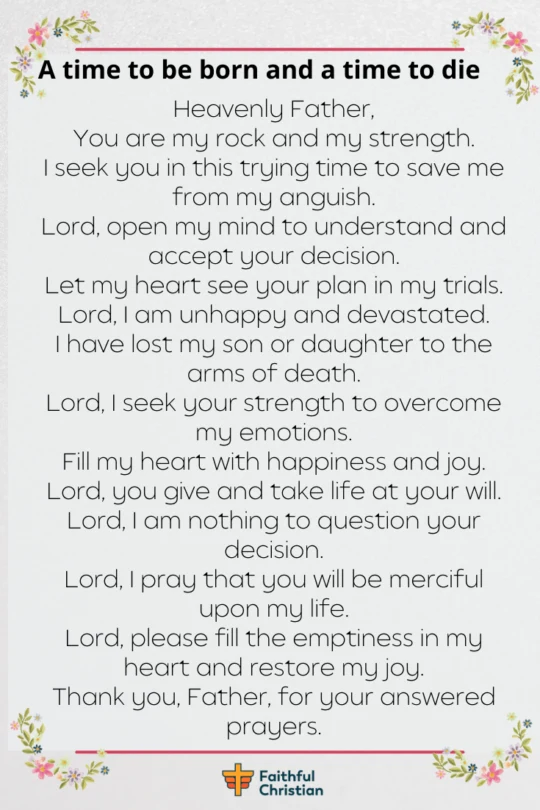 My Rock, my Strength, my Lord,
In my darkest hour, I call out to you. Your light shines brightest in the night. As Psalms 18:28 promises, you turn my darkness into light. Help me see that light now, Father.
I need understanding. I yearn for acceptance. Your plans, like in Jeremiah 29:11, are for my good. They may be painful, but they carry purpose. Teach me to see that, Almighty God.
Heartbreak haunts me. The loss of my child crushes me. Their sweet laughter is silent. Their warm hugs are gone. But Psalms 34:18 assures me that you are close to the brokenhearted. Draw near to me now, dear Father.
I beg for your strength, oh Lord. Like Isaiah 41:10 declares, you will strengthen and help me. Help me endure this agony. Infuse me with your joy, with your hope.
Life is your gift, and death is your decree. I bow to your will. You give and you take away, as Job 1:21 explains. I accept that now, in humble surrender.
Your mercy is all I seek. You, the God of Mercy, never forsake those who seek you (Psalm 9:10). Fill my heart with your love. Drive out the emptiness. Restore my joy.
Thank you, my loving Father. Your blessings are many. Your love is abundant. Your grace is immeasurable. To you, I offer my gratitude. To you, I offer my life. Amen.
God is all-knowing and unquestionable.
In painful moments, you may be tempted to doubt God's love.
Why did he abandon you? Why did he allow your loved one to die?
But the truth is, no one can question God.
His thoughts and ways are nothing like ours.
He sees the future from the beginning.
In our sorrow, we must stand by God in his decision.
The scripture says,
"For my thoughts are not your thoughts,
    neither are your ways my ways,"
declares the Lord.

Isaiah 55:8
Let us pray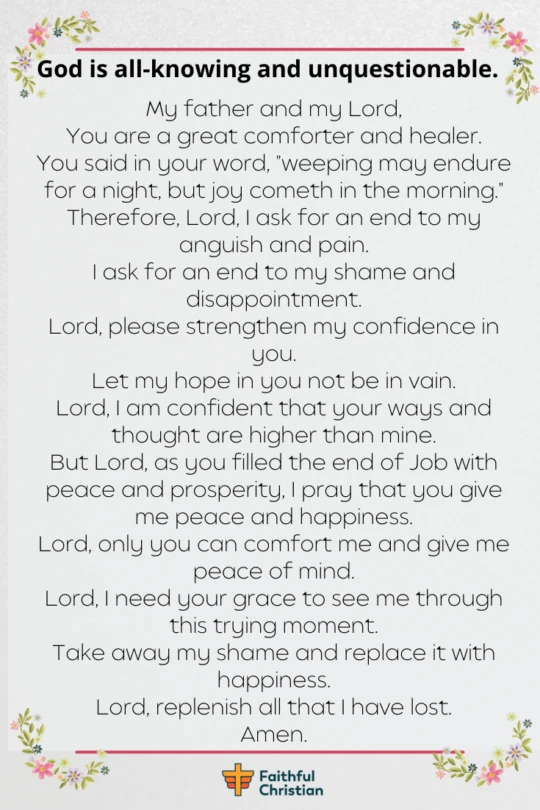 Dearest Father, our Safe Harbor,
You are the Balm for our wounds. The Ultimate Healer. Like the shepherd caring for his flock, You are there in times of need.
Remember, as Psalms tells us, "Weeping may stay for the night, but rejoicing comes in the morning." That is God's promise. Joy will break forth like the dawn after a long, dark night.
The ache is deep, Lord. The sorrow, piercing. Yet, I'm here before You, asking for relief.
Isaiah reassures us, "When you pass through the waters, I will be with you." In the torrents of pain, You, Father, are our life raft.
Disappointment has knocked on my door. It lingers like an unwelcome guest. But I pray, Almighty, for Your mercy to show it out.
You've promised in Deuteronomy, "The Lord himself goes before you and will be with you." Yes, Father, You are our guide, our comfort. You never abandon us.
Strengthen my faith, Lord. Like the resilient tree in the face of the storm, help me remain firm. Unbroken.
Your wisdom, Lord, it's a vast ocean. My understanding, merely a drop. Still, my hope rests in You.
Just as You saw Job through his trials, I seek Your divine intervention. Bless me with peace. With happiness.
In Your omniscience, You can transform my turmoil into tranquility. Bring a new dawn, filled with Your blessings.
You, O Lord, are the sole bringer of calm amidst the storm. Your love cradles my aching heart and breathes life into my troubled soul.
In this sea of trials, Your grace is my lifeline. Guide me, Father, as I brave these tumultuous waves.
Dispel the clouds of shame, Lord. Replace them with rays of joy and love, just as in 1 Peter: "Cast all your anxiety on Him because He cares for you."
Replenish, Lord, what has been lost. Shower me with Your abundant blessings, for I know that with You, nothing is truly lost.
In Your holy name, I submit my hopes and fears. For as Proverbs tells us, "Trust in the LORD with all your heart and lean not on your own understanding."
And so, I place my trust in You, Father. Today and always.
Amen.
---
Recommended for you
---
God has better plans for you.
Despite my family's unhappiness about my wife's miscarriage, we have since moved on.
God has always had a perfect plan for us despite our loss.
My wife is about five months pregnant today.
And we are happy and grateful to God for his kindness.
Don't lose hope in God. Instead, have faith in God and his plans.
Let us pray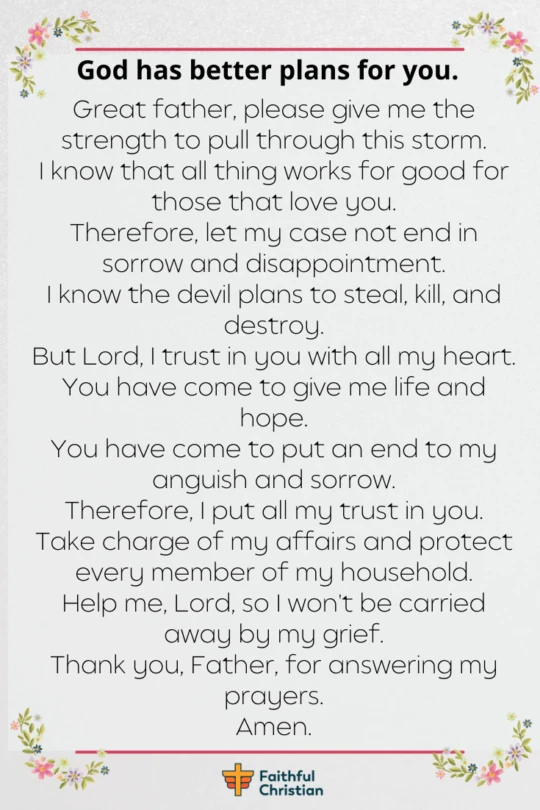 Dear Father, the Almighty, I stand before you today, seeking the strength to endure this storm. In moments of turbulence, it's your power I crave.
You remind us in Romans 8:28 that "all things work together for good" for those who love you. I lean into this promise now, asking that my trials don't end in sorrow.
The adversary seeks to rob, annihilate, and disrupt. You warned us of this in John 10:10. But against this threat, Lord, I arm myself with trust.
I place my trust in you, Lord, completely and unequivocally. My heart beats with faith in your divine protection.
The Almighty, you are the giver of life and the beacon of hope. A verse from Jeremiah 29:11 tells me you plan for my welfare and not calamity, to give me a future and hope. And so, I look to you for comfort.
In this painful period, Father, I place my faith in you. I know you will soothe my sorrow and heal my heart.
Take control, oh Lord. Oversee my life, protect my family. Your Psalm, 91:11, says, "He will command His angels concerning you, to guard you in all your ways." Let your angels guard my home.
Guide me, Father, so I may stand firm in this whirlwind of grief. Let my feet stay planted, and my spirit remain undeterred.
With a heart full of gratitude, I thank you. I trust in your mercy, your love, and your promise to hear my prayers in 1 John 5:14.
In reverence, I pray to you, Father.
Amen.
Frequently Asked Questions
What is the prayer of comfort?
The prayer of comfort is a spiritual act that invokes divine solace during trials. Rooted in the belief that God's love can bring peace and reassurance, it provides solace in times of grief or difficulty.
A scripture underpinning this practice is 2 Corinthians 1:3-4, highlighting God's role as the "Father of mercies and God of all comfort."
How do you pray for strength and comfort?
Praying for strength and comfort involves opening your heart to God, expressing your vulnerabilities, and seeking His support.
The prayer can be structured as: "Lord, I seek your strength in my struggles, your comfort in my pain. In your name, I pray, Amen."
Isaiah 41:10 serves as a scriptural pillar, encouraging us not to fear as God provides strength and help.
What is a powerful prayer for someone who passed away?
Offering a prayer for someone deceased can bring solace and commemorate their life.
It might read: "Lord, grant our loved one eternal peace in your presence. Comfort us as we mourn. Amen."
The words of Jesus in John 11:25-26 provide a scriptural basis, expressing belief in eternal life.
What do you say when an unborn baby dies unexpectedly?
Responding to an unexpected loss of an unborn baby requires compassion. You might say, "I'm deeply sorry for your tragic loss. You are in my thoughts and prayers."
Matthew 19:14 serves as a scriptural touchstone, emphasizing the value and love God has for children.
What prayers to say to someone who lost a child?
When praying for someone who lost a child, the prayer could be: "Lord, comfort this grieving family. Guide them through their pain and reassure them of your heavenly kingdom. Amen."
Revelation 21:4 provides related scripture, speaking of a future without death or mourning.
How do you pray sympathy for losing a child?
A prayer of sympathy for the loss of a child might read: "God, grant peace and strength to this grieving family. Comfort them in their loss. In Christ Jesus, Amen."
Psalm 34:18 is a comforting verse, expressing God's closeness to the brokenhearted.
What is a good Bible verse for someone who has lost a child?
Matthew 5:4 is a comforting verse for those who lost a child, saying, "Blessed are those who mourn, for they shall be comforted." It serves as a beacon of hope, promising divine comfort amid grief.
How do you comfort someone who lost a baby?
To comfort someone grieving a baby's loss, you might say, "I'm deeply sorry for your loss. I'm here for you." Psalm 147:3 can offer solace, speaking of God healing the brokenhearted.
What do you say to a grieving mother who lost her son?
To a mother grieving her son, you can offer these words: "I am here for you during this time of profound sorrow." The verse 2 Corinthians 1:3-4 speaks of God's comfort, providing a spiritual touchstone.
What is a short prayer for the loss of a child?
A brief prayer for child loss could be: "God, comfort this family. Lighten their burden, give them peace. In Jesus' name, Amen." Psalm 34:18 can guide this prayer, affirming God's closeness to the heartbroken.
Could you provide a prayer for a mother who just lost her son?
A prayer for a mother grieving her son might be: "Lord, envelop this grieving mother in your love. In Jesus' name, Amen." 2 Corinthians 1:3-4 is a supportive scripture, echoing the prayer's sentiment.
What are some spiritual words of comfort for the loss of a child?
Comforting words for child loss can be: "Your child's light shines in your heart. May God's grace strengthen you." Matthew 5:4 can be a comforting scriptural reference, promising comfort to those who mourn.
How can we offer prayers for grieving parents?
To pray for grieving parents, you might say: "Lord, comfort these parents. Give them peace. In Your name, Amen." Psalm 34:18 can offer a comforting scriptural backing, declaring God's proximity to the brokenhearted.
What specific prayer can be said for a grieving mother?
A prayer for a grieving mother might be: "Lord, comfort this mother. Give her strength, remind her of your love. Amen." Psalm 147:3 is a comforting verse, echoing God's healing role.
Are there any prayers for someone who lost a daughter?
A prayer for parents grieving a daughter might read: "Lord, embrace this family in their pain. Assure them of their daughter's peace. Amen." Revelation 21:4 can offer comfort, speaking of God wiping away all tears.
Is there a Bible prayer specifically for the loss of a child?
While there's no specific Bible prayer for child loss, several scriptures offer solace. Psalm 34:18 is a comforting verse, showing God's closeness and care in sorrow. It can be a guide in crafting prayers for grieving parents.
Author: Akatakpo Dunn
Dr. Akatakpo Dunn is a dedicated follower of Christ, an active member and speaker, and an ongoing learner of the Scriptures. Passionate about his faith and serving others, he is committed to sharing his spiritual journey and insights to inspire and uplift fellow believers. He has been active in the church for more than 23 years. Through The
Faithful Christian Blog
,
Dr. Dunn
combines his love for God, philanthropy, and Scripture, providing a valuable resource for those seeking to grow in their faith.
Follow me: on Youtube, Facebook, Twitter, Instagram, and Pinterest.
Content Disclosure:
At The Faithful Christian Blog, I create authentic and inspiring content. Although I am the main author, I occasionally use AI for minor language enhancements. This minimal AI usage ensures high-quality, trustworthy articles without compromising originality or sincerity, ultimately supporting our shared faith journey.
Warmly,
Dr. Akatakpo Dunn
Was this article helpful?