In God's eyes, getting married is a good thing.
It is a spiritual covenant that draws two people together in love.
Consequently, they are no longer two people but one flesh.
In other words, they are inseparable.
If you are having issues in your marriage, there are numerous bible verses to save your marriage.
Irrespective of what you are going through now, God can make a miraculous return of love in your home.
So, there is no reason to feel helpless because there are powerful scriptures for marriage problems.
These bible verses will uplift your soul and remind you that there are no impossibilities with God.
Don't feel like God has abandoned you.
The devil is very tricky and can cause unhappiness in your family.
I have dealt with terrible marriage problems in my home.
It all started as a joke but quickly transformed into a huge problem.
And, we just weren't ready for a solution because of pride.
With each passing day, we were drifting far away from each other.
Until some weeks later, we started talking about divorce.
But luckily for us, God saved our marriage.
Likewise, God can save your union today if you are ready to commit your marriage problems to him.
I have put together bible verses for marriage problems to motivate your every step through the process.
My God in his infinite mercies will bless and strengthen you with your heart desires.
Amen.
---
Recommended for you
---
Bible verses for marriage problems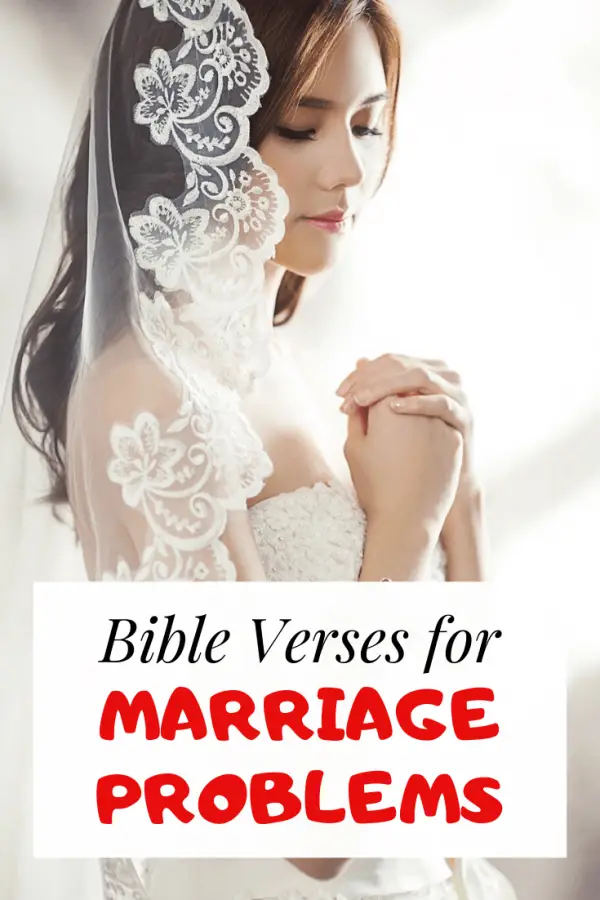 1 Corinthians 13:4-5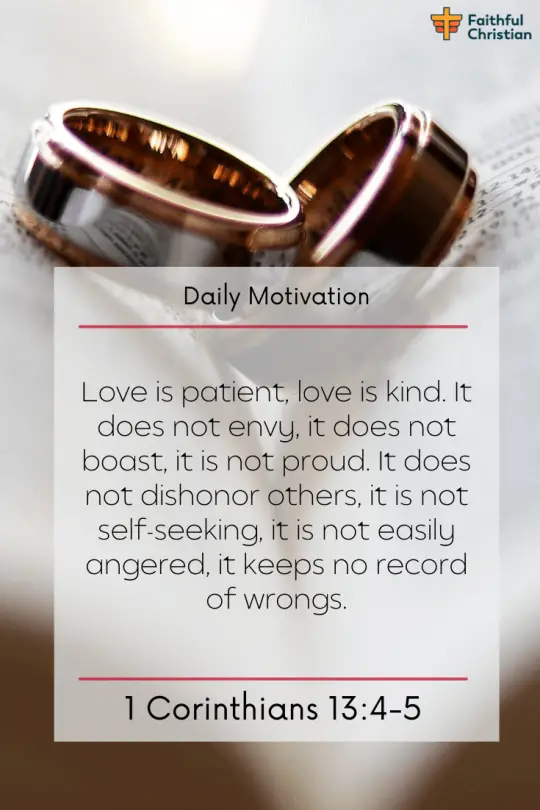 Love is patient, love is kind. It does not envy, it does not boast, it is not proud. 5 It does not dishonor others, it is not self-seeking, it is not easily angered, it keeps no record of wrongs.
Romans 12:10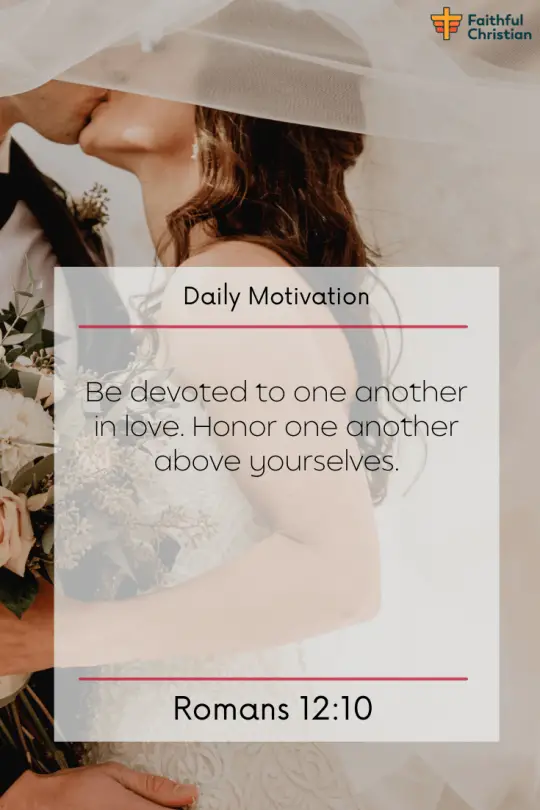 Be devoted to one another in love. Honor one another above yourselves.
Luke 17:4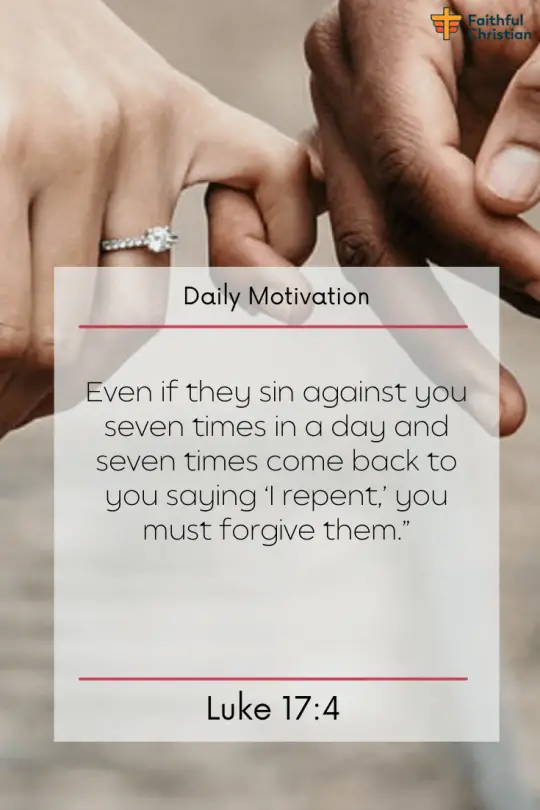 Even if they sin against you seven times in a day and seven times come back to you saying 'I repent,' you must forgive them."
Romans 12:20-21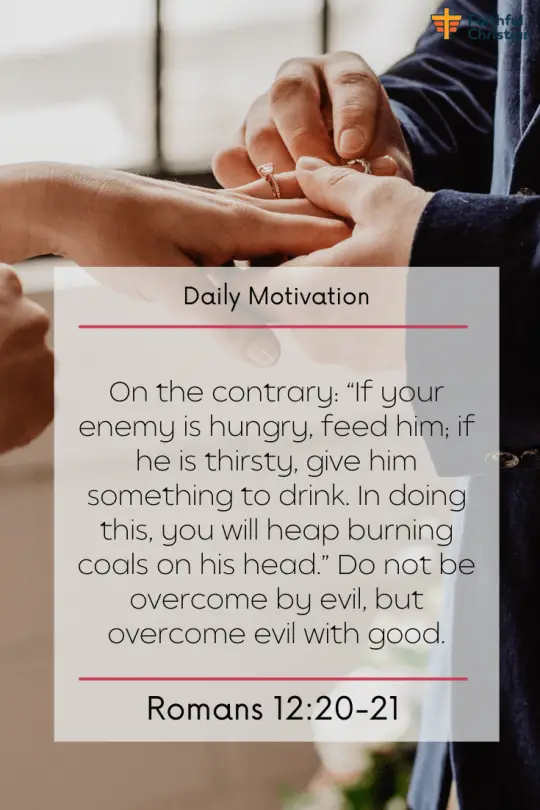 On the contrary: "If your enemy is hungry, feed him; if he is thirsty, give him something to drink. In doing this, you will heap burning coals on his head." Do not be overcome by evil, but overcome evil with good.
1 Peter 3:7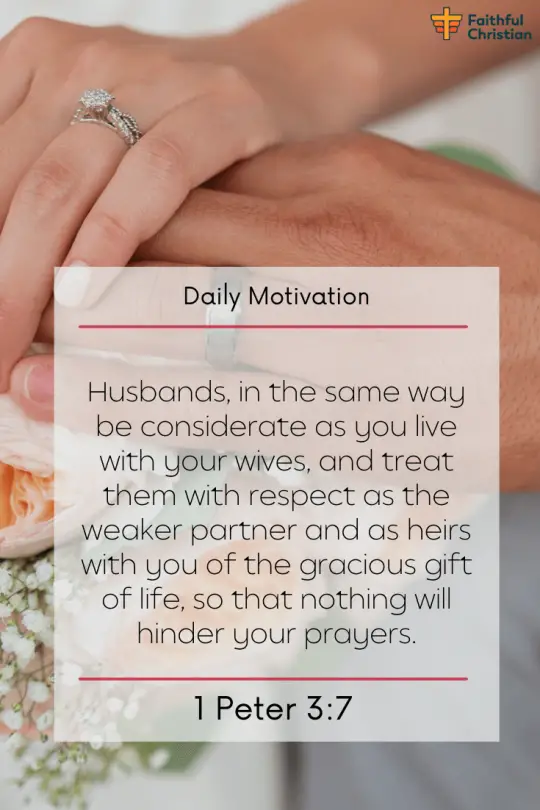 Husbands, in the same way be considerate as you live with your wives, and treat them with respect as the weaker partner and as heirs with you of the gracious gift of life, so that nothing will hinder your prayers.
Colossians 3:19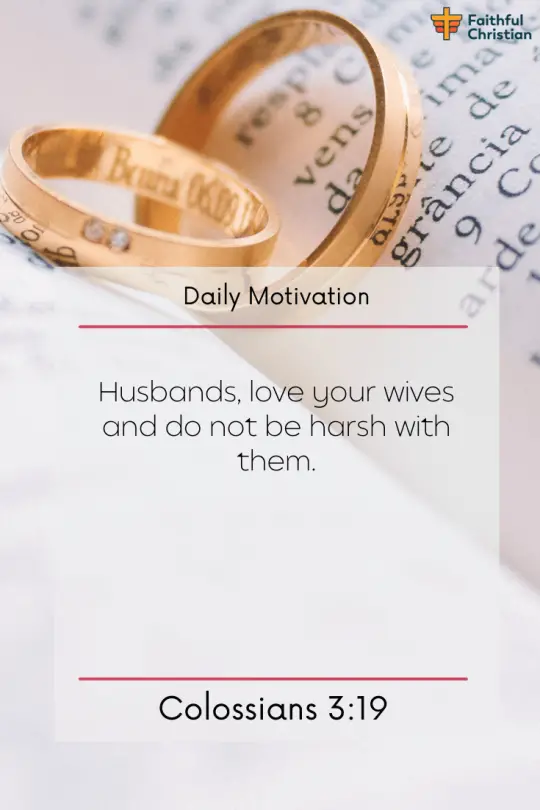 Husbands, love your wives and do not be harsh with them.
Genesis 2:23-24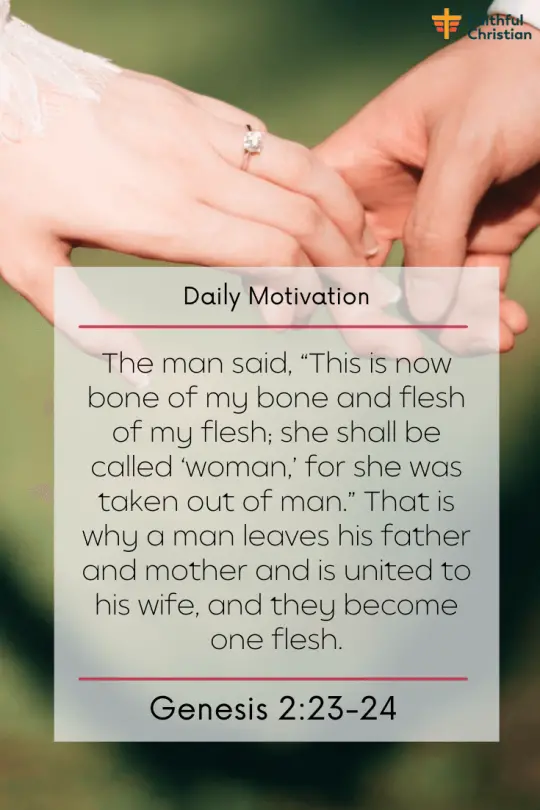 The man said, "This is now bone of my boneand flesh of my flesh; she shall be called 'woman,'for she was taken out of man." 24 That is why a man leaves his father and mother and is united to his wife, and they become one flesh.
---
Recommended for you
---
Ephesians 5:33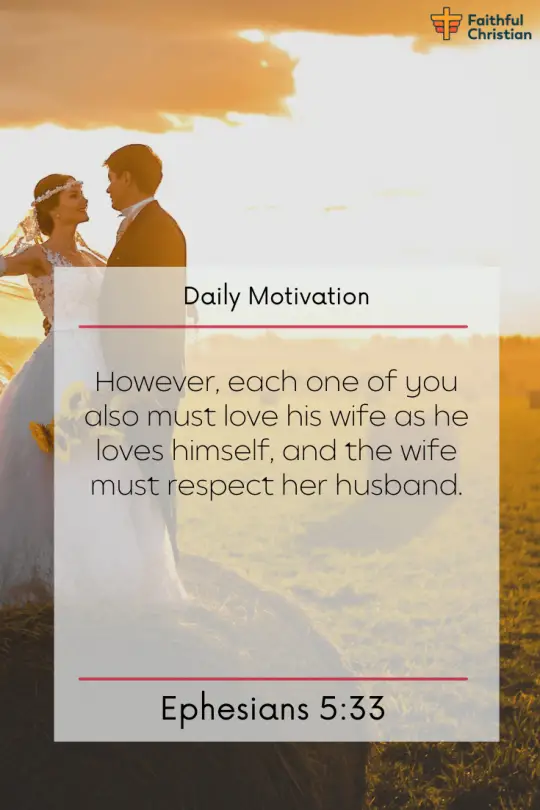 However, each one of you also must love his wife as he loves himself, and the wife must respect her husband.
1 Thessalonians 4:4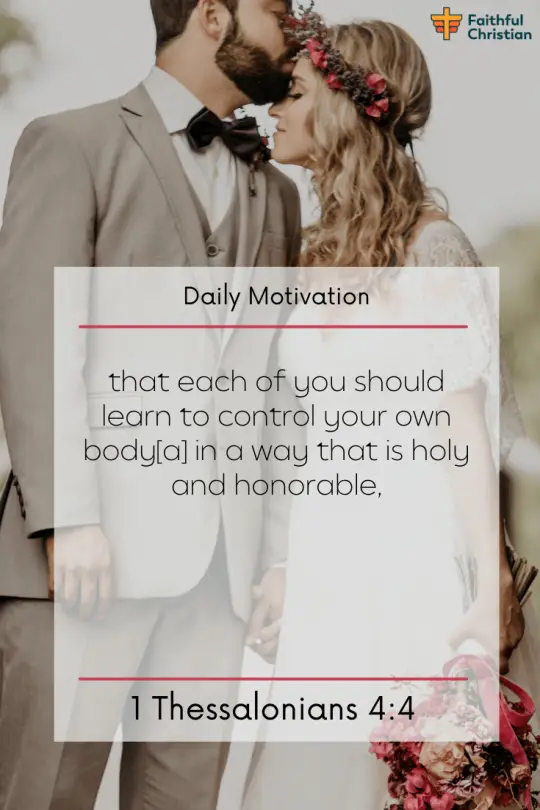 that each of you should learn to control your own body[a] in a way that is holy and honorable,
Romans 8:28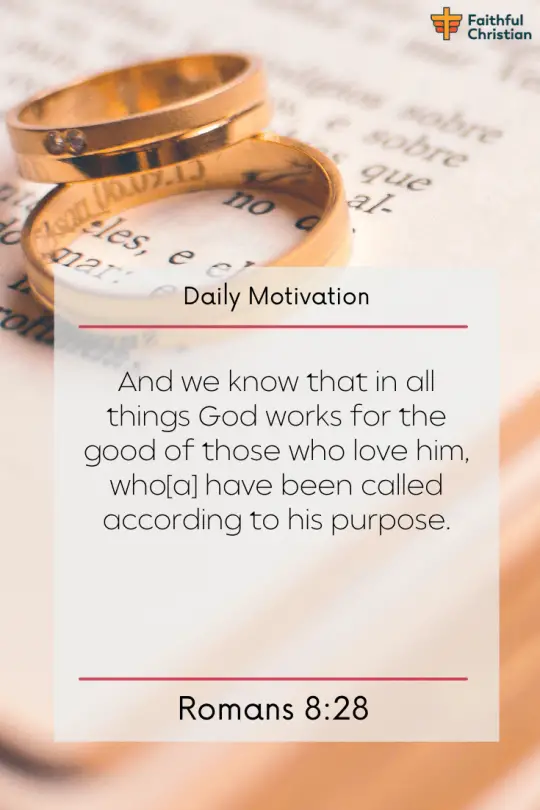 And we know that in all things God works for the good of those who love him, who[a] have been called according to his purpose.
1 Peter 5:10
And the God of all grace, who called you to his eternal glory in Christ, after you have suffered a little while, will himself restore you and make you strong, firm and steadfast.
James 1:12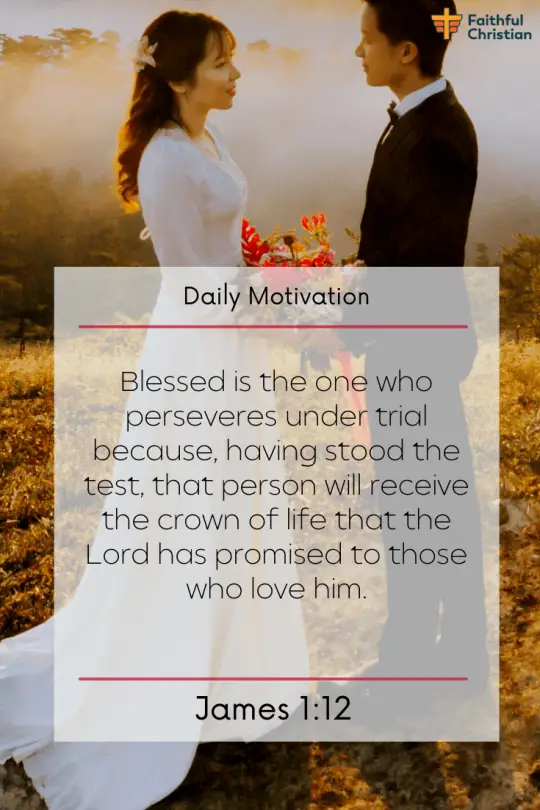 Blessed is the one who perseveres under trial because, having stood the test, that person will receive the crown of life that the Lord has promised to those who love him.
---
Recommended for you
---
Bible verses to save marriage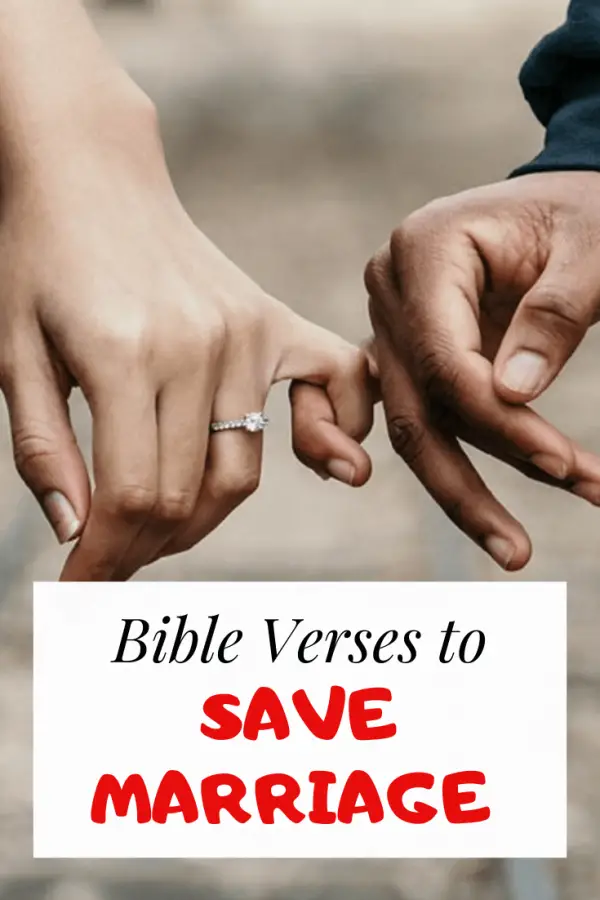 1. Trust in God to solve your marriage problems
Each time you are dealing with troubles in your marriage, don't walk alone.
The very first thing you need to do is to pray to God.
The scriptures say,
Trust in the Lord with all your heart
    and lean not on your own understanding;
 in all your ways submit to him,
    and he will make your paths straight.

Proverbs 3:5-6
There are no marital problems God cannot solve.
Is it infidelity, monetary issues, or lack of communication?
God can heal your marriage and bring back joy and happiness to you.
Personally, I have found out that talking to a counselor or seeking others' help for my family problems worsens the whole thing.
Hence, each time we have issues, I quickly ask God for a solution.
Here are powerful bible verses to trust in God for your marriage problems.
Psalm 37:5
Commit your way to the Lord;
    trust in him and he will do this:
Jeremiah 17:7-8
"But blessed is the one who trusts in the Lord,
    whose confidence is in him.
Proverbs 28:26
Those who trust in themselves are fools,
    but those who walk in wisdom are kept safe.
Psalm 37:3
Trust in the Lord and do good;
    dwell in the land and enjoy safe pasture.
Psalm 62:8
Trust in him at all times, you people;
    pour out your hearts to him,
    for God is our refuge.
Isaiah 26:3-4
You will keep in perfect peace
    those whose minds are steadfast,
    because they trust in you.
4 Trust in the Lord forever,
    for the Lord, the Lord himself, is the Rock eternal.
Isaiah 12:2
Surely God is my salvation;
    I will trust and not be afraid.
The Lord, the Lord himself, is my strength and my defense[a];
    he has become my salvation."
2.  Forgive your spouse and let go
This is one of the most critical steps to save your marriage.
You must be willing to forgive your spouse of all wrongdoing.
There are no two ways about it.
If you don't forgive and forget, you can never get your marriage to where it used to be.
But you may be wondering, why should I be the one to forgive him/her?
I have been there in the past.
The last time I had serious issues with my wife, I had to make sacrifices to save my marriage.
I had to forgive her wholeheartedly for peace in my home.
Here are forgiving bible verses to save marriage.
Ephesians 4:32
 Be kind and compassionate to one another, forgiving each other, just as in Christ God forgave you.
Colossians 3:12
 Therefore, as God's chosen people, holy and dearly loved, clothe yourselves with compassion, kindness, humility, gentleness and patience.
Colossians 3:13
13 Bear with each other and forgive one another if any of you has a grievance against someone. Forgive as the Lord forgave you.
1 Peter 3:8
 Finally, all of you, be like-minded, be sympathetic, love one another, be compassionate and humble.
1 Peter 3:9
9 Do not repay evil with evil or insult with insult. On the contrary, repay evil with blessing, because to this you were called so that you may inherit a blessing.
Matthew 6:14-15
 For if you forgive other people when they sin against you, your heavenly Father will also forgive you. 15 But if you do not forgive others their sins, your Father will not forgive your sins.
2 Corinthians 2:10
Anyone you forgive, I also forgive. And what I have forgiven—if there was anything to forgive—I have forgiven in the sight of Christ for your sake,
Luke 6:35
But love your enemies, do good to them, and lend to them without expecting to get anything back. Then your reward will be great, and you will be children of the Most High, because he is kind to the ungrateful and wicked.
Author: Akatakpo Dunn
Dunn is a firm believer and a teacher of God's word. Suffering for Jesus is an attribute of a faithful Christian, and I hope to win new souls to Christ with every chance that I get. Articles are well-researched and backed by the scriptures.
Follow me: on Youtube, Facebook, Twitter, Instagram, and Pinterest.