When it comes to true friendship, never make a hasty decision.
And that's because, in difficult times, fake friends will surely disappoint you.
That's why we all need friends we can trust and love.
A true friend is someone that cares about you.
He or she thinks about your welfare and loves you from the depth of their heart.
A true friend appreciates your weaknesses and is not afraid to tell you the truth.
And most importantly, a good friend stands by you in difficult times.
But what does the bible say about friendship?
There are lots of bible verses about friendship and love.
These scriptures are there to guide our hearts when choosing our friends.
These scriptures on friendship also teach us to love our friends like a brother or a sister.
Real friends are always united in a purpose and encourage each other in difficult times.
In other words, true friends stick together no matter what.
For 15 years now, My best friend has been an integral part of my life.
In fact, I doubt if I can indeed exist without him.
We stand by each other and encourage ourselves in trying times.
We love ourselves, and despite being on two different continents, we still reach out from time to time.
I have put together bible verses about friendship and love to inspire you.
Read and be blessed.
---
Recommended for you
---
Bible verses about friendship and love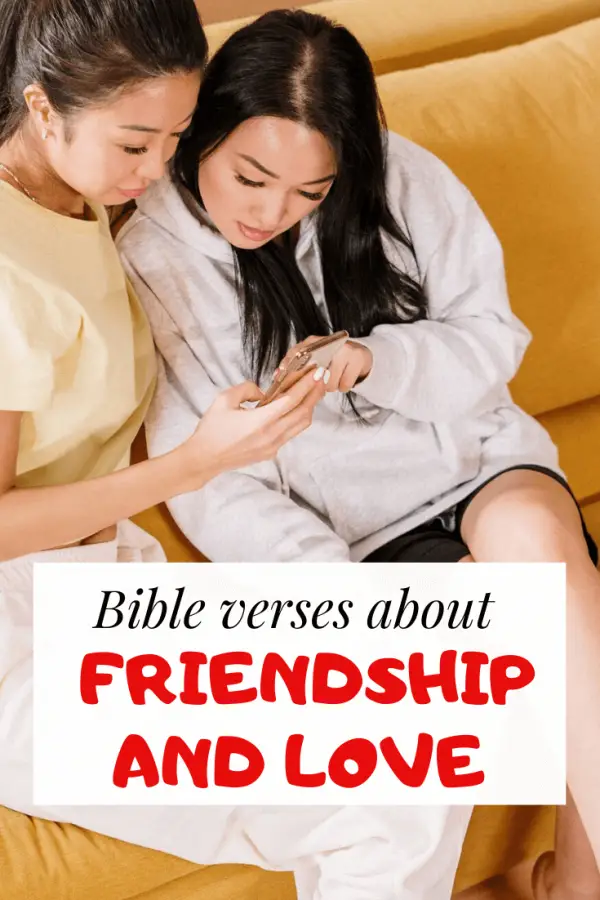 Proverbs 18:24 — Sticking together as friends
One who has unreliable friends soon comes to ruin,
    but there is a friend who sticks closer than a brother
John 15:13-14
Greater love has no one than this: to lay down one's life for one's friends. 14 You are my friends if you do what I command.
Proverbs 17:17 — friendship and love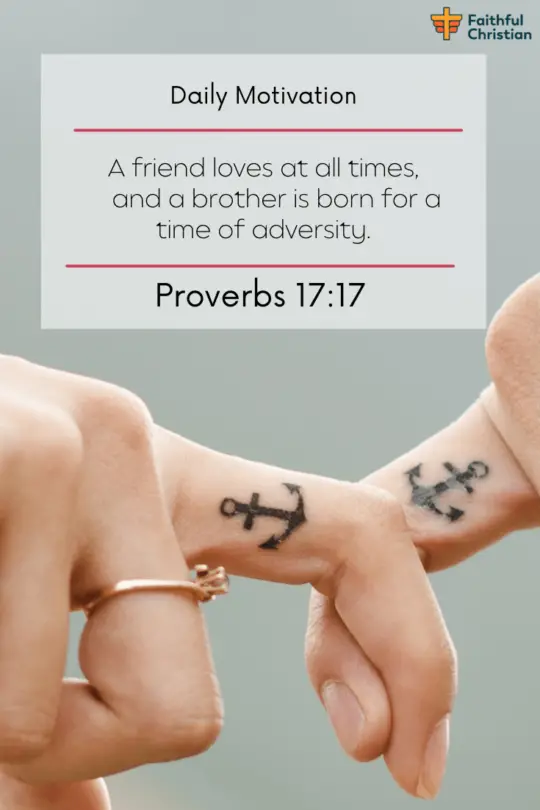 A friend loves at all times,
    and a brother is born for a time of adversity.
1 Samuel 20:17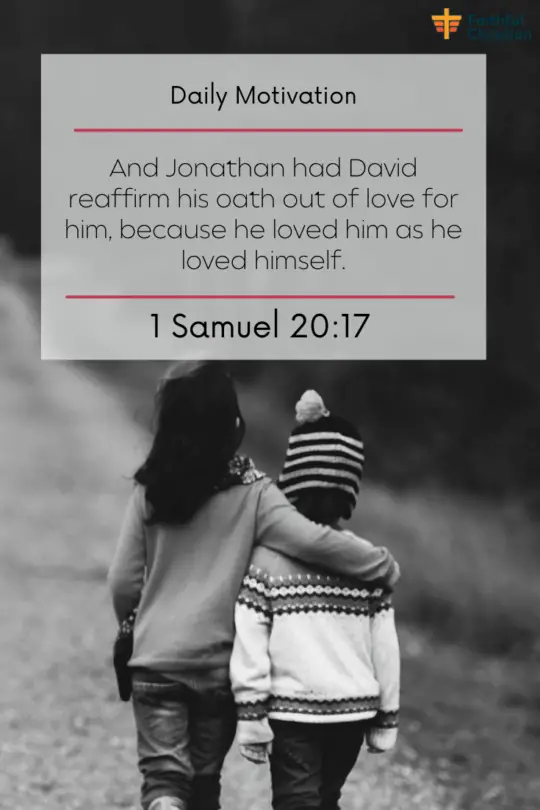 And Jonathan had David reaffirm his oath out of love for him, because he loved him as he loved himself.
1 Samuel 18:3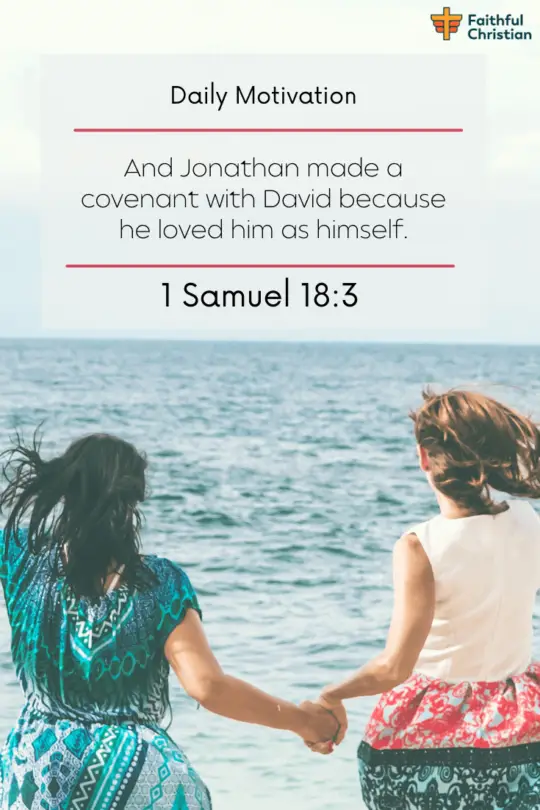 And Jonathan made a covenant with David because he loved him as himself.
Hebrews 2:11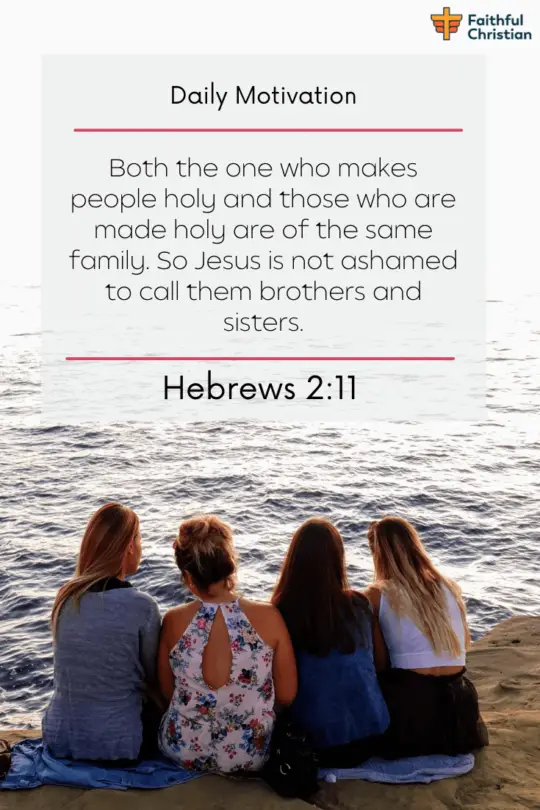 Both the one who makes people holy and those who are made holy are of the same family. So Jesus is not ashamed to call them brothers and sisters.
Proverbs 19:7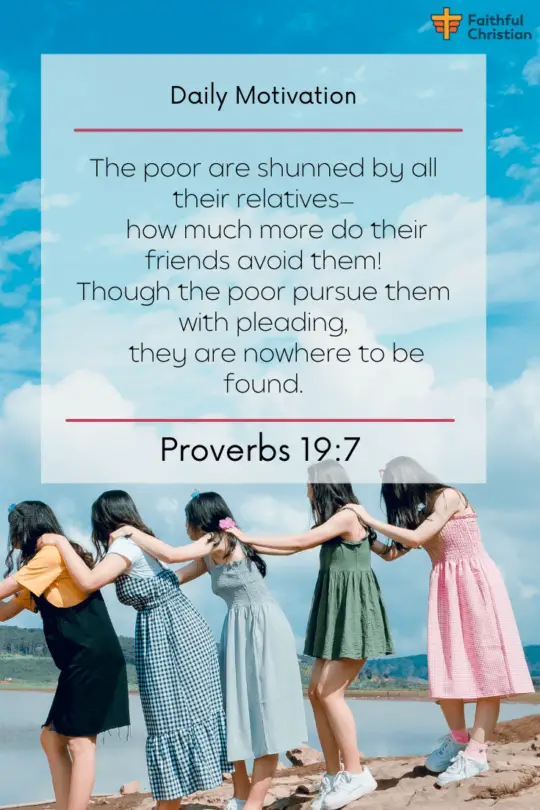 The poor are shunned by all their relatives—
    how much more do their friends avoid them!
Though the poor pursue them with pleading,
    they are nowhere to be found.
2 Samuel 1:26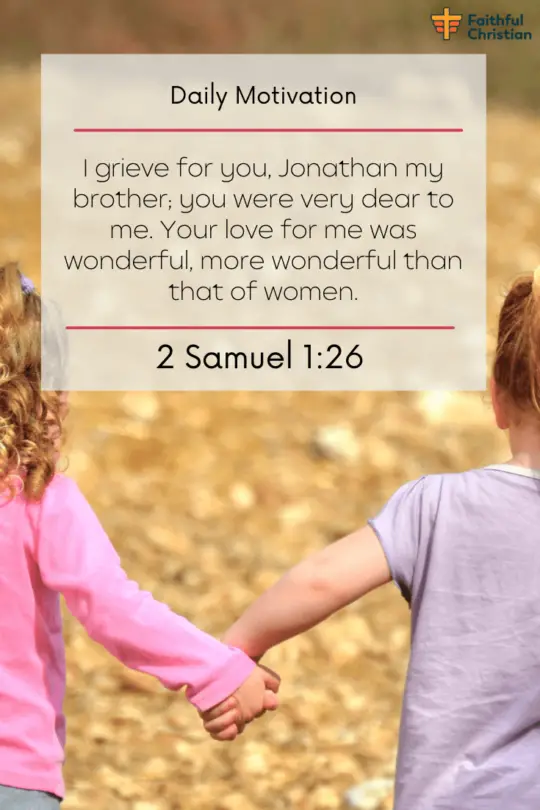 I grieve for you, Jonathan my brother;
    you were very dear to me.
Your love for me was wonderful,
    more wonderful than that of women.
Proverbs 27:9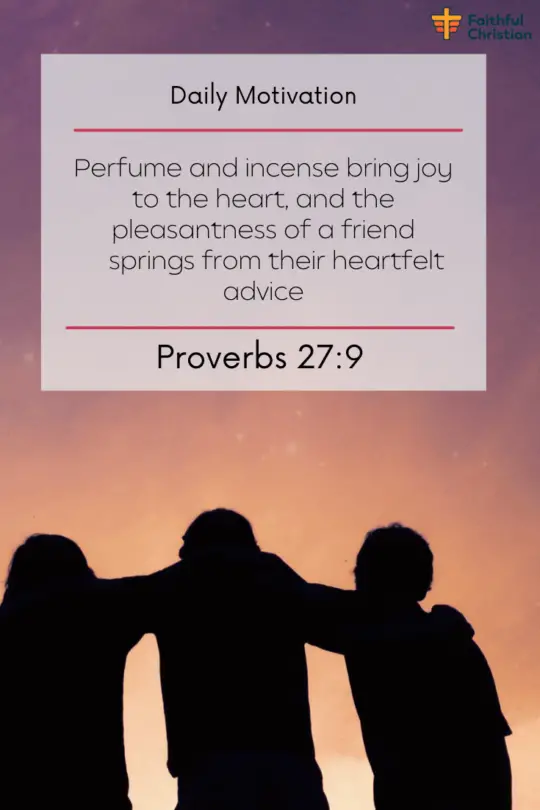 Perfume and incense bring joy to the heart,
    and the pleasantness of a friend
    springs from their heartfelt advice
Psalm 133:1
How good and pleasant it is
when God's people live together in unity
---
Recommended for you
---
More Bible verses about friends sticking together
1 Corinthians 1:10 –Uniting together as friends
I appeal to you, brothers and sisters,[a] in the name of our Lord Jesus Christ, that all of you agree with one another in what you say and that there be no divisions among you, but that you be perfectly united in mind and thought
1 Peter 3:8
Finally, all of you, be like-minded, be sympathetic, love one another, be compassionate and humble.
Hebrews 13:1
Keep on loving one another as brothers and sisters
Philippians 2:2
 then make my joy complete by being like-minded, having the same love, being one in spirit and of one mind.
Philippians 2:3-4
Do nothing out of selfish ambition or vain conceit. Rather, in humility value others above yourselves, 4 not looking to your own interests but each of you to the interests of the others.
John 13:35
By this everyone will know that you are my disciples, if you love one another."
Proverbs 16:28
A perverse person stirs up conflict,
    and a gossip separates close friends.
Proverbs 17:9
Whoever would foster love covers over an offense,
    but whoever repeats the matter separates close friends.
James 3:14-16
But if you harbor bitter envy and selfish ambition in your hearts, do not boast about it or deny the truth. 15 Such "wisdom" does not come down from heaven but is earthly, unspiritual, demonic. 16 For where you have envy and selfish ambition, there you find disorder and every evil practice.
Job 6:14
"Anyone who withholds kindness from a friend
    forsakes the fear of the Almighty.
James 4:4
You adulterous people,[a] don't you know that friendship with the world means enmity against God? Therefore, anyone who chooses to be a friend of the world becomes an enemy of God
Proverbs 27:10
Do not forsake your friend or a friend of your family, and do not go to your relative's house when disaster strikes you— better a neighbor nearby than a relative far away.
Proverbs 27:17
As iron sharpens iron,
    so one person sharpens another.
Hebrews 10:24
And let us consider how we may spur one another on toward love and good deeds,
2 Timothy 2:3
Join with me in suffering, like a good soldier of Christ Jesus.
Qualities of a true friend that loves you
If you have a friend and are unsure if he will stick around in hard times, here are characteristics of a God-fearing friend.
1.  Trust
A true friend is someone you can trust.
You can depend on them in times of trouble.
And not just that, you can trust him with your secrets.
I tell a lot of secrets to my best friend. And in return, we discuss his personal issues too.
We understand the importance of keeping our secrets with each other.
If you cannot trust them with your secrets, there is a problem.
In every possible way, you need someone you can trust.
Your friend must have confidence in you and vice versa.
2. Equality
Do you have a friend that always overthinks him or herself?
Or do you have a friend that feels they are not at your level?
That's not a friend.
A true friend is someone that is humble and loves you the way you are.
He is not proud and appreciates your time around them.
True friendship starts with equality in mind and purpose.
That's why Christ said,
My prayer is not for them alone. I pray also for those who will believe in me through their message, 21 that all of them may be one, Father, just as you are in me and I am in you. May they also be in us so that the world may believe that you have sent me
Christ was by far greater than the apostles.
But he was a perfect friend and wanted them to be one in love.
3. Honest, supportive and compassionate
Do you have a friend that lies all the time?
Or someone who doesn't care about how you're doing?
A true friend must be empathetic and support you in times of need.
Just last year, my best friend stood by me throughout my wedding.
Despite his busy schedule, he created time to support me in my happy moments.
I invited a lot of my close friends. But he was one of the few that showed up.
He couldn't miss my wedding for anything.
That's what friendship is all about — making sacrifices under challenging times.
Author: Akatakpo Dunn
Dunn is a firm believer and a teacher of God's word. Suffering for Jesus is an attribute of a faithful Christian, and I hope to win new souls to Christ with every chance that I get. Articles are well-researched and backed by the scriptures.
Follow me: on Youtube, Facebook, Twitter, Instagram, and Pinterest.