Over the past century, a lot has changed about our understanding of marriage.
In fact, there are a lot of women who are striving for equal rights in marriage.
They believe that a woman should be at the forefront of marriage, making all the decisions.
While this is a good idea, it also has its challenges — It is unscriptural.
Instead, there are Bible Verses about wives submitting to their husband's authority.
As a married woman, you must respect and obey your husband.
The man is the undisputed head of the family in God's plan.
And it has been so from the beginning of the world.
The truth is, as Christians, we must guide our every step with the word of God.
If we don't, we will be misinformed by the devil easily.
"Submissiveness" in the scriptures is a command, but with love, it spontaneously occurs.
As you love yourselves in marriage, you will find that your heart will naturally be submissive to each other.
I do a lot of household chores for my wife, and I am happy doing it.
Likewise, she respects and obeys my decisions.
I have put together bible verses about wives submitting to husbands to help you.
---
Recommended for you
---
Bible verses about wives submitting to husbands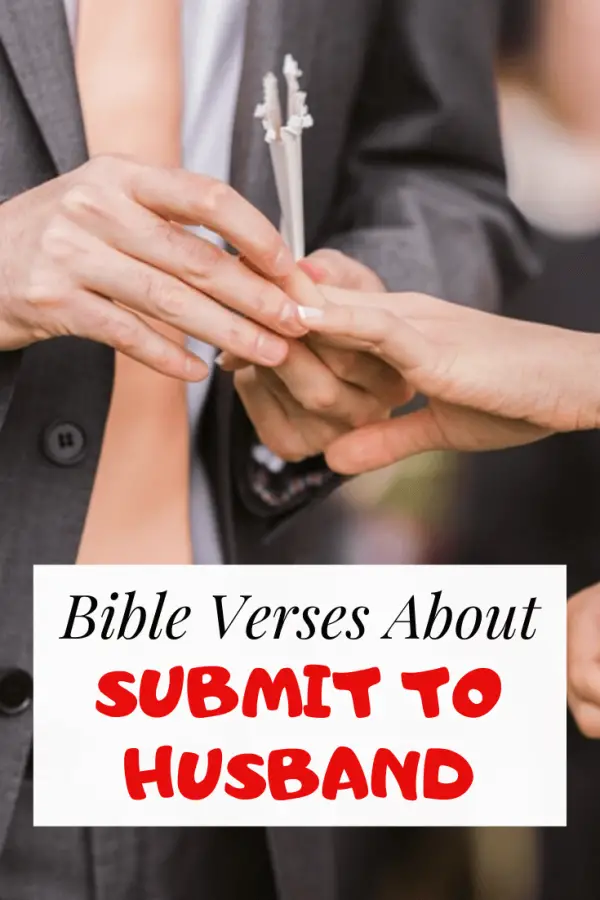 Ephesians 5:22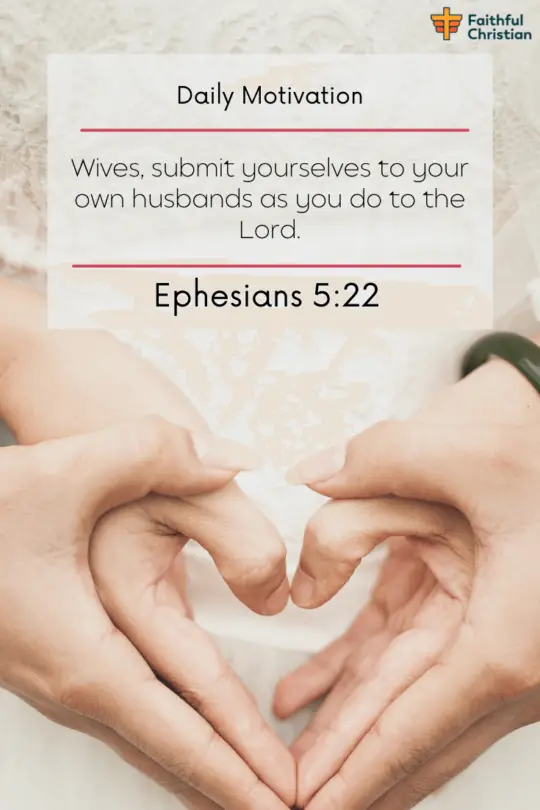 Wives, submit yourselves to your own husbands as you do to the Lord.
Colossians 3:18-4:1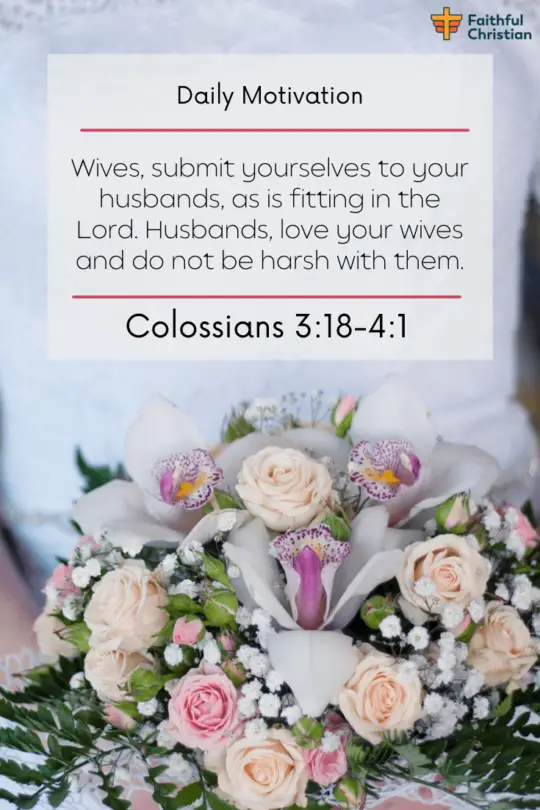 Wives, submit yourselves to your husbands, as is fitting in the Lord. Husbands, love your wives and do not be harsh with them.
1 Peter 3:1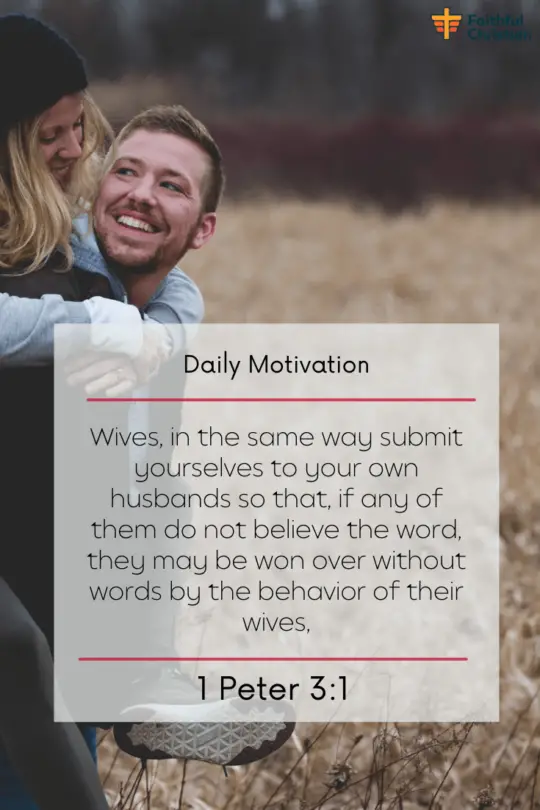 Wives, in the same way submit yourselves to your own husbands so that, if any of them do not believe the word, they may be won over without words by the behavior of their wives,
1 Peter 3:2-3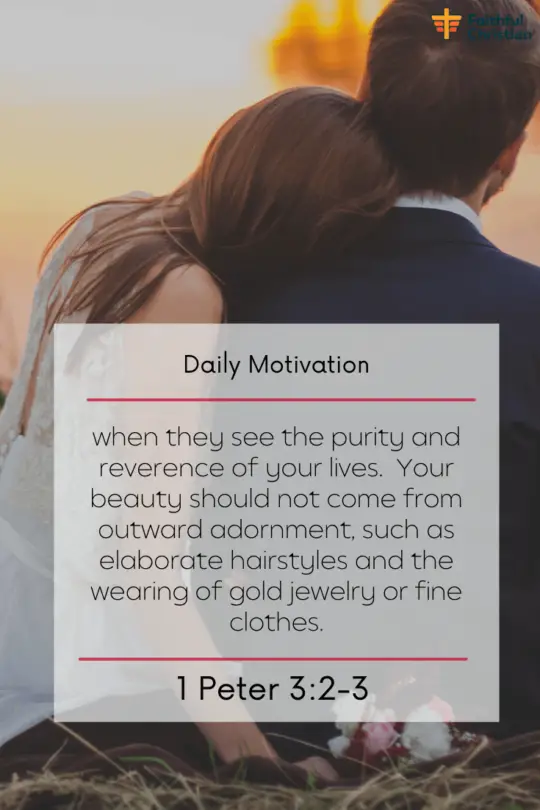 2 when they see the purity and reverence of your lives. 3 Your beauty should not come from outward adornment, such as elaborate hairstyles and the wearing of gold jewelry or fine clothes.
1 Peter 3:4-5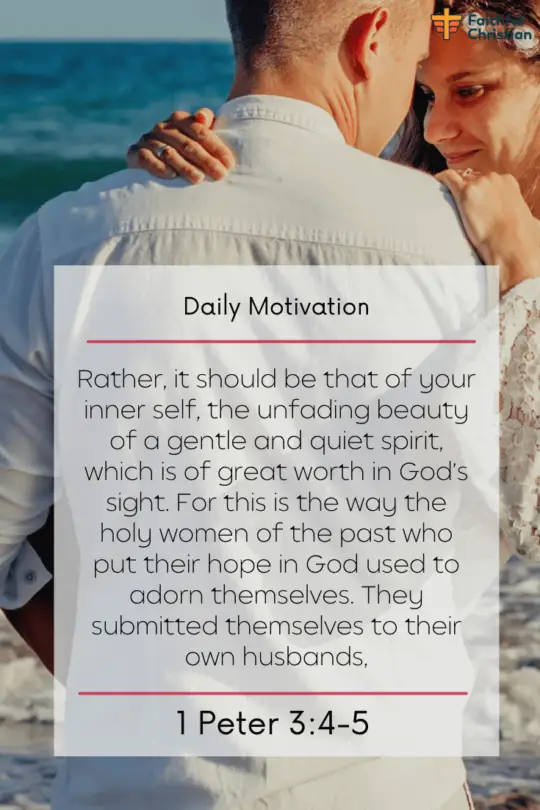 Rather, it should be that of your inner self, the unfading beauty of a gentle and quiet spirit, which is of great worth in God's sight. 5 For this is the way the holy women of the past who put their hope in God used to adorn themselves. They submitted themselves to their own husbands,
1 Peter 3:6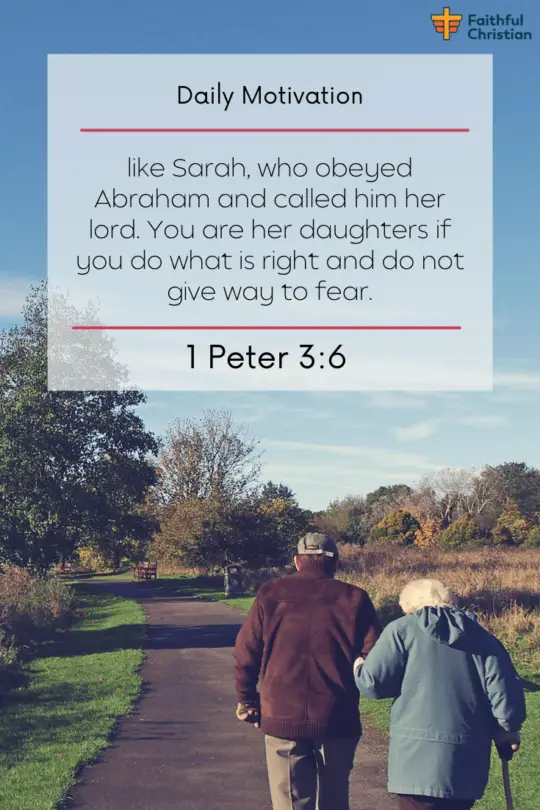 6 like Sarah, who obeyed Abraham and called him her lord. You are her daughters if you do what is right and do not give way to fear.
Titus 2:3-5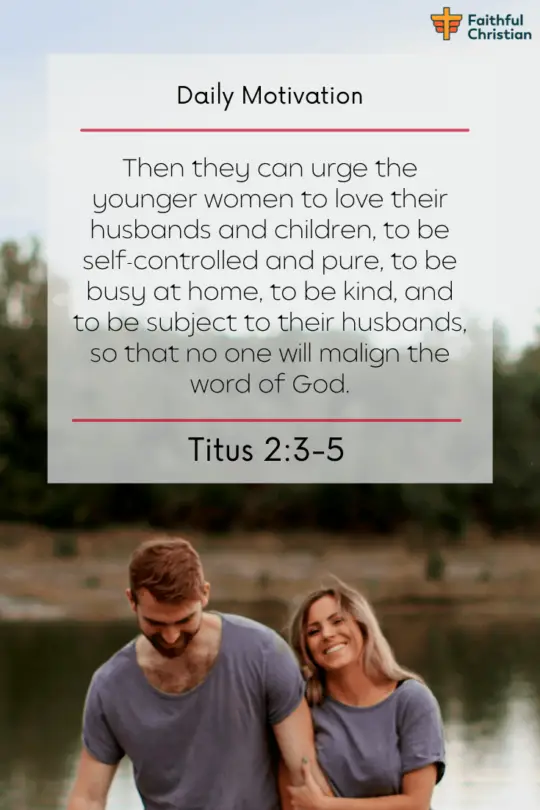 Then they can urge the younger women to love their husbands and children, 5 to be self-controlled and pure, to be busy at home, to be kind, and to be subject to their husbands, so that no one will malign the word of God.
Genesis 3:16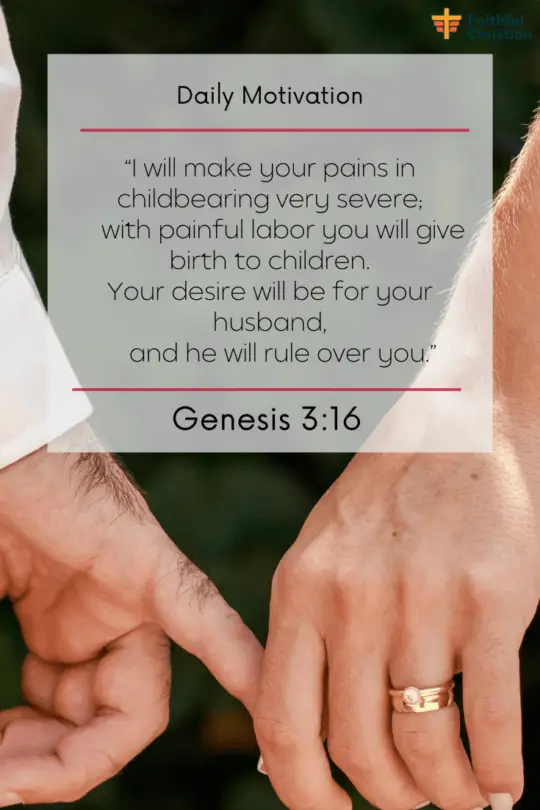 "I will make your pains in childbearing very severe;
    with painful labor you will give birth to children.
Your desire will be for your husband,
    and he will rule over you."
1 Timothy 2:11-12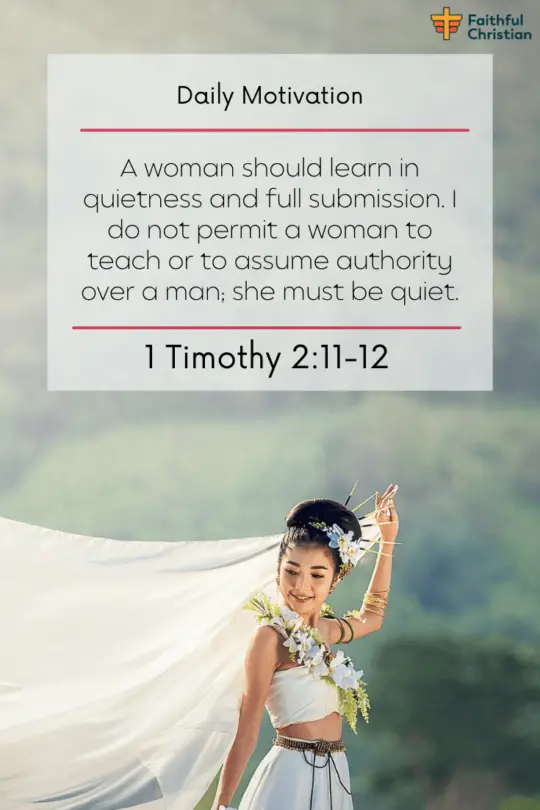 A woman[a] should learn in quietness and full submission. 12 I do not permit a woman to teach or to assume authority over a man;[b] she must be quiet.
Esther 1:20
Then when the king's edict is proclaimed throughout all his vast realm, all the women will respect their husbands, from the least to the greatest."
1 Corinthians 14:34
Women[a] should remain silent in the churches. They are not allowed to speak, but must be in submission, as the law says.
Proverbs 21:19
Better to live in a desert
    than with a quarrelsome and nagging wife.
Proverbs 21:9
Better to live on a corner of the roof
    than share a house with a quarrelsome wife.
Proverbs 19:13
A foolish child is a father's ruin,
    and a quarrelsome wife is like
    the constant dripping of a leaky roof.
Proverbs 31:10-15
A wife of noble character who can find?
She is worth far more than rubies.
11 Her husband has full confidence in her
and lacks nothing of value.
12 She brings him good, not harm,
all the days of her life.
13 She selects wool and flax
and works with eager hands.
14 She is like the merchant ships,
bringing her food from afar.
15 She gets up while it is still night;
she provides food for her family
and portions for her female servants.
Proverbs 14:1
The wise woman builds her house,
    but with her own hands the foolish one tears hers down.
---
Recommended for you
---
Wives obey your husband: Words of encouragement
1. When there is love, obedience follows
In my experience, love is the most important in marriage.
It heals our hearts and teaches us what to do.
If there is love in your marriage, you will naturally submit to your husband.
And, surprisingly, when you submit to your husband, he follows suit.
In the early stages of my marriage, I completely misunderstood what it meant to "submit to your husband."
And that's because I singlehandedly made all the decisions.
Women are to be respected in marriage. They must be cherished.
While they should be submissive, it doesn't mean their opinions are utterly worthless in marriage.
I have always apprised my lovely wife about any significant issues in our home.
I seek her contributions and then make the final decision.
This has made her feel so important in the decision-making process.
2.  Submit to him in everything
The scripture is unequivocal on this one.
It is not advice but a command from God.
At all times, wives must respect their husband's decisions.
By doing so, you are keeping God's command.
If you are insulting or disrespecting your husband, God is not happy with you.
God has placed your husband as the head and has instructed wives to obey their husbands.
The scripture says,
But I want you to realize that the head of every man is Christ, and the head of the woman is man,[a] and the head of Christ is God.
Author: Akatakpo Dunn
Dunn is a firm believer and a teacher of God's word. Suffering for Jesus is an attribute of a faithful Christian, and I hope to win new souls to Christ with every chance that I get. Articles are well-researched and backed by the scriptures.
Follow me: on Youtube, Facebook, Twitter, Instagram, and Pinterest.