My wife has told me several times — That she would be devastated if I ever cheated on her.
She wants me to be faithful and dedicated to the family.
She detests lies too and wants me to tell the truth and be honest with her.
Like she always says, "It is better hearing the truth from you than someone else."
Thankfully, she has continued praying for me.
Her prayer has really helped me in so many ways.
I don't fight to shrug off temptations anymore.
While we were dating, it was so difficult to remain faithful to my wife (then girlfriend).
But the moment I gave my life to Christ, I received his grace to overcome temptations.
Likewise, you can pray for your husband to be faithful.
You can ask God to protect him from wicked women trying to destroy your home.
God can deliver your husband from his lust.
I have put together this prayer for your husband to be honest and faithful.
May God grant you your heart desires and protect your husband from evil forces. Amen.
---
Recommended for you
---
Short prayer for husband to be faithful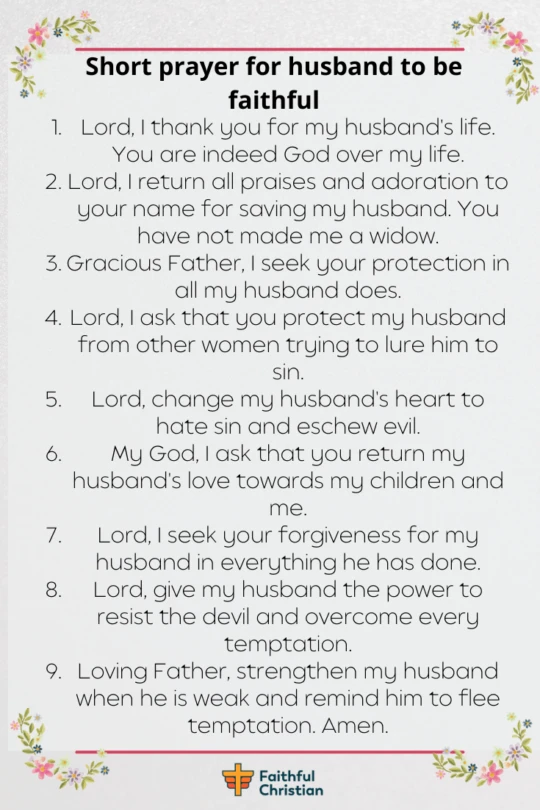 Father, it's me again, brimming with gratitude. I'm here because of my husband, a precious gift You've generously given me. Isn't it wonderful, Father, how Psalm 127:3 reminds us that "Children are a heritage from the Lord, offspring a reward from him." Like children, a husband too is a divine reward, one I'm genuinely thankful for.
Thank You, Almighty. You've not let sorrow label me a widow. Just as You said in Jeremiah 29:11, You've plans for us, plans for welfare, not harm. Your saving grace has touched my husband's life, allowing me to stand before You today, offering praise.
Lord, I pray, let his journey remain under Your watchful gaze. Protect him, just as You shielded Job, creating a hedge around him and all he had. Lord, be his fortress, his refuge.
But there's something troubling my heart, Father. Temptations lurk everywhere, waiting to ensnare. You know it too. Like King David prayed in Psalm 141:4, asking You not to let his heart incline to any evil, I'm here today, seeking the same for my husband.
Help him, Lord. Let him not be enticed by wayward women. Instead, as in Proverbs 5:15, may he drink water from his own cistern, rejoicing in the wife of his youth.
And God, please, nurture a hatred for sin within him. Just as Joseph fled from Potiphar's wife, choosing righteousness over sin, may my husband too choose right over wrong. Sin has no place in his heart, Father.
God, do you remember Ephesians 4:32? It calls us to be kind, forgiving each other as God forgave us. Today, I seek that forgiveness for my husband. For his mistakes, his shortcomings. Wipe his slate clean, dear Lord.
And then, Father, comes the most crucial plea. In James 4:7, You advise us to resist the devil, promising he will flee from us. Please, give my husband that power, the strength to resist, to stand firm against the devil's cunning.
You are our stronghold, Father. In weak moments, strengthen my husband. As in 1 Corinthians 10:13, You won't let him be tempted beyond what he can bear. Remind him, always, of this promise.
And so, Almighty, I finish this prayer. Knowing You, the divine author of our story, will guide us along the path. I trust in Your promises, in Your love. As Psalm 56:3 states, "When I am afraid, I put my trust in You." Today, that's exactly what I'm doing. Amen.
Prayer Bible verses for your husband to be faithful
Proverbs 5:20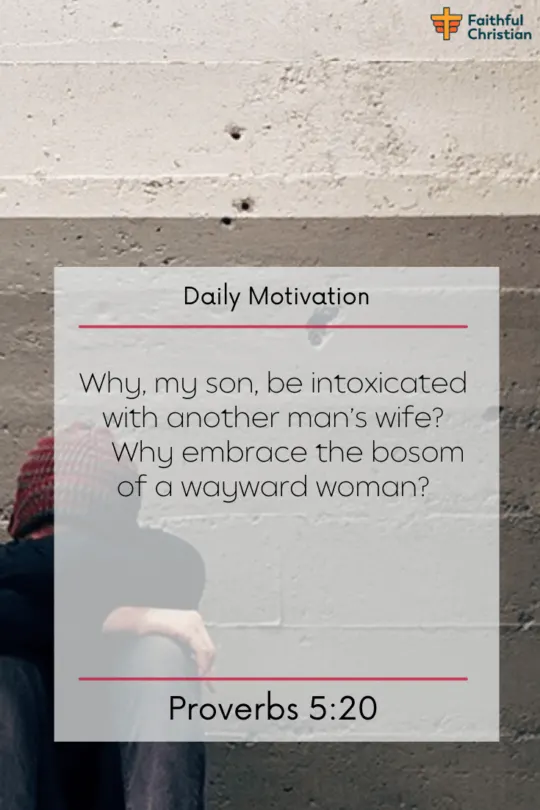 Why, my son, be intoxicated with another man's wife?
    Why embrace the bosom of a wayward woman?
Proverbs 7:5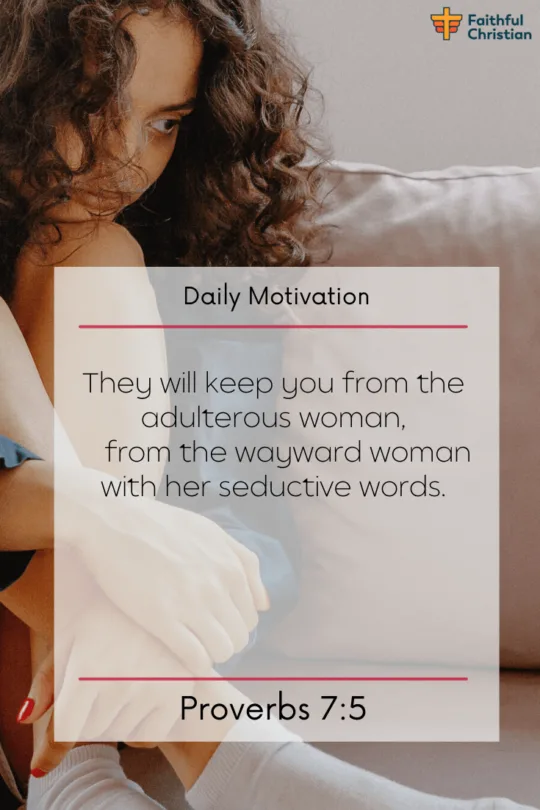 They will keep you from the adulterous woman,
    from the wayward woman with her seductive words.
Proverbs 23:27-28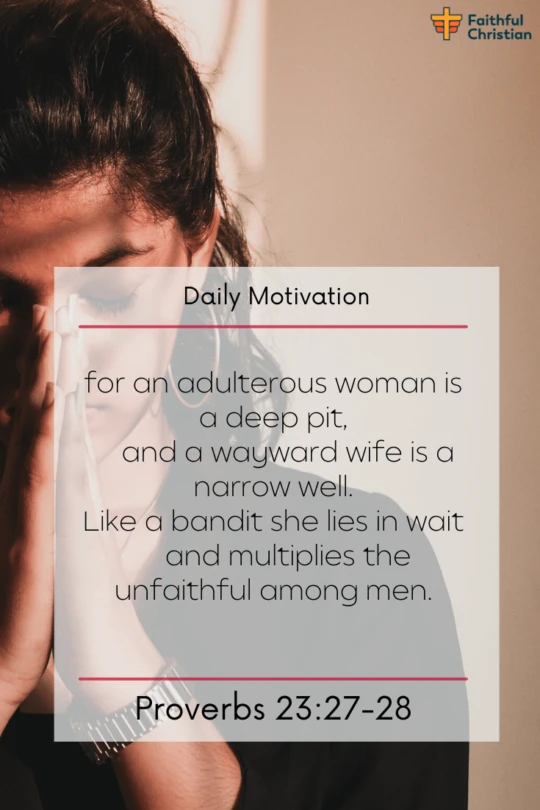 for an adulterous woman is a deep pit,
and a wayward wife is a narrow well.
28 Like a bandit she lies in wait
and multiplies the unfaithful among men.
---
Recommended for you
---
Prayer for your husband to be faithful and Honest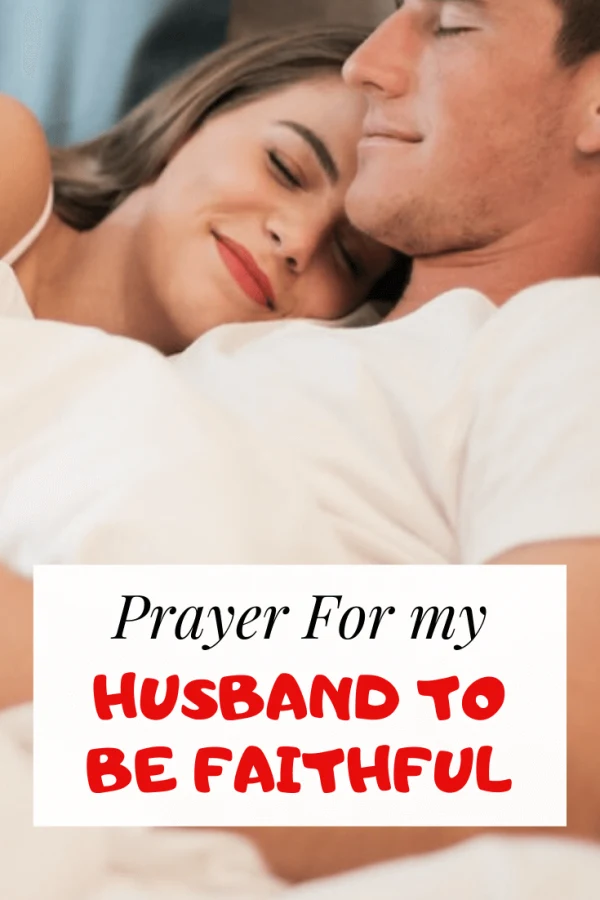 Ask for forgiveness of your sins (let us pray)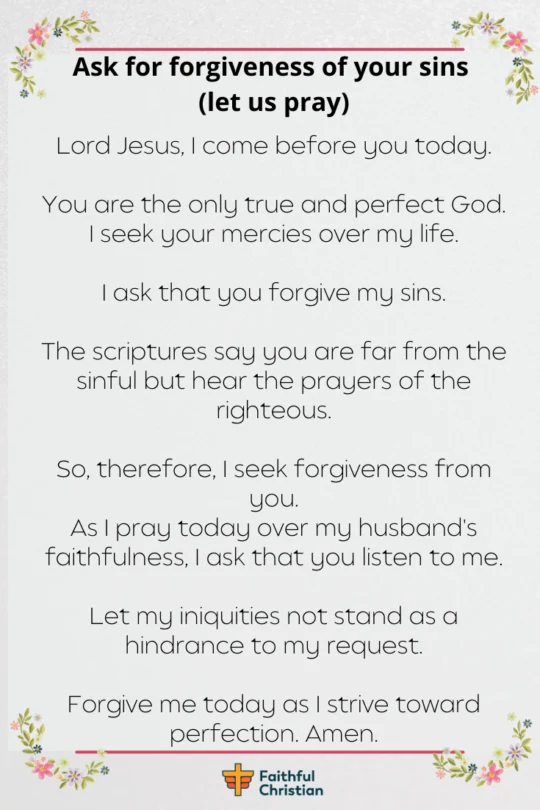 Beloved Lord, I come before You. You're our divine guide. You're the Creator of all.
In Your tender mercy, I find solace. You, Lord, who keeps the universe spinning, are our truest comfort. Your love knows no bounds, Father.
Today, I stand before You, seeking forgiveness. You, the righteous Judge, can cleanse my soul. Your sacred word tells us so. It speaks of Your distant stance from sin yet nearness to the prayerful heart.
Dear Father, I seek Your pardon today. Cleanse my heart. Make it pure and true, a worthy vessel of Your grace. As in Psalms 51:10, create a clean heart in me. Renew a steadfast spirit within me.
Today, my prayer focuses on my husband. Bless him with unwavering loyalty. Your word in 1 Corinthians 13:7 assures us love bears all things, believes all things, hopes all things, endures all things. I trust in Your word, Lord.
May my past errors not hinder my plea. You, the Almighty, are abundant in forgiveness. In Your benevolent judgment, absolve my transgressions. I strive, dear Lord, for spiritual growth. I long to mirror Your son's perfect love.
Pour strength into my husband's spirit, Lord. Gift him wisdom to honor our vows. Help his heart overflow with sincerity. Guide his words to echo truth. Let his deeds reflect integrity.
Father, guard our marital bond. In Proverbs 3:3, we find that loyalty and faithfulness never leave us. May this be true for our marriage, too. We need Your guidance, Lord. We need Your protective hand over our union.
In Jesus' name, I pray. Let my life reflect Your love. May it overflow with faithfulness, honesty, and truth. Today, I lay my prayer before You.
Amen.
Pray for forgiveness for your husband's sins.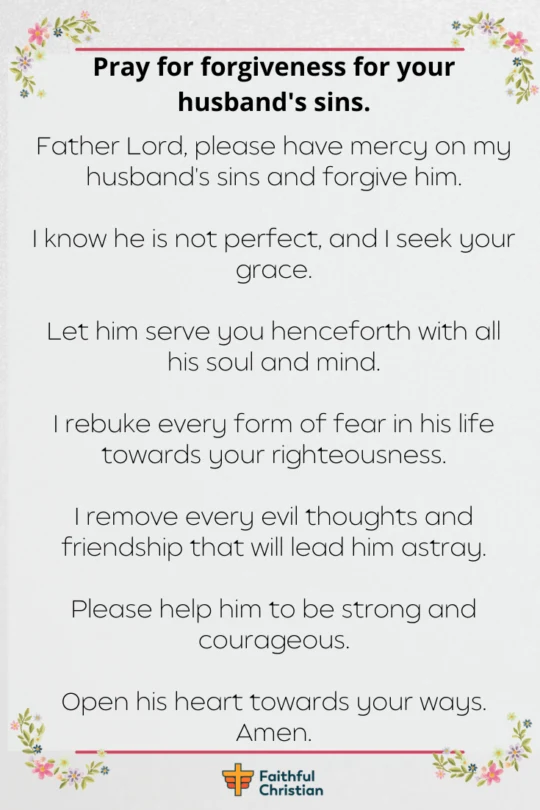 Almighty Father, today, I kneel before you. My heart carries a special prayer for my husband. I ask for your mercy. As Paul reminded us in Romans 3:23, "all have sinned and fall short of the glory of God". My husband, like all of us, is a sinner. Cleanse him, Lord.
Yes, he's not perfect. None of us are. Yet, it's in these cracks and faults that we seek your light. As said in 2 Corinthians 12:9, "My grace is sufficient for you, for my power is made perfect in weakness." Pour your grace upon him, dear Lord.
Father, guide him. Steer his heart, his soul, his mind towards serving you. Inspire in him a deep desire to understand your word, to live by it. May he find strength and solace in you, The Almighty.
Fear has no place in his life. In 2 Timothy 1:7, we're reminded, "God gave us a spirit not of fear but of power and love and self-control." Rebuke his fears, Lord. Strengthen his faith. Let him walk, fearless, on your righteous path.
Guard his steps, Father. Shield him from ill-thoughts and friendships. Lead him away from anything that may derail his journey to you. As you've said in Proverbs 13:20, "Whoever walks with the wise becomes wise, but the companion of fools will suffer harm." Keep him in the company of the wise.
Give him strength, Lord. In Philippians 4:13, we're assured, "I can do all things through Him who strengthens me." Bolster his spirit. Let him face life's challenges with courage.
Open his heart, Almighty Father. Let it brim with your divine ways. Kindle within him the love for your word, your teachings. Let his heart be a reflection of your love.
In humble submission to your will, I offer this prayer, Father. I trust in you, our Lord and Savior, for guidance, protection, and steadfastness for my husband. As we navigate life's seas, let your grace be our compass, your love our anchor.
In your holy name, I pray. Amen.
Not by might but by God's power(let us pray)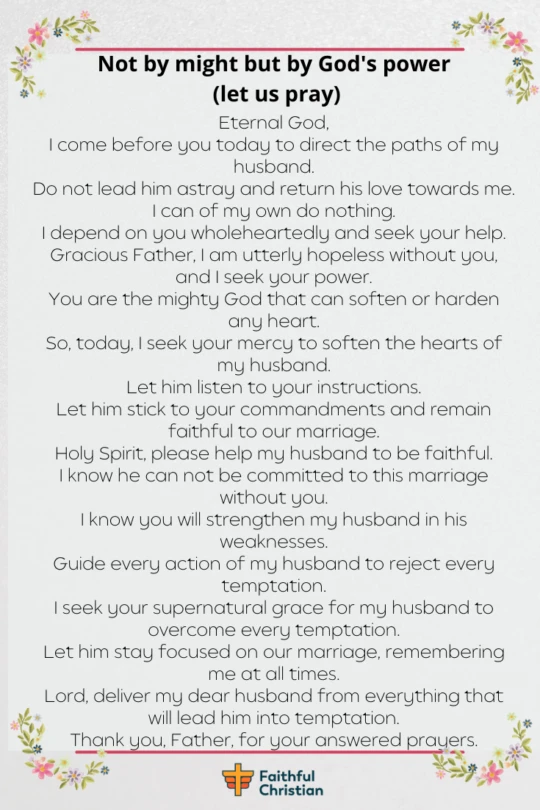 Almighty Creator, I stand before You, humbly asking for guidance. Like a ship lost at sea, I need Your lighthouse. Guide my husband, I pray, similar to the Psalmist's plea, "Lead me in Your truth and teach me" (Psalm 25:5).
With open arms, I surrender. My strength alone is like a drop in the ocean. I lean on You, just as Proverbs 3:5-6 urges us, "Trust in the Lord with all your heart and lean not on your own understanding.
Lord, without You, I'm like a seed in a desert. Barren. Unable to sprout. I yearn for Your life-giving power. The power that molded Pharaoh's heart (Exodus 9:12) can touch my husband's too.
Gracious Father, I ask for Your gentle touch. Soften my husband's heart, similar to the Prophet Ezekiel's prophecy, "I will give you a new heart and put a new spirit in you" (Ezekiel 36:26). Encourage him to follow Your commandments.
Holy Spirit, inspire faithfulness in him. It's like the Apostle Paul's words in Galatians 5:22-23, where faithfulness is a fruit of the Spirit. I know he can't bear this fruit without You.
As You fortified the weak Apostle Peter (Luke 22:32), strengthen my husband too. With You, he can withstand any storm.
Guide him, Lord. Make him resolute in temptation's face, reflecting James 1:12's words, "Blessed is the one who perseveres under trial." Gift him the grace to overcome.
Help him remain focused on our sacred bond. Remind him of Ecclesiastes 4:12, "A cord of three strands is not quickly broken." Lord, let our union be that three-stranded cord.
Oh, Divine Protector, shield my husband. Lead him away from temptation, just as Jesus taught in the Lord's Prayer, "Lead us not into temptation" (Matthew 6:13). Guard our sacred union.
With deep gratitude, I thank You, Heavenly Father. I trust in Your will, echoed in 1 John 5:14, "If we ask anything according to His will, He hears us." I believe You hear this prayer, and I rejoice. Thank you, Lord. Amen.
If you remain faithful, he is trustworthy (let us pray)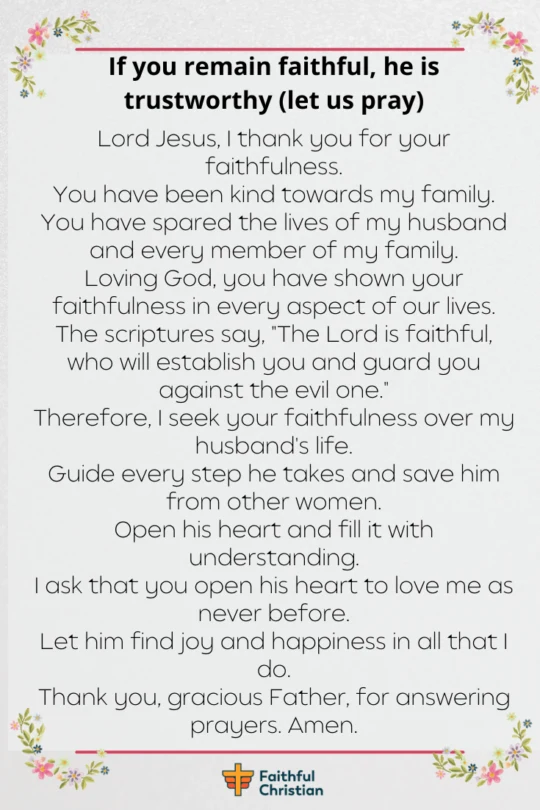 Oh Loving Lord, with a heart full of thanks, I recognize Your faithfulness. Just like the sun that never fails to rise, You never falter in Your love. Psalm 33:4 tells us, "For the word of the Lord is upright, and all his work is done in faithfulness." You have wrapped my family and my husband in Your tender mercies.
Mighty Father, each day with You is a testament to Your endless love. From sunrise to sunset, Your fingerprints mark every moment of our lives. When I look at my husband and our family, I see echoes of Your faithfulness.
My heart clings to Your promise in 2 Thessalonians 3:3: "But the Lord is faithful. He will establish you and guard you against the evil one." Almighty God, I ask that this promise covers my husband's life. Lead him, guide him, protect him.
Keep him steadfast, shield him from any external allure. As in Proverbs 2:11, may "discretion watch over him, understanding guard him." Let his heart remain focused on our sacred bond, free from the pull of others.
Open his heart, Father. Fill it with wisdom, empathy, and a deep love. Echoing Ephesians 3:17, may he be "rooted and grounded in love." Build in him a heart that loves profoundly, reflecting Your love to the world.
Stir in him a newfound love for me. May his joy spring from our union, our shared life, the home we've built. Your Word in Proverbs 5:18 says, "Let your fountain be blessed, and rejoice in the wife of your youth." Father, I ask this for my husband.
Gracious Father, I end in thanks. You hear us, You answer us. I celebrate Your love, Your protection. My heart echoes Psalm 136:1, "Give thanks to the Lord, for he is good, for his steadfast love endures forever." Your faithfulness is a banner over us.
In Jesus' name, I pray. Amen.
Let us pray for your husband, to be honest.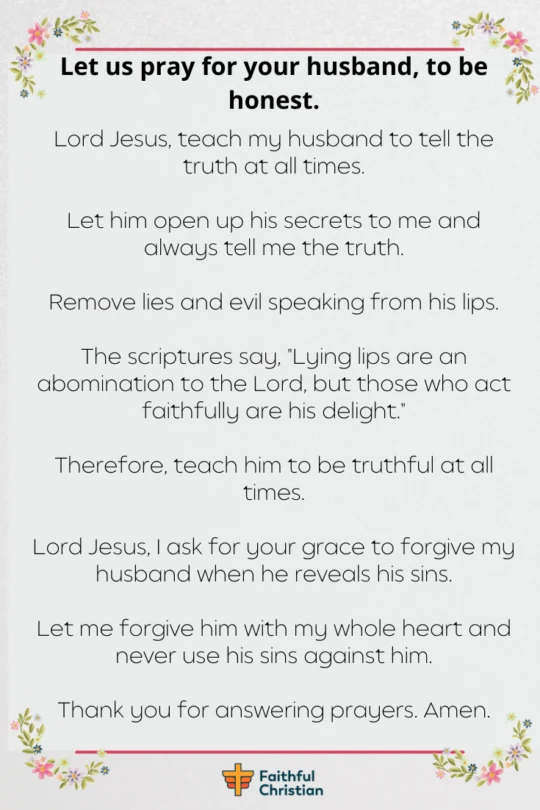 Lord Jesus, beacon of truth, I seek Your guidance. My humble plea? Shape my husband to be a fountain of honesty. Just as You are the ultimate truth, guide him to follow Your footsteps.
Father, in John 8:32, You promise us freedom in truth. So, I pray for my husband's bravery. Let him open his heart's vault, revealing hidden treasures and secrets to me. Let his transparency strengthen our bond.
But transparency comes with a price – harsh words and painful truths. Remove these, Almighty. Proverbs 12:22 tells us You abhor lying lips. Help my husband to remember this. Let his words be genuine, filled with love, not harm.
Now, I turn my prayers to myself. Lord, when my husband exposes his sins, help me to be like You. Just as You forgave the repentant thief on the cross (Luke 23:39-43), let me also forgive my husband with a heart full of love.
Thank You, Father, for hearing my prayers. With an attitude of surrender to Your will, I trust that You will answer. As I conclude my prayer, I'm comforted, knowing You are a loving and attentive God.
In Your precious name, I bring this prayer to a close, filled with faith in Your wisdom and boundless love. Amen.
Frequently Asked Questions
What is the miracle prayer for cheating husband?
It's crucial to pray not just for the immediate cessation of his unfaithful actions, but for his spiritual growth and transformation. You might say, "Dear Lord, I ask for Your help in restoring fidelity and trust in my marriage. I believe in Your power to bring change in my husband's heart. As Proverbs 12:20 says, 'deceit is in the heart of those who devise evil', cleanse his heart from deceit and replace it with love and respect for our vows. Amen."
How do you leave a cheating husband you still love?
While this is a personal and difficult decision, it can be helpful to communicate openly with your husband about your feelings, seek professional help such as counseling, establish a strong support system, and prioritize self-care. It's important to remember that love is not just about feelings, but also respect and trust. The Bible in 1 Corinthians 13:4-7 explains what love is and isn't, guiding you in your decision.
What does the Bible say about an unfaithful husband?
The Bible condemns adultery. Exodus 20:14 states this plainly. Jesus also warns against lustful thoughts in Matthew 5:28. Infidelity breaks the marriage covenant. Yet, hope remains in the Bible's promise of forgiveness and restoration in 1 John 1:9.
How do I pray to stop my husband from cheating?
You might pray, "Lord, I pray for my husband's faithfulness. Let him remember our vows, and fill his heart with love and respect for me. As stated in Proverbs 6:32, 'He who commits adultery lacks sense; he who does it destroys himself.' Please guide him away from destructive actions and towards a path of righteousness. In Jesus' name, Amen."
What is the powerful prayer for a husband?
A prayer for your husband's overall wellbeing might be: "Dear God, please bless my husband with wisdom, strength, and courage. Guide him in his decisions and keep him in Your loving care. I ask this in Your Holy name, Amen."
What is the prayer of the faithful on honesty?
An example could be, "God, You are the truth and You love honesty. Psalm 15:2 says 'He who walks blamelessly and does what is right and speaks truth in his heart.' I pray that You guide us all to walk in Your truth, fostering honesty in all our interactions. In Jesus' name, we pray. Amen."
What is a powerful prayer for a lying husband?
"Lord, I ask for Your help in guiding my husband towards truth. Proverbs 12:22 says, 'Lying lips are an abomination to the LORD, but those who act faithfully are his delight.' Let him find delight in truth and honesty. In Your name, Amen."
How do I make my cheating husband miss me?
Focus on personal growth, self-love, and creating a fulfilling life for yourself. This could lead to a transformation that rekindles your husband's interest. Remember, it's essential to have respect and trust in a relationship.
How can I save my marriage from cheating?
Open communication, forgiveness, and marital counseling are key. Ensure both parties are willing to make changes. Prayer for guidance, strength, and healing is crucial. Ephesians 4:32 reminds us to be kind, tenderhearted, and forgiving, just as God forgives us.
What is a dangerous prayer to get my husband back?
A 'dangerous' prayer could mean a prayer full of faith, fervor, and boldness. "God, I stand in faith for the restoration of my marriage. As in Matthew 19:26, 'with God all things are possible.' I ask for Your intervention to bring my husband back into our marriage. In Jesus' name, I pray. Amen."
What is a prayer for my husband to leave the other woman?
"Heavenly Father, I pray for my marriage. I ask for your intervention to touch my husband's heart. Let him see the sanctity of our vows as in Matthew 19:6, 'So they are no longer two, but one flesh. Therefore what God has joined together, let no one separate.' Guide him back to our union, Lord. In Jesus' name, Amen."
What is a prayer for my husband to be faithful?
"Lord, guide my husband towards faithfulness in our marriage. As in Hebrews 13:4 'Let marriage be held in honor among all, and let the marriage bed be undefiled,' let him uphold the honor and sanctity of our vows. In Jesus' name, I pray. Amen."
What is a prayer for my husband's protection at work?
"God, I ask for Your protection over my husband at his workplace. As in Psalm 91:11 'For he will command his angels concerning you to guard you in all your ways,' please keep him safe from any harm, physical or emotional. Amen."
What is a prayer message for my husband?
"Dear Lord, I pray for my husband's wellbeing, his faith, and his path. May You guide his steps and decisions according to Your will. As in Proverbs 16:9, 'A man's heart plans his way, but the Lord directs his steps.' Amen."
What is a prayer for dealing with a manipulative husband?
"Father, I need Your guidance and strength in dealing with a manipulative husband. As in Psalm 43:1, 'Vindicate me, O God, and defend my cause against an ungodly people,' I ask for Your protection from manipulation and the wisdom to handle such situations. Amen."
Which Bible verse encourages wives to pray for their husbands?
Ephesians 5:33, though not explicitly instructing wives to pray for husbands, emphasizes love, respect, and spiritual support, which include prayers.
What is a prayer for my husband during difficult times?
God, during this hard time, I lift my husband up to You. As in Psalm 46:1, 'God is our refuge and strength, an ever-present help in trouble.' Please be his refuge and his strength now. Amen."
---
Recommended for you
---
Author: Akatakpo Dunn
Dr. Akatakpo Dunn is a dedicated follower of Christ, an active member and speaker, and an ongoing learner of the Scriptures. Passionate about his faith and serving others, he is committed to sharing his spiritual journey and insights to inspire and uplift fellow believers. He has been active in the church for more than 23 years. Through The
Faithful Christian Blog
,
Dr. Dunn
combines his love for God, philanthropy, and Scripture, providing a valuable resource for those seeking to grow in their faith.
Follow me: on Youtube, Facebook, Twitter, Instagram, and Pinterest.
Content Disclosure:
At The Faithful Christian Blog, I create authentic and inspiring content. Although I am the main author, I occasionally use AI for minor language enhancements. This minimal AI usage ensures high-quality, trustworthy articles without compromising originality or sincerity, ultimately supporting our shared faith journey.
Warmly,
Dr. Akatakpo Dunn
Was this article helpful?