No one wants a failed marriage.
And that's because it can quickly take away your happiness and destabilize your family.
So, if you are having problems in your marriage, you must search for God's word to heal our troubled hearts.
Thank God; There are bible verses to heal your marriage.
These scriptures for failing marriage can reinvigorate the love and unity in your marriage.
Through his grace, God can return your marriage to where it was.
But you must always pray for your partner and your marriage.
And that's because the devil wishes to strike and break your family's unity.
I experienced it myself, and thank God he intervened.
My wife and I were both love birds, but things began to change just a week after marriage.
Each day, we would quarrel, sometimes for unnecessary reasons.
We both got tired and wanted a divorce, just a month after our wedding.
Despite calls from all areas, we just wanted to move on from a broken marriage.
Then all of a sudden, God took the driver's seat.
We began to find love with each other again and have since moved on from our troubles.
In the same way, God can get involved in your marriage.
I have put together bible verses for healing marriage to help you.
---
Recommended for you
---
Bible verses for healing marriage
1.  Ephesians 4:32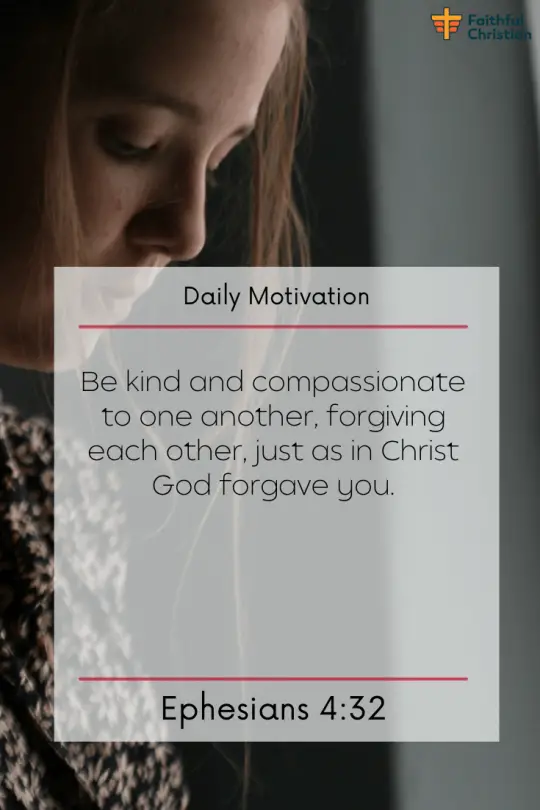 Be kind and compassionate to one another, forgiving each other, just as in Christ God forgave you.
2.  Mark 11:25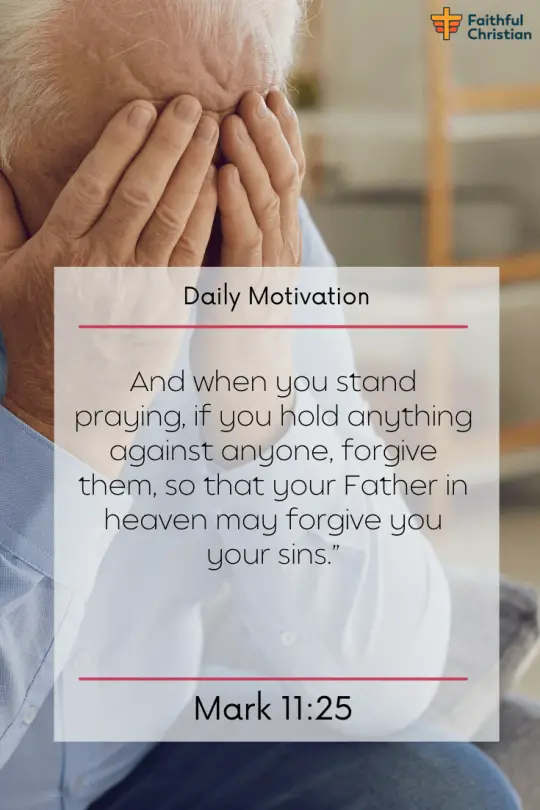 And when you stand praying, if you hold anything against anyone, forgive them, so that your Father in heaven may forgive you your sins."
3.  Luke 17:3-5
So watch yourselves. "If your brother or sister[a] sins against you, rebuke them; and if they repent, forgive them. 4 Even if they sin against you seven times in a day and seven times come back to you saying 'I repent,' you must forgive them."
4.  Hebrews 13:4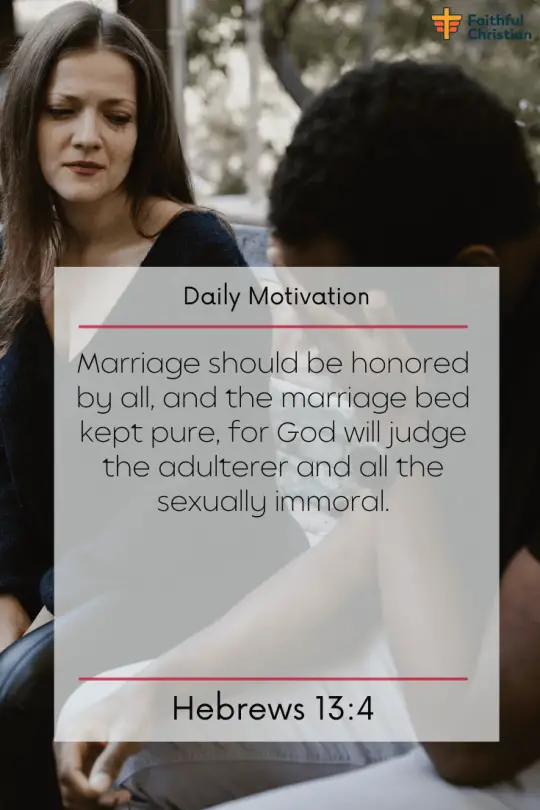 Marriage should be honored by all, and the marriage bed kept pure, for God will judge the adulterer and all the sexually immoral.
5.  Genesis 2:24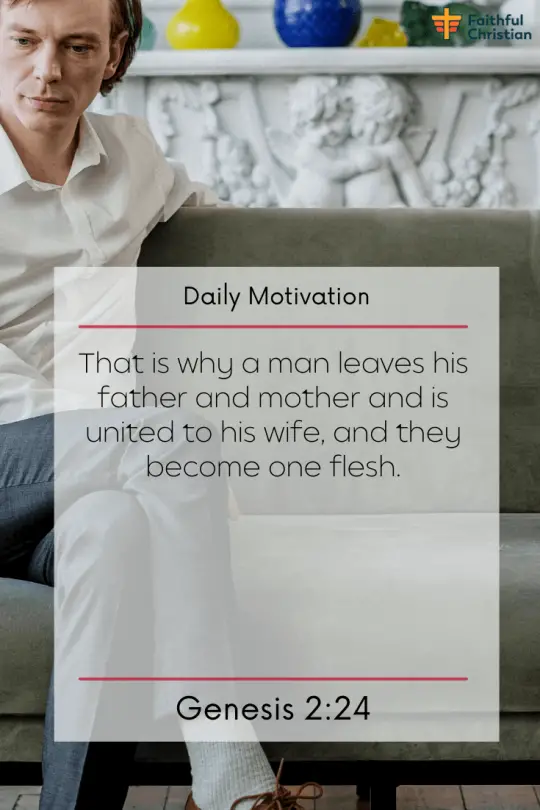 That is why a man leaves his father and mother and is united to his wife, and they become one flesh.
6.  Galatians 5:19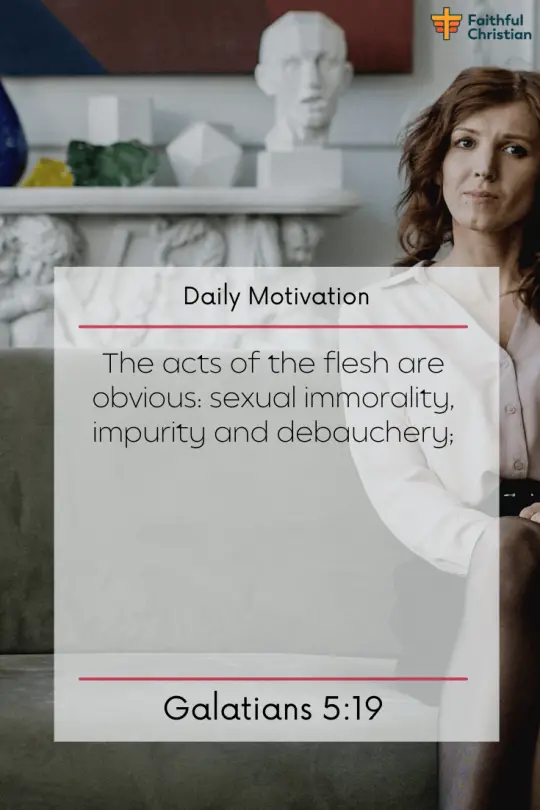 The acts of the flesh are obvious: sexual immorality, impurity and debauchery;
7.  Ephesians 5:22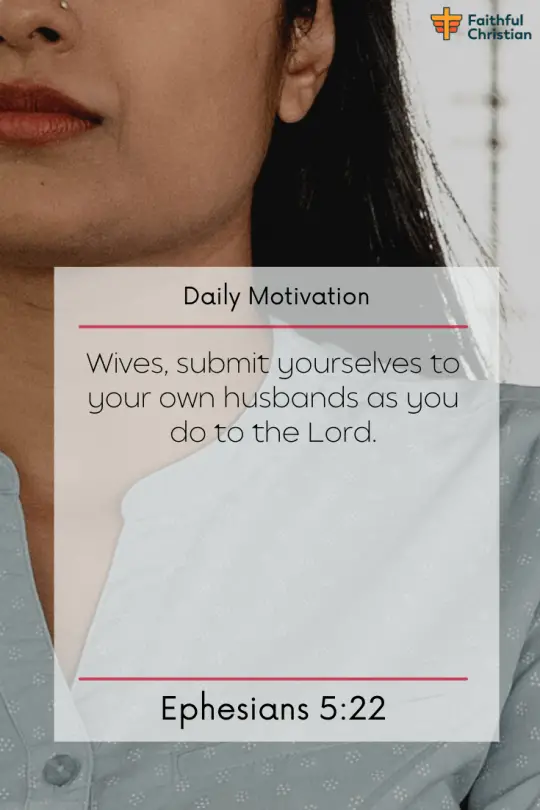 Wives, submit yourselves to your own husbands as you do to the Lord.
8.  Colossians 3:18-19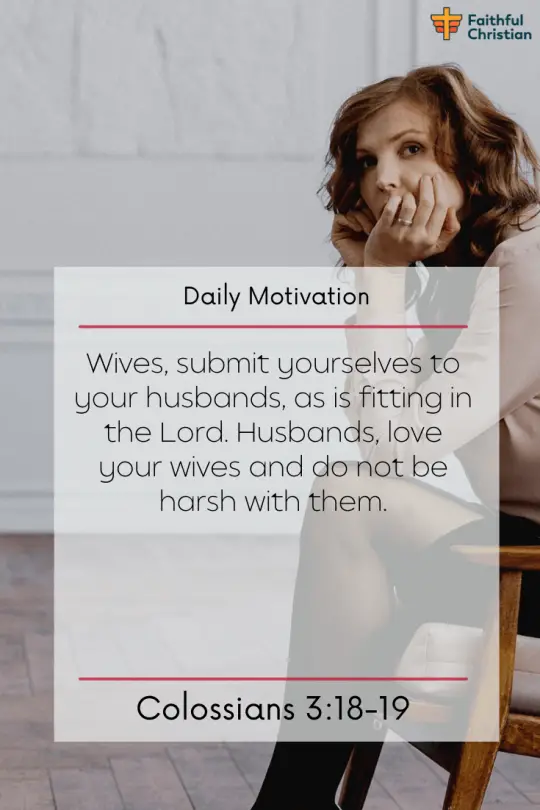 Wives, submit yourselves to your husbands, as is fitting in the Lord. Husbands, love your wives and do not be harsh with them.
9.  1 Peter 3:1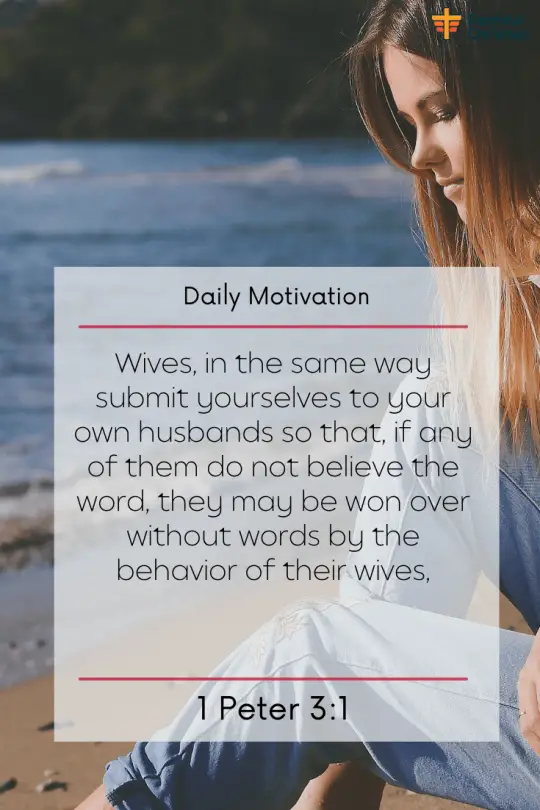 Wives, in the same way submit yourselves to your own husbands so that, if any of them do not believe the word, they may be won over without words by the behavior of their wives,
10.  1 Peter 3:2-3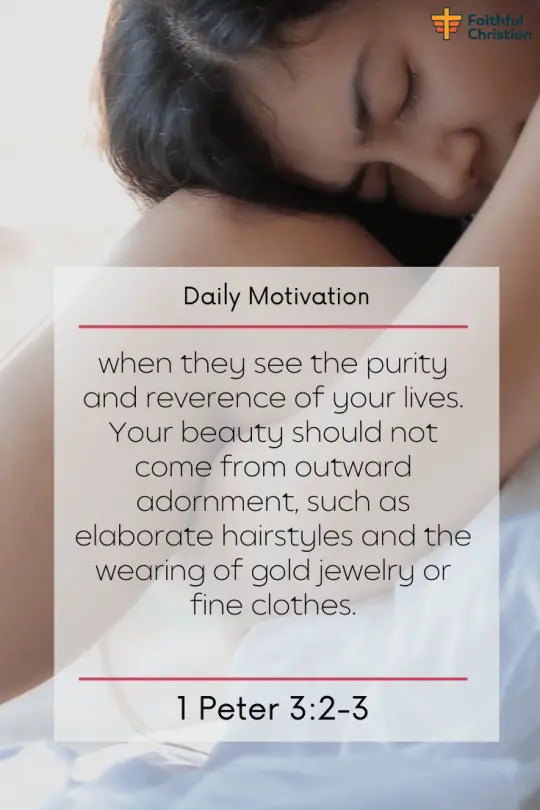 2 when they see the purity and reverence of your lives. 3 Your beauty should not come from outward adornment, such as elaborate hairstyles and the wearing of gold jewelry or fine clothes.
11.  1 Peter 3:4
4 Rather, it should be that of your inner self, the unfading beauty of a gentle and quiet spirit, which is of great worth in God's sight.
12.  1 Peter 3:5
5 For this is the way the holy women of the past who put their hope in God used to adorn themselves. They submitted themselves to their own husbands,
13.  1 Peter 3:6
6 like Sarah, who obeyed Abraham and called him her lord. You are her daughters if you do what is right and do not give way to fear.
14.  Titus 2:5
to be self-controlled and pure, to be busy at home, to be kind, and to be subject to their husbands, so that no one will malign the word of God.
15.  1 Timothy 2:11-12
A woman[a] should learn in quietness and full submission. 12 I do not permit a woman to teach or to assume authority over a man;[b] she must be quiet.
16.  Esther 1:20
Then when the king's edict is proclaimed throughout all his vast realm, all the women will respect their husbands, from the least to the greatest."
17.  Malachi 2:16
"The man who hates and divorces his wife," says the Lord, the God of Israel, "does violence to the one he should protect,"[a] says the Lord Almighty. So be on your guard, and do not be unfaithful.
---
Recommended for you
---
More Bible verses for failing marriage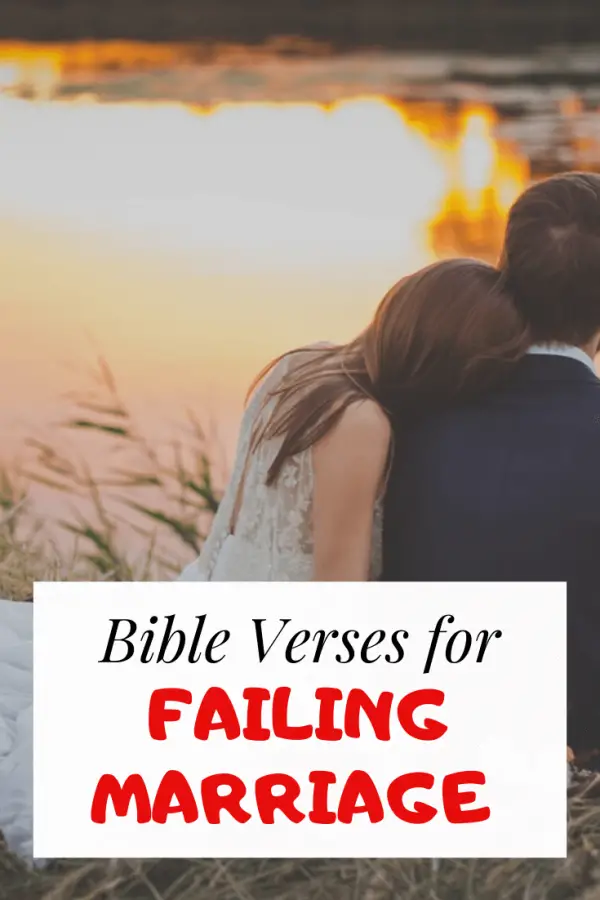 18.  Luke 16:18
"Anyone who divorces his wife and marries another woman commits adultery, and the man who marries a divorced woman commits adultery.
19.  Matthew 5:31-32
"It has been said, 'Anyone who divorces his wife must give her a certificate of divorce.'[a] 32 But I tell you that anyone who divorces his wife, except for sexual immorality, makes her the victim of adultery, and anyone who marries a divorced woman commits adultery.
20.  Matthew 19:3
Some Pharisees came to him to test him. They asked, "Is it lawful for a man to divorce his wife for any and every reason?"
21.  Matthew 19:4-6
4 "Haven't you read," he replied, "that at the beginning the Creator 'made them male and female,'[a] 5 and said, 'For this reason a man will leave his father and mother and be united to his wife, and the two will become one flesh'[b]? 6 So they are no longer two, but one flesh. Therefore what God has joined together, let no one separate."
22.  Matthew 6:12
And forgive us our debts,
    as we also have forgiven our debtors.
23.  Ephesians 4:2-3
Be completely humble and gentle; be patient, bearing with one another in love. 3 Make every effort to keep the unity of the Spirit through the bond of peace.
24.  Colossians 3:12-13
Therefore, as God's chosen people, holy and dearly loved, clothe yourselves with compassion, kindness, humility, gentleness and patience. 13 Bear with each other and forgive one another if any of you has a grievance against someone. Forgive as the Lord forgave you.
25.  1 Corinthians 13:6-7
 Love does not delight in evil but rejoices with the truth. 7 It always protects, always trusts, always hopes, always perseveres.
26.  1 Corinthians 13:4-5
Love is patient, love is kind. It does not envy, it does not boast, it is not proud. 5 It does not dishonor others, it is not self-seeking, it is not easily angered, it keeps no record of wrongs.
27.  Romans 15:1
We who are strong ought to bear with the failings of the weak and not to please ourselves.
28.  1 Peter 3:15
 But in your hearts revere Christ as Lord. Always be prepared to give an answer to everyone who asks you to give the reason for the hope that you have. But do this with gentleness and respect,
29.  Galatians 5:22-23
But the fruit of the Spirit is love, joy, peace, forbearance, kindness, goodness, faithfulness, 23 gentleness and self-control. Against such things there is no law.
How to heal your marriage with the scriptures
1.  Understand your role
I have found out that the most common reason for a failed marriage is negligence of duty.
By negligence I mean, a husband or wife's disregard for his or her role in the family.
God has designated our roles in the scriptures, and it is quite easy to forget because of the new world order.
The world currently teaches equality for both men and women in marriage, but that's far from God's plan.
The Bible is clear that the head of the family is the man.
In other words, the man leads, and the woman follows (not the other way round).
God said to Eve,
Your desire will be for your husband,
    and he will rule over you."
And in the new testament, Paul said the same thing
But I want you to realize that the head of every man is Christ, and the head of the woman is man,[a] and the head of Christ is God.
So, it's that simple.
The woman must always be submissive to her husband.
His decision is final.
Nevertheless, there is nothing wrong with carrying the family along.
I took this path, and it was disastrous for my marriage.
My wife didn't like it, and I had to make changes quickly for my marriage to work.
If we learn our roles and accept them, there is likely no reason for our marriages to fail.
2.  We must forgive
There is no way any marriage can exist without forgiveness.
We are not perfect; so also is our spouses.
Therefore, we must learn to forgive as quickly as possible.
In the very early stages of my marriage, I noticed forgiveness was an issue.
And as each day passes, I noticed that anything my wife does annoys me.
I couldn't just forgive and let go because her actions bitterly hurt me.
But as soon as I learned to forgive, and do it quickly, happiness returned.
To save your marriage, you will need to make sacrifices.
You must forgive and always try to mend fences.
And the scriptures support this too.
Jesus told his disciples,
So watch yourselves. "If your brother or sister[a] sins against you, rebuke them; and if they repent, forgive them. 4 Even if they sin against you seven times in a day and seven times come back to you saying 'I repent,' you must forgive them."
3.  You must move on from the past
Yes, I noticed this was one of the reasons things got even worse in the early stages of my marriage.
I tried to forgive but couldn't let go.
And even though I had every right to feel sad and angry, it was a wrong move.
Each time we had a little quarrel, it quickly degenerated into a serious one.
I was always bringing up her past flaws to back up my point.
But as soon as I learned to let go, things began to improve in my home.
This has been our secret so far.
4.  Do not cheat on your spouse
There is no reason to cheat on your spouse.
Just no reason in this world.
In such cases, God allows divorce, and it is entirely scriptural.
But we can also forgive.
If you love your spouse and he/she is remorseful for his/her actions, forgive if you can, and let go.
5. Husbands love your wives
It is quite challenging to understand what the scripture means by loving your wife.
If women should be submissive, men must love their wives.
You can get it both ways where you treat your wife badly and yet want them to be submissive.
We must obey the scripture and play our roles perfectly to the glory of God.
---
Recommended for you
---
Author: Akatakpo Dunn
Dunn is a firm believer and a teacher of God's word. Suffering for Jesus is an attribute of a faithful Christian, and I hope to win new souls to Christ with every chance that I get. Articles are well-researched and backed by the scriptures.
Follow me: on Youtube, Facebook, Twitter, Instagram, and Pinterest.