Are you puzzled by the Bible verses about "Man shall not lay with man"? You're in good company.
In this post, we'll unpack these verses and uncover their meaning and impact.
We'll reveal the perks of a deeper grasp of these passages and answer those questions you may have hesitated to ask.
As Martin Luther King Jr. eloquently put it, "Our lives begin to end the day we become silent about things that matter."
So, let's bravely tackle this vital topic together.
Bible Verses about Man Shall Not Lay With Man.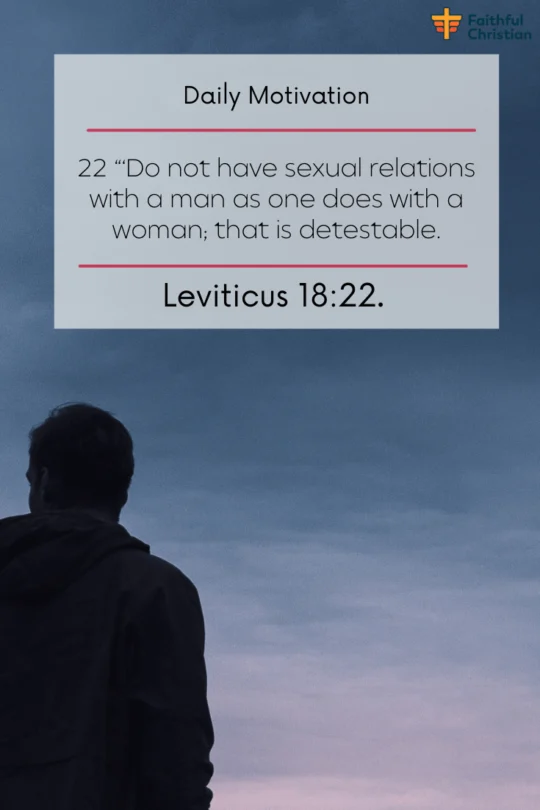 22 "'Do not have sexual relations with a man as one does with a woman; that is detestable.
Leviticus 18:22 is a vital verse that speaks on men refraining from intimate relationships with other men.
God created us as males and females to populate Earth. We must adhere to his design, which involves multiplying through opposite-sex relationships. Same-sex relations don't result in procreation, going against God's plan.
Can partners of the same sex have biological children? If individuals in same-sex relationships had parents in such unions, would they exist? If everyone chose same-sex partnerships, would that not risk humanity's future?
The Bible urges us to seek wisdom through prayer and divine guidance. God's understanding is limitless, and he knows the attempts to change the meaning of marriage. This verse highlights that same-sex relationships are an abomination to God.
God disapproves of the act and its participants. He does not support desires for one's own gender. As a result, a man should not be with another man. Such acts are sinful, and God will hold everyone responsible for their actions.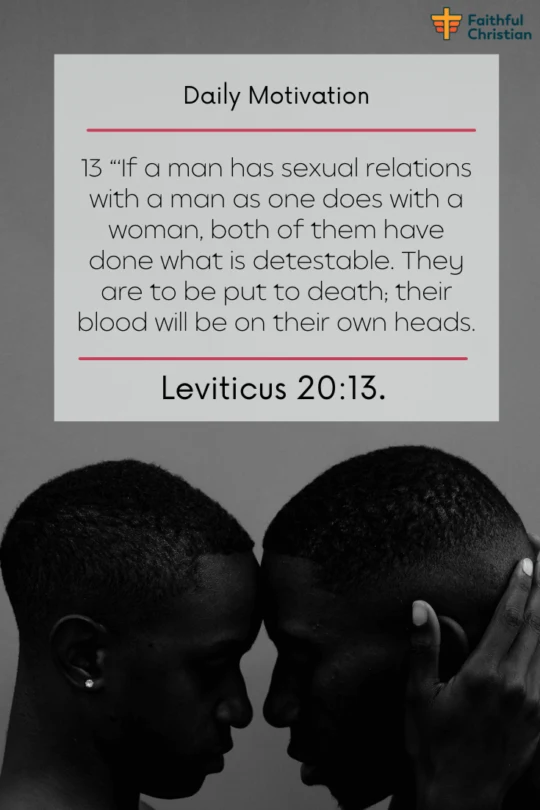 13 "'If a man has sexual relations with a man as one does with a woman, both of them have done what is detestable. They are to be put to death; their blood will be on their own heads.
As the world changes, we might think acceptance of homosexuality is on the rise. Yet, some still grapple with understanding same-sex attraction. They question why a man or woman would be drawn to the same gender. This leads some to believe these desires conflict with God's plan for human relationships.
Leviticus 20:13 tackles the topic of men lying with other men. The verse states this act is an abomination in God's eyes, even punishable by death. This highlights the significance of following God's intended relationship blueprint.
It's vital to remember God's compassionate, forgiving nature. He doesn't abandon us due to past mistakes, but offers hope for reconciliation. When we genuinely seek forgiveness and commit to God's path, He lovingly embraces us.
However, if we continue in sin and ignore God's guidance, we risk facing His wrath. The aforementioned verse underlines the gravity of God's stance on homosexuality, urging self-reflection and awareness of consequences.
Being mindful of God's relationship expectations and living by His will are essential. By doing so, we can enjoy His love, forgiveness, and grow closer to Him in our spiritual journey.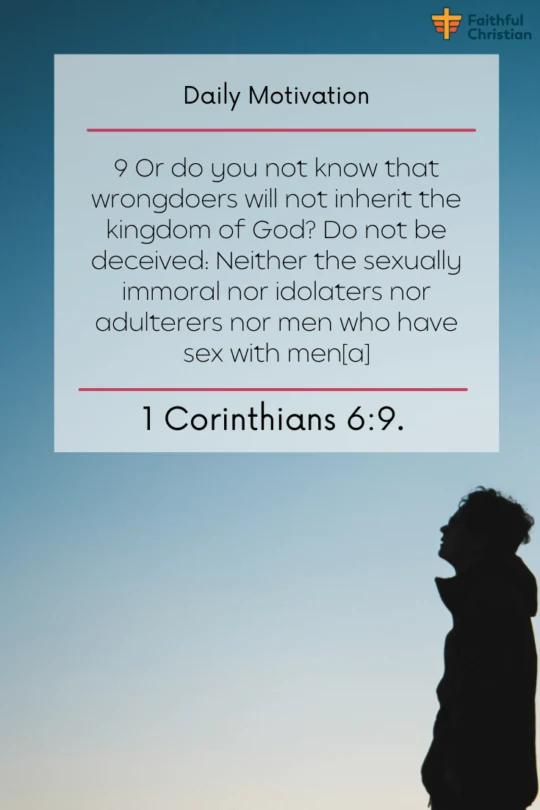 9 Or do you not know that wrongdoers will not inherit the kingdom of God? Do not be deceived: Neither the sexually immoral nor idolaters nor adulterers nor men who have sex with men[a]
Is it possible to receive forgiveness and peace from God despite our past mistakes? Many of us have faltered, committing acts like adultery, fornication, or even violence. Thankfully, God's mercy is boundless.
Genuine repentance and seeking forgiveness leads to God cleansing us from our sins. He doesn't dwell on our past, inviting us instead to find comfort in His love.
What about persisting in same-sex relationships? If we continue to engage with same-gender partners, we're acting against God's plan. This choice has consequences.
According to 1 Cor 6:9, same-sex connections are forbidden. This is in accordance with God's plans for His perfect kingdom. He promises a domain of peace, joy, and fulfillment for those who follow His way. In that realm, sorrow, pain, unemployment, and disappointment are absent.
This verse urges us to reflect on our decisions. We shouldn't let past mistakes dictate our lives. Instead, we must seek God's forgiveness and direction for a brighter future.
We can attain eternal life by leaving same-sex relationships and embracing God's mercy.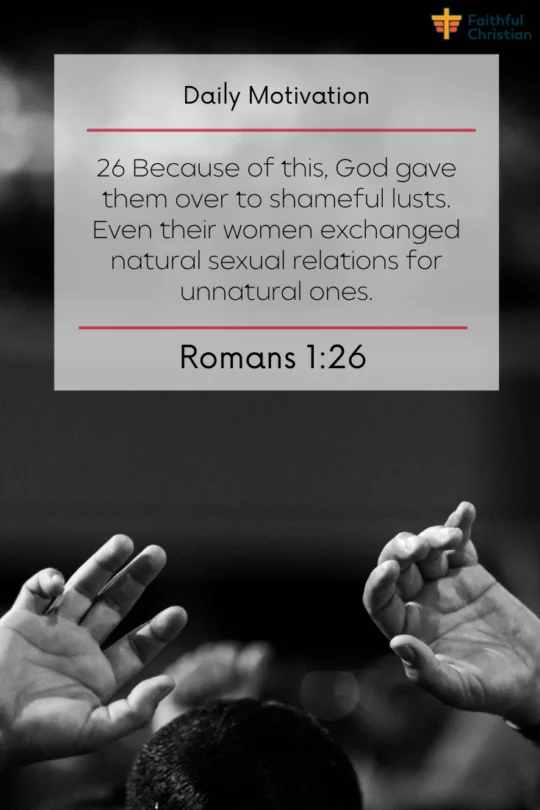 26 Because of this, God gave them over to shameful lusts. Even their women exchanged natural sexual relations for unnatural ones.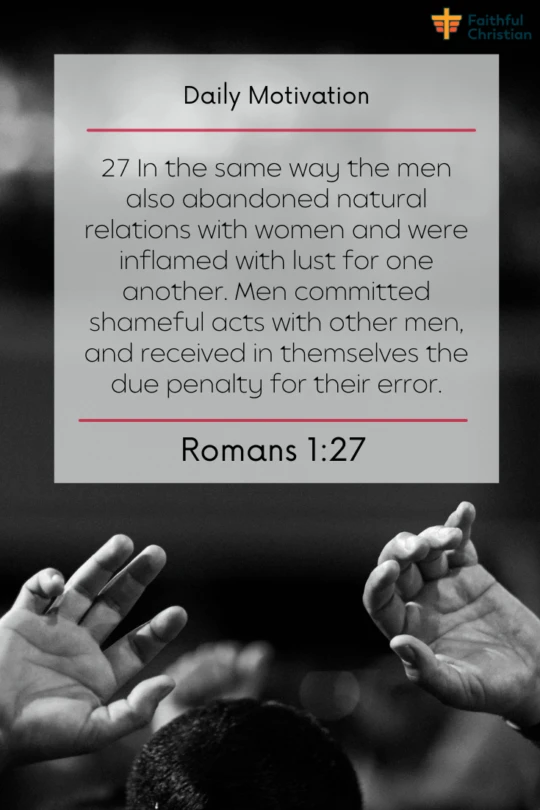 27 In the same way the men also abandoned natural relations with women and were inflamed with lust for one another. Men committed shameful acts with other men, and received in themselves the due penalty for their error.
Since ancient times, homosexuality has been part of human history.
The story of Sodom in the Bible illustrates this, showcasing same-sex relationships among its people.
Men in Sodom didn't pursue women, choosing instead to be with other men, while women did the same.
Romans 1:26-27 explores the topic of homosexuality.
The passage discusses the Bible's position on same-sex relationships.
It tells of men and women swapping natural relations for unnatural ones, as men engaged in improper acts with other men.
This verse is often mentioned when discussing the idea that men shouldn't have intimate relationships with other men.
Sodom's demise highlights God's wrath toward such behavior.
He unleashed fire and brimstone on the city, saving only Lot and his family.
In summary, the story of Sodom warns that God may punish those participating in such acts, but repentance and change can lead to forgiveness.
By stopping these behaviors and sincerely seeking God's grace, there's hope for redemption and the opportunity to live in harmony with His divine plan.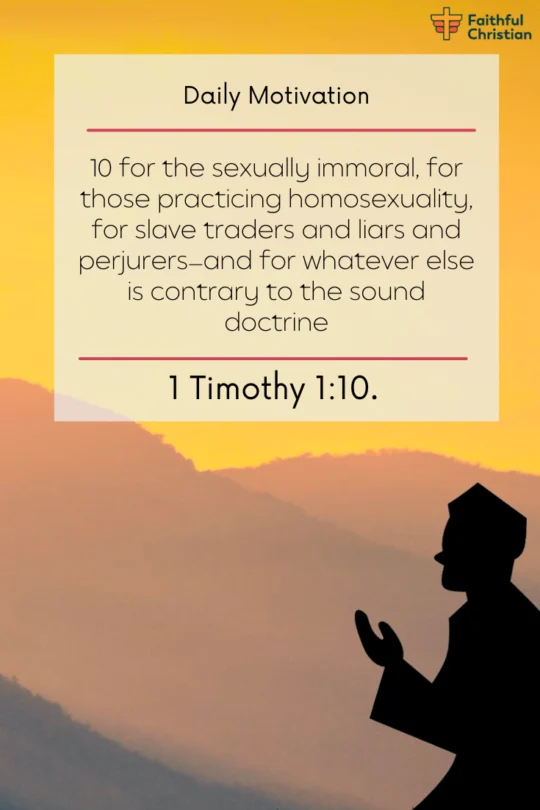 10 for the sexually immoral, for those practicing homosexuality, for slave traders and liars and perjurers—and for whatever else is contrary to the sound doctrine
God has etched His divine wisdom into our hearts, granting us the power to choose life over spiritual demise. By following His path, we welcome the Holy Spirit into our lives.
This sacred force enlightens us about God's commandments and warns us against sinful behaviors. We will inevitably encounter temptations, forcing us to make difficult choices. Should we participate in same-sex relationships or marriages?
Amid these trials, we must steadfastly resist the devil and refrain from yielding to harmful desires. By remaining devoted to Christ's authentic teachings, we align with God's will and receive His blessings and favor.
1 Timothy 1:10 highlights Paul's identification of various wrongdoings, including "men who practice homosexuality," as actions opposed to sound doctrine. This passage underscores the belief that same-sex relationships stray from God's designed purpose for human bonds.
By consulting the Bible, we can find guidance and resilience to withstand temptations and align our lives with God's divine plan, as inscribed in our hearts.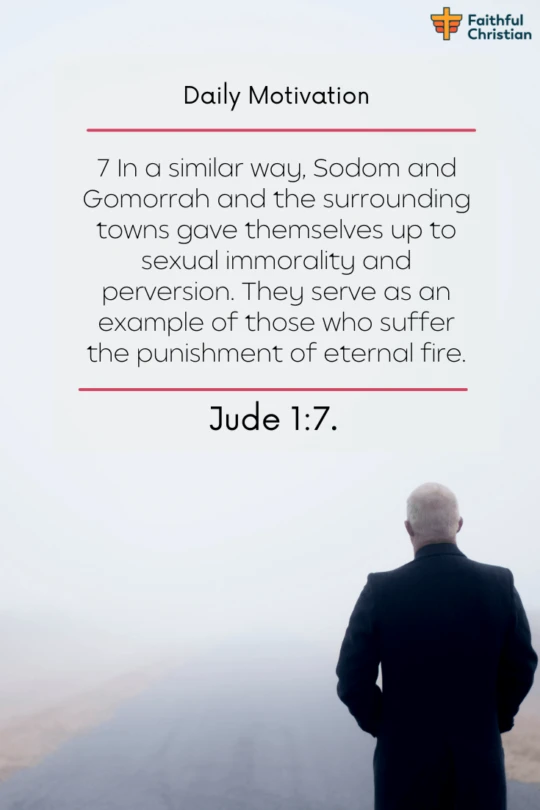 7 In a similar way, Sodom and Gomorrah and the surrounding towns gave themselves up to sexual immorality and perversion. They serve as an example of those who suffer the punishment of eternal fire.
Jude 1:7 offers a potent warning about the consequences of same-sex relationships. This verse recalls the sins of Sodom's people, who were attracted to their own gender.
God underscores the severity of their actions and their complete disregard for his divine rule. More crucially, he emphasizes the disastrous results of their behavior.
In Sodom, no one escaped God's fury. Whole families, including parents and children, were erased from existence.
This verse presents a vital lesson for those endorsing or involved in same-sex marriages. God, like in Sodom, gives you the opportunity to repent.
His grace reaches out to you, inviting you to accept the light of salvation. By taking this chance, you can consider yourself lucky to dodge God's wrath.
However, if you disregard this warning, be prepared. You will face God's judgment. He has sworn to discipline those participating in homosexual acts, and his promise stands firm.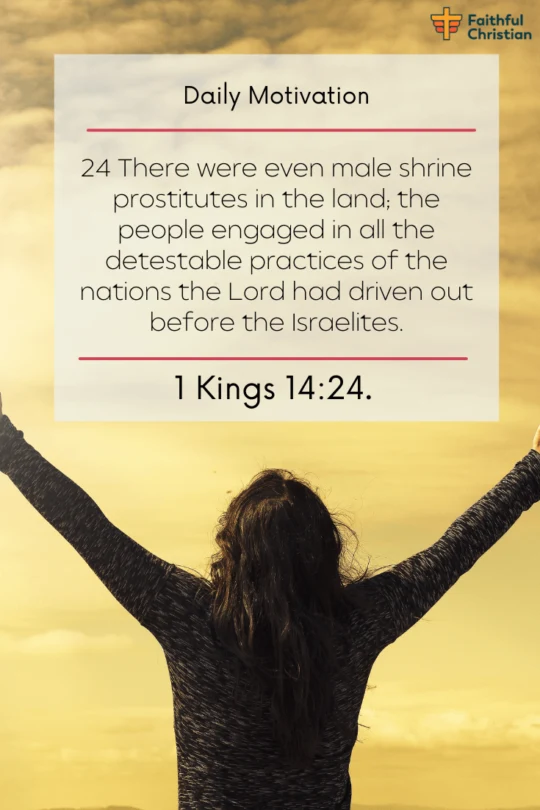 24 There were even male shrine prostitutes in the land; the people engaged in all the detestable practices of the nations the Lord had driven out before the Israelites.
1 Kings 14:24 shows us that homosexuality has a long history, and it wasn't widely accepted even back then.
Understand that God, the Jews, and many others disapprove of homosexuality.
If you're hurt, remember you're not alone.
Instead of continuing down a path that may bring shame or distance you from God, consider seeking His support and guidance.
Embrace the opportunity for healing and personal growth, and remember that change is possible with faith and determination.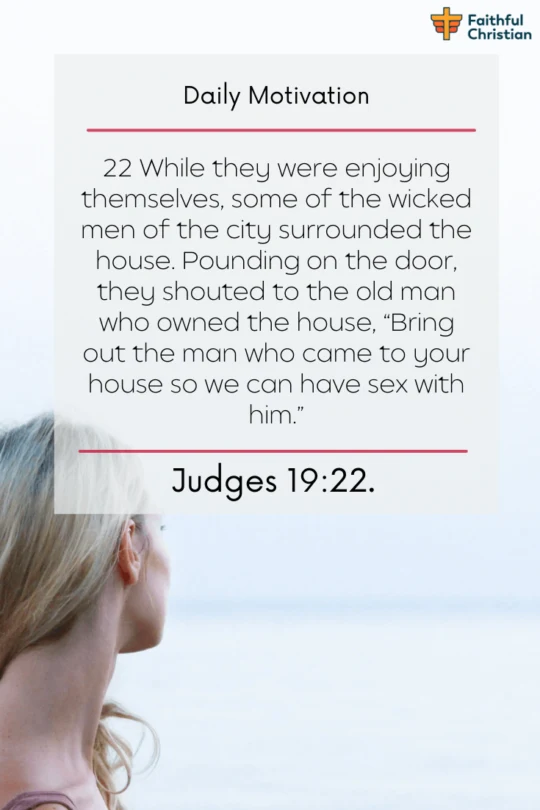 22 While they were enjoying themselves, some of the wicked men of the city surrounded the house. Pounding on the door, they shouted to the old man who owned the house, "Bring out the man who came to your house so we can have sex with him."
Let's engagingly explore the significance of comprehending and following the guidance in sacred texts. It's crucial to appreciate the wisdom they offer, as they help us navigate life's challenges.
By striking a balance between concise and elaborate sentences, we can create an engaging narrative that speaks to the heart and mind alike.
Embracing this creative and human-like approach, we'll dive deep into topics that matter to people.
Through our writing, we'll spark curiosity and encourage reflection, leading to personal growth and a better understanding of our shared human experience.
So let's embark on this journey together, discovering the richness of ancient wisdom and its relevance in our modern world.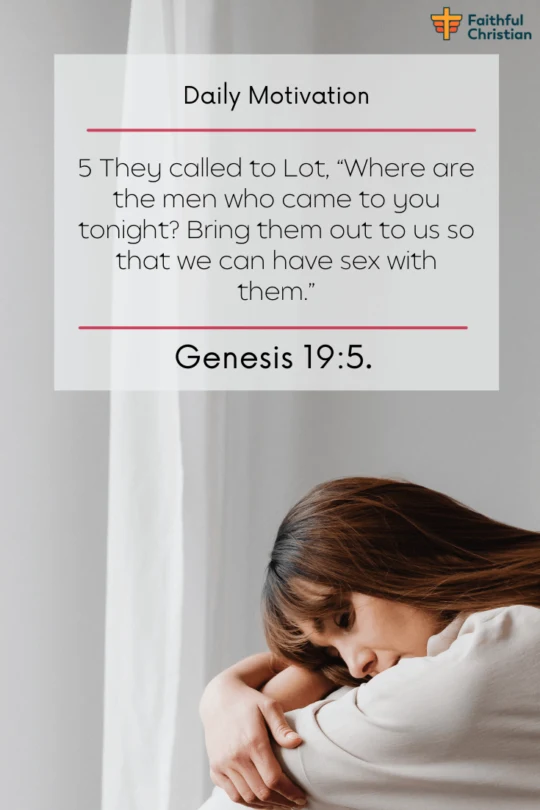 5 They called to Lot, "Where are the men who came to you tonight? Bring them out to us so that we can have sex with them."
In Genesis 19:5, the story of Sodom showcases an instance of men pursuing illicit relationships.
The city's inhabitants sought to engage with the divine visitors at Lot's residence.
This incident is frequently cited as proof of the Bible's disapproval of men being intimate with other men.
God's reaction was both rapid and harsh.
The destruction of Sodom remains a powerful reminder for future generations about the repercussions of deviating from God's intended path.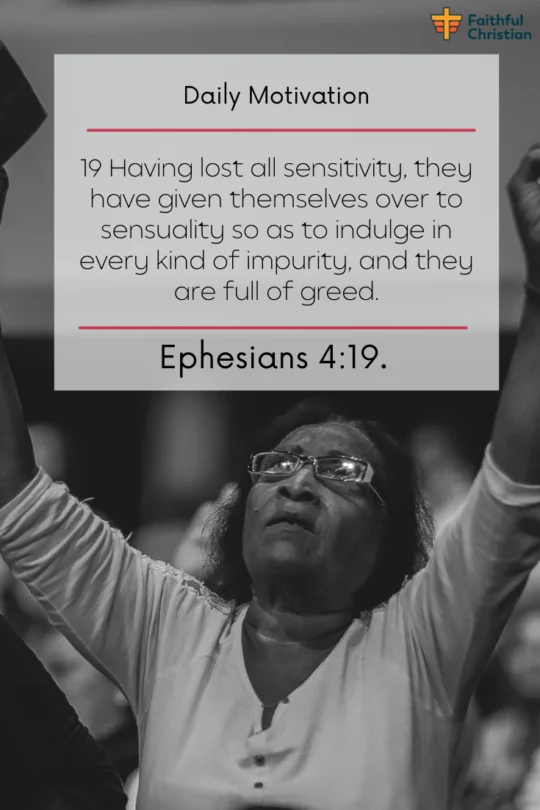 19 Having lost all sensitivity, they have given themselves over to sensuality so as to indulge in every kind of impurity, and they are full of greed.
It's baffling how a man could be sexually attached to another man.
Similarly, it's perplexing when a woman is strongly attracted to another woman.
How can we understand this?
What draws them together with such intensity and passion?
Could it be that some unseen force has stolen their sense of shame?
Why must they hide their love?
Why insist on others accepting their lifestyle?
And why advocate for LGBT rights?
A legally married couple, a man and woman, don't need to justify their bond. It's because we inherently recognize what's natural and what isn't.
Ephesians 4:19 reveals the sinister nature of this deception.
An unseen force strips away their shame and clouds their hearts. They struggle to grasp why they're wrong. They can't comprehend our resistance to their lifestyle.
Seek God if you find yourself in this situation. His teachings can transform your heart and lead you to a better path.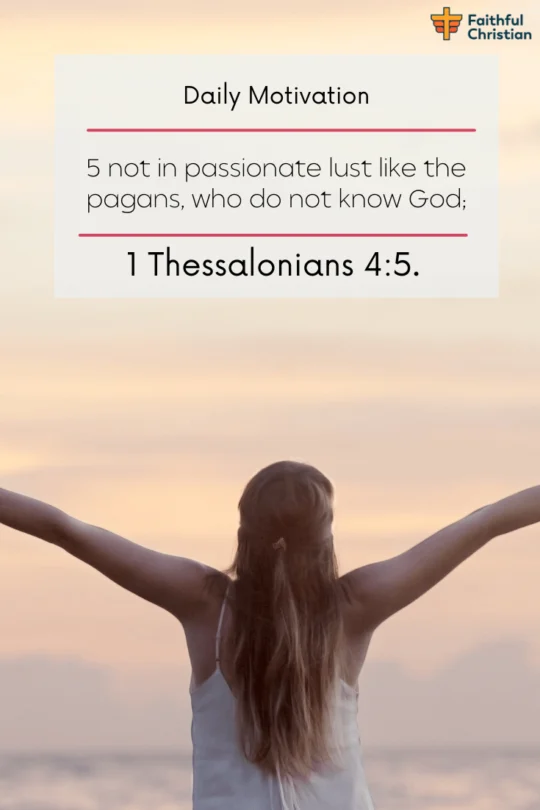 5 not in passionate lust like the pagans, who do not know God;
This verse offers hope and inspiration for those grappling with same-sex relationships.
By opening your heart to God and seeking repentance, you can truly embody the essence of being His child.
Let His loving guidance lead you on a journey that reflects His intended path for our lives.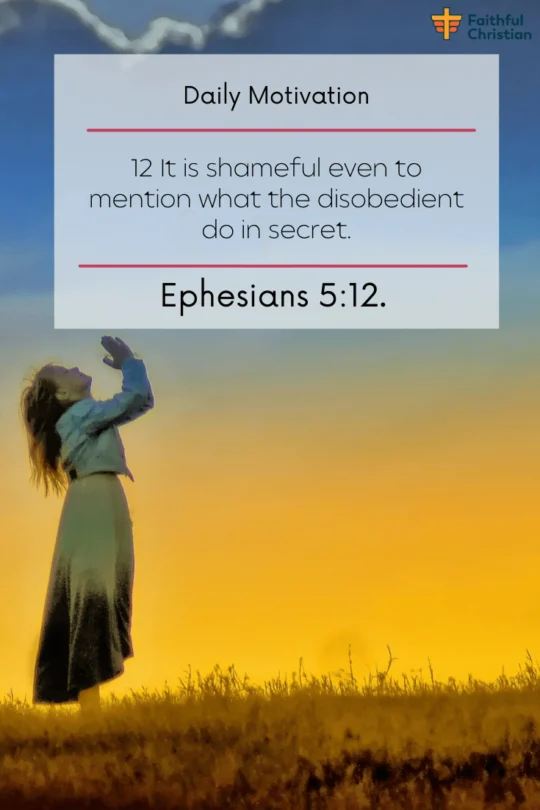 12 It is shameful even to mention what the disobedient do in secret.
When facing personal challenges like guilt associated with hidden homosexuality, it's comforting to know that God's forgiveness is always within reach.
Our conscience serves as a moral compass, and God's unconditional love provides a chance for redemption.
Embrace His kindness and understanding, knowing that He will always be there to steer you towards the right direction.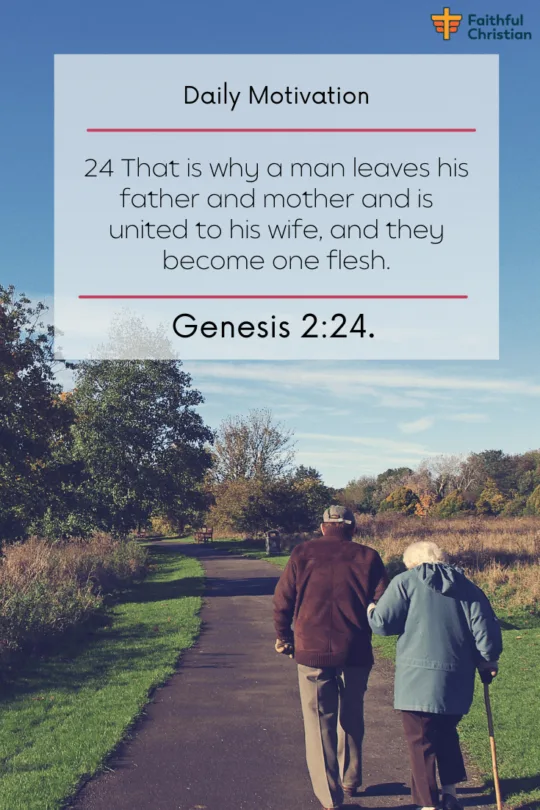 24 That is why a man leaves his father and mother and is united to his wife, and they become one flesh.
God intended love and companionship to be a sacred union between a man and a woman.
By honoring this, we value marriage and respect His design.
Reflect on the significance of the male-female bond in God's plan, especially if you experience same-sex attraction.
Matthew 19:3-9.
Proverbs 31:10.
Frequently Asked Questions
What verse in the Bible says a man should not be with a man?
Leviticus 18:22 is a Bible verse implying homosexuality is unacceptable to God.
The verse states, "Do not have sexual relations with a man as one does with a woman; that is detestable."
As part of the Levitical laws in the Old Testament, this passage specifically condemns male homosexual relationships.
What verse in the Bible says a woman should not be with a woman?
Romans 1:26-27 is often cited as evidence of God's disapproval of all same-sex relationships, although there is no direct equivalent to Leviticus 18:22 for women.
This passage reads, "Because of this, God gave them over to shameful lusts. Even their women exchanged natural sexual relations for unnatural ones."
The verse goes on to describe men engaging in same-sex acts, further suggesting that both male and female homosexuality is contrary to God's design.
Author: Akatakpo Dunn
Dr. Akatakpo Dunn is a dedicated follower of Christ, an active member and speaker, and an ongoing learner of the Scriptures. Passionate about his faith and serving others, he is committed to sharing his spiritual journey and insights to inspire and uplift fellow believers. He has been active in the church for more than 23 years. Through The
Faithful Christian Blog
,
Dr. Dunn
combines his love for God, philanthropy, and Scripture, providing a valuable resource for those seeking to grow in their faith.
Follow me: on Youtube, Facebook, Twitter, Instagram, and Pinterest.
Content Disclosure:
At The Faithful Christian Blog, I create authentic and inspiring content. Although I am the main author, I occasionally use AI for minor language enhancements. This minimal AI usage ensures high-quality, trustworthy articles without compromising originality or sincerity, ultimately supporting our shared faith journey.
Warmly,
Dr. Akatakpo Dunn
Was this article helpful?