It is another Friday morning.
And I am happy for God's protection so far.
He has shielded us all through the week from the onslaught of the devil.
Yeah, if you are reading this post, we must thank God for his mercies.
And if you are wondering why, think about God's blessings for the week.
Not just that.
God has protected us from death.
So, this Friday morning, we are going to pray for ourselves, our family, and our friends.
You can pray for your friends (boy or girl), your mum or dad, and the one you love (husband or wife).
God is willing to listen to all your request and answer them accordingly.
Amen.
---
Recommended for you
---
Prayer Bible verses for Friday morning prayer
Ephesians 6:10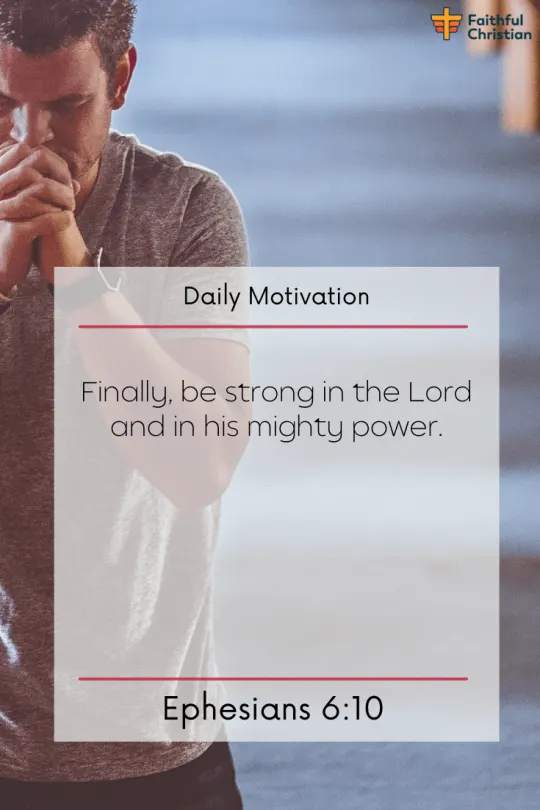 Finally, be strong in the Lord and in his mighty power.
Let's say a prayer with Ephesians 6:10
Dear Heavenly Father,
On this refreshing Friday morning, our hearts overflow with thanks. We're grateful for your gift of another peaceful day. We appreciate the air that fills our lungs. We're amazed at the chance to marvel at your beautiful world.
We look to the day ahead, reminded of a powerful message in Ephesians 6:10. "Be strong in the Lord and His mighty power." Lord, we ask for this strength. We need it to face today's challenges with grace, with humility. We realize it's your power within us, enabling us to achieve good.
Guide us, Lord. Shape our thoughts, our words, and our deeds. Let us spread your love far and wide. Help us show kindness, understanding, and forgiveness to everyone we meet. Let us walk humbly, work hard, and engage positively. May all we do reflect your glory.
Today, some of us struggle. We may face health issues, personal problems, or feelings of loneliness. But, Lord, remind us of your unchanging presence and limitless love. Unleash your healing power. Comfort us, Lord. Remind us that your grace is enough, even in our weakest moments.
We raise a prayer for our families and loved ones too. We ask for their safety and success. Bless them, Lord, in all they undertake. Let their lives echo your enduring love and faithfulness.
Our communities, our nation, and our world need your peace, understanding, and unity. In these challenging times, make us your peace ambassadors. Empower us to bring healing to the hurting, love to the hated, and hope to the hopeless.
As we set off today, arm us with your full armor. Guard our minds with the helmet of salvation. Protect our hearts with the breastplate of righteousness. Gird us with the belt of truth. Deflect the enemy's fiery darts with the shield of faith. Equip us with the sword of the Spirit, your word. Let the shoes of the gospel of peace guide our every step.
When uncertainties loom, remind us of our strength in Christ. Through Him, we can conquer all. Let our lives be a testament to your power, love, and faithfulness.
This day, its events, we entrust them into your mighty hands. We are confident of victory in You.
In Jesus' name, we pray.
Amen.
Joshua 1:9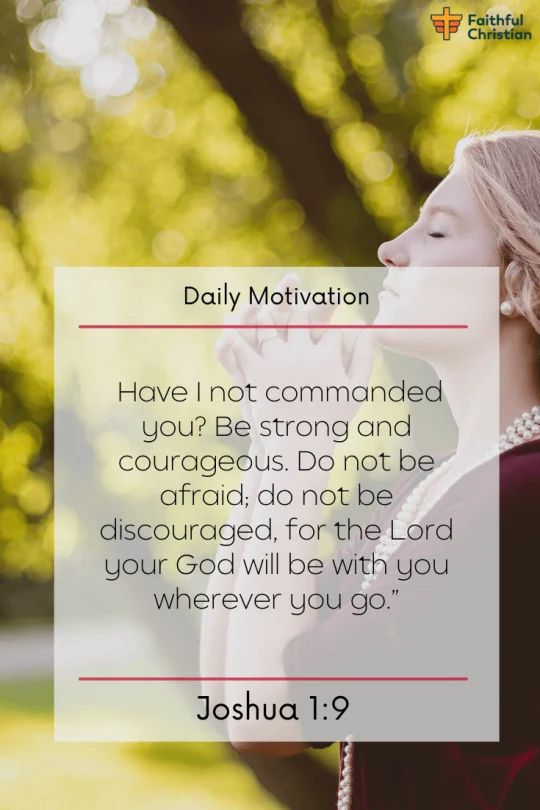 Have I not commanded you? Be strong and courageous. Do not be afraid; do not be discouraged, for the Lord your God will be with you wherever you go."
Let's say a prayer with Ephesians 6:10
Dear Heavenly Father,
Thank you for the gift of this day. A fresh Friday morning, full of peace and tranquility. Each dawn brings a promise of new possibilities.
We stand in awe of Your creation, a testament to Your boundless love. Life, such a beautiful gift, is a beacon of Your grace.
As we start the day, we draw strength from Your words. You've told us in Joshua 1:9 to be brave and strong. "Fear not," You've said. "Be not downhearted. I, the Lord, am with you always."
We take this divine counsel to heart, Father. We ask for the courage to face our fears. The strength to stand against trials. We remember that we're never alone. With You, no hurdle is too high. Amen.
Short prayers for Friday morning or evening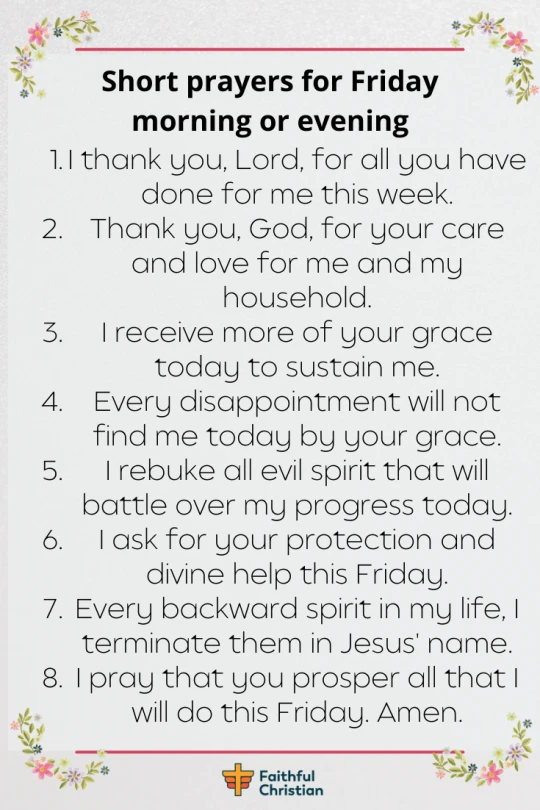 ---
Recommended for you
---
Friday Morning Prayer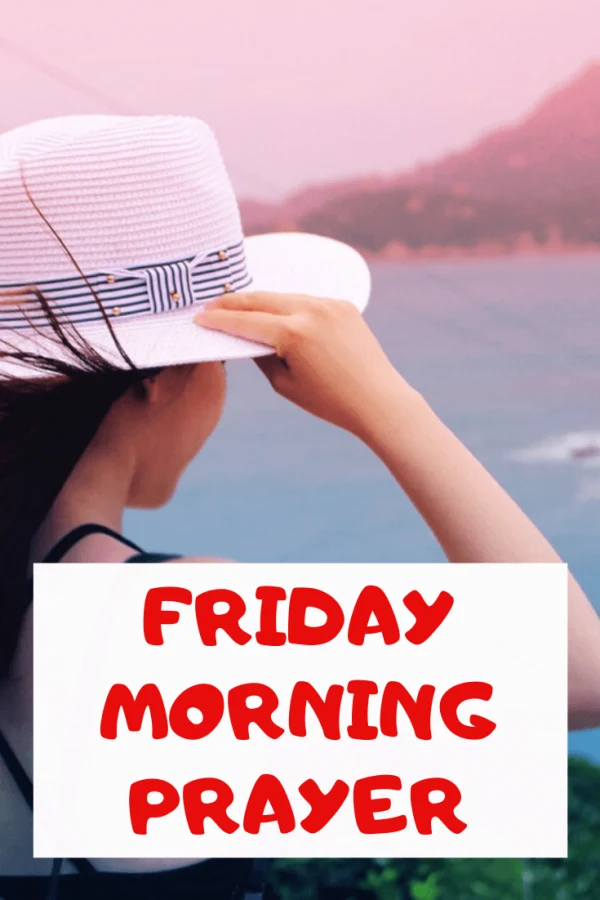 Let's thank God for the week so far (let us pray)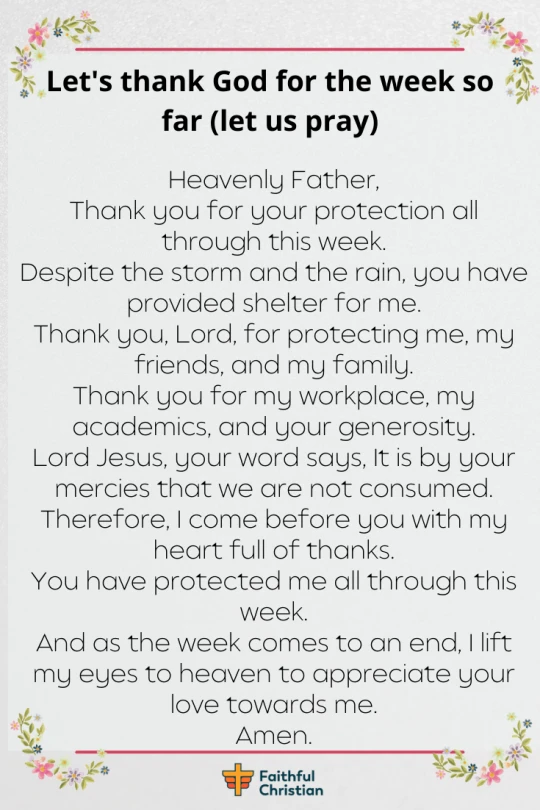 My Loving Heavenly Father,
Brimming with gratitude, I approach You. As the sun rises and sets, Your watchful eyes guide me. The Psalms affirm this truth. My every moment, awake or asleep, is under Your loving gaze.
This week, I weathered nature's storms. Rain pounded, winds howled. Yet, in that tumult, You were my calm. Your words in Psalms echoed in my heart, "God is our refuge." You were my safe harbor in the tempest.
Your love doesn't stop at me, does it, Lord? It spills over to my friends, my family. The assurance in Thessalonians rings true. You protect us all from the evil that lurks unseen. For this shield, I am grateful beyond words.
Every part of my life is touched by Your grace. My workplace, a gift from You, lets me grow. Proverbs guides me here, nudging me to commit my efforts to You. Wisdom in my academics, too, is Your doing. James reminds me to seek wisdom from You, and generously, You grant it.
Your generosity is like an overflowing river. It brings to mind Malachi's words. You pour out blessings so immense, they're beyond my capacity to receive. For this, my heart overflows with thanks.
"By Your mercies, we are not consumed," Your words echo in my soul. This truth mirrors the sentiment in Lamentations. Your love is new every morning, a beacon of unfailing compassion.
Your protection is my armor, as Psalms so beautifully articulates. As this week concludes, I turn my gaze upward. Gratitude swells within me for Your love, a love deeper than any ocean.
As I seal this prayer with a heartfelt Amen, I am fortified by Deuteronomy's promise. You walk with me, Your presence a constant comfort. Thank You, Father, for never leaving my side.
Amen.
Let us ask for forgiveness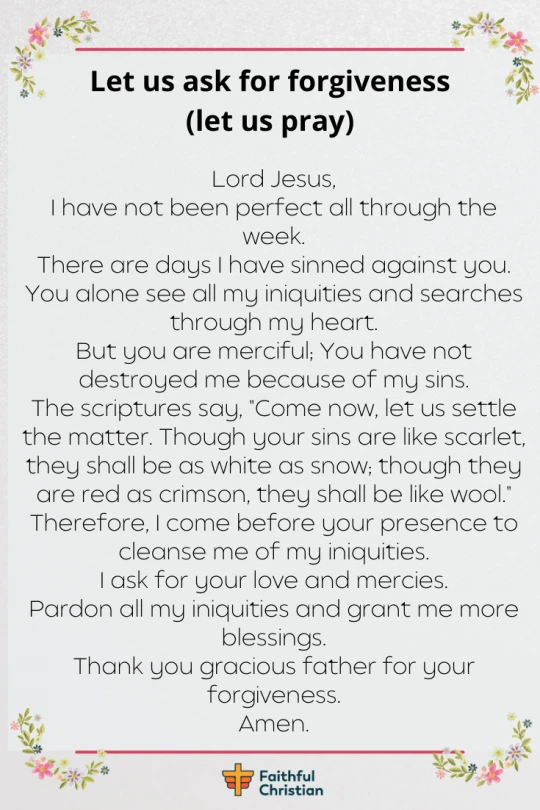 Dear Lord Jesus,
This past week wasn't my best. I fell short, stumbled. I made mistakes. That's human, isn't it? Just like Romans 3:23 highlights our shared human condition – we all miss the mark. We fall short of God's glory. And in this humble moment, I yearn for your divine wisdom.
There were days I didn't shine. I sinned against you, against your teachings. Remember 1 John 1:8? It's so true: "If we claim to be without sin, we deceive ourselves." I don't want to deceive myself. I want to own up. Seek your forgiveness.
You see everything, Lord. Every misstep. Every wrong move. It's like Psalm 139:2 says, "You know when I sit and when I rise." You see into my heart, my soul. Yet, despite my failings, you offer understanding. Hope. A chance to grow. To learn.
You're merciful, Lord. When I stumble, you don't push me away. You don't give up on me. You're like Lamentations 3:22-23 says, "His mercies never come to an end." Each new day, you give me another chance. A chance to be better. To do better.
Your scriptures are my guide. They soothe my soul. They call for reconciliation. They promise redemption. Isaiah 1:18 tells us, "Sins can be cleansed." Guilt and regret fade in the light of this promise. Your unyielding commitment to forgiveness and purity shines through.
So, I come to you, Lord. With a humble heart. A contrite spirit. Like Psalm 51:10 says, "Create in me a pure heart, O God." I ask for your cleansing touch. Your renewing spirit. Your divine intervention.
I call upon your love. Your mercy. As Psalm 86:5 says, "You, Lord, are forgiving and good." So, I ask for your grace. For your forgiveness. For your blessings. For your divine favor.
Thank you, Gracious Father. Your forgiveness spans eternity. Your mercy reaches the heavens. Your grace is immeasurable. Psalm 103:12 is a perfect reminder. You cast our sins away. As far as east is from west, that's how distant our sins become. Amen.
Let us pray for more grace (let us pray)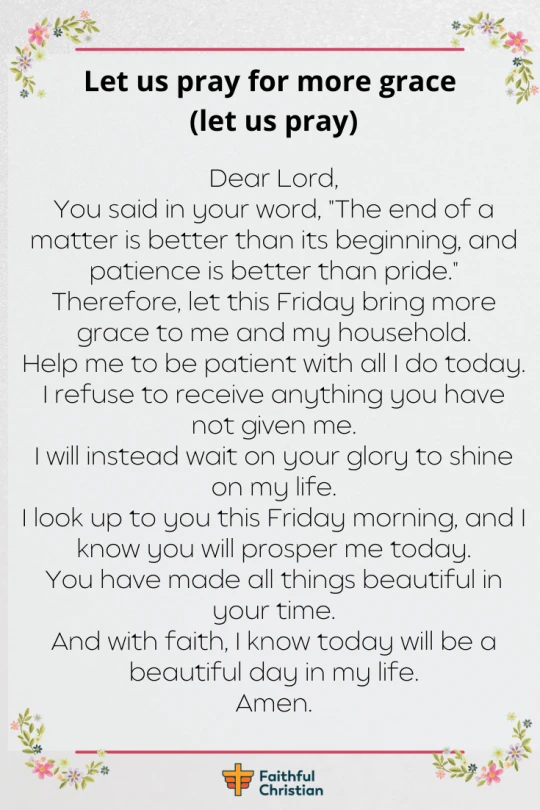 My Dearest Lord,
Your wisdom, Lord, is a beacon. You teach us that the finish line holds more weight than the starting point (Ecclesiastes 7:8). You remind us of patience's beauty. Pride often misleads, but patience is a sturdy ship that always finds its harbor. Your words light up my path, guiding me towards a purposeful life.
The first rays of this Friday bring with them a humble prayer. Shower your grace on me and my loved ones. You've told us, in 2 Corinthians 12:9, that Your grace is enough. In our weakest moments, it's Your strength that shines. As this day unfolds, may this grace turn our weaknesses into victories.
You advise us to be patient in all we do (Galatians 6:9). The seeds of good deeds need time to sprout. They require faith, not haste. As I move through this day, help me remember that. May the calm strength of patience be my guiding star.
I look to You, Lord, for all that I need. In Your grand plan, every piece has its place. The world may offer me tempting shortcuts. Yet, 1 Thessalonians 5:18 nudges me to be grateful for what I have, knowing it's part of Your plan. Help me hold steadfast to this belief. I'm waiting for Your glory to touch my life.
As I greet this Friday morning, my heart is full of hope. You have promised prosperity, not harm (Jeremiah 29:11). You offer hope and a future. With faith in these words, I welcome this day, confident in the blessings it holds.
You craft beauty in Your time, Lord (Ecclesiastes 3:11). Every moment is purposeful. Life's ebb and flow are part of Your grand design. This truth gives me courage. It assures me that each experience is a stepping stone towards my divine destiny.
Today will be a beautiful day. I feel it in my bones. Every day is a gift from You (Psalms 118:24). A reason for joy and gratitude. As I walk through this day, may each step bring me closer to Your purpose.
In your glorious name, I pray. May my life, today and always, be a living testament to Your unending love and guidance.
Amen.
---
Recommended for you
---
The angel of the Lord encamps all around you (let us pray)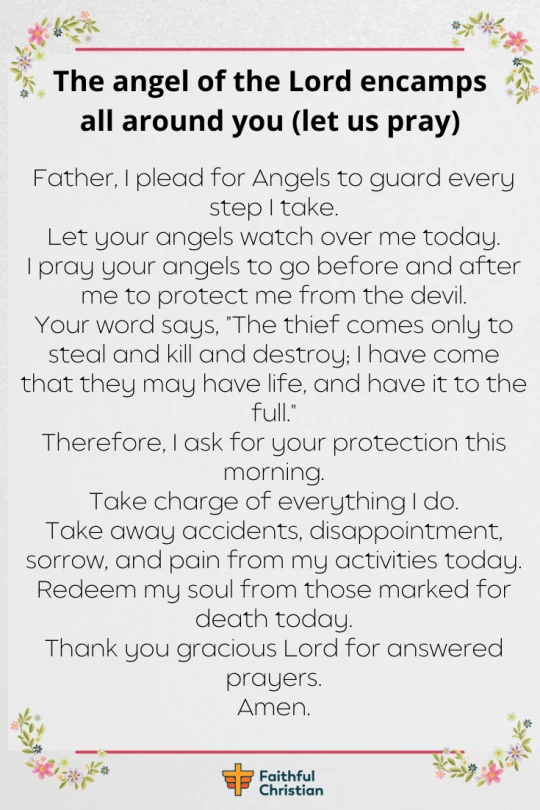 Dear Father in Heaven, your Word has spoken truth into our lives. Just like Psalm 91:11 says, you have angels at your command, ready to protect us. Today, I reach out to you, pleading for their presence. As I step out, let your heavenly guardians accompany me. Their watchful eyes and guiding hands ensure I navigate my day with grace and safety.
Your angels are not just guides, but protectors too. In a world filled with unseen spiritual battles, as Paul warns us in Ephesians 6:12, they are our shield. I ask for these divine warriors to surround me today. May they stand as a fortress against all negativity, embodying your power and protection.
Lord, your message is clear and comforting. In John 10:10, you've promised a life full of abundance despite the enemy's plans. The thief may try to steal, kill, and destroy. But you, Lord, bring us life. And not just life, but a fulfilling, bountiful life. With this promise, I am confident you will protect me from harm.
As a new day breaks, I turn to you again, Father. Psalm 121 tells me you are my protector, my shade. The heat of the day or the chill of the night will not harm me. Guided by this truth, I ask for your blessings. With each challenge today brings, your protection will be my shield.
Lord, you've promised that the rivers will not sweep us away when we pass through them, as Isaiah 43:2 tells us. Life can throw curveballs at us. Accidents, disappointments, sorrow, and pain lurk around corners. But with your grace, we can face them. Today, I ask you to build a wall of protection against these trials.
Your mercy, Father, extends to the redemption of our souls. Hebrews 9:28 emphasizes this by reminding us of Christ's sacrifice. As the world spins in uncertainty, let your redeeming love cover us. Today, I pray especially for those living on the edge of death. May they find comfort and salvation in you.
Gratitude overflows in my heart, knowing you hear my prayers. I am reminded of the assurance in 1 John 5:14-15. You not only hear us but also answer us according to your will. Your answers arrive in perfect timing, demonstrating your wisdom and love.
In closing, Father, I offer you glory and honor. Ephesians 3:20-21 captures the essence of my prayer, highlighting your limitless power. You, Lord, can do immeasurably more than all we ask or imagine. As I end my prayer, I bask in the beauty of your promise. May all glory be to you, now and forever. Amen.
Cast your burden on the Lord, and he shall sustain you (let us pray)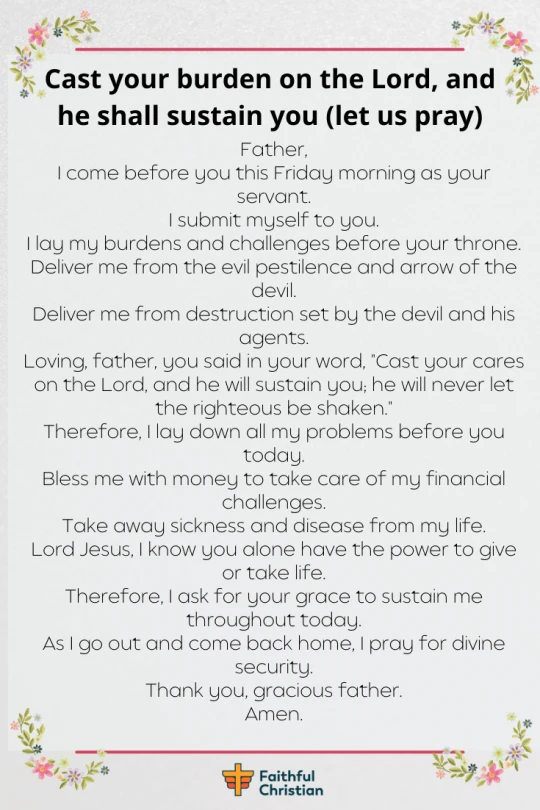 Dear Heavenly Father,
On this serene Friday, I stand before you. I bow, humbly. Like a devoted servant recognizing your grandeur. Ready to yield to your divine will. The command from James 4:7, "Submit to God," rings loud in my ears.
I come bearing burdens. Worries that weigh me down. Challenges that loom large. At your throne, I lay them. Just like Psalm 55:22 says, I cast them onto you. I trust you. Your wisdom will guide me. Your love will navigate me.
In this spiritual battle, I ask for your shield. The pestilence and snares of evil, keep them at bay. The wisdom of Ephesians 6:12 is clear. Our struggle is not of this world. Guide me, Lord. Light the path of righteousness.
Financial anxieties have me in their grip. I remember Philippians 4:19. It promises your provision. I ask for your divine blessing. I need to overcome these monetary mountains. Bless me, for all goodness comes from you.
Life and death are in your hands, Lord Jesus. A truth resonating in Deuteronomy 32:39. I humbly ask for your grace. Uphold me in this day's challenges. Carry me through its victories. I trust in your mercy.
As I embark on today's journey, I seek your protection. Leaving my home, returning back, keep me safe. Like Psalm 121:8 promises, watch over me. Be my divine shield, protecting me from harm.
Finally, Father, I express my gratitude. For your infinite love. For your tireless guardianship. Guided by 1 Thessalonians 5:18, I give thanks. Thank you for hearing my prayers. For comforting me in trouble. For guiding my path.
All things are possible with God (let us pray)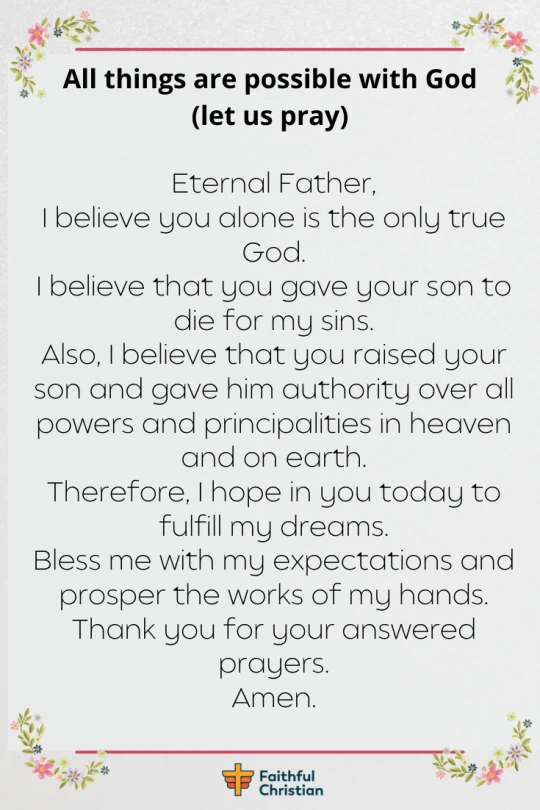 Eternal Father,
I believe in you. You're the one true God. You're the start and end of everything. Your presence, a beacon, guides me through life's storms.
Your love is overwhelming. You gave your Son to save us from our sins. It's a gift I can barely comprehend. In His sacrifice, I see my own flaws. Yet, in His love, I find the path to redemption.
You didn't stop at the sacrifice. You raised your Son, giving Him power over everything. Celestial or earthly, nothing is beyond His reach. Your love is reflected in Him. A love that's merciful and powerful.
So, I put my dreams in your hands. You're the wellspring of all good. I trust You to light my path. To transform my dreams into reality.
Bless the work I do. Let me flourish under your guidance. May every endeavor echo Your glory. Let it resonate Your love in the world.
Grant me success. May my expectations be met. And may I exceed them, under Your watchful eyes.
Thank you for hearing my prayers. I trust in Your word, knowing it never fails. You answer even before I ask. Your love, unending. Your compassion, boundless. Amen.
Frequently Asked Questions
What is a Friday prayer for myself?
With the week winding down, let's take a moment to reflect. Offer up a prayer of gratitude: "Dear Divine One, thank you for your ever-present guidance and protective embrace. As I look forward to the weekend, I seek peace and rest. May I take this time to fill my spirit with renewed strength. Let's ponder Matthew 11:28, where You say: 'Come to me, all you who are weary, and I will give you rest.' Give me wisdom. Give me strength. On this Friday, I ask for your blessings to tackle any challenges ahead. Amen."
What are Friday prayers for family and friends?
As we extend our thoughts to loved ones, consider this prayer: "Eternal Father, this Friday, I bring my family and friends before You. I ask for their well-being and safety. I pray for unity in our relationships. Remember Psalm 46:1, where you promise to be our refuge, our strength, and our help. May Your love bind us together. May Your peace fill our hearts. Let's make our homes a sanctuary of Your divine grace. In Jesus' name, Amen."
What is a Friday prayer for boyfriend and girlfriend?
Thinking of your romantic relationship? Here's a beautiful prayer: "Beloved Lord, this Friday, bless our bond. Guide us to cherish and understand each other. Grant us the patience to forgive and the strength to love unconditionally, just like in Colossians 3:13. May our love reflect Your divine grace. We seek your wisdom in our decisions. May our actions be guided by your love. In Jesus' name, Amen."
What is a Friday prayer for husband and wife?
For married couples, this prayer is a gem: "Heavenly Father, today, I hold up my marriage to You. Let's cherish, respect, and love as You taught us. Ephesians 4:2-3 reminds us: 'Be humble, gentle, patient, and bear with each other in love.' Let these words guide our marriage. Bless our home with peace, our hearts with love. We pray in Jesus' name. Amen."
What is a Friday prayer that includes blessings?
Let's express gratitude for the blessings we've received: "Divine Creator, this Friday, I thank you for all your blessings. Your bounty is reflected in every aspect of my life. I seek your continued favor. Remember Numbers 6:24-26? 'The Lord bless you and keep you; the Lord make his face shine on you.' I ask for these blessings for myself and those around me. In Jesus' name, Amen."
Can you share a powerful and short Friday prayer?
A short, yet powerful prayer for your Friday: "Dear Father, as I embrace this Friday, I am grateful. Matthew 11:28 says, 'Come to me, all you who are weary, and I will give you rest.' I trust your promises. I bask in your goodness. Bless today and all the days to come. In Jesus' name, Amen."
What are some Friday prayer messages and quotes?
Let these prayerful messages brighten your Friday: "May your Friday shine with God's peace – a peace that surpasses understanding (Philippians 4:7)." "God's love is wrapping you in a warm hug, His peace is filling you up, His joy is brimming over in your heart this Friday (Psalm 16:11)." "Remember, you are blessed to be a blessing this Friday (Genesis 12:2)."
Author: Akatakpo Dunn
Dr. Akatakpo Dunn is a dedicated follower of Christ, an active member and speaker, and an ongoing learner of the Scriptures. Passionate about his faith and serving others, he is committed to sharing his spiritual journey and insights to inspire and uplift fellow believers. He has been active in the church for more than 23 years. Through The
Faithful Christian Blog
,
Dr. Dunn
combines his love for God, philanthropy, and Scripture, providing a valuable resource for those seeking to grow in their faith.
Follow me: on Youtube, Facebook, Twitter, Instagram, and Pinterest.
Content Disclosure:
At The Faithful Christian Blog, I create authentic and inspiring content. Although I am the main author, I occasionally use AI for minor language enhancements. This minimal AI usage ensures high-quality, trustworthy articles without compromising originality or sincerity, ultimately supporting our shared faith journey.
Warmly,
Dr. Akatakpo Dunn
Was this article helpful?